Ariela Kader: Making a Statement with Travel and Art
Written by Becca
•
Updated on September 20th, 2023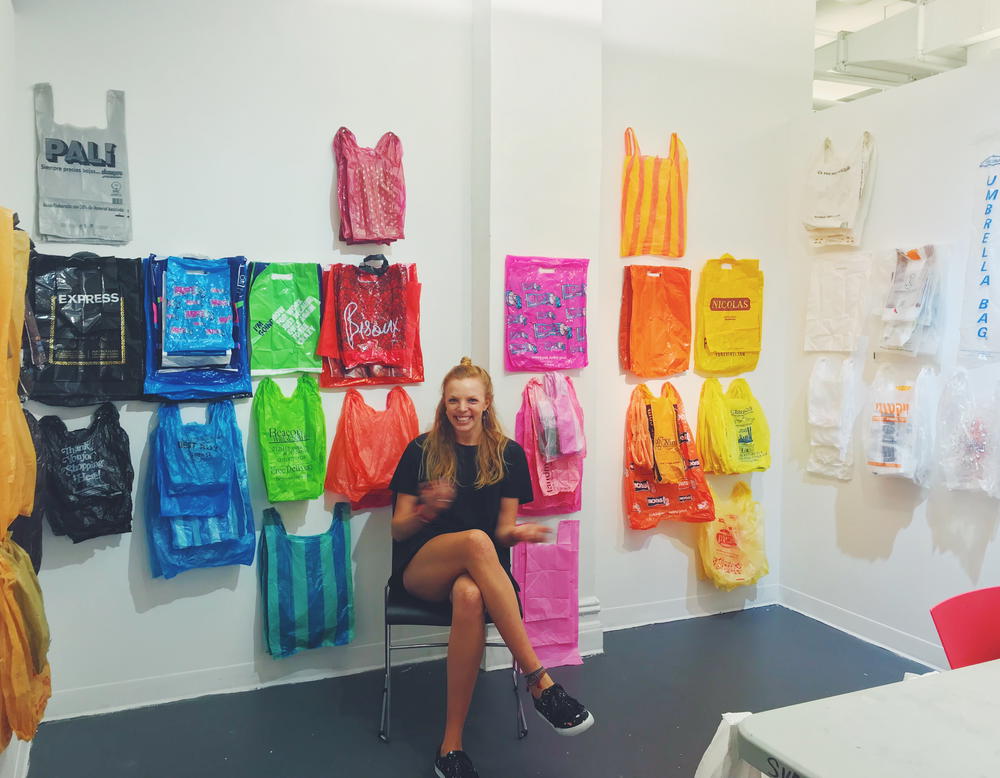 Ariela Kader shows us how a love of world travel and passion for art leads to creativity, making a statement about the environment and inspiration for change.
This article may contain affiliate links. We earn a small commissions when you purchase via those links — and it's free for you. It's only us (Becca & Dan) working on this website, so we value your support! Read our privacy policy and learn more about us.
---
We met Ariela in Mexico City as part of the Remote Year network for traveling professionals. We immediately hit it off and even celebrated Hanukkah together during our first blind date.
Within moments of sharing a ride to a Hanukkah party, Ariela told us about how she had spent 12 months traveling around the world using different cities and their trash (seriously!) to create art. It was fascinating! It wasn't until we interviewed her (below) that we got to learn her whole impressive story.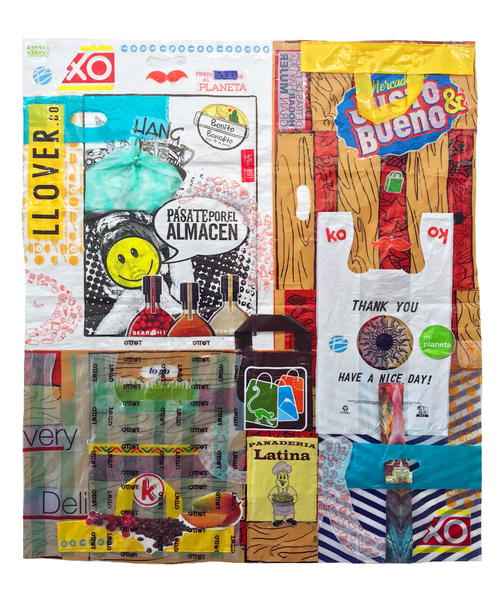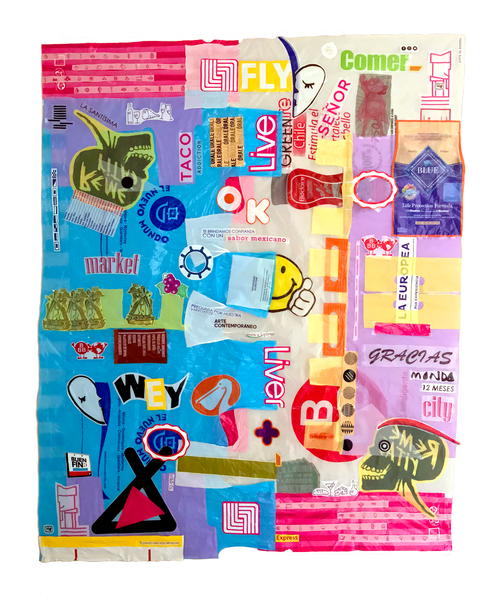 Ariela has lived in various parts of the world and has taken a stance on sustainability, specifically, how plastic bags and trash affect us as people, our mindsets and our Earth.
By creating juxtapositions of trash bags into everyday scenarios, by making plastic bags look like T-shirts and by turning recyclables into creative works, Ariela is showing everyone not only how to reuse and conserve, but how to make a difference.
Who is Ariela Kader?
Hola! My name is Ariela Kader and I am a tall, blonde, Costa Rican-Mexican Jewish woman who works as an artist, teaching artist, curator, graphic designer and creative consultant.
I've been making art with waste and plastic bags from different cities and countries for almost ten years. I have also given "Trash2Art" workshops in various communities around the world, where we first do a community cleanup, then we wash and clean the collected trash and then I teach different techniques to transform it.
My work has been exhibited in Scope Art Miami (Florida, USA), Art in Odd Places (New York, USA), Children's Museum of the Arts (New York, USA), Valoarte (San José, Costa Rica), BYOW (Lisbon, Portugal), and others. I had my first solo exhibition last April (2018) at IK Projects in Lima, Peru.
I have participated in artist residencies such as Museo Islita (Guanacaste, Costa Rica), Picture Berlin (Berlin, Germany), Agora (Berlin, Germany), BAS (New York, USA) and School of Visual Arts (New York, USA). One of my artworks was selected to be featured in the cover of adhesivo magazine's second issue.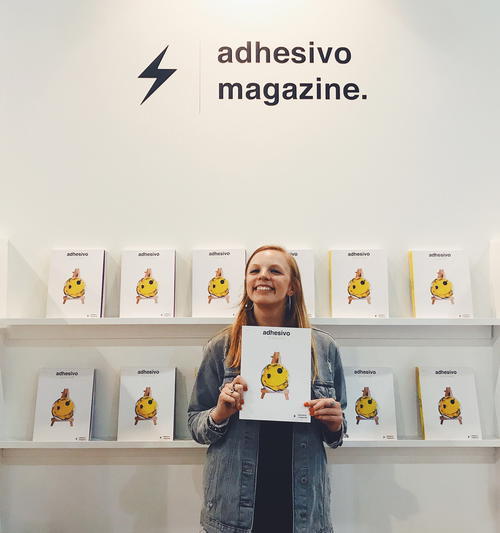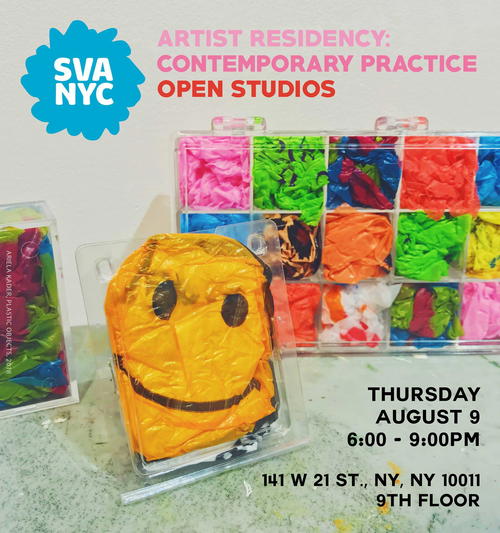 I have curated three artistic projects: "Fresh Out of Storage" (New York, USA), "@vuelticaa artventures" (interviewing two local artists in the different cities I lived in during Remote Year and "BYOW: Bring Your Own Work" (three editions: Lisbon, Portugal; Mexico City, Mexico and New York, USA). I currently live and work in Mexico City, Mexico.
You've lived in LOTS of places. When did you first choose to move abroad and leave your home country, and what was that like?
In my artist statement, I write that, "In 2009, I switched the green for the gray — I moved from San José, Costa Rica, to New York, USA," to study Fine Arts at The New School for Design at Parsons School of Design.
During my studies, I did a summer abroad at Central Saint Martin's in London. I graduated in May 2013 and started two part-time jobs: one as a teaching artist at the Children's Museum of the Arts in TriBeCa and the other one as a design director's assistant and in-house photographer at Grey Area, an art space in Fort Greene, Brooklyn.
Then, I applied for my artist visa (O-1) and got accepted, but then they lost it due to a massive glitch in the visa database in Washington, so I had to go back to Costa Rica until they recovered the visa information and were able to put in on my passport.
This "waiting time" took eight months, and during this time I volunteered at SIFAIS, an organization located in La Carpio (one of the most disadvantaged communities in Costa Rica) giving Trash2Art workshops by cleaning up the neighborhoods and transforming the waste into artworks and/or functional/sellable objects, making their surroundings less dirty and more colorful.
Because of the workshops I gave at SIFAIS, I got contacted by the museum director at Museo Islita in Islita, Guanacaste, to do the pilot artist-in-residence program and for six weeks give workshops to the entire community and the hotel guests. I gladly accepted, and it was one of the most gratifying experiences of my life.
While I was at the residency, I applied to two other residencies in Berlin, Germany, and got accepted, so I moved to Berlin for three months during the summer of 2015. Then, I went back to New York to make use of the remaining year and a half of my artist visa.
I didn't want to "play" the movie that I "paused," so I decided to live in a different neighborhood (the Upper West Side) and decided to find a different job (Curatorial Assistant at No Longer Empty, a not-for-profit art organization that organizes exhibitions in abandoned/underutilized spaces, becoming a temporary cultural hub for the immediate community, with a wide variety of educational programming).
After a year and a half, my Artist Visa expired. I didn't want to renew it nor did I want to stay in the US. At this time, Facebook had a great idea and started bombarding me with Remote Year ads.
One night, I had no freelance gigs to work on, so I decided to apply to Remote Year and see what happened. To make a long story short, I got accepted and traveled around the world with other 50 people to a different city every month from May 2017 to May 2018.
I lived in Split, Croatia; Budapest, Hungary; Lisbon, Portugal; Hanoi, Vietnam; Chiang Mai, Thailand; Kuala Lumpur, Malaysia; Buenos Aires, Argentina; Córdoba, Argentina; Lima, Perú; Medellín, Colombia; Bogotá, Colombia and Mexico City, México.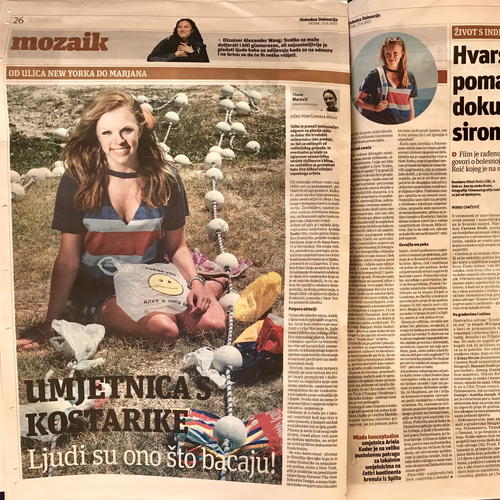 Looking back, living in a different city every month was very crazy — having to learn a different address and how to move around, getting lost in translation, constantly switching hats between being a tourist and wanting to feel like a local, adapting your diet and routine to "the surroundings of the month" and reminding yourself that this was a year of traveling, but not the only year that you will travel (when FOMO started to hit after hearing every side trip that the people around you were planning).
After being a nomad for a year, I was really craving the "sedentary/fully-unpacked/having my mani-and-pedi girl/year-long subscription to the gym/going to my job every morning" life, and after "tasting" different cities, I found my new home in Mexico City, where I have been living since October 2018.
I chose Mexico City because I still wanted a big city, with a big arts and culture scene, and I desperately wanted to go back to my native language: español. I was lucky that my mom is Mexican, so I didn't have to worry about visas. I applied for the Mexican nationality/passport and got it in two months.
I am now living in the Condesa neighborhood and working as an art teacher at an elementary school. I love it! Feel free to contact me via Insta at @arielakader if you come to Me(xico)! :)
How did your fascination and passion (and also creativity) with trash objects begin?
When I moved to New York, I was not interested in looking up at the skyscrapers, but rather down, to the piles of trash bags on the sidewalks.
I began photographing the various compositions of trash bags with my phone, until it ran out of memory. I printed all of the photos, taped them onto my bedroom wall and left them up until I understood why I was so fascinated with this phenomenon.
One morning while I was getting ready, I saw one photograph that really caught my attention; it showed five plastic bags, two larger than the others, and it made me think of my family (I come from a family of five).
In that moment, I finally understood that the reason for why I was so fascinated by trash bags was because in them, I saw portraits of society, our dialogues and our actions, and so I started labeling each photo.
This approach felt too detached, and I needed to share this vision with the world, so I started labeling the actual trash bags on the streets, and that is when @socialtrashh was born.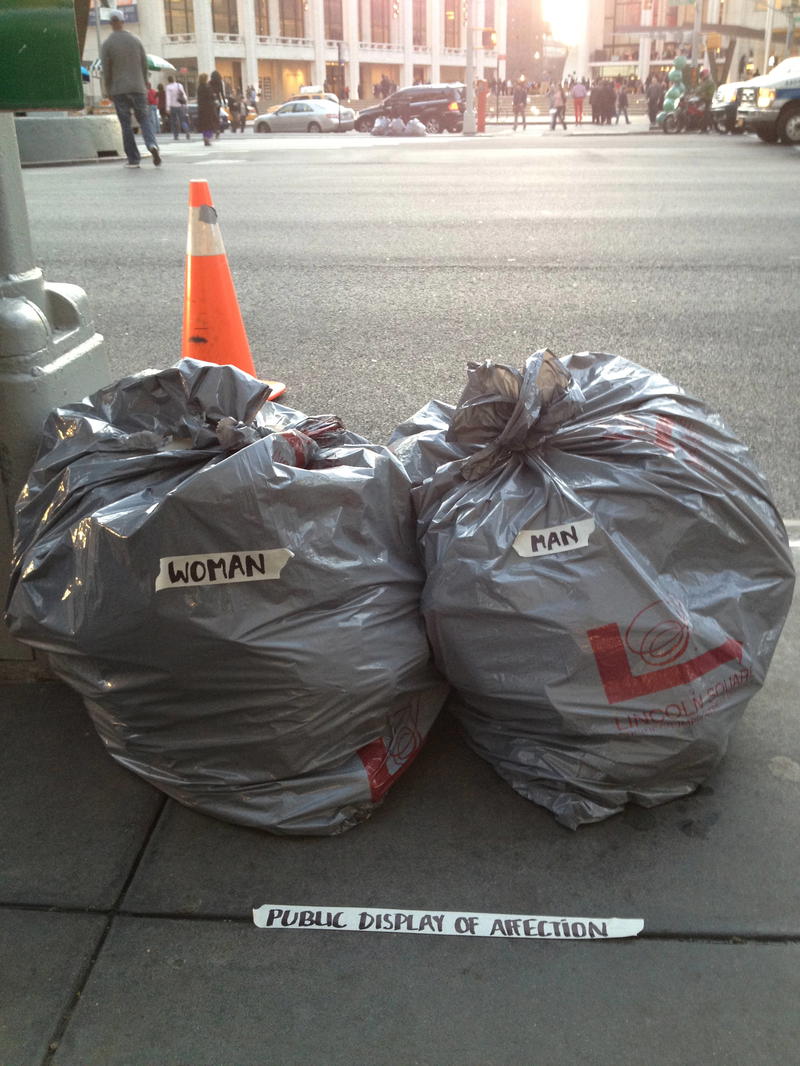 You've done a lot of teaching by now. What has been most rewarding and positive about how you bring the notion of reusing and recycling into creative works?
The entire process of teaching and learning from my students and workshop participants is extremely rewarding and positive. I think that in experiencing this magic that happens when we transform the waste that we picked up from the streets into an art piece, they realize the power of giving trash a second life, far away from the streets and the landfills.
In all my workshops and classes, I always make sure I tell students that I believe that, "trash is everyone's problem, which also makes it everyone's resource." Therefore, sharing materials is extremely important and working collectively is highly encouraged.
When measuring success in my workshops, it is hard to determine the impact that this caused in the participants' minds, but if it gets to flick the switch so that the next time they see waste (inside or outside the trash can) they see the potential that exists in it and they remember what they did in the workshop, then my job is done, and I am extremely satisfied!
For example, my current students are constantly bringing recyclables and other materials that otherwise would've been thrown away by their parents to the art class. They not only bring these knowing that they are yet another kind of art materials, but sometimes, they even come with an idea in mind on how to transform them.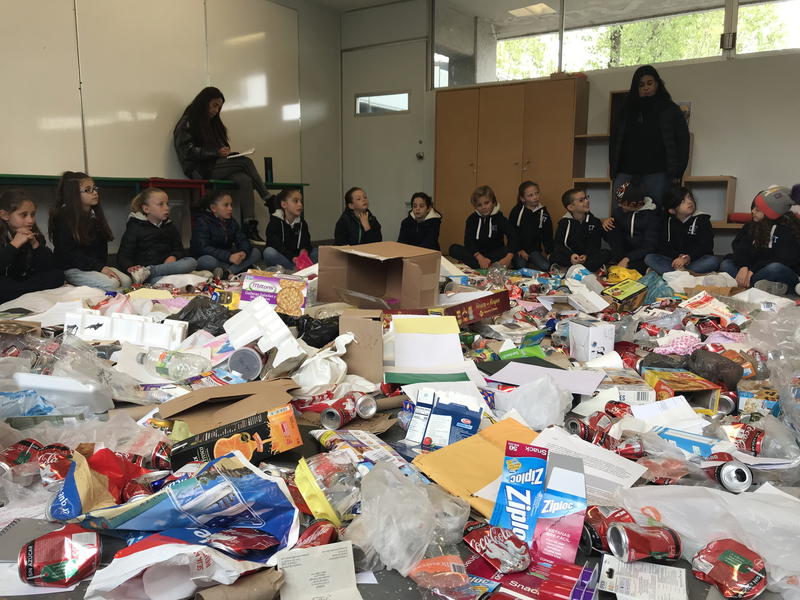 Can you figure out when your passion for travel began? Did you ever think travel would play a huge role in your art?
I mean, how can you not have a passion for traveling? I really cannot figure out where it began, as I believe I've had it ever since I can remember.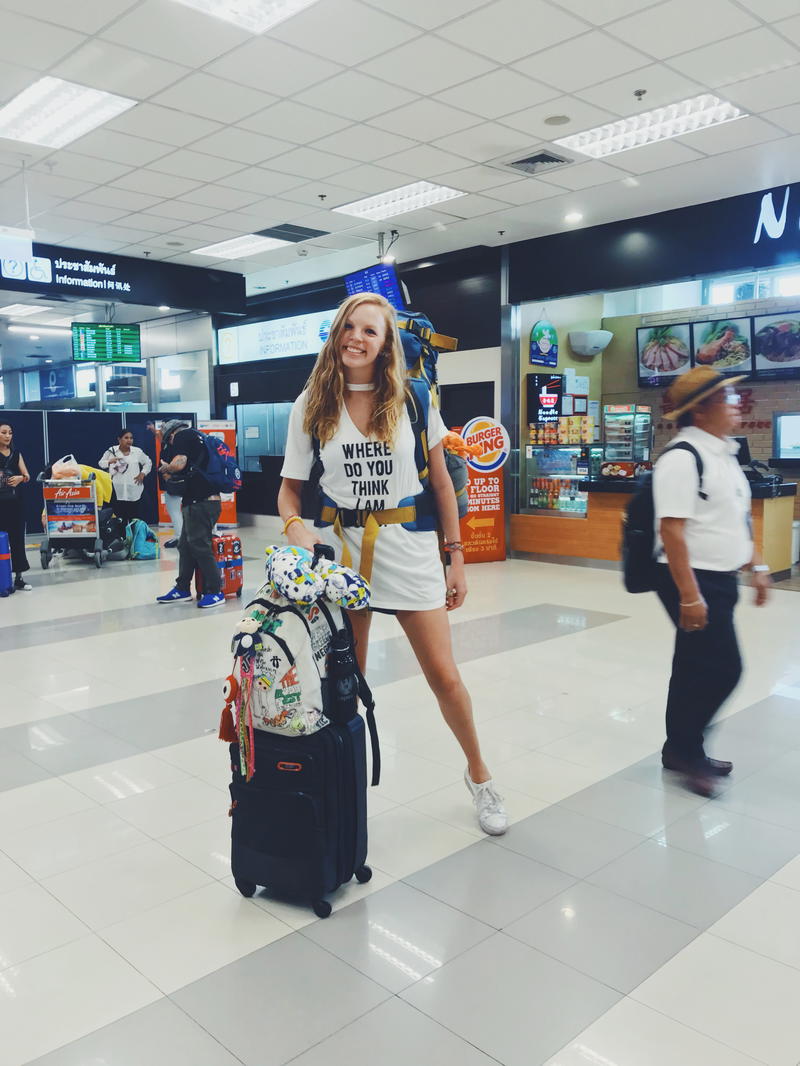 I have been very lucky and extremely fortunate to have parents, grandparents and even great-grandparents who've always loved to travel and explore the world in every opportunity we had.
Just to throw out a few examples: I visited the concentration camps [in Europe] with my great-grandparents and two of my cousins as our bar/bat mitzvah gifts, I went to Australia and New Zealand with my family and I did a whole trip visiting different parts of the "southernmost" portion of South America (Chile and Argentina).
Ever since I can remember, in every city I would visit with my family, my parents always took us to art museums, history museums and other museums and I can totally see how that influenced me and my interests.
There are four specific moments that made me realize how my art has benefited from traveling. The first one was when I moved to New York (2009) from Costa Rica. The culture shock came in the shape of a four-pack "one-minute rice." I remember seeing that in my first visit to the grocery store and thinking, "Really? Is New York so fast-paced that people can't even make their own rice in the rice cooker?"
After having this experience, I began making art addressing the "pre-packaged and pre-cooked American life," such as an "'It's A Boy!' Kit (American-Jewish version)" and a "Thanksgiving Dinner Kit."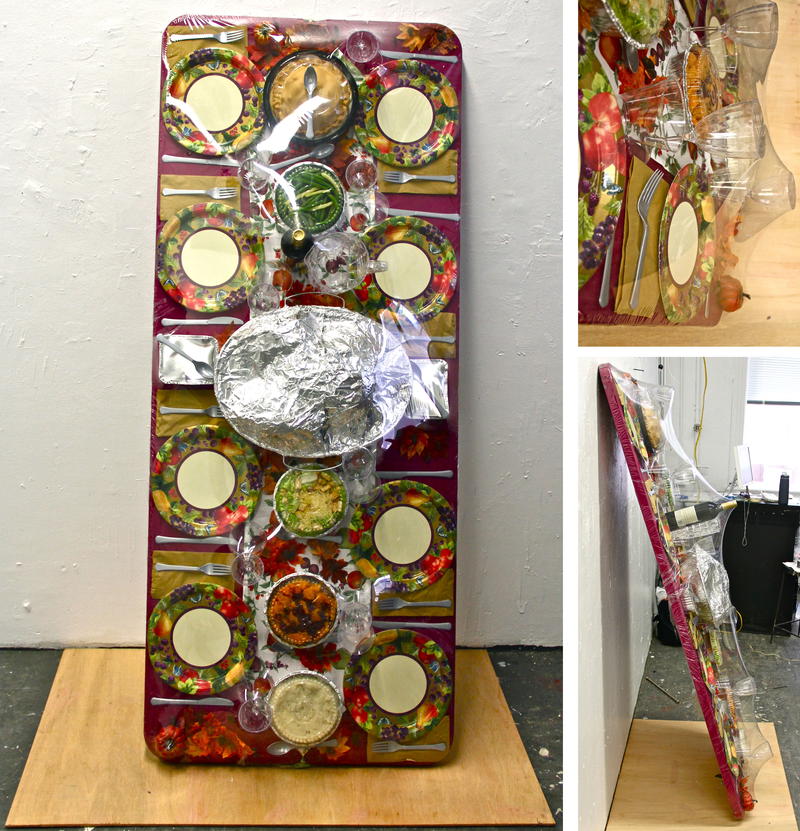 Then, I became more interested in addressing the fact that we are more what we throw away than what we consume, and my art took a different turn, similar to the one I am still working on now.
The second time was when I moved to Berlin for the summer (2015). Prior to my trip, everyone was telling me that Berlin was extremely clean and eco-conscious and that I was going to have a hard time finding material (trash and plastic bags) to make art with.
To my (and everyone else's) surprise, when I arrived to Berlin, I went to the supermarket next my apartment and the plastic bags (you had to pay for them) had faces of people printed on them. Whaaat??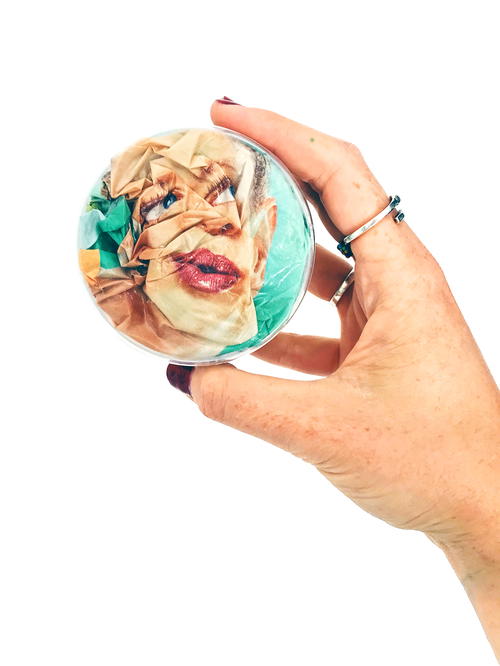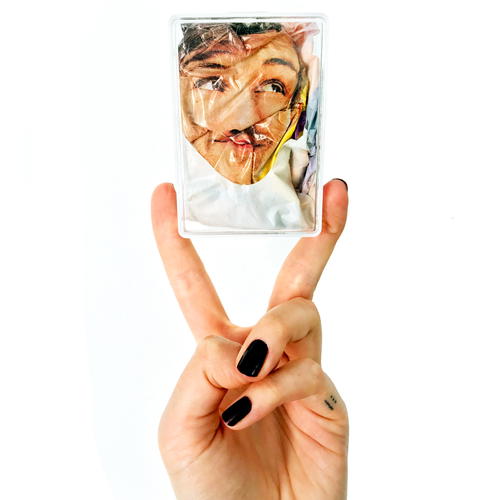 What can say more than "we are what we throw away" than printing faces of people from Berlin (I learned later that they have auditions to see whose face will be printed in the plastic bags for the following season) than this? With this being my welcoming to Berlin, I truly believe that in the three months that I lived there (participating in two artist residencies), I did some of my strongest work yet.
The third one happened in the last week of every month during Remote Year when the dining table became my art studio, and I transformed all the plastic bags I had collected throughout the month into my "Plastic Portrait," creating not only a portrait of that specific city, but also the experience I had while living there.
The fourth time happened when I went back to New York for a month after Remote Year to participate in an artist residency at School of Visual Arts. I basically only worked with the plastic bags I had saved in my storage. It was interesting to work with "old" material after working with such "fresh" material for a year.
This allowed me to focus more on exploring the materiality of the plastic bags and spend time exploring different ways in which these can be transformed. That is what I showed at the closing open studio: an entire spectrum of possible ways in which a plastic bag can be transformed and exhibited.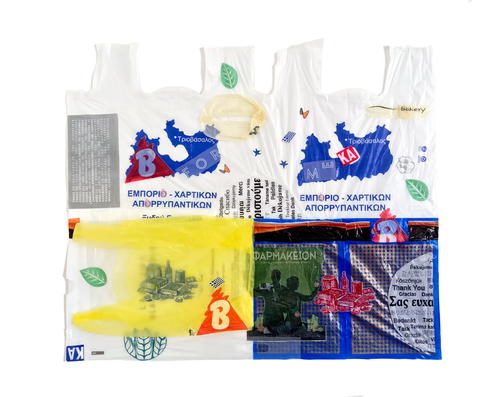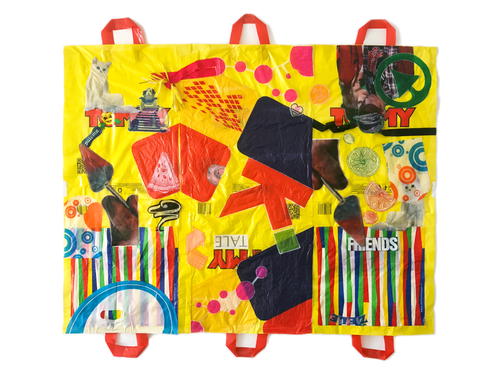 Some of your photography series like "If Ariela was a Trash Bag," are so unique. Where do you come up with all the ideas?
I started working on this series while living in Berlin, Germany, during the summer of 2015. I was participating in two art residencies and exploring the idea that we are more what we throw away than what we consume.
One morning, I took a trash bag from the kitchen, filled it with bed sheets, placed it in the parts of the house that I frequented the most and did a photo shoot of "Ariela as a trash bag."
The filled trash bag became the main character of this series, a substitute or a replacement of myself.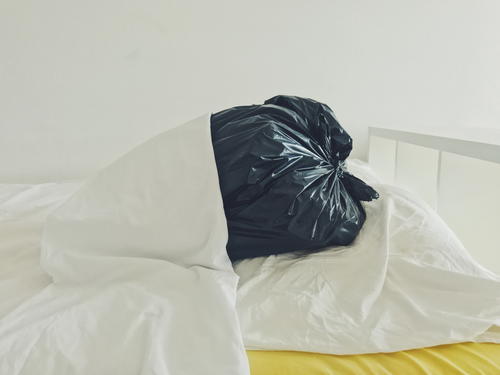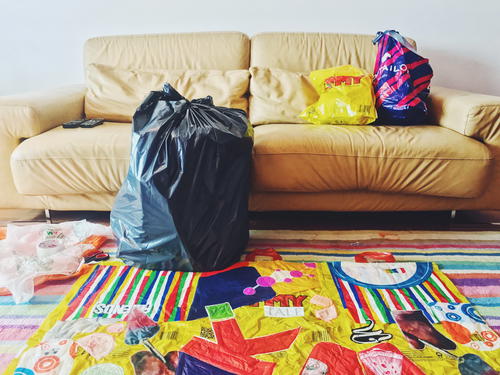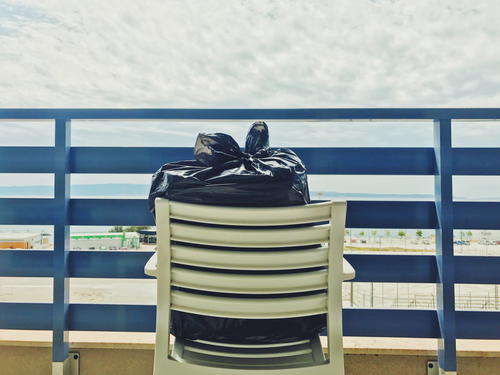 In May 2017, I decided to go on "Remote Year," a yearlong journey, living in a different city every month. I knew this was the perfect opportunity to revisit this series and continue working on it.
Throughout each month, I studied the way I interacted with the apartment: the areas I frequented the most and what I did in each area. Then, I picked my top three and on the day before leaving, I put my backpacker's backpack inside a black trash bag and started setting up the scenes for the shoot.
Why plastic bags?
I have been collecting and working with plastic bags as my main material since 2010. By making collages out of the plastic bags of every city I visit, I get to frame a specific place in a particular time.
For example, in May 2017, I traveled around the world for a year, visiting a different city every month. I continued working on this series by collecting plastic bags and turning them into a Plastic Portrait by creating a collage out of them.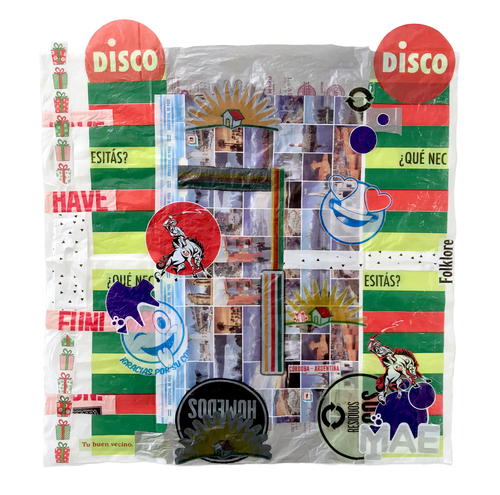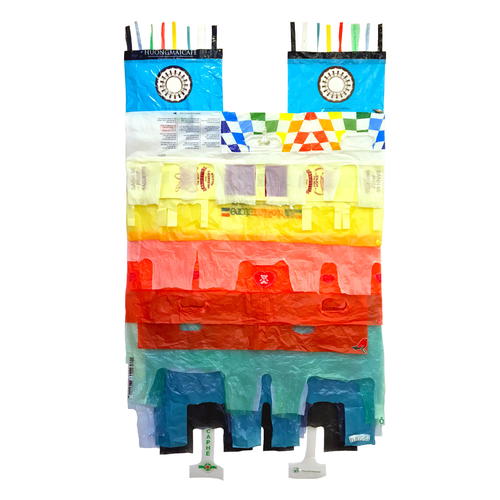 The way I composed them does not only represent the way I want to remember each city, but also the way I want to remember my experience while living in it — almost like a diary entry, but of an entire month in each city.
We are now living in a time where every day someone signs a law to ban the distribution of (free) single-use plastic/bags in their business, neighborhood, city and/or country. Therefore, my artworks could be an illustration of the idea that, "you can't step in the same river twice," because with new laws passing and businesses closing, the chances of my recreating or replicating the collage I made in Budapest, Hungary, for example, is not even a possibility.
I like to think that maybe one day, when plastic bags will be extinct or at least not available in the way we used to receive/use them, these artworks will not only be exhibited in art museums, but also in history museums to show future generations this artifact that past generations used to carry their belongings and purchases around.
A month ago, I got a simplified version of my favorite plastic bag (the classic New York delivery bag with the smiley face) tattooed on my left inner ankle for all the reasons I just shared, plus the fact that my artwork that was featured in the cover of adhesive magazine's second issue.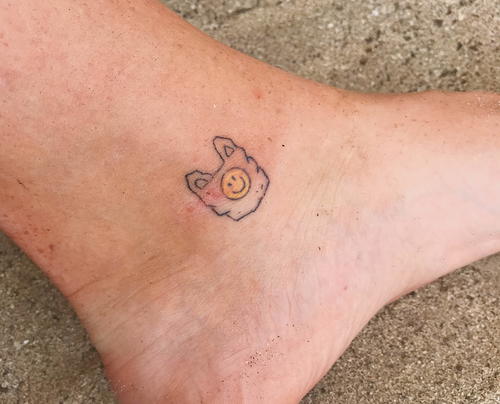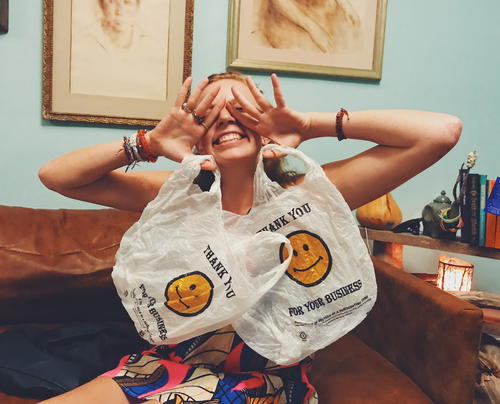 That was my first time on the cover of a magazine (big accomplishment) and now that I moved to Mexico City, I don't see this bag as often. One day, when they stop circulating, I will still have "mine."
Also, along the lines of my artworks being in a history museum, imagine how cool it will be when my grandkids or great-grandkids ask me, "What is it that I have tattooed on my left inner ankle?" I can tell them everything I just told you in this interview, and more!
Do you have any suggestions for someone who wants to pursue a traveling art project?
In the words of Shia LaBeouf's (very) motivational speech: "Do it, just do it, don't let your dreams be dreams."
---
Follow Ariela and the journey of her art (@vuelticaa)
We'd like to thank Ariela for giving us the low-down on how she got her inspirations and used travel as a backdrop for creating worldwide awareness for working toward saving our environment.
To follow Ariela, her workshops, exhibitions, travels and art, follow her on her social channels.
Enjoyed our article?
Consider supporting us! We're a 2-person team (learn more about us here) and your support enables us to create quality content. Thank you!