Best Cafes In Taipei Worth Visiting
Written by Becca
•
Updated on November 22nd, 2023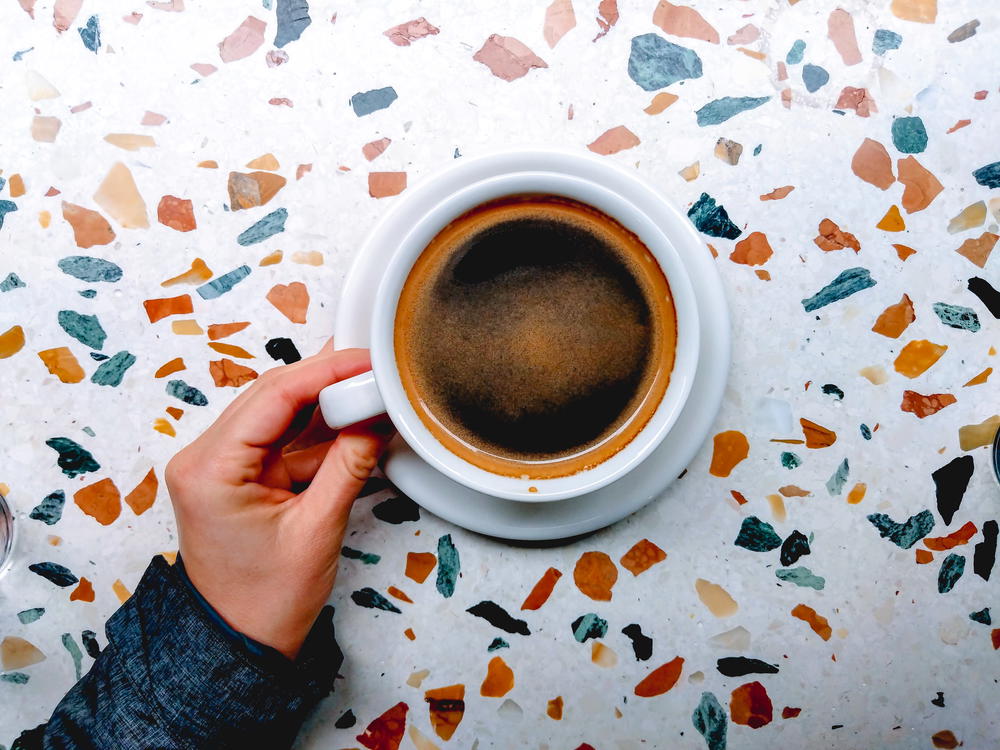 Our digital nomad guide to the best laptop-friendly cafes in Taipei will help you find where to work in Taipei. We look for fast and free WiFi as a priority!
This article may contain affiliate links. We earn a small commissions when you purchase via those links — and it's free for you. It's only us (Becca & Dan) working on this website, so we value your support! Read our privacy policy and learn more about us.
We were pleasantly surprised with the amount of cafes available in Taipei, Taiwan. When we visit a city, we explore through its coffee, coffee shops and cafes. We like to take photos of coffee and enjoy seeing how locals tend to caffeinate.
We couldn't wait to explore the scene in Taipei, and in our adventure, we learned a few crucial things about cafes in Taipei.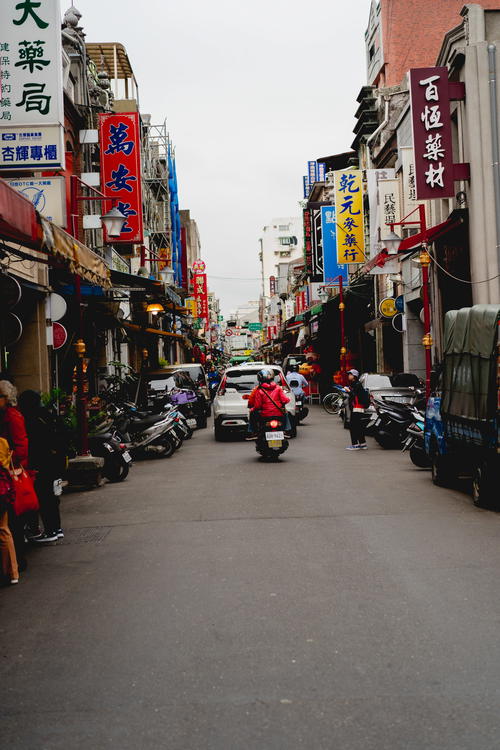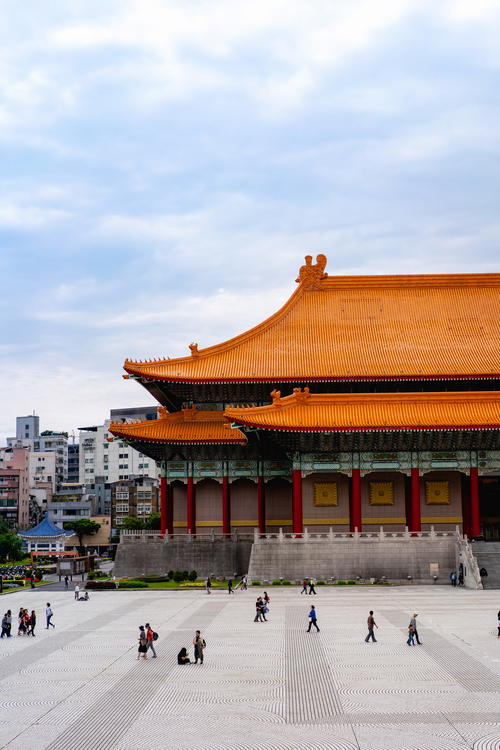 What to know about Taipei's best cafes and coffee shops
Among all the amazing things to do in Taipei, we prioritize spending time getting to know coffeeshops. Here's what to know about the cafe scene in Taipei that may differ from your home country, if you are coming from afar.
Some cafes have minimum purchases per customer.
Some of the pricing in Taipei's cafes surprised us.
The opening hours of Taipei's cafes was not what we're used to in the US.
Minimum drink per customer
Many of the independent cafes in Taipei have a minimum per customer of one drink or food item. This is because they know people want to stay a while, and that's cool! Even if you are with someone else purchasing a drink or food item, you will have to purchase your own. While it's different from what we're used to, it also makes sense from the businesses' perspectives. You can feel good about supporting their staff and operations.
Higher prices, good quality
Beverages at the independent cafes of Taipei are often priced much higher than we'd typically expect, relative to the cost of living in Taipei. We mentioned to locals that we saw menus with pots of tea for $6 USD, cappuccinos for $5 USD and a simple americano for $4 USD or more. These prices are more than in NYC! The reason here is also that the independent shops know that people with laptops may stay a while, so there's a premium for that.
Taipei cafes open late and close late
Many cafes in Taipei open late and close late, which is pretty different from the open hours of our favorite cafes at home in Brooklyn. While venturing down Yongkang Lu looking for our cafe of the morning, we found that only two in the area were open! While expecting all cafes to open at 7 am or 8 am (for coffeetime, naturally), this is not the case. Many open their doors at 10 am, 11 am or 12 pm, but remain open until 9pm, 10 pm or 11 pm.
Helpful Tip
Traveling to Taipei? Check out our guide for how to make coffee while traveling. You can support these Taipei cafes and try some of their local roasts with your on-the-go coffee set up!
Our list of best coffee shops and cafes in Taipei that we enjoyed
We had a really good time in Taipei marking off visits to different cafes and coffeeshops in our list. Through exploring Taipei via its coffee, we had the opportunity to see lots of nice neighborhoods and hang out in some cool spots.
(Top Pick) Gingin Coffee Company (Zhongzheng District)
Gingin is where you'll want to take your coffeeshop photos in Taipei. The cafe self-describes as a "熱鬧的咖啡餐館," or a "lively coffeeshop." Popular among young people and locals, Gingin is an excellent place to have a great coffee and also try the food menu.
Gingin Coffee's main location is a charming and trendy cafe closest to the MRT at Zhongxiao Xinsheng on the blue line of the Taipei Metro.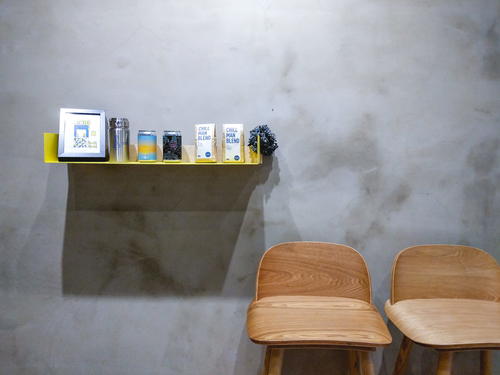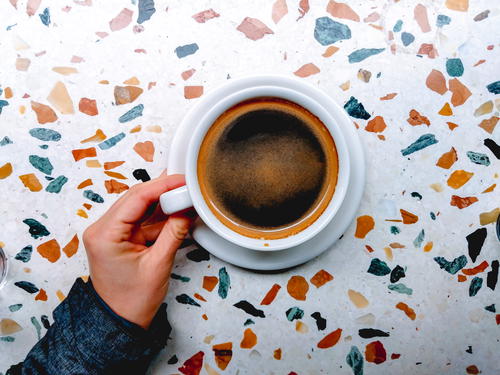 You can also settle down with a laptop for a while. Update for 2023: the Gingin Instagram now says, "沒有WiFi而且有點吵的咖啡餐館," meaning they don't have WiFi, so expect a little bit of a "noisy cafe!"
We tried the americanos, and they were among the best we had in Taipei. What we liked about Gingin was the large amount of natural light coming in through the windows, the back patio, the friendly staff and the cool environment. We'd love to come back and take more photos. Also, if you can't make it over, you can order the food from Gingin on UberEats.
There are now 3 Gingin locations.
Zhongxiao Main Stor: 1F, No. 9, Lane 27, Linyi Street, East Gate, 幸市里, Zhongzheng District, Taipei City
Xinyi Store: 1F, No. 274, Wenchang Street, Da'an District, Taipei City
Founding store: No. 16, Lane 134, Section 2, Zhongxiao East Road, Zhongzheng District, Taipei City (between Dr. Xiaoqian Clinic and Jiuwu Beef Noodles) - this one is just a coffee counter with no seating.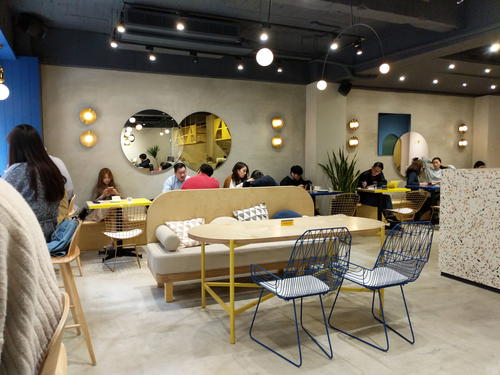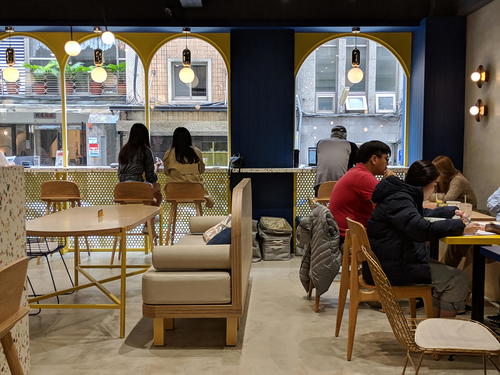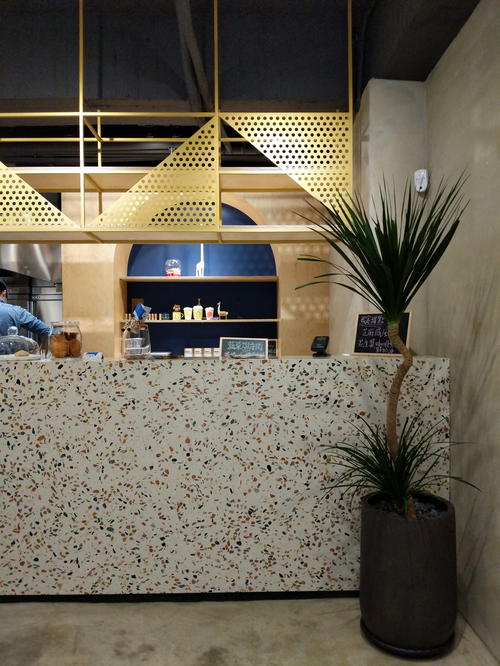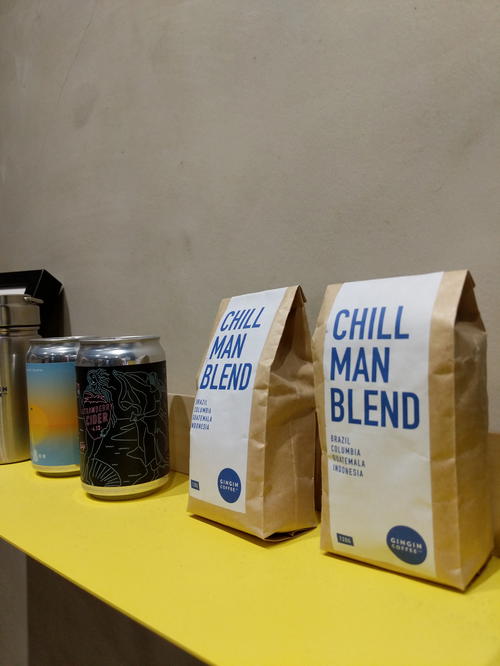 'Ecole Cafe (Da'An District)
'Ecole Cafe is a chic space with lots of natural light, fast WiFi, a patio out back and reasonable prices. Best of all, they have a nice jazzy soundtrack playing in the background (Becca's favorite).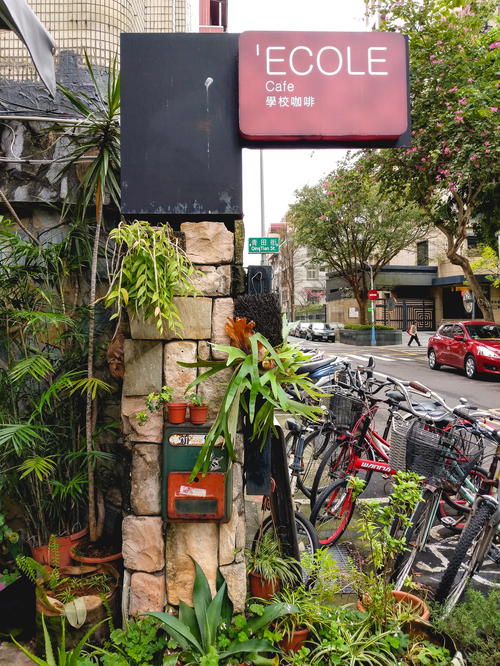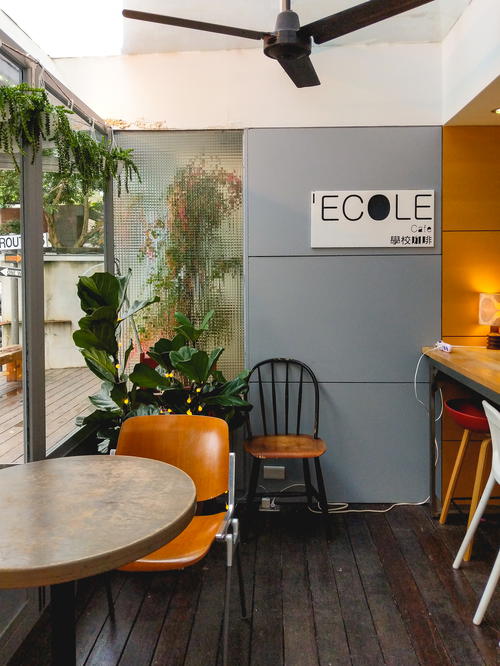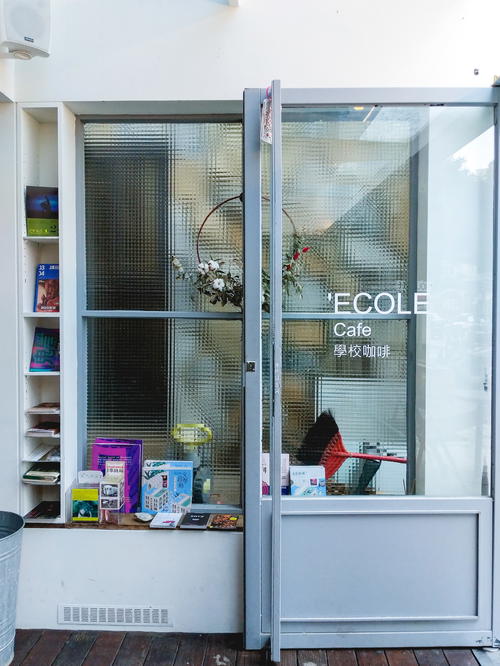 There's food and coffee, and we had the americanos. Staying for two hours seemed fine with the staff, and there were other people working on laptops, reading and writing. We would've liked to have tried the food too.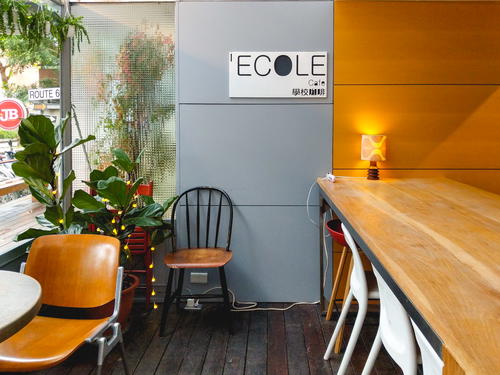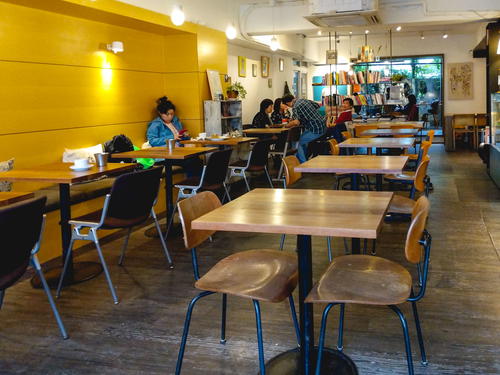 515 Cafe & Books (Da'An District)
We were delighted to find 515 Cafe & Books, which reminded us of a study, a living room and a bookstore. There is a large array of seating, from dining tables to couches and big chairs near coffee tables. During the morning when we visited, there was a large group eating brunch and some other people studying.
The cafe has two cats, Youzi and Juzi, who get their own section of the menu. The cats roam freely through the cafe and it's pretty cute.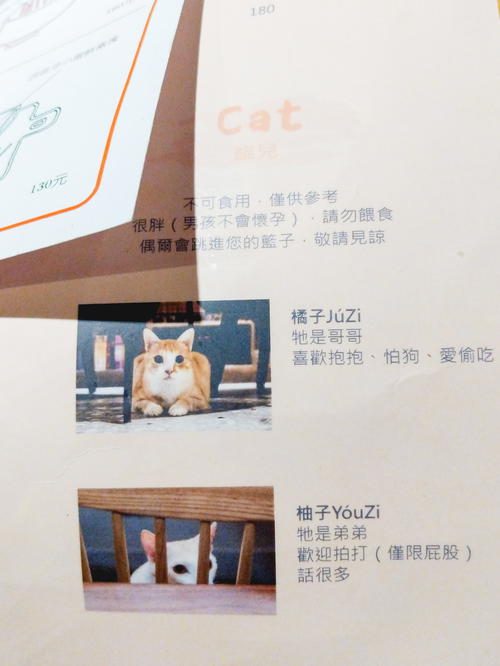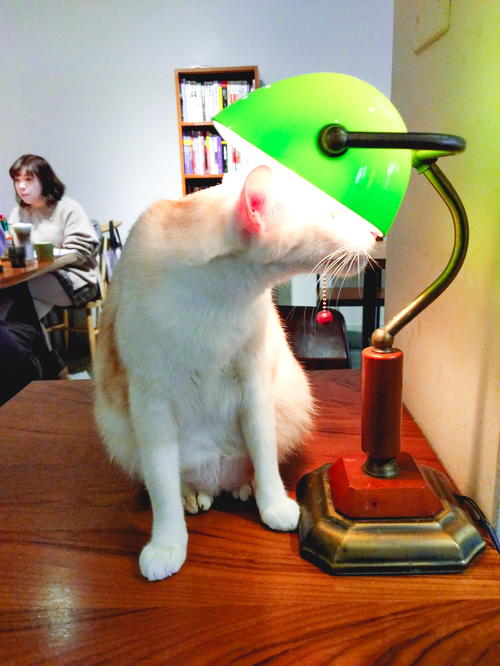 In addition to lots of drinks and teas, they have a brunch menu of all sorts of food. Prices were standard for the Yongkang neighborhood, with drinks between 120 and 150. WiFi was great. There's drinking water for unlimited consumption, which is a nice thing to have for customers.
Roaster Family Coffee (Da'An District)
Roaster Family Coffee is a small place with good service, solid WiFi on its own network and an array of serious coffee drinks. Laptops are welcome, and Roaster Family Coffee is one of the only cafes near Yongkang Street that opens before noon.
We had the americanos and they were satisfying. Due to the cafe's small size, we felt like we shouldn't stay forever, so we only stayed for an hour and a half. Roaster Family Coffee isn't necessarily a good place to spend an entire afternoon, but it's a nice stop if you're out and about.
To note: there is a strict "minimum one drink per customer" policy… emphasis on 'strict.'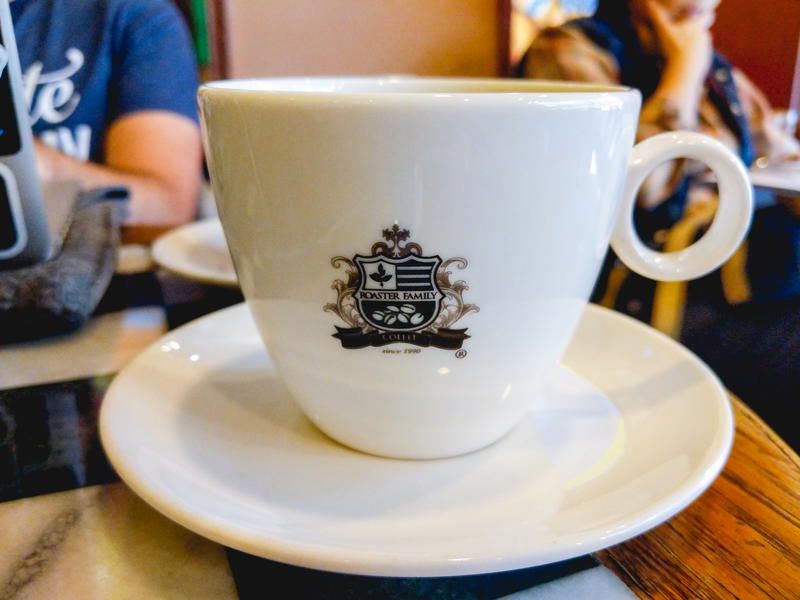 Coffee Z (Zhongshan District)
Coffee Z was a good find, as we mostly went off of photos of its interior before we headed there for some work time. Coffee Z has a list of coffee drinks, some dessert food and an entire upstairs floor with tables and chairs that are ideal for setting up your laptop with minimal distractions.
There are no strict policies with minimum items per customer, and guess what - they open at 7:30 am on weekdays (11 am on weekends). Proper coffee time!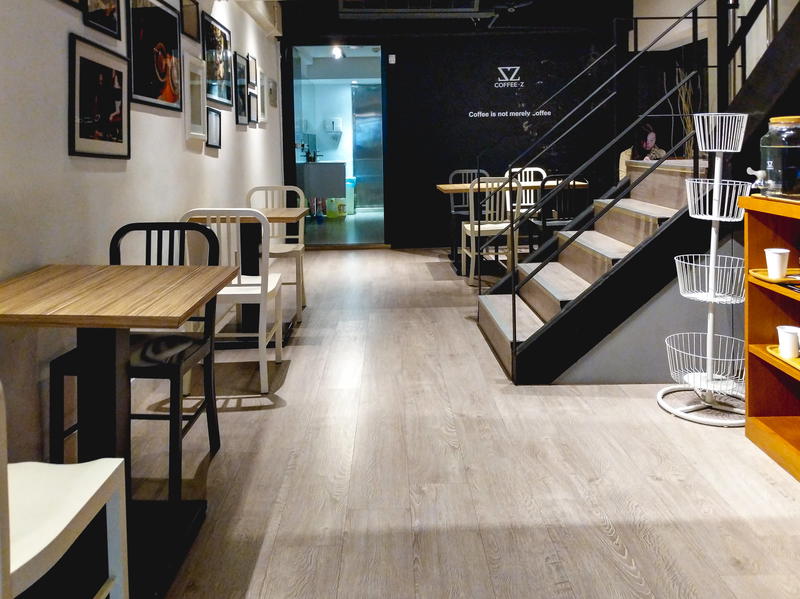 Caffè Libero 咖啡小自由
Caffe Libero is well known in Da'an District, and it's a spot for a light lunch, coffee, dinner and even a cocktail. There's a small porch for some outside seating.
If you come to work remotely, there is fast WiFi for that,
Check out the Facebook page. And, note: it gets busy on weekends because it doubles as a bar and can bring a small crowd. Find it here on Google Maps.
Perk & Cafe 邊緣咖啡
This cafe, located right near the National Musem of Taiwan, is open til 3 am! It comes recommended by one of the members of the Expats in Taiwan Facebook group. On a map, you'll Find it here on Google Maps.
If you Google it, make sure you are looking for this cafe, and not the search results that you'll get, which will talk about the Central Perk Cafe "FRIENDS" cafe in Taipei. Funny enough, if you click the link for this cafe, you get the Facebook page for "Station & Cafe," which seems to be the same place because it lists opening hours from 13:00-03:00.
This cafe proves the point of coffeeshops having wildly different schedules in Taiwan than they do in the West! If you're cool with having a latte past most people's bedtimes, then by all means! (There is a request from the cafe to keep your voice down after midnight, however.)
If you like latte art, then this cafe might be your cup of tea (or coffee).
A Cup of Coffee 一杯咖啡士林店 (Zhishan Station)
You'll find this cafe within a few blocks of Zhishan Station in the Shilin District. See it on Google Maps. Open since 2012, this slightly industrial-meets-cozy spot with funky wall art (like cameras pasted to the wall) will get you a good slice of cake, a coffee and maybe even a beer (there is a list of imported ones).
Feel free to bring along a laptop, as this coffeeshop is work-friendly. There's milk tea, Tieguanyin, grapefruit and honey tea, babyccinos and fun drinks like mulled wine or hot toddies. Plus, there is outdoor seating!
Check out the Facebook page for some delightful photos of cake, coffees, drinks and memes.
Dreamers Coffee (several locations)
Dreamers Coffee is the real deal in Taipei, with eight locations throughout the city, from Taipei101 to Dan'An district. All the coffees have cool minimalist vibes with wood deco and specialty coffees that I will list here, as I can't help it: snow mist cold brew, cinnamon chestnut latte, sea salt caramel latte and sudachi cold brew (Japanese style).
With mostly big open spaces, and vegetarian options for having food as well (baked goods, cake (yum), sandwiches and salads), Dreamers Cafes are good cafes at which you could work remotely because of fast WiFi and lots of power outlets. Many people like to try all the different locations and keep coming back for repeat visits.
PuiBui Cafe & Lounge 杯盃咖啡廳酒吧
PuiBui is a no-brainer for a cool cafe in Taipei to visit, because it's a vibe.
Its cool wood-tone and modern interior is great for a photo, especially when you have an iced coffee drink in your hand at your table. There is a small outdoor seating area with some green turf, as well as a few benches along the exterior of the cafe. Make sure you get a latte or matcha latte with some nice coffee art to take a photo of before you drink it!
PuibBui also has food: small slices of delicious cake, small sandwiches, cinnamon buns heaping with frosted glaze and even curries with rice.
All around, this coffeeshop is a chill and local favorite place to hang out or study, and has an overall quiet sound level, which could help anyone who comes with a laptop.
Note: if there is ever a "full house" at PuiBui, they may institute their two-hour seating limit rule. Still, two hours is long enough for a visit, as well as a nice amount of time to go there to get some work done or study.
Wooloomooloo (Xinyi)
Wooloomooloo (which is very fun to say) is located on Xinyi Road in Xinyi District. They have a Facebook page you can check out if you're interested. Their Facebook page says, "Caffeine. intoxicant. ecstasy," which sounds like a funky translation of some words that are not listed in Chinese, but we'll take it.
The cafe itself has yummy meals (see the TripAdvisor page for some photos) and there is latte art, croissants, cold brew and (wait for it) espresso with kombucha. Check out this shot of the coffee menu.
Louisa Coffee (Zhongzheng District)
Louisa Coffee is a local chain that we discovered and became quite happy with. We first found Louisa on our first full day of walking around Taipei, and were so happy to have hot americanos (for 45 NTD) and a bagel(!!) with peanut butter for Dan. Service is fast and the baristas were friendly.
You can find Louisa Coffee all over Taipei, but beware - the locations are often very busy and it could be hard to find enough space for both you and a friend.
Also beware that they don't have a private WiFi network, so when we went there for working, we used our own hotspot or the free Taipei city WiFi.
Sugar Man Cafe (Heping, Da'An District)
Sugar Man Cafe is located not too far from the Shi Da Night Market on Heping East Road in Da'An District. It has an old-school bookish vibe, with dark wood, books on shelves, cool posters on the walls, desk surfaces with reading lamps and booths for meeting up with a friend.
On the menu you'll find tall iced drinks, slices of dessert treats and even bagel sandwiches. For drinks, there's espresso, Viennesse cappuccino, Irish coffee, brown sugar lattes and something I recommend from having had it elsewhere, which is espresso with tonic water.
The Facebook page is all in Chinese. Try it for a visit!
Two Shots (Zhongzheng District)
Two Shots has its location going for it, as it's right next to an exit of the Dongmen Station on the red line. Inside, you won't find much seating. We were lucky to land the two stools at the bar.
Prices are very reasonable, and we had the americanos for 45 NTD each. This was among the best price we saw among all the cafes we tried.
They have their own WiFi network, and it worked fine. To note: they do not have a bathroom, and if you need one, they will direct you to use the restrooms in the MRT station below. This is because the coffee shop connects to a guesthouse, which seems to have its own private restrooms for guests.
Homey's Cafe (Da'An District)
Homey's Cafe is a wildly popular cafe and bar that we found because we were looking for a place to cozy up in the area.
The place functions more like a restaurant, although you can order as little as one drink (juice, coffee or tea). When you arrive, a host or hostess will seat you where there's space (or maybe this was because we showed up on a very busy weekend afternoon).
Homey's is located in an apartment converted into a cafe, so there's different rooms to sit in, lots of couches and varied seating. The WiFi was alright. Lots of people had laptops or were on talkative dates with friends.
Prices were on the higher end for a cafe, between 110 and 180 for most drinks and foods. To note: the cafe is cash-only.
More Cute Taipei Cafes and Coffee shops Worth Visiting
We spent nearly three weeks in Taipei, but it wasn't enough time to visit all the cafes on our list that are located throughout the city. If you have the time, or if any of these cafes are near where you're staying, we recommend checking them out! (Then, let us know how it went).
BOOM coffee roasters (大爆咖啡 BOOM coffee roasters)
Located in Da'An District, visitors note that this is a good place to spend a few hours studying or working and it's very quiet.
Dancing Goats Coffee (跳舞山羊咖啡)
Known as a friendly place with big windows, this cafe is a favorite in Da'an District for its great food and wonderful atmosphere.
Kafka by the Sea (海邊的卡夫卡)
This cozy spot is located in Zhongzheng District. There's a discount if you order a sandwich + drink set. There's a cozy wooden atmosphere.
YOLO's Cafe
A cafe in Da'an District, visitors note its cool vibe and super friendly staff.
羊毛與花 youmoutoohana Coffee
We can't figure out the name, but it was interesting enough to go on our list. This cafe is located in the cluster of cafes on Yongkang Street, Da'an District, and people say it's cozy with outlets and WiFi as well.
Atlantis Coffee 亞特蘭提斯咖啡館
Known as a little cafe in a rather quiet section of town, this coffee shop is based in Zhongshan District.
KiOSK
Located in Zhongshan District, this cafe has great music, chill vibes and delicious desserts.
SWELL CO. CAFE
Also in Da'an District, SWELL Co. Cafe has an attractive interior with beach vibes. There's outdoor seating and a healthy breakfast menu.
樂樂咖啡
A favorite in Songshan District, we'd go with "LeLe Coffee" if we had to translate its Chinese name into English. They have a simple atmosphere and comfy seats.
Remember Me Café (Remember Me_記得我.Café)
We were drawn in to look at this cafe by the fact that it looks special — artistic atmosphere, great ambiance and nice deco. Each table has a sketchbook with pencils!
Café Costumice
Cool, chilled and intimate, the cafe is located in an alley of Da'an District.
創咖啡 TRUST CAFÉ
This cafe is a cozy and trendy place to meet friends or coworkers, and located in Zhongshan District.
Looking for more things to do, see and eat in Taipei? Check out our complete Taipei travel guide.
Enjoyed our article?
Consider supporting us! We're a 2-person team (learn more about us here) and your support enables us to create quality content. Thank you!