Izamal Travel Guide: The Yellow City Worth Visiting
Updated on September 6th, 2023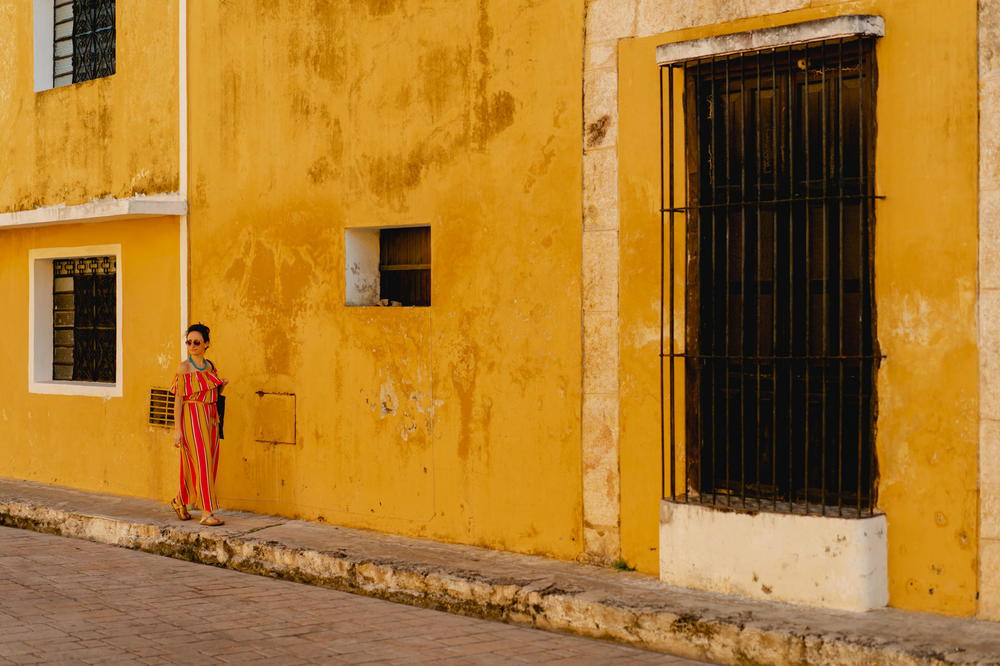 Our guide for a day trip to Izamal lists what to see and how to get to Izamal from Merida. Is the Yellow City of the Yucatan worth a visit? Yes, and here are our best tips.
This article may contain affiliate links. We earn a small commissions when you purchase via those links — and it's free for you. It's only us (Becca & Dan) working on this website, so we value your support! Read our privacy policy and learn more about us.
Table of contents
Close table of contents
Izamal was one of our favorite day trip excursions from Merida, and it's a great idea of a cool place to visit in the Yucatan during your trip.
Izamal is a special place. First off, it's incredibly photogenic. We wondered if the people who live in this very yellow town really know how lucky they are, and if they're always seeing yellow.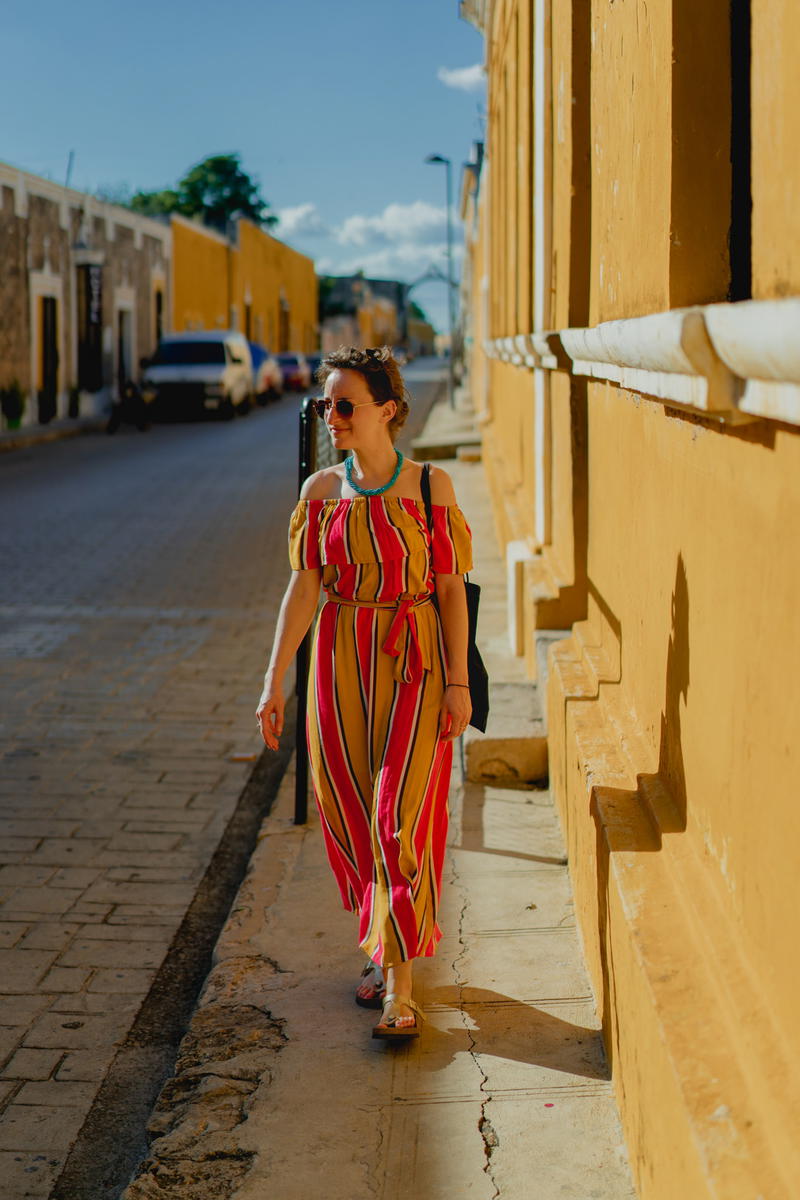 Second, it's an authentic little Mexican town that's easy to get around, totally safe and perfectly charming!
There are only good reasons to visit Izamal, so here's our guide for what to see and do and how to make the most of your trip to the Yucatan's Yellow City.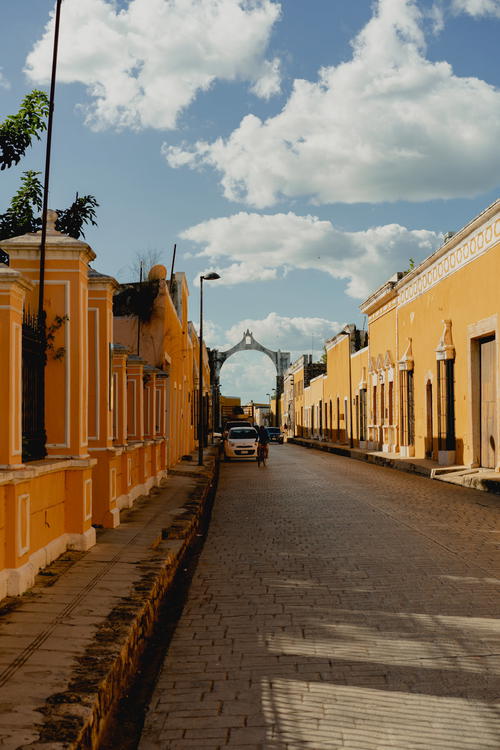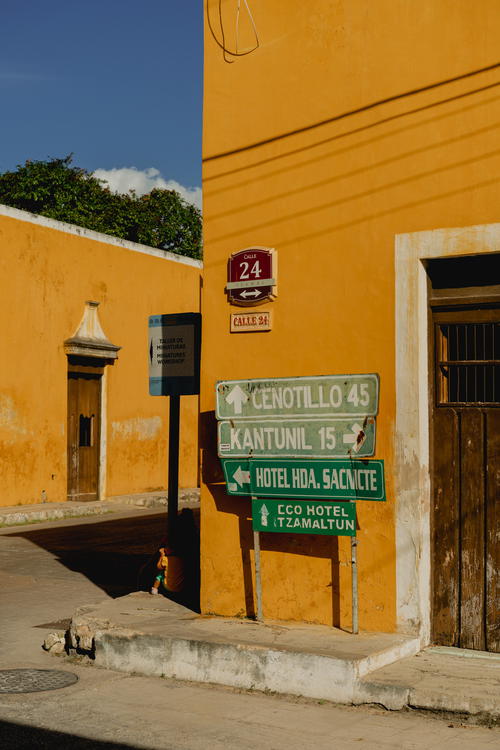 Is Izamal worth visiting?
Given that Izamal was my favorite day trip from Merida out of all the excursions we planned, the answer is yes.
Personally, I really like seeing smaller-sized local Mexican towns, which is why I liked our stay in Valladolid so much (even though it's not a "small" town).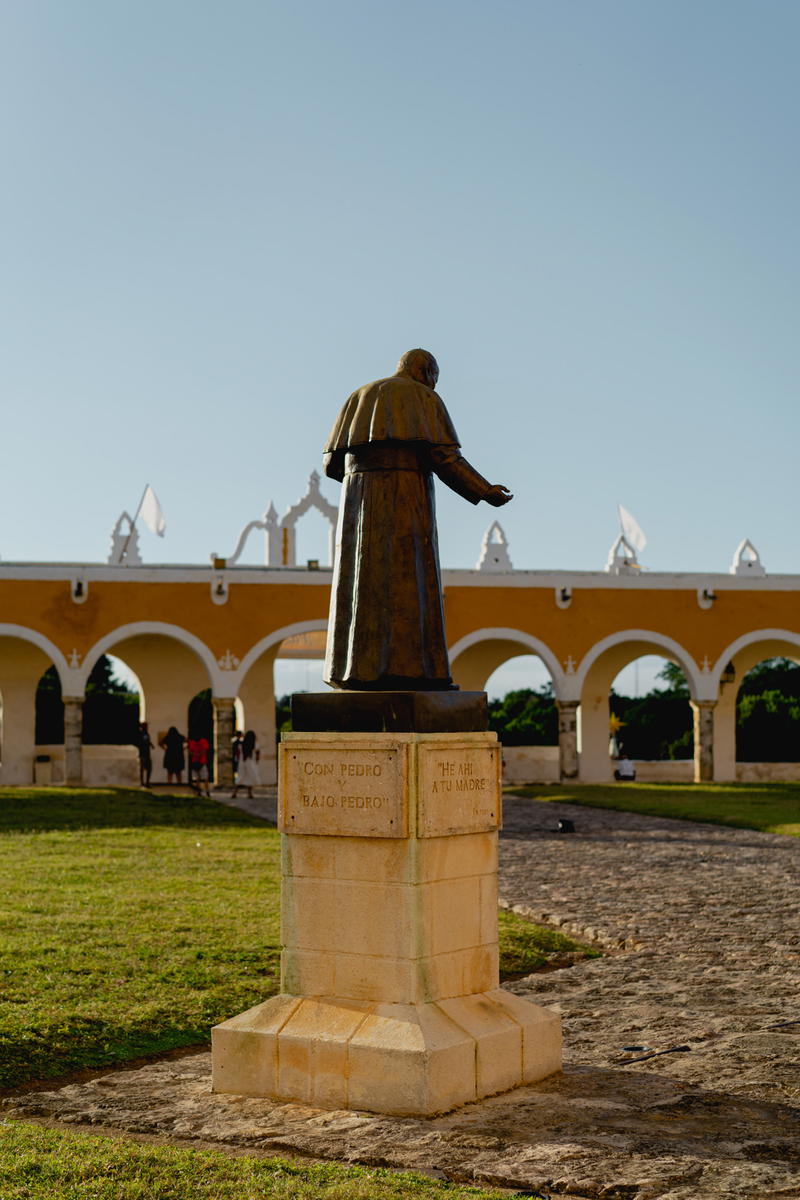 I like that Izamal was an accessible small Mexican town with a special draw: that it's "all yellow," like the Coldplay song.
This makes it a photographer's paradise: seriously, it is hard to take a bad photo in Izamal (I tried!).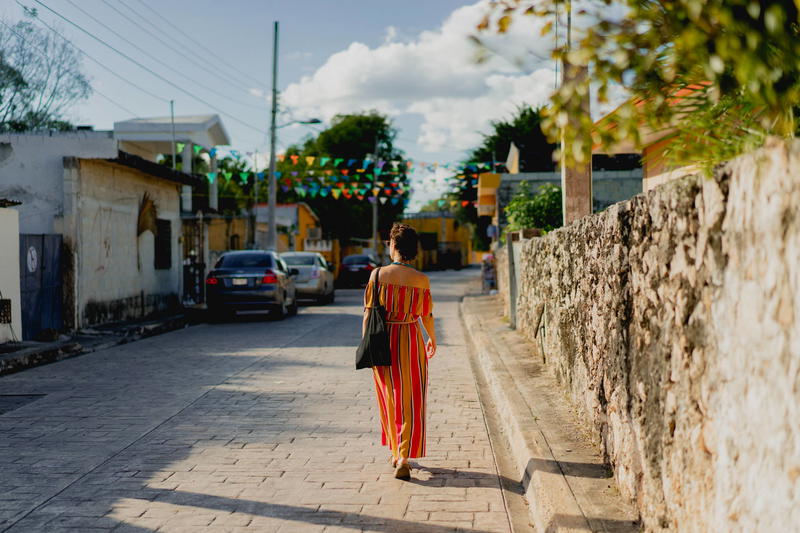 The other thing that makes Izamal a worthwhile travel destination from Merida or Valladolid is that it's not expensive.
Yes: we spent hardly any money visiting Izamal aside from sitting down for some casual meals, snacks and drinks, like juice and coffee.
It's free to walk around the colonial streets (all painted yellow), it's free to visit the Mayan ruins of Kinich Kak Moo and it's free to step right up and visit the most famous attraction, the Convento de San Antonio de Padua.
All in all, Izamal checked the boxes for traveling and saving money at the same time.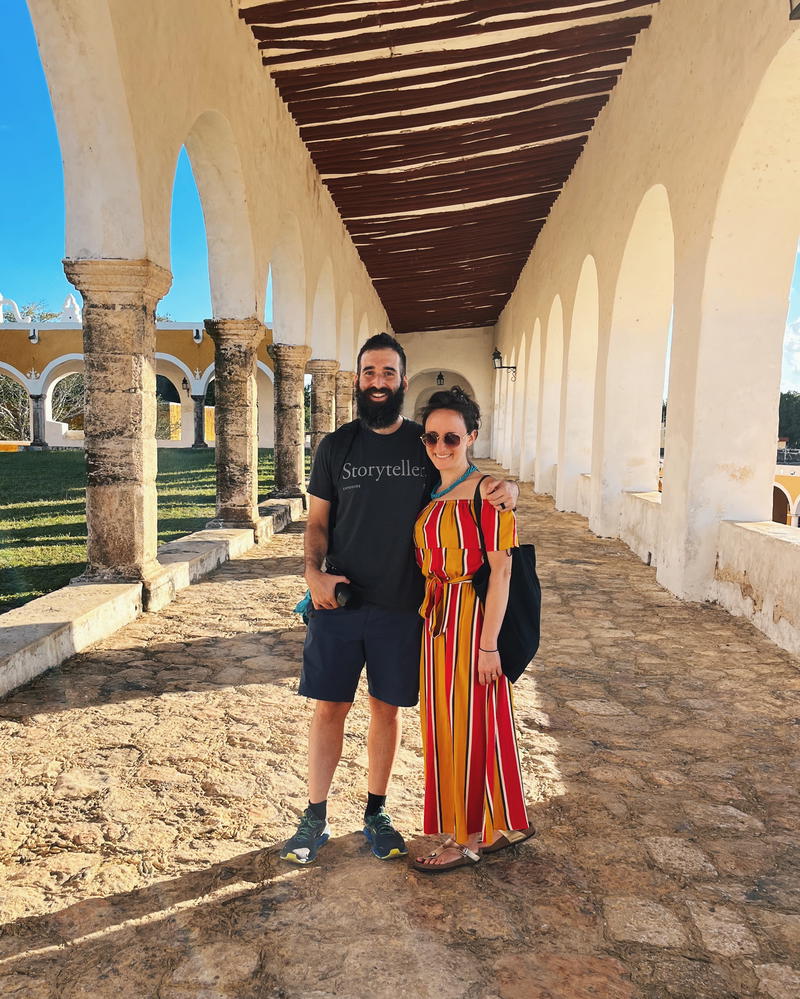 Helpful Tip
Still looking for a camera for your travels? We put together this list of the best travel cameras so that you're fully prepared for your visit to Mexico.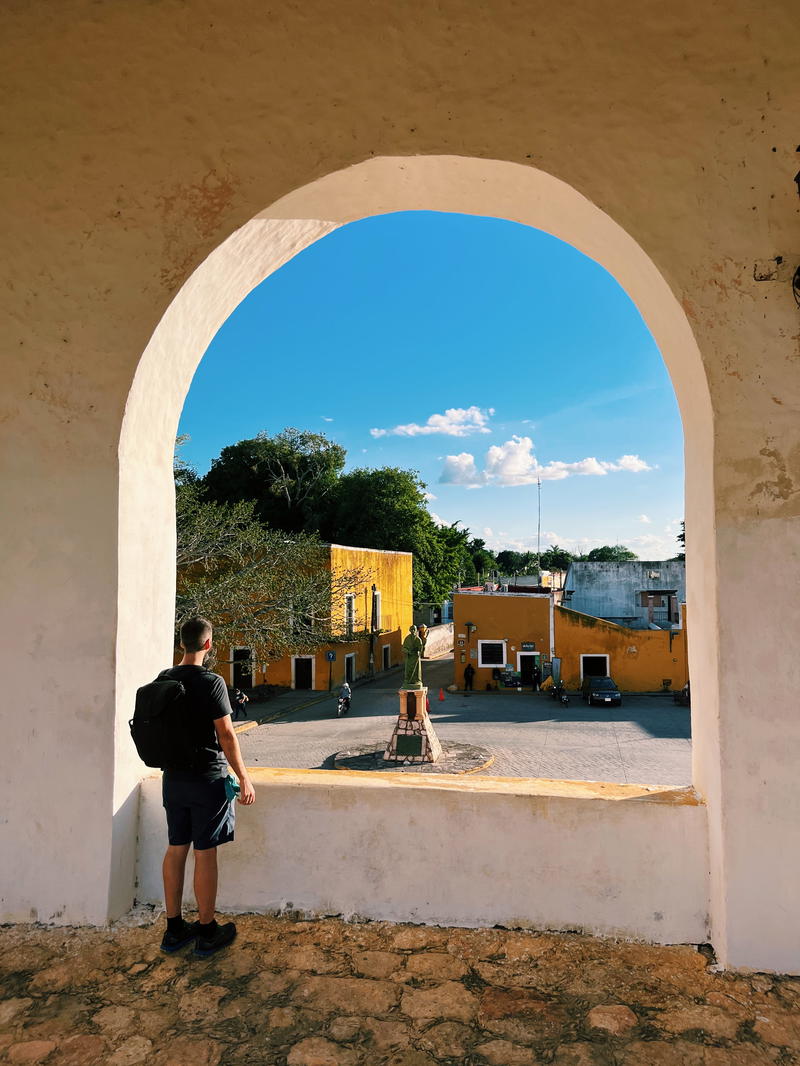 History of Izamal, the Yellow Town
Izamal is older than it seems, dating back to the Mayan empire, with some of its structures like Kinich Kak Moo dating to AD 600-800.
This predates the arrival of the Spanish by almost 1000 years, giving Izamal a long, long history much like many of the Mayan ruin sites of Ruta Puuc.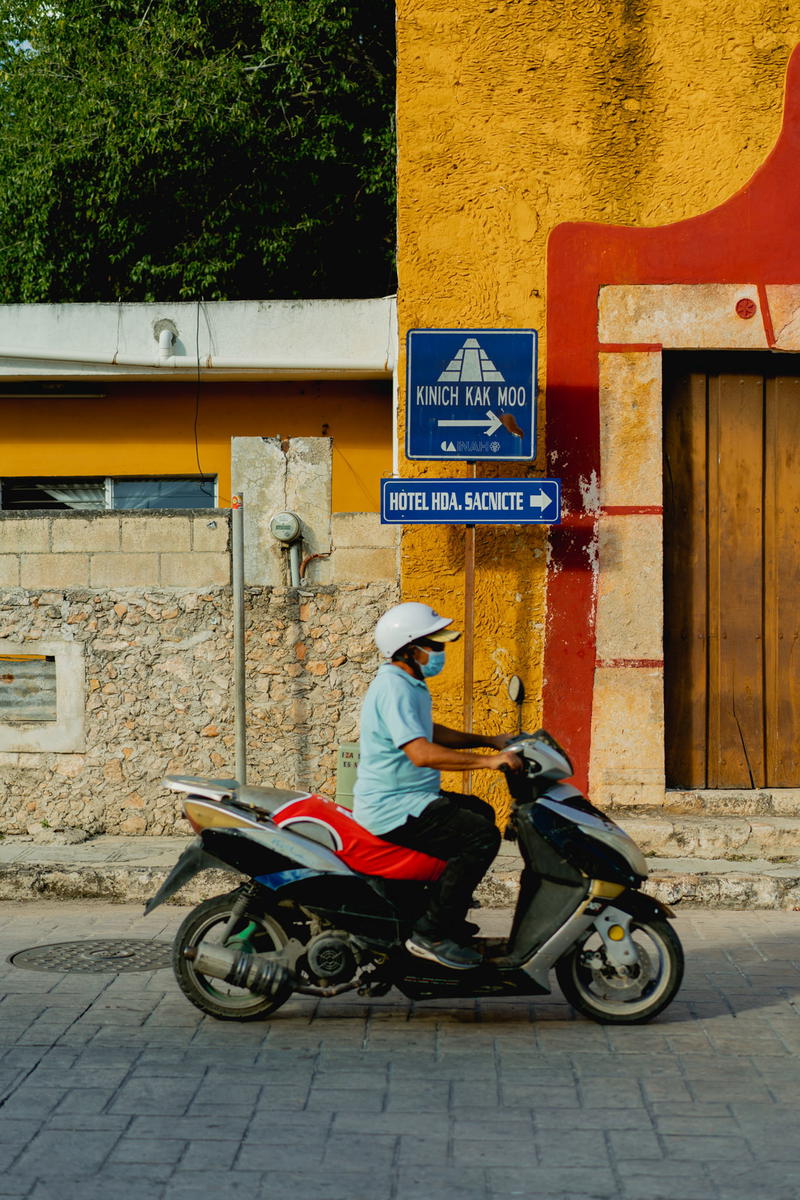 In addition to being declared a UNESCO World Heritage Site, the Mexican government has also named Izamal a magical town (pueblo magico), which is a special designation given to places with rich traditions.
The Spanish arrived in the 1500s, constructing the Convento de San Antonio on top of ancient Mayan structures. The convent, which is the main religious center of the city, was finished in 1561.
One of the proudest moments for Izamal, centuries later, was the visit of Pope John Paul II, in 1993. It must've been a very exciting time for such a small city that's hardly in the vocabulary of anyone outside Mexico.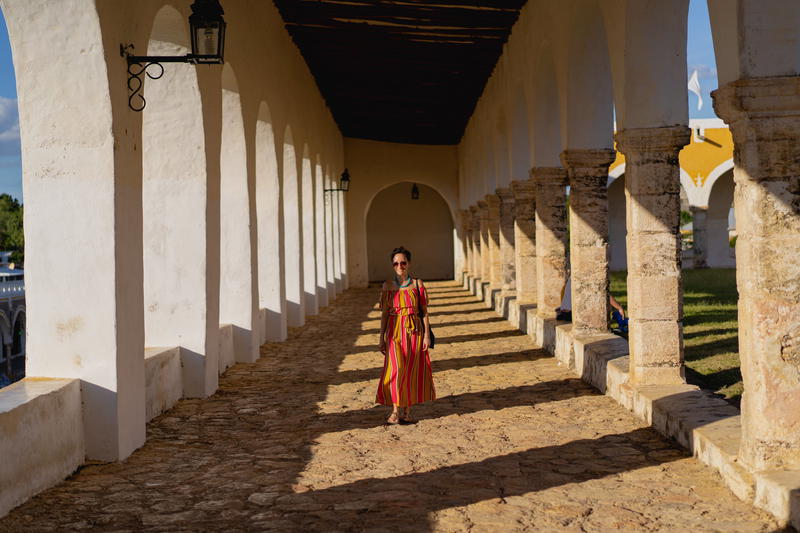 Izamal could be characterized with three different cultures, those of the ancient Maya and their descendants, the Spanish and European influence seen in the architecture of the big convent and church and lastly, the present-day Izamal which is a city attracting travelers from around the world.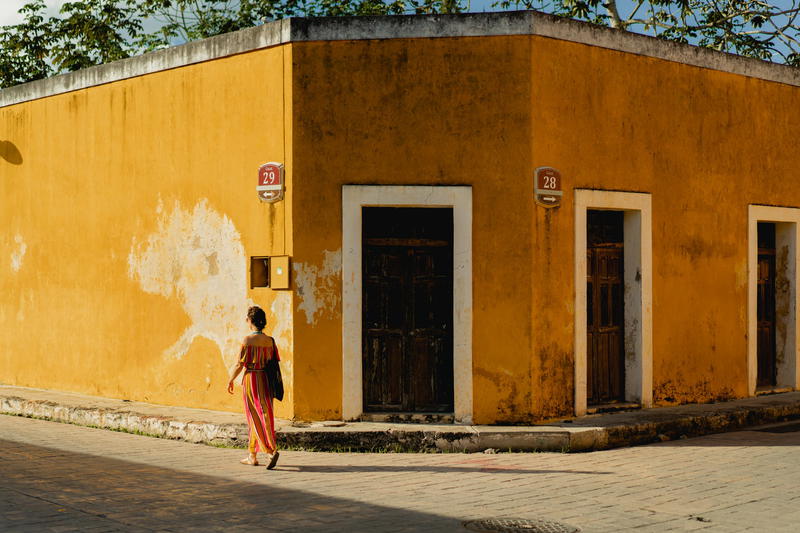 The Izamal of today is a peaceful and photogenic colonial town with a fascinating mix of a city-block-sized Mayan stone pyramid right next to yellow-washed buildings and cobblestone streets.
There's no wrong way to enjoy a visit to Izamal, so a trip composed of any of these elements will please any traveler in the Yucatan.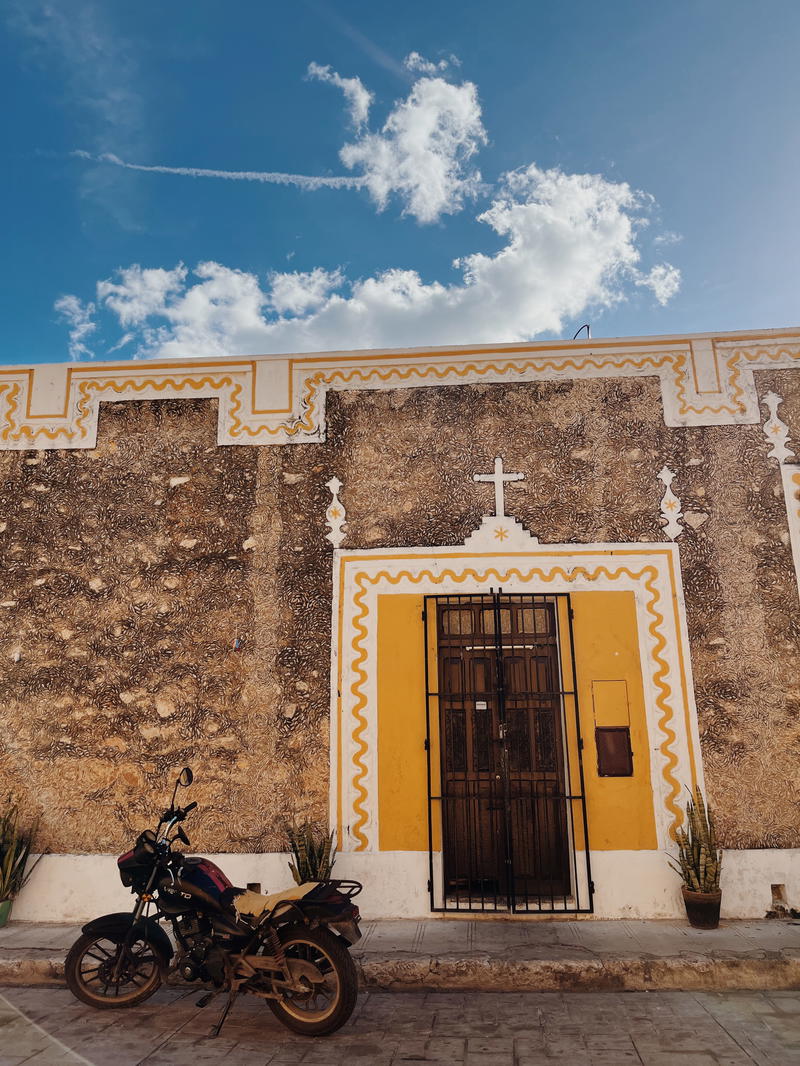 Why is Izamal yellow?
Everyone is asking this question. I also tried to Google it before we went. As it turns out, no one can really agree, so there are a few rumors you can go by if you're intent on having an answer:
To honor the sun god Kinich Kak Moo: this story makes sense. For more than 1000 years, the Mayans wished to honor the sun god, so they painted some buildings yellow. I have to admit this story makes sense.
For the pope's visit in 1993: this story is a lot newer, and people seem to not be verifying what the town looked like before this huge papal visit in the 1990s. Was it because they wanted to clean up the town's appearance to impress him? We can't be sure.
To keep mosquitoes away? I read this last rumor online. I find it hard to believe, but people find all types of reasons to keep away mosquitoes.
Best time of year to go to Izamal
The best time of year to visit Izamal doesn't differ much from the best time of year to visit Yucatan State.
If you're planning a bigger trip to travel from places like Tulum (on the east coast of the peninsula, in the Mayan Riviera) all the way to Merida, you may find that there are slightly different recommendations of when to visit the western vs. eastern Yucatan.
With Izamal in the center (more or less) of the Yucatan peninsula, it doesn't seem too impacted by hurricane season. To make things simple, the best time to visit Izamal falls in line with the best time of year to visit Merida, which is from November to March.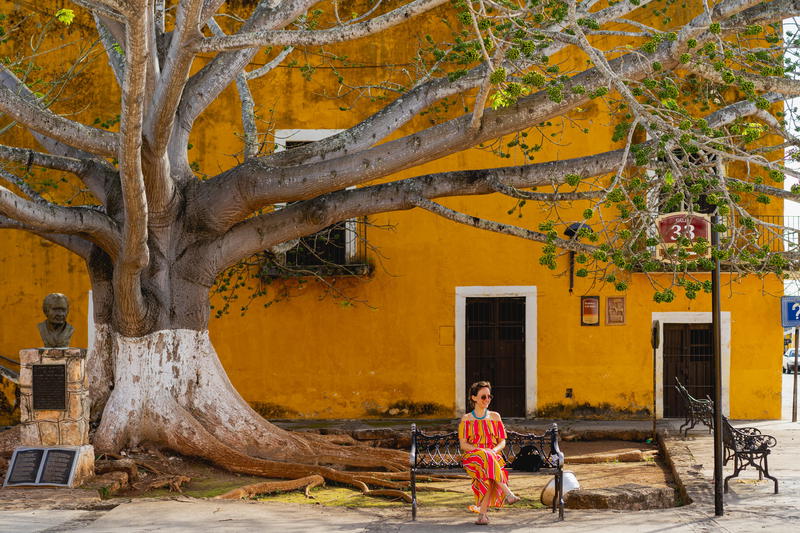 Visiting in spring, summer or early fall will bring higher temperatures, which will make days hotter and less bearable.
The best time of year to visit places like Izamal, Merida and Valladolid will be in the middle of the Northern Hemisphere winter, with December, January and February as ideal months when temperatures are more moderate.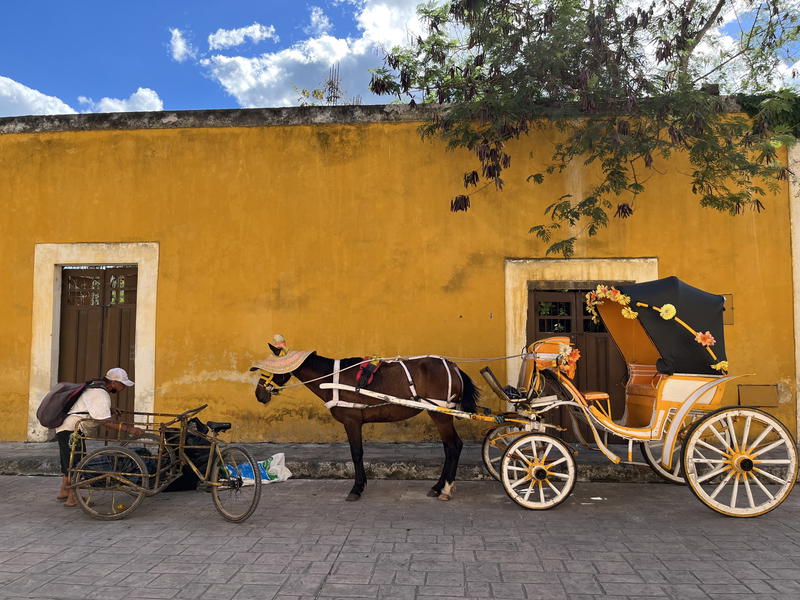 What to know before visiting Izamal
If I had to tell my past self what to know before visiting Izamal, I'd immediately point out that Izamal is not big.
The center of town is a very manageable size, with a set number of things to see.
Of course, if you are a photographer, you would probably appreciate being in Izamal both at the crack of dawn before the sun gets too high, and then again at golden hour, for prime photography lighting.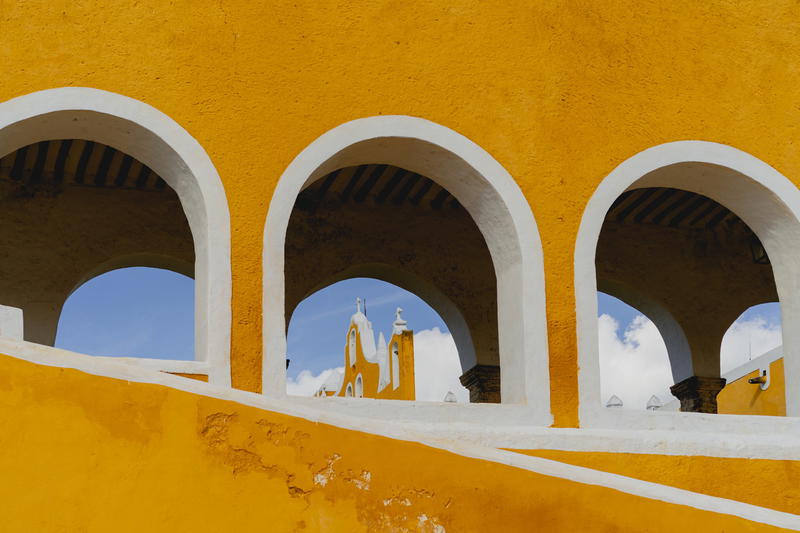 Other than that, you might want to in fact kill time in the middle of the day when a) the sun is directly overhead and b) it is too hot to move around.
We were in Izamal in early January, when a winter heat wave of daily highs of around 94-96 degrees F in Merida had just broken. Nevertheless, Izamal was about 85 degrees F (29.4 C) during the first week of January.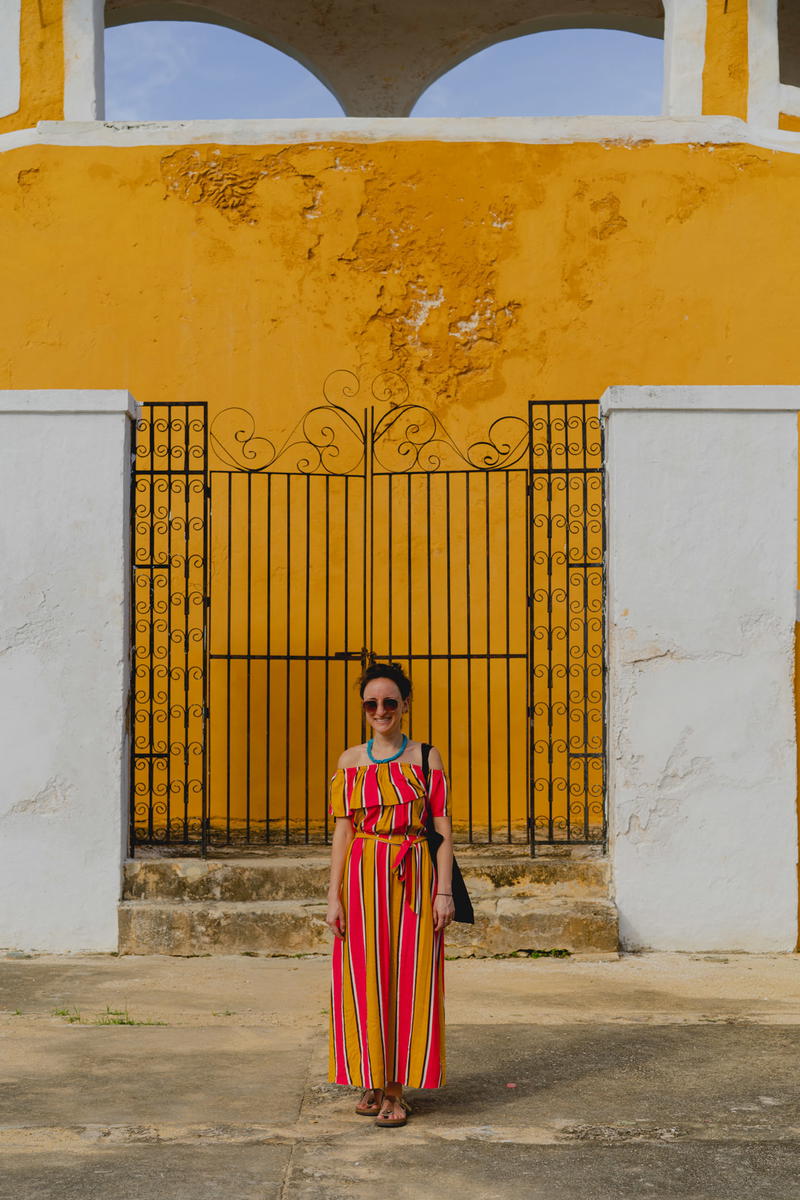 With walking around at the height of the hot hours, this can be quite warm, especially if you've just flown in from a cooler destination because you were escaping winter.
My main point here is that if you visit Izamal, don't expect an overwhelming number of attractions. I'll soon get into what to see and what to do in Izamal, but you likely need half a day of sightseeing time, and an evening for having a drink, dinner and relaxing.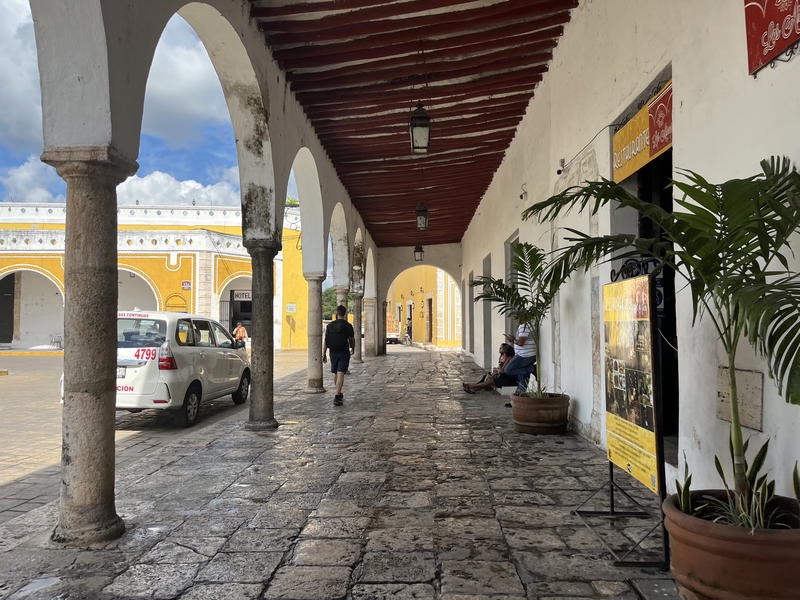 The last thing to know about Izamal is that there is not a ton of English. This is typical for a small Mexican town, as English is found in most major cities and coastal tourism destinations like beaches and resorts.
Therefore, it helps to brush up on Spanish. You can use these tips for learning a language for travel before you go.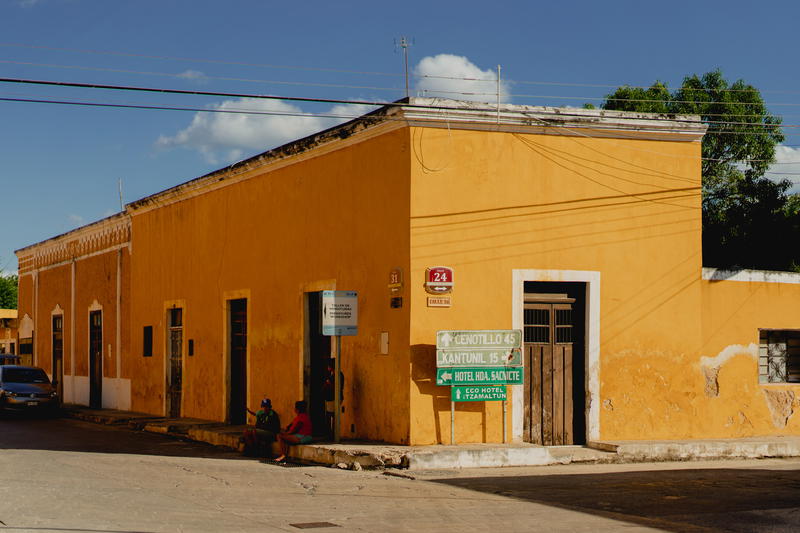 How to get to Izamal
There are a few ways to get to Izamal, from both Merida and Valladolid, the neighboring largest towns (with Merida being a major city, and Valladolid being a closer regional second).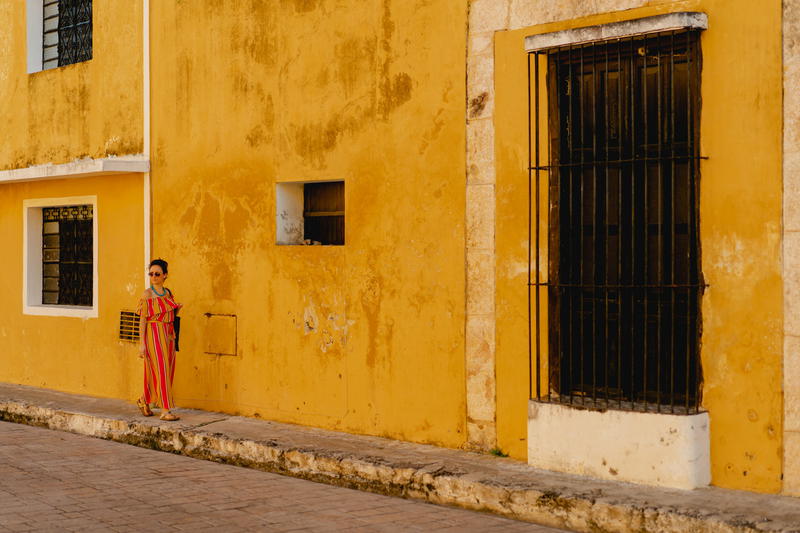 Take a public bus
We were delighted to find that taking a public bus from Merida to Izamal was so straightforward and cheap.
In fact, the hardest part of getting to Izamal from Merida was that we couldn't find any bus schedules online, so we just left our Airbnb around 9 am, hoping we'd luck out and get a bus immediately.
We did! With 5 minutes to spare, we were the last people on the 10 am departure from Merida to Izamal from the "Terminal Oriente" for the Oriente bus line. The address is: Esq Calle 67 y 65, C. 50, Centro, 97000 Mérida. It's located here.
You have to pay for your ticket at the small indoor booth right inside the door immediately on the street. Tickets seem to be cash only.
Per person, it was 35 pesos each way. At the time of writing, this was approximately $1.68 USD. Not bad.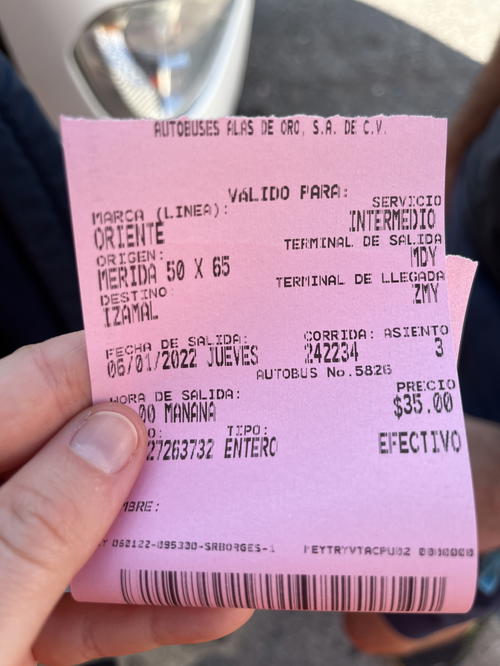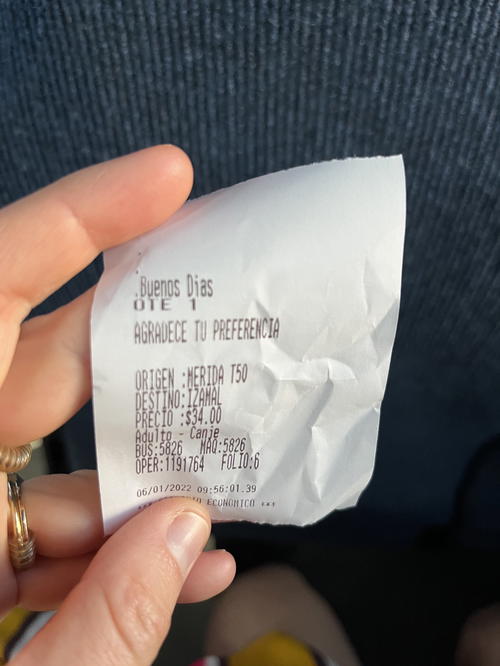 The bus left super promptly at 10 am on the dot, and it was not full. The bus (which is considered "second class") had acceptably-functioning air conditioning, and the driver played music the whole time. We had no complaints about this bus ride, and it took about 1.5 hours, just as planned.
We arrived in Izamal around 11:30 am at the Terminal de Autobuses de Izamal, which is located at Calle 32 (at Calle 24).
If you're coming from Valladolid, the journey also takes about 1.5 hours (maybe 2, as it is a little bit farther).
Take a colectivo (shared van)
I did a bunch of research online to determine if we should take a colectivo from Merida Centro to Izamal.
Here were my findings:
Colectivos (not confirmed) tend to leave from an unofficial stop at Calle 65, between Calles 54 and 52 in Downtown Merida.
The cost for one person is around 31 pesos.
Colectivos leave every 20-30 minutes, or sooner, if they fill up with enough people.
Rumor has it that the ride is faster than the bus, but after taking the bus, this is hard to believe. The bus drove at highway speed and didn't make too many stops aside from in the villages on the way like Hoctun.
Take a tour
There are so many tours that can take you to Izamal! If you want an all-inclusive experience that comes at a flat fee, a private tour will pick you up at your hotel or hostel, and take you to Izamal and back.
Taking a private or guided tour will probably get you the luxury of traveling with a Spanish-speaking guide and driver who can help you with questions and make sure you get around safely.
Private or guided tour packages also usually include a meal at an authentic restaurant and an itinerary that will make sure you hit all the right attractions without missing anything on your day in Izamal.
Most tours return back to Merida or Valladolid by sunset. You can find a tour to Izamal on sites like Airbnb Experiences, or Viator/TripAdvisor.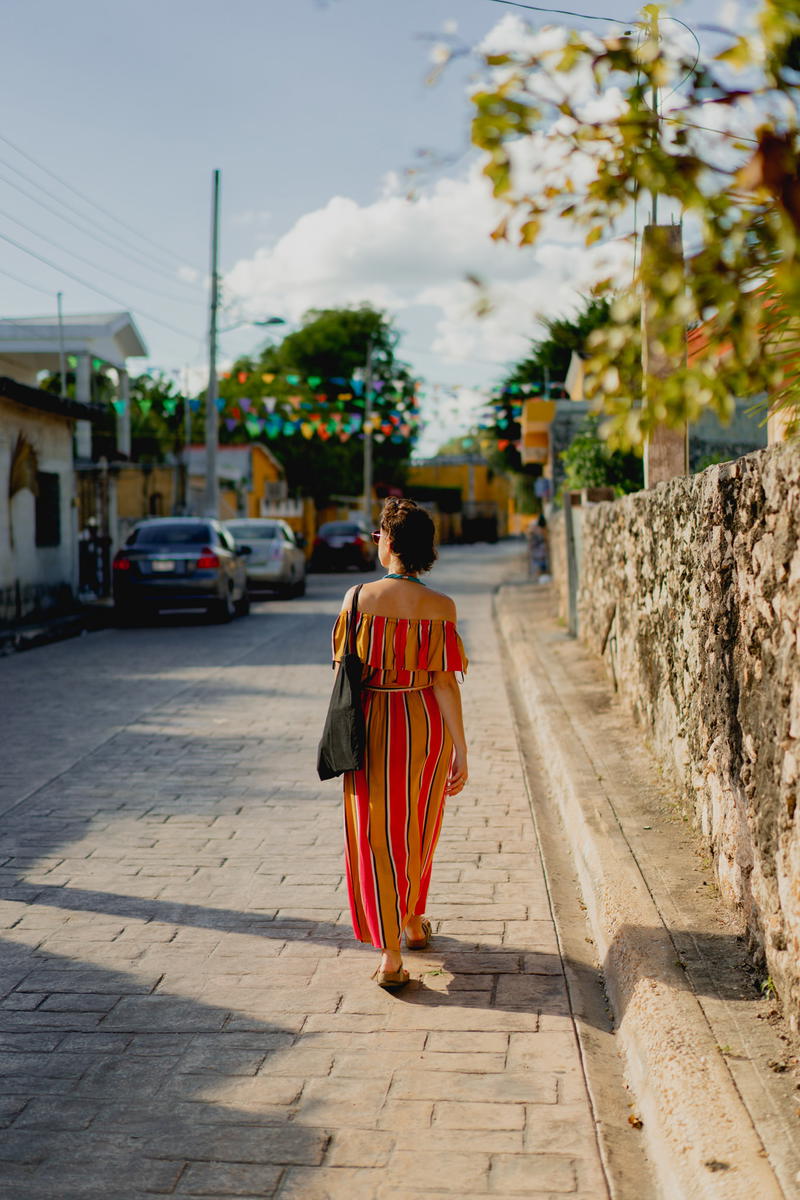 Get a private driver
In speaking with a friend's friend who has a network of private drivers in Merida, it seemed that getting a private driver to drive us to a place like Izamal on our own schedule wold not have been worth the money, when compared with the relatively short trip by bus that was tons less expensive.
A private driver probably would have cost between $50 to $100 USD, based on the research we also did for transport to Uxmal from Merida. It's also a less sustainable travel option when compared with mass or shared transport.
Rent a car
You can rent a car in Merida, and we had friends that a) did this and b) recommended we do this. Renting a car would give you a lot of flexibility, and if you have a base in Merida or Valladolid, renting a car and having it for a few days will let you visit lots of places with your own schedule.
At the time of writing, we had friends who visited Merida from Mexico City and rented a car that came out to about $80 USD per day. We are considering that they probably didn't get ripped off or charged a gringo price, because our friend's partner is a Mexican native.
Given that we were based in Merida and we didn't need a car on consecutive days, we determined that a one-day car rental would probably be 40x more expensive than taking the public bus (see: public bus).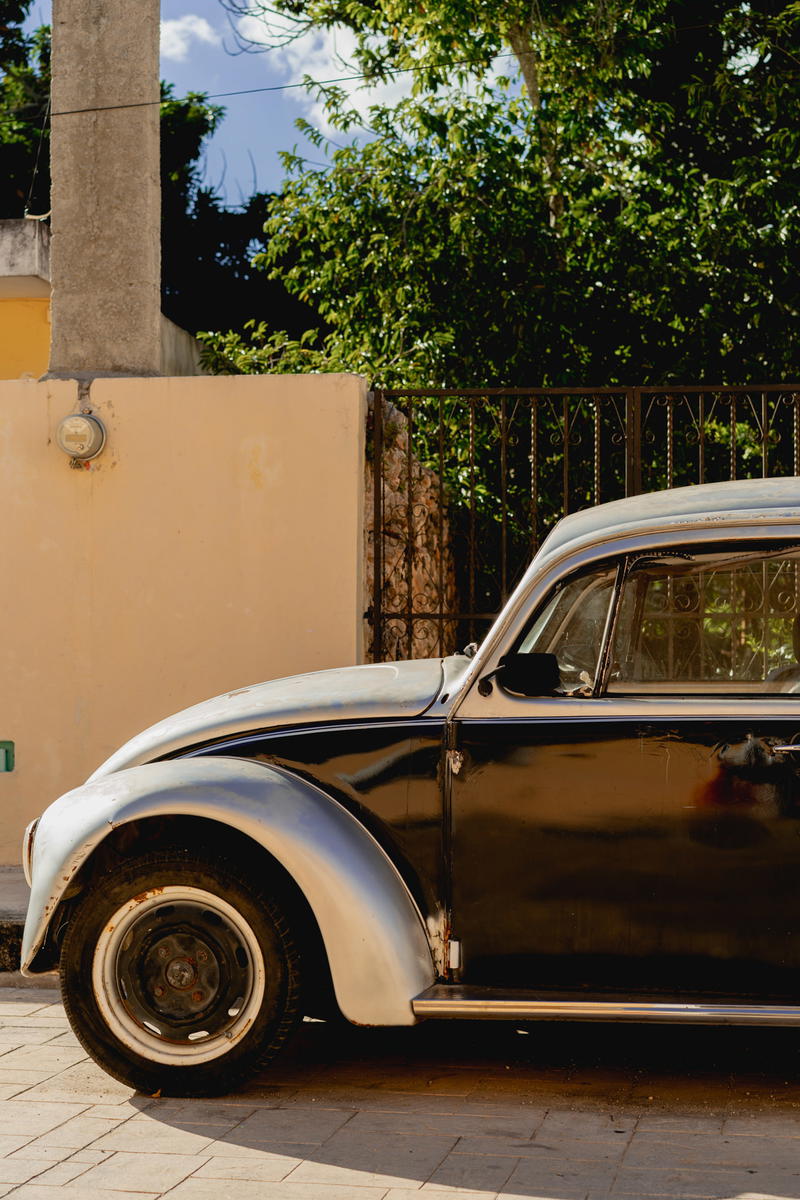 Helpful Tip
If you're thinking about Uber: while this was an idea of ours, at the time of our research, there were no Ubers available to drive from Merida to Izamal. There were also no Ubers back, from Izamal to Merida or other villages.
What to see in Izamal
If you're game for spending a day on your feet walking through the town and seeing a handful of sights, then you're in luck: you will have a good time visiting Izamal.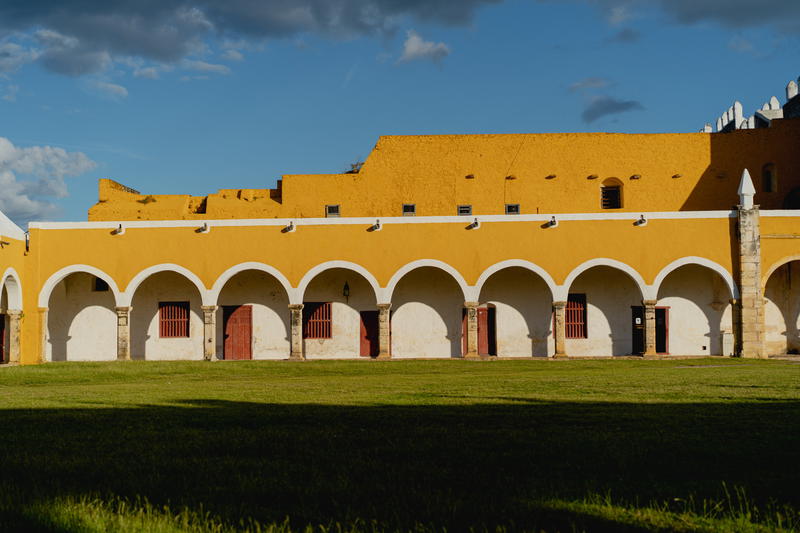 While I was informed enough to know that the Convento de San Antonio was the top sight in Izamal, I was completely astonished to find out that there is a massive city block-sized ancient pyramid site located within 15 minutes' walking from the central squares.
Here's a list of what to see and do in Izamal for a morning or afternoon.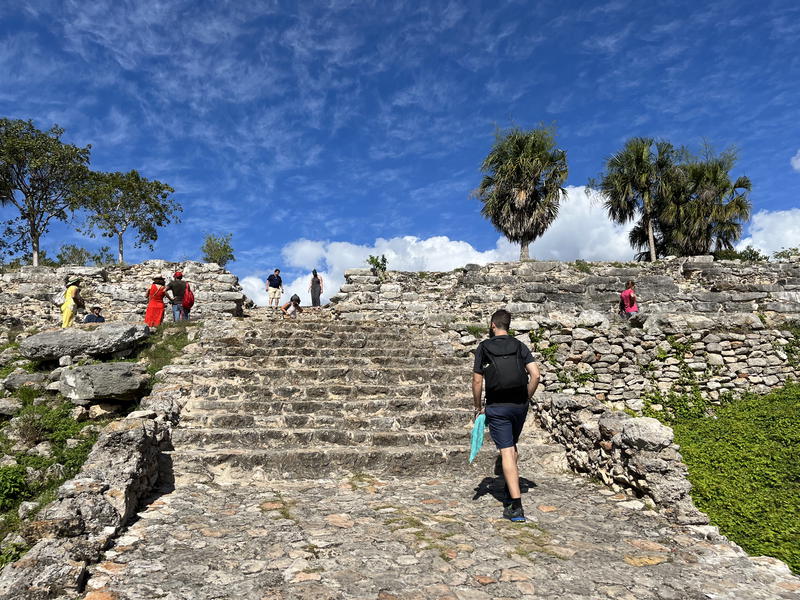 Izamal Centro
The center of "downtown Izamal" is bordered by several very yellow-hued streets, all of which will give you a great starting point for walking around.
The main streets of Calle 31 and Calle 29 are particularly photogenic, pretty and well-preserved. If you stay within 10-15 minutes of the 5 de Mayo Park, the Convento de San Antonio and the Mercado de Izamal, you will see all the best streets for taking photos.
Helpful Tip
You can see a few more of our photos in this photo gallery.
As you stray further from the town center, there won't be as many historic points of interest, and you may even see a (gasp!) house that is not yellow.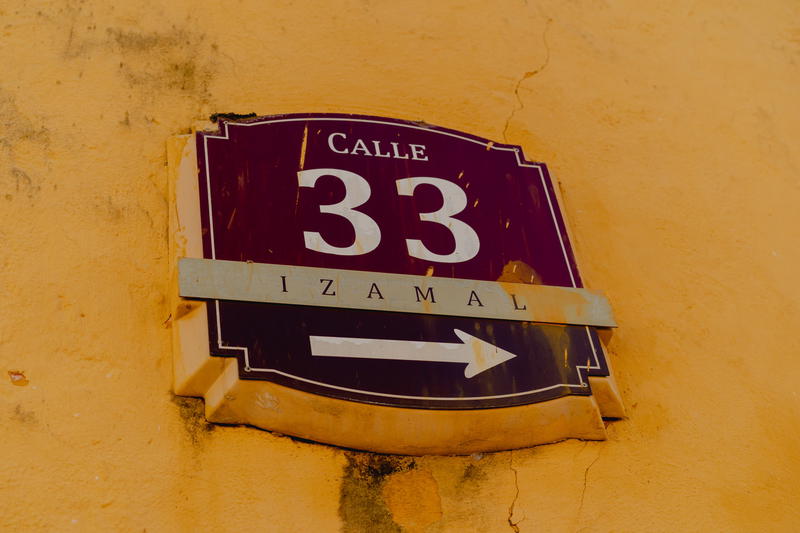 Mercado Izamal
The town market of Izamal (Mercado Municipal De Izamal Yuc.) is like a smaller-scale version of markets you'd see in Mexico City or Merida.
There are a few restaurants that you will find outside with patio seating, next to several handicraft and souvenir shops along the street.
As you head inside, you'll see where the locals shop for fruits, vegetables, clothes, flip-flops and … arcade games?
It's very safe to walk around the small market and we did not notice any petty crime.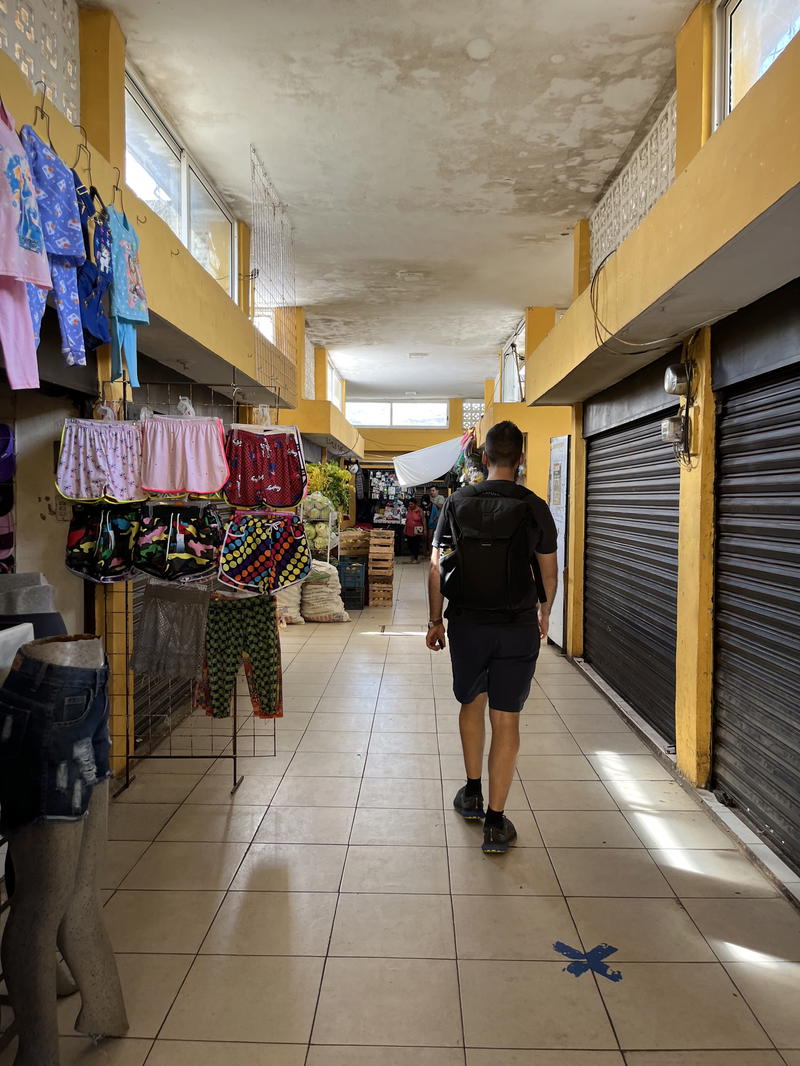 Kinich Kak Moo
Kinich Kak Moo, the Mayan ruin pyramid that takes up an entire square city block on Calle 29, was the last thing we expected to see in the golden town of Izamal.
Nevertheless, we were excited to have the chance to walk up and down the big stone steps and get a view of the city from the top.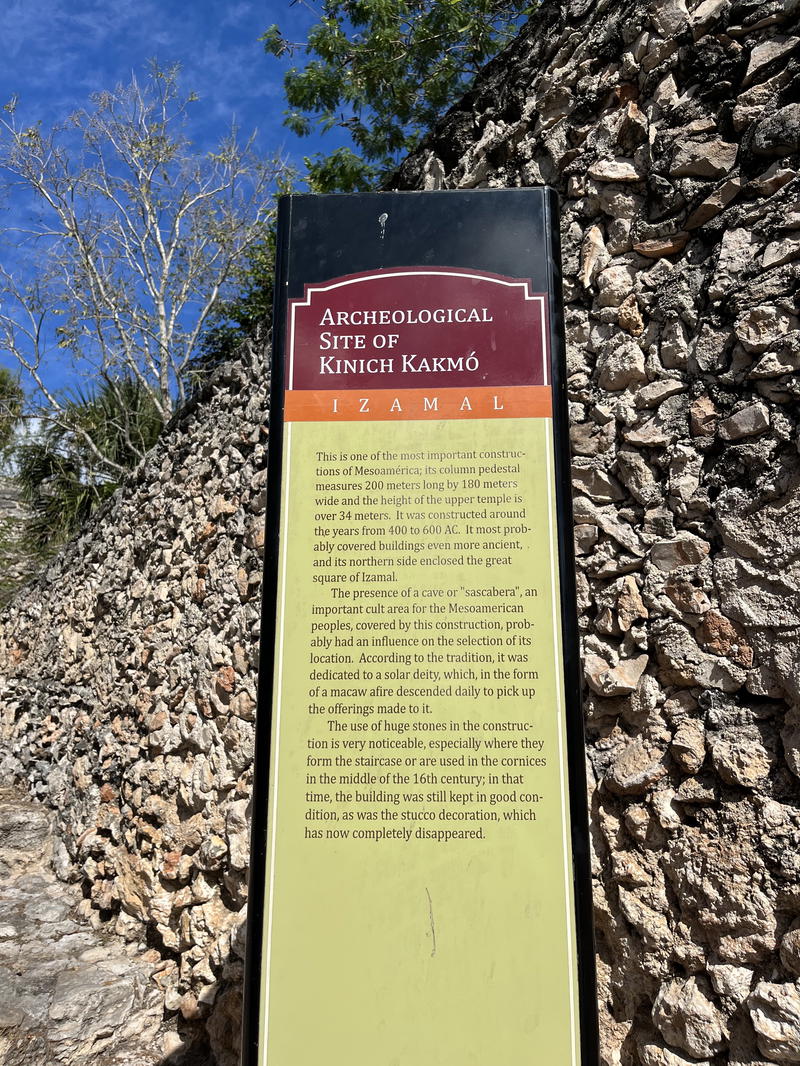 This is a real treat, in terms of surprising sightseeing to do in Izamal!
What's more is that entrance is free and it does not get too crowded. There are some helpful signs with history at several points, and you'll see information in English, Spanish and Mayan language.
One tip we can provide is that if you go between 11am and 2pm, approximately, it will be very hot with no shade. If you don't do well in direct sunlight, try going earlier in the morning, or later toward sunset.
Helpful Tip
Be sure to use this exact location when looking for the entrance to the pyramid. Don't get too creative like we did, because we walked around the entire huge block 360 degrees before we found it!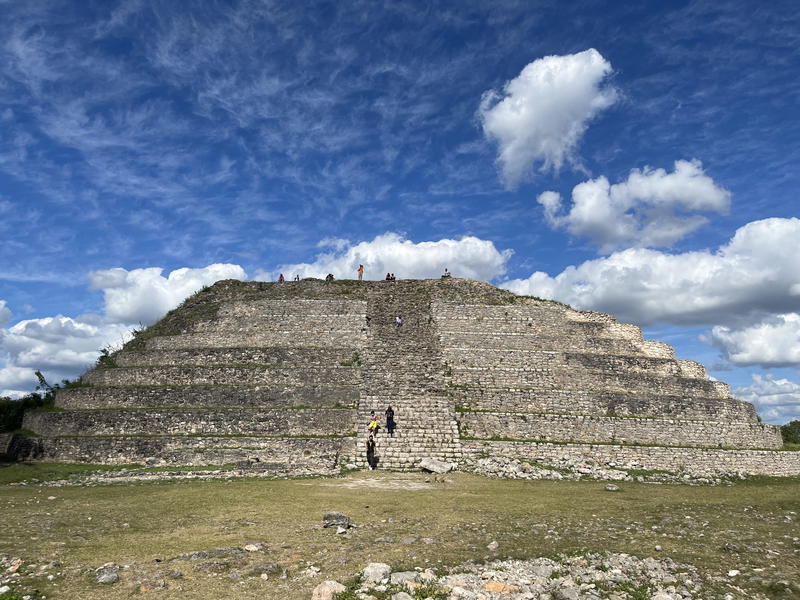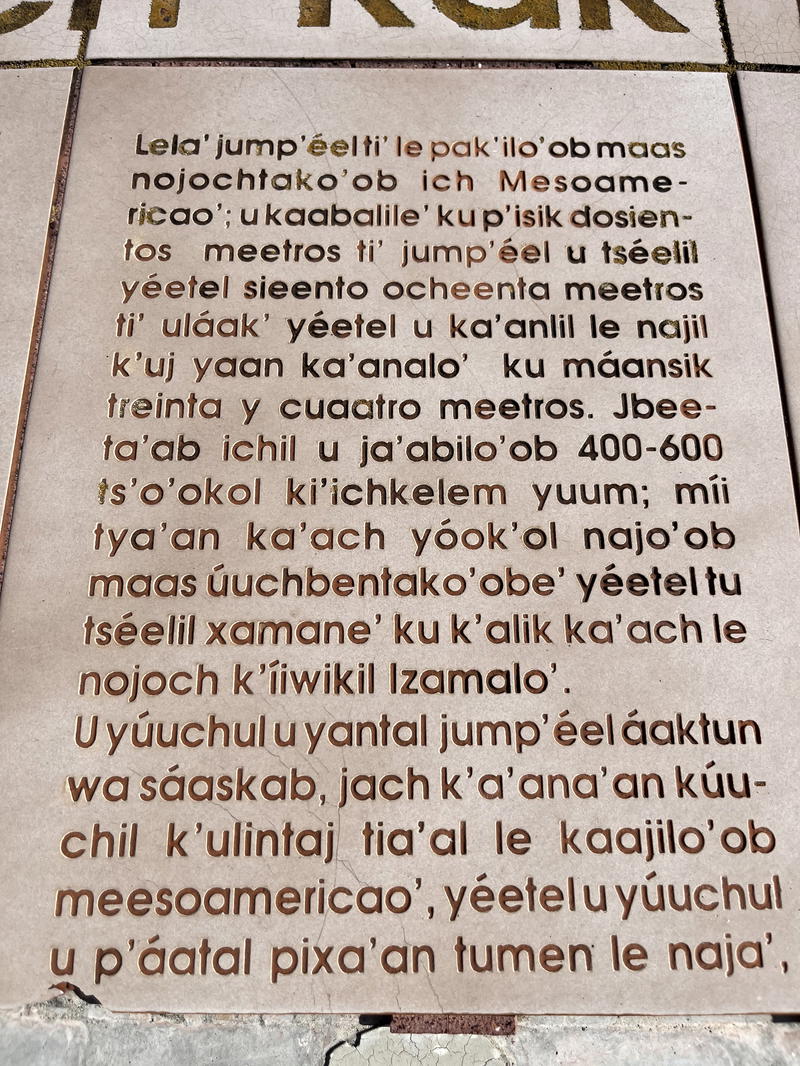 Parque Itzamna
This is where you'll find the "Letras de Izamal," which some people find thrilling for an obligatory photo.
Otherwise, this park is a nice place to relax, if you can find some shade, and it's surrounded by traditional buildings with covered archways next to shops.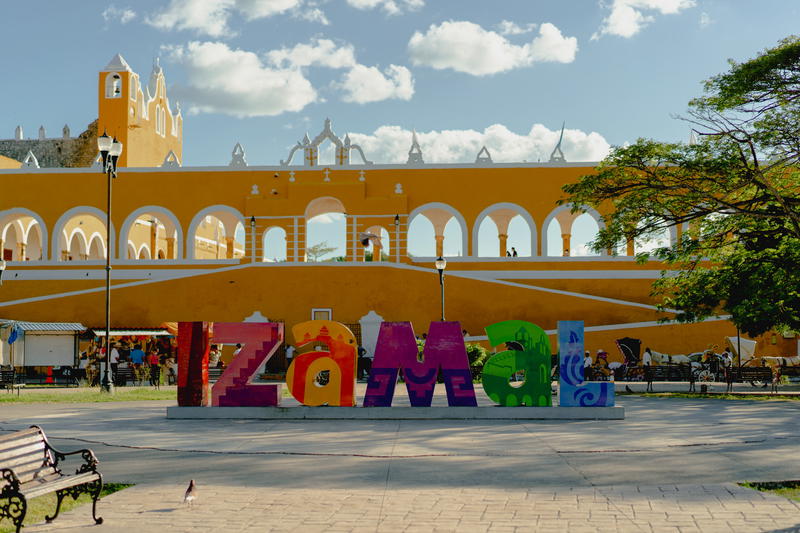 Convento de San Antonio de Padua
The Convent of Saint Antonio is probably the main event in Izamal! If you search for photos of Izamal online, you'll probably see photos of the very yellow convent against its emerald green grass and clear blue sky, immediately.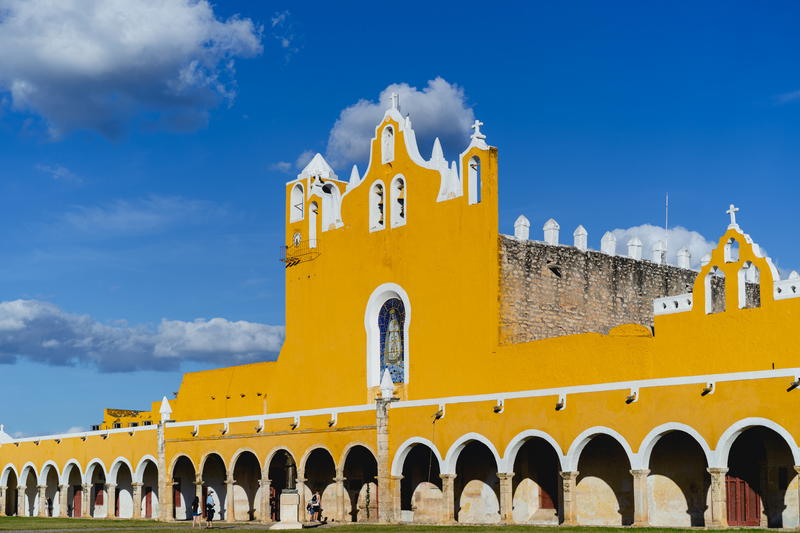 A visit to Convento de San Antonio did not disappoint; it feels like stepping back in time to the mid-1500s, when it was build by the Spanish.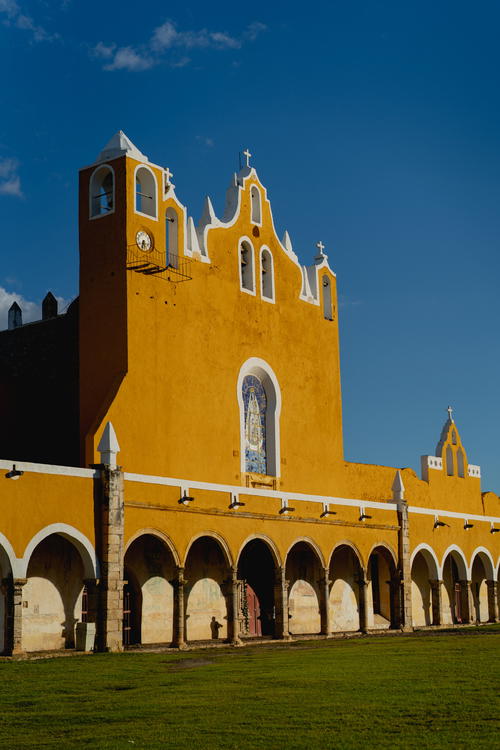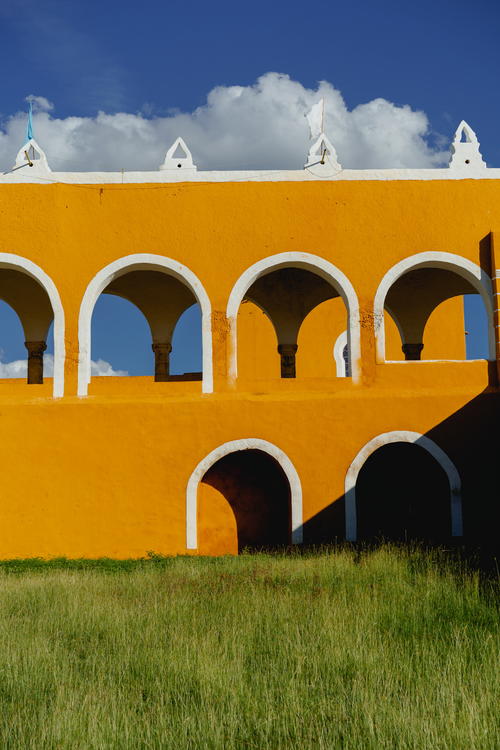 It is still a functioning convent, and its outdoor "atrio" (atrium) is one of the largest in the whole world.
The convent grounds is one of the best spots at which to take photos in all of Izamal, and we recommend going at golden hour like we did, for the colors to be boldest and for the lighting to be the most romantic.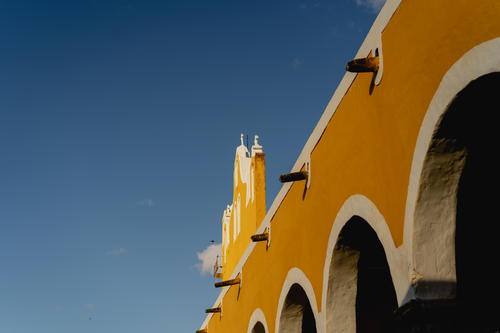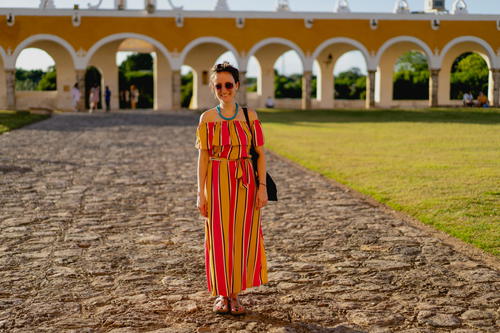 Take a horse & carriage ride
Well, this may sound touristy, but for some people who prefer not to spend all day walking (we think we walked about 5 or 6 miles in Izamal, circling all the streets multiple times), a horse and buggy ride is a great idea.
To get a horse carriage ride and a tour of Izamal, look for the men and their horses and buggies at the side of Parque Izamal closest to the convent. It's hard to miss.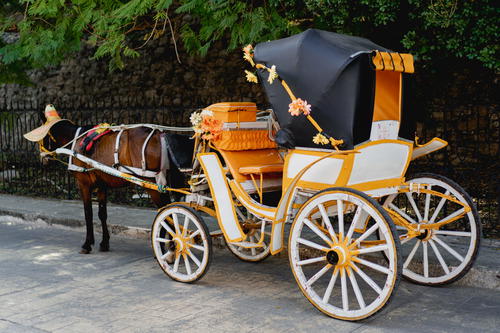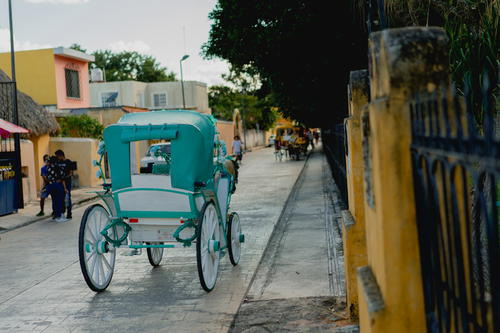 Where to eat in Izamal
Izamal isn't quite known for its food, but one restaurant stands out above the rest for a lovely dining experience: Restaurante Kinich, right next to the ruins.
For other authentic dining experiences, why not try the food offerings at the Izamal town market?
Restaurante Kinich
Kinich is an upscale dining experience that attracts visitors to the city (I can't really imagine many locals going here, as it's a fine dining experience for a modest little town).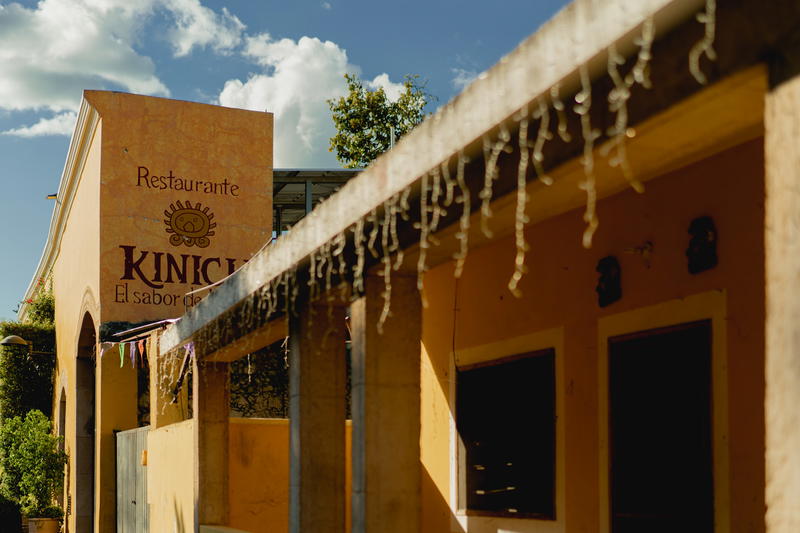 With beautiful deco and open-air table seating, along with a boutique shop at the entrance, Kinich has it all, especially if you're looking for a comfortable rest during a day on your feet and in the sun.
With a lovely menu accessible by QR code, and an offering of drinks, cocktails and Yucatan specialties like salbutes, panuchos and sopa de lima, you can't go wrong here.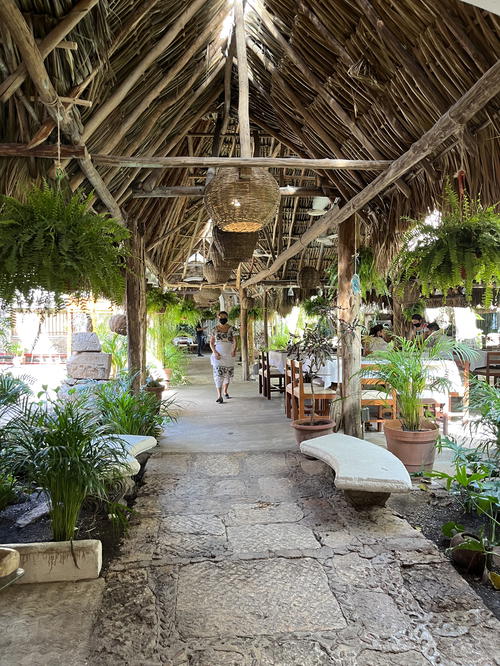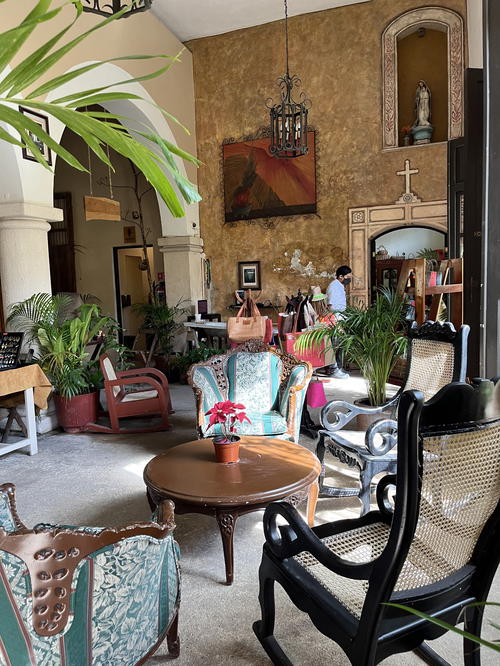 Cafeteria Hun Pic Tok @ Hotel San Miguel Arcangel
The first place we located for dining al fresco in a nice courtyard and garden was at Hotel San Miguel, not far from the bus station after we arrived. It's located here.
For a small brunch, this place was perfect and the staff was nice. We had coffee, fresh juices and a set breakfast of eggs and beans.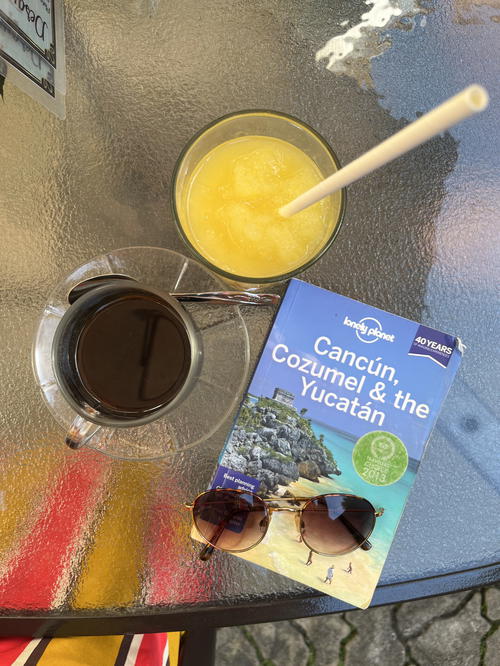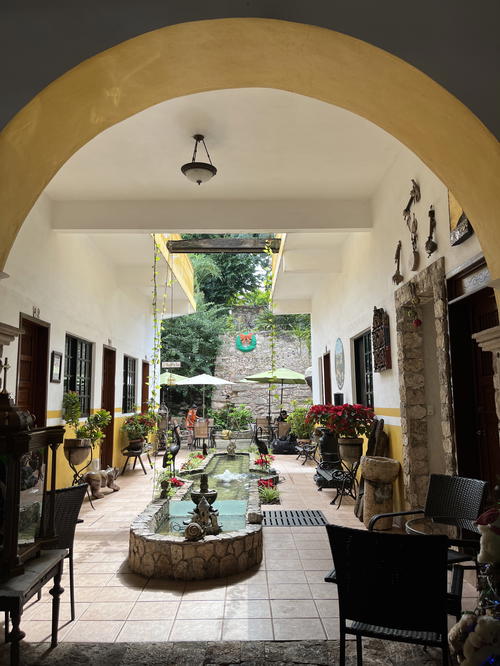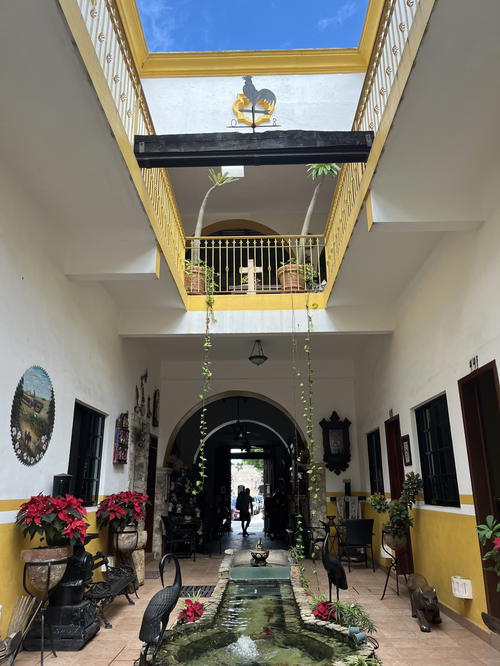 Loncheria y Antojitos La Guadalupana
This "loncheria" (lunch spot) has all the Yucatecan and Izamal local eats that you'll need. For lunch, we had a hearty meal of tacos and eggs, all for a very low local price! The place is owned by an elderly couple and is popular with locals and travelers alike.
You'll find Loncheria La Guadalupana right outside the Mercado de Izamal. You can use this location.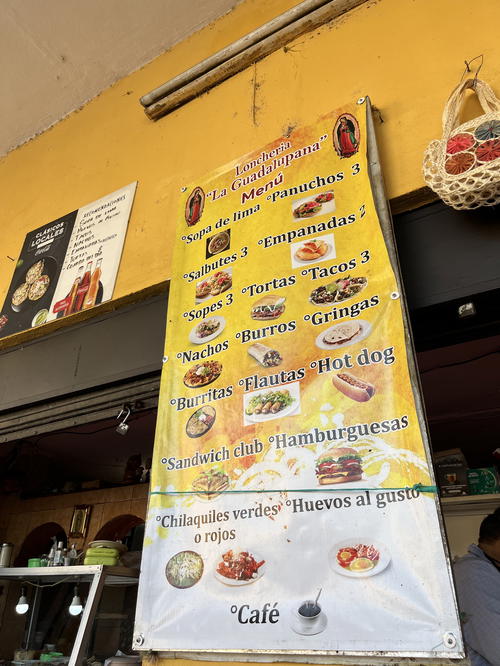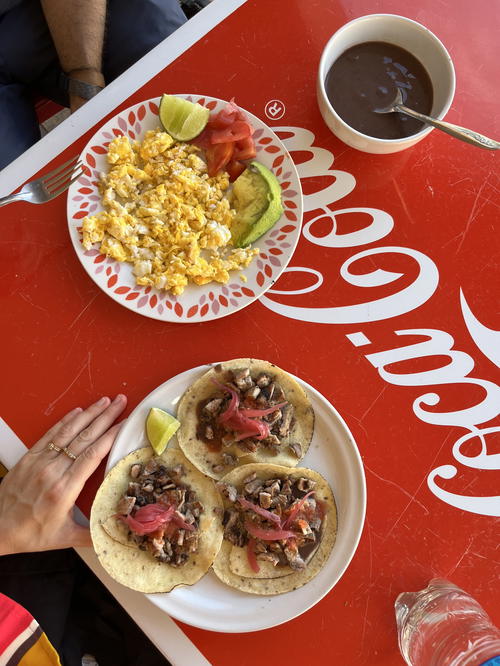 Restaurante "Los Portales"
Located right here at the Mercado de Izamal, this place is a popular lunch and snack spot where you can sit down for a meal, or just get a bag of chips and a bottle of water and sit outside and people-watch.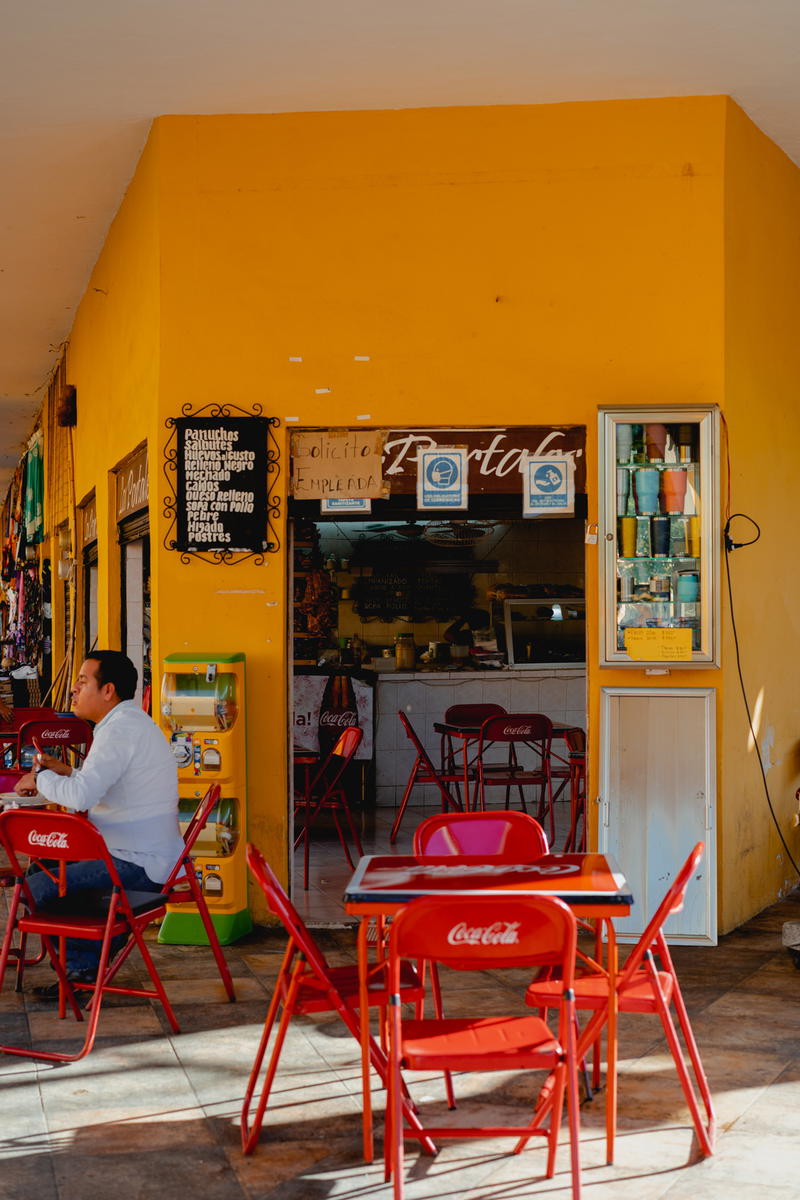 Enjoyed our article?
Consider supporting us! We're a 2-person team (learn more about us here) and your support enables us to create quality content. Thank you!