Building Aviator's Functional Travel Clothes: Interview with Colby Kane
Written by Becca
•
Updated on November 13th, 2023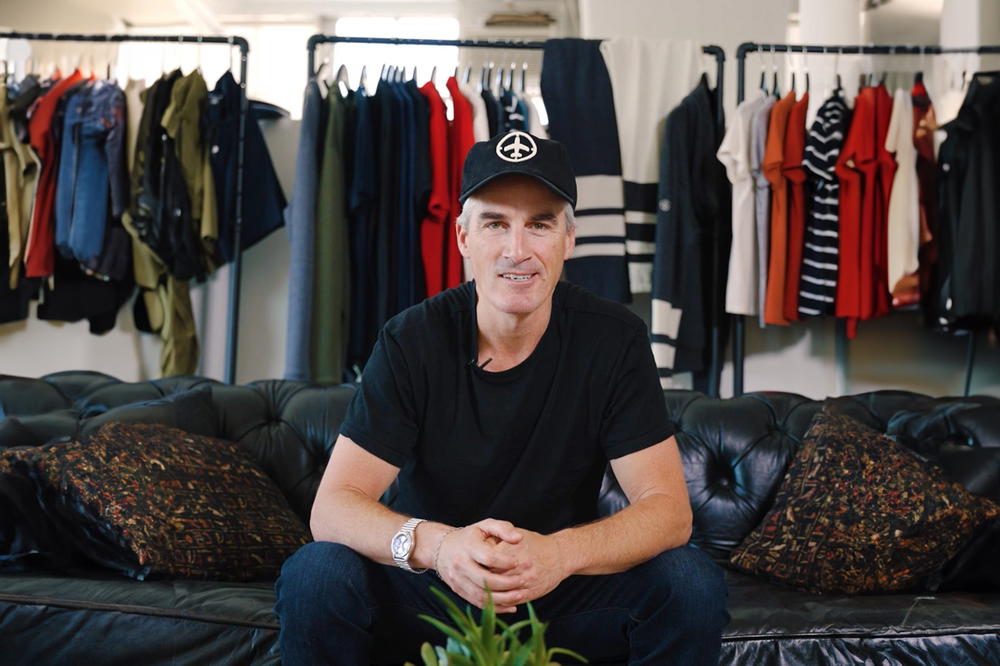 How did Aviator's Colby Kane get his start with the travel apparel brand? We interviewed him to learn about the inspiration behind the products and gear.
This article may contain affiliate links. We earn a small commissions when you purchase via those links — and it's free for you. It's only us (Becca & Dan) working on this website, so we value your support! Read our privacy policy and learn more about us.
Dan and I both like our Aviator travel clothes and we wear them at home, as well as on trips. I personally like showing off the zippered theft-proof pockets in my Aviator travel jeans and chambray travel dress, and the hood on my Red Eye Hoodie that doubles as an eye mask when I want to sleep on a plane.
Aviator checks all the boxes when it comes to travel apparel built for function and cool tricks. It's why we've featured Aviator pants in both our roundups of the best travel pants for men as well as best travel pants for women.
How did the brand get its start though? Was there a "lightbulb moment" for founder Colby Kane, who started the company after a career in wholesaling?
I interviewed Colby about how Aviator became a direct-to-consumer apparel brand known for the famous "Best Travel Jeans," as well as a host of products for both serious men and women travelers.
Read on, to see what he had to say.
Tell us a bit about your background in travel. Where have your travels taken you through the years?
Funny thing is, excluding spring break in Mexico, I never left the country until I was 25, and went to the UK and Ireland.
Since then, I make it a point to get out of the country at least once a year.
For me, it's the best way to get inspired for work. Typically, we travel now as a family, which includes my wife and two teenage boys. We all kinda have the travel bug.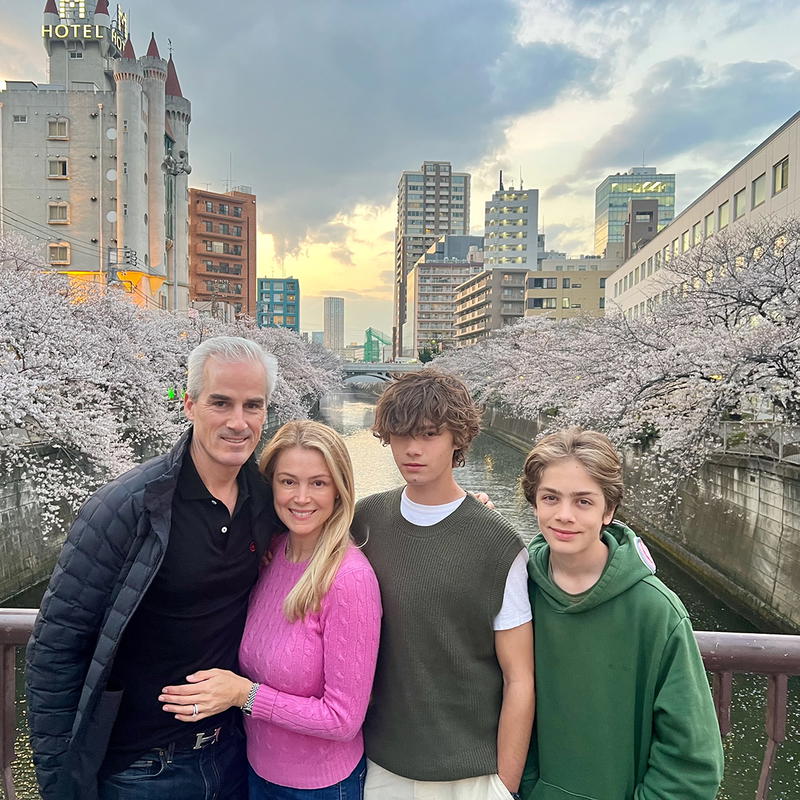 Colby and family in Japan for the cherry blossoms, Spring Break 2023.
Was there any time in your travels when you had the lightbulb moment that inspired Aviator products?
Yes, it all started with the Red Eye Hoodie.
I was on a long international flight to Europe from Los Angeles. I was wearing another brand's hoodie, and an eye mask, trying to get comfortable. The eye mask cord was just so uncomfortable and tight, but I needed something to cover my eyes to try and sleep.
I took my hoodie off, and put it on backwards, so the hood could cover my face. This was not a great solution, and came with a bunch of new problems.
This is when I came up with the simple idea to extend the hood so it could double as a sleep mask.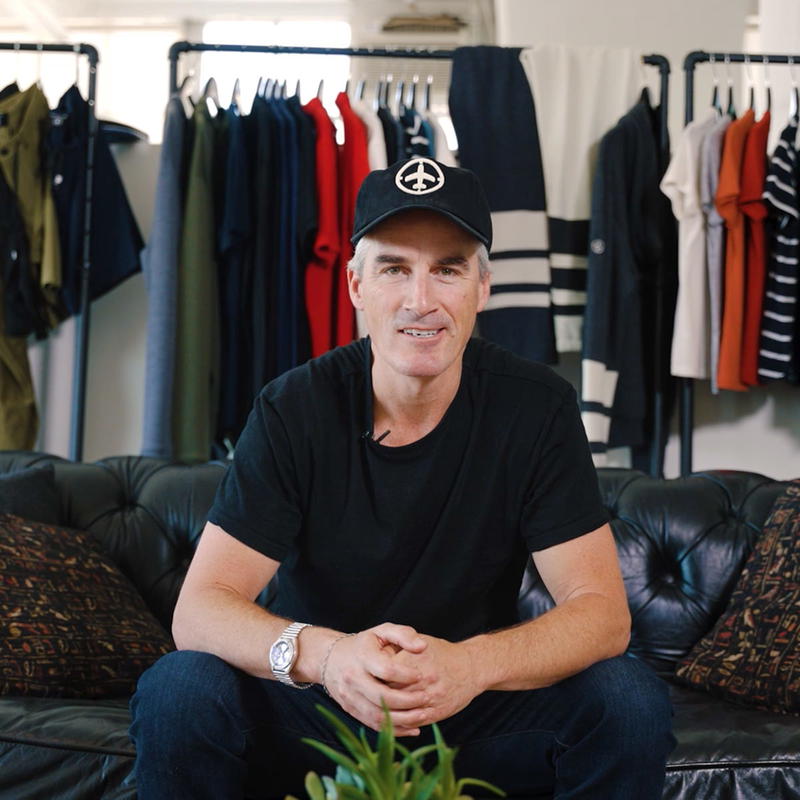 Colby in his office/showroom at Aviator.
What were you doing pre-Aviator, and at which point did the idea hit the ground in full force?
I've done a lot prior to starting Aviator the way we know it now.
Aviator was first a simple sportswear brand with a vintage Americana esthetic. It was fashion with no function. I was wholesaling Aviator to specialty stores, but I never loved it.
I felt disconnected to the brand and to the customers. That can happen when you're wholesaling and your regular interaction is with store owners, not the customers.
In about 2013, I decided to pivot into a different direction. I always loved the name Aviator, and I certainly loved to travel at this point.
I felt there was a void for travel clothing that made you feel confident without feeling like a tourist. I wanted to make jeans, tees and hoodies that you could wear every day, but add the function for travel.
This is what truly separates Aviator.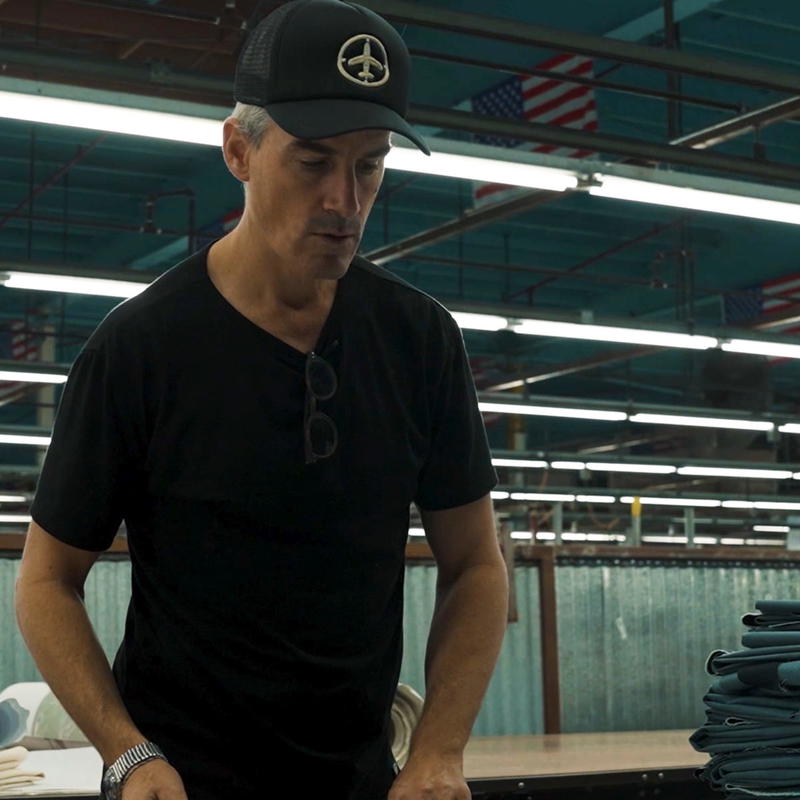 Colby on the factory floor at Aviator.
Where do you draw inspiration from for new Aviator travel apparel products?
I find most of my inspiration through my travel experiences.
It's amazing to meet people in local shops in different cities around the world, seeing what other people from different backgrounds and cultures are wearing and why.
I find a lot of inspiration from thrifting and looking into the past, and think about how I can translate something to be better for today's lifestyle.
It's a passion.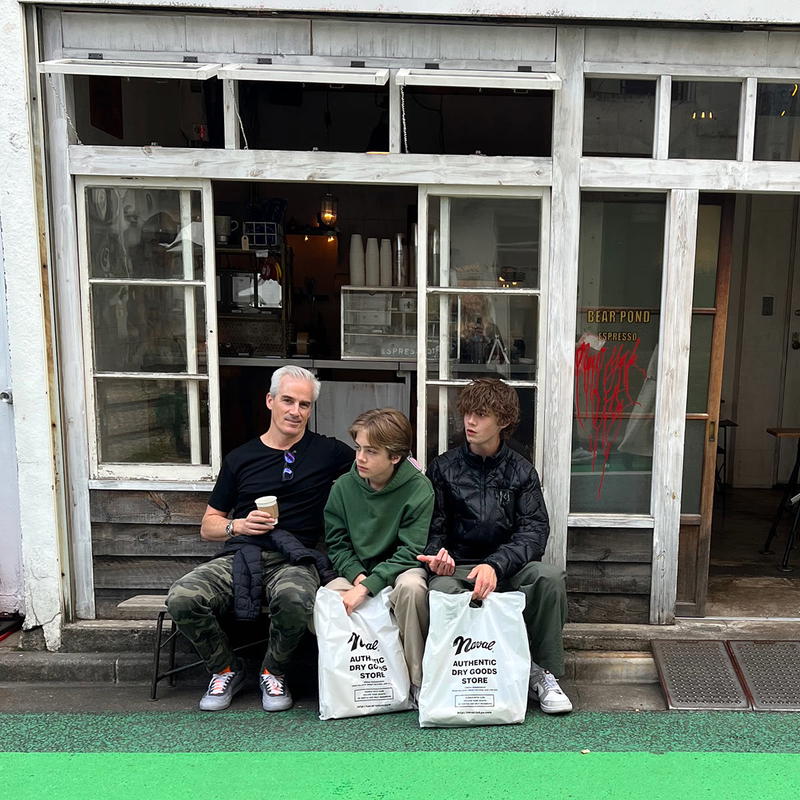 Colby and his teenage sons taking a break from thrifting in the Shimokitazawa neighborhood in Tokyo.
What does the future hold for Aviator, and what are your hopes for the company?
I would love to build Aviator into a legacy brand that lasts for generations, kinda like some of the great brands that have been around for the past 50 years plus. A heritage brand.
I would really love to have Aviator shops located in different markets around the world. This way we could connect with customers and meet them in person instead of online.
We do have customers that come to our showroom when they are in Los Angeles, and it's always a blast to talk about travel stories and share tips.
Sky's the limit.
Enjoyed our article?
Consider supporting us! We're a 2-person team (learn more about us here) and your support enables us to create quality content. Thank you!