Public Rec Luxe Fleece Pullover Review: Travel & Athleisure
Written by Becca
•
Updated on September 23rd, 2023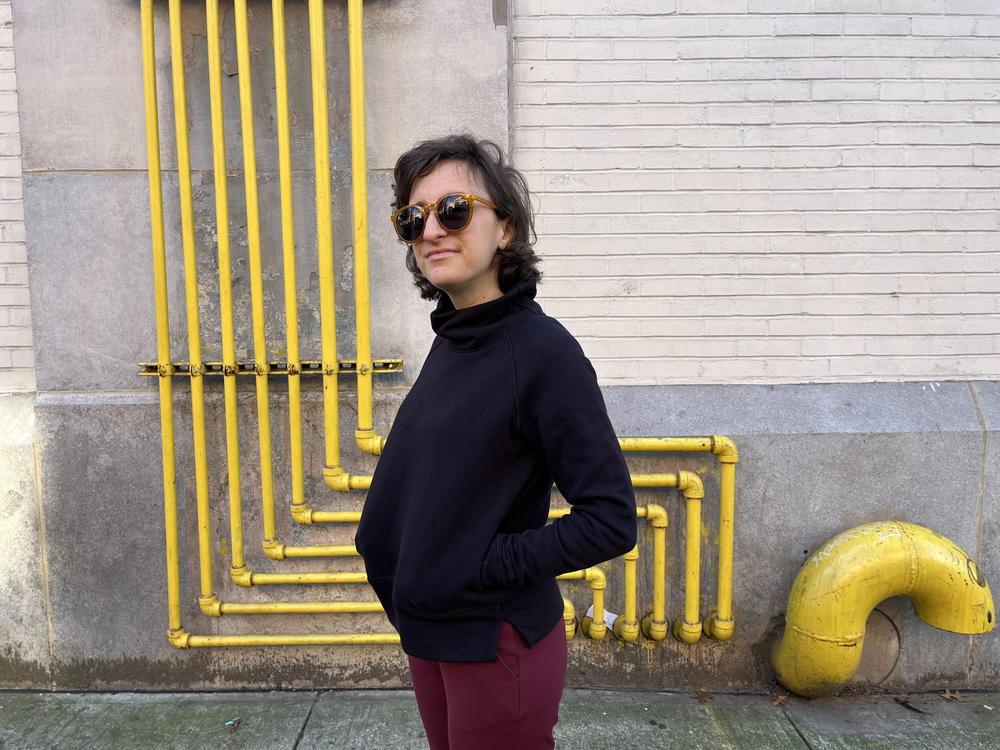 I review the Public Rec Women's Luxe Fleece Pullover from the athleisure fleece set, as a wardrobe sweater essential for loungewear, working from home and female travel.
This article may contain affiliate links. We earn a small commissions when you purchase via those links — and it's free for you. It's only us (Becca & Dan) working on this website, so we value your support! Read our privacy policy and learn more about us.
Table of contents
Close table of contents
My first thought when I saw this sweatshirt online was, "Oh wow, I don't have anything like this."
And maybe I'm just a latecomer to trends, but for a while I gave up turtlenecks because I wasn't sure they would look good on me.
I'm past that fear, and found a relaxed turtleneck style in the super-flattering Public Rec Luxe Fleece Pullover for women.
This sweatshirt is an alternative to a hoodie, which doesn't look as put-together in a Zoom meeting as this ultra-comfortable pullover, which I adore wearing.
Last call: save up to 30%!
The Public Rec deals are still live. Get up to 30% off sitewide. No coupon needed!
Public Rec's answer to a woman's need for a modern feminine-meets-athleisure sweatshirt is this fleecey sweater that I was lucky to try out during the colder months of the year.
If you're wondering if the Public Rec Luxe Fleece Pullover is worth the current price tag, read on, to see what I like about this sweatshirt (and where it could improve).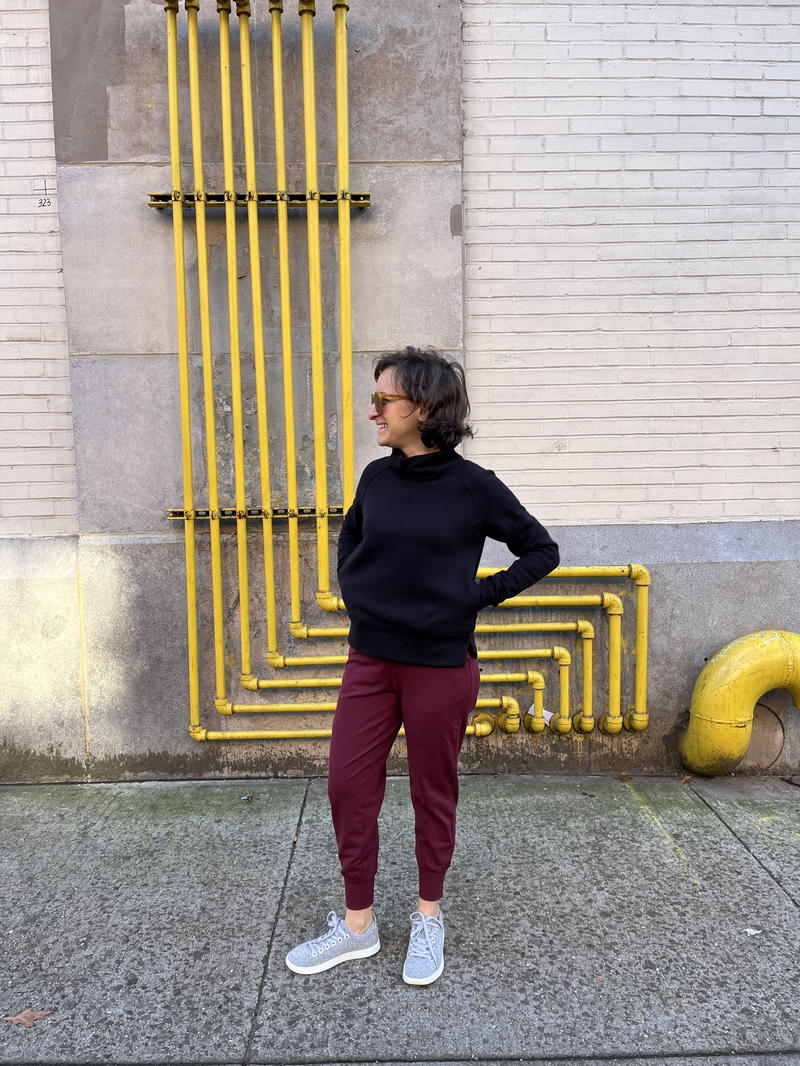 What is the Public Rec brand?
I became familiar with the Public Rec brand in 2020 and 2021, when Dan tried out their joggers for men and he liked them enough to include him our roundup of the best travel pants for guys.
I started out my exploration into Public Rec with their products for women, which are based on athleisure and loungewear essentials that also make great gear for travelers.
I've tried the Public Rec women's essential tee, which I had a great experience with, as well as the Public Rec All-day joggers for women, which I had a few thoughts on.
Overall, the Public Rec brand makes quality goods and what I enjoy the most are the useful features like pockets and materials, along with the agreeable fit and style.
They're making "comfortable, cool classics" that I like to wear during the day while working from home. I think the company does great for women's travel essentials for taking on a trip, like the Adapt Belt Bag fanny pack/cross-body bag, which is on my list of the best fanny packs for travel.
Introduction to the Women's Luxe Fleece Pullover
I like this pullover a lot, judging by how much I wear it already. It has become my default daytime sweatshirt for throwing on and looking good, even in a jiffy.
I like that this sweatshirt is equal parts comfy and tailored fit, so that I can be lounging around, but ready for action if I need to step out for something. I'm constantly struggling to be super comfortable while lounging around at home, but I like to look my age.
I like that the Luxe Fleece Pullover can complete an outfit by simply wearing jeans and boots. The athleisure look of the pullover is relaxed, but not messy.
One of the notable things to mention is the cool fabric blend, which is 82% Pima Cotton, 9% Polyester and 9% Spandex. You can feel the stretch, and the warmth, not to mention the softness.
I'd surely look forward to packing minimalistically and wearing this sweater on a plane, train, bus or car ride for a day of travel.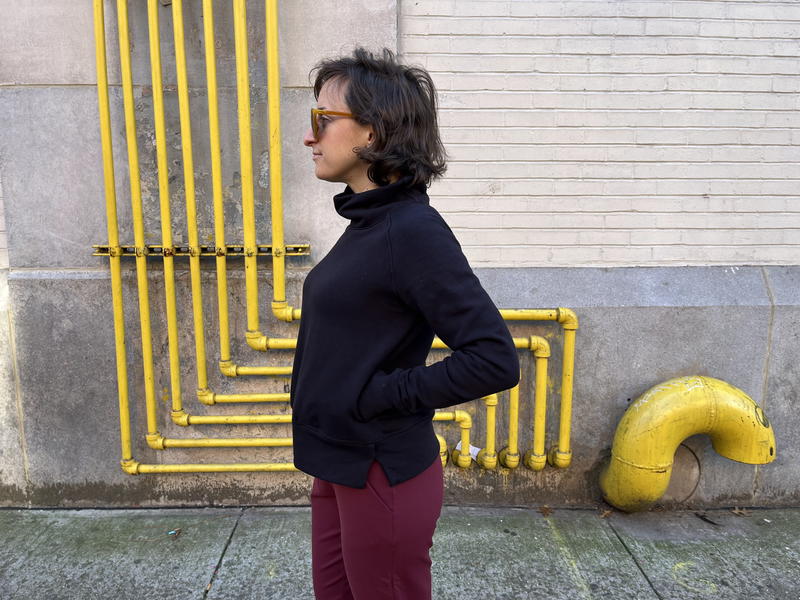 Highlights of the Public Rec Luxe Fleece Pullover
I have some great things to say about this fleecey pullover, and I'm wearing it right now. Actually, I've been wearing it a few days a week since the cold days began.
I like living in this sweatshirt and like I mentioned above, it's as comfortable as a hoodie, yet looks way more sophisticated in a professional video call.
Here are the best features of this ladies' turtleneck sweatshirt and why it's a unique product:
The French Terry Fleece
The interior of the sweatshirt is super-soft fleece. In fact, when I put it on for the first time, I got really excited about it.
The fleece blend makes this sweatshirt warm, but not heavy.
The cozy funnel collar
Public Rec refers to the collar as a funnel, which I suppose is more accurate than "turtleneck." A turtleneck really hugs your neck, which is why I've always thought they seemed constricting, especially when you put a sweater over your head for putting it on.
The funnel collar is a good look. It is like a loose hug on your neck to ward off breezes, and it's an alternative to having a scarf on, which I'm all for, because scarves tend to interfere with my headphones during meetings.
Raglan sleeves
The raglan sleeve (a stitching diagonal to the armpit, rather than sewn at the highest point of your shoulders) makes this pullover casual.
It's also a good feature for anyone who has narrow shoulders (I do), which is why some other hoodies are a dab too wide for me.
The side slit at the hem
I like the side slit at the waist bottom hem, because it makes it less fitted. The fit at the bottom is specifically loose, which I enjoy, and I like wearing another shirt like any old T-shirt or a cami under the pullover, because of this.
Thumb holes at the wrists
If you're into thumb holes, then you'll like this feature at the sleeves. I'm personally not a thumbhole person, as I find that they interfere with gloves, and I'm always getting my hands wet like doing dishes or cooking, so this isn't for me.
Luckily, the thumb holes are not visible, so I barely notice them.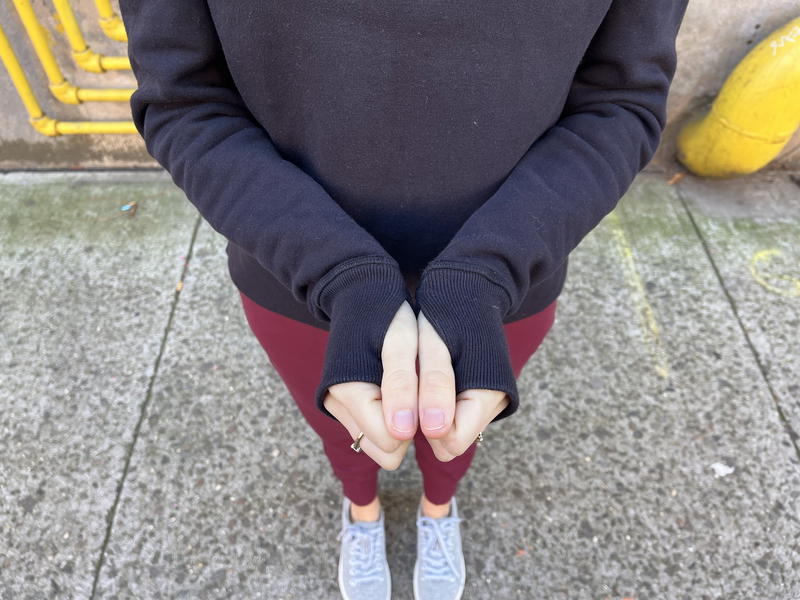 Discreet side hand pockets
This is one of my favorite features, but I have this slight feeling that it could've been done better. The hand pockets are super cozy and surprisingly deep, so I can stick my phone in one and keys in the other, and they don't fall out.
However, they're up a bit high such that it's unnatural to keep my hands in them to keep warm, like I would with a regular hoodie. That's my only complaint.
The colors
I have the Luxe Fleece Pullover in black (as you can see). I chose black because I live in New York City and everything I own is black (just kidding… okay, I'm serious).
Other colors are this beautiful sage colors, mauve (a muted pink) and ivory
How does the Luxe Fleece Pullover fit?
For starters, I'll introduce my stature and size: I'm a 5'2" petite woman and I usually have trouble finding clothes that hit my waist, hips, knees and ankles in the right places.
The Luxe Fleece Pullover fits me awesomely, this being said. The sleeves aren't too long, it hits my waist and hips at a flattering spot, and it's not too big in the shoulders due to that raglan feature mentioned above.
If you're a taller woman, I can see how this pullover sweatshirt would hit you a bit higher toward your waist, rather than your hips. In that case, you'll need a cami underneath (or you can rock it without a layer underneath, as that is up to you).
If you're on the shorter side, the good news is that this is the type of garment that won't create an awkward "That's too long on you look," which is what I'm constantly trying to avoid.
Available sizing
The Luxe Fleece Pullover comes in XS, S, M, L and XL. To find your size, you can use the handy guide next to the size choices on the product page.
Public Rec says their apparel fits true to size, and I was going to write exactly that, because as a XS or XS-Petite woman, I'm constantly judging brands based on how true this statement is if they claim it.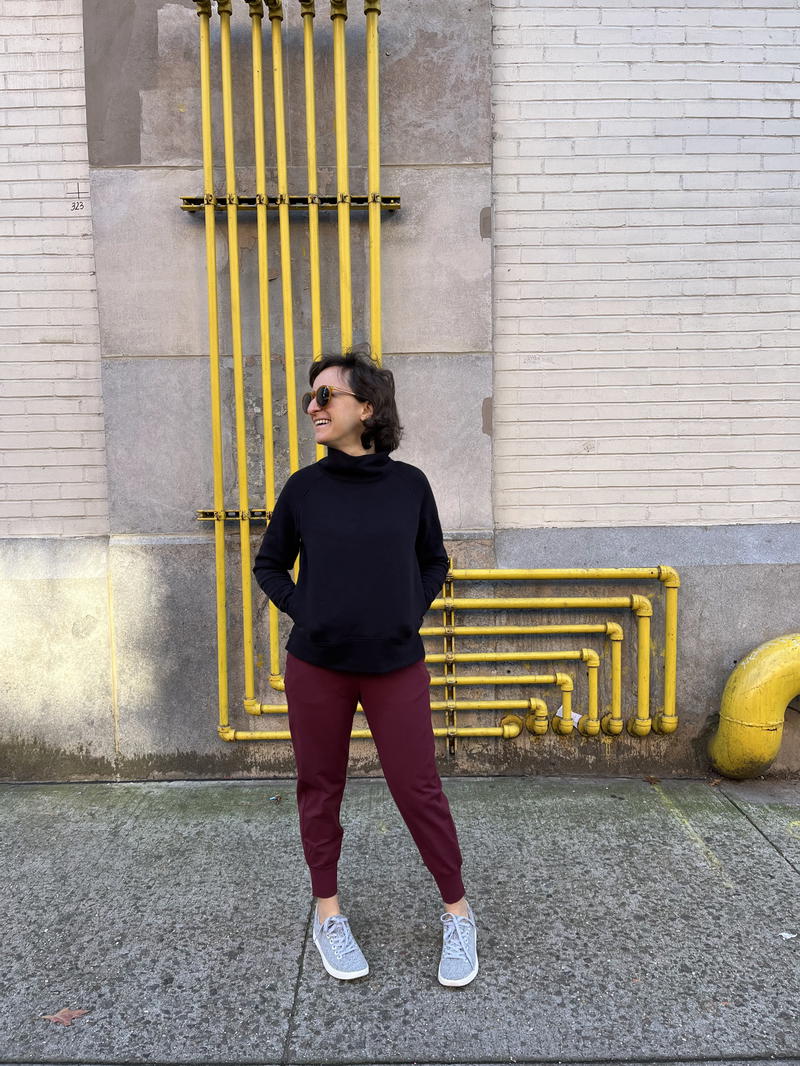 How would you care for the Luxe Fleece Pullover?
It seems easy. Without even referencing the Public Rec suggestion, I put my pullover in the wash with similar colors, ran it on a cold cycle, and then hung it dry on my drying rack.
I hit the nail on the head! Public Rec recommends not bleaching this pullover (note this if you order it in Ivory), and that tumble drying on low is possible. You should avoid ironing or dry cleaning this item.
Does Public Rec have free shipping?
Yup, within the US, Public Rec products ship free. You can even opt for expedited shipping if you're looking for a gift or a surprise for someone special who needs to try Public Rec.
Does Public Rec do free returns?
Yes, they do. They want you to be really happy with what you bought. I already tried out their return and exchange process, with my Public Rec joggers, which came a size too small.
Well, rather, I should've sized up, and it took trying the smaller size to figure this out.
To start your return, you do it through an easy site, and all you have to do is package up the item you don't want, with a printable return label, and drop it off at a shipping partner or local carrier storefront.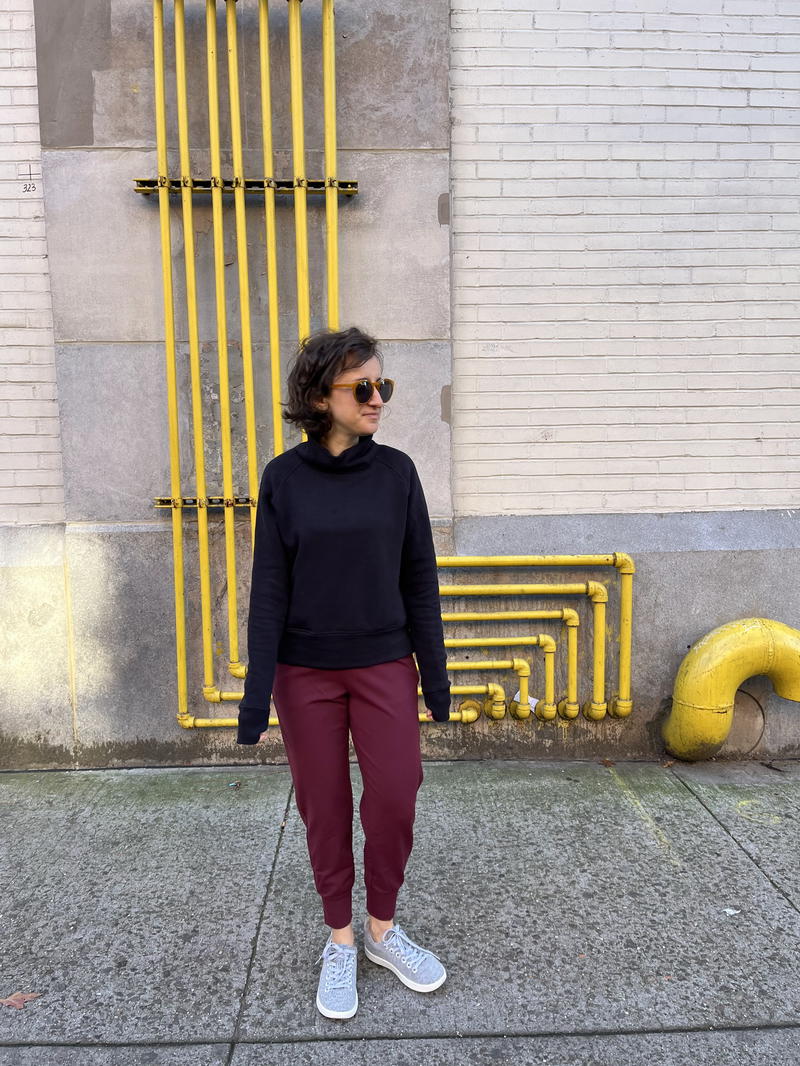 Where can you buy the Public Rec Luxe Fleece Pullover?
The simplest answer for getting your hands on this loungewear sweatshirt for women is at the Public Rec website.
Choose your size and color, and then check out for free shipping. Be sure to also check out their New Arrivals to see which other new products may be great for the coming season.
For my recommendations of items to pair with your Public Rec pullover, try the Public Rec Women's Essential Tee, along with the Women's All-Day Joggers, to complete your loungewear for travel.
Enjoyed our article?
Consider supporting us! We're a 2-person team (learn more about us here) and your support enables us to create quality content. Thank you!