Jack Wolfskin Packable Down Jacket: Travel Layer Review
Written by Becca
•
Updated on September 6th, 2023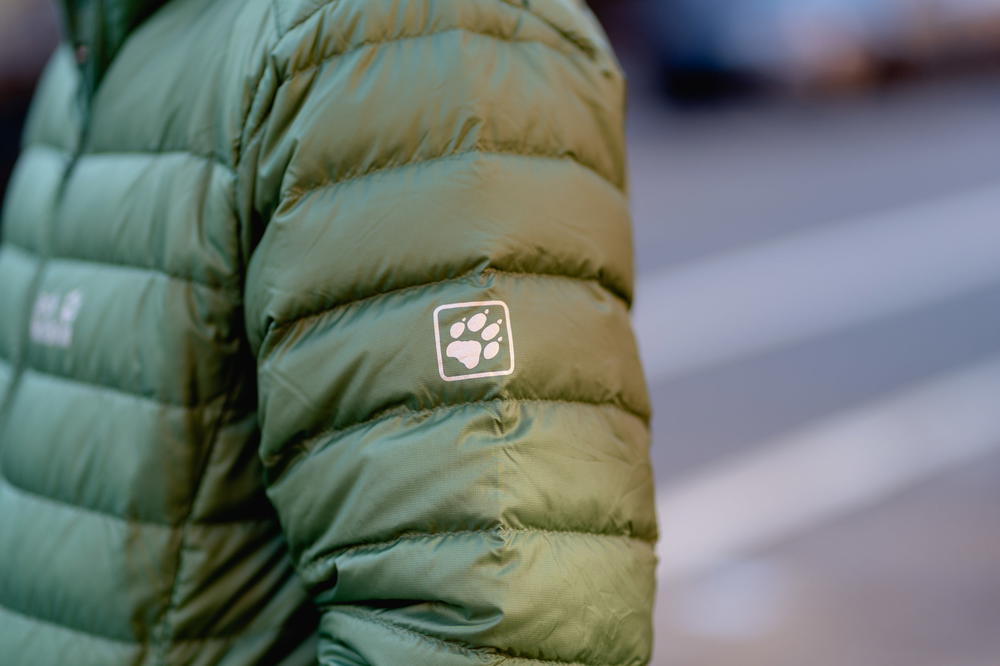 Is this windproof packable ultralight down jacket worth it as a travel essential? We review the Jack Wolfskin packable athletic down jacket (with travel bag) in men's and women's.
This article may contain affiliate links. We earn a small commissions when you purchase via those links — and it's free for you. It's only us (Becca & Dan) working on this website, so we value your support! Read our privacy policy and learn more about us.
When you are traveling, you never know if the forecast can change. You may wish you had a layer that could keep you more insulated, but you don't want it to take up a ton of space in your bag.
This is why we're interested in packable and durable warmer-weather base layers to take on a trip. We like products that are compressible, compact and ready to wear in an instant.
It's how we got our hands on the Jack Wolfskin package windproof ultralight down jackets for both men and women, from the JW "Packable and Lightweight" outerwear collection.
These versatile travel jackets compress into a small bag and are ready to take in a daypack, duffel or backpack during a hike or trip! In this review, we'll cover more about the Jack Wolfskin brand, the features of this jacket for both men and women and if the price tag is worth the investment.
Jack Wolfskin provided us with the products reviewed in this article. All opinions and photos are our own! This review is not sponsored.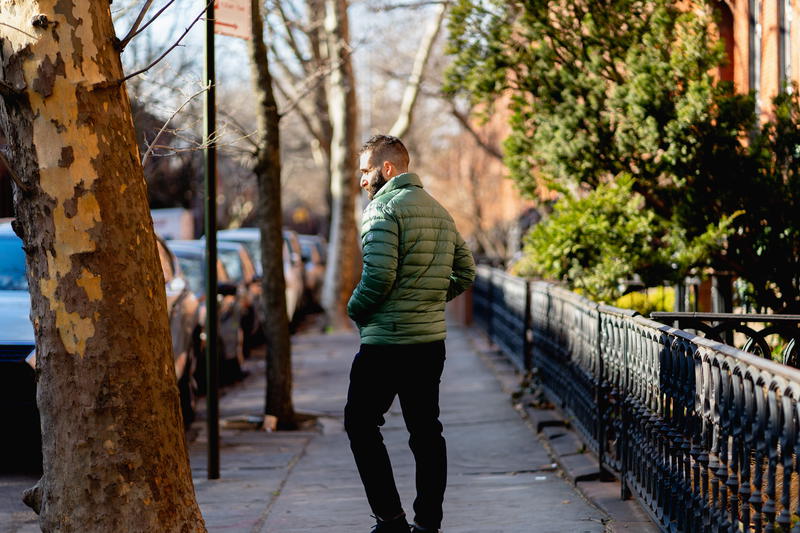 The Jack Wolfskin brand is an adventure apparel company that uses eco-conscious tech to create outerwear, bags and more, for nature lovers and travelers.
The company for many years was selling in Europe, and has had a warm welcome in the US in the past few years.
Among the things that set Jack Wolfskin apart are a commitment to social responsibilities and forward-thinking designs in jackets, breathable layers, rainwear, bottoms, shoes, tops and vests! The JW apparel collections do not use any fur, use recycled materials and have banned the use of PFCs ("perfluorocarbons"), which are a greenhouse gas.
In finding out about these environmentally-friendly goals of the Jack Wolfskin brand, we felt better about supporting this company in our aim for sustainable travel.
Helpful Tip
Make sure to go to Rakuten to see if you can get any cash back with your purchase! If you're a new customer, you'll get $30. Check it out!
We had both heard of Jack Wolfskin before trying out the company's ultralight down windproof jacket, winter base layers and rain jackets; however, we had never owned anything from JW until now.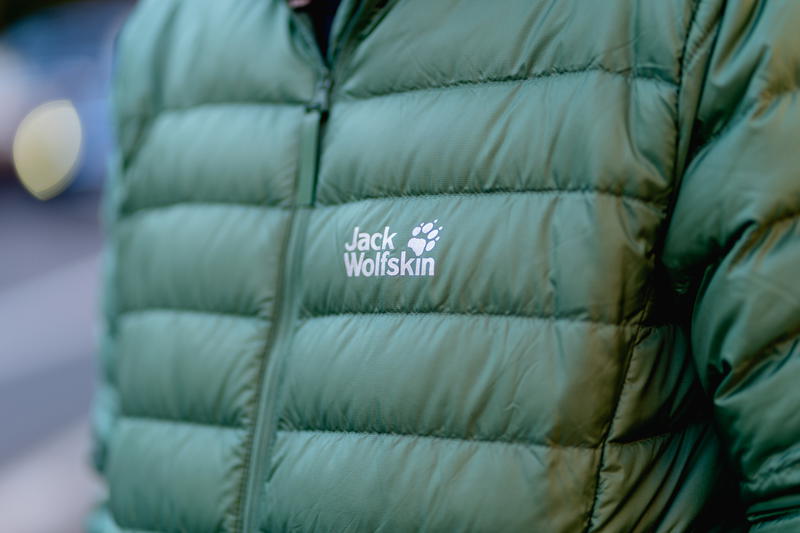 For me, the JWP windproof packable down jacket is a good weight. I previously owned an ultralight down jacket and got rid of it at some point through the years.
Until receiving my JWP windproof down jacket in the mail, my arsenal of travel layers consisted of a light windbreaker, a lightweight fall jacket I've taken to Argentina, my winter puffer jacket and my heavyweight OROS winter parka.
I had been looking for a windproof ultralight down layer that rolled up to fit into my travel packing. I just hadn't gotten around to seeking one out (you'll notice this is the trend in all my gear reviews because I don't really like shopping!).
This ultralight down jacket packs for travel in a simple ultra thin drawstring bag, that will arrive in one of the pockets of the jacket when you receive yours. At first touch, the jacket is super lightweight, and has nice zipper pockets (I'll be noting this in the features).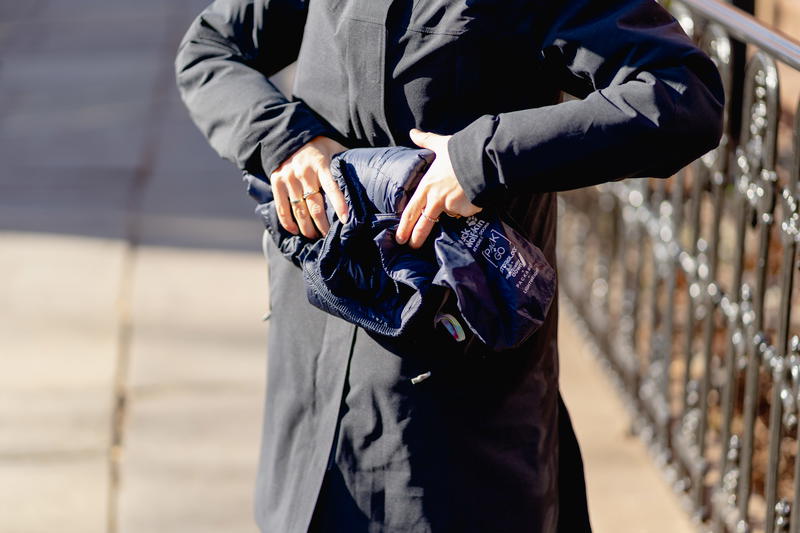 The color I chose was just as expected (navy blue) and will match anything among all my travel layers when I am on a trip. I'm all about minimalist products that will look OK in a variety of environments, with an assortment of outfits and ones that will be neutral colors.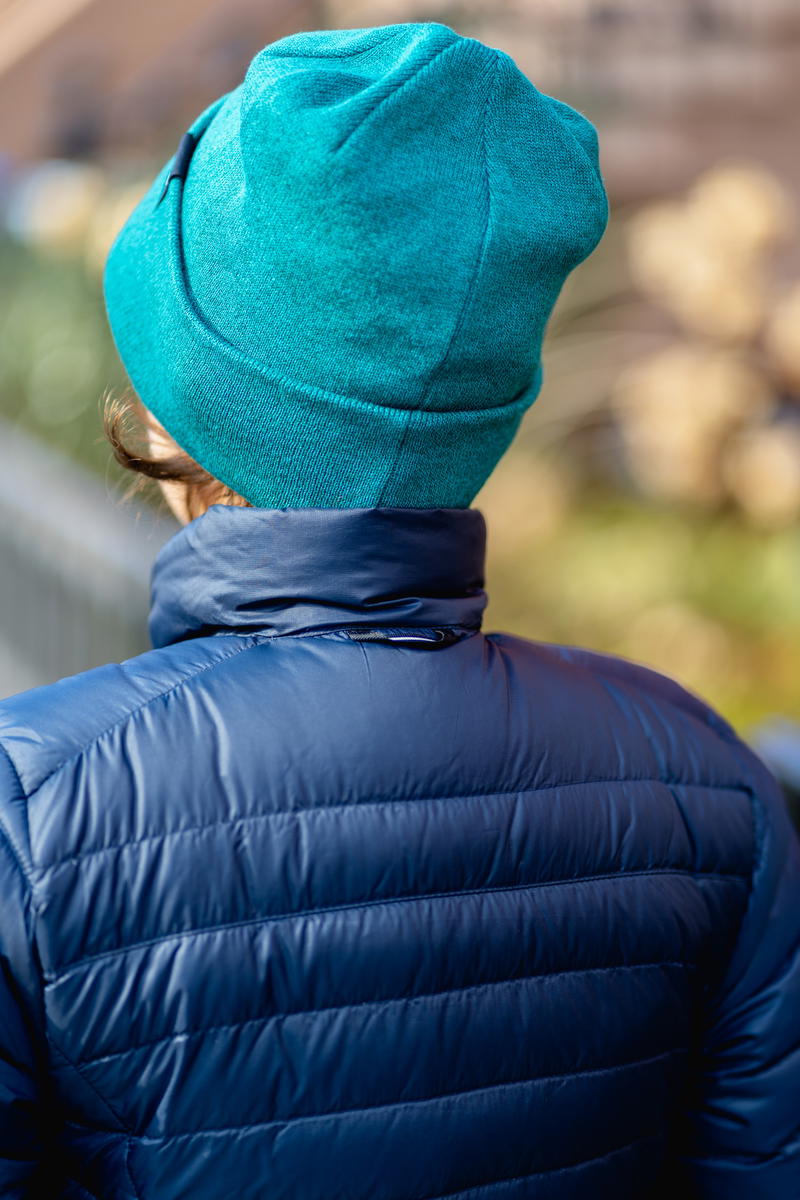 A helpful note for skiers: This jacket also gets acclaim for wearing it as a ski layer under a ski shell.
Standout features of the JWP Windproof down jacket
What's so great about this ultralight down jacket for travel?
There are quite a few notable features that we like, and appreciate, in the build of this windproof travel layer.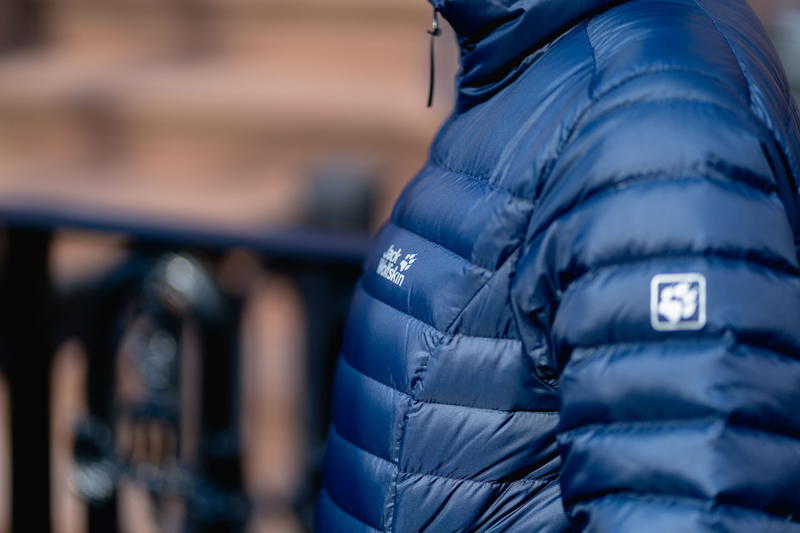 Water-repellant and windproof material
The material build for the Jack Wolfskin down jacket is a lightweight, windproof, water-resistant ripstop outer. The shell is also supposed to shield your core from wind and light showers.
The brand highlights this performance material because it's breathable, so you could play some outdoor soccer or go for a run with this jacket on. You could also pack it up into its little bag and take it in a running backpack or sports duffel so that you have it on hand.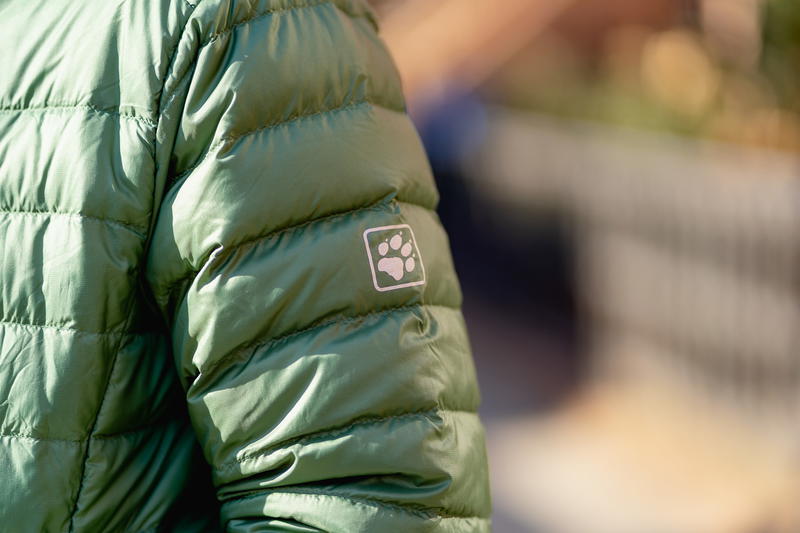 These zipper pockets are so hidden that you wouldn't even notice them if they weren't open. This makes for a minimalist and sleek design, built into the simple down jacket look.
With strong zippers, I feel that I can keep my phone and wallet in these side pockets and it's all good.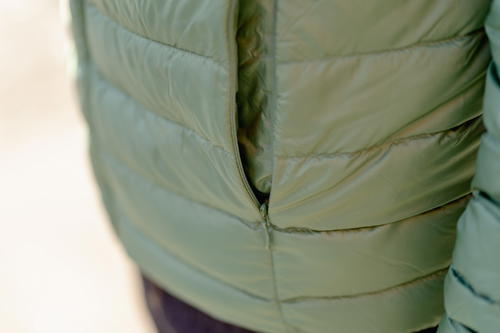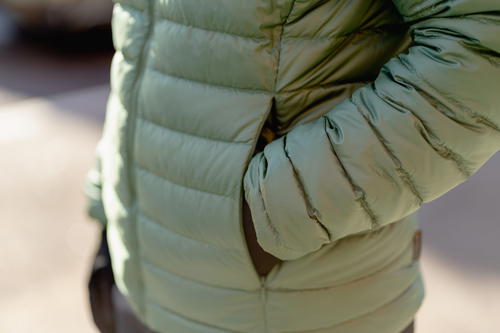 "Packability" with included compression bag
Much like a packing cube, the JW windproof down jacket comes with a "Pack Bag," as part of the "Pack and Go!" Collection.
This pack bag helps to compress the jacket into this small size, which is a small bundle to keep at the base of a backpack or inside a suitcase.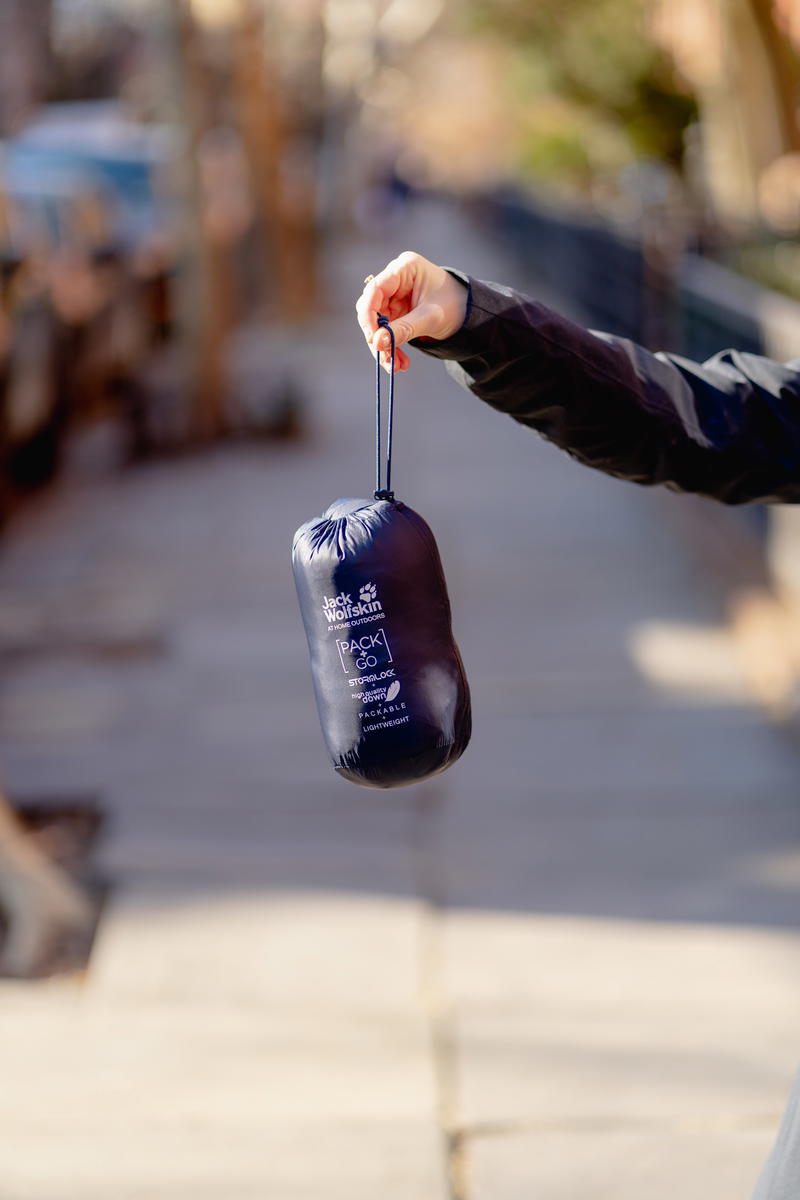 Is this windproof down jacket a good base layer jacket for travel?
Yes! In fact, using this jacket for travel is the best use I've found. I recently took my JW windproof down jacket on my trip to Guatemala. I made sure to take this packable coat on one of my day trips from Antigua for when the sun went down and the temperatures started dropping fast.
What I liked about having a packable jacket like this on my trip was two things. First, I simply put it in my Tom Bihn Shadow Guide backpack, where it didn't take up too much space.
Second, I wore the ultralight down jacket as a layer under my hooded windbreaker, for doubly fending off mountain winds. This was a great choice and worked out nicely for the given temperatures.
When packed up into its drawstring bag, the JW windproof down jacket could even fit into a small daypack, like my 11L Away Day Pack that I take with me on most trips these days.
Does the Jack Wolfskin down jacket fit true to size?
Now, one thing to note is that Jack Wolfksin's website clearly states on their product pages that "All sizing is European." They suggest using their brand size guide for finding your best fit.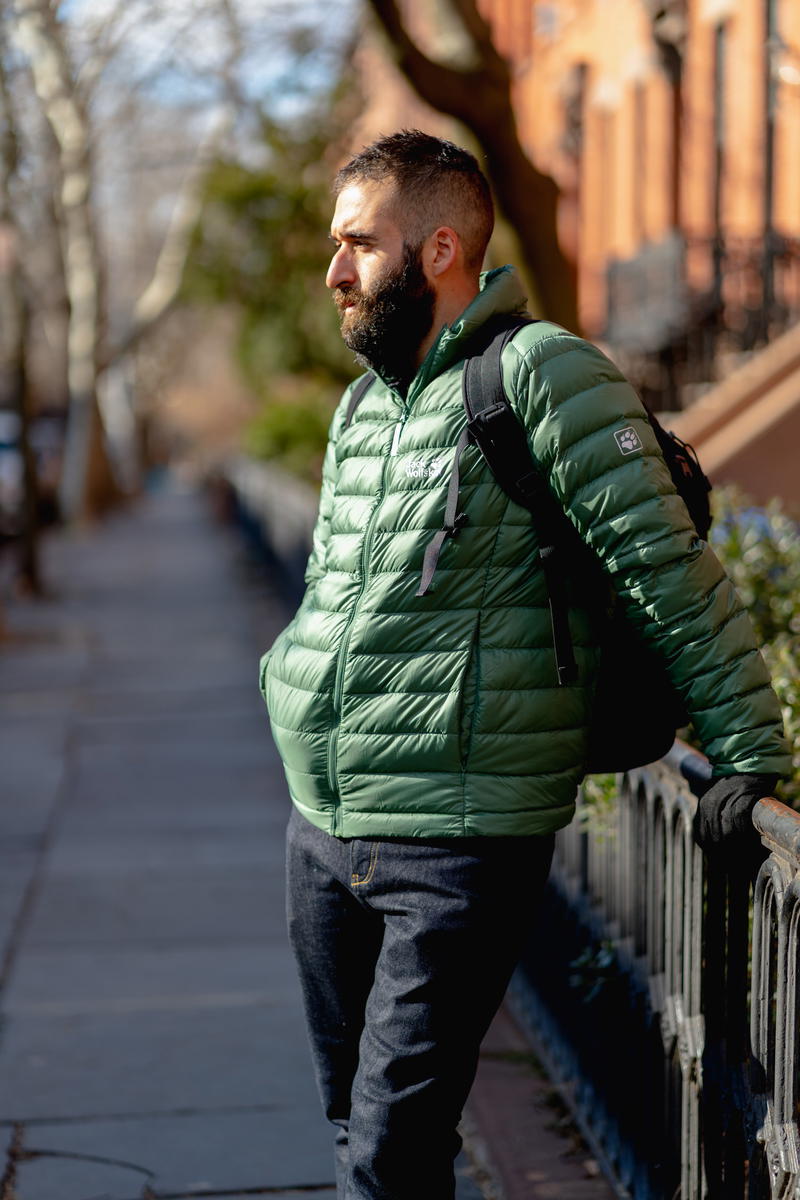 For women
According to the sizing on my JWP windproof women's down jacket, the fitting is mostly true to size, although slightly on the big side. I ordered an XS, and often with outerwear, an XS is a dab too big on me.
This being said, you could assess that the JW sizing is effectively standard, despite their warning about the European sizing.
As you will note in other outerwear reviews I've written on our website, I have a 5'2" petite build and I size best in a petite fit. Garments made for women who are more an average height are often too long for me both in the torso and in the sleeves, along with the width of the shoulders.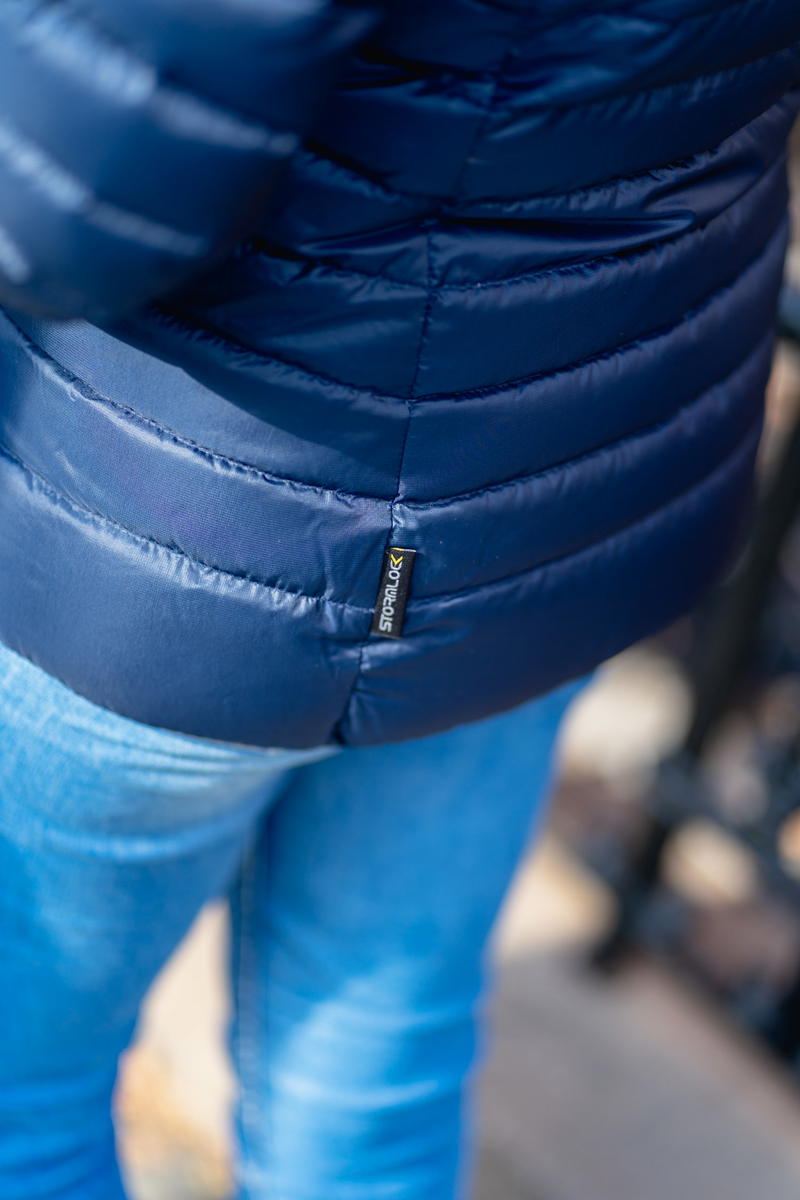 Without harping too much on the petite fit, the truth is that the ultralight down jacket does not fit me so snugly and sizes more on the loose end. It's an inch too big in the shoulders, slightly too long in the sleeves, and hits my hips a bit too long.
Nevertheless, this is just me. If you are taller than 5'2" and often find standard or regular sizing to be OK, you should have no problem using your standard shirt size for finding your Jack Wolfskin fit.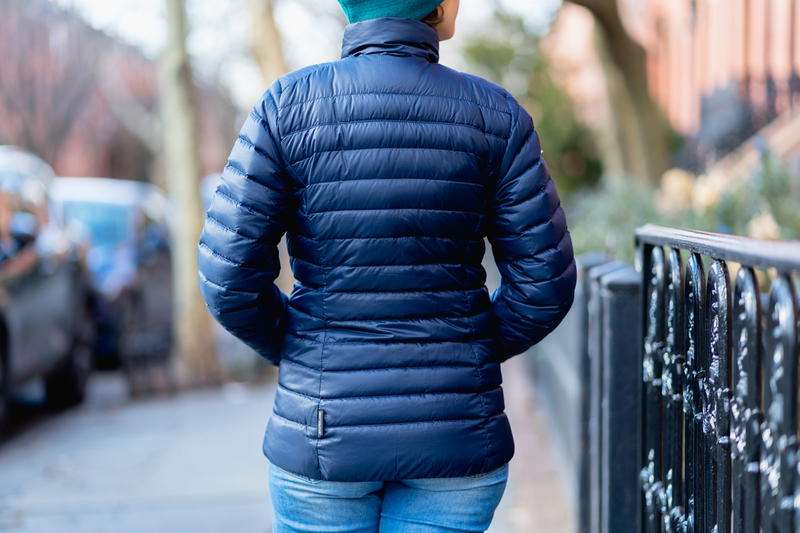 For men
The JW windproof jacket fits Dan as he would have expected, given that he used the Jack Wolfskin standard size chart.
As you can see in the photos, this jacket fits Dan comfortably in the shoulders, chest and sleeves.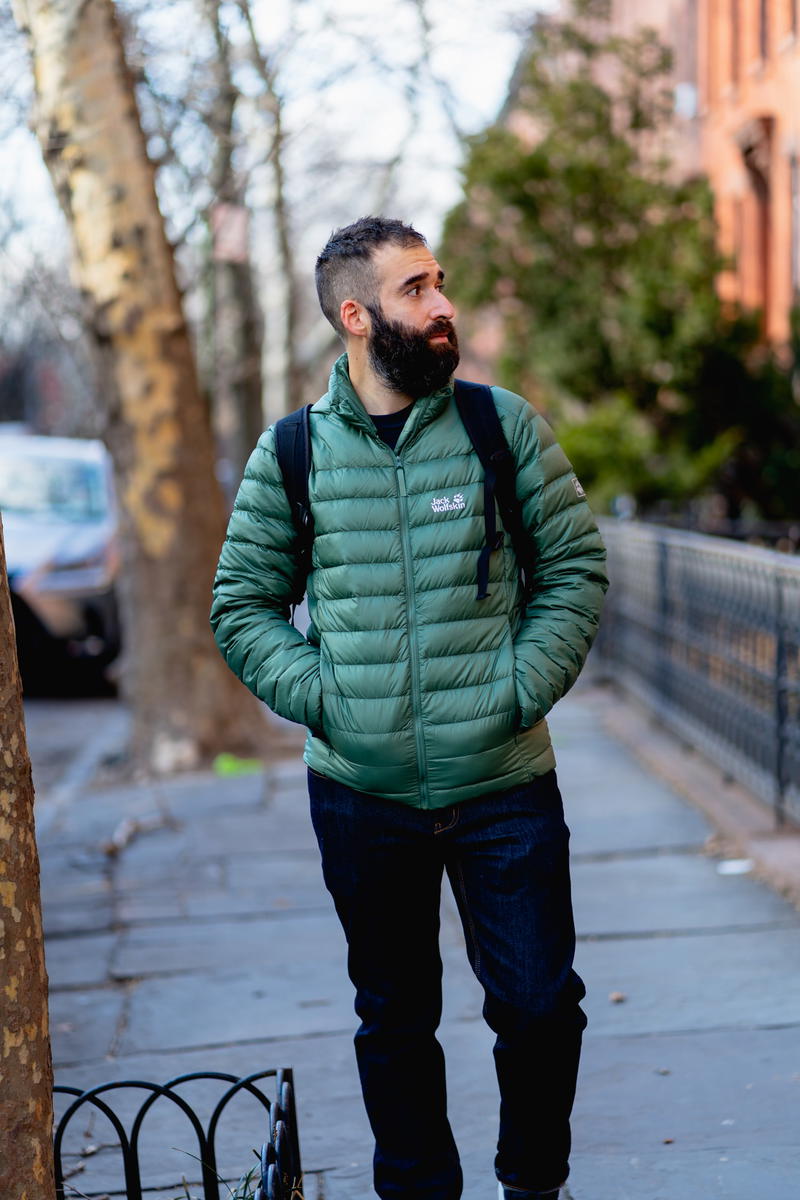 For men's sizing, the Jack Wolfskin windproof down jacket comes in S, M, L, XXL and XXXL.
Are there any other Jack Wolfskin products we recommend?
Dan also tried the Men's Sky Thermal Long Sleeve, and I gave the Jack Wolfskin women's Rain Jacket "Shell" a try.
The Men's Sky Thermal Long Sleeve is a performance base layer that Dan likes to wear for his running in NYC during cooler months. It's a sweat-wicking long-sleeve that's fast-drying and would also be good for travel days or hiking.
This product is pretty straightforward, and comparable to other base layers Dan owns from other outerwear brands.
I tried the Jack Wolfskin women's rain jacket and this is a product I can recommend, too.
While I currently own a windbreaker, the Jack Wolfskin rain jacket is a better coat specific to rain, with a durable hood, bottom flare style and cool zipper pockets that keep wetness out.
The JWP Shell raincoat is also part of the "Pack and Go!" collection, and it also folds up in a minimalist way such that it's ready to pack and take on a trip.
It's stretchy and rainproof/windproof, and the size S weighs only 360 grams.
I have the XS, and just like the JW windproof ultralight down, it runs a bit big on me; however, the good news is that because it has a spacious fit for my size, i can fit the windproof down jacket inside and under it, for a warmer need.
What is the Jack Wolfskin return policy?
The Jack Wolfskin company return policy allows you to return any item purchased less than 60 days prior that still has its tags on and is unworn.
If the product qualifies, then you can get a return authorization and get your refund started on their website.
A good thing to note is that any Jack Wolfskin products purchased from third party resellers are not eligible for return on Jack Wolfskin's website. So, make sure you purchase any of your Jack Wolfskin outerwear via the product pages we share in this review.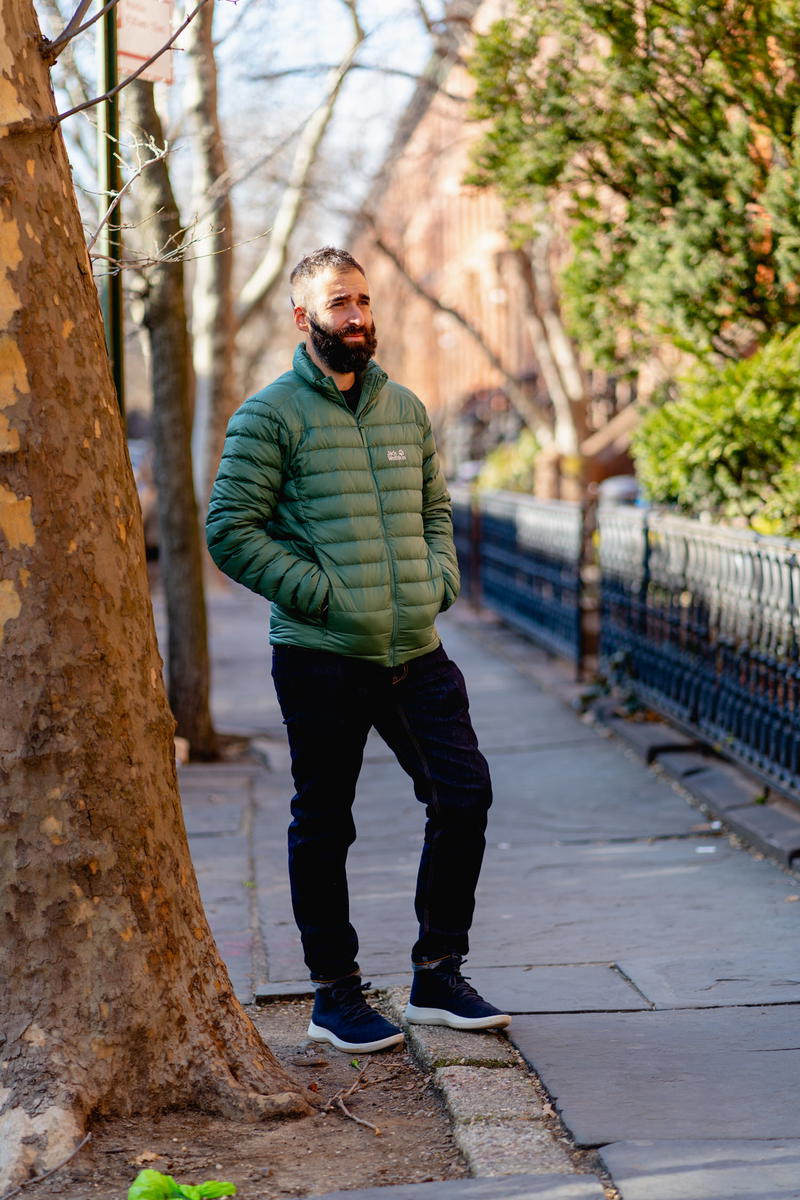 Is the Jack Wolfskin windproof packable down jacket worth the price?
At $179.95 for men and $179.95 for women, this small-but-mighty jacket could be seen as costing more than ultralight down jackets from competitors.
For example, you'll notice that Uniqlo makes an ultralight down jacket priced at about $70, but it's less transparent in terms of sustainability and the look is quite different. It's less geared toward the hiker, biker or climber, and there's less clarity available on their website in terms of high-quality materials like Jack Wolfskin's version.
If you like what you see from the Jack Wolfskin brand in terms of their sustainability practices and eco-friendly pioneering, then paying a premium for a jacket like this could be something that interests you.
Head over to the Jack Wolfskin website, and be sure to sign up for their mailing list to get 15% off your first order and receive future coupons to your email.
Also, keep in mind that Jack Wolfskin often has sales! You can find the men's jacket for as low as $143.99 and the women's for $125.99 on sale!
Enjoyed our article?
Consider supporting us! We're a 2-person team (learn more about us here) and your support enables us to create quality content. Thank you!