Kingston Travel Guide: the Hudson Valley Town Worth Visiting
Updated on September 21st, 2023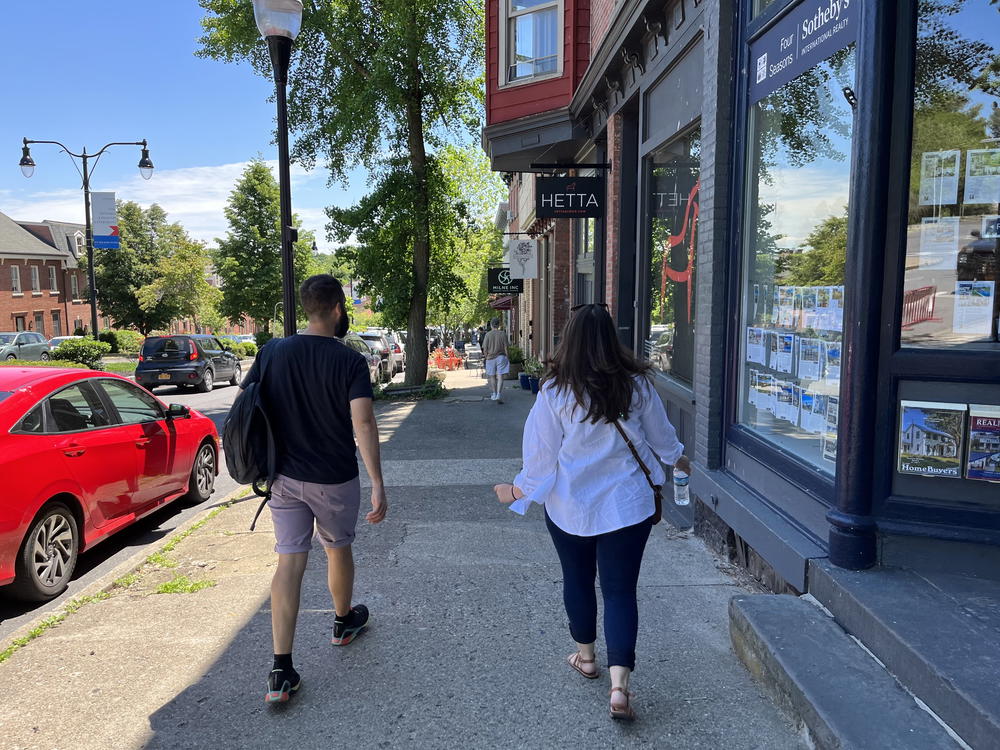 Is it worth visiting Kingston on an upstate Hudson Valley or Catskills trip? See my Kingston travel guide, with the best things to do, recommended by a local.
This article may contain affiliate links. We earn a small commissions when you purchase via those links — and it's free for you. It's only us (Becca & Dan) working on this website, so we value your support! Read our privacy policy and learn more about us.
I probably never would've put Kingston, NY, on my Hudson Valley itinerary originally, until my friend Melissa, a Kingston native, suggested it.
In my head, I pictured the Hudson Valley as more of the towns on the east side of the river, and more quaint and quiet places.
Then again, "quaint and quiet" isn't really my thing. I'm more of a city person, but if I'm looking for an escape from the actual city (NYC), a place like Kingston has it all.
I don't think I had heard of Kingston until I met my friend Melissa. In the past few years, she's been going on about how Kingston has had such a resurgence, and it's cool again, and it's this destination of its own that travelers shouldn't miss.
Dan and I finally got up to visiting Kingston on our way back from other Hudson Valley towns like Hudson and Catskill right nearby. A second time, we came up for a day trip during a long weekend, to explore the city with our local guide, our friend Melissa.
Should you have Kingston on your Upstate New York travel wish list? I think you'll really like what there is to see and do, and how Kingston checks the boxes of a historic Hudson Valley town worth stopping in, as well as having nature right around the corner!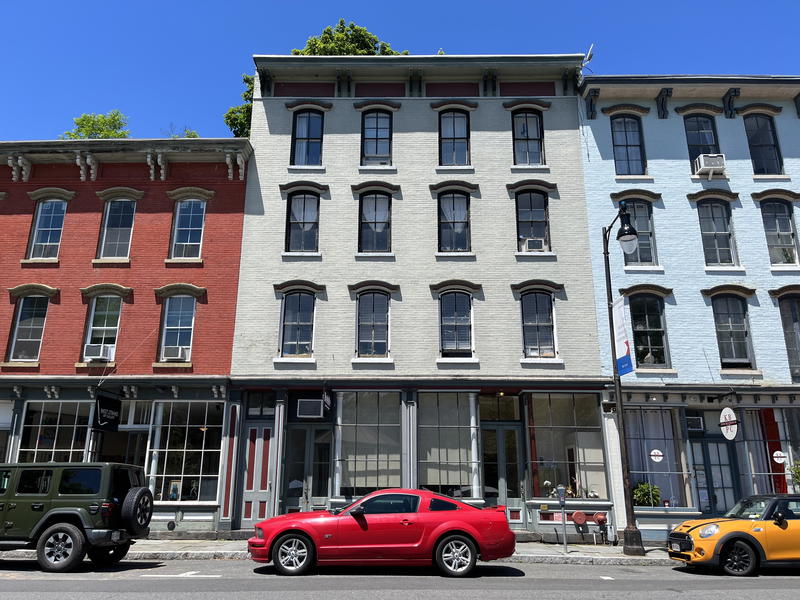 Where is Kingston, NY?
Kingston, NY, is a city located right along the Hudson River in upstate New York. The city is in Ulster County, and sits about 90 miles directly north of NYC. Kingston is in the heart of the Hudson Valley, north of towns like Beacon, in a halfway point between the New York City Metro Area and Albany. Driving northward to Albany would take about another hour.
Kingston is also to the east of the Catskills region, which makes it a great place to stay if you are doing a larger trip that combines the Hudson Valley with the Catskills. Many roads that take travelers westward into the Catskills will fork off westward at Kingston.
If you wanted to keep driving east after spending time in Kingston, you could consider a trip to the Berkshires (Massachusetts) or even the Litchfield region in Connecticut.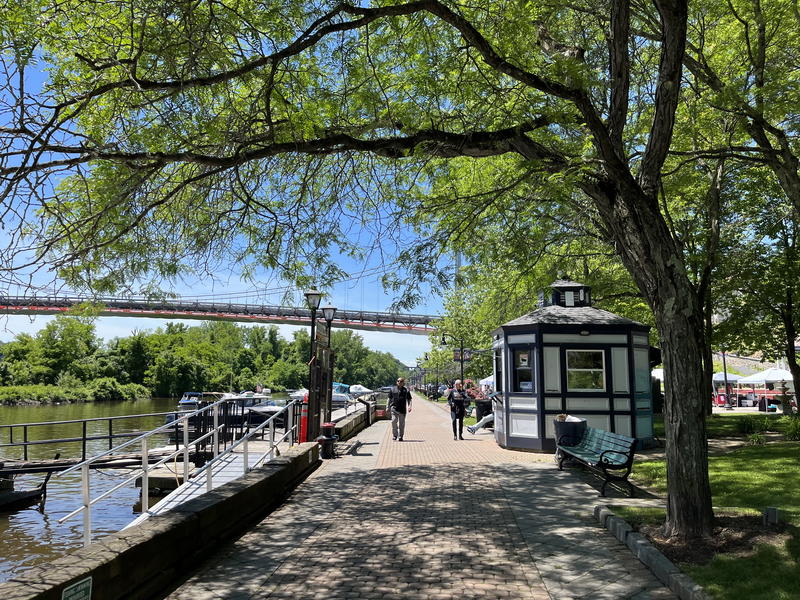 How to get to Kingston, NY
There are a few ways to get to Kingston on an upstate New York trip.
Driving
Both times I've gone to Kingston, I've driven with Dan, up Interstate 87. I'd say this is one of the more straightforward drives to take, because once you get to Route 87, signs point to Kingston. Before you know it, you're there!
Coming from Albany, you'd take I-87 southbound, and look for those signs for Kingston as well.
As our car lives in NJ (what a lucky car!), we've gone to Kingston both times from northern New Jersey. That's a simple drive, too, with getting out to Route 287, and then I-87 once in New York.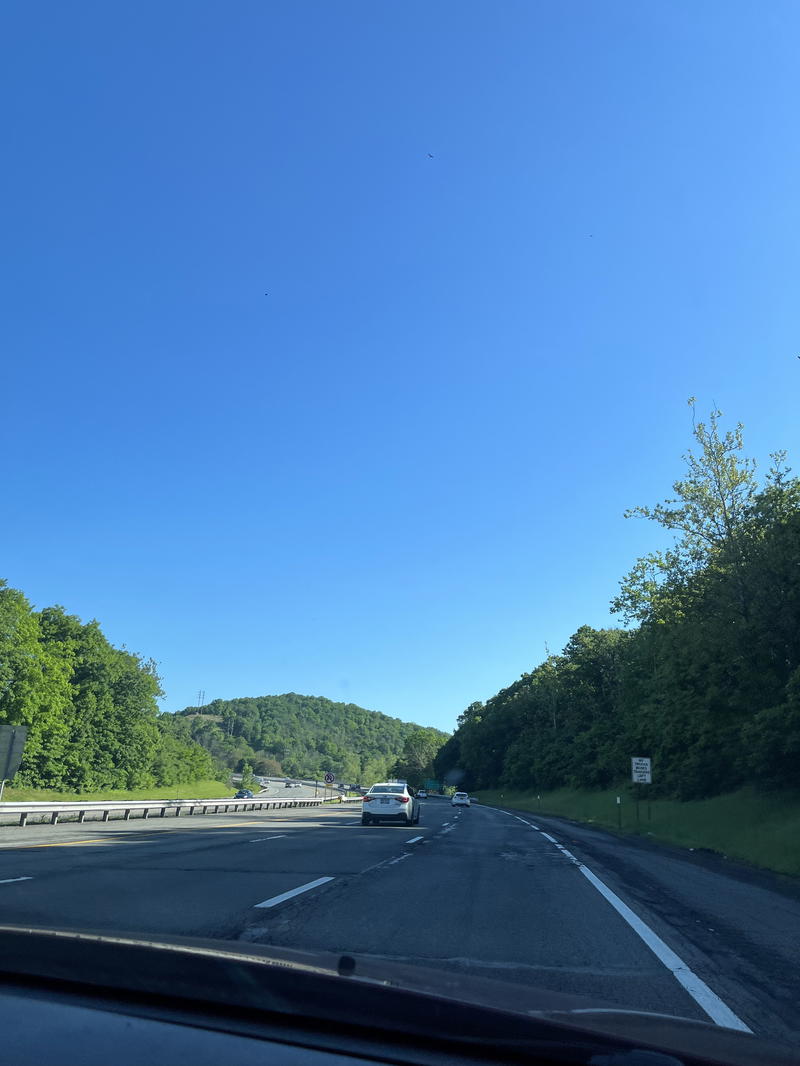 Bus
If you're coming from NYC, you'll find that the only option is a Trailways bus that leaves from Port Authority Bus Terminal. Melissa's expert suggestion is to buy your ticket in advance because they can sell out! The company is very insistent about having the right ticket at the right time, so you probably won't have luck using a ticket for another day and another time.
The Kingston Trailways Bus Terminal is located at 400 Washington Ave, Kingston, NY, and that's walkable to the Uptown section of town.
Train
For taking the train to NYC, or from other points in the Hudson Valley, you can take MetroNorth trains to Poughkeepsie; however, this is still 40 minutes away from Kingston. Poughkeepsie is the closest MetroNorth train station.
With shelling out a dab more cash, taking an Amtrak to Rhinecliff will get you closer to Kingston, and you can grab a cab from there to Kingston (this takes about 15-20 minutes).
When to visit Kingston
I love traveling in spring, summer and fall. You know this already if you've read our guides to the Catskills and the Hudson Valley. I love long days, warm sunshine, fall foliage and when the flowers blossom in spring. I think the best time to visit Kingston is from April through October because of the pleasant temperatures.
As Kingston is upstate, you'll find that spring gets warmer a bit later than it might just 90 minutes south in NYC. Days will be in the 50s-60s in April, and warmer into the 70s during the day, in May. Summer will bring temperatures from the mid-70s to the high 80s in June, July and August, with days rarely exceeding 90 F (although, with how the years have been going, temperatures keep getting hotter all along the East Coast).
Summer nights will be pleasantly cool, in the 50s, as opposed to the high 60s-low 70s you'd see in NYC on any given day in the height of July and August.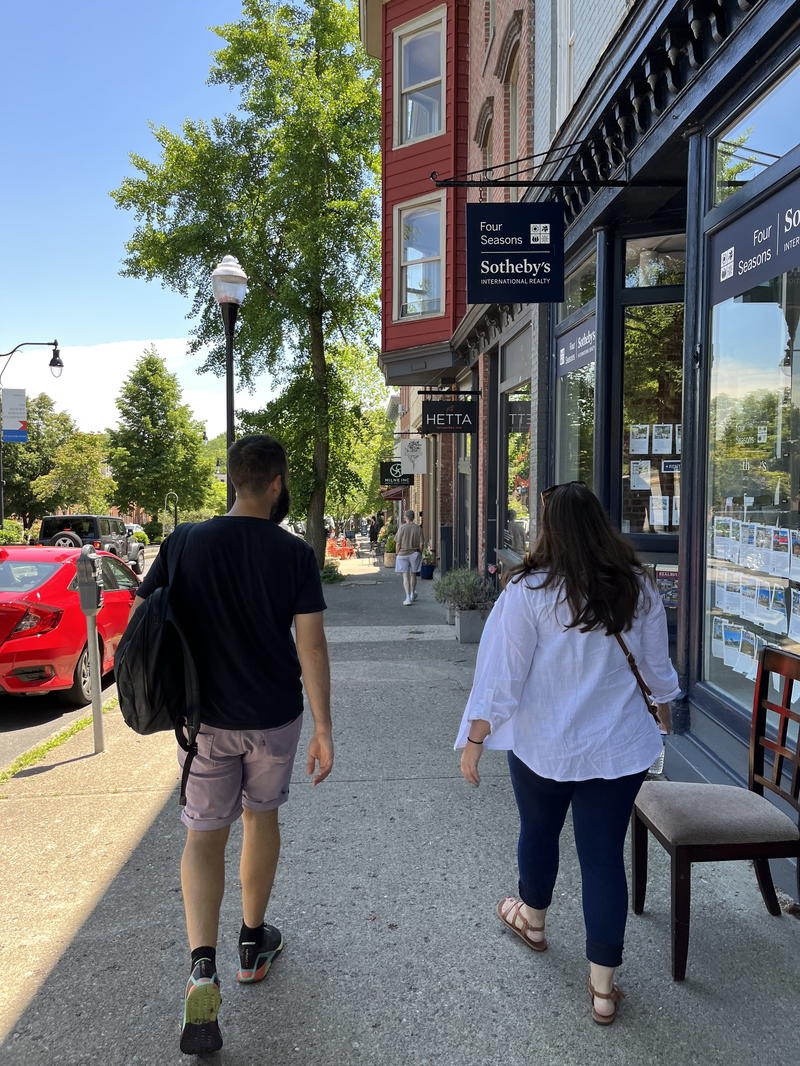 My favorite times to visit Upstate New York are September and October, as there's a slight chill in the air toward the end of September as the leaves start turning. September in Kingston will see daytime highs from the 60s to mid-70s, and October is quintessential autumn, with daytime averages in the mid-50s to 60s.
If you love winter, then by all means, drive on up to the Hudson Valley. If you like a cold day and some snow, try cozying up in Kingston's cafes and restaurants (below) and snapping some photos of frost on the buildings in November, December, January and February. Maybe you're down for the 45-min drive to go skiing at Hunter Mountain not too far away!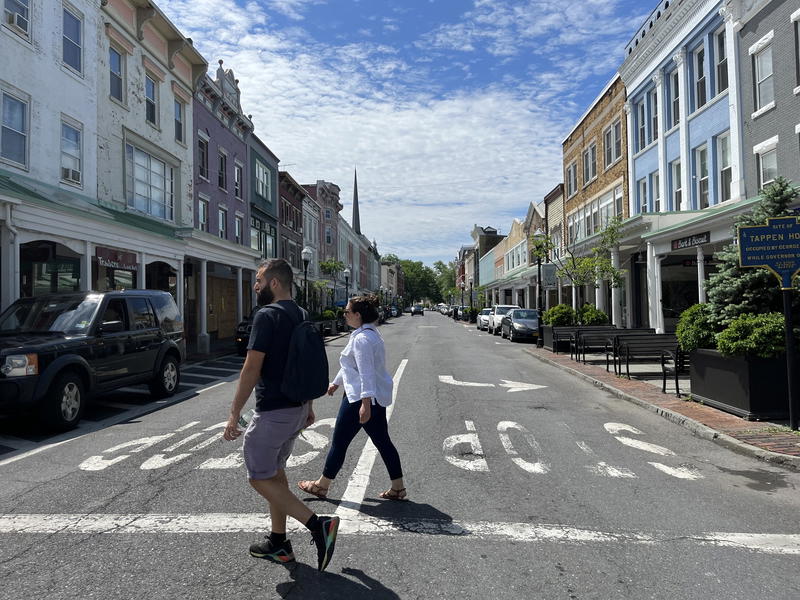 Where to stay in Kingston
When it comes to picking accommodation in Kingston, you can either opt to stay right in town, or just outside, so that you have a spot off of which to explore the greater Kingston area.
Neither location is a bad option. As you'll see in the list below, several big-name hotels are grouped all together just north of the city on Route 9W.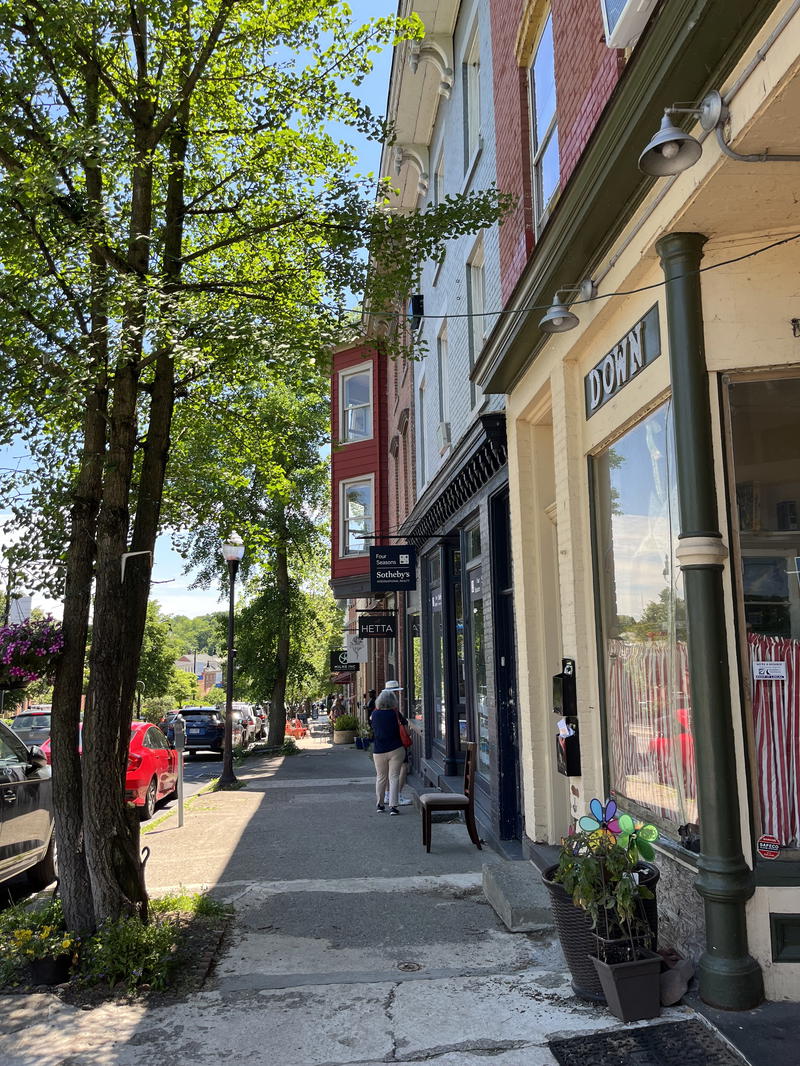 (As a note, the Hampton Inn, Residence Inn and Courtyard by Marriott are right near a shopping center with a Walmart, Target, Marshall's, Starbucks and Hannaford Supermarket, so you'll have anything you need at your fingertips.)
Things to do and see in Kingston
I didn't know what to expect with Kingston the first time I visited! Kingston, because of its size, has more to offer the visitor than other towns and cities in the Hudson Valley. I like that when I visit Kingston, I know I'll probably see something new either there, or in the nearby area.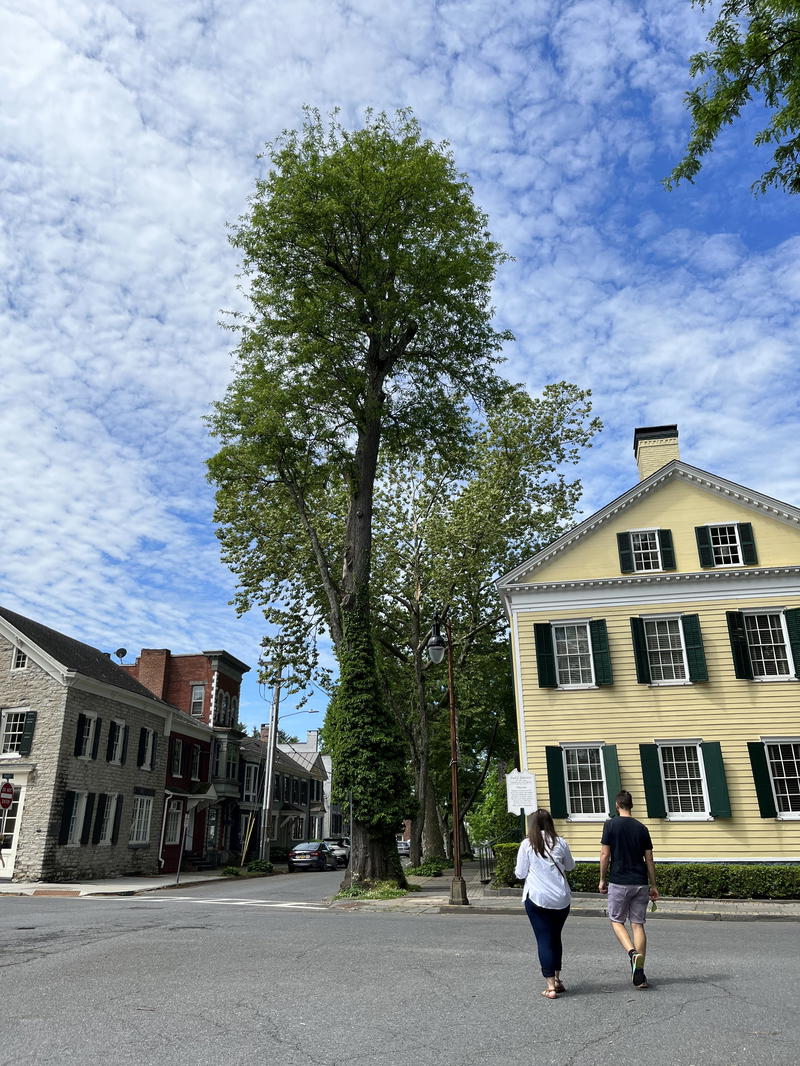 Walk around Historic Uptown Kingston
Kingston "Uptown" is also known as the Stockade District, and it's where you'll find ages-old buildings, the pastel-colored Wall Street, with its covered walkways and lots of eating and drinking options.
Parts of Uptown Kingston are so old that you'll find a church from the 1600s (the Old Dutch Church) as well as the Senate House, which was built in 1676. It's actually really hard to find many places in the US that are this old. Other nearby buildings date to the 1700s-1800s, and the architecture in the surrounding streets is quite charming!
Walking around Uptown is worth a few photos, as you can see ours here!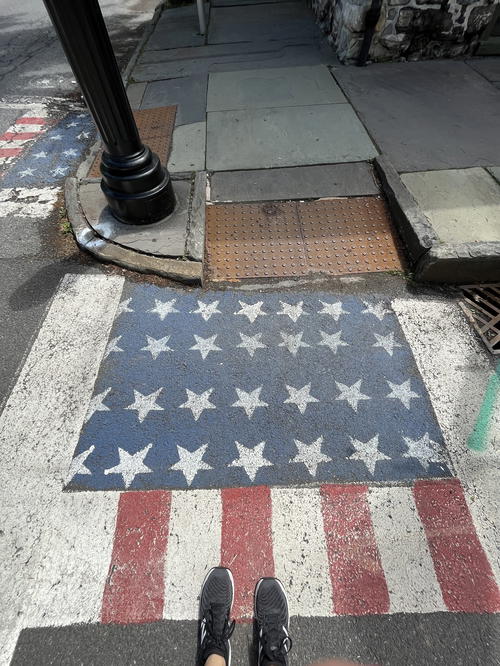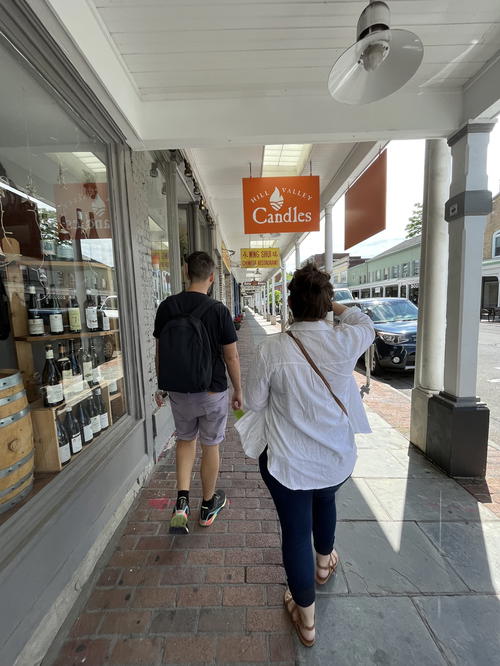 Four Corners
Don't miss the Four Corners, located here. Melissa says, the corner of John and Crown Streets is the only intersection in the US with "pre-Revolutionary stone houses" on each corner. Check out the photo I took there.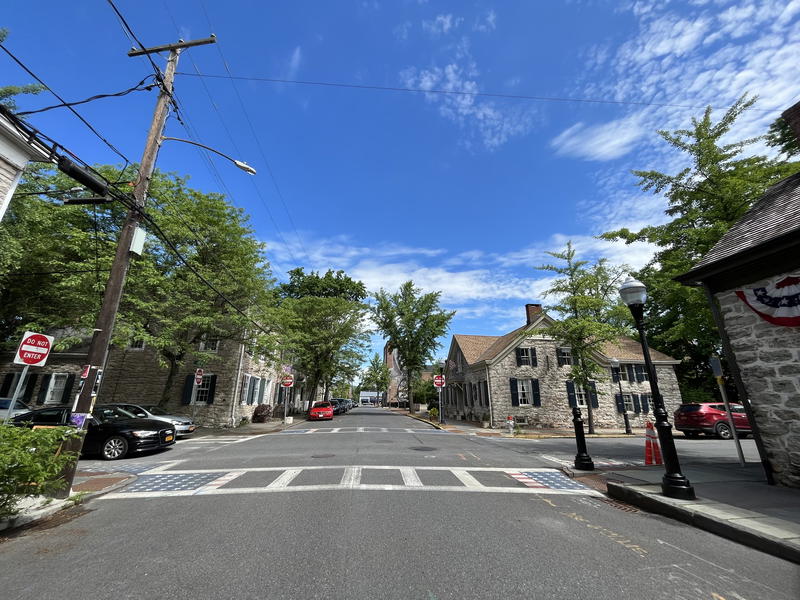 Senate House
This is where NY State's first constitution was adopted, if you can believe it! George Washington stayed in the Senate House in Kingston, for a night. Today, it's a mixed-use historical site and a venue for weddings.
The Reher Center For Immigrant Culture and History
Head down to the Downtown (Rondout) area of Kingston and as you're walking down the hill, stop in at the Reher Center For Immigrant Culture and History. The center serves to amplify immigrant voices, and unites people of all heritages through the historic location of this former Jewish-owned bakery.
The center offers K-12 programming, engaging events, indoor and outdoor exhibitions and digital exhibits online. Even if you pass by when the center isn't open, do take a look at what's available to read on its exterior, like we did. You can see more about the museum here.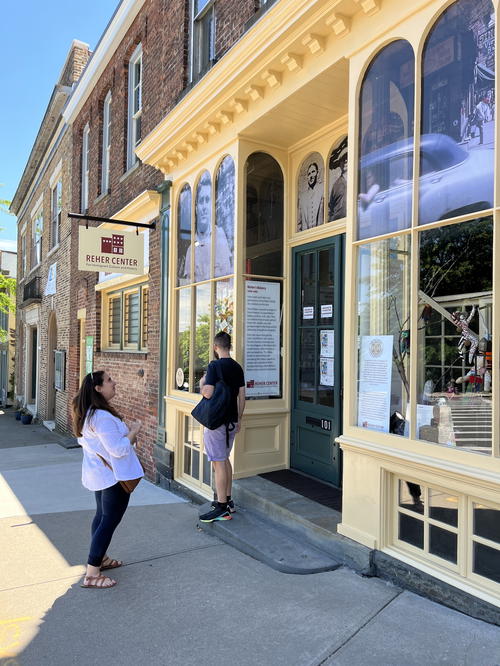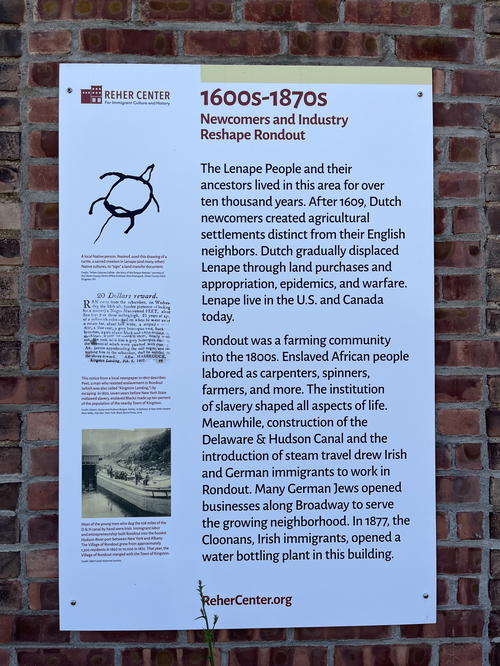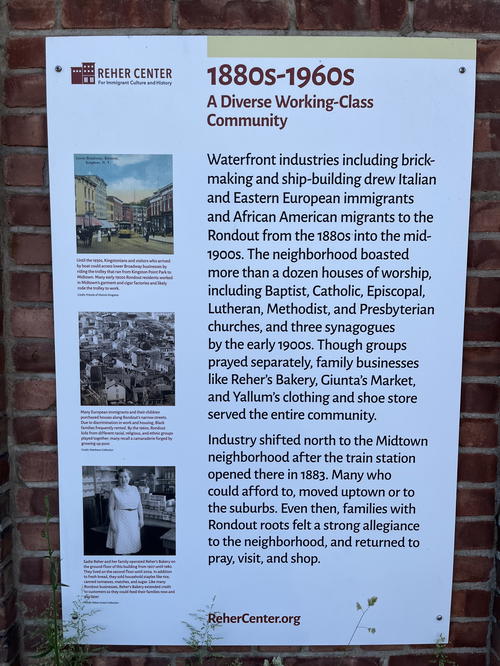 Opus 40
Opus 40 is a sculpture park and "artistic environment" where you can take unique photos. It's a bit of everything: gallery, museum and nature reserve with art and stonework. Follow the Instagram.
Kingston Point Rail Trail
Currently under even more development, the Kingston Point Rail Trail is an asphalt pathway that takes you from "midtown" in Kingston to the water. It follows the route of a former railroad that led to the Catskill Mountains.
Hudson River Maritime Museum
This cool museum looks at the history of the Hudson River as a main artery connection upstate with NYC, according to Melissa!
It is a "wooden boat school," as well as a sailing and rowing school, located right on the Kingston waterfront at the Hudson River. There's tons going on here, from youth woodworking to lectures for adults, sailing classes and boatbuilding classes. Check out the website to learn more, whether you'd like to take a boat tour, or visit the museum itself.
FDR Estate
While slightly outside Kingston, if you have a car with you and you're into history, check out the former home of FDR in Hyde Park, NY, which is now a national historic site of NY. From Kingston, it's a 35-min drive.
Hike the Shawangunks
Also known as the "Gunks," this mountain ridge that originates outside Kingston and goes as far as 47 miles southwest. The ridge consists of white cliffs that border the Hudson River, and the area has been preserved, avoiding development that much of the surrounding area has experienced.
According to the Open Space Institute, the area has 35 different ecosystems, as well as a wide range of wildlife, from reptiles to mammals.
A 24-min drive south from Kingston will get you to the River to Ridge Trail outside New Paltz, NY, and this makes a great excursion from a stay in Kingston.
Trolley Museum of New York
This little museum on the Kingston waterfront is run by volunteers and is open on weekends from 11-5, during the high season of April to October. It's located at 89 East Strand St., Kingston, NY.
Best cafes in Kingston
There are quite a few very good cafes and coffeeshops in Kingston, so we'll list a few here, as well as the ones Melissa has brought us to!
Rough Draft Bar & Books
This is the #1 for us in terms of a cafe we'd stop at first on any trip to Kingston, and we've been to Rough Draft twice now. It's also the one place I keep in mind if a friend says they are going to Kingston — I say you have to go to Rough Draft.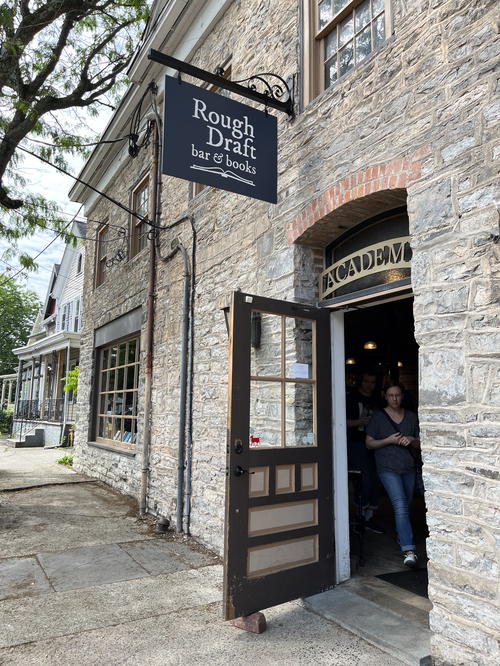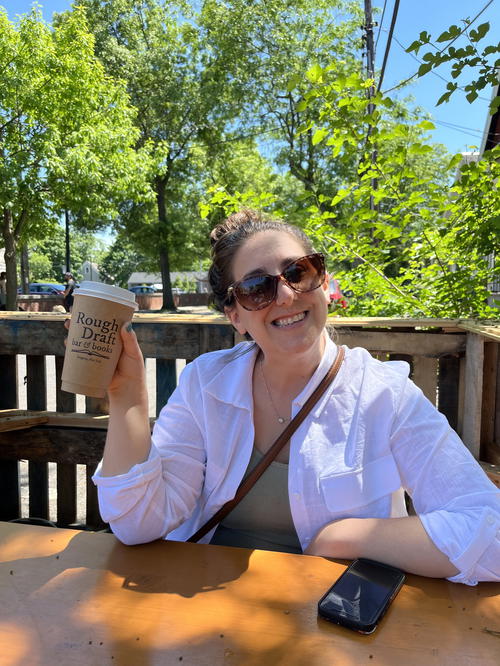 Rough Draft is indeed a bookstore, cafe and bar, and before I've ordered anything at Rough Draft, I like to check out the latest books they've got on display, as well as leaf through some others.
Rough Draft is open from 8 to 8, every day of the week, so there are no "off days" (this is great because a smattering of places to eat are closed Mondays and Tuesdays in town). Everyone likes the vibes at Rough Draft, and there's a good amount of outdoor seating!
For what to get, try a latte or a coffee, and after hours (or whenever hours), try a cider, beer or wine to enjoy! The website is here.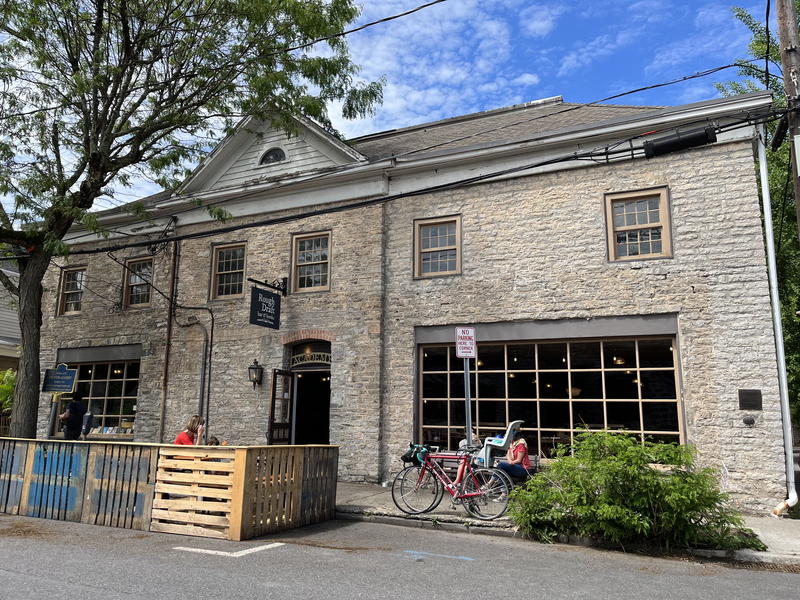 Uptown Coffee
This chill and bright coffeeshop is open every day except Sunday and located on a quiet street in Uptown Kingston. Check out the Instagram.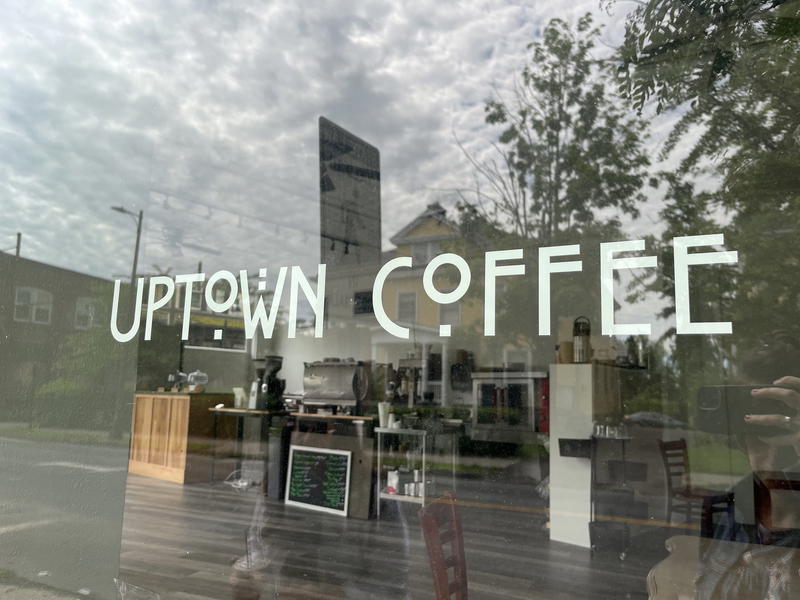 Village Coffee and Goods
This Brooklynish cafe has breakfast, brunch and toasts, and of course, coffee, cold brew and lattes. The menu is marked with gluten-free symbols and other allergens.
Half Moon Rondout Cafe Coffee and Donuts
This downtown cafe in the Rondout area is popular with everyone, and has themed donuts and chocolate babka.
Where to eat in Kingston
I think you'll be pleasantly surprised with all the food options in Kingston! It's pretty hard to decide where to sit down for your first (and second, or maybe third) meal while on your trip.
Sissy's Cafe
Melissa brought us to Sissy's Cafe, where we were able to get gluten-free food (me) and vegetarian food (Dan). Thanks, Mel! We liked the outdoor seating right on Wall Street.
Sissy's Cafe is a no-nonsense place, where the food is healthy and the options are in good numbers, especially for health-minded folks.
There are deli sandwiches, smoothies, salads, juices and paninis and everything is delicious. You can preview the menu here.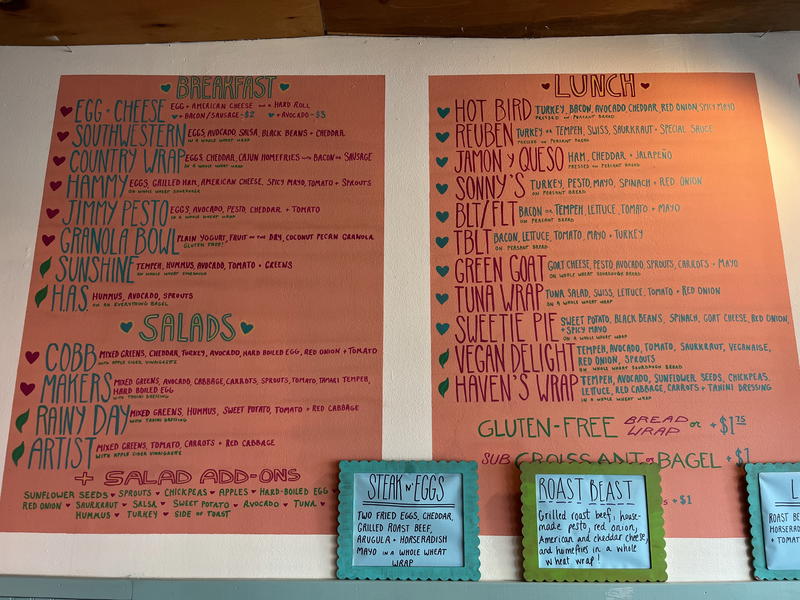 Brickmen
The highlight of this Kingston restaurant on North Front Street in Uptown is that they serve complimentary fries at every table, according to Melissa! The ambiance makes you feel like you're somewhere fancy and the fried chicken is the best thing on the menu, Melissa says. She also notes that you'll find better mac and cheese elsewhere, so order anything but that.
Sweet Maresa's
This bakery in the Stockade District (Uptown) is a photo moment with its pretty glass exterior and goodies in the window, to its quaint outdoor seating at a few tables out front. There is a coffee menu, macarons in pastel colors of the rainbow, cookies, shortbread and cupcakes. You won't leave hungry!
Kingston Bread + Bar
With bread, coffee, pizza and cheeses on the menu, you could go for any of this, but look at the menu of bagel sandwiches and try not to drool! Melissa recommends all the breakfast sandwiches, in fact.
Savona's
A heap of glowing reviews solidifies that Savona's is a really good place to eat at in Kingston. Melissa says that Steve Savona is the nicest guy (and fun fact: he was randomly on a reality dating show called "Married By America" before the pizza business picked up), and has built a "mini empire upstate." The cannolis are beyond incredible, and overall, this is the most legit place to go for Italian in Kingston.
Ship to Shore
Ship to Shore is a downtown Kingston restaurant near the water and has indoor and outdoor dining. According to Melissa, this place defines "Old Kingston" at its best. This place is an institution, and is consistently excellent. Don't miss it.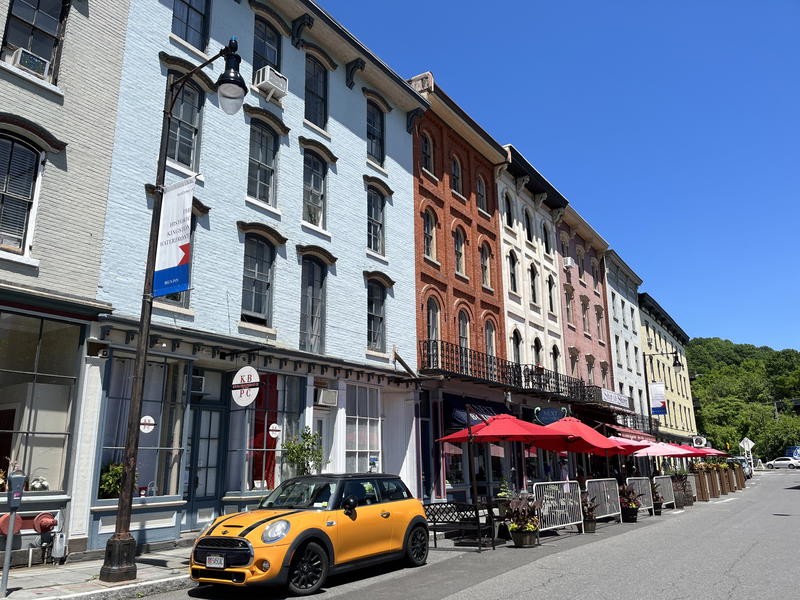 Hoffman House
This traditional American restaurant has vegetarian and vegan options, and is set in a 1700s stone house, one of the oldest buildings in the whole city. Great reviews confirm that the food is solid.
Casa Villa
Melissa says… if you're craving Mexican, Casa Villa is the place! The owner, Jose, grew up in Puebla, Mexico, and "has been feeding us all for years." The shrimp rellenos are amazing, and Melissa will always order the steak quesadillas. Why not try it out?
Downtown Cafe
A few inside tips here: Melissa's favorite thing on the menu at Downtown Cafe is the homemade pasta that "cannot be beat." It's suggested to have a reservation here, because tables fill up! Also, the strawberry shortcake dessert is to die for.
Boice's Dairy
This legendary dairy (legen-dairy?) is such a staple of the region that it supplies the schools in Kingston with the kids' milk! It's a 100-year-old company, and the ice cream shop is located at 62 O'Neil Street.
Where to drink in Kingston
Ready for a drink in Kingston, whether cooling off on a hot summer day or cozying up on a winter night? See these local recommendations.
Keegan Ales
This cool brewery in Kingston makes craft brews and hosts a "trivia break" every Tuesday! Melissa claims that it's the only local brewery worth going to. Keegan Ales has live music, trivia nights, good beer and an all-around excellent vibe. Locals love it, and it's located right near the Uptown district.
Brunette
For your downtown drinking option, visit Brunette. The chic wine bar has cider, beer and wine by the glass, from sparkling to red, white, pink and "orange." This bar has a nice vibe.
Special things to experience in Kingston
Kingston has cool things to do to look out for! Will you be visiting for any of these events, which are Melissa's favorites?
Kingston Farmers Market
This city farmer's market is open year-round from 9am-1pm specifically on Saturdays. During the warmer months during the "outdoor market," this is a great place to see all the weird stuff upstate folk are into. During winter months, it's every other Saturday inside the Old Dutch Church. Check out the website.
Reenactment of the Burning of Kingston
This is a big deal, and draws people from all around. The Reenactment of the Burning of Kingston takes place in October and involves film screenings, pre-film talks, colonial camp reenactments, guided tours of the Senate House, and reenactments of colonial street battles. See more at the website for planning your trip.
Enjoyed our article?
Consider supporting us! We're a 2-person team (learn more about us here) and your support enables us to create quality content. Thank you!