Impact Hub: Coworking for Digital Nomads in Antigua
Written by Becca
•
Updated on October 16th, 2023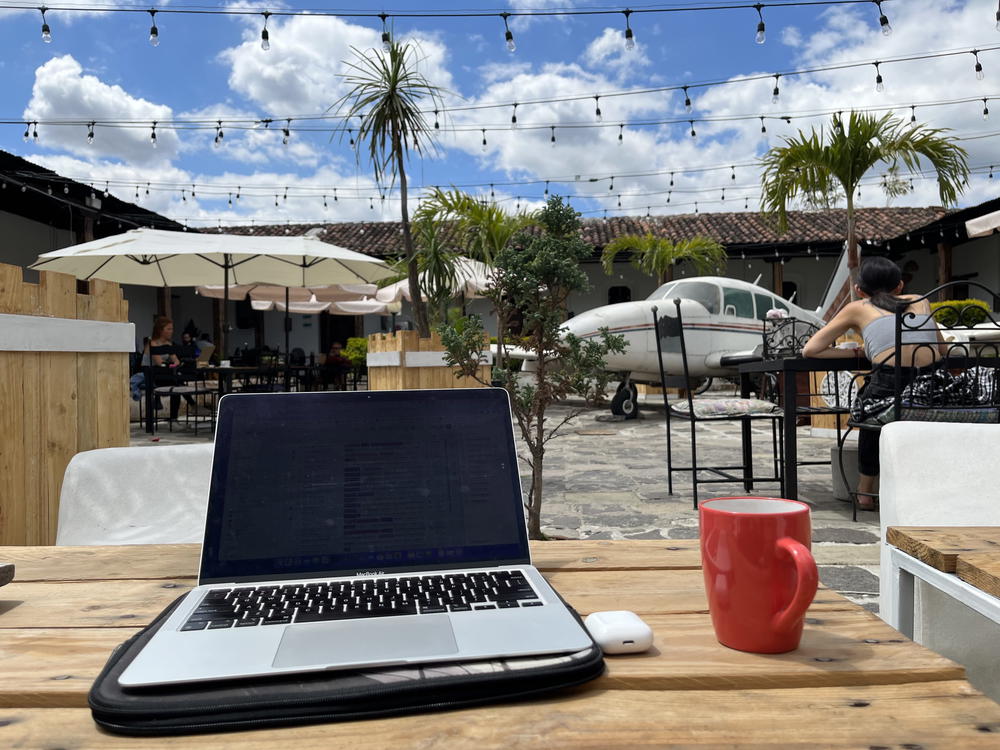 If you're looking for digital nomad coworking in Antigua, book a membership at Impact Hub, a great spot for fast WiFi and working remotely during a trip to Guatemala.
This article may contain affiliate links. We earn a small commissions when you purchase via those links — and it's free for you. It's only us (Becca & Dan) working on this website, so we value your support! Read our privacy policy and learn more about us.
One of the reasons I took a trip to Antigua, Guatemala, for my second time (!) was because I knew this was a city in which I could work remotely with no problem.
It turned out to be a great choice because I landed a spot at Impact Hub Antigua coworking, where I could be successful as a digital nomad during my trip.
Impact Hub is a special coworking space for nomads, expats and professionals who need a dedicated workspace on a trip to Antigua. I spent several days at Impact Hub testing out if this was a good place to work remotely, and why it would be better than doing my work in any of Antigua's cafes and coffee shops.
Here's my review and what to know about Impact Hub in Antigua, Guatemala, as a coworking space where you'll get dedicated WiFi and all the other perks and benefits of a coworking space during your travels abroad.
And by the way, this article is not sponsored! I visited Impact Hub on my trip to Guatemala and paid for the experience in full.
For when you're done with your work day, bookmark my guide of the best things to do in Antigua during your trip!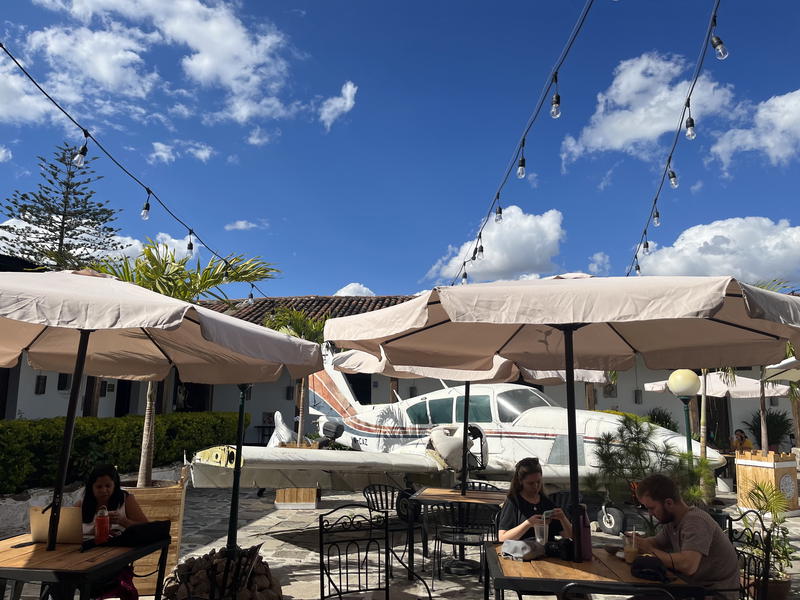 What is Impact Hub Coworking?
Impact Hub is a coworking space for travelers, locals and digital nomads in Antigua, Guatemala, in the historic center of the town.
It's conveniently located not too far from Parque Central, the downtown center and midpoint of the city. With a great location, helpful staff and an interesting assortment of professionals from around the world with whom to cowork with, Impact Hub seems like an obvious choice for working remotely during your trip to Antigua.
Set on the perimeter of a colonial-style building with a courtyard, much like most other buildings in Antigua's historic center, it is a charming indoor-outdoor space that is unique, and this is what sets it apart from other places I have worked remotely in "nearby" Mexico City at Selina CoWork and in Merida at Conexion 60.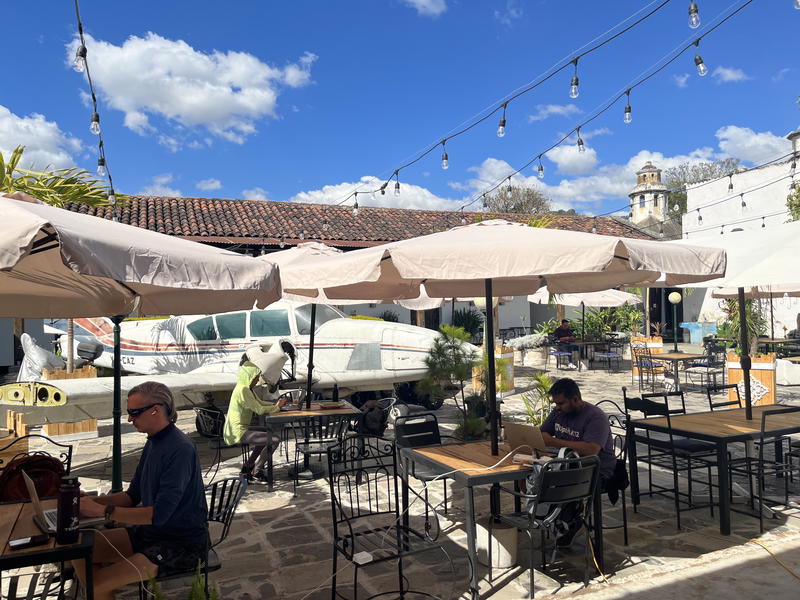 Features & Amenities at Impact Hub Antigua
Impact Hub has all the benefits of a coworking space, and maybe several more that you weren't even seeking out!
Ergonomic chairs
If you've been working from home for a while, you realize how important a good chair is. You know that if you need to work a full work day, you can't do it at a dining chair at a coffee shop or from a bed in a hotel room.
Impact Hub has proper desk chairs, some even with armrests, that make for a comfortable coworking environment.
Sunny patio space
Impact Hub is set in a courtyard, and when it's sunny out, you can sit at any of the tables and enjoy some Vitamin D while you are answering emails.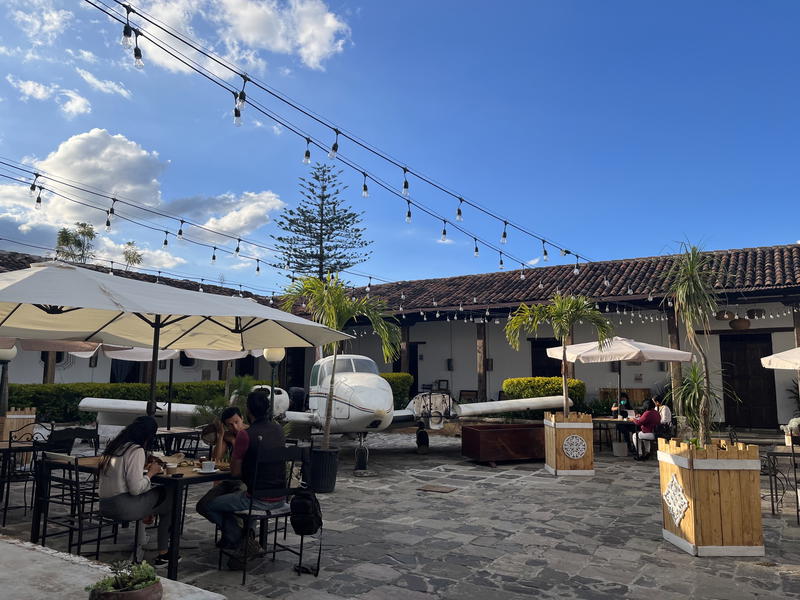 On-site coffee shop
At the entrance to the Impact Hub property is a great coffee shop that has coffee drinks, smoothies, Latin American treats and more.
Vegan cafe Wachuma on site
The vegan cafe is Wachuma, and it's located on the street, with another entrance directly to Impact Hub. This would be the default place to buy your breakfast or lunch if you are short on time and don't have time for walking elsewhere for food.
Check out Wachuma's fridge, as they have vegan desserts and a whole slew of yummy kombuchas.
Pilates studio
There's a pilates studio inside the Impact Hub courtyard, and if you're there in the morning you may hear the teacher instructing a class.
For this reason, I'd recommend some noise-canceling headphones!
Central location
The location of Impact Hub is pretty good, and it was a total four-block walk from my hotel. It doesn't get much better than that unless you're staying closer.
The location is really quite central, and given that Antigua is not big, most hotels, hostels, Airbnbs and homesteads will be within walking distance to Impact Hub.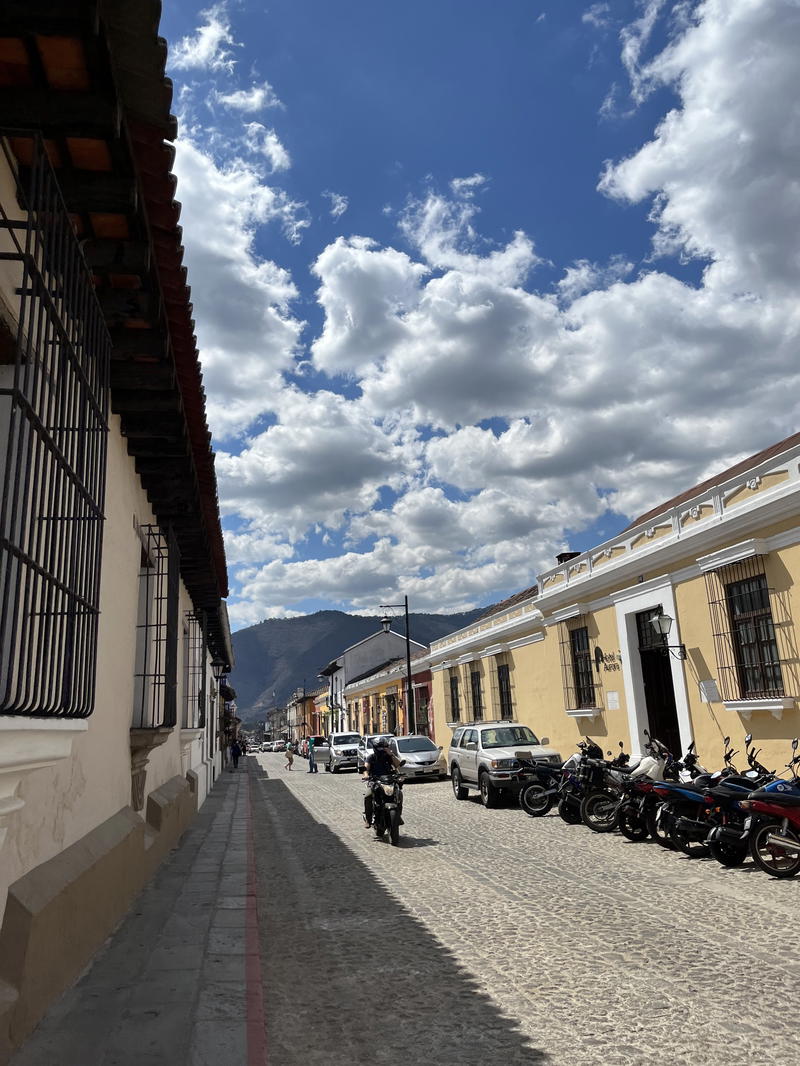 Indoor-outdoor experience
I liked that the outdoors was easily accessible while I was coworking at Impact Hub. Luckily, I also had excellent weather every day.
Staff on site
The staff on site is very nice and can help you navigate the WiFi password!
Very clean restrooms
Another underrated thing is clean restrooms, whoever you are in your travels. The restrooms at Impact Hub are spotless.
What to expect for coworking at Impact Hub
Impact Hub is not truly a traditional coworking space, meaning it is not in an office building, and it's not in a big WeWork or anything like that. It's more of a smaller-size coworking space, and it's pretty chill.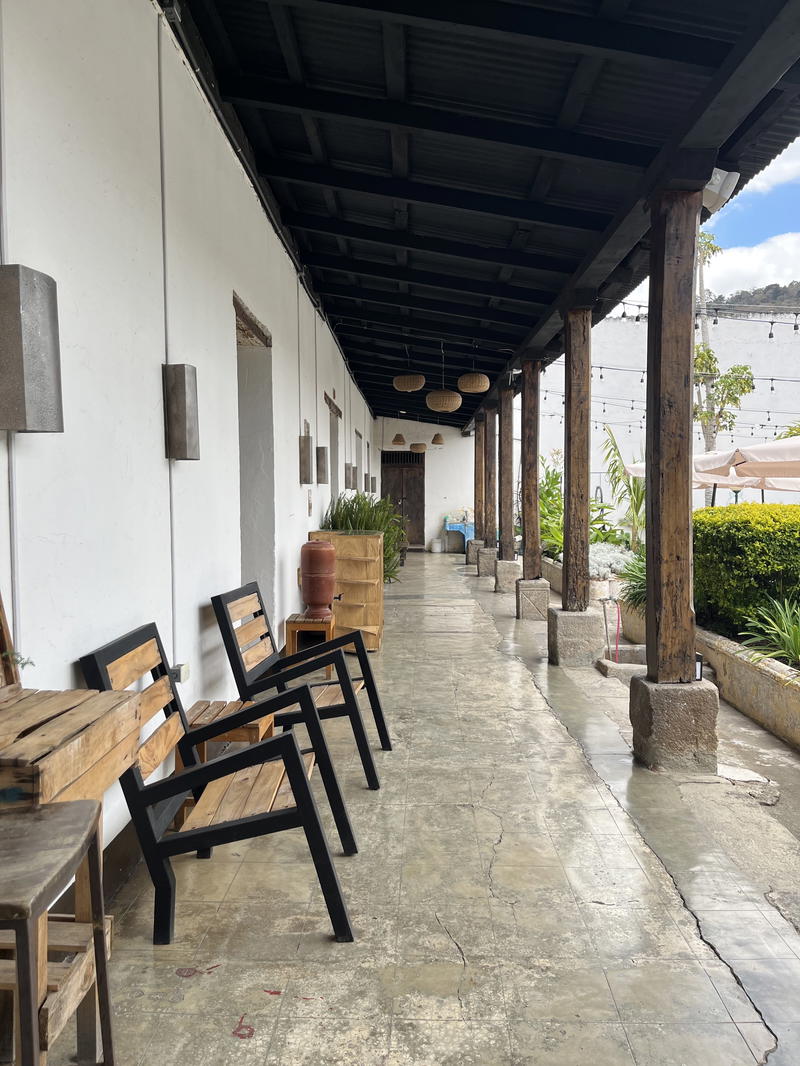 Is the WiFi fast at Impact Hub?
This was one of my fears, as I often have Slack calls, and sometimes Zoom calls or Google Meet meetings on video with external parties. When I look for cities in which to work remotely, I'm looking for proven fast WiFi that won't be an issue for any of these things I need to get my work done.
Was the WiFi fast? It was acceptable, yes.
Apparently, on cloudy days, the WiFi is slower, and I've experienced these types of weather-related WiFi upsets at other coworking spaces in the world like at Selina CoWork in Medellin, Colombia.
I got readings on fast.com at 8 Mbps, and this was okay for audio calls and Slack huddles. I did have one hour-long Google Meet meeting during which I turned off my video just in case I appeared garbled with a delay.
I didn't have any severe issues, but I wouldn't promote Impact Hub as having blazing-fast WiFi like I (luckily, and surprisingly!) had at Conexion 60 in Merida recently.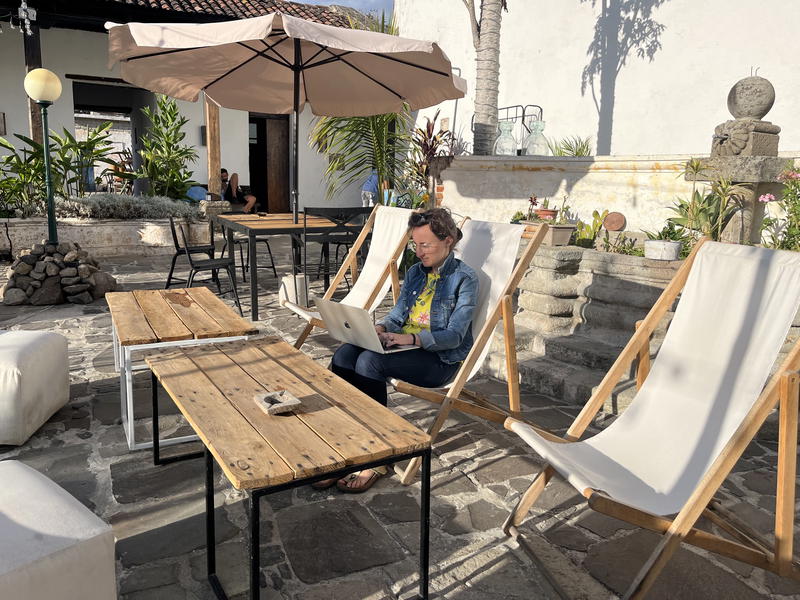 What are the hours of Impact Hub?
The hours of Impact Hub were also important to me because with Antigua being located in Central Time and my job being based on Eastern Time, my meetings were all shifted an hour earlier. A 9am workday at home starts at 8am in Antigua and in most of Central America, like in Mexico City.
Impact Hub opens at 8am (but their website says 9am, so I suggest checking with them), and this is something I verified the day before I planned to start my day pass membership. It is open until 6pm.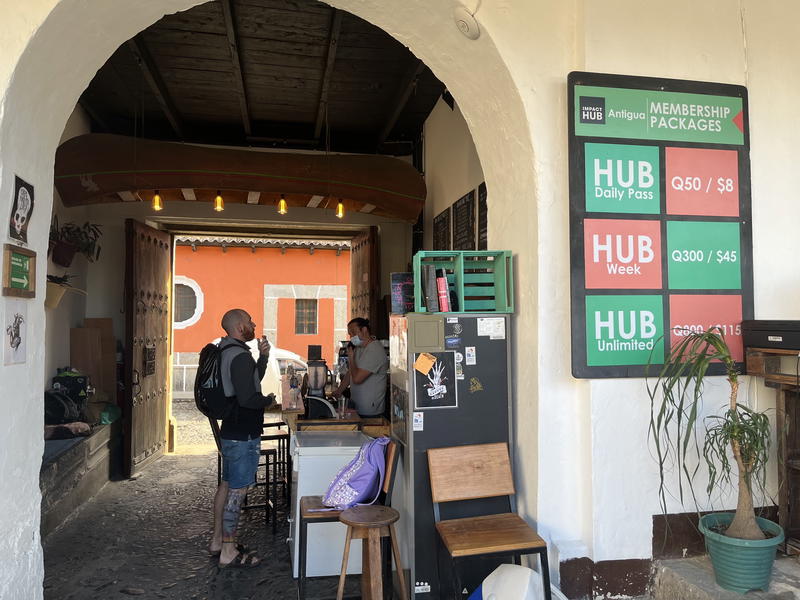 Which types of people are working remotely at Impact Hub?
There are a few different types of people working remotely at Impact Hub Antigua!
Expats
Expats, or people who live semi-permanently in another country that's not their home country, were some of the remote workers at Impact Hub.
People on a "workation" / remote work trip
I was one of these people. I was on a vacation to Antigua and was only able to travel as long as I did because I worked remotely as well at my full-time job. After a day at Impact Hub, I was able to enjoy Antigua and grab a drink at cool bars like Antigua Brewery Co. a few blocks away!
Group members of programs like Remote Year
The work-travel program Remote Year is a way for people to be working remotely while traveling with a cool group of like-minded professionals. Currently, Remote Year uses Impact Hub as the default coworking space in Antigua, so if you're there, you may find a handful of these folks using Impact Hub every day.
Find out more about Remote year and apply, here.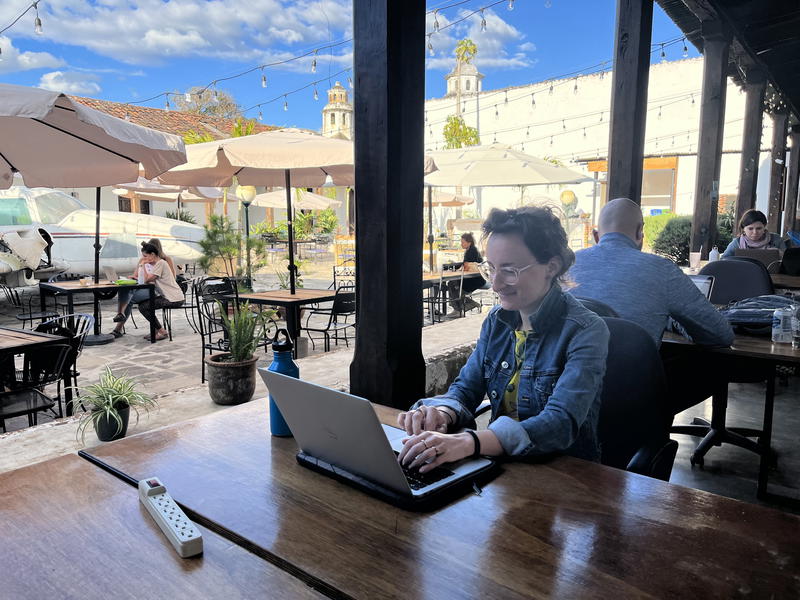 Costs and Memberships at Impact Hub
Impact Hub is not expensive, compared to the cost of coworking at major cities in the US and Europe, which sometimes are between $20 to $30 USD per day. Impact Hub's prices were tons less, on par with the cost of travel in Guatemala.
Day pass
A day pass at Impact Hub is 50 Guatemalan Quetzales (GTQ), which is about $6.48 USD. This is a great deal, in my opinion, especially if you spend the whole day.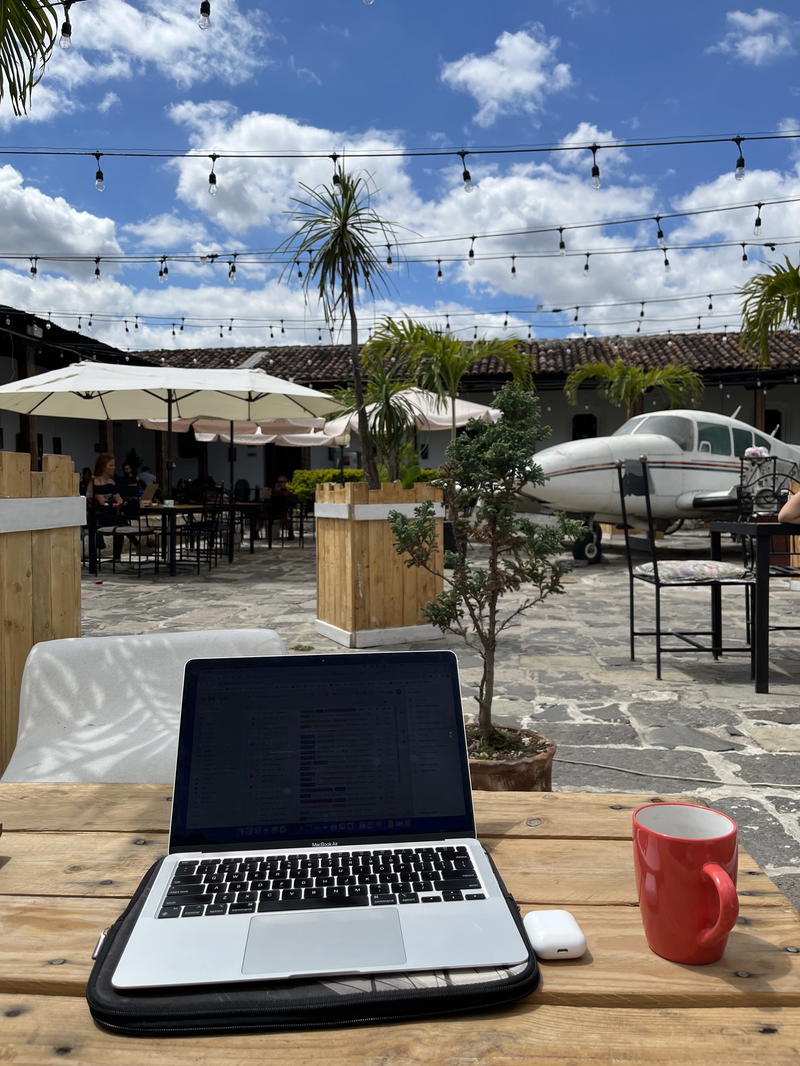 Basic membership (6 days/month)
The price of this membership for 6 days during a month is 300 GTQ, or around $38 USD. What you'll get with this level is a fixed desk and a registered work and mailing address if you should need it!
Unlimited pass
The monthly membership at Impact Hub costs 800 GTQ, which is about $104 USD, approximately. With this membership, you get a hot desk, not a fixed desk, and you do get 4 hours of conference room hours, which may be helpful.
If you plan to be in Antigua for more time, this is probably the best membership for you if you think you'll be using coworking quite often.
How to book coworking at Impact Hub Antigua
What I like to do when I'm in another city for working remotely is set up my coworking membership in advance. This is because, on my first day, I want to arrive and be completely ready to sit down and start working when I have to be online for my job.
So, I went the day before I planned to have my membership start, and I paid in person (with a credit card) with the staff at the reception.
You can always see more details at the Impact Hub Antigua website.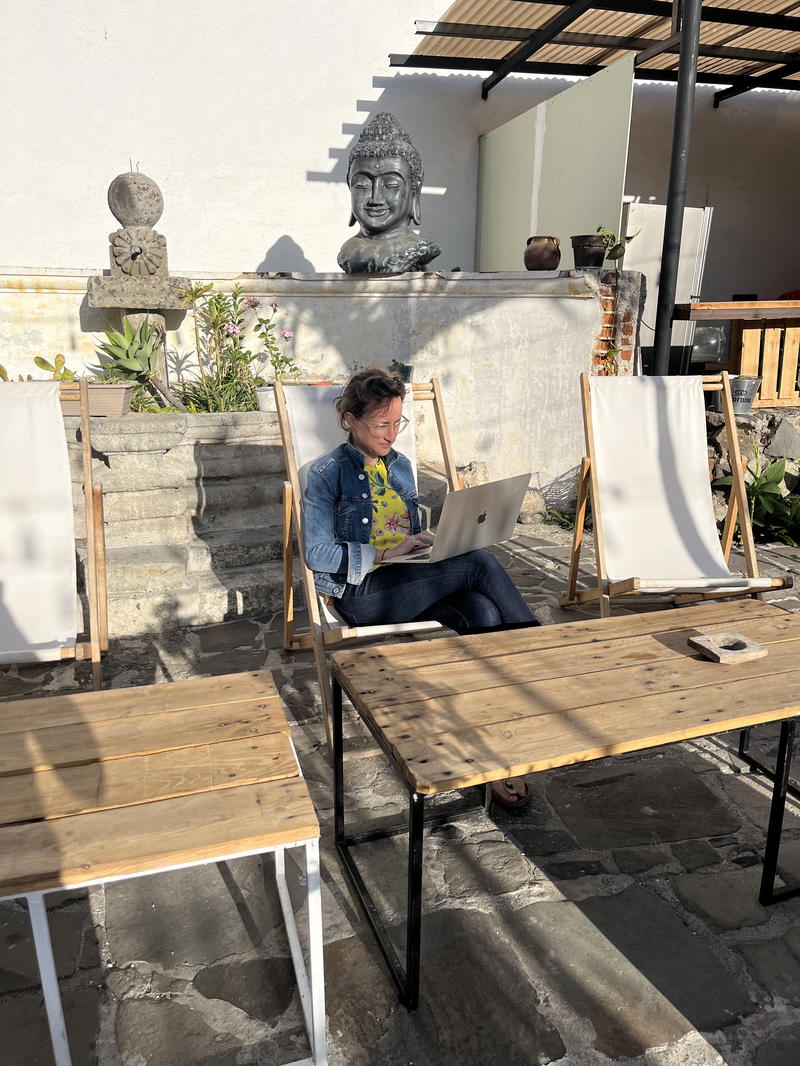 Is Impact Hub a good place to cowork?
Yes, sure is! I would like to reiterate that the idea is not to expect top-notch WiFi, but if you need a comfortable working environment for your digital nomad travels in Guatemala, this is going to be your best bet!
One more cool thing is that Impact Hub Antigua is part of the global Impact Hub network, so check out the other locations for your other upcoming travels.
Enjoyed our article?
Consider supporting us! We're a 2-person team (learn more about us here) and your support enables us to create quality content. Thank you!