Gluten-Free Guide to Food in the Dominican Republic
Written by Becca
•
Updated on September 19th, 2023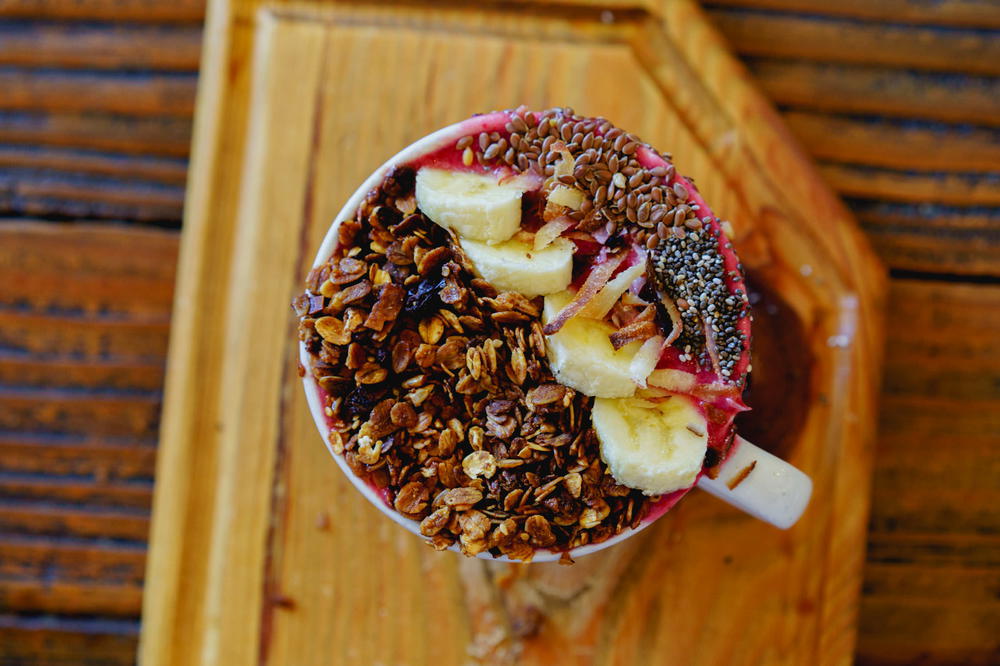 Are you a celiac or gluten-free traveler? If you're always wondering how to travel so that you can safely eat gluten-free food, let's start here, talking about the Dominican Republic and how to eat gluten-free in the DR.
This article may contain affiliate links. We earn a small commissions when you purchase via those links — and it's free for you. It's only us (Becca & Dan) working on this website, so we value your support! Read our privacy policy and learn more about us.
Are you a celiac or gluten-free traveler? If you're always wondering how to travel so that you can safely eat gluten-free food, let's start here, talking about the Dominican Republic and how to eat gluten-free in the DR.
I've done all my travels while having celiac disease and looking for countries for gluten-free travel. I've found that Central America (for the reasons below) is one of the easier regions of the world for being a traveler with celiac disease.
While my guide below will speak mostly to my travels in the North Coast of the Dominican Republic, you can nearly-safely presume that the general food ingredients and styles pertain to the whole country. This is because the DR is not as big as other countries, the cuisines of which vary greatly from north to south or from east to west.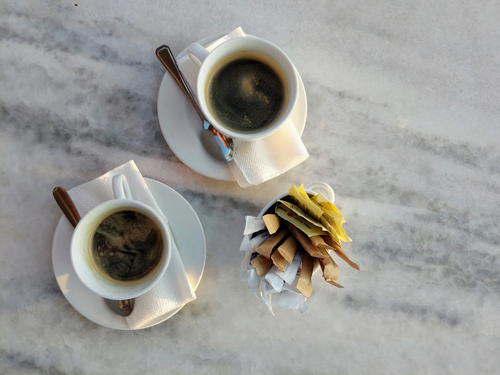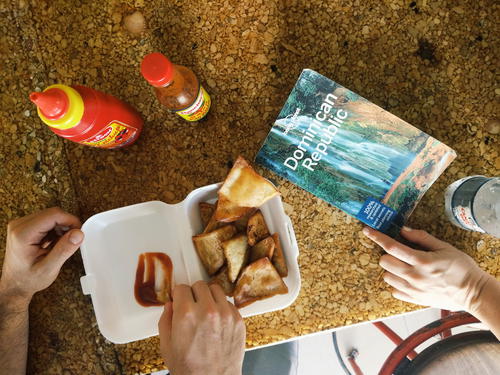 Can you eat gluten-free in the Dominican Republic?
Overall, I found myself eating plenty in the DR. I'll note that I do eat meat, so that opened up my options greatly. On the other hand, I do not eat dairy, so while I'll make several mentions of dairy below, your options will be greater than mine if you eat milk, cream, cheese and butter.
Helpful Tip
See our list of favorite travel apps, including some that will help with translation in other languages. Translating will help show servers what you can and cannot eat, when there's a language barrier.
What is Dominican cuisine like?
Dominican cuisine has a few parts to it. There's the meat, and of these, the most popular are chicken, beef and goat.
For fruits and vegetables, it got more interesting. Fruits and vegetables are easily a few reasons why I can focus on health while traveling.
Vegetables we often saw in the DR were carrots, and … okay, so there aren't tons of vegetables in the Dominican Republic.
If you feel like you haven't seen a vegetable in a while, you can go to a supermarket or local market to refresh yourself on what's around. There is some local production of cabbage, chayote, squash, onion, garlic tomatoes and peppers.
Fruits were the best, though: pineapple, strawberries, oranges, mangoes, bananas (called "guineo" locally), coconut and our favorite, passionfruit (called "chinola" locally).
You can even get beach snacks that are coconut sweets made from coconut and sugar. Bargain down, as the people who sell the beach snacks will try to overcharge you wildly. Keep insisting, and you'll get your gluten-free coconut beach snack for $0.50 like I did!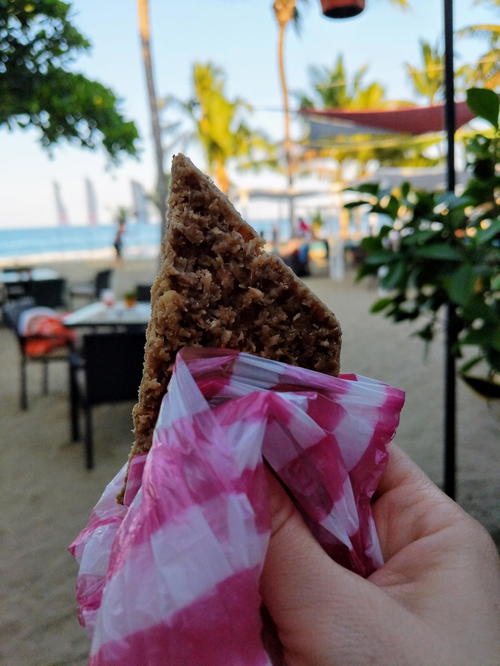 For starches and the carb group, the focus is on locally-produced grains and root vegetables like yuca, potato, sweet potato or yam, rice and some corn.
Last of all, plantains, while not looking like a starch when you see them because they resemble massive green bananas, are used much more as we'd use potatoes in American cuisine.
Is the Dominican Republic a country for gluten-free travel?
Yes, it is, and I'll tell you why. Central American and Caribbean countries' cuisines use less wheat (on the whole) than other countries.
While there is surely lots and lots of bread, cakes and cookies in the bakeries in these countries, there are a few reasons for why it's easier to travel in this region than in others.
Helpful Tip
You can pack less for your trip by scrapping the granola bars from home, because there are gluten-free snacks available in most Dominican stores, ranging from plantain chips to dried fruit and nuts.
What are the main gluten-free ingredients for cooking in the Dominican Republic?
The reasons are rice, plantains, potatoes and corn.
When these ingredients are part of the local cuisine (with a few precautions taken), it's possible to eat gluten-free and explain your diet to someone who might understand.
What about fried food being gluten-free in the Dominican Republic?
The main kicker is fried food. If you can't consume food that was fried in the same fryer oil as gluten-containing foods, then you will have to do a bit more thinking.
However, I was able to ask (in Spanish) about fried items and how they were fried.
Helpful Tip
Translation in Spanish: to say, "Is this food fried in the same oil as items that contain gluten?" ask, or show your server, "Se fríe esta comida dentro del mismo aceite que las comidas que tienen la harina, o se fríe separadamente?"
Fried Dominican foods that are probably gluten-free
The main [potentially] gluten-free foods that are fried but are otherwise innately gluten-free are:
Tostones
They are twice-fried smashed plantains (I dream of them! They're delicious).
Mangu
This is a local Dominican dish that I was able to try in Cabarete. Mangu is like mashed potatoes, but made with plantains, which are naturally gluten-free. The plantains are boiled, and then mashed with butter or oil. I found mangu to be kind of bland because of the boiling aspect, but you can add hot sauce to spice it up, if that's your fancy.
Mofongo
I was under the impression that this is a Puerto Rican specialty, but I am sensing that a Dominican person would probably fight me on that!
Mofongo is like mangu, in that it's made of mashed plantains, but instead of boiling, the plantains are fried and then mashed, and usually there's an addition of meat (typically pork).
If you are super sensitive, I will point out for you that mofongo can be made with chicharron, which is fried pork rind, and if the chicharron is fried in a fryer with any gluten, this will wind up being a no-go for you.
French Fries (Papas fritas)
French Fries are gluten-free if you can find out if they are made fresh from real potatoes with no gluten additives, and fried in their own fryer with no contamination.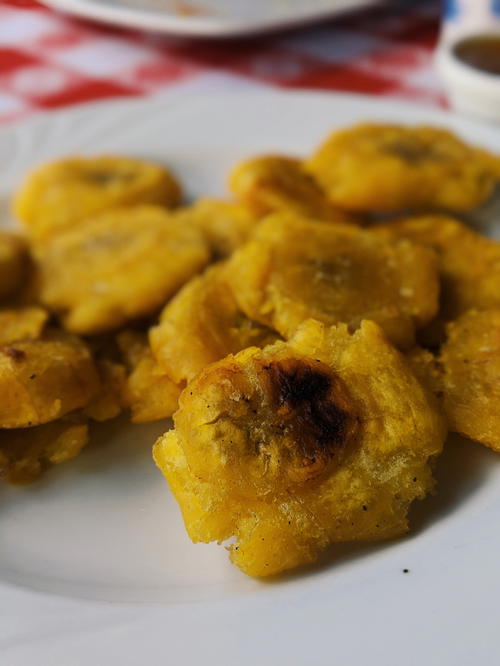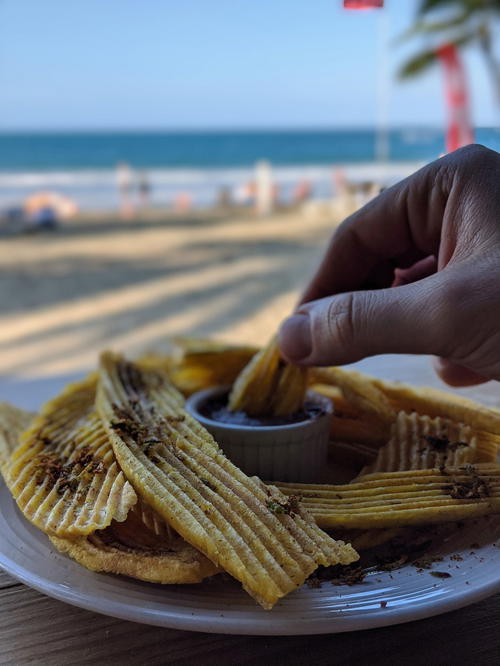 Main Dominican foods that are definitely gluten-free
As Dominican food uses local ingredients like potatoes, white rice and carrots, check out these side dishes that will definitely and always be gluten-free and are easy to get on most menus:
White rice (arroz blanco)
You will rarely see brown rice in the DR, if at all. Most rice is white rice, made in a large pot and cooked (sometimes even served burnt from the bottom of the pot at cheap cafeterias)
Baked potato (papa de horno)
These are available often, either as a whole baked potato, mashed potatoes.
Vegetable salad (Ensalada de verduras) or vegetables (vegetales)
"Salad" in the Dominican Republic is not an American-style salad bowl of raw leafy vegetables, but rather, will come in any variation of boiled carrots and potatoes with some salt (or a lot of salt). Take it as you will, if you love carrots and potatoes (I don't mind them).
Beans (habichuelas)
Beans in the Dominican Republic are made simply, and for flavor, they may have meat (typically pork) added for flavor.
If you're a vegan, either avoid beans, unfortunately, or ask if there's any meat present in the beans. You can also cook beans on your own where you're staying, if you have a kitchen, as they're in large supply in the grocery stores.
The Dominican Republic didn't make our list of vegetarian-friendly destinations, but if you pick up some Spanish, you'll be able to describe your preferences.
How can you find an entire gluten-free Dominican meal?
I wound up eating a lot more meat in the DR than I usually do when I travel. Dan and I typically opt to cook at home or eat vegetarian in order to both save money while traveling and stay healthy together while we're on the road.
In any case, I couldn't say no to all the delicious meat in front of me, as vegetarianism is possible, yet rarer, in the DR and in Central America/the Caribbean.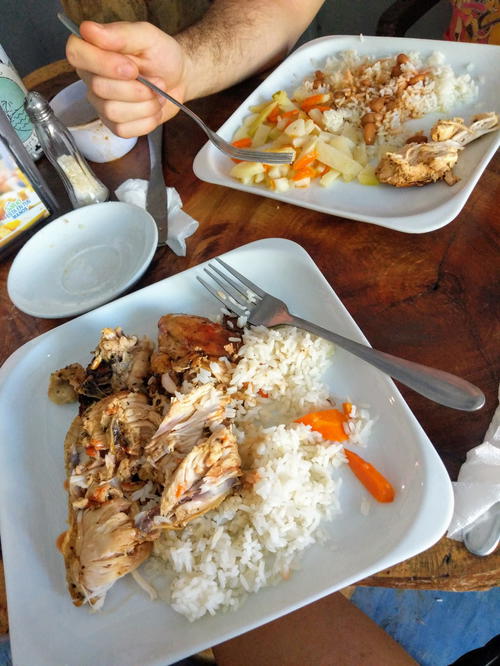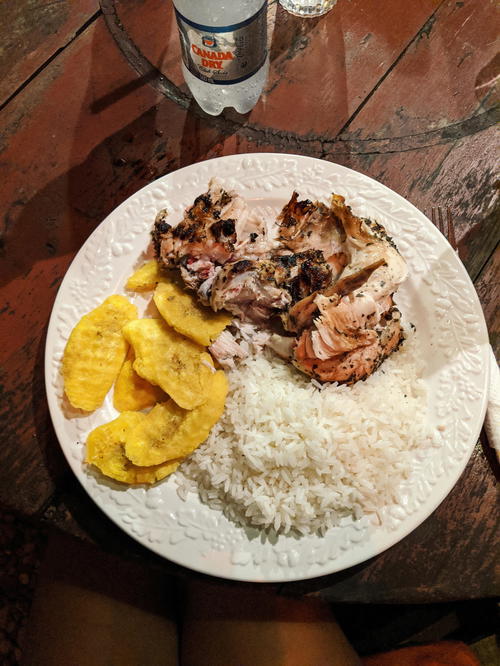 A typical meal I ate would be:
Roasted chicken (pollo asado), which I would ask about being free of flour (harina) and butter (manteca) in my case
White rice (adding hot sauce on my own because there is no life without hot sauce!)
Tostones (see above for what these delicious Dominican treats are)
If I was feeling wild, I would try:
French fries, while asking if they were made in a separate fryer (usually in a larger restaurant where there's a dedicated fryer for all the French fries, this was a possibility)
Mangu (if it was on the menu)
Carne asada (roasted beef), while asking the person behind the counter at the comedor (a fast-food type of casual joint) about the ingredients in the beef sauce. I found that usually the chicken and beef in the types of local hole-in-the-wall cafeterias was made simply, whether that meant the meats cooking in their own juices or having a set of spices thrown on them, but without flour, soy sauce or any gluten-containing ingredients.
There are also various international cuisines available in the Dominican Republic. Among these are Italian food, Turkish-German food, Mexican food, Venezuelan food and American-style food.
---
Places to eat gluten-free in the Dominican Republic North Coast (and what to order)
I had few to no problems eating anywhere Dan and I went to the Dominican Republic. Keep in mind that I don't eat gluten, dairy or soy! If you are "only" gluten-free in terms of diet, you'll have an easier time than I did for sure.
Ali's Surf Camp, Cabarete
Ali's Surf Camp was where we stayed and also where we ate a few meals. Ali's Surf Camp Restaurant is so famous that even people who aren't staying at the hotel property will walk out to Ali's for a delicious steak meal.
Ali's restaurant is famous for their steak dishes, but they make everything with a rub and a sauce. I didn't ask what was in it, because I wanted to eat chicken.
In any case, I can recommend that you order "Muslo de pollo" for a gluten-free option. This dish is essentially half a chicken, and comes with your choice of one side, included.
The sides are choices of white rice, baked potato, tostones (fried plantains) or French fries.
Everything on the menu at Ali's is delicious, and it really is a place that pleases lots of people.
Pollo Luis, Cabarete
Pollo Luis is located in Cabarete on a side street off of Route 5 at the western end of town.
If the place had an address, I'd tell you, but it seems that most places in Cabarete don't have actual addresses and just go by their name. To find it, see this Google location.
The menu is simple here: there's chicken, and there are the sides that come with it.
For anyone on a gluten-free diet, there is one thing to know: the sauce that the chicken is typically cooked with has soy sauce in it.
So, while placing your order, tell the waiter in Spanish that you have a severe allergy to salsa soya and harina (flour), and can they make your chicken without the sauce (sin la salsa que contiene la salsa soya)?
Helpful Tip
We recommend learning Spanish in order to be able to navigate conversations about allergies and ingredients. See our tips for learning a new language for travel.
The server was very attentive to my needs when I went to Pollo Luis twice, and I had the quarter chicken with sides of rice and tostones, both times.
My personal advice if you like spicy food is to add the hot sauce that's on every table. Enjoy!
Restaurante Tropico del Mar, Cabarete
Restaurante Tropico del Mar is an authentic find in the otherwise rather-touristy and expat-friendly Cabarete main road strip. As the place is a comedor/cafeteria, the food is made in the morning and then it sits out all day until it gets purchased and consumed.
Prices are very fair here, meaning 200 pesos for meat and two sides. That's less than 4 USD per person, and you can even ask to share and they may charge you a bit less.
There's pollo asado (roasted chicken), carne asada (roast beef), arroz blanco (white rice), ensalada (the salad I mention above, made of boiled potatoes and carrots) and mangu (boiled mashed plantains with oil or butter, and salt). You can go nuts here being gluten-free, and you can double-check by asking about the ingredients, but I've vetted them here for you.
Wilson's Cabarete
Wilson's is a special place about which you can read more in our Dominican Republic North Coast travel guide. There's no menu here either, but assuming you go with a group, all of who love fresh seafood, the menu is essentially 'fried seafood.'
If you're me, and the only gluten-free person in the group, speak to the woman in charge of the place and say you're allergic to 'la harina, la salsa soya, y las cosas que se fríen junto con las comidas que contienen la harina y la salsa soya.' This should do the trick.
While everyone in our group ate fried fish, lobster and shrimp, I was given a big plate of steamed chicken and shrimp, cooked in a clear oil-vegetable liquid, and it seemed perfectly gluten-free. I'd like to thank them all for this, as I was able to partake in the experience and not feel left out.
For sides, there's tostones and arroz con habichuelas (rice with beans), but I'm not sure what's in the rice exactly, so you'll have to ask if you go.
Villa Taina Hotel Restaurant
Villa Taina Hotel is one of the better-known hotels along the beach. In the mornings, they have a continental breakfast buffet that you can purchase even if you're not staying there. From what we saw, there's fruit and coffee, and a bunch of other breakfast staples. You might even be able to order certain items a la carte.
Tam Tam Cafe, Puerto Plata
Tam Tam Cafe is an expat favorite in Puerto Plata and it's near the historic center and the Malecon 'boardwalk.' The menu has Dominican standard food, but if you go for breakfast and you're on a gluten-free diet, try the 'ensalada de frutas' (fruit salad). It is absolutely delightful!
For other breakfast options, you can get eggs and other standard breakfast foods, minus toast.
El Arepazo, Puerto Plata
If you are gluten-free and you're yet to try an arepa, you're in for a treat! While this is definitely not Dominican food, it's Venezuelan food, and for what I know, it seems like it's well done at this place.
Most arepas with their fillings (cheese, meat, beans, avocado) will not contain gluten. You can ask your server for some detail on how the items are made, if you speak Spanish.
Vagamundo Cafe, Cabarete
Vagamundo has trendy healthy food in general, but the big surprise is that on their waffle menu, they have gluten-free waffles! You can go to town here because the waffle menu lists lots of special toppings, from maple syrup to ricotta and passionfruit.
Helpful Tip
Try taking photos of your food in any of the natural light spots in Vagamundo's patio garden areas.
Doner+, Cabarete
Doner+ is a German-style Turkish fast food place on the Cabarete main road. It is owned by an expat couple from Europe. While the traditional doner kebab food is served in a pita or wheat tortilla, ask for the 'plate,' which will have the chicken, cabbage, tomatoes and pickles laid out on a platter, with no gluten involved!
Casa Mia, Puerto Plata
Gluten-free drinking in the Dominican Republic North Coast: What to drink
Whether you're into drinking coffee or alcohol or fresh fruit juices on your trip to the DR, there are loads of options for all these things. Here are a few places we went to where we had a lot of luck, and even went back multiple times.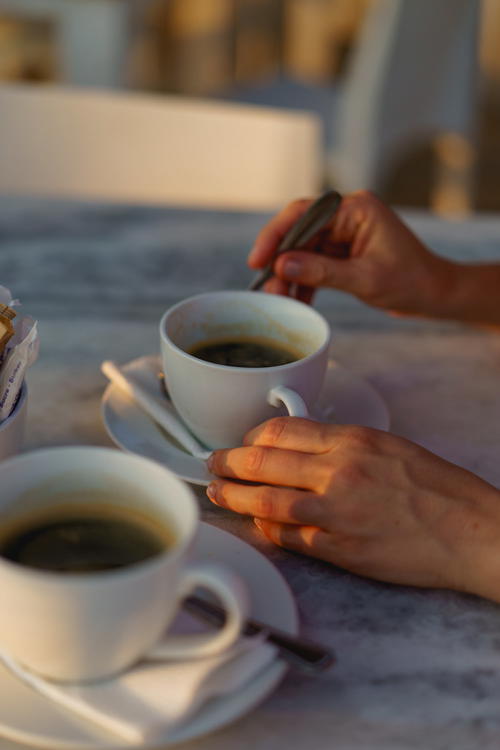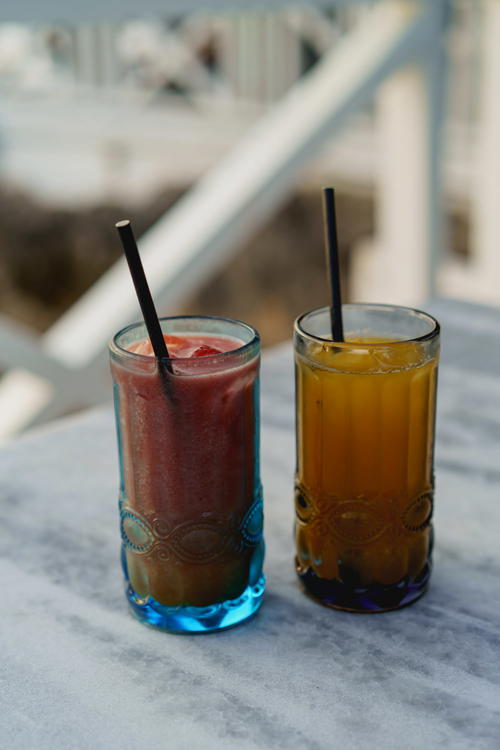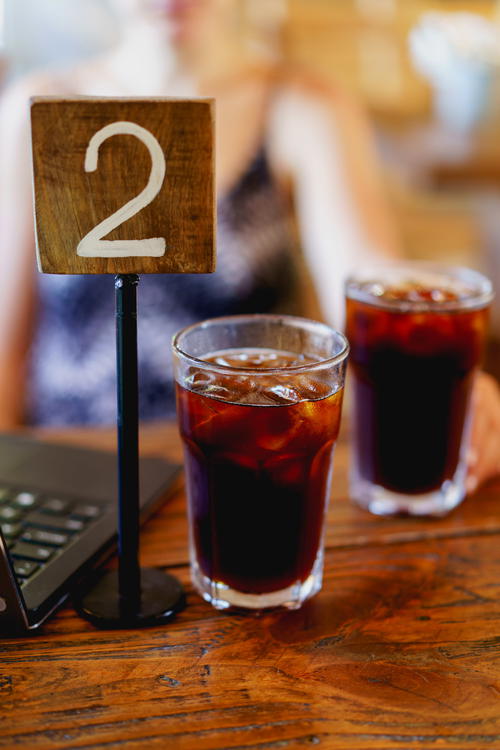 La Chabola
Lots of beer on the menu here, but they have a few rum drinks and house wines (cheap, but not great so don't expect the good stuff). Drinking aside, go for open mic night on Wednesdays.
Front Loop Restaurant
Full drinks menu here — I go for the caipirinha, which is rum-based and yummy.
VoyVoy
This bar also is on the beach and has a Sunday open mic night in Cabarete. Their 8 pm "happy hour" Is two-for-one on margaritas, mojitos and more.
Ali's Surf Camp
While beer is definitely the most affordable option on this menu and on others, it is not gluten-free (ever). Go for a caipirinha, as I did, and there's no gluten in the rum, limes or sugar, of course!
Waterfront Restaurant & Bar, Sosua
Dan and I came here for fresh juices and coffees, both of which are gluten-free, naturally. They let us make-your-own flavors of juice, so we mixed passionfruit (chinola, in Dominican Spanish) with strawberry and orange. It was so delicious!
Gluten Free dessert options to eat in the Dominical Republic North Coast
Dessert in the Dominican Republic typically consists of lots of sweets. Many of the traditional items will be wheat-based like cakes and pastelitos or galletas (cookies).
If you're GF, you can do what I did, and opt for ice cream or sorbet (also great for keeping cool), having a fresh juice or a coffee, or having a fun and sweet cocktail.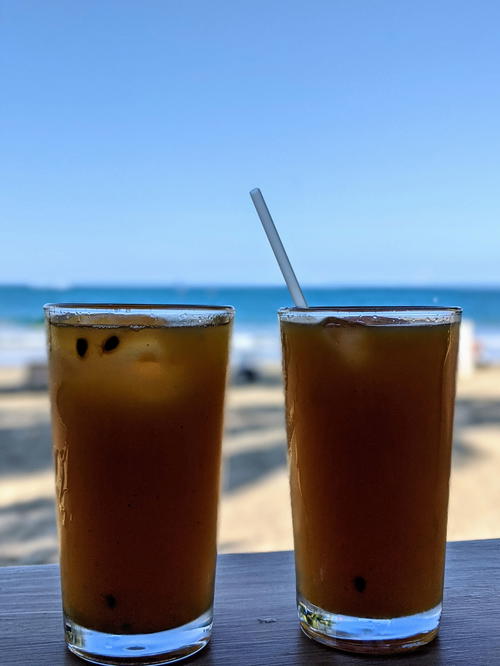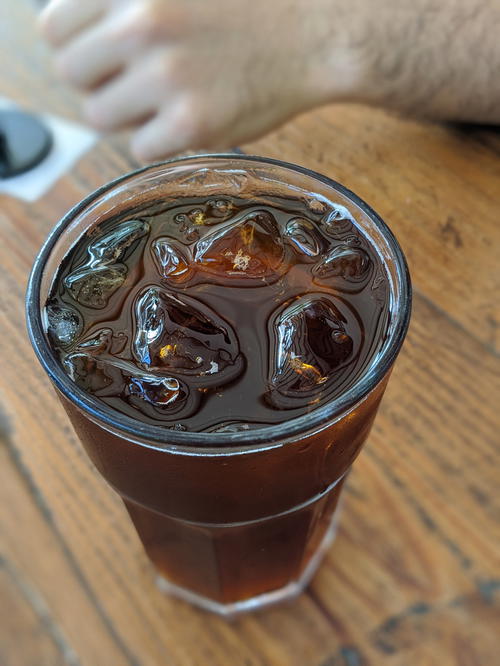 Helados BOM, Sosua
This is a little ice cream shop where you get ice cream in lots of flavors, and there's strawberry sorbet (sorbete de fresa).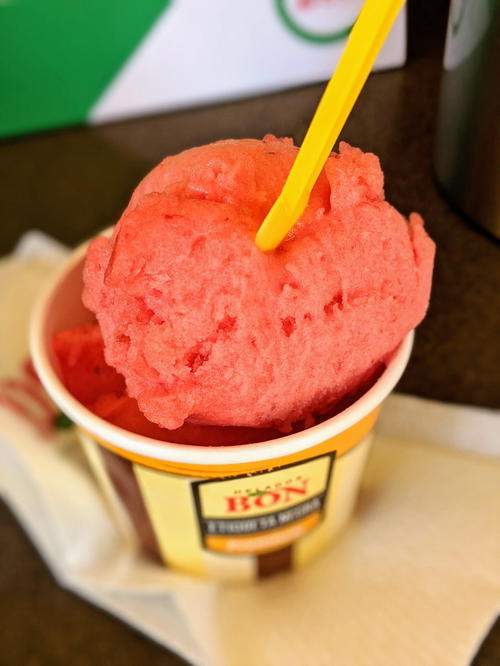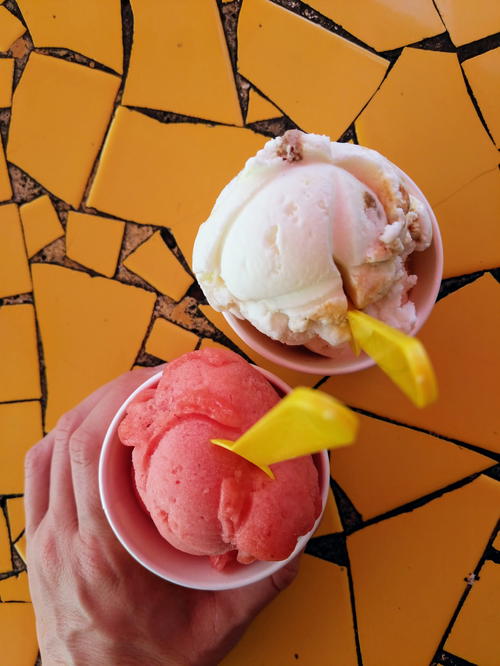 Heladeria Mariposa, Puerto Plata
Come here for many, many ice cream flavors, and flavors of vegan sorbet in local fruit flavors like zapote!
Vagamundo Cafe, Cabarete
If you want a sweet (but not too sweet) gluten-free and vegan treat at Vagamundo, try any of their smoothie bowls, in a choice of three sizes, ranging from cup to bowl. As a total bonus, their granola is gluten-free!
Helpful Tip
Vagamundo has such a nice indoor-outdoor design and is a great place to take photos of your coffee for Instagram (or memories).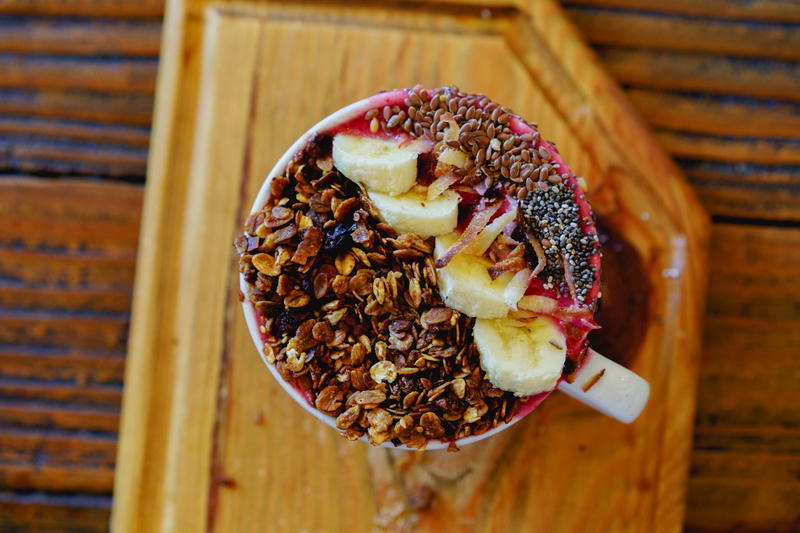 Kaffe Cafe & Restaurant, Puerto Plata
Kaffe Cafe is a nice spot to sit in a renovated historic home with a patio and deck out back. They have juices that come in iced or frozen and blended varieties and a coffee menu. At night, the place is also a restaurant and bar.
Enjoyed our article?
Consider supporting us! We're a 2-person team (learn more about us here) and your support enables us to create quality content. Thank you!