How to Pick the Best NYC Airport
Written by Becca
•
Updated on September 18th, 2023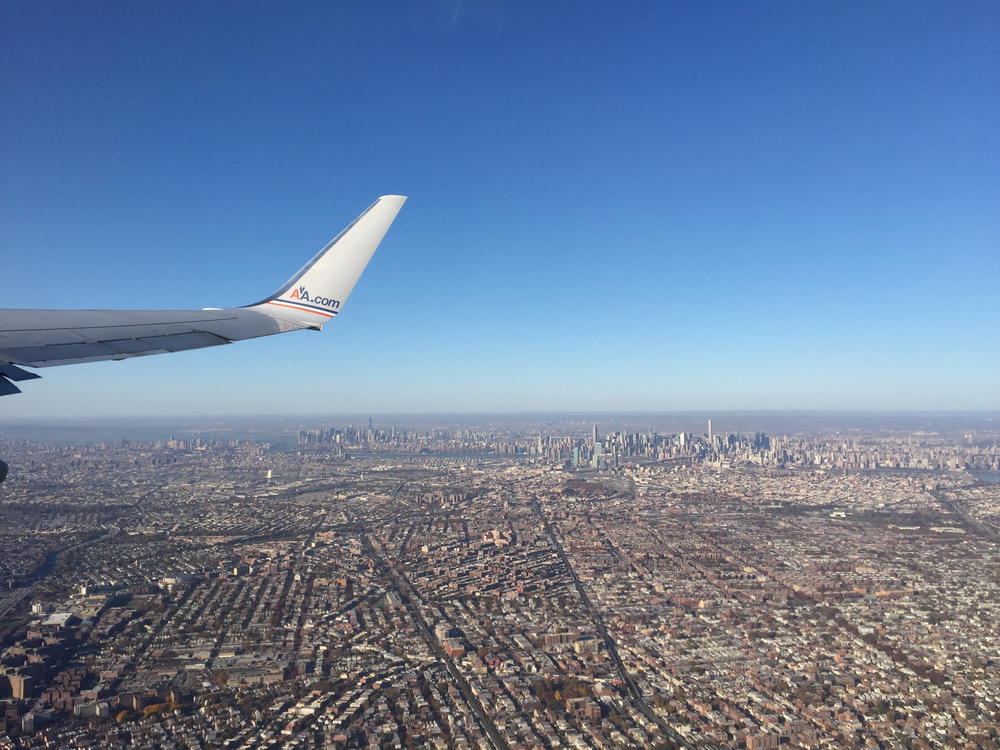 Which NYC airport should you choose? Is there a best airport to use in New York? We detail the pros and cons of all the international airports in NYC: LGA vs. JFK vs. EWR.
This article may contain affiliate links. We earn a small commissions when you purchase via those links — and it's free for you. It's only us (Becca & Dan) working on this website, so we value your support! Read our privacy policy and learn more about us.
Table of contents
Close table of contents
Congrats on your trip to (or from) NYC! Where are you going? We hope it's exciting.
If you're flying into NYC or flying out of NYC, you're probably looking at heaps of flights, feeling overwhelmed, and wondering which NYC airport is best to fly in or out of.
Believe me: even as a local, I have been wondering the same thing.
Over the years, I've developed my favorite airports, but all for different reasons.
For example, LGA is my favorite airport for when I feel like I'll want to take a taxi (i.e. early morning departures, and late night arrivals). JFK is my favorite airport for when I have time to spare to take the subway all the way there, because I can.
Newark International Airport is my favorite airport for when I'll have to take a flight at rush hour and get there in a calculated manner, because I can take the NJ Transit train from Manhattan's Penn Station.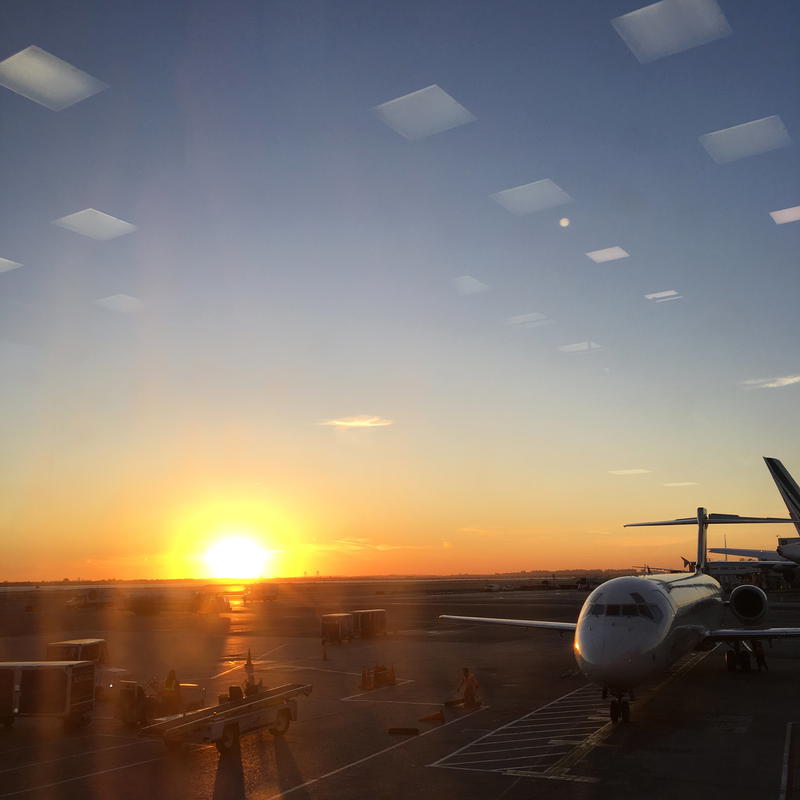 This is just the beginning of a rundown of the NYC airports, but as you can see, they all have their benefits and disadvantages, especially when you let distance, time and money play into your decisions for where to fly in and out of for a NYC trip or visit.
The following guide outlines tips, tricks and hacks for flights in and out of NYC whether you're a long-time local looking for a new favorite airport or a first-time traveler trying to hammer out the nitty gritty of a trip to the greatest city in the world (which has three lovely international airports).
As a bonus, we're going to mention Stewart International Airport, which (huge disclaimer (!)) is not located in NYC at all, but if you're starting your trip in upstate NY or if you are flying JetBlue or Frontier, you may see choices for Stewart Airport when booking your flight.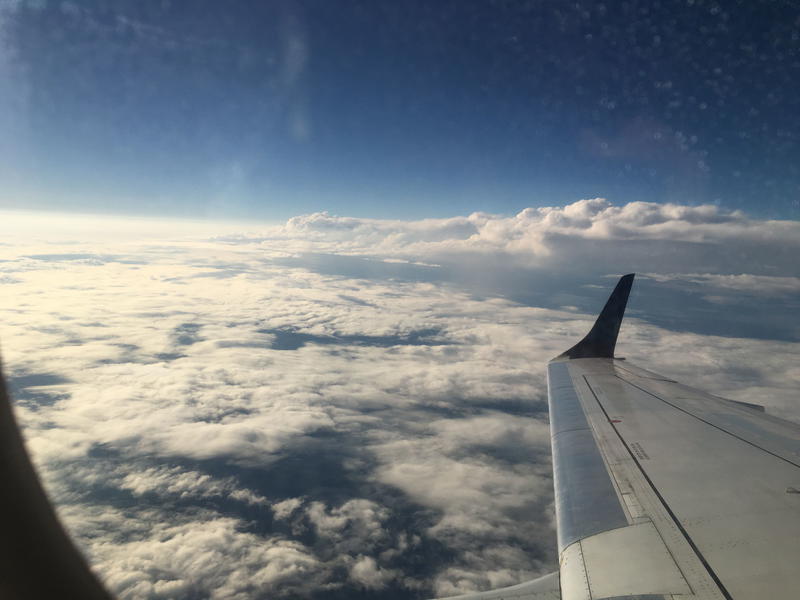 Okay, we have so much to do! Where should we begin? Let's start with some easy questions that have easy answers. Ready? Let's go see all about the three major airports in New York City.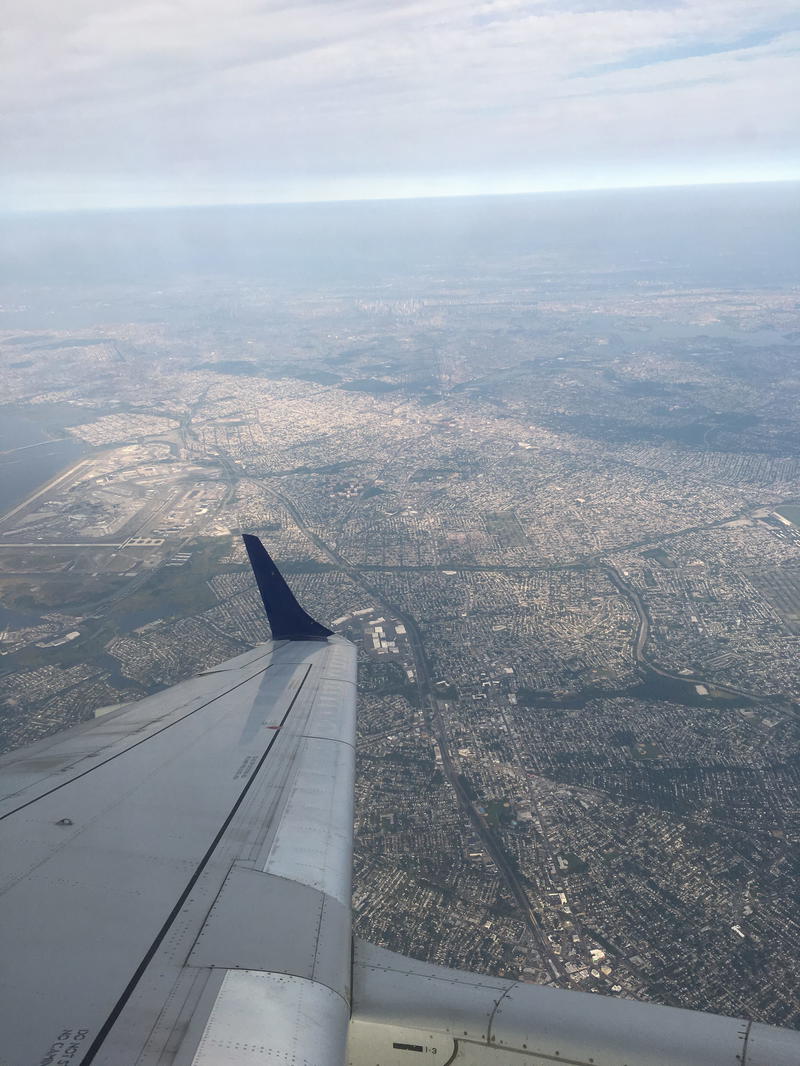 ---
Before we begin, let's answer some frequently-asked questions about the major airports in New York City.
What to know about all of the international airports in New York City
NYC has three airports because NYC is very big.
JFK is a huge international airport located at the southeastern edge of NYC in Queens, right where Queens (NYC proper) meets the border with the rest of Long Island, NY. To figure out if JFK is best for your flight, consider if you're okay with taking a very long subway ride to where you are staying, having someone pick you up, or taking a rather expensive taxi ride into Manhattan or points west.
LGA (LaGuardia) is a smaller airport with a recently-redone terminal and the other terminals being kind of old. LGA is located at the northwestern end of Queens, close to Elmhust and Astoria. It is the closest airport to Manhattan. It's good to consider if being near Manhattan is best for your flight.
EWR (Newark Airport) is a huge international airport located 25 minutes west of Manhattan and is ideal if you're staying in Manhattan, or really anywhere, including New Jersey during your trip. Newark Airport is not located on the NYC subway, but it is easily accessible via NJ Transit commuter train, making it a great airport to choose if you wish to travel by mass transit and avoid taxis, Ubers and Lyfts!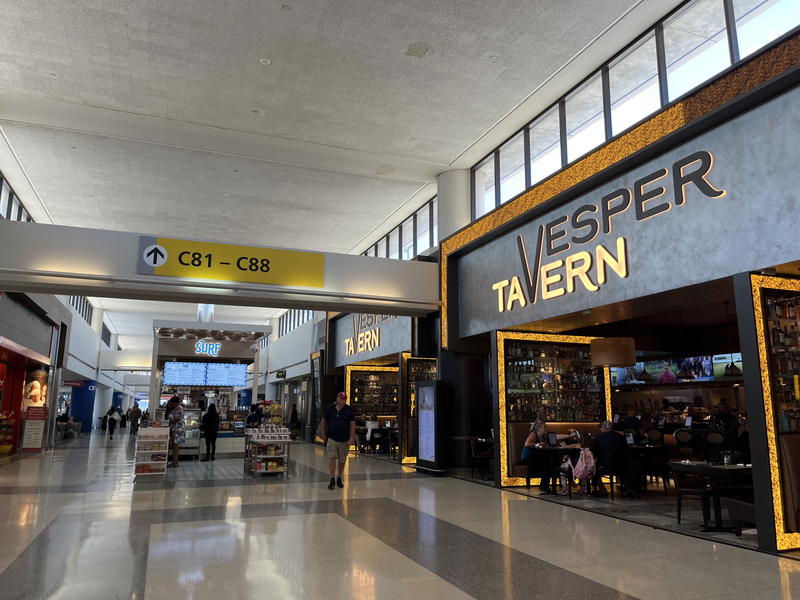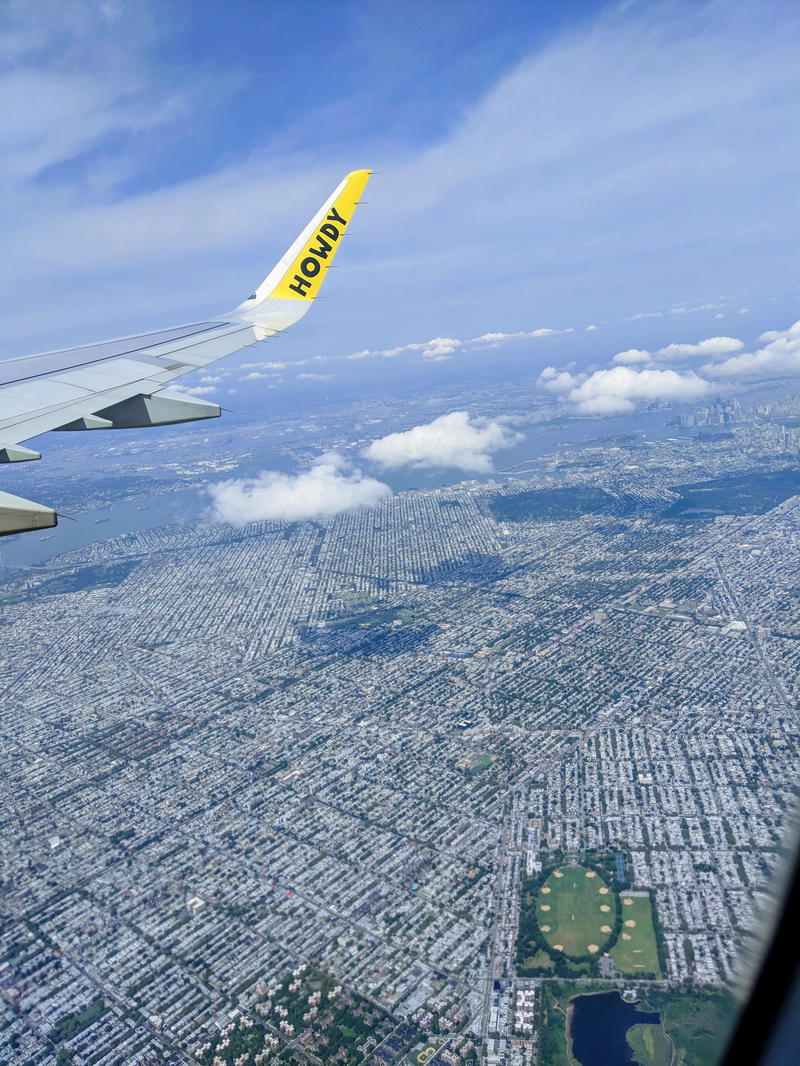 How many airports are there near New York City?
Four. JFK, LGA, EWR and SWF.
How many international airports are there in New York?
Also four. All NYC airports (JFK, LGA and EWR) are international. And SWF is also international, despite its small size.
Which airport is the best airport to fly into New York City?
That's for you to decide, so please keep reading.
What is the closest airport to Manhattan?
LaGuardia (LGA) is the closest airport to Manhattan. From Times Square, LaGuardia Airport is about 10 miles away. Don't be fooled by the short distance. in rush hour traffic, it could take you an hour to get to! In perfect conditions, it should take between 20 and 30 minutes.
If you're looking for the best place to stay and be close to LGA while in NYC, consider the Upper East Side or Astoria. Both neighborhoods provide quick public transportation options and fast taxi rides to LaGuardia Airport.
Are there any airports in Manhattan?
Nope! There are no airports in Manhattan.
Which is the worst NYC airport?
That's also for you to decide, because it's a tough question and everyone has a different opinion about this.
Which NYC airport is best for red-eye flights?
If you have a red-eye flight into NYC, you should be fine if arriving to any of the three airports. My top choices of entry into NYC would probably be Newark, so that I could hop the first NJTransit train of the day around 5 am toward Manhattan, but it depends where you are staying or going.
If arriving into LGA or JFK in the wee hours of the morning, you will still be able to get an Uber, Lyft or yellow cab. Things run 24-7 in NYC.
If you're departing out of NYC on a red-eye flight and have lots of time to get to the airport before an 11pm or 12am departure, any of the airports would be OK! Plan ahead to secure your chosen method of transport to the airport, as I will describe below.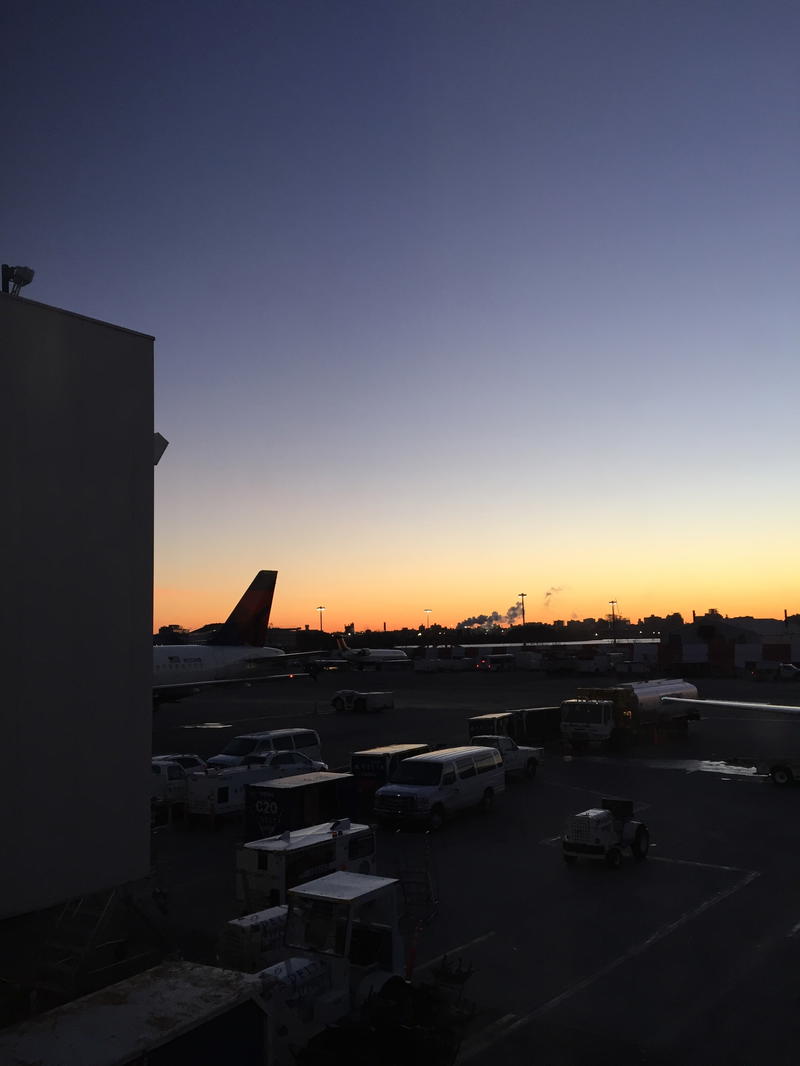 Pros and Cons of LaGuardia International Airport (LGA)
LGA has recently gone under some construction in the arrivals and departures terminals. Terminal B is pretty beautiful! We flew on United to Chicago from LaGuardia quite recently. Terminal C is even newer, having opened in 2022, and it's the Delta Terminal. It's so gorgeous you feel like it's not even an NYC airport (ha).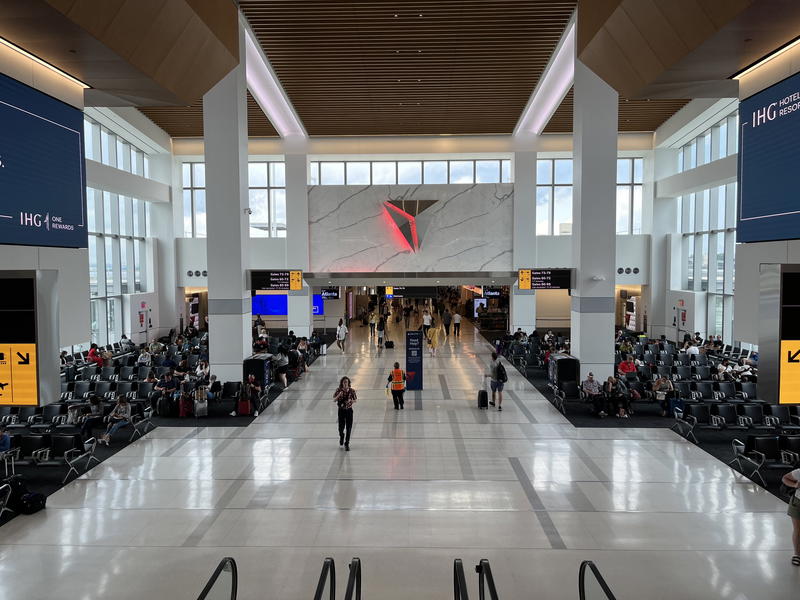 When you depart from LGA, you'll find a few good food options, lots of places to fill your water bottle, some airport lounges and standard airport stuff.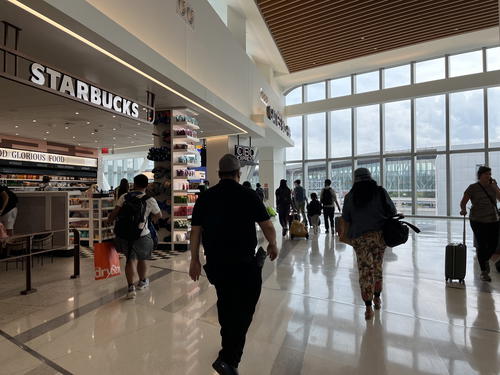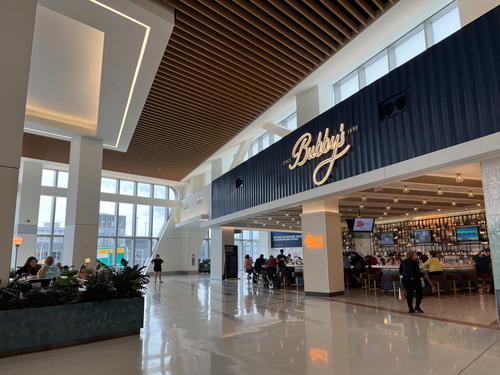 Arriving into LGA is a more upgraded experience than it has been in the past, much due to scheduled renovations to this otherwise historic terminal. The first time I flew out of LaGuardia, I wondered why it reminded me so much of a mid-1900s military airport.
That's probably because the original LaGuardia airport was built in 1939. With the Terminal B and C facelifts, LaGuardia now feels like a world-class place to fly in and out of, in the greatest city in the world.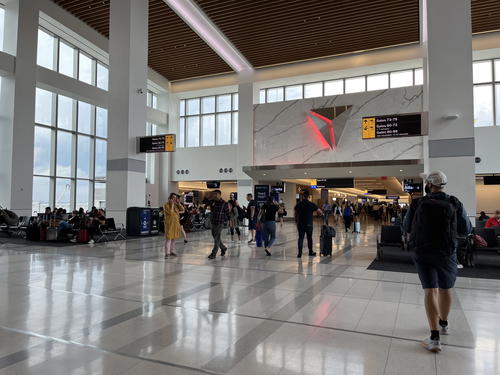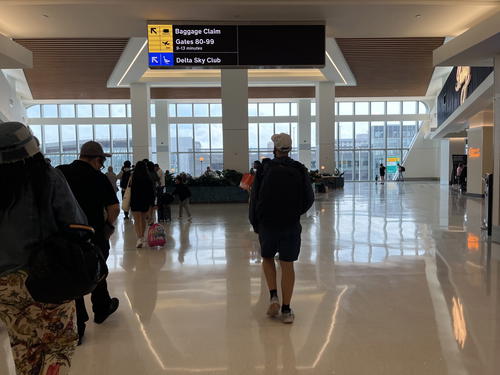 Taking a Lyft or Uber home from LGA now has a designated area for "ride share apps." Within the app, it will give you a small range of areas to stand to wait for your ride.
This system really helps keep things organized and prevents people clumping together all waiting for their specific car.
You can call your ride share (Uber, Lyft, etc.) a few minutes before because once you exit the airport. The pick-up area isn't very big, and if you follow signs, it is simple.
Wait until you can see the exit, though, because if you call a cab too early, the driver might wait for too long and cancel your ride.
Helpful Tip
A huge airport mistake to avoid is getting in any unmarked car outside any airport in NYC with someone who's telling you he can give you a great rate to Manhattan or to your hotel. Use this guide to safety in NYC for how to avoid the most common scams in New York City.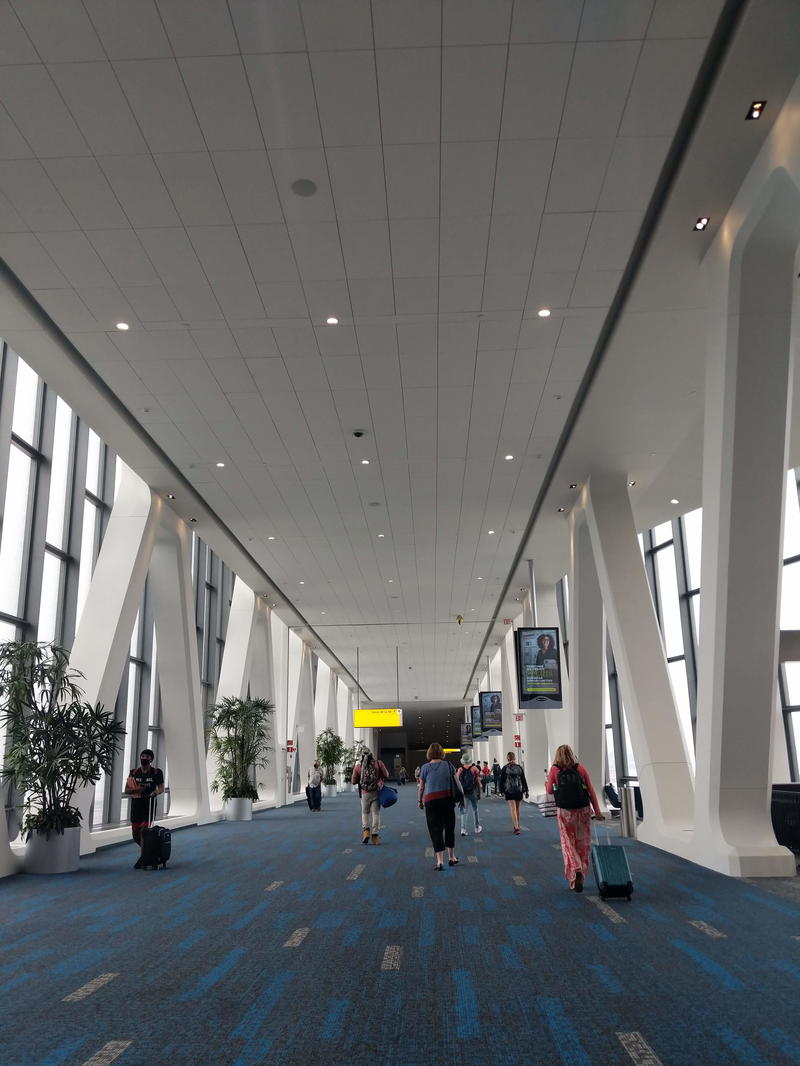 Is LGA (LaGuardia) a good airport?
Yes! It's a good airport for domestic flights in and out of New York City. Terminal B is pretty new and modern.
LGA is also a good airport to use if you're staying in (or living in) the Upper East Side, Lenox Hill, Midtown East or Murray Hill, all neighborhoods on the East side of Manhattan.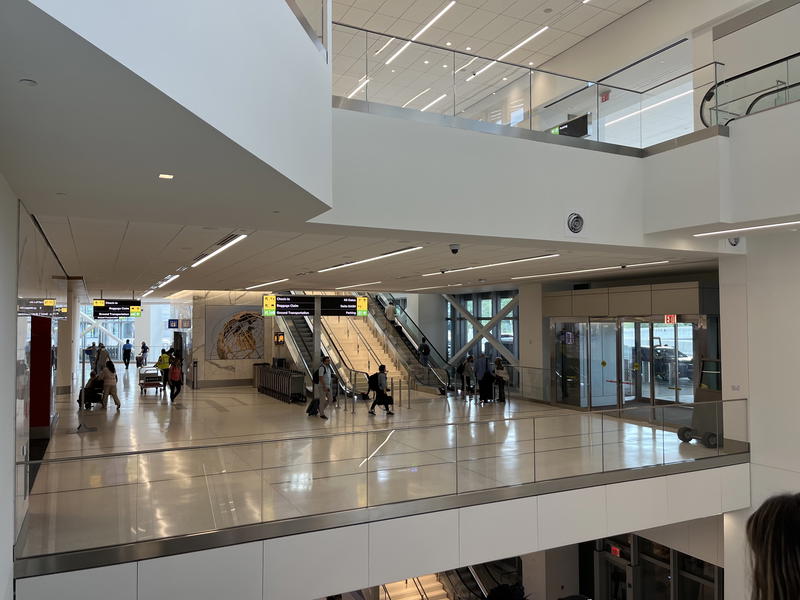 What's the difference between LaGuardia and JFK?
LaGuardia is much smaller than JFK. It is closer to Manhattan. It serves more domestic flights.
Which airport is the closest (international) airport to Manhattan?
LaGuardia is the closest international airport to Manhattan. By "international," this means Canada, Aruba and the Bahamas. You can't fly to Japan or Australia from LaGuardia.
What's parking like at LGA?
You can park hourly, or for a day or get premium parking at LaGuardia!
Can I take mass transit or the subway to LGA?
There is no NYC subway access to LaGuardia airport, so keep this in mind if you plan to be taking the subway during your whole trip or making good use out of a weekly MTA MetroCard.
The M60 and Q70 buses go to LaGuardia. We suggest using GoogleMaps to map your trip, noting that you may have to leave yourself heaps of time if you plan to take the subway and then transfer to a bus, to get to your flight at LGA.
Pros and Cons of John F. Kennedy International Airport (JFK)
Everyone loves and hates JFK International Airport in New York City.
Okay, I'm not sure if anyone actually loves JFK airport, but it gets the job done of taking a flight to anywhere in the world from one of the biggest cities in the western hemisphere.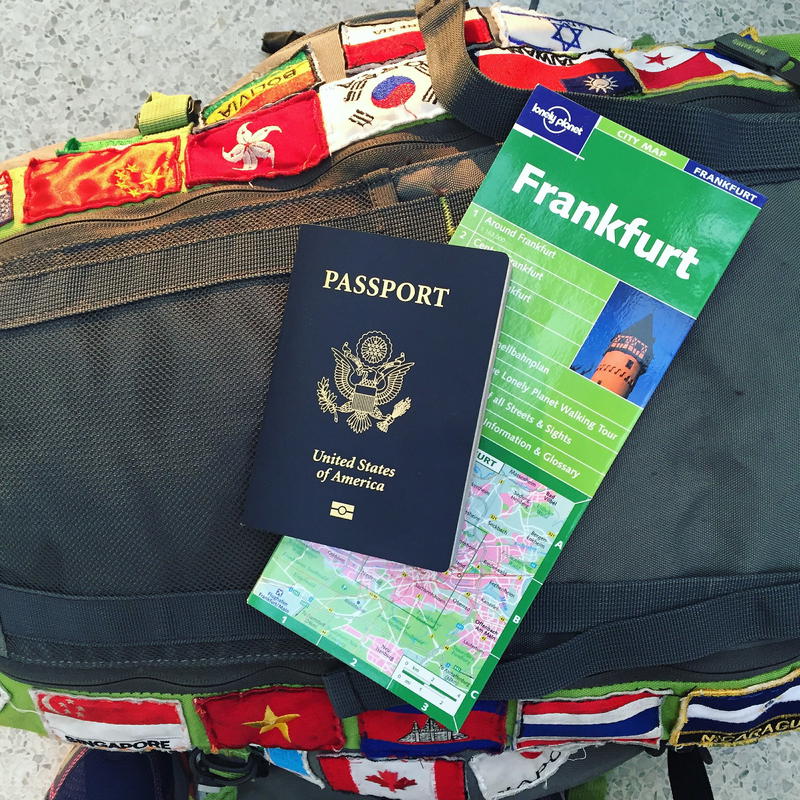 When you go to take a flight from JFK, be prepared to be in a massive airport with lots of signage, people, flights, food, airport lounges and be prepared to navigate with your best travel hat on.
Also, if you arrive via the Long Island Railroad (LIRR) or NYC subway, be prepared to get on the AirTrain monorail that makes stops at all the terminals, and be prepared to know exactly where to go so that you do not miss your stop or parking lot station.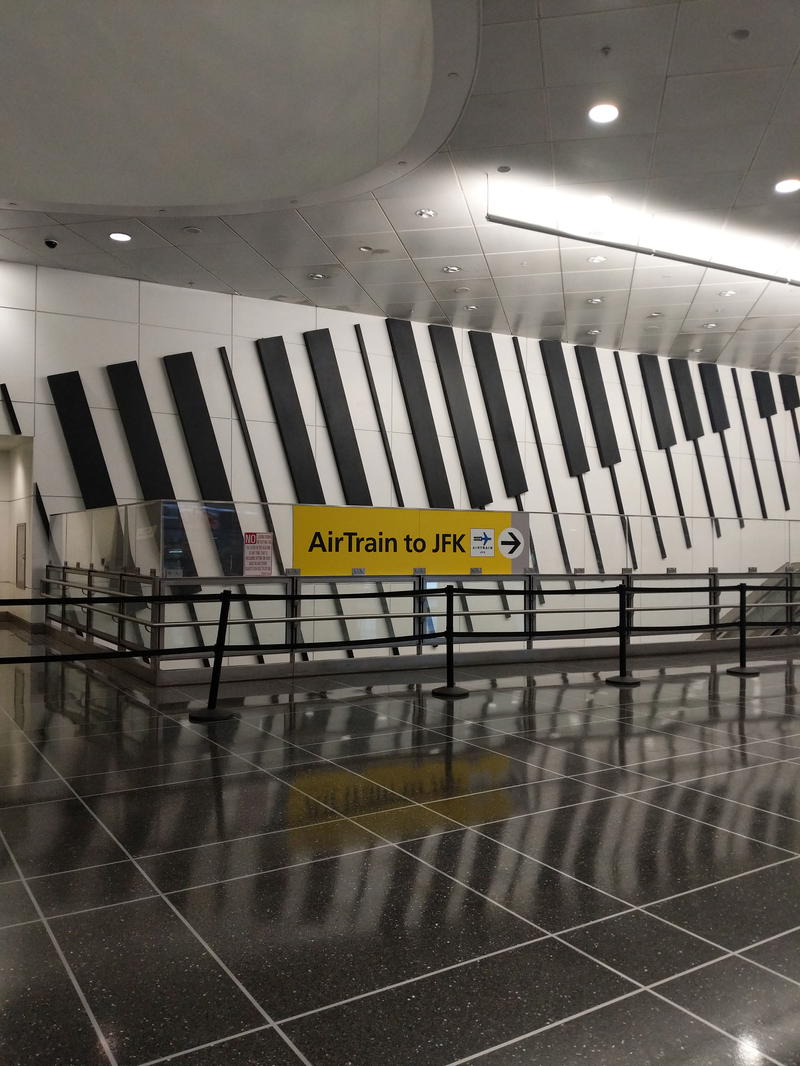 Is JFK a good airport?
JFK is an efficient airport. It is very big, with more terminals than I can keep track of, and while not beautiful, it handles hundreds of daily flights and thousands of international air passengers.
Which is worse: JFK or LaGuardia?
Worse is a subjective term here: LaGuardia is smaller, and closer to Manhattan, and JFK is bigger, and located at the edge of NYC, likely not close to where you will be staying unless you're venturing into Long Island or visiting family/friends in Queens.
Much of both LaGuardia and JFK are dated, confusing and/or overwhelming, but neither is worse than the other.
What's parking like at JFK?
Parking is en masse at JFK, and there will be lots of options. You can park at JFK for as little as 30 minutes or you can do long-term parking for the length of your trip. That may add up quickly.
Parking rates at JFK's many airport parking lots are competitive, though. For self parking, you may be paying as little as $5.75 a day, which is pretty crazy, given the price of everything in New York City. You may want to directly access the JFK website parking info site.
Can I take mass transit or the subway to JFK?
You can take the E train up and over to Jamaica, Queens, or the A train to Howard Beach. After arriving, get on the AirTrain ($5) to your terminal. It comes every few minutes.
Are there any airport lounges at JFK?
Speaking from personal experience, we've been to the Wingtips Lounge at JFK. We visited this lounge with our Priority Pass memberships, which get us into airport lounges around the world all for one flat fee for the year. If you're looking to get into airport lounges around the globe, we totally recommend this.
Pros and Cons of Newark International Airport (EWR)
Newark Airport is located in northeastern New Jersey right outside Manhattan.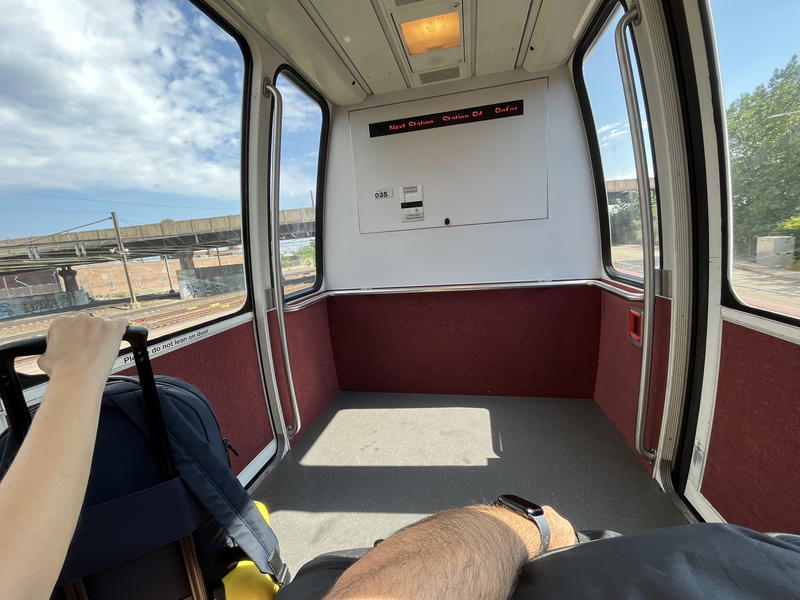 If you're on a trip in which you want to really experience NYC, we don't recommend staying in New Jersey, but it is perfectly fine to fly into EWR and hop right to NYC via the train.
Helpful Tip
Planning to explore more of the NYC metro area during your trip? Check out these day trips in New Jersey you won't want to miss out on.
Is Newark Airport a good airport?
In my opinion, yes, it is! I guess I'm kind of biased toward Newark Airport because I find that going there via NJ Transit trains is such a breeze, comparably. Newark Airport is another huge international airport that services all of NYC and the metro area with flights to anywhere in the world.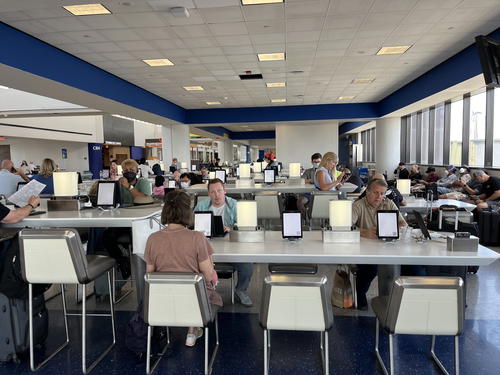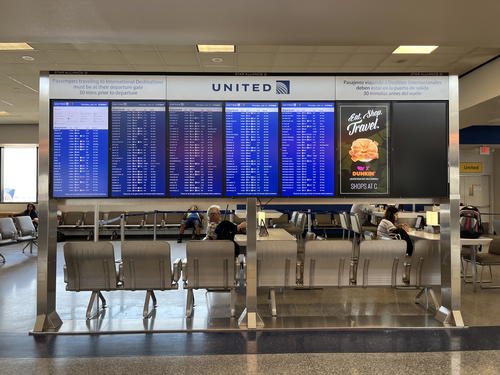 Newark International Airport is also an easier airport to get to if you're already staying in (or living in) neighborhoods on the west side of Manhattan. Some of these would be Harlem, the Upper West Side, Hell's Kitchen, Columbus Circle, Midtown West or Chelsea. From any of these, you can just take the ACE or 123 trains to NYC Penn Station on 33rd St and 7th/8th Avenue, to get on the NJ Transit trains to Newark Airport.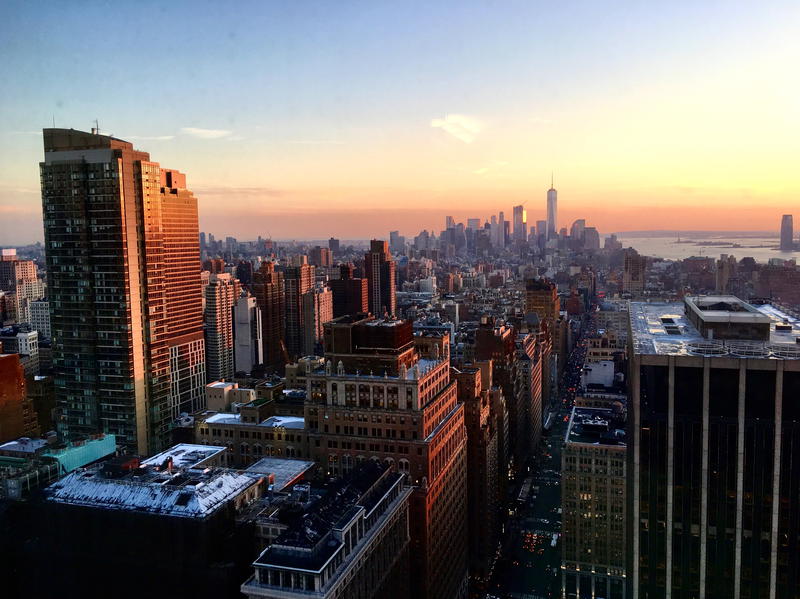 Newark Airport Terminal A is brand new as of 2023, and (relative to other airports) is a joy to be in and fly out of.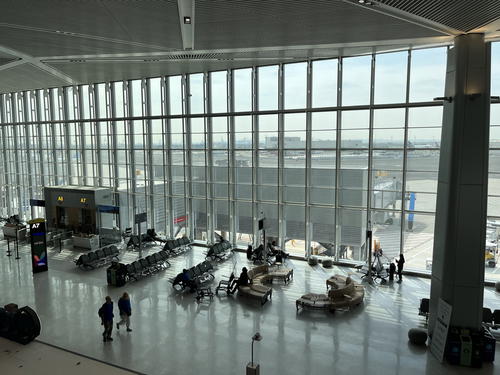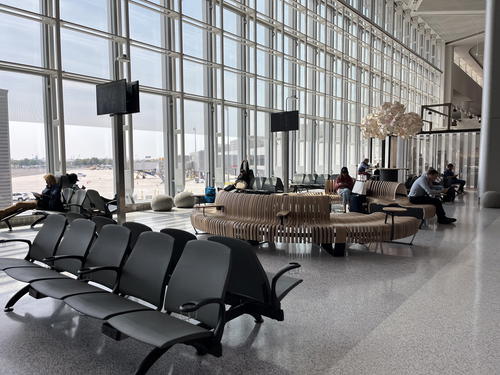 How long does it take to get from Newark Airport to Times Square?
Not long. The train ride itself from EWR Airport station to NYC's Penn Station at 33rd St is a whole 28 minutes.
Note, however, that this does not include walking off your flight at your gate, grabbing your bag, walking through the airport to the AirTrain monorail and then walking from where your train arrives in Penn Station to Times Square, if that's really where you are going.
Helpful Tip
Overwhelmed with all the logistics of flying into Newark for your New York trip? Book a safe and easy airport transfer from EWR to NYC, for when you arrive. Book here.
Is EWR (Newark Airport) the closest airport to the Manhattan cruise terminal?
Kind of. Newark Airport and LaGuardia are sort of a tie game depending on when your train comes, or how bad traffic is.
In a perfect world:
LGA would take 22 minutes by car to the Manhattan cruise terminal (no traffic).
EWR would take 28 minutes by car to the Manhattan cruise terminal (no traffic).
LGA would take 1 hour and 6 minutes by mass transit to the Manhattan cruise terminal (with perfect timing making all your flight connections).
EWR would take 1 hour and 15 minutes by mass transit to the Manhattan cruise terminal (with perfect timing making all your connections).
What's parking like at EWR?
Parking at Newark Airport is really affordable, starting at $4 per half hour and daily rates starting at only $18! Parking at EWR is competitive and rather convenient. Without further ado, we direct you to the pertinent information at the Newark International Airport Parking Info Site.
As an update (yay!), we recently parked our car in short-term parking at EWR's Terminal A for four days. The Terminal A parking is (believe it or not) kind of wonderful, as far as airport parking goes. The reservation process was fairly straightforward, with your options set out once you enter in your departure date and the time at which you need parking, along with your return date and a (very liberal) time until which you'll need parking.
What I did was start the reservation several hours before we even planned to be at the airport, just in case we wanted to go early (which we did!), and then I ended the reservation six hours after our flight was due in, to account for delays. I was proud of this, and thought it was really smart.
Terminal A parking at EWR is SUPER new. It was clean, easy to navigate and safe. We entered with a QR code received in the email reservation, and our car was let into the garage. We parked on level 5 in row 501. There are clear signs pointing you toward the elevators, and the Departures level is on floor 2. Before leaving the parking garage, there is a VERY new restroom and a water fountain for grabbing some H2O.
Everything was sparkling clean. From level 2 in the garage, you simply walk across a bridge right into Terminal A. I think we looked at each other and thought, "That was easy."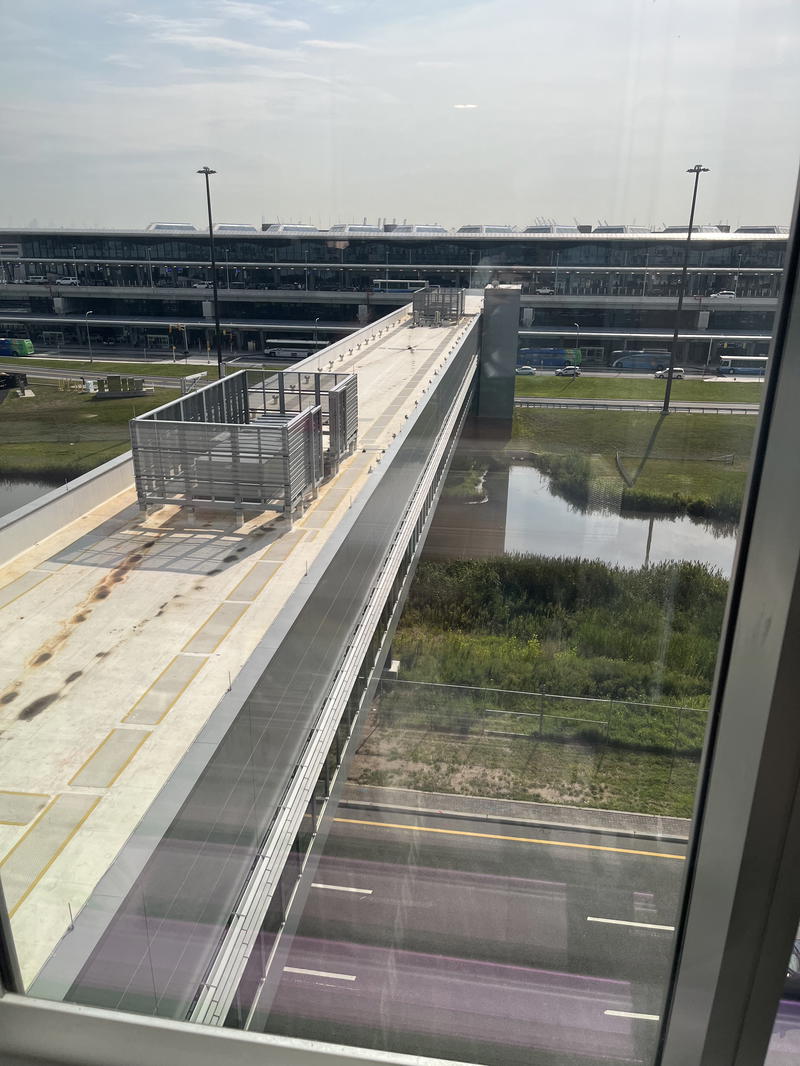 Can I take mass transit or the subway to EWR?
You can take mass transit (just please note that the subway does not go to EWR, and neither does the PATH train). Listen up: you can take the subway to Penn Station at 33rd St in Manhattan, and then hop any of the NJ Transit trains that have a little airplane icon next to the train departure on the departures boards at Penn Station.
To make this simpler, use Google Maps! Make sure that your directions don't involve buses, because you do not need to take any buses to get to Newark Airport from Manhattan. Taking an NJ Transit train from Penn Station is only about five stops.
The best tip I can give is to NOT get off at Newark Penn Station: this is super crucial, because it will come first if you're riding your train from Manhattan. Make sure you get off the train at Newark International Airport, which will be the second station that starts with the word "Newark."
A fun fact is that Newark International Airport is actually smack between the city of Newark and the city of Elizabeth, NJ! It's not actually in the center of Newark, so getting off your train in the city of Newark won't do you any good.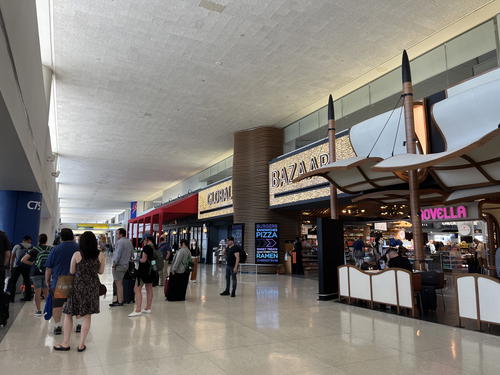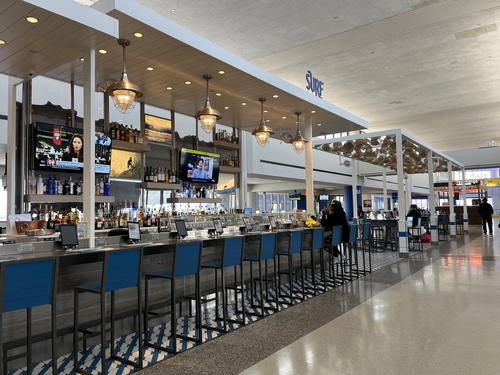 Are there any airport lounges at Newark Airport?
Speaking from experience, I've been to the United Lounge (Terminal C), the new United Lounge (Terminal A) and also the Art & Lounge in in Newark Airport.
For the Art & Lounge, remember to always have your Priority Pass membership up to date in order to get into an unlimited number of airline lounges around the world, including this one.
For the United lounges, maybe you'll choose to get in with a United lounge pass (I had a few from my United Mileage Plus credit card). The United Lounge in Terminal C is not terribly memorable, but got the job done for a snack, WiFi, an outlet and a bathroom before my flight.
Hold onto your seat, though: the United Lounge in Terminal A (new as of summer 2023) is absolutely fantastic, and I say that because I mean it. There was a plethora of nice seating, including single-seat booths for using a laptop and doing work. We sat in the section near all the food (obviously), and enjoyed the lunch buffet (the ratatouille was very good), seltzer on tap, blueberry lemonade, salad bar and WiFi.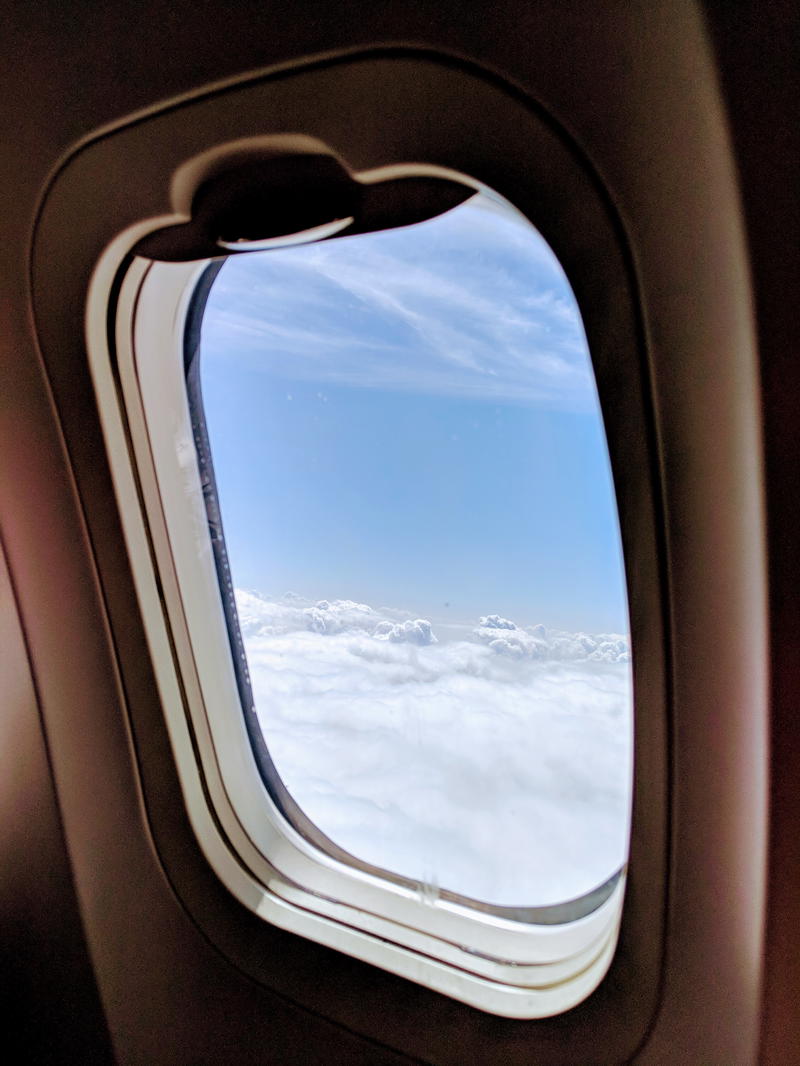 Pros and Cons of Stewart International Airport (SWF)
As a plot twist, Stewart Airport is an airport north of New York City. If you're just getting familiar with New York as the name of its largest city (New York City) and the rest of the state (New York State), this is a good time to inform you that Stewart International Airport is quite a hike from NYC … about 67 miles out of the way.
Stewart Airport is sort of close to Westchester County (but still not really) and could work for you depending on where you are going.
If you are planning a trip upstate like to the Catskills or Hudson Valley region, this might be great because you will not have to deal with carrying your luggage all around NYC while trying to get to your final destination.
If you are flying out of Stewart Airport and you have been staying in the city, watch out, because getting there could take longer than you expect.
Make sure to check the train schedules so you know how long it will take for you to get to the arrivals at Stewart Airport in time. Also, consider that weekend and holiday schedules are different from weekdays, for northbound Metro North trains.
Using Google Maps, you can set your arrive-by / depart-by settings, and it should do a good job of updating the holiday (comparable to weekend) schedules.
Enjoyed our article?
Consider supporting us! We're a 2-person team (learn more about us here) and your support enables us to create quality content. Thank you!