Photos of Peak NYC Fall Foliage in Fort Greene, Brooklyn
Written by Dan
•
Updated on September 10th, 2023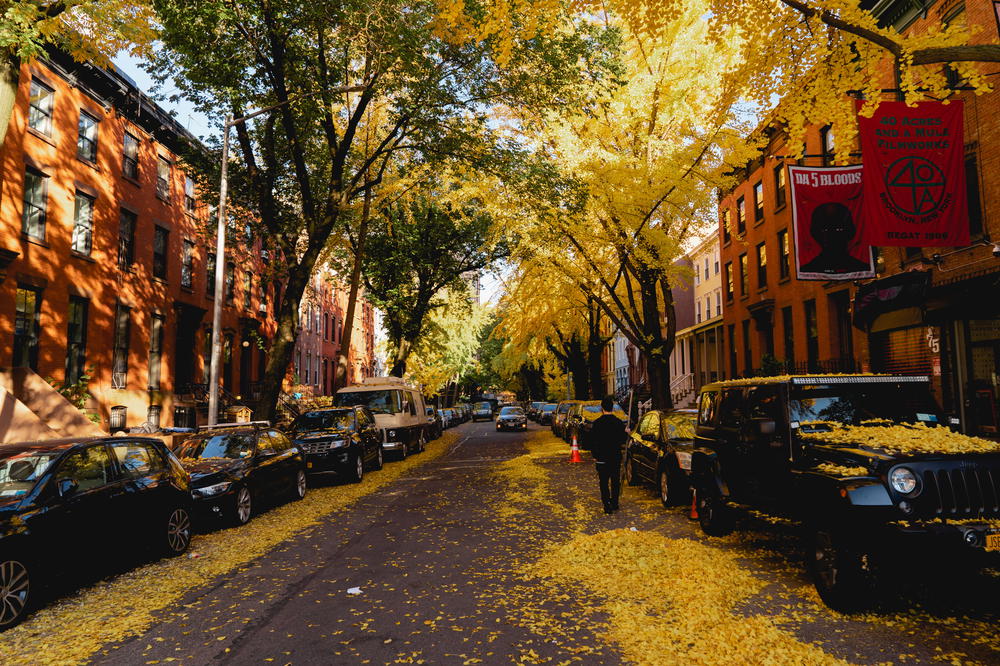 Where and when is the best fall foliage in New York City? Let us take you through one of the best places for seeing peak fall foliage in NYC, in Fort Greene, Brooklyn.
This article may contain affiliate links. We earn a small commissions when you purchase via those links — and it's free for you. It's only us (Becca & Dan) working on this website, so we value your support! Read our privacy policy and learn more about us.
If you're like me, you're probably Googling "the best time to see fall colors in New York City" and "New York fall foliage map" as soon as Labor Day comes around.
Peak foliage in NYC is one of the absolute best times to walk around with a warm drink, take photos, picnic in a park like Central Park or Fort Greene Park, and enjoy one of the most beautiful cities in the world!
If you're looking at a New York fall foliage map, you'll see that NYC tends to get peak fall foliage around the end of October. Some trees start changing as early as the end of September (from green to yellow), and some trees actually retain their yellows, reds and oranges into the first week of November.
So, if you're asking when is the best time to see fall colors in NYC and where to find the best fall foliage in New York, you're in the right place.
As residents of the beautiful and historic Fort Greene, Brooklyn, for two years, we're experts. When we saw the leaves start to change colors in our neighborhood park, we were some of the first to be snapping photos.
We'd get up early during dog walking hour in Fort Greene Park (which is one of Brooklyn's best-kept secrets, if you ask us) to take photos of yellow leaves against a crisp blue sky.
We've gone to Central Park for fall foliage, and that's an absolutely charming thing to do. Fort Greene Park, though, as our neighborhood hangout, was so close to home that we got to explore every path of the park and take in peak fall foliage like it was our backyard.
Where's the best fall foliage in New York, you're still asking?
It's for sure upstate in the mountains and higher-altitude regions, like in the Adirondack Mountains, which are superbly beautiful in autumn, and it's also in New York City, usually just a month later.
If you have time, we suggest going upstate to places like Beacon, in the Hudson Valley, and then spending the end of your trip in NYC, to appreciate fall foliage when it's peaking at the tail end of autumn.
Be sure to check out a fall foliage map like the one at iloveny.com, as every year tends to differ based on weather patterns, average temperatures and weather events.
Without further ado, let's go on a tour of some of NYC's best fall foliage right here in Fort Greene Park, Brooklyn.
Start your walk at the intersection of South Oxford Street and DeKalb Avenue, where you'll have a choice of going left or right to enter Fort Greene Park.
Helpful Tip
Have you seen our photography tips guides? Get started now with the best photo gear and tricks for making your photography walk memorable.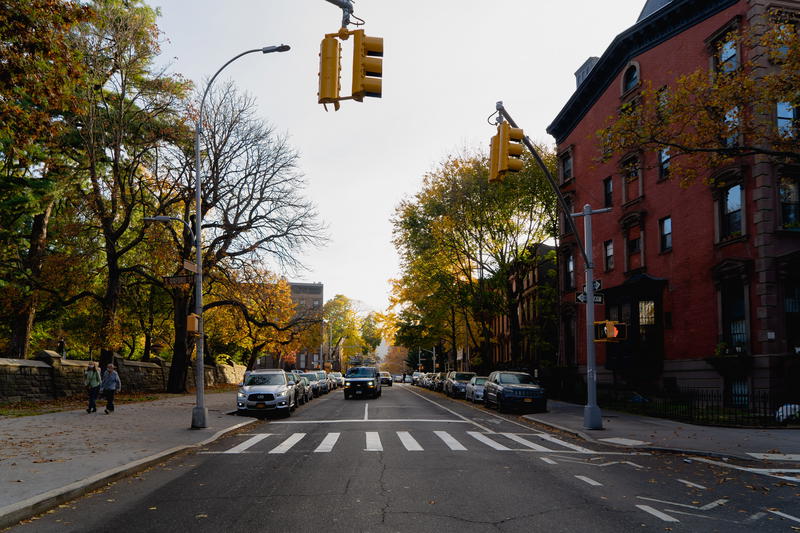 Don't forget to look down South Oxford Street, southward, to appreciate the wonderful trees on this block that form a leafy tunnel of foliage.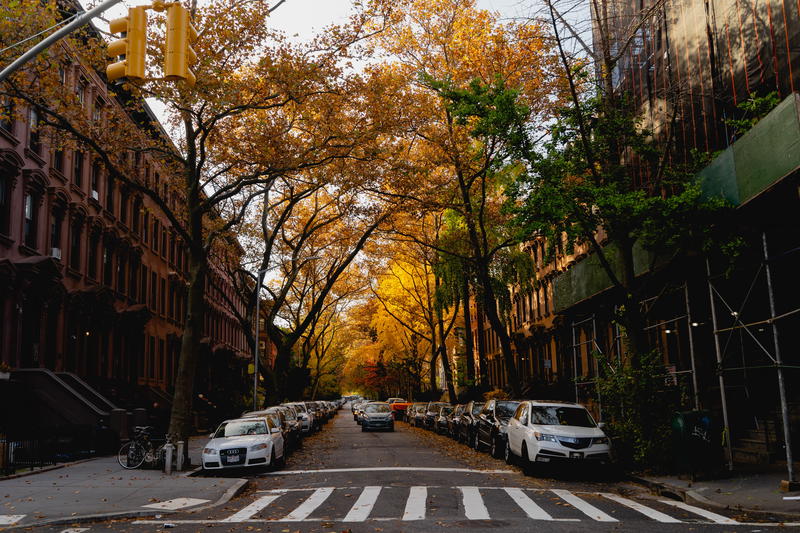 Here it is again, to take up more real estate on your screen: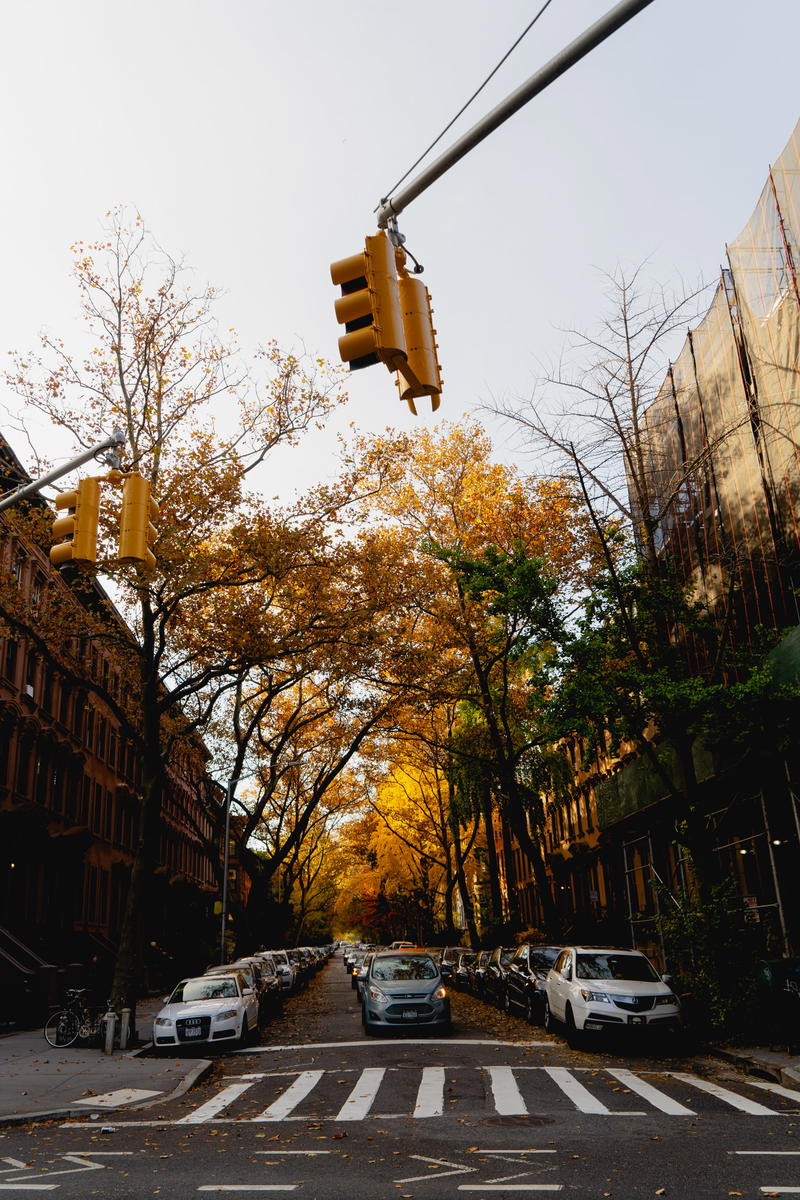 DeKalb Avenue at Cumberland St. has some gorgeous trees that arch over with their fall colors.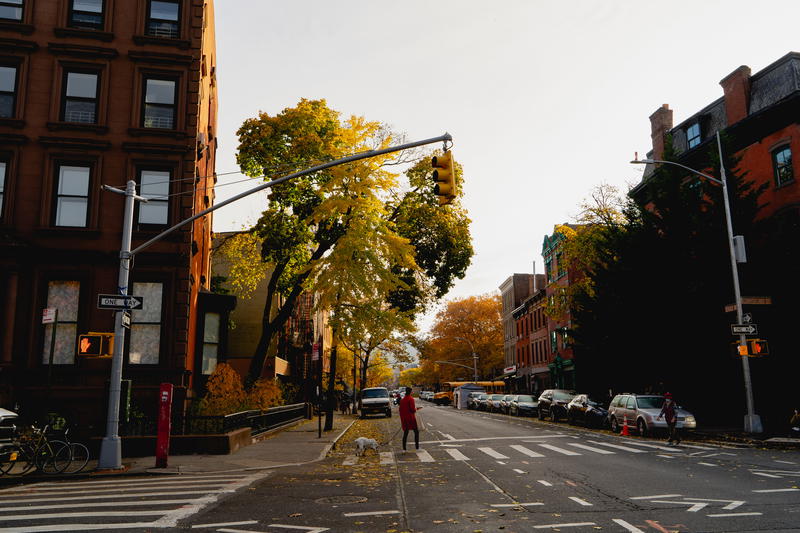 Even with a cloudy day, these fall foliage colors are still so vibrant that they'll make your photos really pop.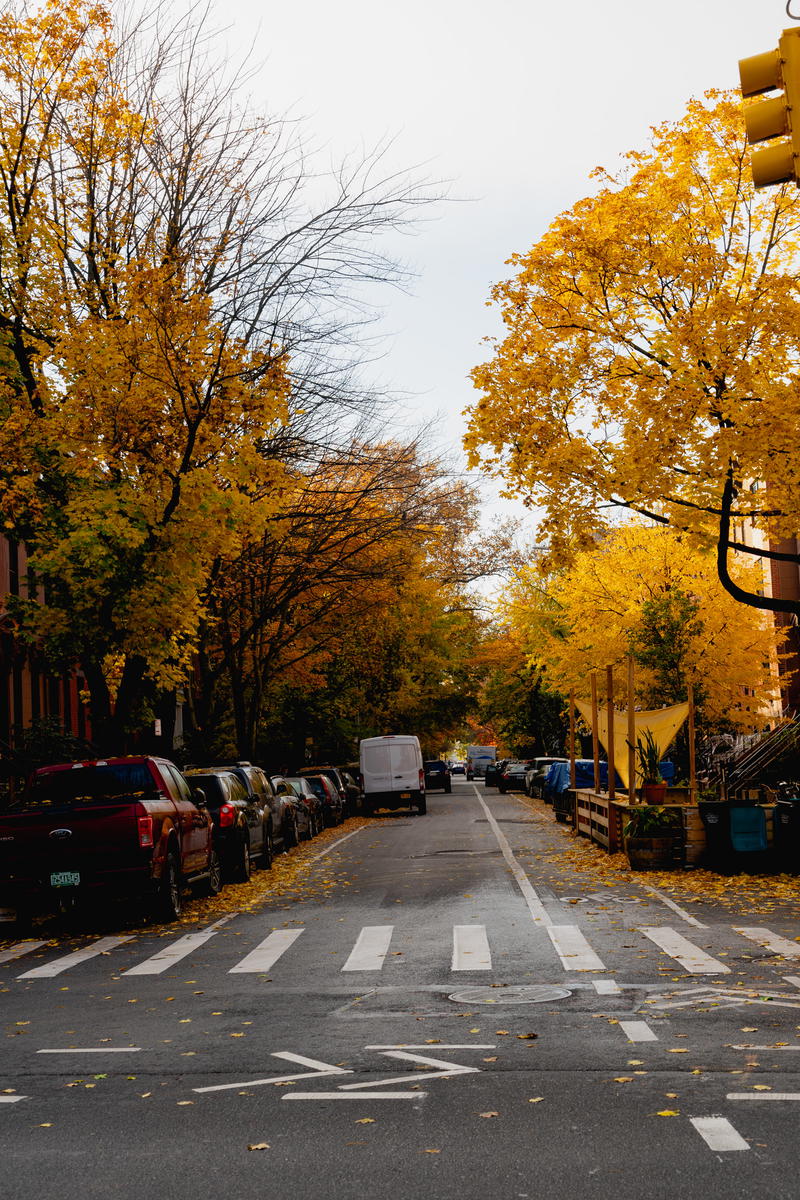 Hey, what's this bus doing in the photo? We wanted yellow leaves, not yellow buses.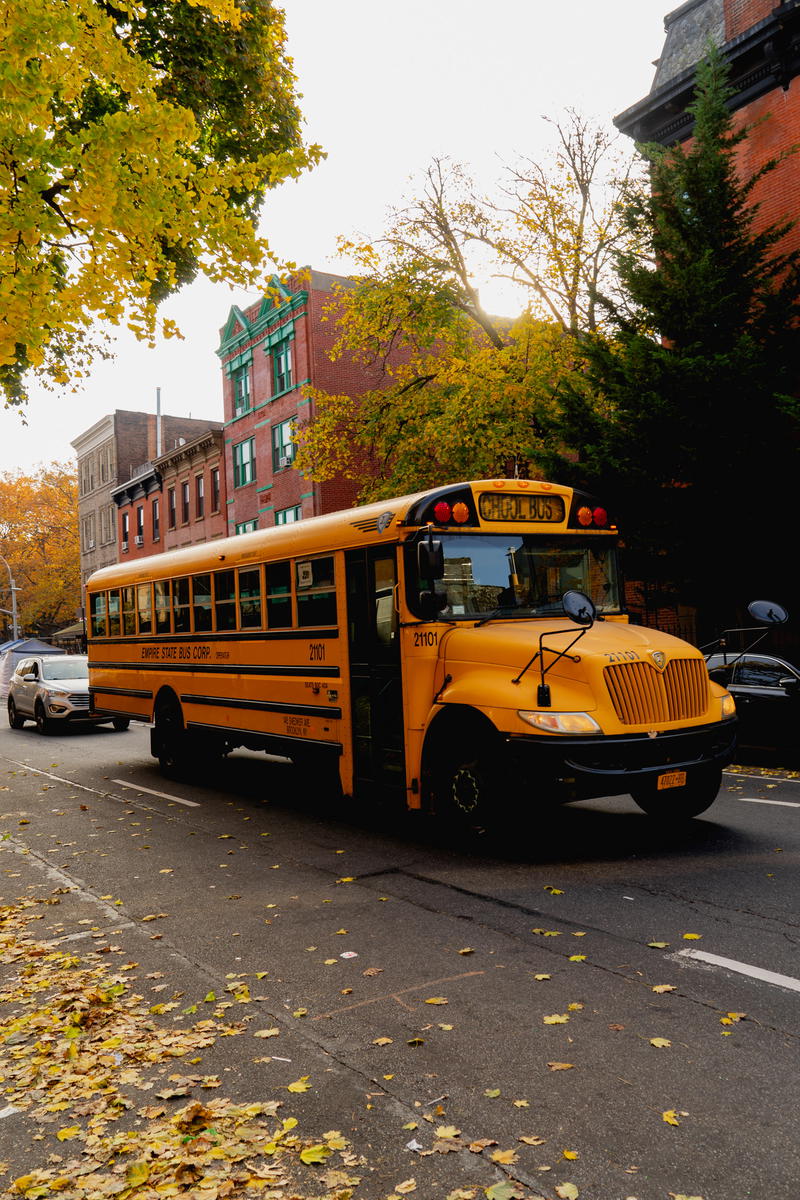 Now, for one of our favorite secrets in New York City, this ivy-colored brownstone lives in Carlton Avenue north of DeKalb and we are floored by its reds.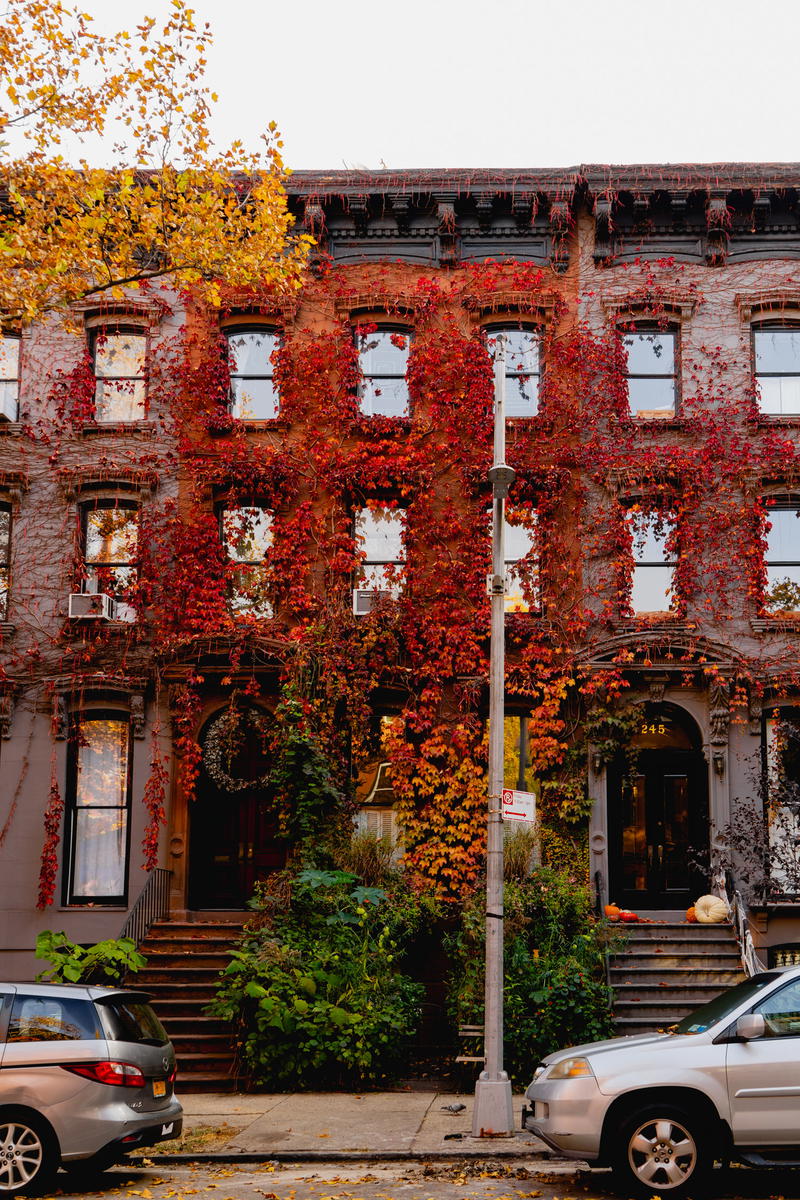 Streets like Cumberland, Carlton, Adelphi and Clermont are sure to impress this time of year when you can photograph Brooklyn's famous historic brownstones next to the most gorgeous trees. We list these gorgeous streets in our guide to the best photo spots in Brooklyn.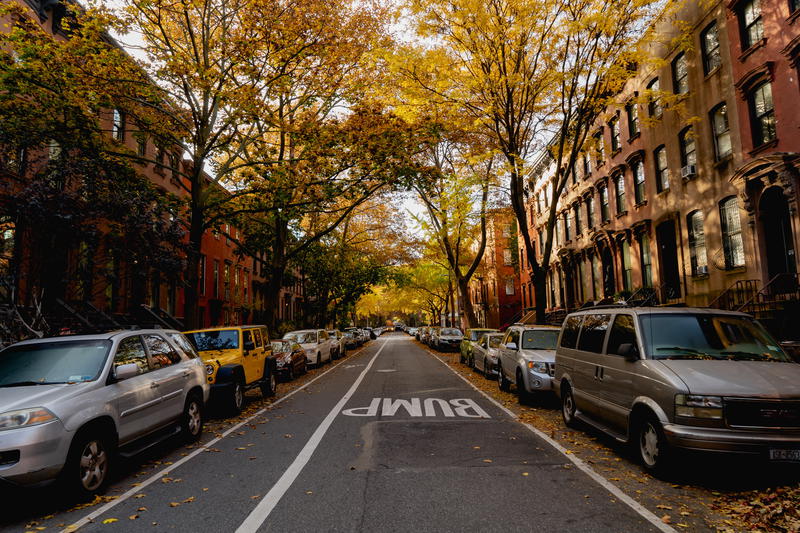 Are your feet blending into the leaves yet? Don't forget to look down.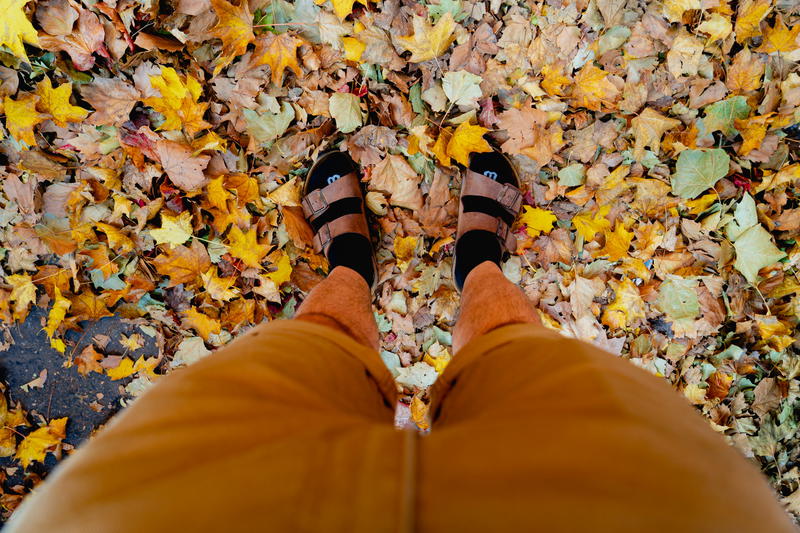 We love finding a good maple tree and taking in the pinks and reds that these gorgeous trees create during fall.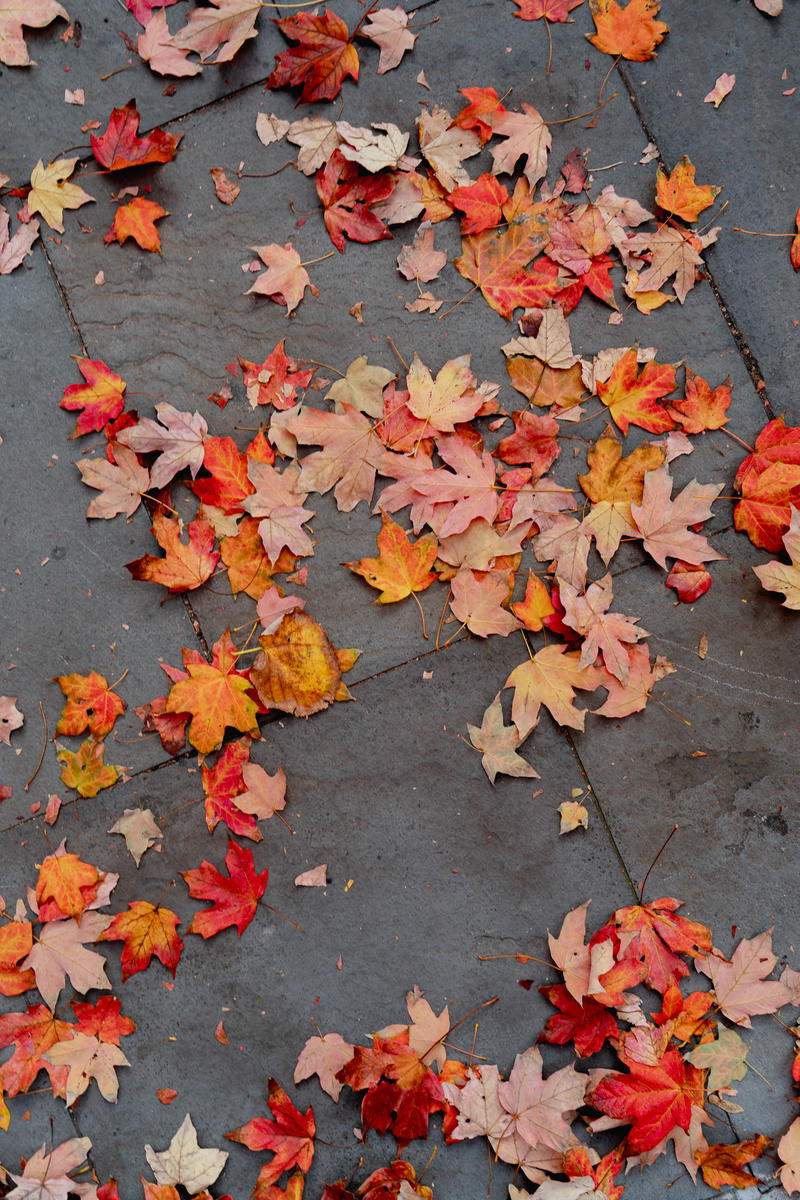 Some of the most beautiful fall foliage in NYC can be found in Fort Greene Park, like we mentioned above. Start your walk in the Cumberland entrance, where Cumberland St. meets DeKalb Avenue, and walk toward the lawns and paved paths.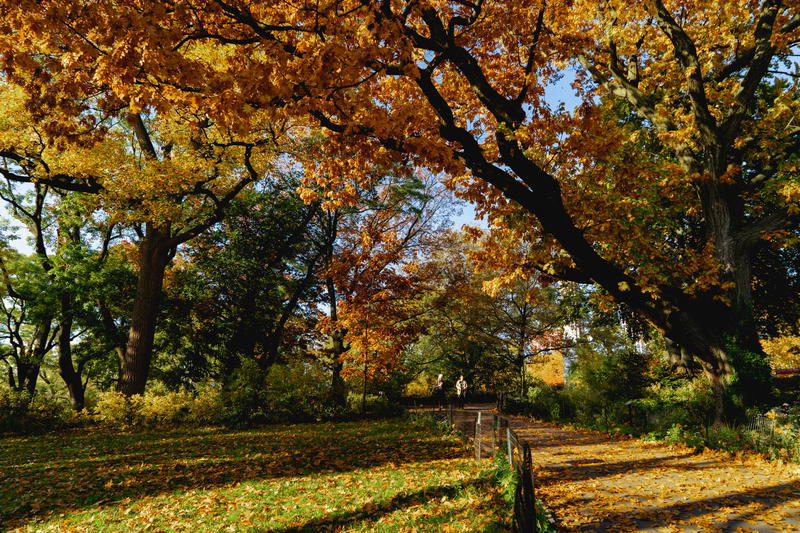 Going in either morning or late afternoon will give you the sun lower in the sky, creating a more dynamic fall foliage scene: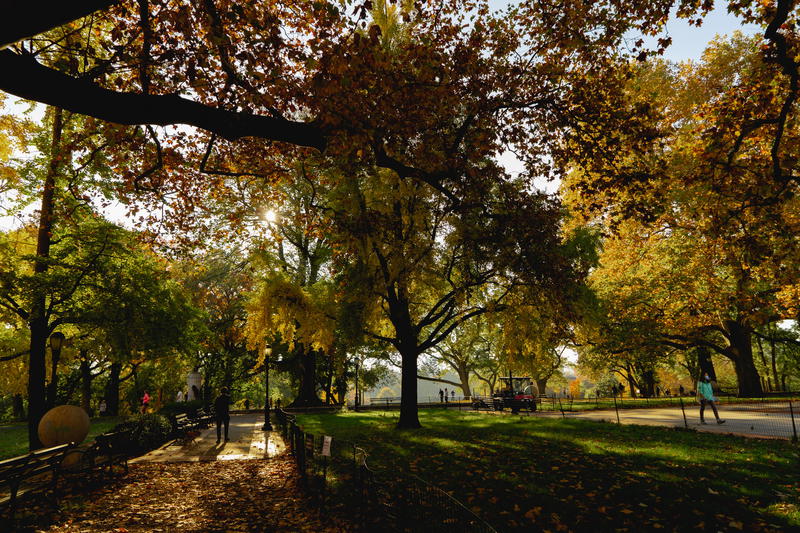 Get colorful! Check out the steps on the other side of the Prison Ship Martyrs Monument, the tallest point in the park.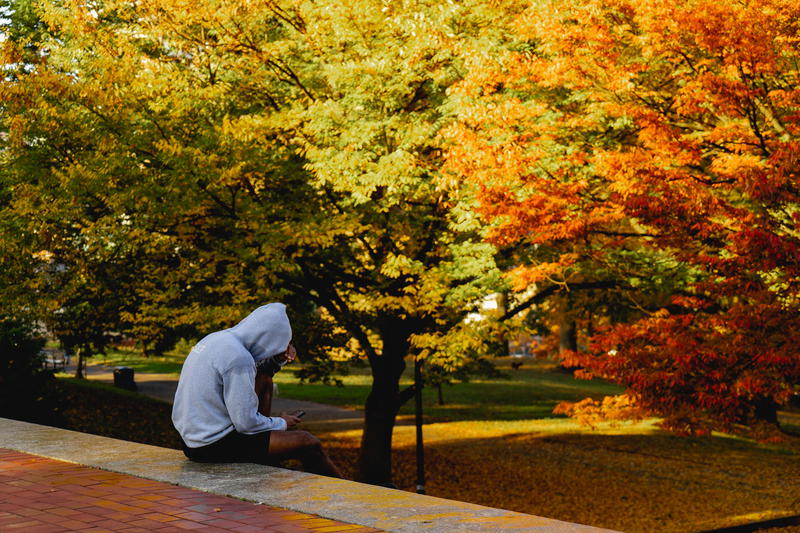 We love the shadows created by the trees as you head down the many steps toward Myrtle Avenue. Have your camera at the ready for capturing peak foliage here.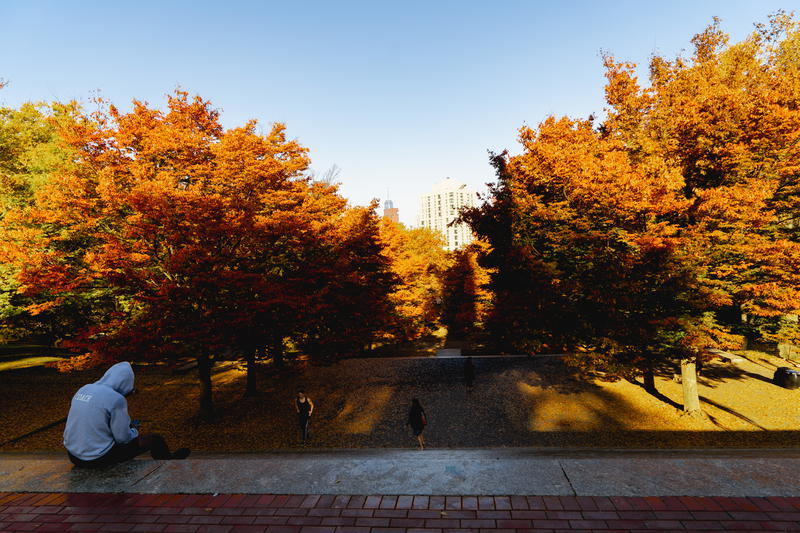 On the east side of the monument and the concrete patio that comprises the tallest point in the park, there are some of the prettiest trees that I think make for the quintessential fall foliage look.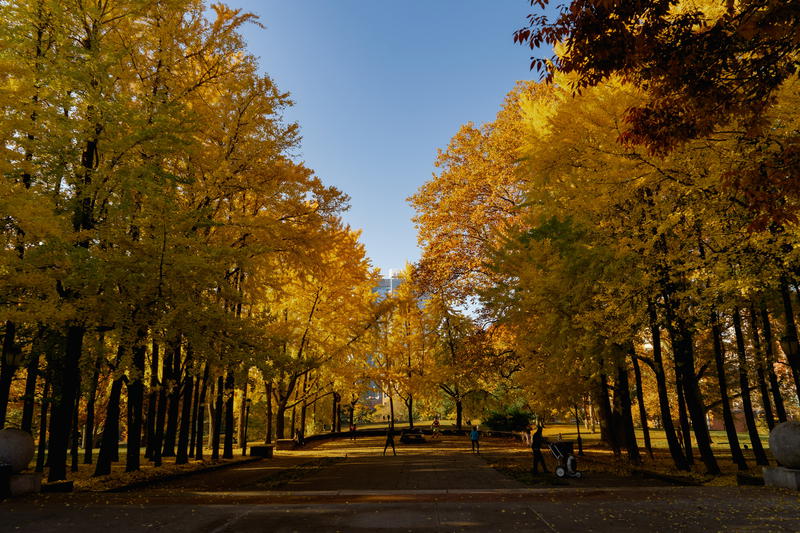 You'll see people with dogs, children and friends, all enjoying this peaceful neighborhood park among the colorful fall trees.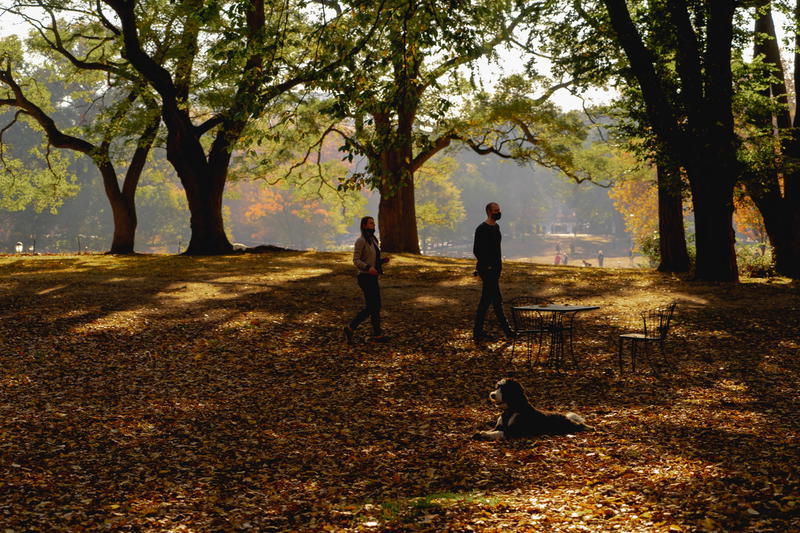 As you walk downhill on the paths that lead to the baseball field or the tennis courts, take in some of the best fall foliage in New York in this curated natural landscape within a city.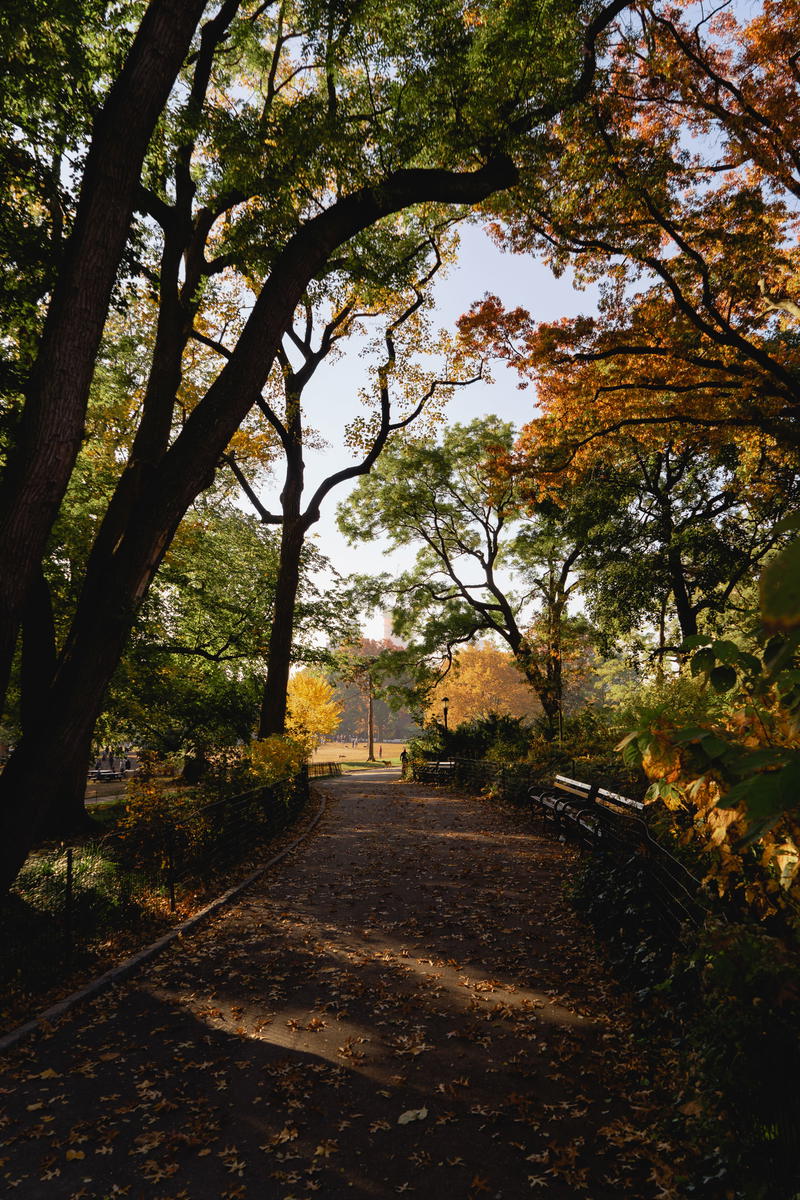 We usually can't get enough of the leafy pathways, especially when it is shrouded in these magnificent fall colors.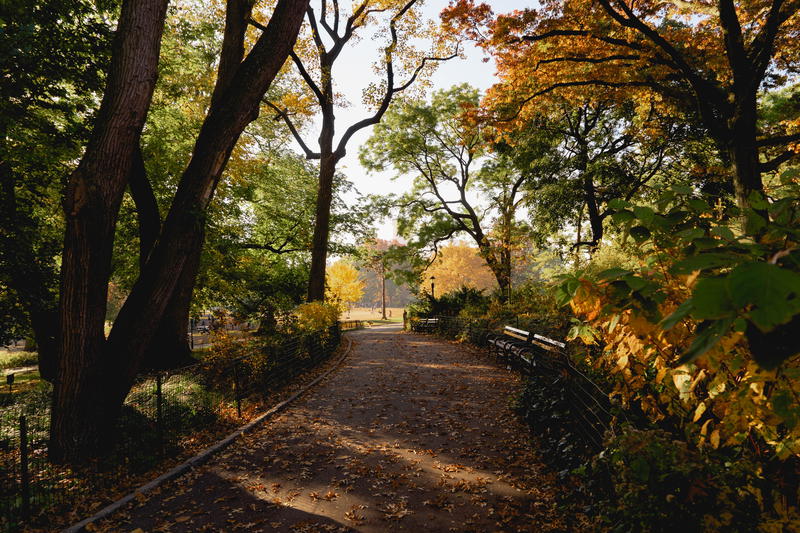 Loop back out of the park to the brownstone streets of Fort Greene, and you'll see why this is one of NYC's most fantastic and picturesque neighborhoods just waiting to be photographed, especially in autumn.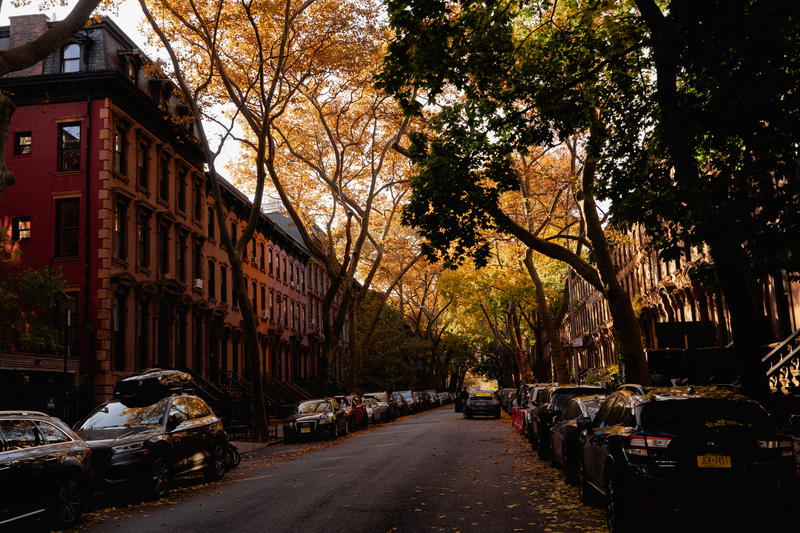 If you can swing it, come for golden hour, when the shadows become more dramatic and you'll get shots like this one.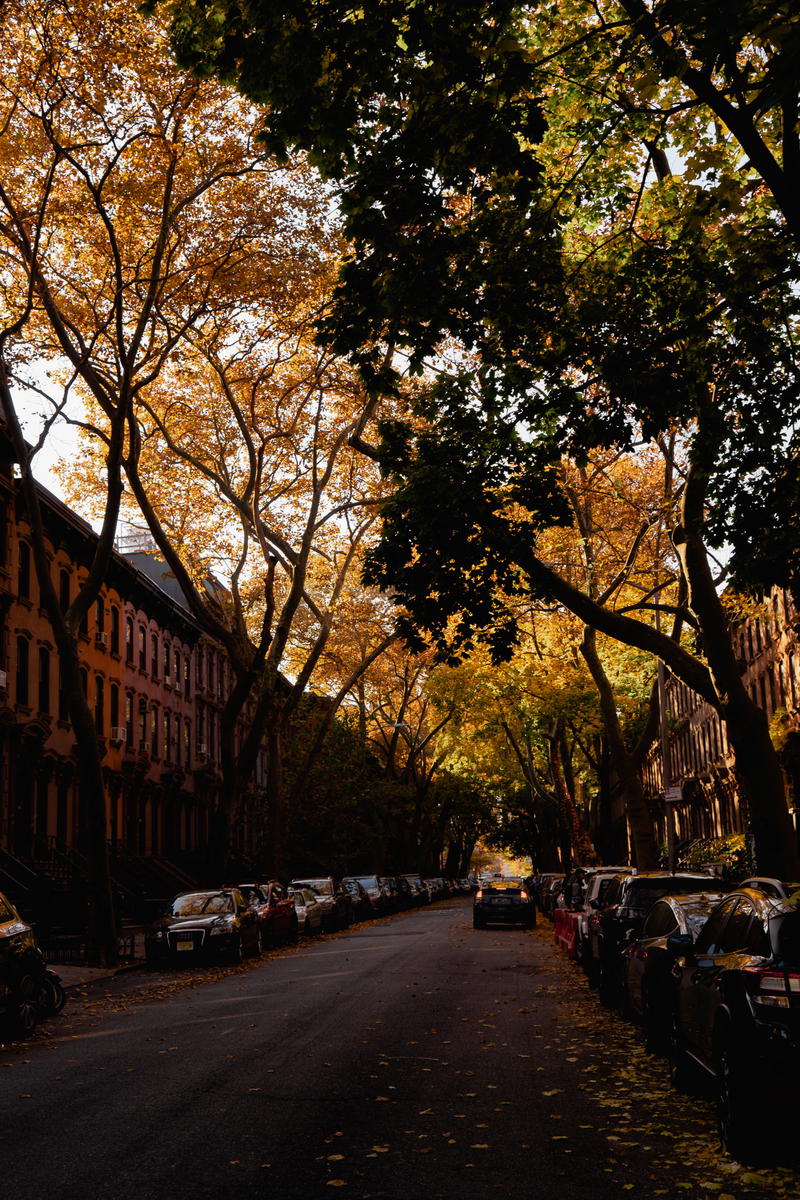 One of our favorite types of photos to take is the endless array of beautiful brownstone architecture, draped in fall leaves.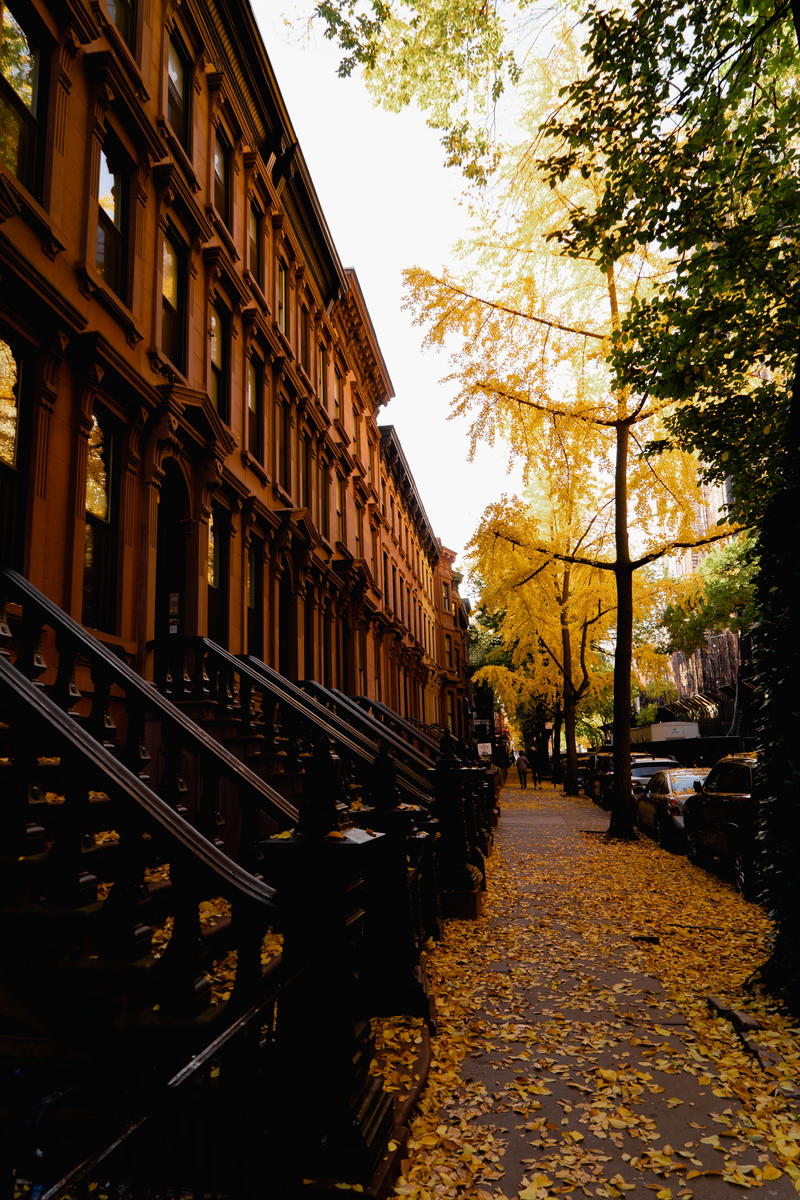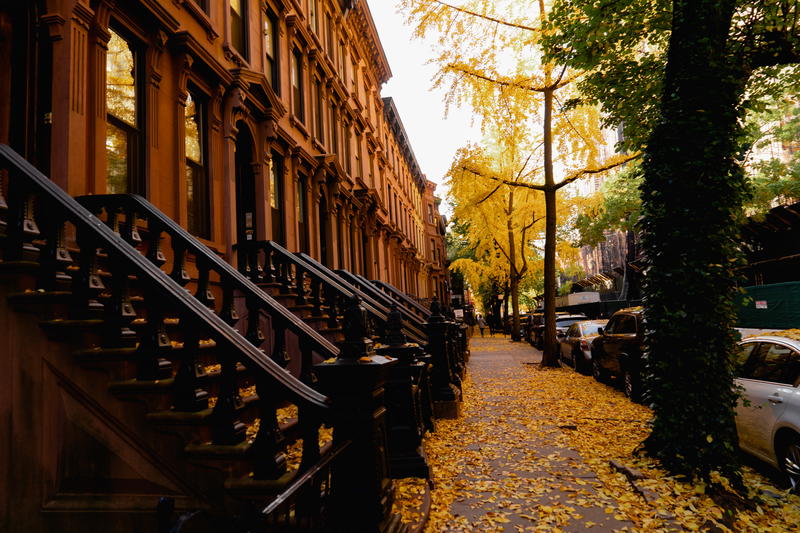 Here are some pumpkin friends who were hanging around as well.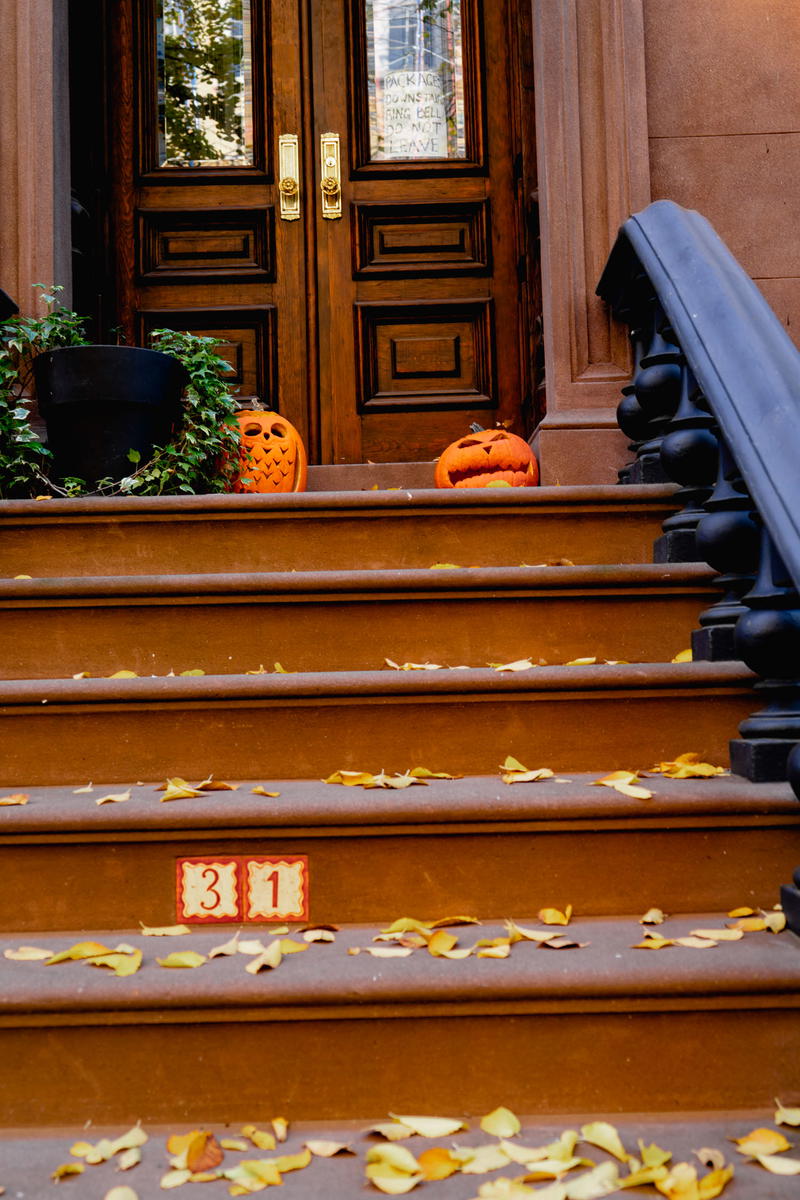 For a finale, head to South Portland Ave., a rather famous street in Fort Greene, where the trees that live there next to the homes tend to have the brightest yellows in the entire neighborhood. Put this on your fall foliage hit list.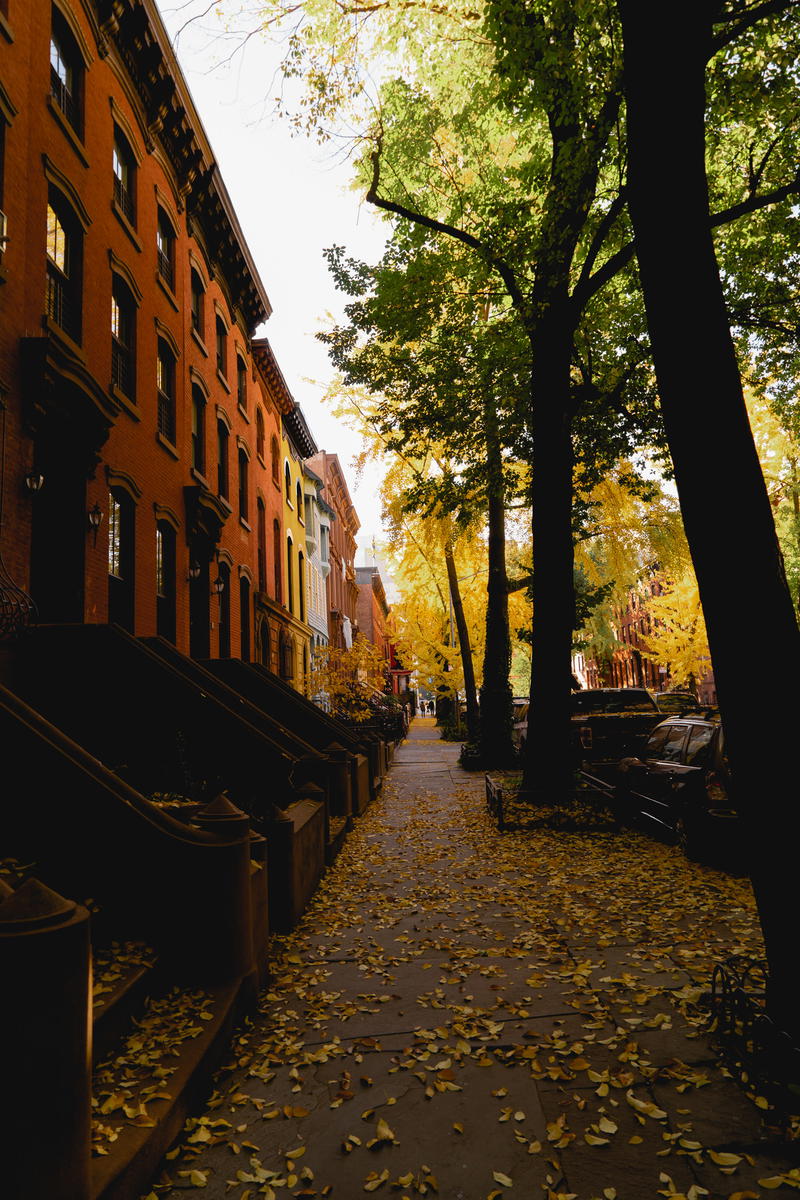 Isn't this street simply the best?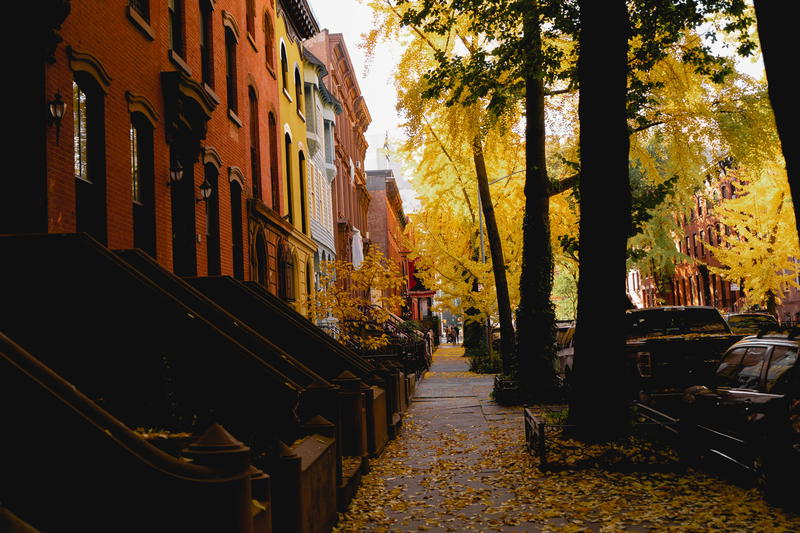 Make sure you look up, up, up at the tops of the trees to get an array of all the fall foliage colors, right here in NYC!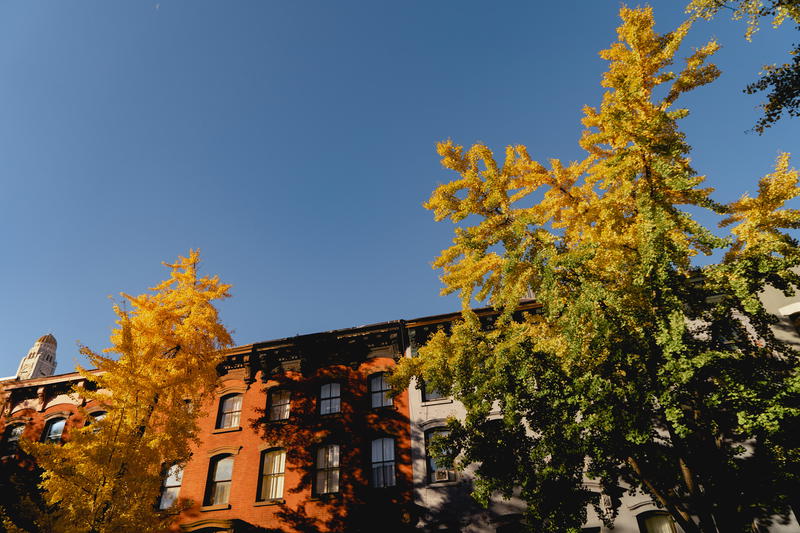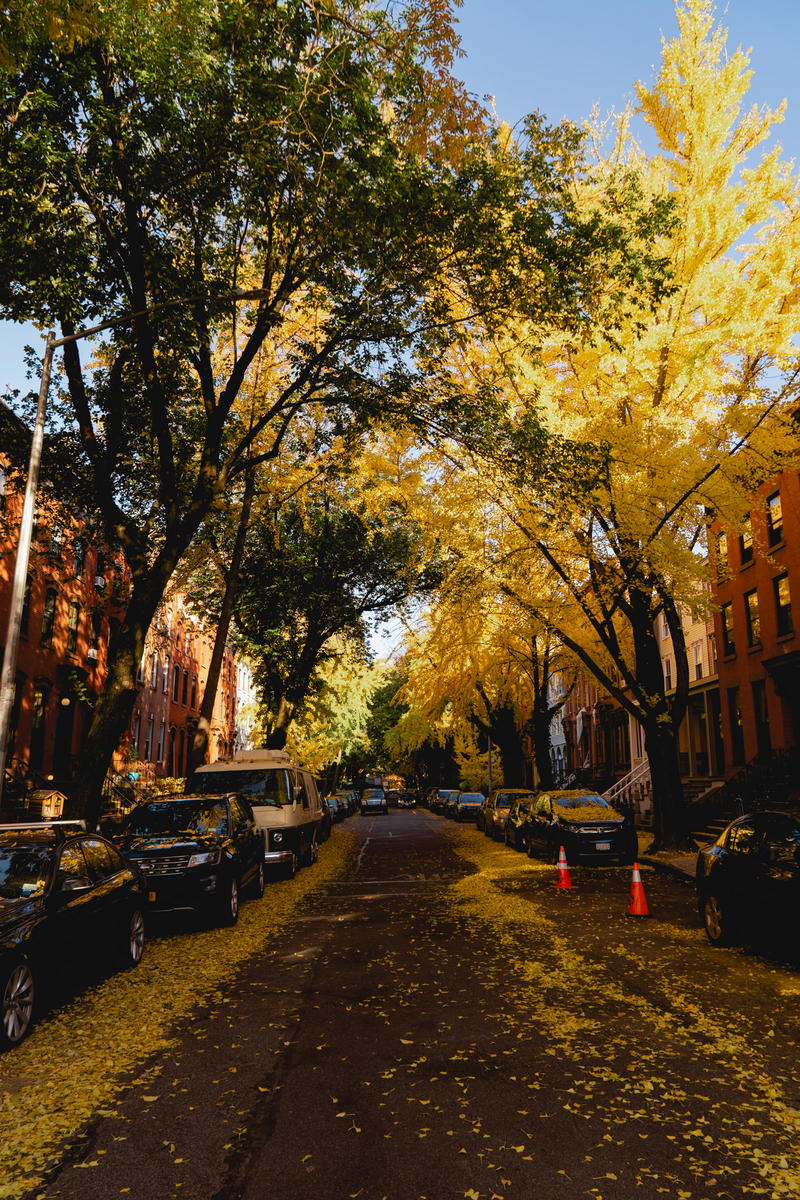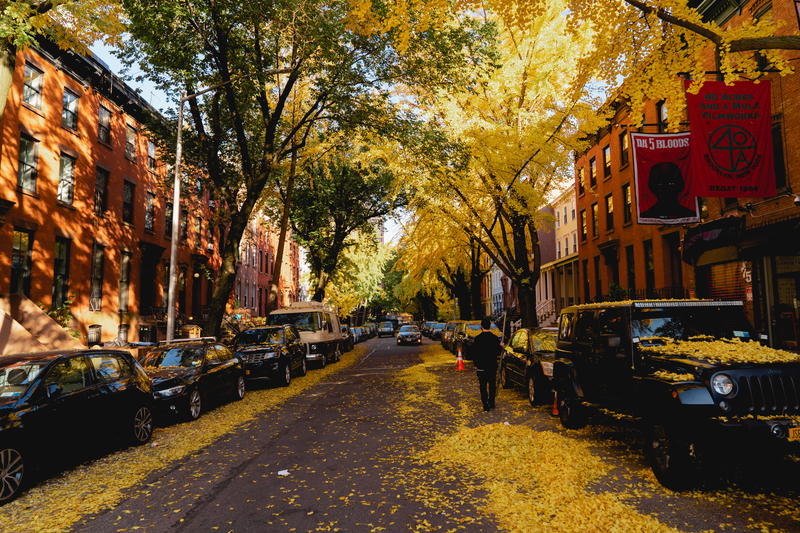 We're ending our tour here, and we hope you head to Fort Greene and Fort Greene park for the best time to see fall colors in New York City.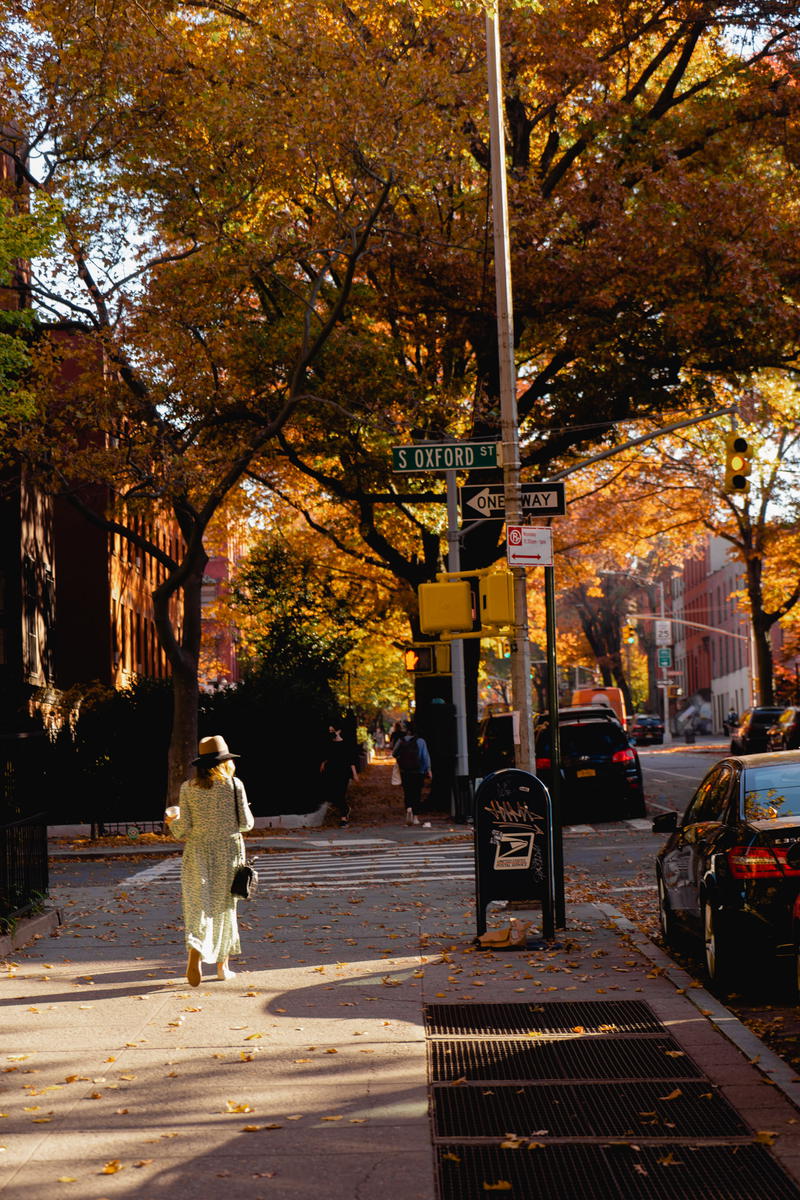 We hope you enjoyed the walk through Fort Greene Park. If you need more ideas for your NYC trip, check out the New York Botanical Garden, Coney Island and a visit to the Empire State Building during sunrise and sunset.