Antrim Streamside Review: A Flawless Stay in the Catskills
Written by Becca
•
Updated on September 18th, 2023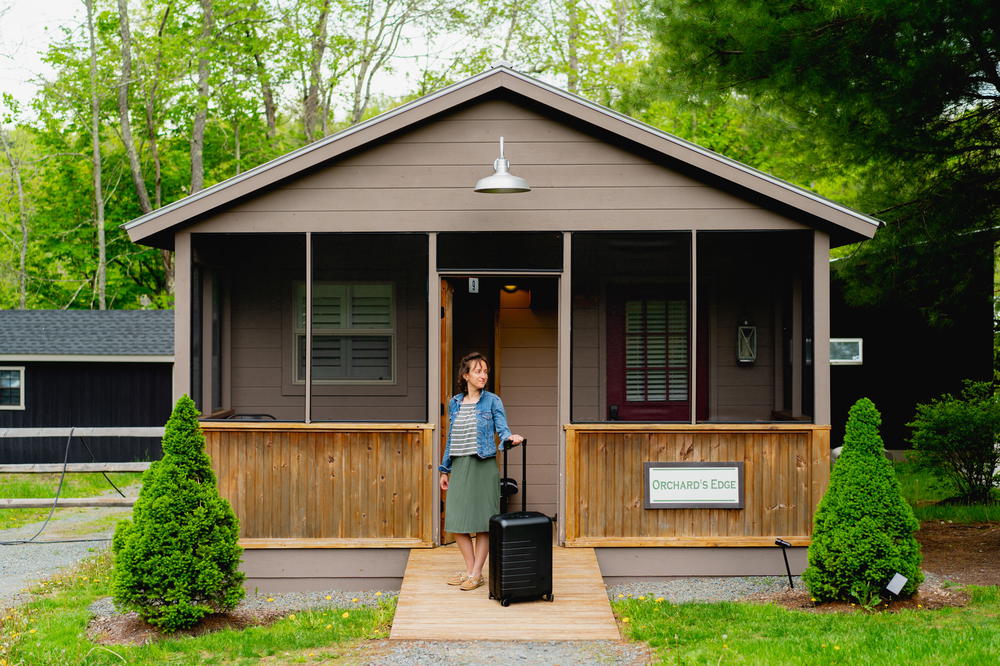 Antrim Streamside is one of the best hotels in the Western Catskills, with hiking trails, upscale and comfortable private cabins and a short drive to Livingston Manor.
This article may contain affiliate links. We earn a small commissions when you purchase via those links — and it's free for you. It's only us (Becca & Dan) working on this website, so we value your support! Read our privacy policy and learn more about us.
Table of contents
Close table of contents
I usually like to think that where you stay during a trip has the biggest impact on your experience. When I travel upstate to the Catskills, I'm always hoping to stay somewhere special.
We were intrigued when we learned about Antrim Streamside, a unique hotel that we think is the #1 best choice for accommodations near Livingston Manor, NY.
It's a boutique stay located on 250 acres of charming property next to a stream, and we thought it was perfect as a destination of its own!
In this review, I'll talk about our experience at Antrim Streamside during a trip to Livingston Manor and the nearby area in the Western Catskills. Check out our photos and all we have to say, so that you can decide if this is a hotel for you!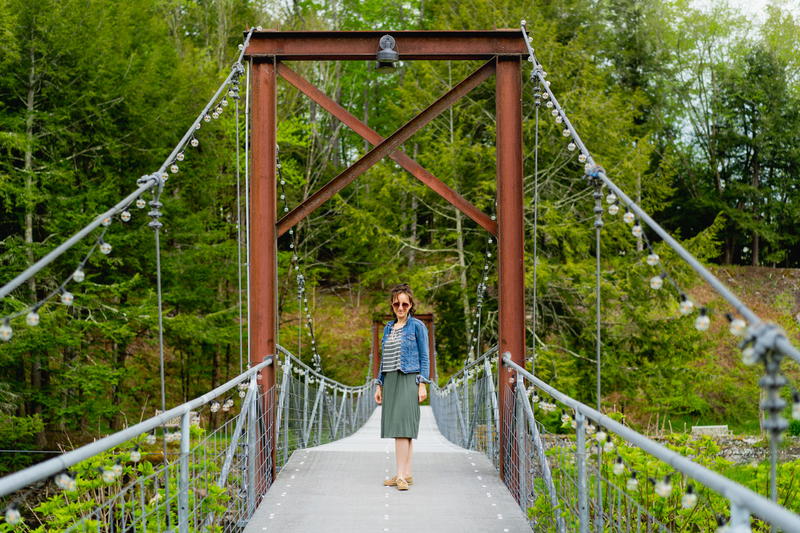 As a disclaimer, the folks at Antrim Streamside gifted our stay to us; however, all opinions (and photos) below are completely our own based on what we did and what we liked.
What is Antrim Streamside like?
The hotel consists of six cabins that range in size, as well as an events space that hosts weddings! We stayed in the Orchard's Edge cabin, next to a small collection of apple trees. We got our own designated parking spot, our own "front lawn" and views of nature.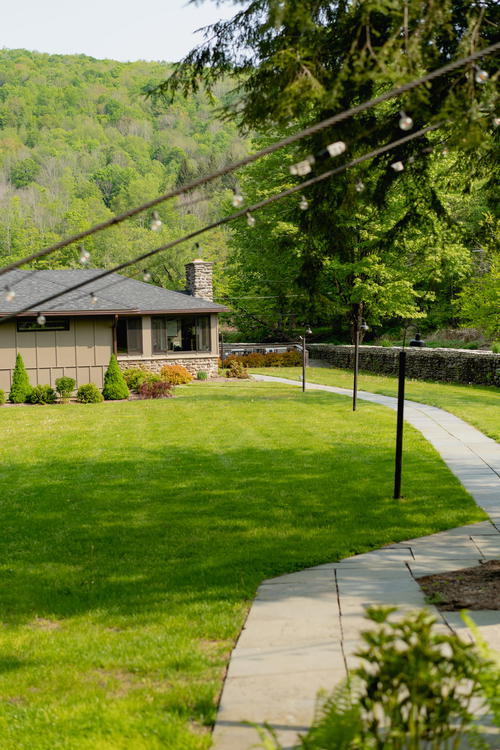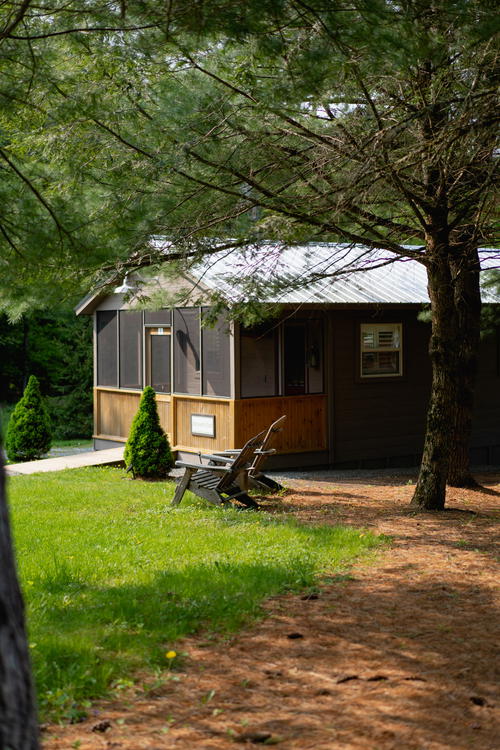 When we travel, we like to have our own space and have access to things to do. Staying at Antrim Streamside gave us just that: a chic upstate cabin with all amenities needed, right near the private walking trails, natural views and the nearby Beaver Lake Farm at our fingertips.
If you are looking for a getaway from NYC or NJ within two hours of driving distance, this could be the place.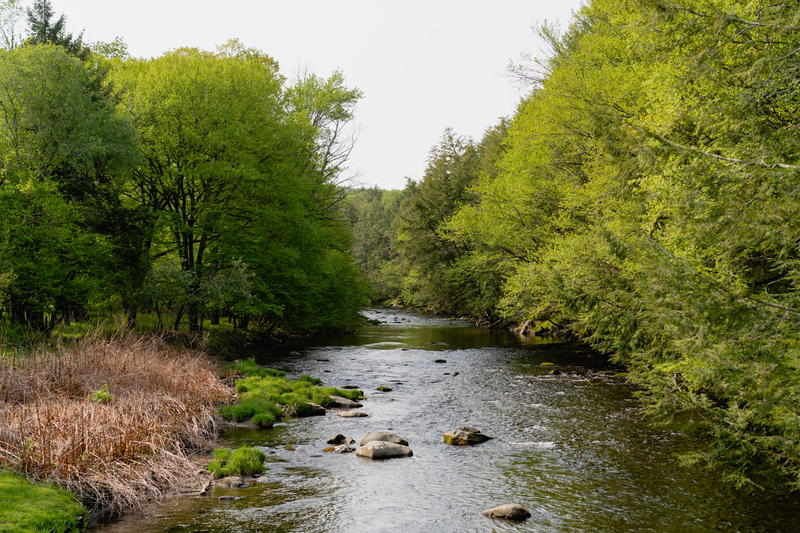 What did we like the best about our stay?
I thought the staff at Antrim Streamside was fantastic. Before arriving, they asked if we had any allergies that would affect the breakfast they'd stock the fridge with, and because of my dairy and gluten allergies, gave us oat milk yogurt and gluten-free granola! I was so impressed and appreciative.
We also liked the access to the private hikes, knowing that they were right nearby and safe. We even hiked with our daughter in the baby carrier.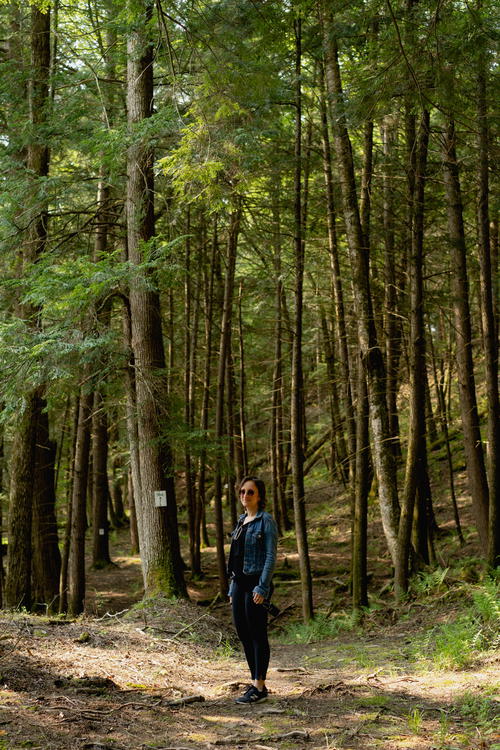 Lastly, I noticed that everything was chosen with such care for the rooms, like the kitchen appliances (blender, coffee maker, French press and toaster!) and the amazing-smelling shampoos and body lotion in the bathroom. Also, the shower was perfect and the bed was super comfortable.
Where is Antrim Streamside located?
The hotel property is a four-minute drive from the center of town in Livingston Manor, NY, in the Western Catskills. If you're coming from the other parts of the Catskills or the Hudson Valley, be sure to reference a map to see how the locations work out!
It is a convenient distance from all the restaurants and shops in the center of town at Livingston Manor, and also feels secluded and serene. I thought it was a better alternative to an Airbnb that would have had high fees.
The hotel property is rustic yet refined. The cabins are located along the stream or the orchard and surrounded by the natural woodland beauty of the forests. You can wake up in the morning and see only trees out your window, or hear the rushing of the water.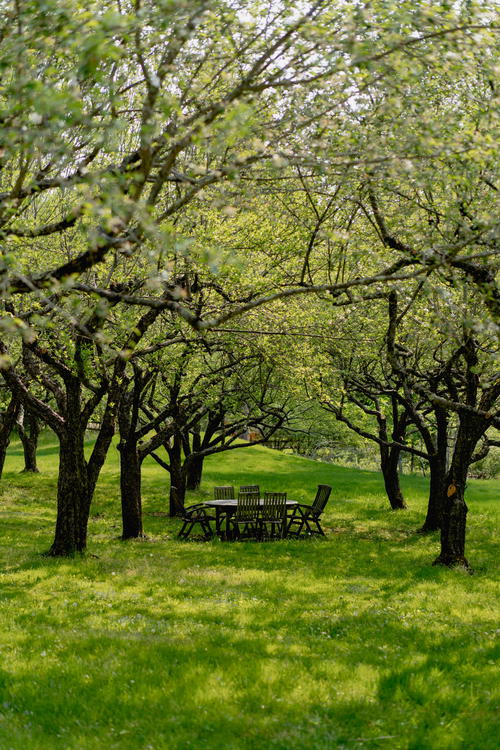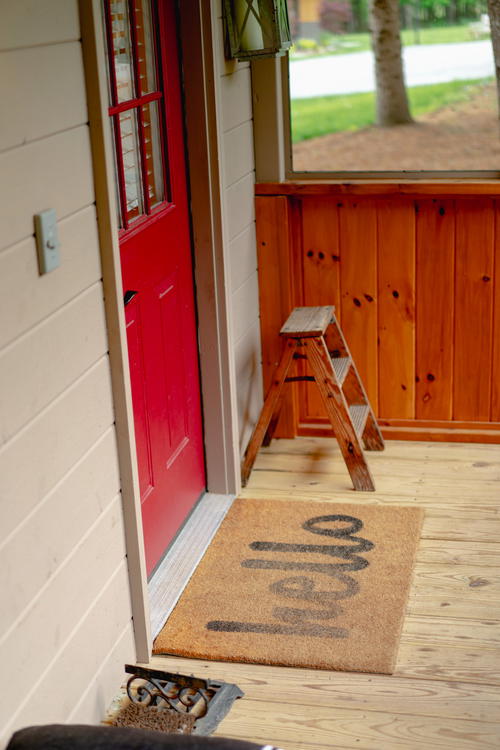 What kinds of rooms does Antrim Streamside have?
The hotel has six cabins and cottages (so book in advance!). There are four cabins, which all have outdoor showers (in addition to the regular bathrooms) for those summer months when you'd like to have a moment in the great outdoors.
The two larger cottages are nice for bigger groups traveling together. The River House has three bedrooms, and the Stone Cottage has two. These are ideal for couples and families.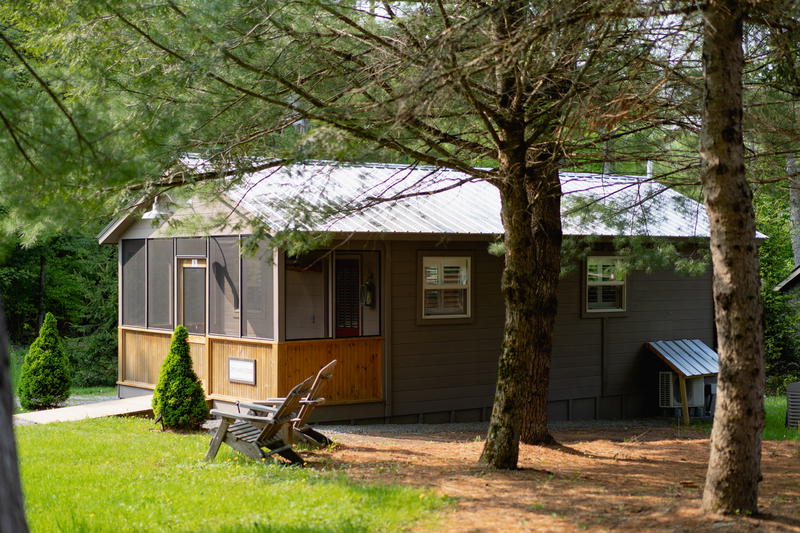 Our room was like a studio apartment, with a small kitchen, bed, sitting table, futon and armchair all in one room. There were plenty of windows, a screened-in porch for hanging out on and a heat/AC unit, in addition to a ceiling fan.
In total honesty, we really liked that our room didn't have a TV. I noticed that from the get-go and really appreciated it. If you've come all the way to Livingston Manor, get outside and explore! Or, enjoy your surroundings.
We liked not having a TV and instead, used the Bluetooth speaker to play some cool background music while we made morning coffee and breakfast in the kitchen.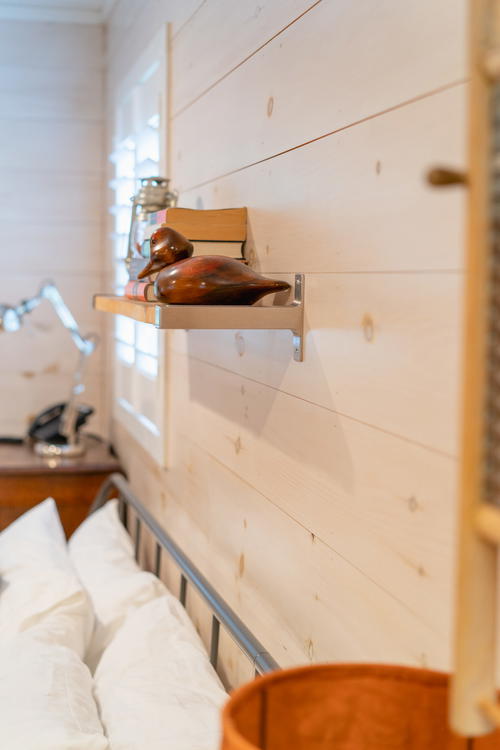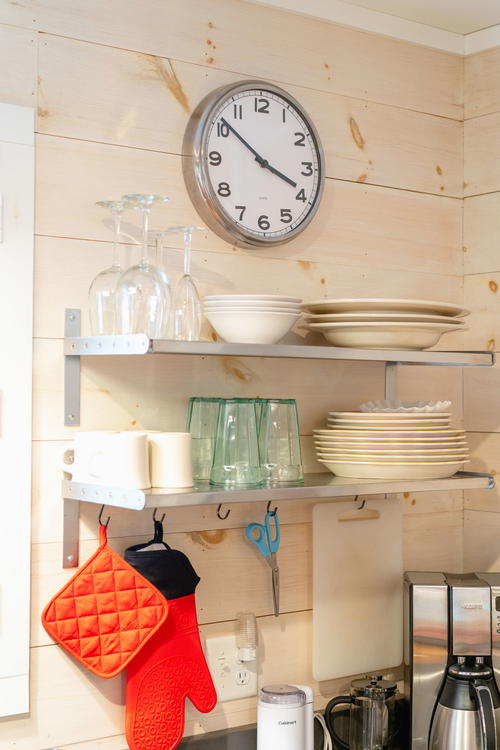 It was also great having a full fridge and freezer, along with a microwave. We were able to store some food for the baby, and heat up dinner leftovers from restaurants in town when we wanted a snack. Staying in a hotel with a baby can be hard, but this made it easier!
Perhaps best of all and most memorable, were the fresh blueberries in a mason jar in the fridge that were left for us to eat with breakfast. There was also a jar of granola, and fruit in the fridge for snacks.
The kitchen had all the touches of home you'd be looking for in a hotel kitchenette. I could tell that each room was developed with the traveler's or weekender's habits in mind.
One more thing: because the hotel rooms were renovated and built so recently, the bathroom was a dream! A big full-size shower with a strong shower head made for an excellent experience, as did the fragrant hand soap, body lotion, shampoo, conditioner and body wash.
I'd say we used every aspect of the room except the closet! It was funny staying in what felt like a tiny little house.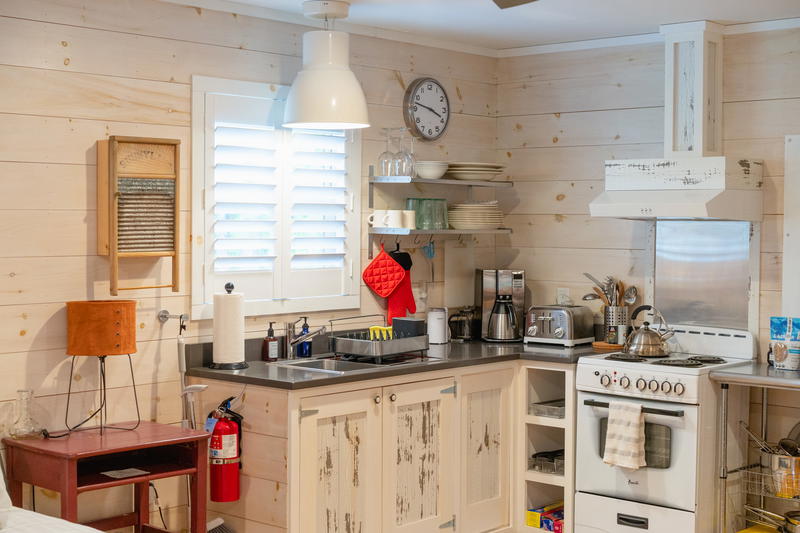 What are the hotel amenities?
Each cottage or cabin has a newly-redone bright kitchenette, with a fridge and freezer, and a stove and oven. Our cabin felt like a hotel room and also like a studio apartment (but set in the woods).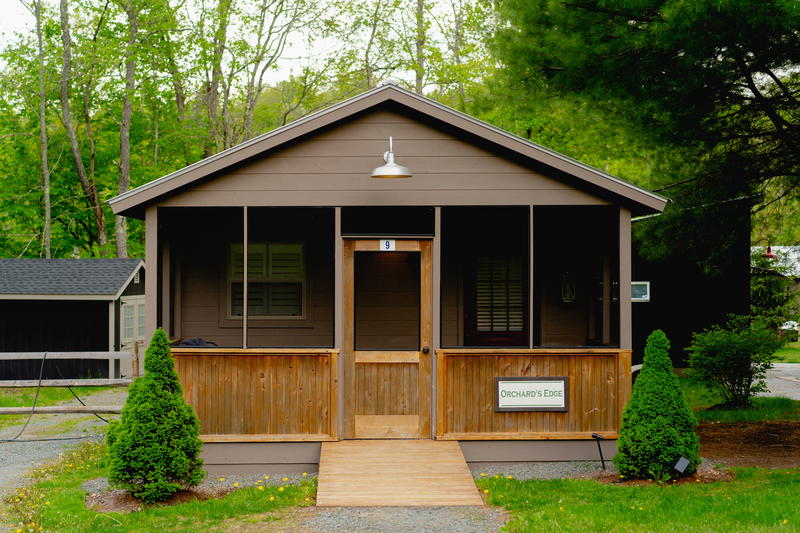 As the hotel takes visitors at all times of year, whether in spring or summer for travelers who want to hike and enjoy the late sunsets, or fall and winter trips for a winter escape from the city to a cozy getaway, all the accommodations have both heat and A/C.
There's also complimentary breakfast each day with foods from local upstate vendors. I really enjoyed the fresh blueberries.
Each cabin also has its own outdoor sitting area of Adirondack chairs, and if you desire different views, head to the stream to all the clusters of seating there to look at the bridge and think about some fly fishing.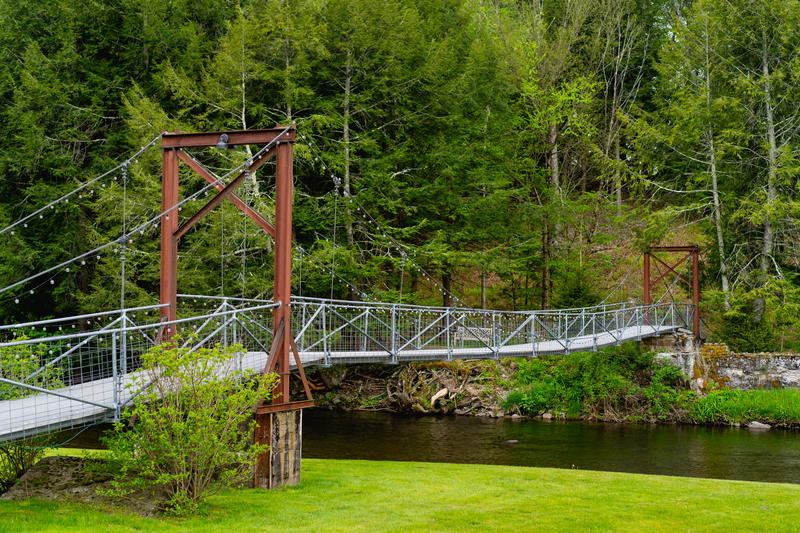 What's there to do at Antrim Streamside?
The hotel provides this map, which shows the available walking paths and their relations to all the cottages and cabins.
We checked out the pond, took photos with our daughter in the mini apple orchard and stopped by the game room in the venue hall. This space is good for a rainy day or a cold day when you want to warm up with some TV or board games.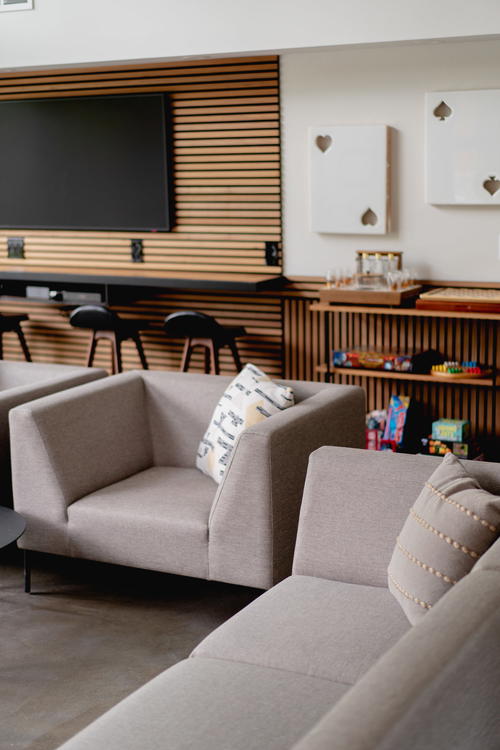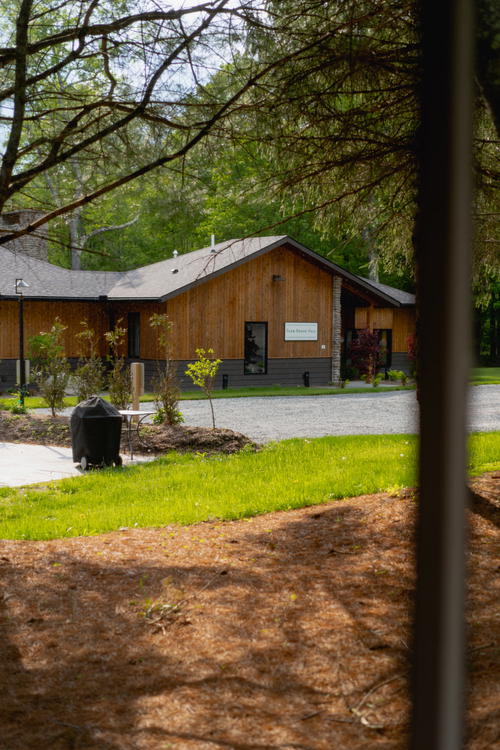 Best of all, we liked the quiet hiking trails beyond the stream and did a morning hike that was so peaceful. We could've hiked every day, to see the different trails. One leads out to a meadow.
You can access the hikes by first walking across a unique bridge in the center of the stream.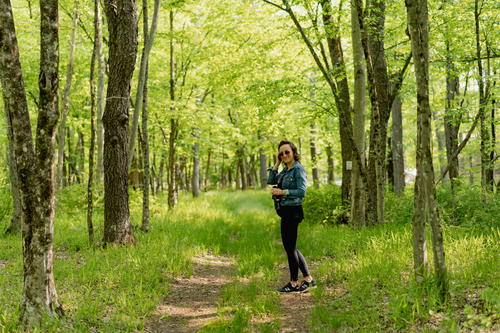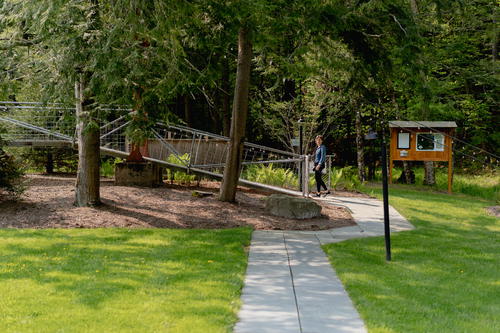 Visiting Beaver Lake Farm
Diane, the owner of the hotel, was kind enough to set us up for a farm tour at Beaver Lake Farm, which is about 5 minutes away and under the same ownership as the hotel.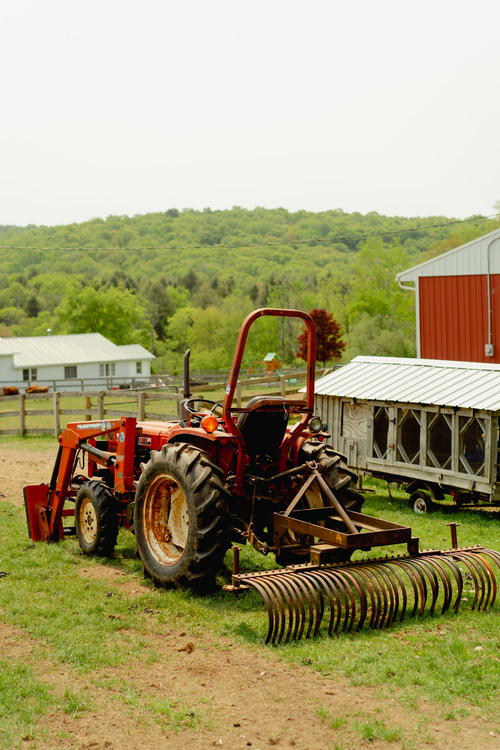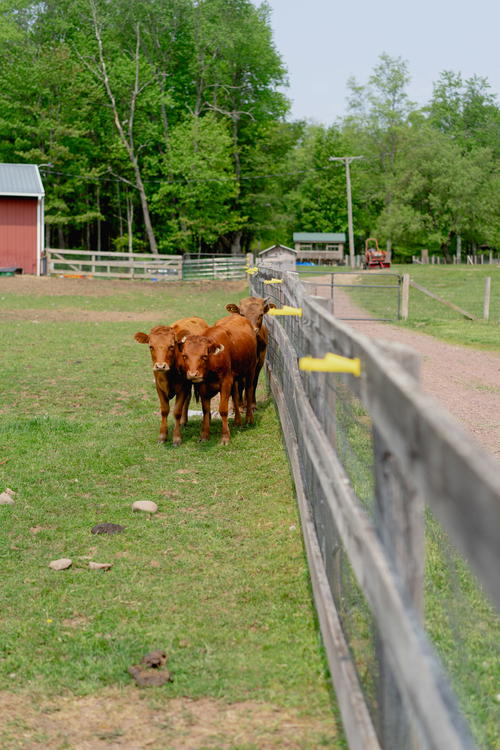 When we arrived, we were shown around by Nathan, the farmer who runs the show at Beaver Lake Farm. We got to see the sheep (including the babies), the types of chickens (and chicks), cows and pigs. Nathan was knowledgable about their breeds and from where they originate, and he was so personable.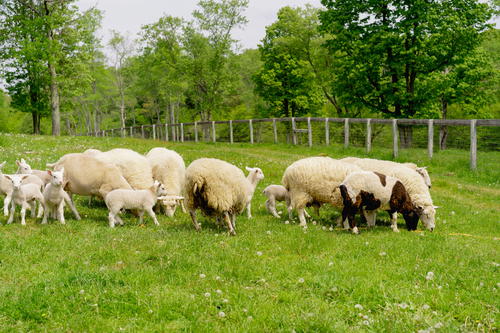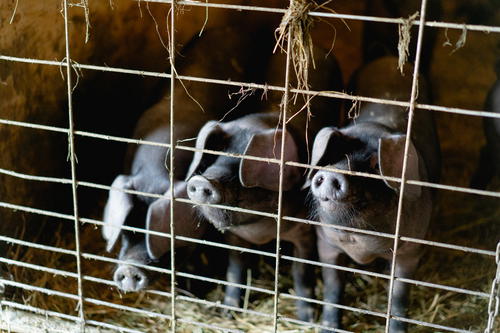 We thought the farm visit rounded out our stay at Antrim Streamside and the Livingston Manor area, as we had checked all the boxes of town, nature and farm. We enjoyed all the parts of our visit and felt very hooked up having stayed at Antrim Streamside.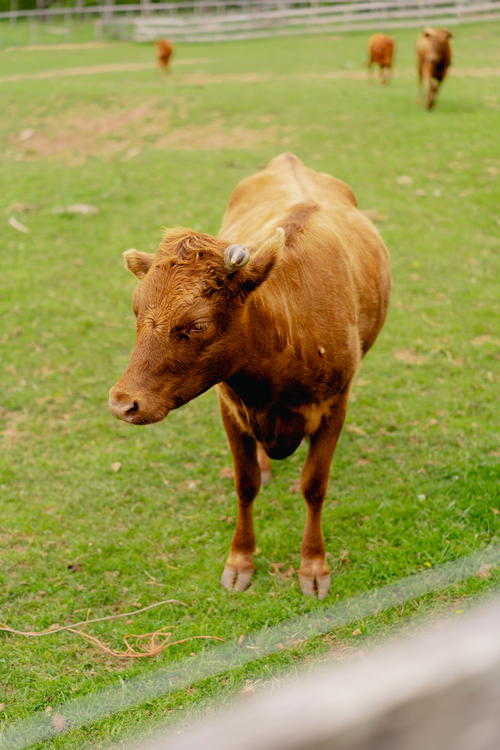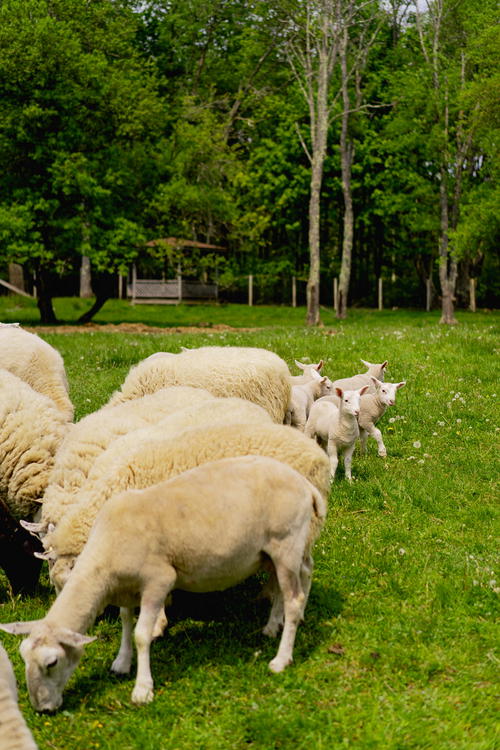 When is Antrim Streamside's busy season?
Antrim Streamside is quite busy all year round due to some great marketing and photos on their Instagram (look for the photo of Becca outside our cabin!).
The hotel gets busiest between Memorial Day and Labor Day and of course, holiday weekends tend to book up the fastest, as well as most summer weekends.
We suggest booking in advance if you can, and if you have weekdays free, you may find more availability on which room you could book.
Antrim Streamside is great for all seasons, whether escaping the city heat in summer to the cooler Catskill region, or coming to cozy up in winter while watching the snow fall.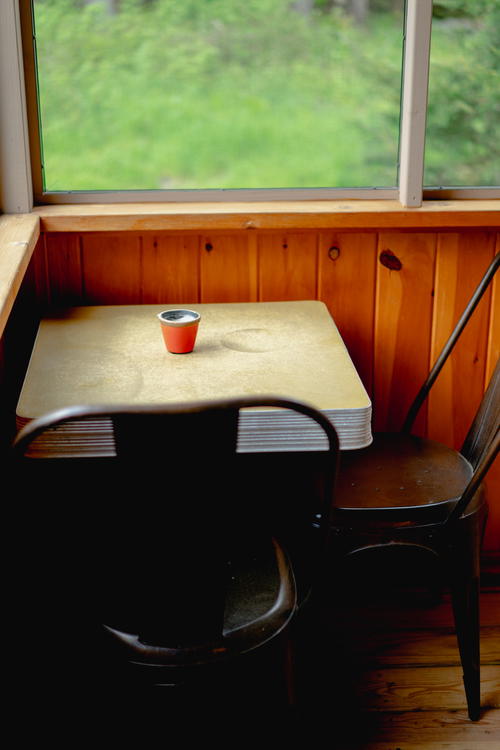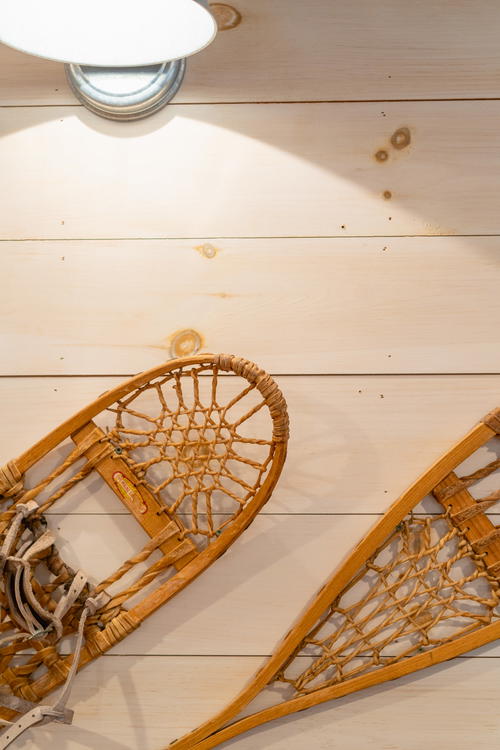 Is there a pet-friendly accommodation option?
Yes! The Stone Cottage is the one pet-friendly house for staying in. So, you can bring your furry friend, who will probably love roaming around the grassy areas.
How to book Antrim Streamside in Livingston Manor
You can book Antrim Streamside here, and when you speak to the staff, tell them you learned about the hotel through Becca and Dan from Half Half Travel.
You can use the code HHT10 for 10% off your stay!
If you have any questions, Diane or Meg will be sure to answer you. They're very helpful and were both incredibly personal in welcoming us.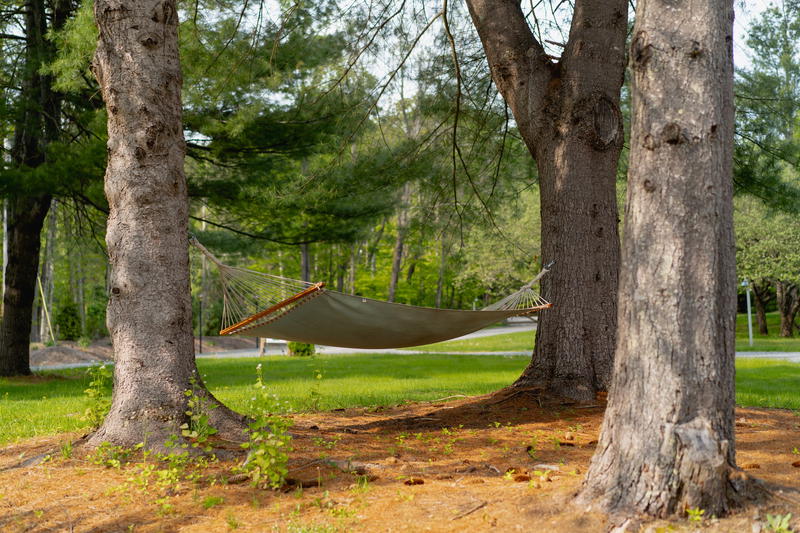 Enjoyed our article?
Consider supporting us! We're a 2-person team (learn more about us here) and your support enables us to create quality content. Thank you!