Baby Tula Lite Baby Carrier Review: Lightweight and Compact for Travel
Written by Becca
•
Updated on September 23rd, 2023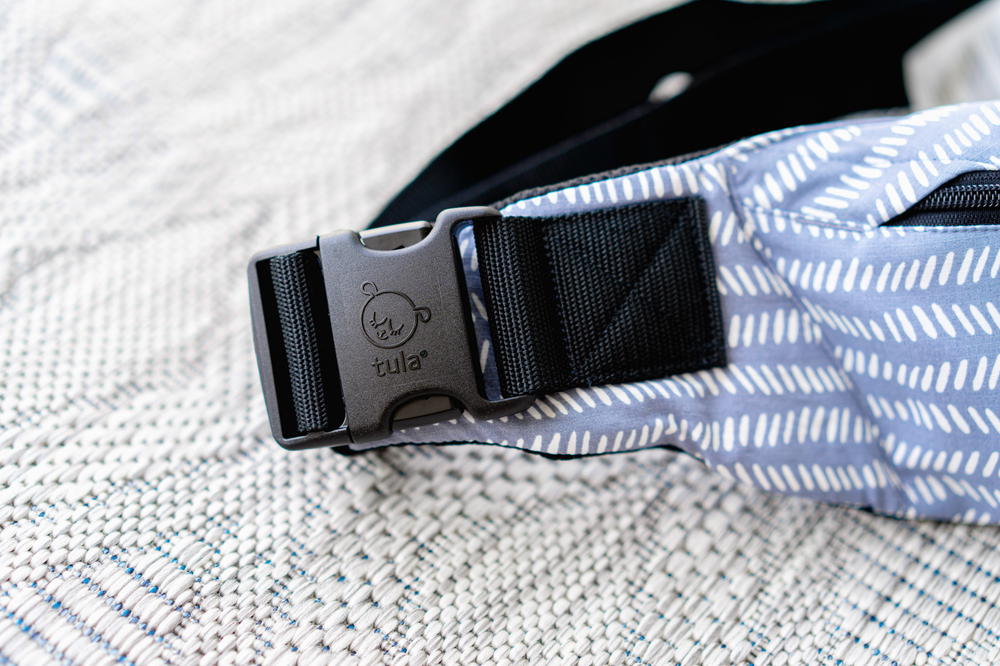 I review the Baby Tula Carrier Lite as a travel product for babywearing during trips. Find out the special features that make this lightweight baby carrier ideal for on the go.
This article may contain affiliate links. We earn a small commissions when you purchase via those links — and it's free for you. It's only us (Becca & Dan) working on this website, so we value your support! Read our privacy policy and learn more about us.
Table of contents
Close table of contents
I've used a few baby carriers now as a first-time parent, and every time we go away, we pack one in our luggage for our road trip or flight.
We've packed the SollyBaby wrap (and wound up not using it), and we've taken along the BabyBjorn Mini carrier (my only complaint is that it's bulky). We haven't even considered taking along our ErgoBaby carrier because of its size.
But then we learned about the Baby Tula Carrier Lite, a travel-friendly baby carrier for infants and children up to 30 lbs. My friend Rachel texted my moms group to say she found out about this baby carrier that folds into a fanny pack, and I do love a good fanny pack for travel.
Wait, what? That sounds awesome! So I got my hands on the Baby Tula Carrier Lite for my next trip, and as it turns out, my baby really likes it.
Here are my honest thoughts on this baby carrier and why it can be a part of your packing list!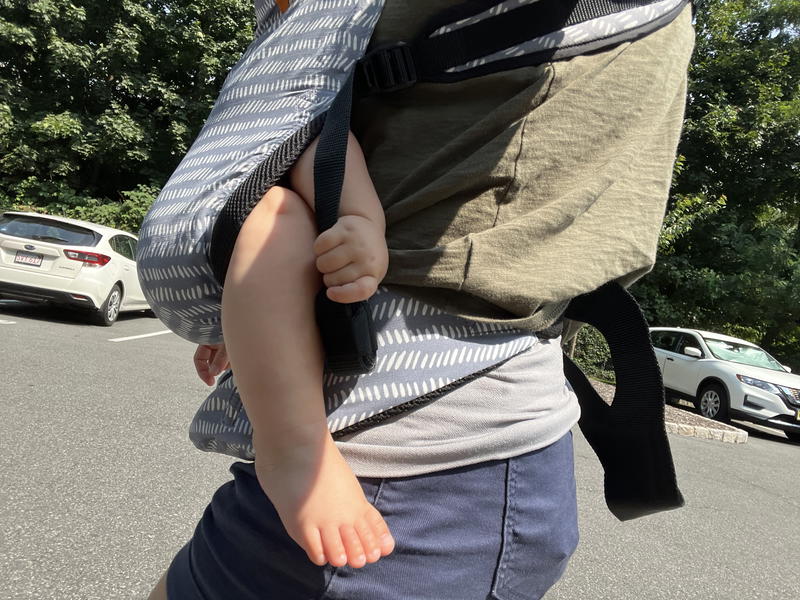 What is Baby Tula?
I'm new to the Baby Tula brand, although I own an ErgoBaby carrier. As it turns out, Ergobaby acquired Baby Tula and now owns this company, making the two brands under the same umbrella.
Baby Tula is a company that prioritizes a mission of bringing parents closer to their babies through inclusive carrier options. Their carriers are stylish, ergonomic and durable, meant to withstand all the stresses that children and babies put on physical products! I can attest to that!
Baby Tula products come in cool "expressive" prints and solid colors, and all their carriers are expandable for a wide range of body types.
The models in their product images online show parents of varying ethnicities and racial backgrounds, both hetero- and same-sex couples and body types ranging from petite to curvy and tall.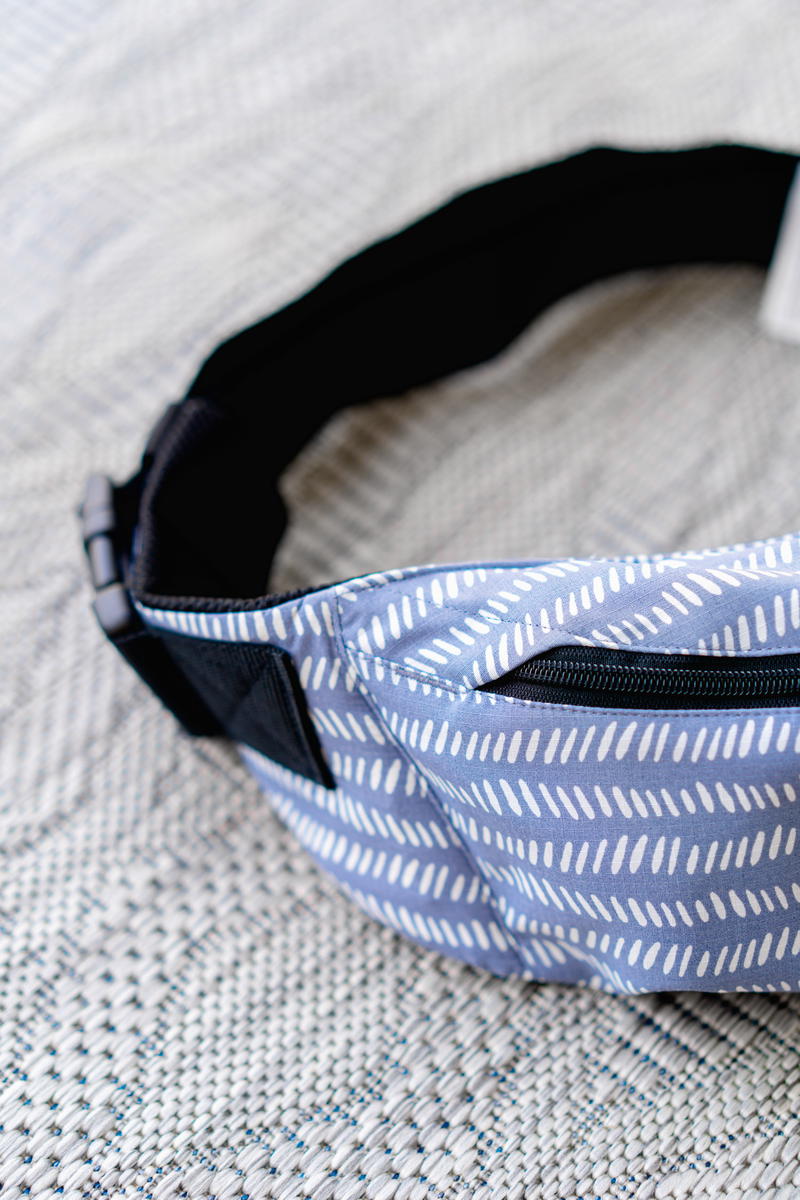 What is the Baby Tula Carrier Lite?
Like I mentioned above, I was introduced to this carrier by a friend, and when she said, "it folds up into a fanny pack and is great for travel," I was intrigued.
Now that Dan and I have taken quite a few road trips with our baby and given that we plan to fly with our baby on a plane soon, having a packable baby carrier is crucial.
When we've taken road trips, we've thrown the BabyBjorn mini carrier in the car because it's bulky. So is the Ergobaby Original Baby Carrier we have, which is even bigger.
The Baby Tula Carrier Lite is surprisingly small, and it folds into a fanny pack for compact carrying during a trip. I was so eager to try it, and the time was right because my baby was 13 lbs., making it a great time to size up into a carrier we could use through toddlerhood.
The Baby Tula Carrier Lite is a perfectly attractive-looking baby carrier — one that I'd be happy to use out of the house, at social events and in photos during our travels with our daughter. It's made of nylon, making it ultra-lightweight, and can be used for a child up to 30 lbs.
After a few months of use, the Carrier Lite has earned a spot in my list of the best baby carriers for travel without hesitation.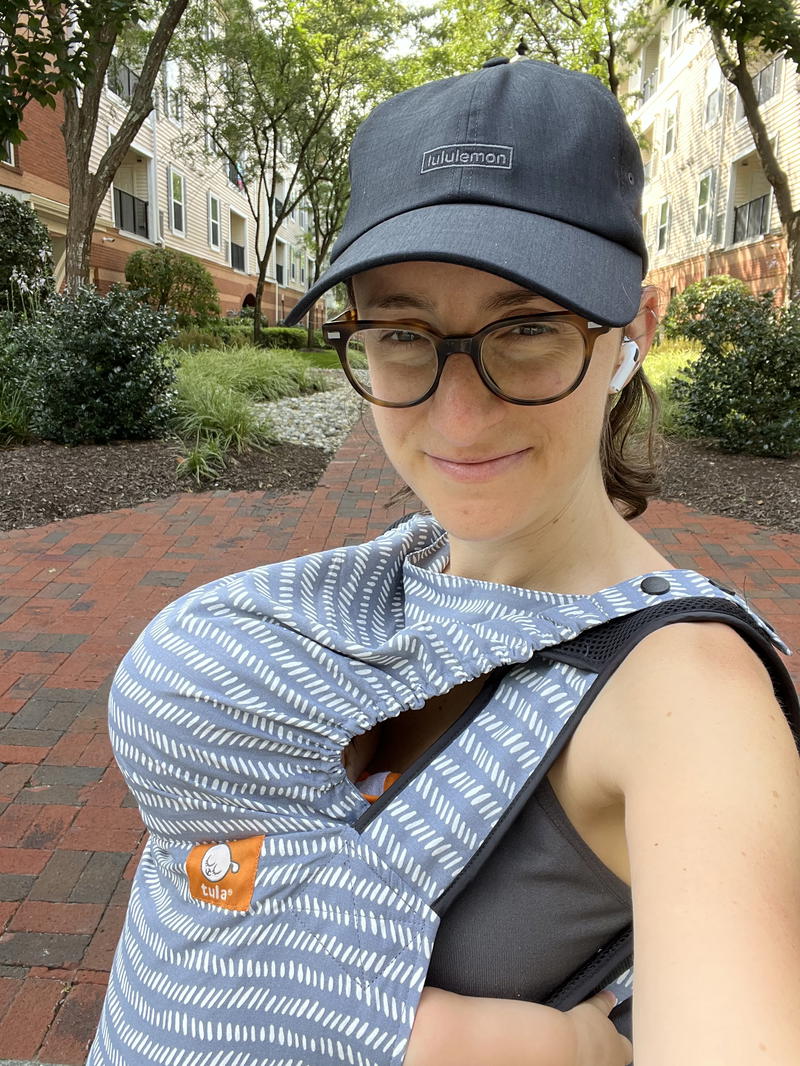 How much does it cost?
Aside from "ring sling"-style carriers and wrap carriers (which I found had a limited lifespan for my daughter because at about five months, all she wanted to do was poke her head out), the Baby Tula Carrier Lite is one of the most affordable baby carriers I've seen.
At only $89.00, it's the least expensive baby carrier among the Baby Tula carriers (aside from the ring slings, which are $79.00).
I can also see this baby carrier as an awesome baby gift to give a new parent (it's cool for both moms and dads!), or as a unique item to put on your baby registry.
Let's dig into the features that I appreciate in this baby carrier for travel!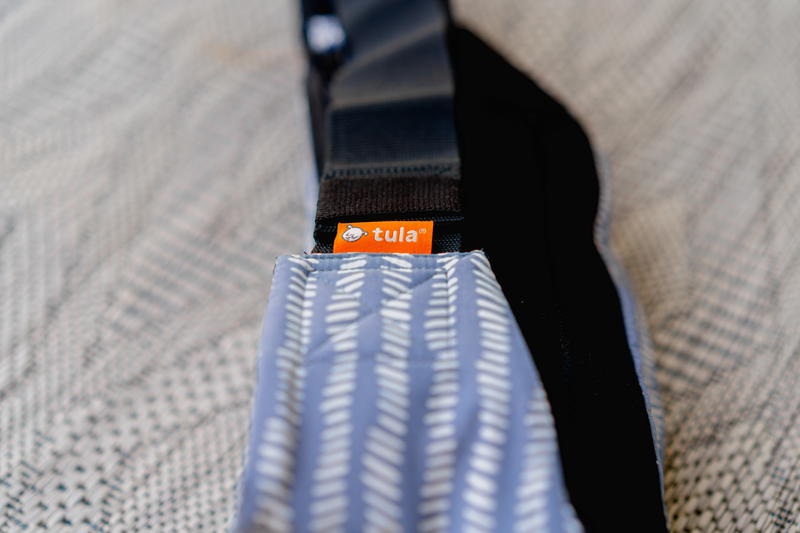 A rundown of the cool features
I never thought I'd be so excited about a baby carrier, but the Baby Tula Carrier Lite is unique for a few reasons. Here they are, below.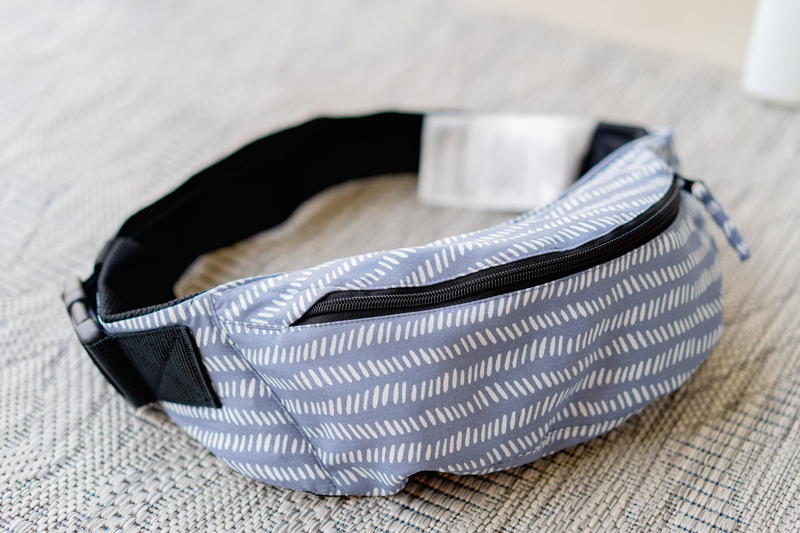 The folds-into-a-fanny pack aspect
I am finding so many helpful fanny pack items for parents in this new world of parenting products (I have to mention the Kibou fanny pack diaper bag here!), and of course I'm loving that the carrier itself folds into the back zipper pocket of the fanny pack.
It's even helpful when I'm just using this baby carrier around the house, because when I put it away, I zip it up into the pouch and it looks neat.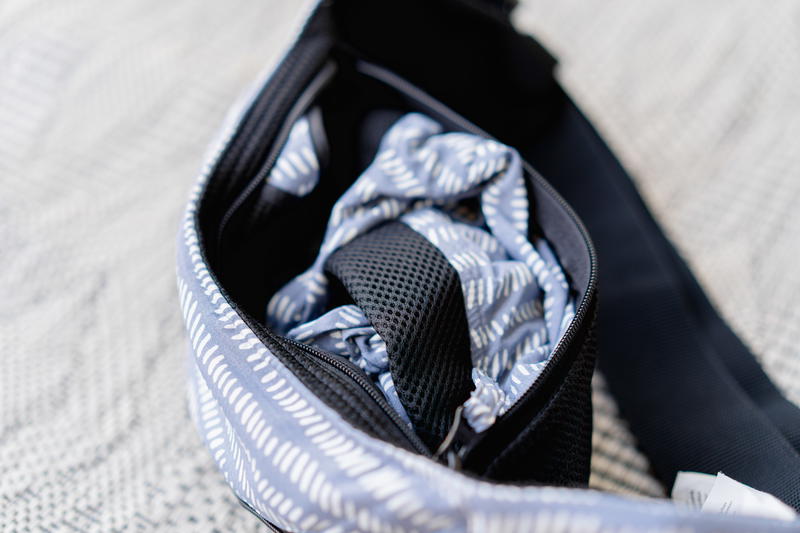 The additional waist pack/hip pouch
The front portion of the fanny pack itself was the biggest surprise for me. I thought the carrier would fold into the fanny pack and that would be it, but the carrier folds into the back, and the front portion has a separate empty (!) pocket for your keys, phone, a pacifier, you name it!
This makes the fanny pack into a dual-purpose waist bag and waist pack that you can sling around your body as a crossbody belt bag, while carrying personal items that you really need.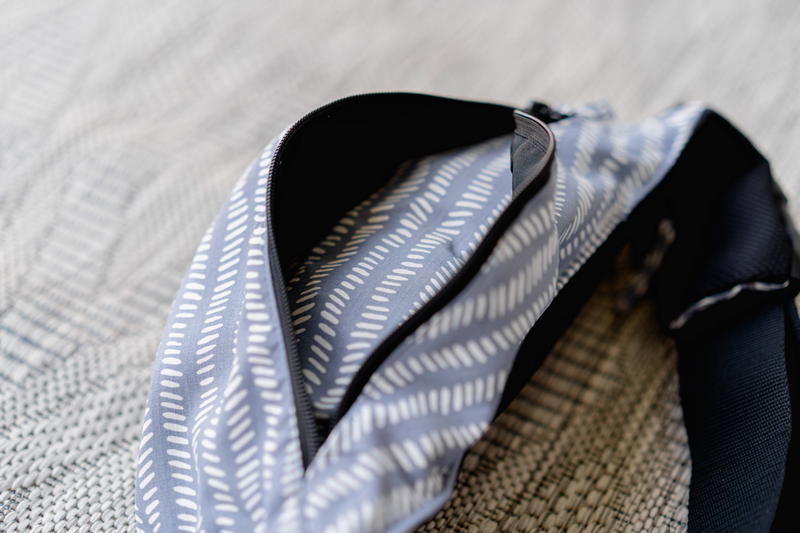 The lightweight packable fabric
The choice of fabric is a big plus on this baby carrier. The entire carrier is made of ripstop nylon, which makes it very lightweight and breezy. It's also durable and strong, and doesn't hold sweat (or drool). The lightweight quality of the material, along with its ability to scrunch up small, makes it ideal for packing and taking along on a family adventure.
The elastic bands on the straps
There are elastic bands that keep the straps folded up so that they don't dangle around. You can see this in the product photos on the web page if you look closely.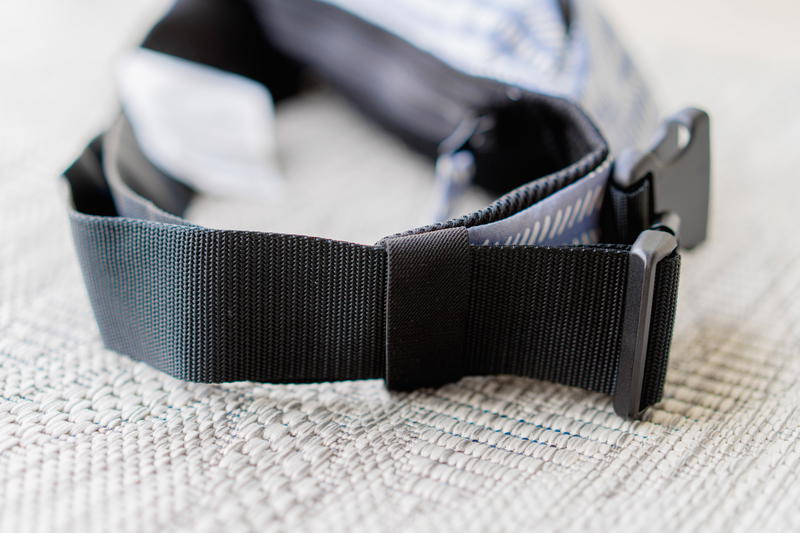 The big easy buckle
The big buckle clasp around the waist is sturdy and giant, and easy to buckle up when I'm in a hurry (aren't parents always in a hurry?).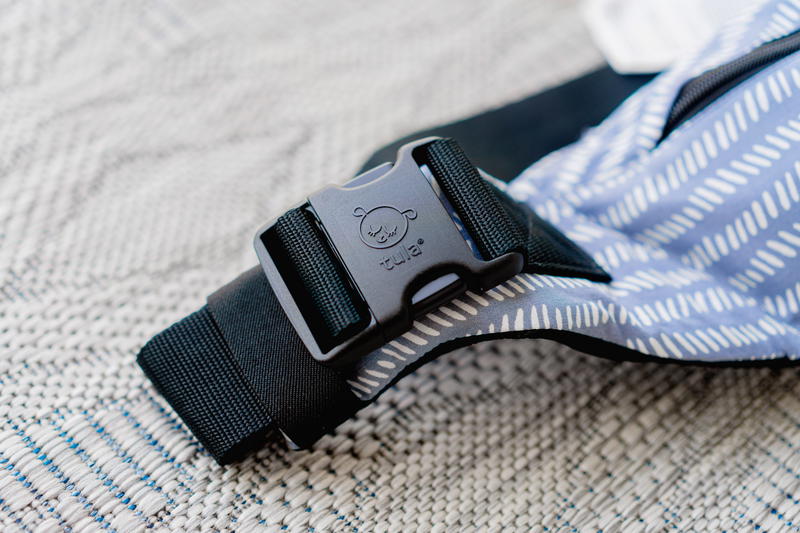 The removable sun cover/hood
This is the main component that gets my daughter to sleep. It's also useful because it eliminates the need for putting a sun hat on my baby. We've tried putting her sunhat on her when she's been in other carriers and it gets so tangled up and we have to keep adjusting it.
The sun cover on the Baby Tula Carrier Lite is also removable, so if your child decides he or she doesn't enjoy it, you can take it off and you don't have to have it hanging around.
Nice choice of colors
I went with the fresh and light "Beyond" pattern, which is a blue background with a white pattern. I think Baby Tula is best known for funky patterns across all the baby carrier products. You can see this by checking out one of the other products like the "Free to Grow" Carrier, which has 17 pages of different patterns and color options.
While the Carrier Lite has the fewest color options, they're all really nice, ranging from black with white stars ("Discover") to purple with white palm trees ("Palms"), to army green with flying birds ("Soar") and solid slate blue or black.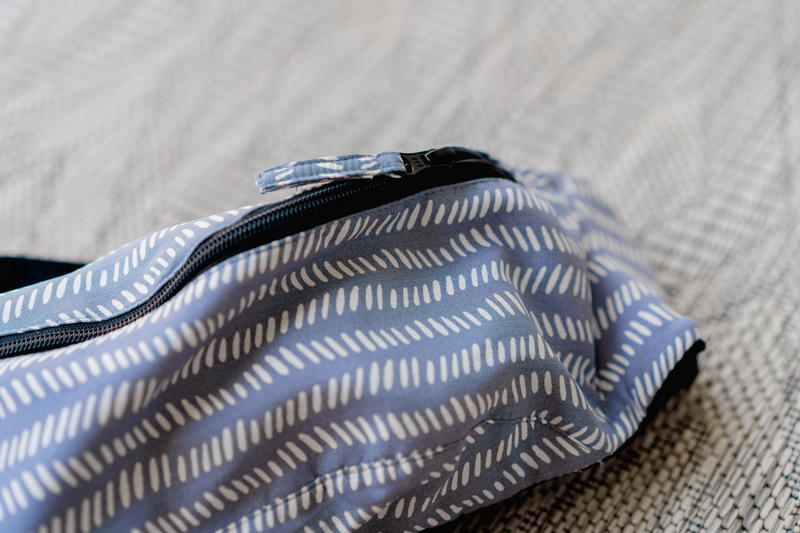 Shortcomings and criticisms
I have very few critiques about this carrier because I think it's a great product for parents to take on their next trips; however, there is a possibility for petite people to feel that the back buckle hits the middle of the wearer's back where it's challenging to buckle it by yourself.
This is exactly my single complaint: I have to ask Dan or a friend to "do the honors" in strapping the back buckle that sits across my shoulder blades, or below them. I'm going to keep trying to do the back buckle by myself, whether reaching from below or from the top.
The good news is that this buckle strap across the back is very adjustable, and can be tightened if you have a small build like I do.
When to use this baby carrier
While this carrier is meant and built for travel, I find that I use it around the house when I want to try to get my daughter into a nap, and it's good for a nearby hike, walk or shopping trip.
I think the fact that it folds up small and comes in a helpful waist bag or crossbody belt bag makes it an appealing product for parents to take on the go, wherever they're going.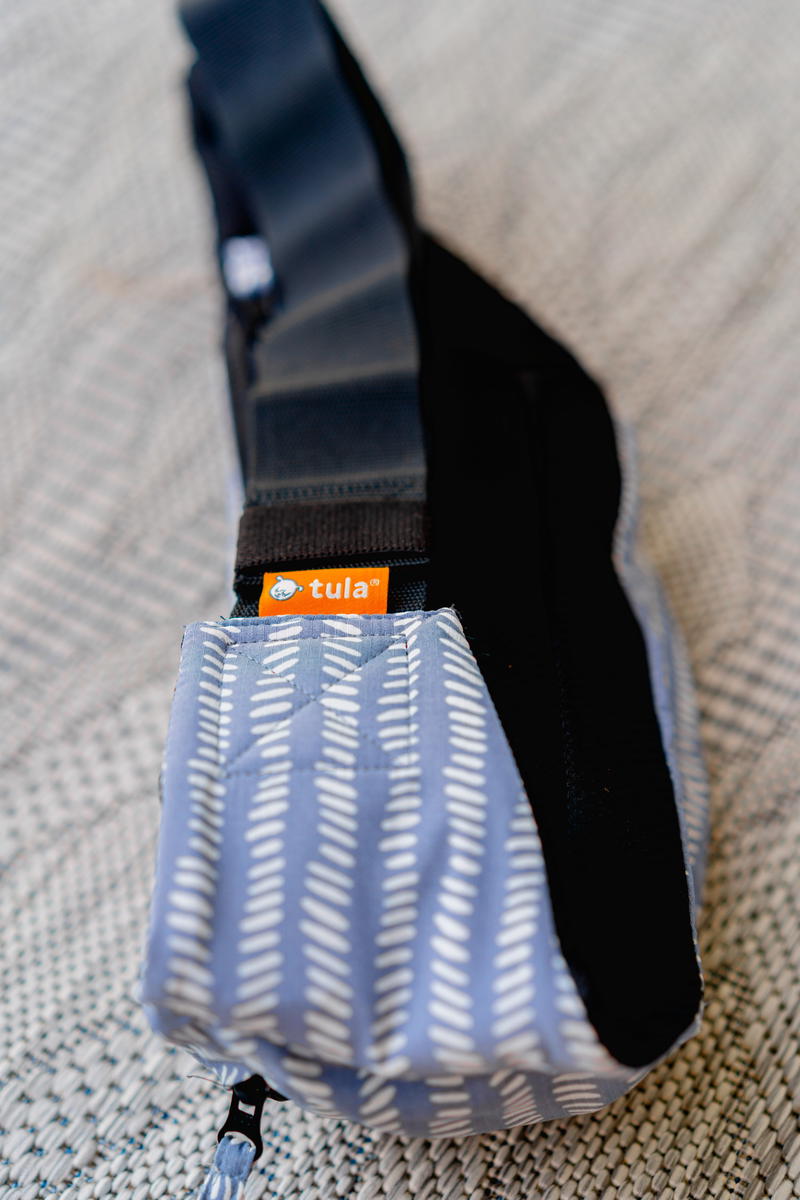 How to know if this carrier is right for you
If you're looking for an affordable baby carrier that folds up small for a trip, the Baby Tula Carrier Lite is a nice choice. It won't be bulky like the giant Ergobaby or BabyBjorn carriers, and you can make it a part of your packing items for a trip.
One more thing: if you're flying with your baby or your family, you can probably have this entire baby carrier fanny pack around your waist and it won't count as your personal item when you fly. That is such a good travel hack!
How to buy the Baby Tula Carrier Lite
The best way to buy the Baby Tula Carrier Lite is at the product page on the Baby Tula website.
By purchasing through Baby Tula directly, you benefit from the company's Limited One-Year Warranty, which will require a valid proof of purchase.
Another reason to buy through Baby Tula directly is to receive a complimentary Baby Carrier Fitting Check with a "professional baby-wearing consultant." These appointments are done by Zoom, either on your computer or your phone, and will teach you how to safely and correctly wear your baby in your Baby Tula product.
My appointment was only ten minutes, and Kristina, the fit consultant, was helpful in teaching me how the strap elastic should be in the buckle, and how to get the hang of the buckle across my back.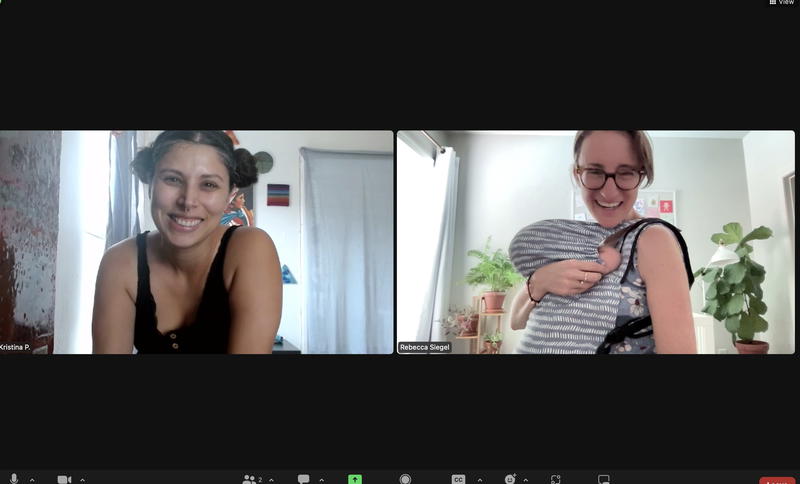 Other Baby Tula products to try
Baby Tula has a lot of appealing products for parents, from the Standard Baby Carrier, which holds a child up to 45 lbs, to the Preschool Carrier, which holds a kid up to 70 lbs!
Parents really like Baby Tula for products that allow them to carry babies and children past the toddler stage, as babywearing and childwearing is a way to keep your little ones close to you.
Also — this is adorable — Baby Tula makes a Mini Toy Carrier so that toddlers and children can be "just like Mom or Dad" and carry around their own doll or toy in a child-size carrier.
Supportive carriers are going to always be great for things like hiking and long days of travel, so I hope you find the carrier that is right for you!
Enjoyed our article?
Consider supporting us! We're a 2-person team (learn more about us here) and your support enables us to create quality content. Thank you!