The Best Baby Carriers for Travel (Packable, Comfortable and Lightweight)
Written by Becca
•
Updated on September 23rd, 2023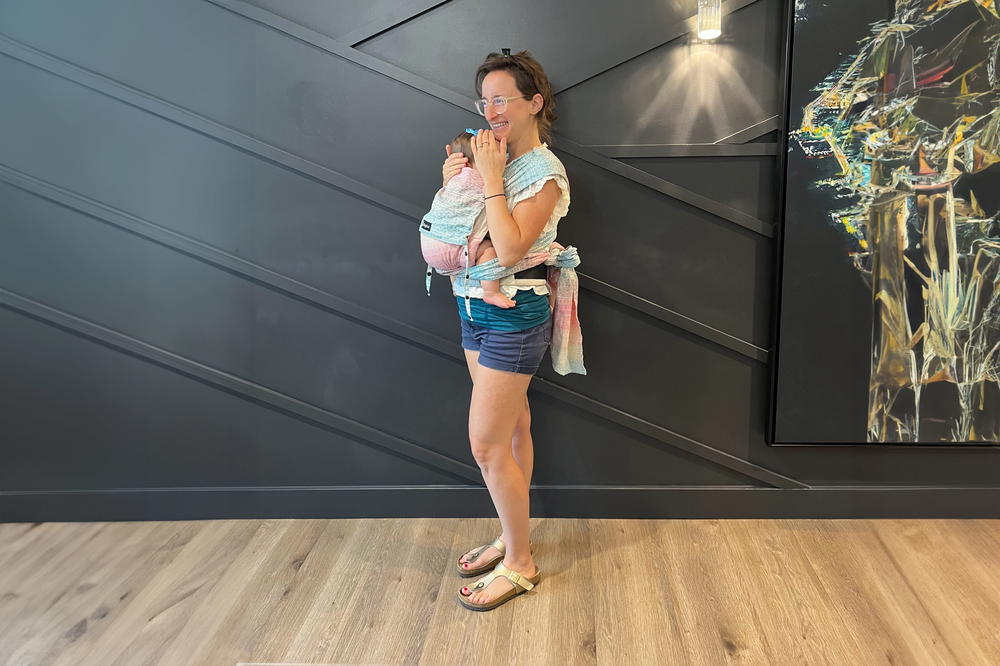 What are the best baby carrier brands and products for travel, especially for families? Check out this list of the best compact, packable and comfortable slings, carriers and wraps.
This article may contain affiliate links. We earn a small commissions when you purchase via those links — and it's free for you. It's only us (Becca & Dan) working on this website, so we value your support! Read our privacy policy and learn more about us.
Table of contents
Close table of contents
As a new parent who got into "baby-wearing" during our baby's first month of life, I found out that there was a lot to learn. I started "wearing" my child in a baby wrap and then a more traditional baby carrier. The question was, though, which one should I take with me during a trip?
As my daughter has grown, I have been through several baby carriers (okay, four of them) and I've finally landed on which ones I like. Seeing that different parents have many different preferences of what works best, as well as which type of travel they engage in, what are the best baby carriers for travel?
Transparently, I've tried four carriers (which is even quite a few), and I have my own opinions about which one is best for packing, which one is best for flying on a trip with a baby and which one is best for comfort. But my friend Rachel is a baby-wearing expert (and hobbyist) who has owned 11 baby carriers to date.
I would've been remiss if I didn't ask her which baby carriers are best for travel, from the ones that are compact enough to pack in a suitcase to the ones that won't kill your back if you choose to go hiking with your baby, up through toddlerhood.
Rachel was kind enough to provide a ton of the info you'll see below, about all her baby carrier picks. I think this will help any parent a great deal based on all her incredible knowledge of a variety of baby-wearing products. Also, scroll all the way to the bottom of this article for some cool baby-carrying resources Rachel would like all parents to see!
Let's get started on seeing which baby carriers are best for your style of travel, starting with a bit of a background.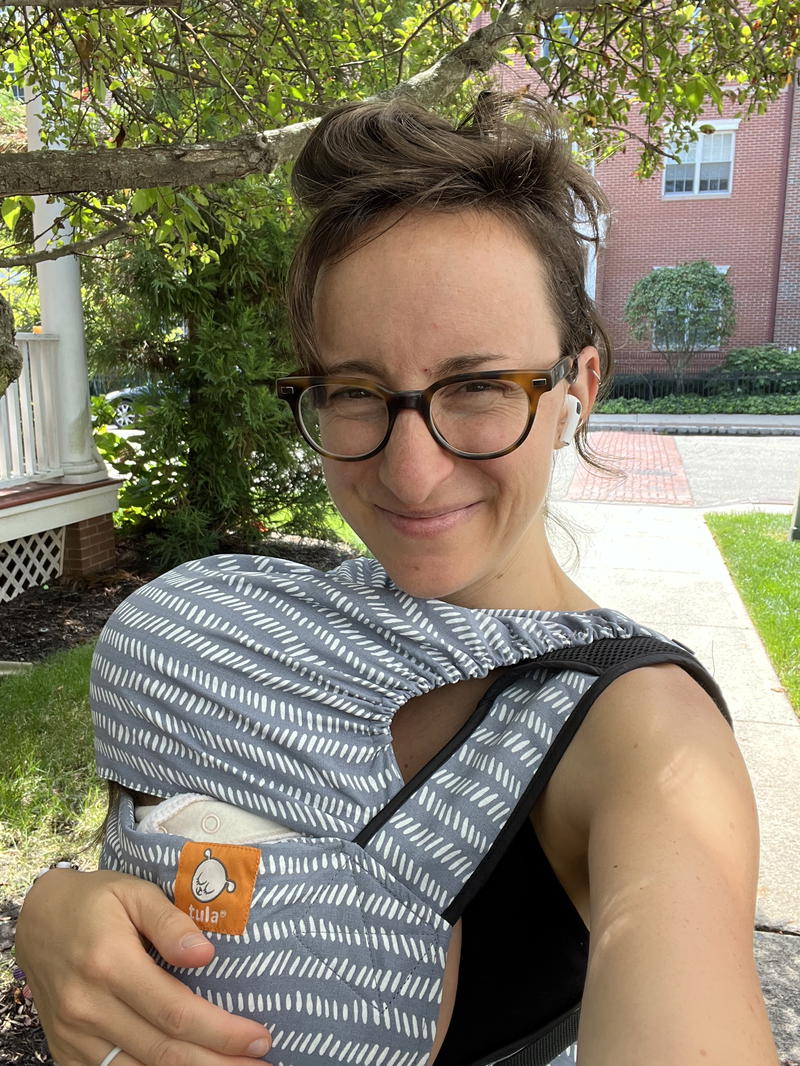 Some background on baby-wearing during travel
Rachel says that there is "no single best baby carrier for travel," but there is for sure an excellent baby carrier out there for any type of traveler and any type of trip.
Depending on your child's size and developmental stage, and depending on your destination, you may even want to bring multiple baby carriers with you when you pack your backpack or suitcase. Of course, this is easier if you're taking a road trip with your baby and have the luxury of space to throw things into the car, rather than flying.
Rachel also recommends keeping in mind that (except for some wraps) no baby carrier is "one size fits all." Certain brands or styles may be much more or less comfortable for you and your baby, based on both of your body types (because babies, as well as adults, come in many shapes and sizes!).
If at all possible, it's a good idea to find a local baby-wearing group or library, or participate in a "try-before-you-buy" program.
By the way, Rachel has provided her ratings (I'm calling them "Rachel's Ratings," which I think she's going to get a total kick out of) of all the baby carriers listed below, based on her experience with a bunch of baby-wearing options. I truly don't know anyone who has more experience across so many brands and styles! Thanks, Rachel — you rock.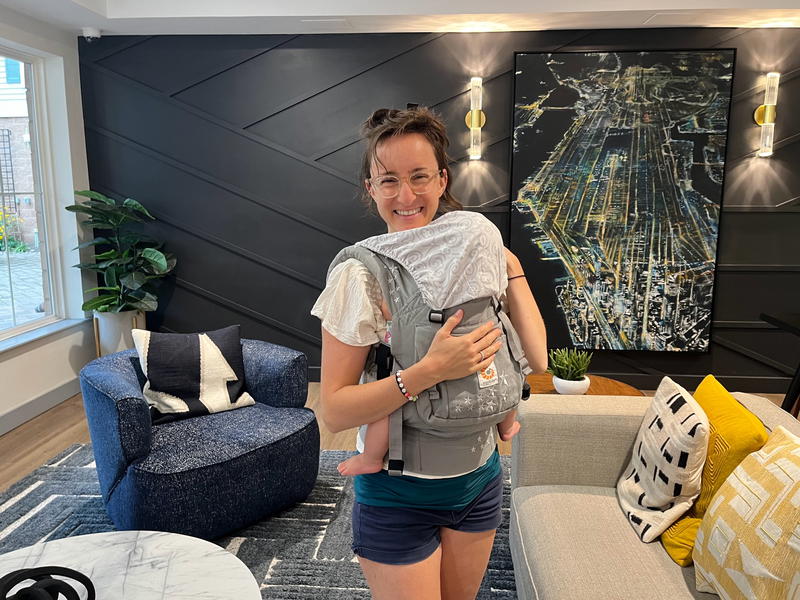 My personal favorite baby carrier for travel
Before we get into ALL your options for travel-friendly baby carriers, I'll call out the baby carrier I'm currently using with my child!
I use the Baby Tula Carrier Lite, which I talk about in this in-depth review. It folds up into a fanny pack that you can use as a purse for a few handy essentials (phone, wallet and keys — even a sunglasses case!) and it's a great product to "wow" your friends with.
It's packable, lightweight and pretty comfortable, all at a moderate price and in a few fun designs and neutral colors. I'll be taking it on every trip, and it's great for the airport. When I'm not traveling, I keep it in the car!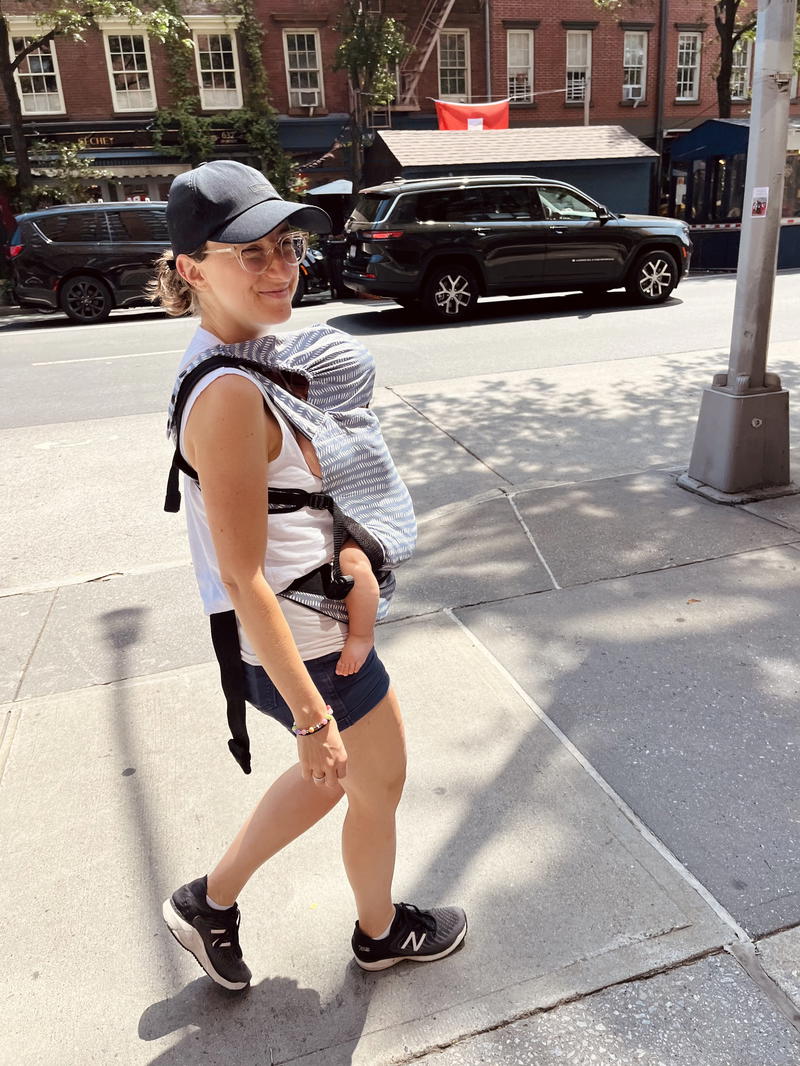 Best travel baby carriers for newborns (under 10 lbs/4.5 kg)
Rachel calls out that newborns get their own section of the list of the best baby carriers for travel, because most carriers in the other sections are not ideal for babies as small and fragile as newborns. If your baby is bigger or older, skip this part!
Helpful Tip
Also, consider that babies born with lower birth weights may be at an average "newborn" weight for longer than babies born at average or above-average birth weights who gain weight quickly after birth.
Stretchy baby carrier wraps
Stretchy wrap carriers are an excellent choice for very small babies. Stretchy baby wraps pack up tiny, are super comfy and are truly "one size fits all," making them a one-and-done solution for your baby-wearing during a trip.
They come in a variety of weights, patterns and colors, so it's easy to dress them up or down in every season. The catch is that tying them up and fastening them safely has as bit of a learning curve, though in Rachel's opinion, "it's well worth it."
I can say the same, from my experience in using the Solly wrap as the first baby carrier I ever tried with my newborn!
There are a ton of products in this category of newborn baby carriers for travel, and they differ only in look and fabric weight/composition.
Stretchy baby carrier wraps: Carry options
When talking about "carry options," this will refer to how your baby will be carried on your body. With stretchy wrap carriers, your baby faces inward, frontward toward your body and against your chest and torso.
Best stretchy baby wrap carrier for travel: Boba Wrap Carrier
The Boba Wrap Carrier is a favorite option for baby-wearing while traveling with newborns because it's affordable and packs up into a packing cube like clothing would.
It comes in quite a few different designs, from solid colors to polka dots and geometric patterns. What's great about a wrap carrier, aside from fitting neatly in your suitcase for your trip, is that it can be worn by either parent or any relative. The "wrapping" becomes intuitive after watching a few video tutorials.
Full buckle newborn carriers
A "full buckle newborn carrier" offers a cuddly, lightweight and adaptable carry solution for parents who don't want to learn how to tie a wrap carrier (and this is very valid!).
Note that some popular baby carriers in this product category (BabyBjörn Mini, Infantino Swift) do not have a hip-healthy design, and may exacerbate hip dysplasia and other postural issues.
This being said, check out the ideas for your carrier options below, for your next trip.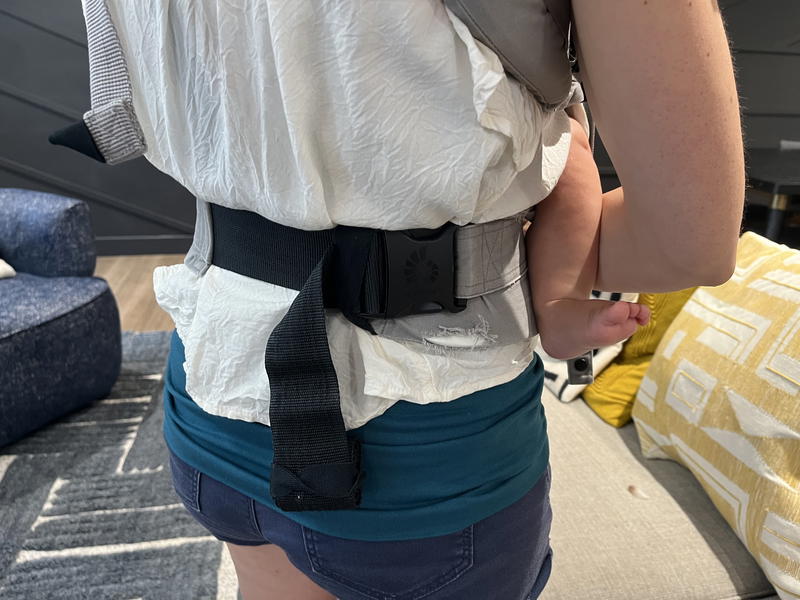 Full buckle newborn carriers: Carry options
For "full buckle" baby carriers that work nicely for newborns, the carry style is frontward and inward-facing, just like a wrap carrier.
Best full buckle newborn carrier for travel: Ergobaby Embrace
The Ergobaby Embrace newborn carrier holds a baby between 7-25 lbs and has a safe and supportive design through both a padded waist belt as well as cross straps, and neck support. It comes in a knit version as well as a mesh version.
Rachel's Ratings: Ergobaby Embrace & full buckle newborn carriers
Weight & packability: 5/5
Comfort: 4/5
Ease of use: 5/5
Style & looks: 3/5
Get the Ergobaby Embrace
Best travel baby carriers for packability
Now that you're a traveling parent, I know what you're thinking: "I want to take a baby carrier that packs small into my luggage."
Packing is one of my biggest challenges when I travel, as I talk about in my (attempted) guide to being a minimalist on the road. Here are some options for easy-to-pack baby carriers that will fit effortlessly into your bags.
Ring sling baby carriers
As the ultimate choice in packable convenience, Rachel describes "ring slings" as "a length of woven fabric with two rings (usually aluminum) sewn into one end."
With some practice, they can be an extremely quick and convenient way to carry your baby comfortably, for up to around 30 minutes or maybe even longer.
Many parents keep a ring sling carrier folded up in the diaper bag, just in case their independent waddler or toddler gets tired of walking, or just wants to be held.
Ring sling baby carriers: Carry options
Ring sling carriers will have the baby facing inward, and to the front of your body as the baby-wearer. Usually, the baby will also be supported at the hip.
The best ring sling baby carrier products for travel
Here are a few ring sling recommendations from Rachel, to consider for your next trip at home or abroad.
The Wildbird ring slings are made of linen and come at an affordable price point. I had one, and personally decided that it wasn't for me, so I gave it to another mom. It might be for you, though, and Rachel likes these a lot.
The Didymos ring sling is made of heavyweight cotton and has a precise amount of stretch. The price is on par with the Hope & Plum ring sling mentioned next.
These beautifully-patterned ring slings are made of a hemp blend fabric for a soft feel and full support. The price is about double that of the Wildbird.
Rachel's Ratings: All packable ring slings for travel
Weight & packability: 5/5
Comfort: 3/5
Ease of use: 3/5
Style & looks: 5/5
Apron-style carriers
Rachel describes compact apron-style carriers as full buckle carriers that have less material, structure and padding. They fold down to become very small, and give a sleek look when worn, but can become uncomfortable after a substantial length of time, especially with a larger baby.
Apron-style carriers: Carry options
With an apron-style baby carrier, you'll have the baby facing front and inward toward you.
For a baby aged 6+ months, you can consider doing a "back carry," if their neck is strong and supportive.
The best apron-style baby carriers for travel
This carrier is fully adjustable, breathable and is made of linen, making it 50% lighter than many other similar options.
This apron-style carrier and is good for petite women because of the short straps. Note that it comes in three sizes, from "baby" to "preschooler."
This apron-style carrie ruses rings instead of buckles, and is a more luxury type, ranging from the linen carrier to the leather and silk option, among other high-end materials.
Rachel's Ratings: Apron-style baby carriers for travel
Weight & packability: 4/5
Comfort: 3/5
Ease of use: 3-5/5
Style & looks: 4-5/5
Onbuhimos
Onbuhimos are a traditional Japanese carrier style in which the child sits up high on the back of an adult, and is secured by shoulder straps, but no waist belt.
As it uses very little material, the onbuhimo packs down very small, which is great for taking one on a trip; however, its lack of a waist belt can make it harder to wear comfortably for long periods of time without superior upper back strength.
It's a favorite of pregnant mothers, as it provides a supportive carry with no waist pressure. This is great to know (thanks, Rachel!). Some models of these baby carriers can be worn on the front with smaller babies.
Onbuhimos for travel: Carry options
Using an Onbuhimo baby carrier on your trip will have your child facing front and inward. For babies older than 6 months, you can try back carrying if they support their head well.
Best Onbuhimos baby carriers for travel
This one uses rings instead of buckles, available in a wide range of fancy textiles, from raw cotton to silk or linen.
The DidyGo is made from cross twill and is great for toddlers who are constantly going up and down.
Rachel's Ratings: Onbuhimo baby carriers for travel
Weight & packability: 5/5
Comfort: 3/5
Ease of use: 5/5
Style & looks: 4-5/5
Best travel baby carriers for "long carries" and hiking
We're calling out the types of carriers that are best for carrying your baby for a long time (think all-day sightseeing while traveling) as well as hiking, because the features that make them the 'best' are a bit different from the 'best for packing' carriers recommended above.
The baby carriers that will be best for wearing your baby for many hours during a travel day or during a hike (aside from hiking-specific baby carrier backpacks, which we're not getting into in this list) will support you and your baby.
They might not be quite as packable for travel, but they prioritize comfort for longer periods of time. It's kind of like you have to choose packability versus comfort and figure out which feature you prioritize for your upcoming trip.
Full Buckles
Full buckles are the carriers you probably already know about. They look kind of like backpacks for a baby, with padded shoulder straps and structured waist belts. I have been using the Ergobaby Original carrier and it's a full buckle one.
The panel for a baby is often padded with canvas or another material, instead of being constructed simply out of fabric, in these types of baby carriers.
Rachel noted that there are a ton of styles and companies in this product space, and you can find something for every price point, fabric and taste. At the end of the day, there is no wrong choice here, except for carriers that are not hip-healthy. This includes many BabyBjörn styles, so keep an eye out for those.
Full buckle baby carriers: Carry options
With full buckle carriers, you'll have the baby facing inward toward you in the front. At 5+ months, some models of full buckle carriers will have the carrier on your front, with the baby facing outward. Our baby enjoyed this option at 5 months!
Starting at 6 months, you can use a full buckle carrier on your back. Also, some models will let you carry a baby on your hip in these, but it's rarely comfortable if you see how it looks.
The best full buckle baby carriers for travel
I think the ErgoBaby 360 is great! The Omni model offers the option to cross the straps for more petite wearers, like me.
Baby Tula is one of my new favorite brands. The standard model is for babies 6+ months old, whereas only the Explore faces forward and doesn't have a hip option. The Free to Grow is for children from 7 to 45 lbs. There's also the Preschool carrier for bigger kids.
This full buckle carrier has crossed straps only, and no front-facing or hip option.
This one offers the option to cross the straps for more petite wearers. Note that there's no front-facing option.
Rachel's Ratings: Full buckle baby carriers for travel
Weight & packability: 1-3/5
Comfort: 5/5
Ease of use: 4/5
Style & looks: 1-5/5
Woven wraps
Rachel says that woven wraps are simply lengths of fabric that can be used to wrap children of almost any size (yes, even big kids up to four years old!) to your body.
She makes a point that the learning curve is very very steep, but once you've got the hang of it, a shorter wrap can be a remarkably packable, comfortable and adaptable option for front and back carry.
Woven baby wraps for travel: carry options
Like many of the other baby carrier choices Rachel recommends, woven wraps are either for front and inward-facing carries, or, for babies 6+ months, back carrying.
Best woven wrap baby carriers for travel
These woven cotton baby wraps are beautiful, and also come in linen, bamboo viscose and cotton-silk blends.
While this company doesn't have too many different products in baby carriers, they specialize in ring-spun cotton warp and all products are made by hand. They also do custom requests.
Rachel's Ratings: Woven wrap carriers for travel
Weight & packability: 3-5/5
Comfort: 5/5
Ease of use: 1-2/5
Style & looks: 5/5
Half buckles and Meh Dais
Rachel introduced me to half buckle carriers, and Meh Dai carriers! These types of baby carriers are crosses between woven wraps and more structured carriers.
Meh Dai is a traditional Chinese baby carrier style made of a panel of fabric with four woven straps. Two straps tie around your waist and two over your shoulders.
"Half buckles" are Meh Dais with padded and buckled waists for convenience. They both offer the comfort and compactness of a woven wrap, with a fraction of the learning curve.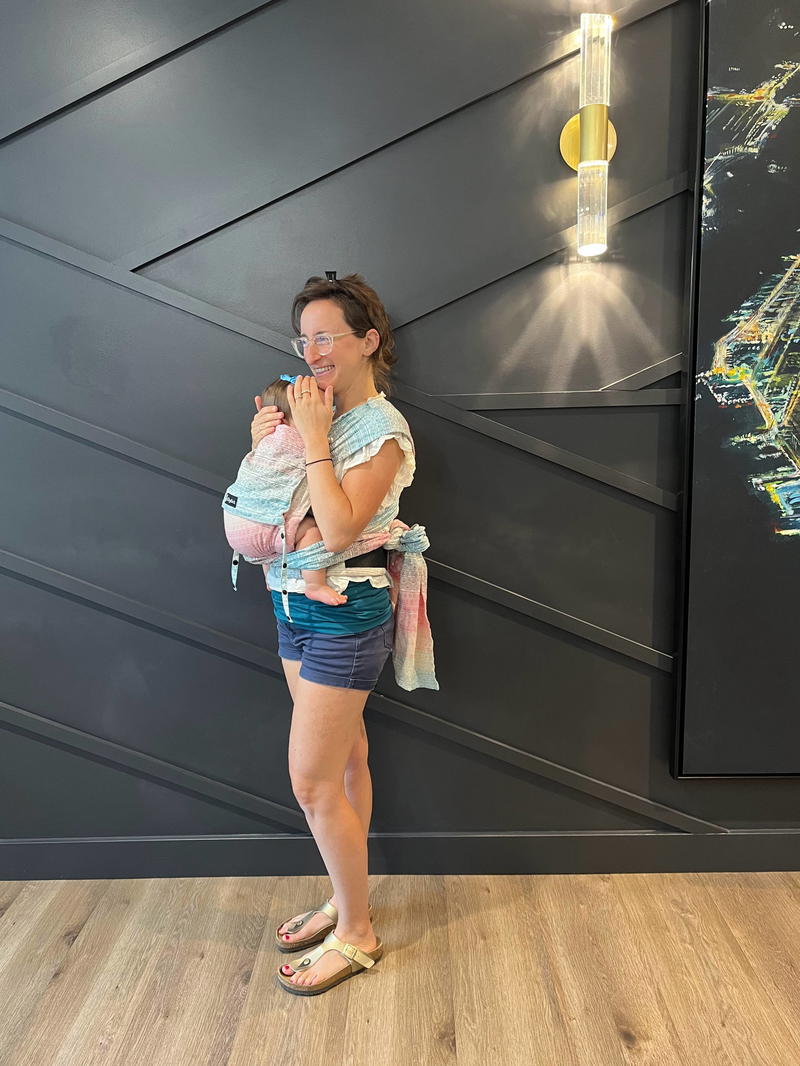 Half buckles and Meh Dais: Carry options
Half buckle baby carriers and and Meh Dai baby carriers can have your child facing front and inward by default, or on your back (for older than 6 months). Lastly, hip carrying is also an option.
Best half buckles and Meh Dais for travel
Check out these suggestions of which ones Rachel thinks are the best!
Rachel's Ratings: Half buckles and Meh Dais
Weight & packability: 3-4/5
Comfort: 4-5/5
Ease of use: 3/5
Style & looks: 5/5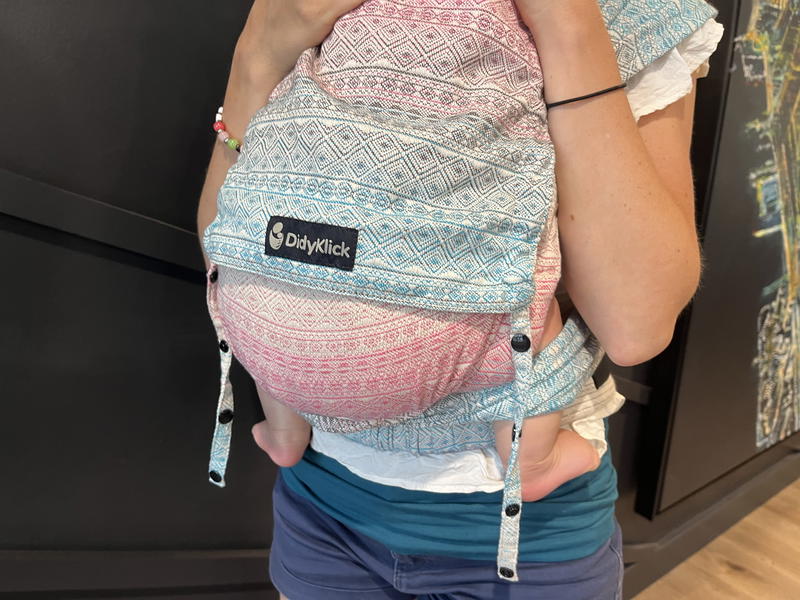 Baby-carrying resources
For parents looking for a central resource on hip-healthy baby carriers and hip-healthy certified carrier database, along with research partners, check out the International Hip Dysplasia Institute.
Additionally, you can post "baby-wearing fit checks" in r/babywearing on Reddit.
And lastly, the Center for Babywearing has a baby-wearing consultant locator tool so that you can find a babywearing consultant near where you live.
Enjoyed our article?
Consider supporting us! We're a 2-person team (learn more about us here) and your support enables us to create quality content. Thank you!