Nike Convertible Diaper Bag Review: Unisex and Travel-Friendly
Written by Becca
•
Updated on November 16th, 2023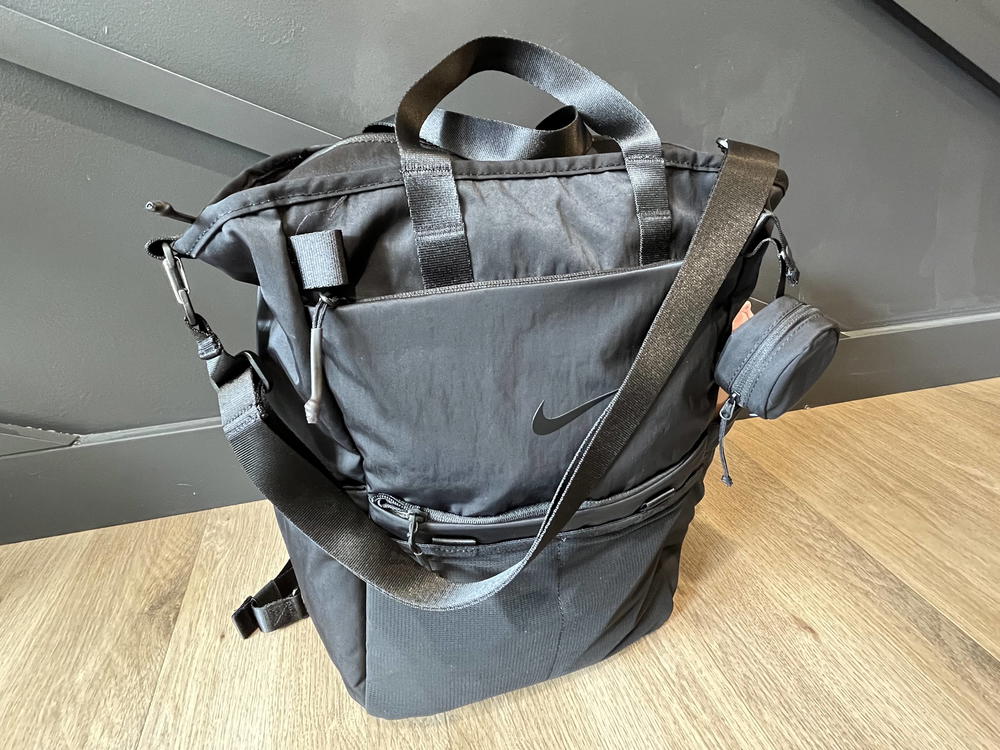 I review the Nike Diaper Bag as a changing bag for parents on the go! Is this a worthwhile travel changing bag for both mom and dad? Take a look.
This article may contain affiliate links. We earn a small commissions when you purchase via those links — and it's free for you. It's only us (Becca & Dan) working on this website, so we value your support! Read our privacy policy and learn more about us.
I've been on the hunt for the perfect diaper bag for 10 months now, believe it or not. I've been through two backpacks and a Fanny pack before finding out about Nike's Diaper Bag from the "maternity collection."
I think it's fantastic to be a parent on the go. It also works as a pumping bag, which is how I wound up using it for the first time.
In this review, I'll focus on all the thoughtful features of the Nike Diaper Bag and determine if it's worth the price tag.
As a disclaimer, this review is not sponsored; however, Nike sent me this diaper bag as a gift to try out and provide my thoughts on.
Nike makes a diaper bag?
I'm not the most sporty person, but I like a good workout and I like the Nike brand. I also didn't want to "give up" my former identity when I had a baby. Previous to my pregnancy, I could be found wearing athleisure wear every day of the week. I was often biking, running and doing yoga.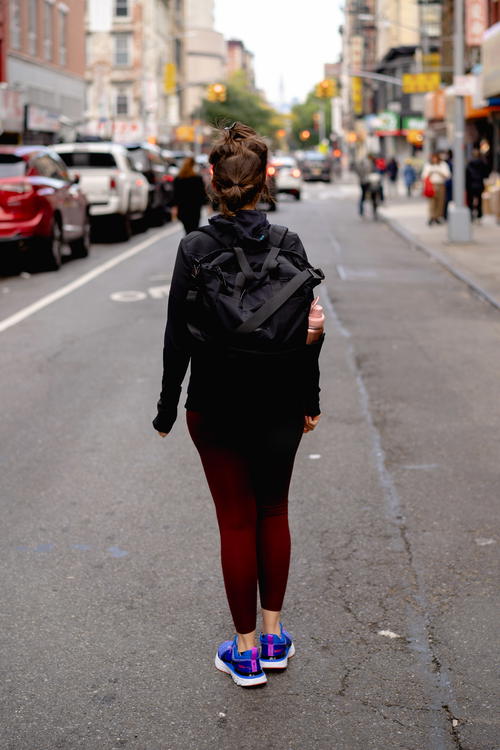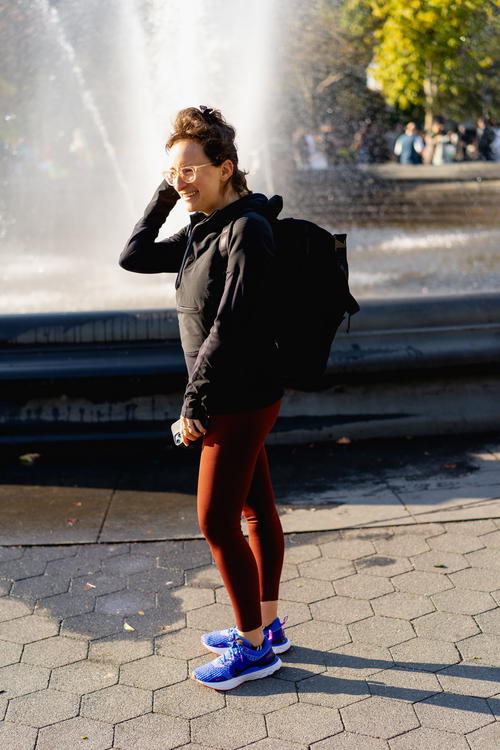 It's 100% gender neutral!
Now as a mom, I'm getting back into my style. And I don't want a diaper bag that doesn't go with my look! I also don't want a diaper bag that's "clearly a diaper bag." And I'm more inclined to have one that my husband Dan wants to use, too.
Nike made this sleek and cool diaper bag for moms and dads who want all their baby gear from a trusted brand. While Nike certainly isn't a brand for baby stuff, I welcome the company's foray into parenting products!
The Nike Diaper Bag almost looks like a gym bag, which is appealing to stylish and active parents.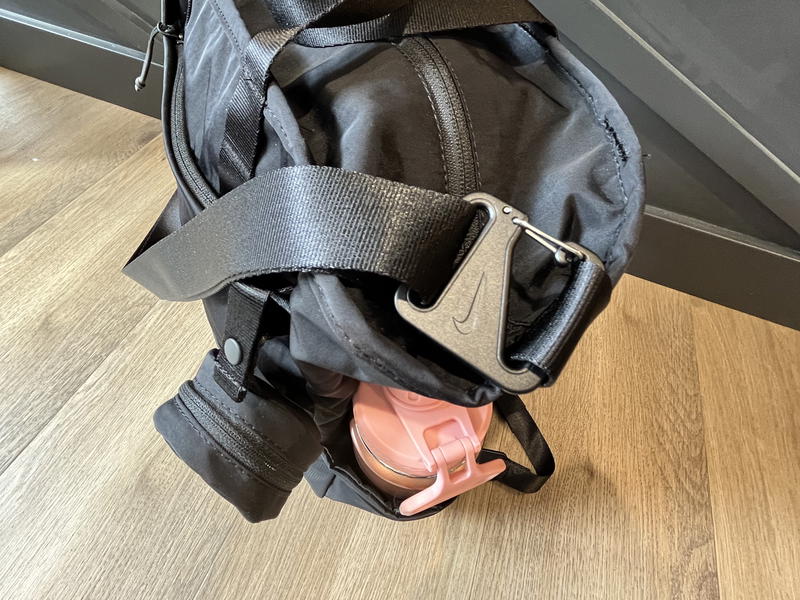 After testing out and using the Nike Diaper Bag, I think my favorite features are the way to wear it and how much it fits.
It's a minimalist black backpack (convertible to a tote bag and shoulder bag) and it has an excellent number of pockets. Two flat zipper pockets line the front of the bag, with two mesh pouches.
The straps are nice and firm, and have a silky finish. All the zippers have the "teeth" facing inward, so they look hidden.
There's a grab handle, a snap-on zip-around pacifier pouch and two side water bottle holders.
Inside, there's the Nike insulated baby bottle cooler, more pockets and an option for side back opening on both sides.
The front has a small black Nike logo that's noticeable but not overwhelming or too brand-forward. Overall, it's completely unisex and is equally for "Dad" and "Mom."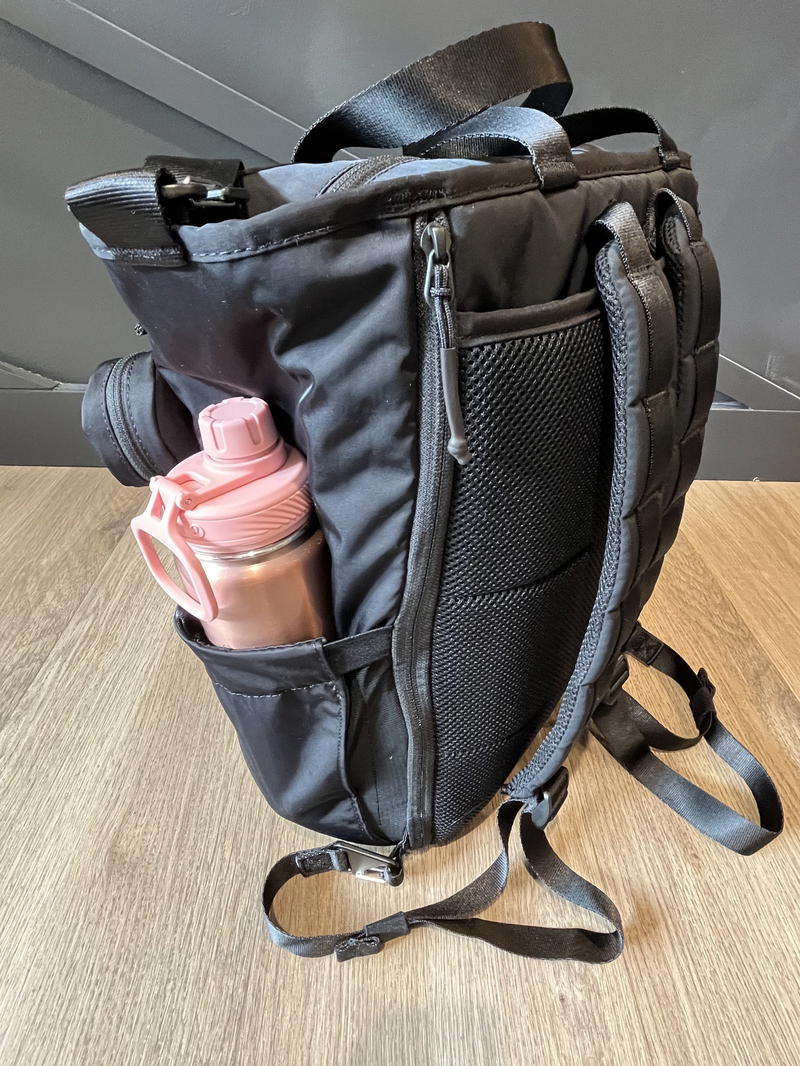 Best parenting and travel features
We take a diaper bag (or pump bag) with us if we are out for an hour at the park, or taking a day trip to Philadelphia. The Nike Diaper Bag proved excellent for travel, because of the features I review here!
Overall backpack size
The Nike Diaper Bag is 25L, which means it probably fits under the seat in front of you if you are on a flight. It could be a personal item. If your baby or toddler is a lap infant and will be spending a flight on your lap, your child will probably get a "free" personal item, which will be their diaper bag. If you plan to fly with your baby, you may like my list of the best tips for a flight with a baby.
When I packed the Nike Diaper Bag for a day trip to Philadelphia, I was able to fit baby food, changes of clothing, a sleep sack, a plush book, diapers, wipes, our changing pad, a travel sound machine and more! On the product page, there's a cool video with someone packing things in the bag from a top-down view.
For traveling with our baby on a road trip, I have more ideas of what to keep in the diaper bag in this road trip with a baby packing list.
3 ways to wear and carry
Typically, I'll use a diaper bag as a backpack. With the Nike convertible diaper bag, I'm inclined to also use the single shoulder strap (which is removable) as well as the tote handles for a tote bag carry.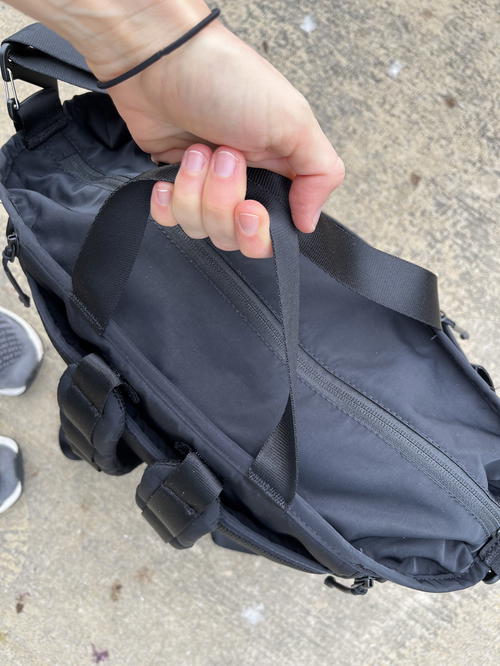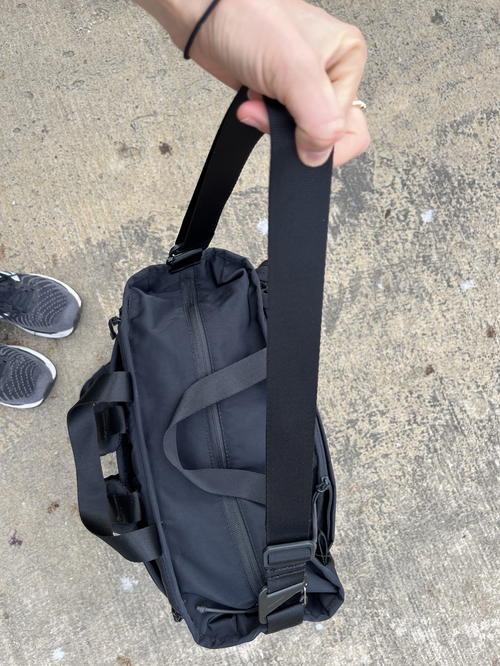 Insulated bottle cooler
This might be my favorite feature that I used the first time I took the Nike Diaper Bag out for a day. The handy insulated cooler has a top handle and fits 3 small 5-oz bottles (without nipples) or 1-2 tall bottles with nipples and covers. Having a cooler is part of my best ideas for how to feed a baby during travel.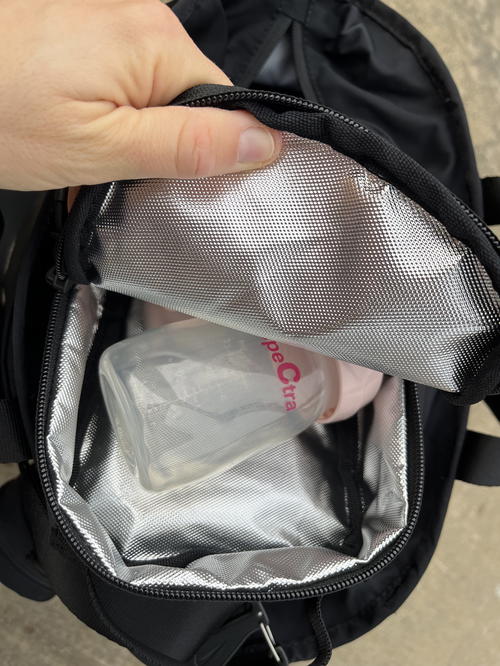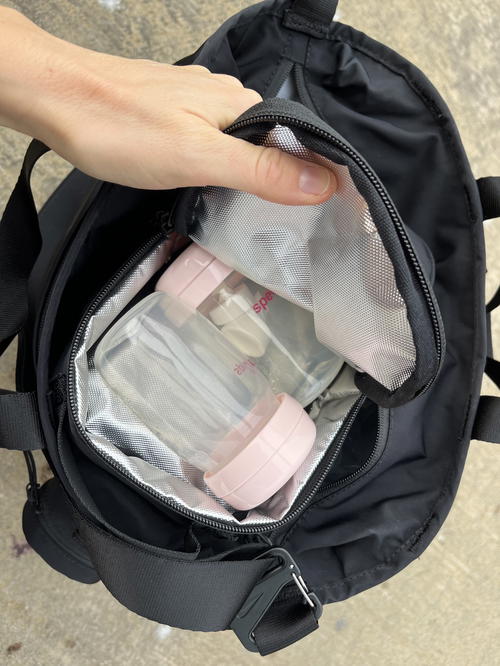 Pacifier holder pouch
Wish I'd had this diaper bag earlier, so we wouldn't have had to buy an a-la-carte silicone pacifier holder! This Nike one is removable and re-attachable via snaps on both sides of the bag's front.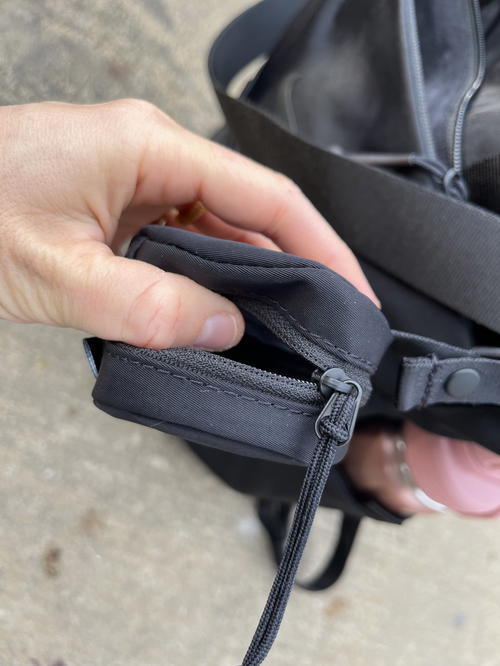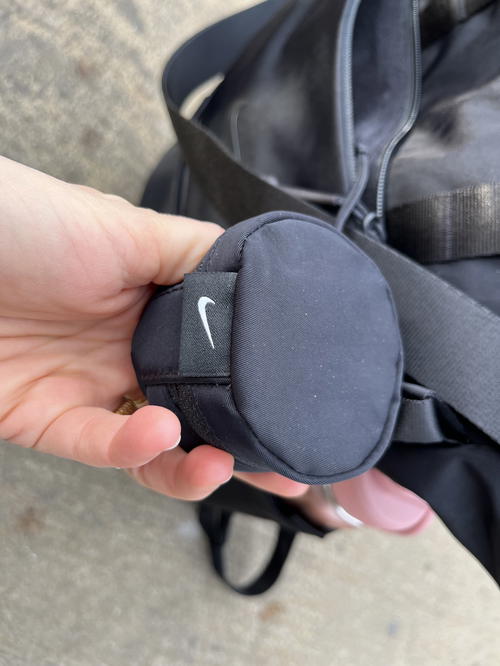 So many zip and mesh pockets
With more interior pockets than a regular backpack, I'm happy with the interior mesh pockets. I keep wipes, bibs, burp cloths and baby spoons in them.
2 water bottle holders
Whether you're a lefty or righty, two water bottle holder pockets make having your drink convenient. One can also be used for a bottle or baby's drink container.
Back zipper access
I've never seen this feature on a diaper bag! A zipper on one side of the back panel lets you access everything inside from a vertical opening.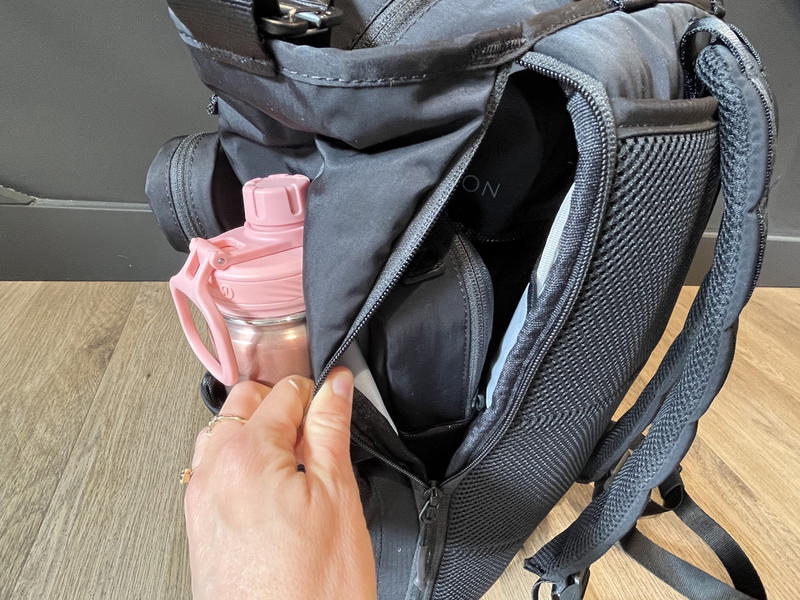 Stowable backpack straps
The backpack straps are strong, and also storable in a dedicated compartment for when I want to transition to tote carrying.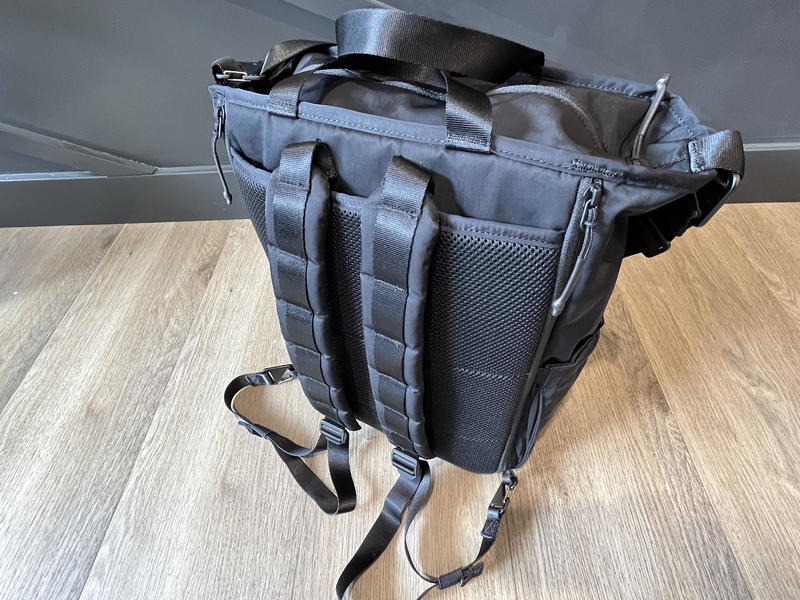 Lined tech pouch for parents
The front exterior top zipper pocket is for Mom or Dad's tech: this pouch is lined with fuzzy fabric for phones, chargers and earbuds.
Laptop pocket/sleeve
I use the laptop sleeve for my changing pad, but I'd use it for a laptop if I were out at a meeting and needed to have all my pumping stuff with me.
I would have liked to see a double zipper for the main compartment where it closes at the top. The single zipper is fine, but if stuffed to the brim, having two zippers too close in the center is useful.
A second optional bottle cooler would be a bonus, to fit different brands of bottles. For example, we used Como Tomo bottles for quite a few months, and they're a bit rounder and wider than other standard bottles like Lansinoh or Dr. Brown's. Nevertheless, they fit standard pump bottles.
Using the Nike Diaper Bag as a travel pumping bag
Given that this Nike backpack is 25L, I was hoping it would fit my entire pump. I use the Spectra S1, and I had to attend a conference in NYC the first time I used it.
Here's what fit in the Nike Diaper Bag on my day out at a conference:
Spectra pump
Nike bottle cooler (included in the diaper bag) with 2 5-oz. Spectra bottles
Lansinoh hands-free pumping bra
Scarf for pumping privacy
Ziploc bag with flanges
Snacks!
Large water bottle
If you're using a travel pump, that'll likely fit with even more space to spare.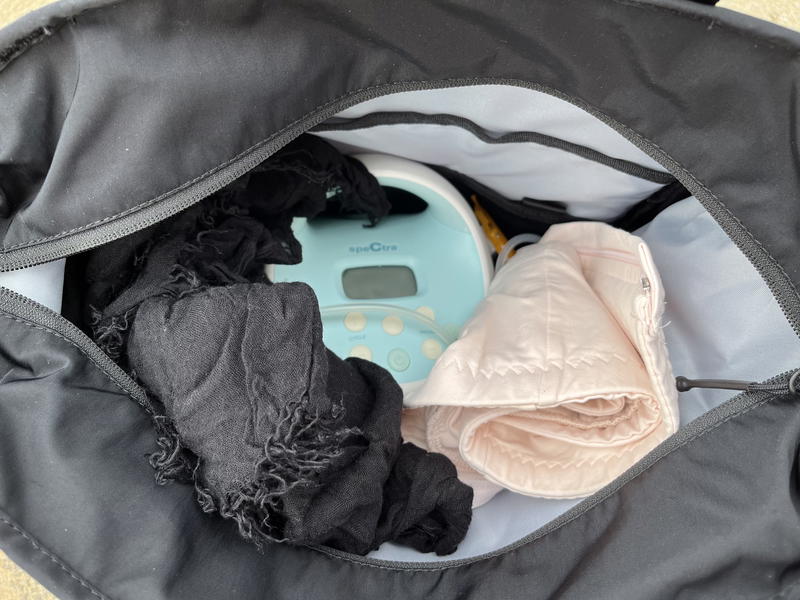 I think yes, for all the cool features of this diaper bag as well as its size. Plus, when you're done using it as a diaper bag, it's a gym bag, backpack for family outings and personal item on a flight. It doesn't look like a diaper bag, which is a part of why I think parents will like it a lot.
It's also a diaper bag that both parents could agree on, because it's neither feminine-styled, nor masculine.
This bag is easiest to buy on Nike.com, where you'll get free shipping for orders more than $50.
Enjoyed our article?
Consider supporting us! We're a 2-person team (learn more about us here) and your support enables us to create quality content. Thank you!