Public Rec Women's All Day Jogger: An Enthusiastic Review
Written by Becca
•
Updated on September 6th, 2023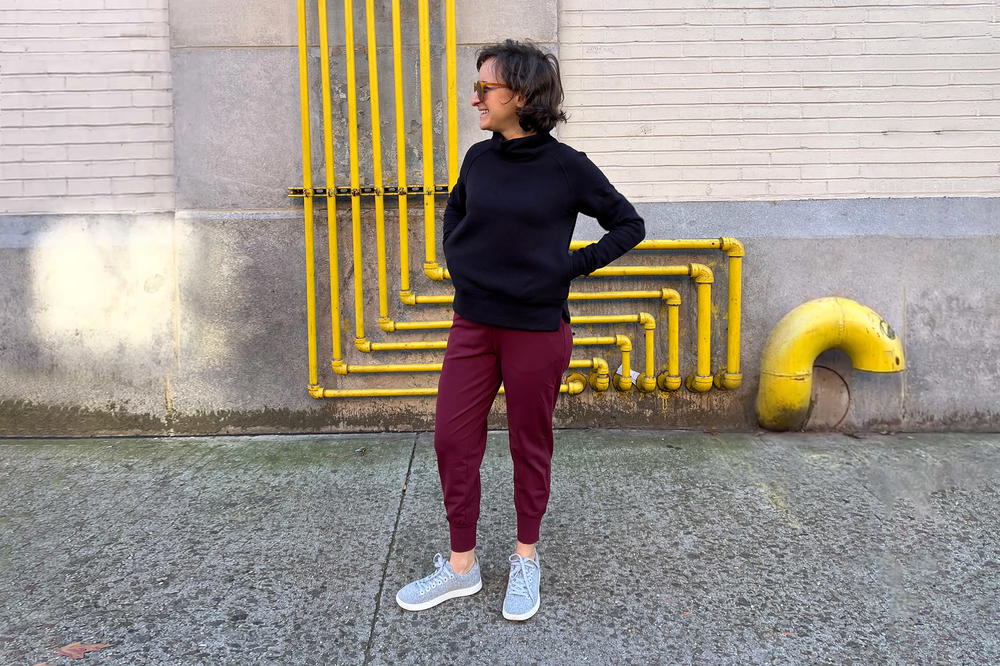 My review of the Public Rec women's All Day Jogger discusses why these versatile athleisure pants are good for travel, fit nicely for petite women and flatter anyone nicely.
This article may contain affiliate links. We earn a small commissions when you purchase via those links — and it's free for you. It's only us (Becca & Dan) working on this website, so we value your support! Read our privacy policy and learn more about us.
I've had some other mediocre experiences with women's "jogger" products from a few other brands so far this year, so when I put on the Public Rec joggers for women, I was excited.
I was excited because these versatile joggers can finally replace the leggings I've been wearing for years. They fit the same use case of, "I don't quite feel like wearing jeans, and I want to be wearing bottoms that look okay with sneakers or tennis shoes."
Last call: save up to 30%!
The Public Rec deals are still live. Get up to 30% off sitewide. No coupon needed!
Enter the Public Rec women's jogger, called the All Day Jogger, officially.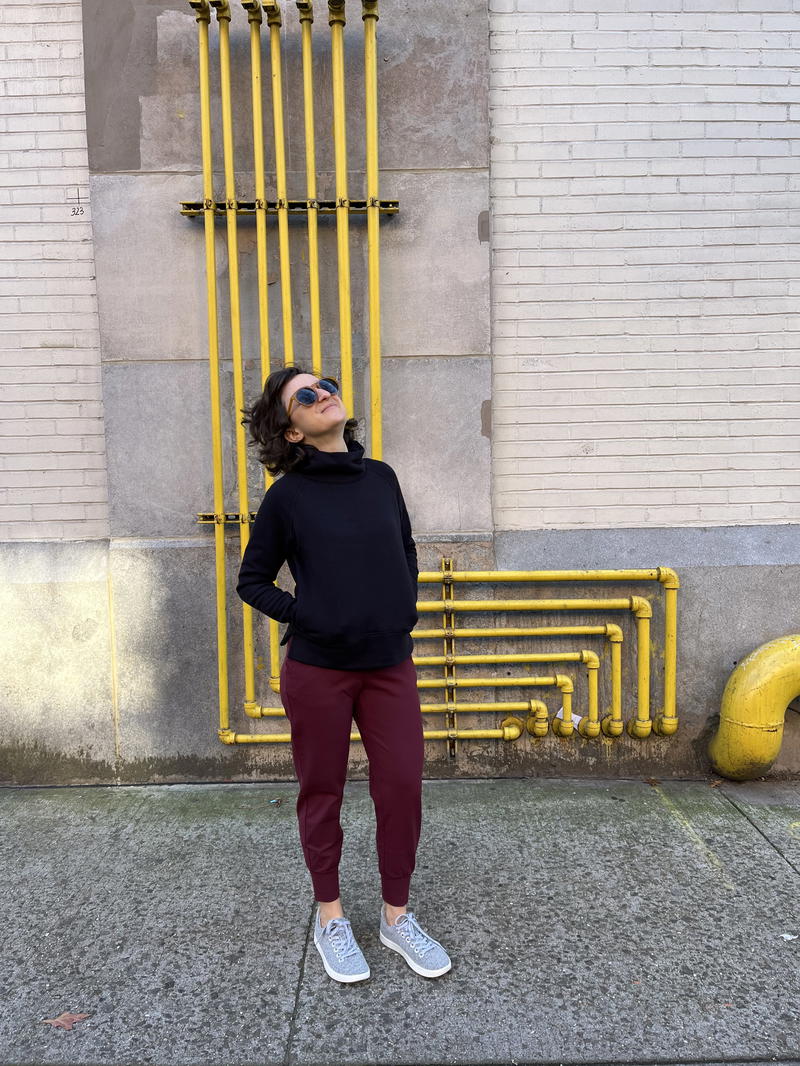 I'm excited about these joggers for women, especially because they're about to be my essential pants for travel. Continue reading to see why these comfy ladies' athleisure pants may be the next favorite thing in your closet.
What's the Public Rec brand?
Public Rec is a brand that we learned about this year as Dan was developing his guide to essential travel pants for men. Dan tried out the Public Rec men's joggers, which are reviewed in this roundup of the best men's joggers, and I thought, "Huh, that's the kind of thing I don't own right now, and probably should."
A few months later, here we are with me trying the Public Rec women's line and gosh, am I excited.
Public Rec is a cool and new brand for athleisure apparel. What's great is that they also market their garments toward really comfortable travel wear. Their mantra is 'comfort for everywhere' and 'comfort that looks good on everyone,' and I've gotta say: this hits the nail on the head.
All of the Public Rec apparel I've tried so far has been incredibly comfortable and attractive, as far as clothing goes. And as for accessories, there's the Adapt Belt Bag, aversatile, minimalist and useful waist pack that made my list of the best fanny packs for traveling.
What I mean is I could pair Public Rec clothes with something decent (joggers with a blazer and jewelry, or the Public Rec Hoodie with jeans and flats) and look sophisticated, yet secretly so comfy (and maybe even lazy).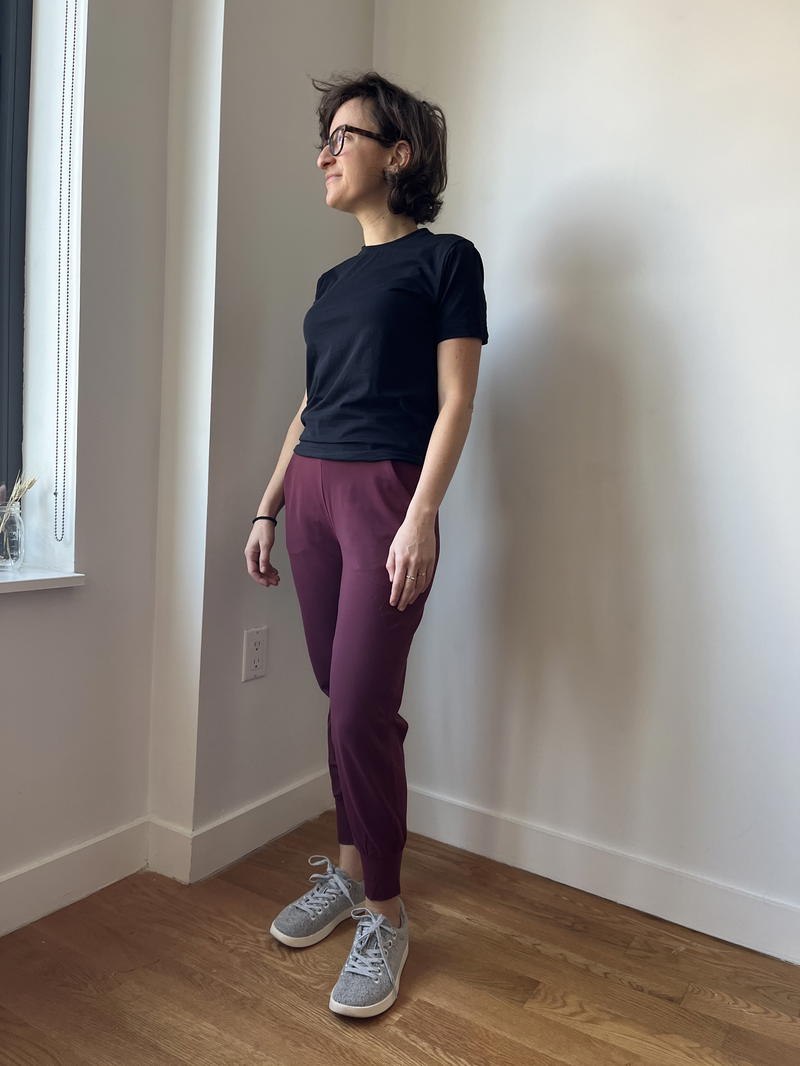 The Public Rec Women's Joggers: an introduction
On a typical day, I am working from home, or out on the go running errands and maybe seeing a friend for a dinner out or a drink.
When I'm running around NYC, I really like wearing sneakers like my Allbirds on the bottom, comfy pants that go with them (and don't look awkward) and toting my Away Daypack.
Joggers are what complete the picture. Now that I'm a grown-up (yay), wearing leggings is a little less sophisticated than a pair of tailored joggers that have great pockets, a gathering at the ankle and a flattering waistband.
The Public Rec All Day Joggers are designed to be highly versatile! They're made from Public Rec's proprietary fabric that I'll get more into later. The versatility is pretty sweet for this product, as you could easily work out in these joggers, and then head right to happy hour.
Women's All Day Joggers: the features
There are a bunch of stand-out features of the joggers. I'm listing what I like best, here.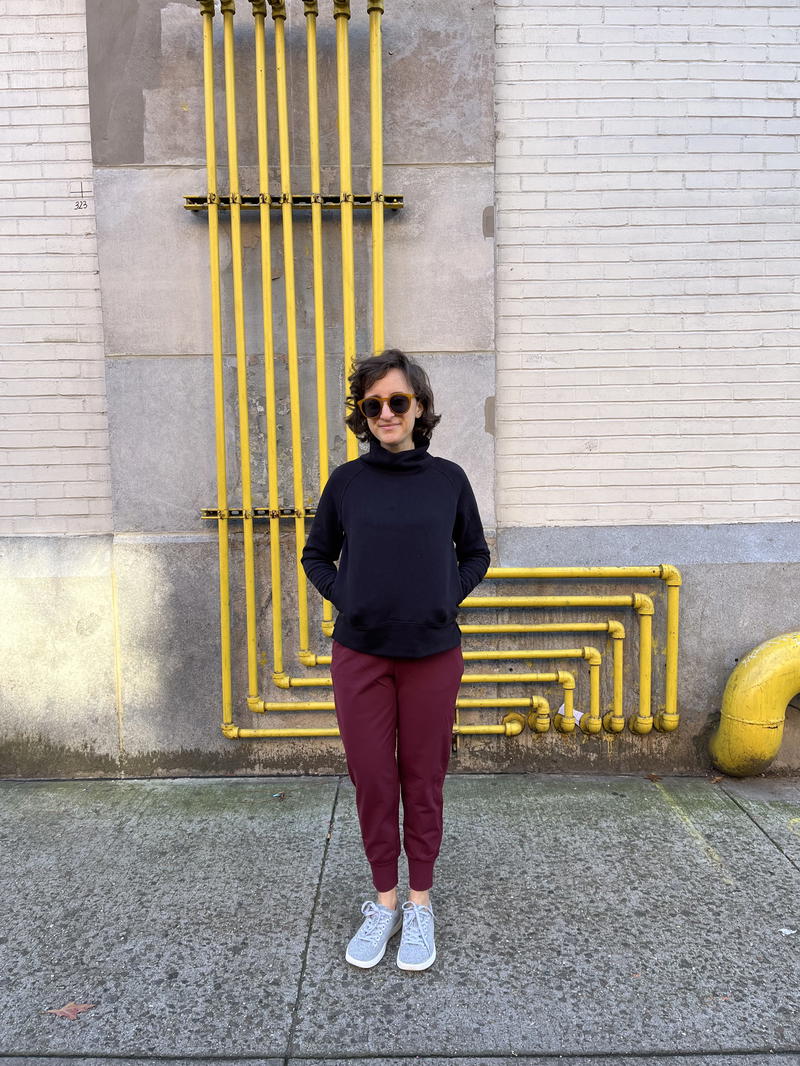 They're high-rise, for flattery
A lot of my leggings fit at my waist. Then, when I'm being active, like running or biking, they tend to kind of slide down.
The Public Rec joggers pretty much don't move from my waist when I put them on, because the waistband is very strong, and wide.
This flatters your middle, if you like that, and if you aren't a fan of your middle, they kind of act as Spanx and you can layer over them with a full-length hoodie, long tee or loose tank.
They have pockets, and a secret pocket
You're probably familiar with the fact that many women's products, especially athleisure products, don't have many pockets. It's about time that brands start making pockets for women!
The All Day Joggers have two pockets neatly at your sides, and in one of them, you'll find a secret mesh pocket. This is super cool for snugly holding a credit card, a wad of cash, or a slim cell phone.
They have cuffed hems at the ankle
I like the gathering of the fabric at the ankle, and the cuffed hem is a good look. These joggers were meant to look good with sneakers, which I really appreciate, as someone who has an aversion to jeans with sneakers (AKA "sneans").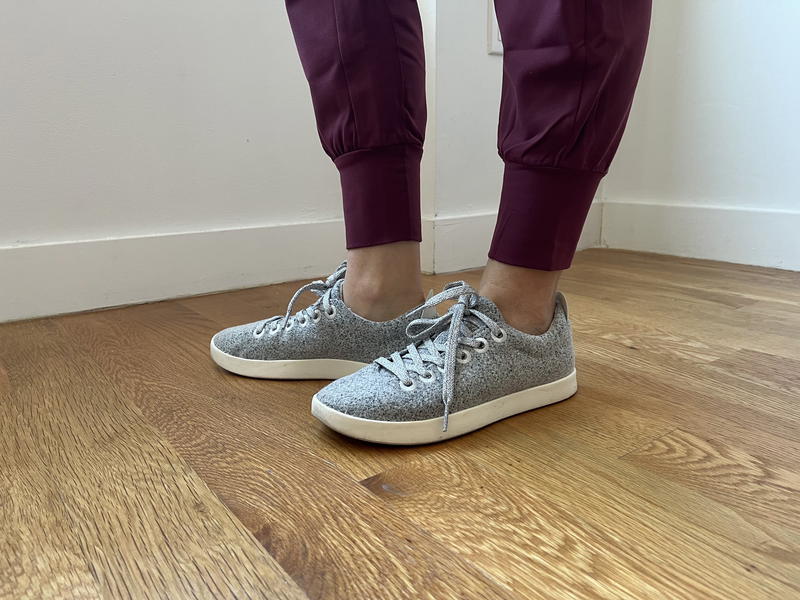 The fabric is awesome
This fabric is fantastic! It's versatile, it doesn't really show sweat and it's breathable. With the 88% nylon and 12% spandex, it's perfectly stretchy and lightweight for athleisure wear.
How do the All Day Joggers fit?
I'm a 5'2" petite woman, so you should first know that as we start to discuss the size for the Public Rec women's joggers.
Given that I usually wear size 25 pants, I sized down to the Waist: 24 / Inseam: 24 maroon joggers.
This turned out not to be a great idea. They were much too small, to my dismay, and I should have sized up. This is my advice to you!
This mishap was actually how I learned that Public Rec has a great cancellation policy! With the tags still on, I went simply to the returns website that will be listed on your receipt, and proceeded to get a return label. I packed up my joggers, sent them off, and easily got the size up.
Now that I have the Waist: 26 / Inseam: 24, they fit perfectly, and the good news is also that because Public Rec offers the three inseam sizes of 24, 26, and 28, the All Day Joggers turn into a great athleisure product for petite women.
Calling all tall women with long legs: If you're a tall woman, good news: at Waist: 26 and up through Waist: 38 sizing, you can get these joggers sized at Inseam: 30.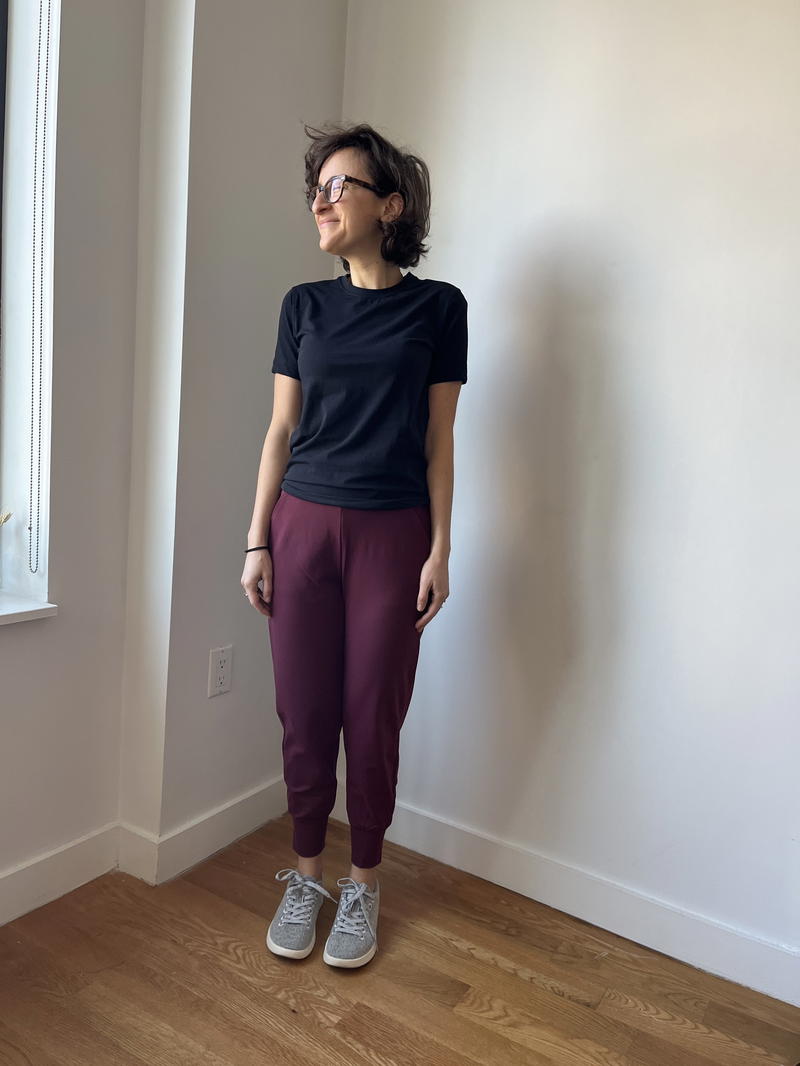 Are the All Day Joggers easy to care for?
Music to my ears: the Public Rec joggers for women are an athleisure product that you can easily put in the washing machine, and then just hang dry!
The suggested care is to machine-wash cold with like fabrics, and on your first wash, it's a good idea to wash with similar colors. My joggers are the maroon color, so I'll wash them with reds.
Then, you could tumble dry these joggers on a low setting, but why not just hang them dry? They'll dry in a day or in a few hours, depending on humidity, and you won't risk damaging the Public Rec proprietary stretchy fabric with too much heat.
Where can you wear the All Day Joggers?
Today I wore the All Day Joggers while doing all my errands: walking around my neighborhood, shopping for groceries, cleaning up around the house.
I also thought they were fantastic as apparel for working from home. They made me sit up straight at my desk because of the fitted waistband, they were super comfy, and they felt a little more put-together than my standard yoga leggings uniform.
I would also wear these joggers to the park to see friends, to go for a little jog, to go visit family and to go out to a casual lunch.
Bonus: I am VERY excited to wear these joggers as travel clothes on my next flight! In fact, when I received the All Day Joggers in the mail, I thought to myself: "Yes. These are going to be the best pants ever to wear on an airplane and then on a bus or train."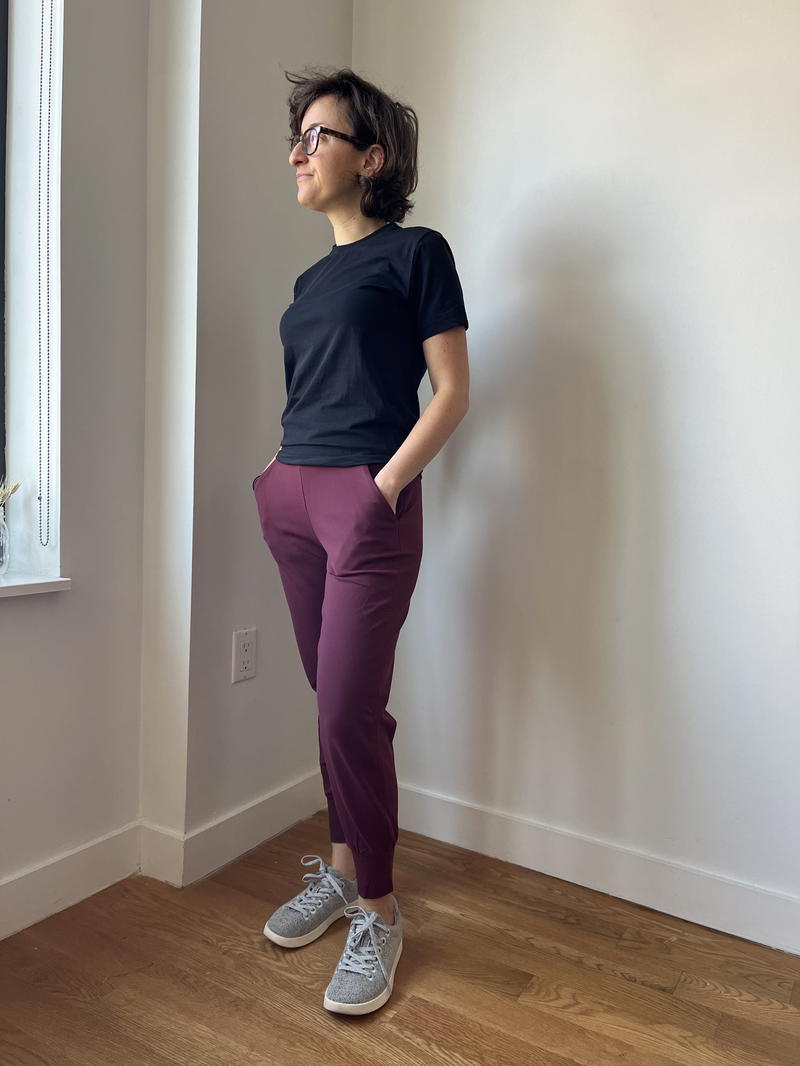 Why is the fabric of the All Day Joggers so great?
The fabric of the women's All Day Joggers is a nice, lightweight and breathable blend of nylon and spandex: 88% nylon and 12% spandex, to be exact.
The nylon makes them lightweight and water-resistant, and the spandex gives them that crucial and comfortable stretch.
With this type of fabric, which feels stronger than the thin yoga pants I typically don, I am excited to wear them on a long flight — one of those flights that gets really cold when you're glad you wore pants that are sufficiently thick and brought all your long-haul flight accessories.
Are the All Day Joggers a type of essential travel pants?
Regarding what I wrote above, yes: I'd call these a must-have for women's travel pants. They should be on every woman's packing list.
You can go from a cold origin location to a warm travel destination in these joggers, and you won't feel too constricted when you land.
These joggers are breathable, they don't hug your body too tightly and the thighs or calves, and so they feel like a breeze.
Travel pants have to be durable (say goodbye to those worn-out leggings), should have pockets (check!) and should look stylish with whatever kind of clothes you want to pair with them. For me, travel day nearly always has me in my Aviator zip-up hoodie and a great moisture-wicking tee, like my other favorite Public Rec product: the Women's Essential Tee.
To get the outfit you see in my photos above, I'm also wearing the Luxe Fleece Pullover sweatshirt, which makes a great compliment to the cinched waistband of the All Day Joggers. Check out the details about it in this review.
I've got the Public Rec essential tee on, underneath!
How to get the Public Rec All Day Joggers for Women
Public Rec's website is easy, and you can get the joggers at the All Day Joggers product page.
By shopping with the link above, you'll get free shipping, free returns, free exchanges and 10% off on your first order.
Enjoyed our article?
Consider supporting us! We're a 2-person team (learn more about us here) and your support enables us to create quality content. Thank you!