Vessi Waterproof Travel Shoes: Are They a Game-Changer?
Written by Becca
•
Updated on September 6th, 2023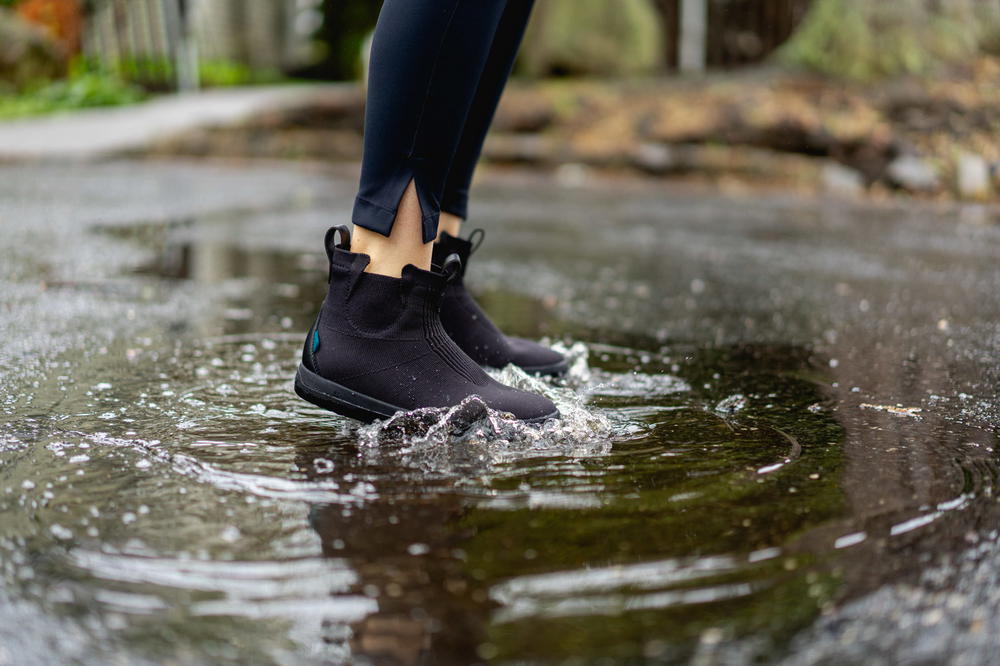 Are the Vessi waterproof sneakers a good rainproof shoe for travel? See if these lightweight non-slip sneakers are worth the money, in my review.
This article may contain affiliate links. We earn a small commissions when you purchase via those links — and it's free for you. It's only us (Becca & Dan) working on this website, so we value your support! Read our privacy policy and learn more about us.
Table of contents
Close table of contents
For years, I've been a "rain boots person." I absolutely despise having wet socks if it's raining out. Living in NYC, having rain boots is totally crucial when it rains, because of those puddles in subway stations and even dirtier puddles at street corners that'll drench my shoes, socks and the bottoms of pants.
The one thing I don't like about rain boots is that once you get to your office, or the bar you're going to on a Saturday night in a downpour, you feel clunky. There's just something about standing around in rain boots that makes me feel awkward.
I found out about the Vessi waterproof shoes this year and I kind of raised my eyebrows a bit. Waterproof shoes and sneakers? How does that work? Is that just another one those travel shoe scams?
After giving my Vessi shoes (I have the "Weekend Chelsea" style in Black) a test run on a rainy day and splashing through some puddles, I was indeed surprised. Here's my review of Vessi shoes, for you to see if these are travel shoes you'll want to have in your bag.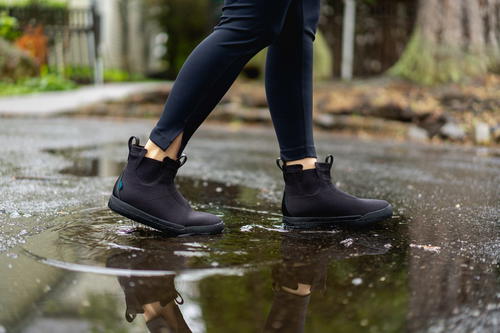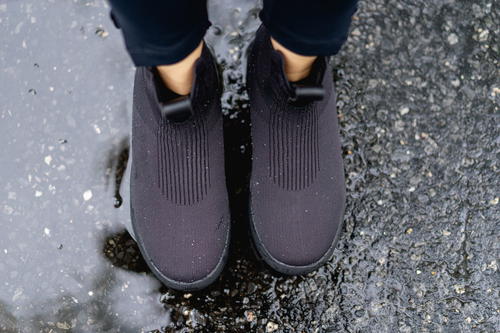 Why would I need waterproof travel shoes?
I've been on three memorably rainy trips: Ireland, Taipei, Taiwan and Vancouver, Canada. Ireland was in the summer, and as it's famously green, it certainly rains there all the time.
What was interesting about Ireland was that there'd be a downpour, and then some sun. Then there'd be another rainstorm. Then some sun. How do you possibly pack for such crazy weather? You wouldn't want to walk around in rain boots all day, but if you didn't, then your feet would be all wet until nighttime if you were out hiking like we were.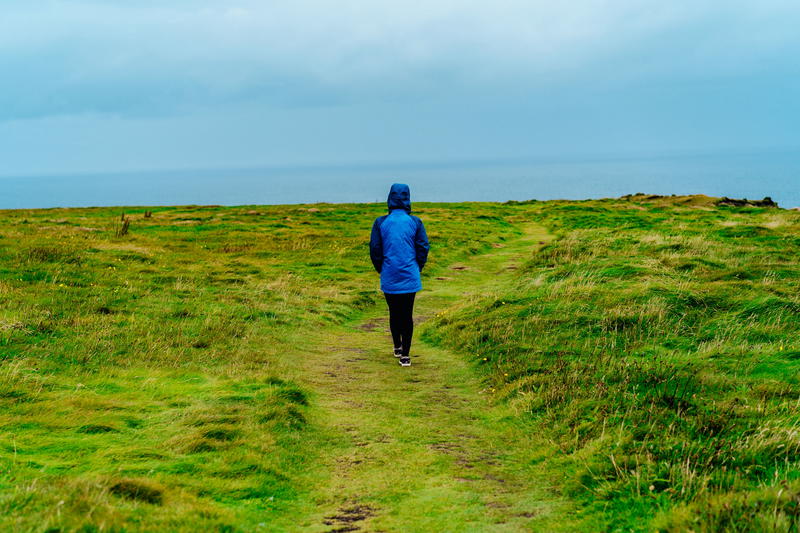 In Taipei, Taiwan, it rained for five days straight. We tried to walk underground in metro stations as much as possible, and dodge rain with our umbrellas and under store awnings. We hoped our wet shoes would always dry overnight for the next day.
And in Vancouver, what was supposed to be the best time of year to visit because of low rainfall turned into a wet long weekend during which we were walking around in a constant mist with damp clothes and shoes.
I would've benefitted from waterproof shoes, especially waterproof shoes as lightweight as the Vessi ones I have now tried out. Having waterproof shoes would've kept my feet dry through puddles and unexpected storms, and would have eliminated the stress of only hoping that my shoes would be dry by the following day.
Also, when you consider how challenging it can be to decide which shoes to bring on a trip, having a versatile travel shoe that will also combat rain is a great thing.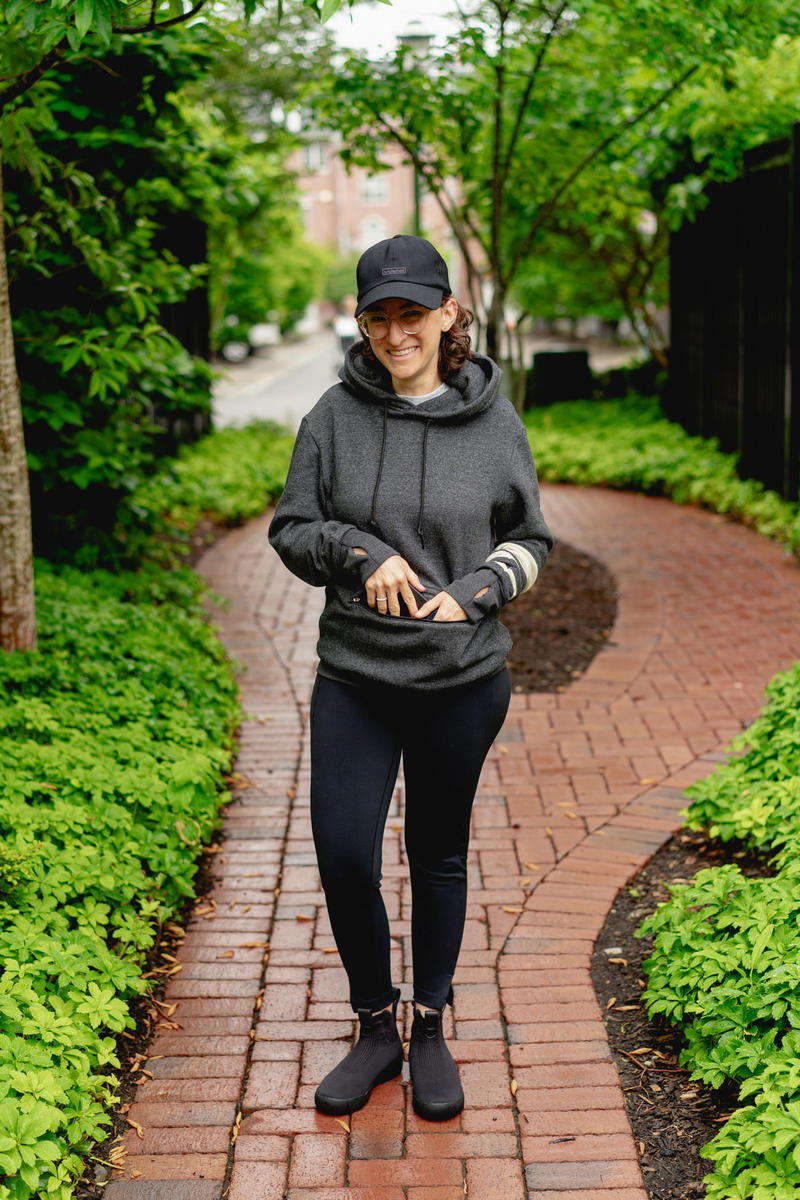 How does the waterproofing work?
What I have learned about Vessi's travel shoes for both men and women is that the shoes are constructed with proprietary waterproof technology. Check this out.
They work with a patented "waterproof membrane" that keeps the entire shoe dry. The magic layer is called Dyma-Tex and it's a waterproof breathable knit. It's meant to somehow keep feet warm in winter and cool in summer. I tested my Vessi shoes on a moderately-temperatured summer day of about 65 degrees F, so I'll get back to you on the warmth and cool factors.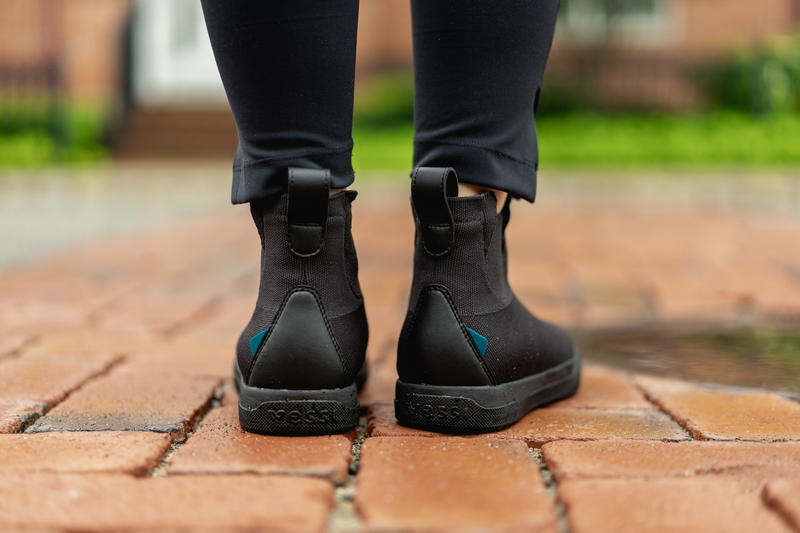 The soles of Vessi shoes are waterproof, too. They are ultra lightweight and make the Vessi shoe the "lightest waterproof shoe on the planet." Seriously.
Vessi's website says you should get ready to blow your feets' minds. I think my feet were pretty blown away (if I could guess). If you try them on at home and don't think they're comfy, you can return them within 90 days.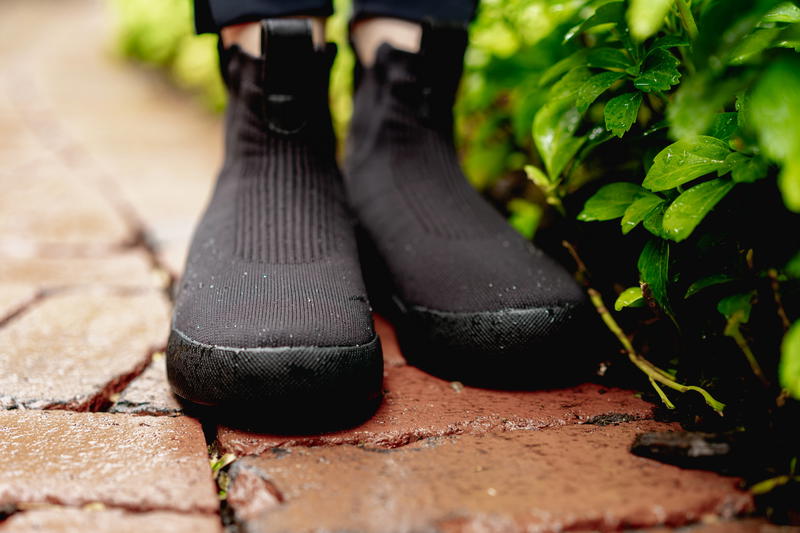 Do they really keep your feet dry?
Yes, they really do. I kicked up water in puddles, walked straight through puddles (as nervous as I was to do so) and stomped in pools of water. So did Dan, in his Vessi Men's Weekend Sneaker.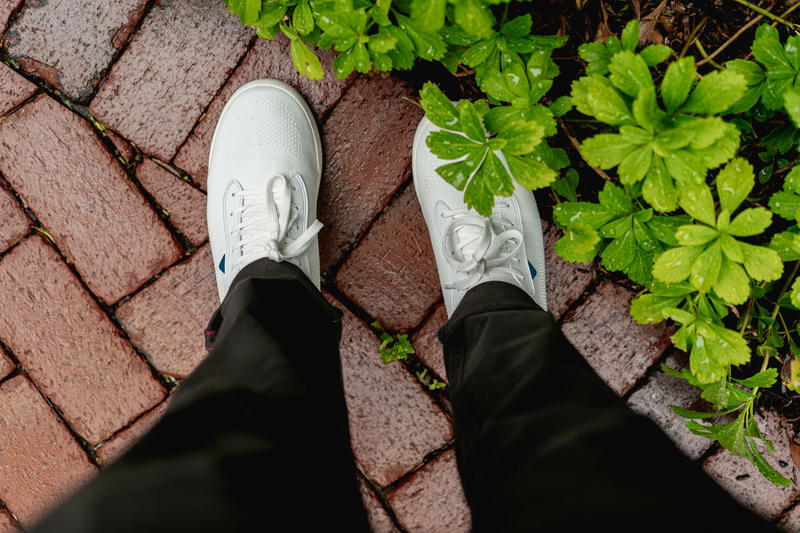 If you look at a close-up of the Vessi sneakers after going through a puddle, you can see that the water beads up and flicks right off when you stomp your feet. It would also probably drip right off, from being repelled, if you were to keep walking, like you would if you weren't taking photos like we were!
After getting back inside, our socks were completely dry, as were our feet. The Vessi shoes even looked dry. It was pretty unbelievable. I feel like this is a product that says what it's going to do, and does it well.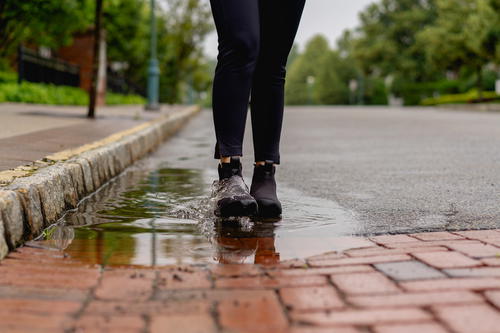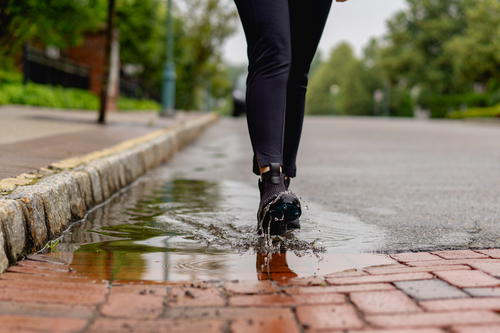 Vessi shoe features
As for general features of all Vessi shoes, you've got the special waterproof technology that coats them, and the cushion-y inner soles. The inner soles are also removable, so if you want to insert a custom insole like the ones I have from Remind Insoles, you can.
The bottom soles also have a herringbone pattern to protect against slipping in the rain.
The outer knit is breathable, although it is also 100% waterproof. The entire Vessi shoe is made of vegan materials and is super lightweight.
Depending on which style you choose, there may be additional features. For example, the Cityscape Classic and Everyday Move Slip-On have elastic ankle collars, and the the Stormburst shoe for adventure has reflective hits, a full rubber outsole, pull tabs for easy on and off and protective toe caps for added durability.
What I like best about my Vessi shoes (the Weekend Chelsea) is the high side panels (to protect my ankles against splashes) and high-traction rubber sole. I think the Weekend Chelsea looks best with pants or leggings. I wouldn't wear them with shorts, is the only thing. For a summer shoe, I'd go with the Boardwalk Slip-On or Cityscape Classic.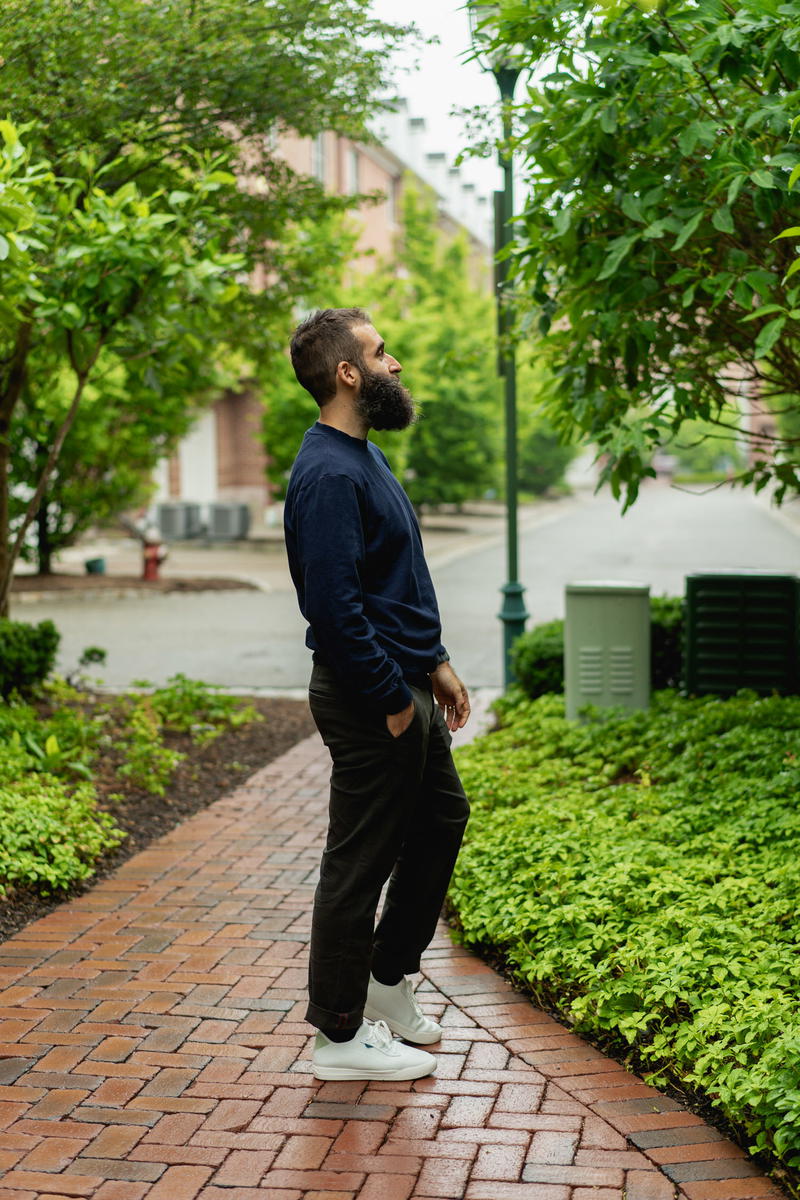 Vessi shoe styles
I immediately knew which Vessi shoe I wanted to try when I saw the options. For many years now, I have wanted a simple black ankle-height rain boot. I was just lazy and kept putting off my shopping.
I ordered the Weekend Chelsea because it's a minimalist and simple sneaker that looks like a flat-soled ankle boot. I didn't have to be convinced.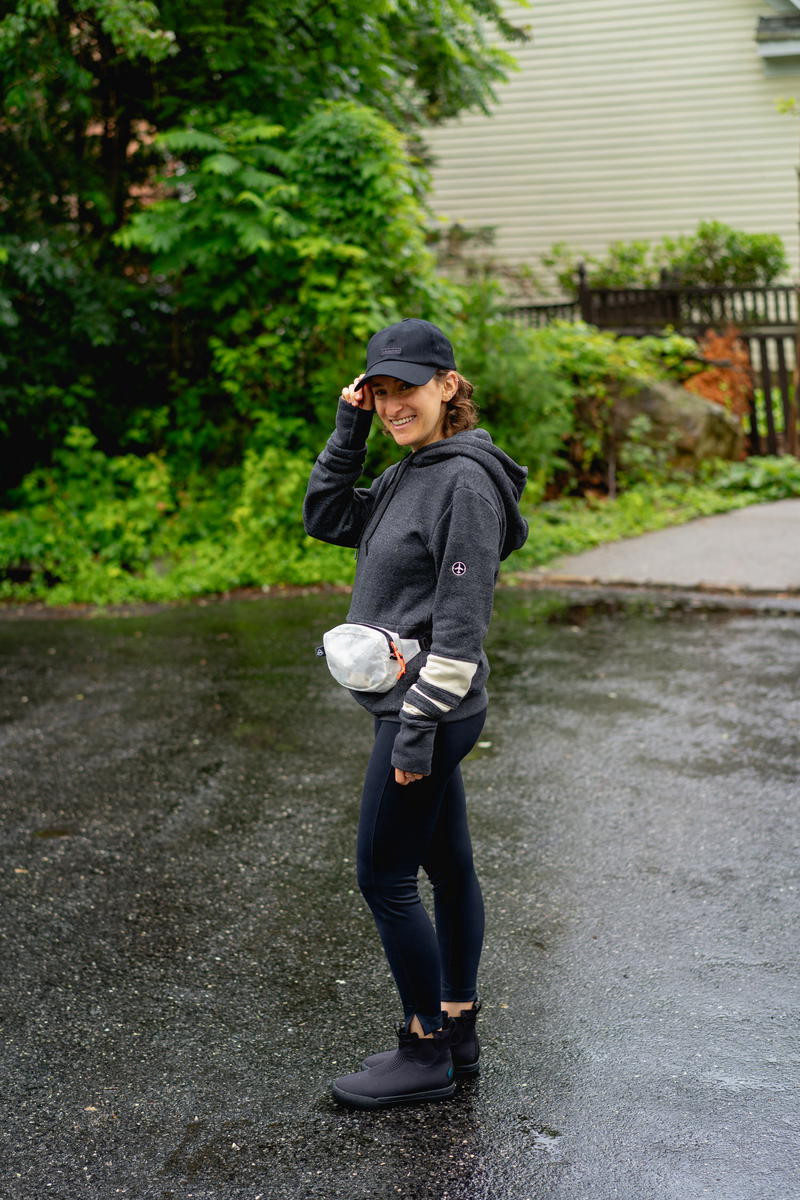 Dan, on the other hand, opted for a timeless style of a walking sneaker and got the Men's Weekend Sneaker. In white, I warned him that it may show dirt and mud, but who was I kidding? These are Vessi sneakers: you can wipe the mud and dirty rain puddle drops right off.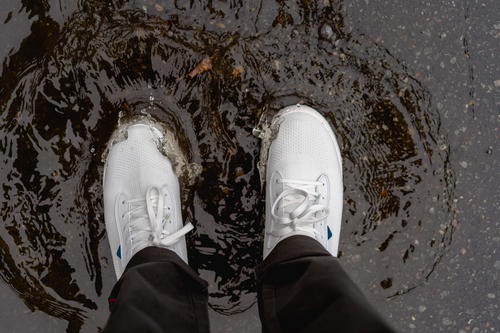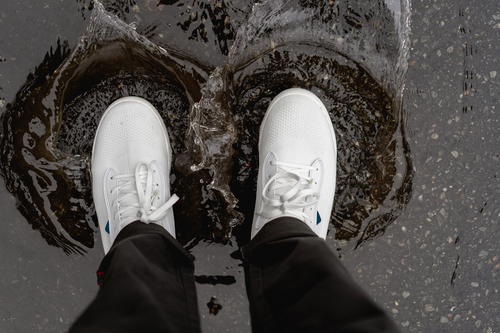 Other styles that Vessi makes, which were runners-up in my mind, are the Boardwalk Slip-On, which reminds me of my old school Vans slip-ons I had in high school. For my uses, though, I wanted something that covered my ankle.
If you're more into an athletic look, check out the Cityscape Classic and Everyday Classic. They're modern athletic-looking shoes, but of course, 100% waterproof. The Cityscape Classic has a woven look with an elastic ankle.
The other style to note is the Stormburst. This is like a waterproof hiking sneaker that would've been great for me on our Ireland trip.
How do the Vessi shoes fit?
I can tell you all about how they fit, because I chose to first size up, like I do when I ordered my Allbirds Pipers. I just assume nowadays that because I'm a 6/6.5 in most shoes, I should gravitate toward a size 7.
However, my Weekend Chelsea shoes arrived and they were gigantic. So, I returned them with Vessi's simple return process (which was painless and easy), to get a size 6.
Dan had sized up as well, to a men's 10, which is his regular shoe size. They were too big, so he sized down to a 9. Unfortunately, the 9 is a little on the snug side when he wears his Vessi sneakers with socks. He's right in between sizes.
What I'd recommend is ordering two pairs of Vessi shoes and returning the one that does not fit, as long as you can return the shoes in the original packaging and good as new, in re-sellable condition.
Are the Vessi waterproof shoes worth it?
If you are looking for waterproof shoes that are the the absolute lightest-weight waterproof shoes for travel on the market, a pair of Vessi shoes is the way to go.
In all honesty, rain boots come at the same price (or more), and they won't fit in your suitcase or backpack for travel. They also probably wouldn't be the smartest item to pack if you have limited space or if you plan to be walking around a lot because they tend to be so heavy.
I'm incredibly glad I found out about Vessi shoes just as I was planning to pack for a trip upstate to the Catskills and a whole bunch of rain was in the forecast. My Vessi sneakers are going to fit right into my luggage and not weigh it down.
Does Vessi make any accessories?
After browsing the Vessi site, I learned that the company also makes a 100% waterproof hat made with waterproof yarn. That would've been helpful on my Vancouver trip, when we not only got stuck in the rain, but when temperatures got cooler and it got windy, too.
Vessi makes socks, too! They're not waterproof, but they're certainly nice socks.
How to buy Vessi waterproof travel shoes
I suggest buying Vessi waterproof shoes for travel directly on the Vessi website. If you buy them anywhere else, you risk not having access to their hassle-free return policy! More on that can be found at the returns info page.
Head to the women's shoes page to purchase Vessi styles for women, and to the men's shoes page to check availability on Vessi styles for men.
If you have children, head to the kids' shoes page to get Vessi waterproof shoes for kids! They're pretty adorable.
Vessi also has gift cards available, so if I'm unsure of which size or color to get for a family member who'd enjoy Vessi shoes, they can choose on their own.
Enjoyed our article?
Consider supporting us! We're a 2-person team (learn more about us here) and your support enables us to create quality content. Thank you!