Public Rec Women's Essential Tee: A Perfect Shirt for Travel
Written by Becca
•
Updated on September 23rd, 2023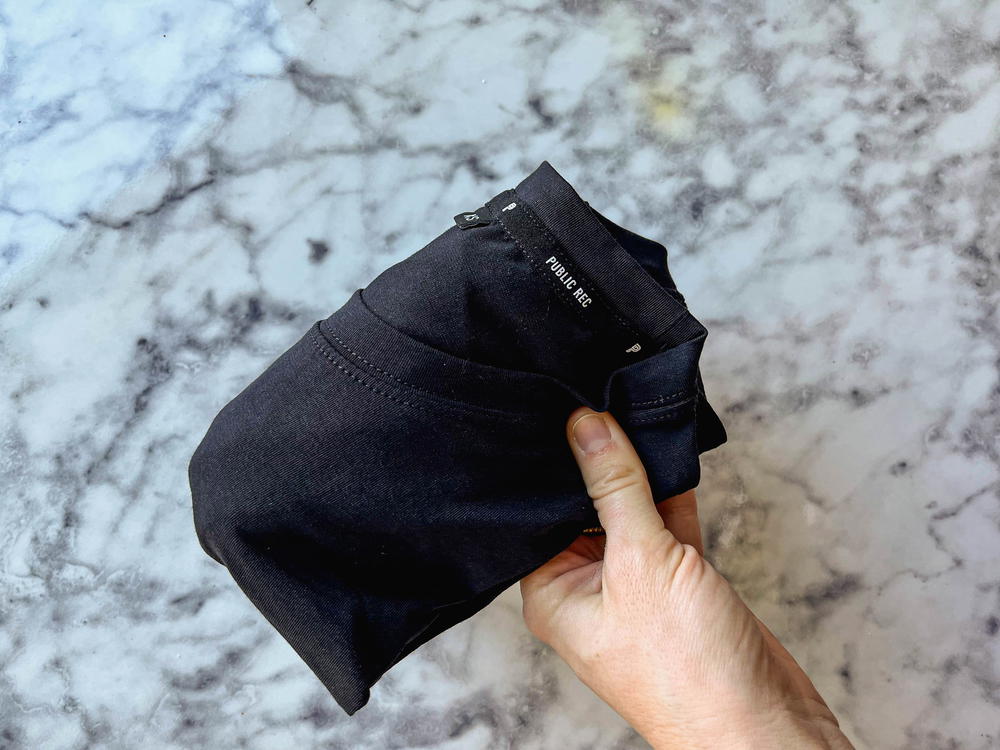 Is the Public Rec everyday technical loungewear apparel Essential Tee worth the price tag? I review this athleisure tee from the women's line to find out.
This article may contain affiliate links. We earn a small commissions when you purchase via those links — and it's free for you. It's only us (Becca & Dan) working on this website, so we value your support! Read our privacy policy and learn more about us.
I'm the type that gets so overwhelmed when shopping for T-shirts that I just give up.
For so many years, I've been lacking in the 'essential tee' department. I try to hide this fact by defaulting more formal than I need to be, with a blouse, or going rouge with an old free T-shirt from college if I'm in a pinch for an everyday tee.
What every woman really needs is a perfect essential tee.
Even better is that every woman needs a perfect tee that you can wear with 'whatever' during a trip, and a tee you can wear on a flight, especially if you don't want to look like a complete mess when you arrive at your destination!
The women's Essential Tee from Public Rec does the job, and originally I had my doubts because of the fit.
But after one wash, the snugness and lightweight fit really sunk in, and this is one essential women's top that I'll probably never leave home without.
At a price point of $48, is it worth the investment? Let's check out the features, benefits and areas for doubt.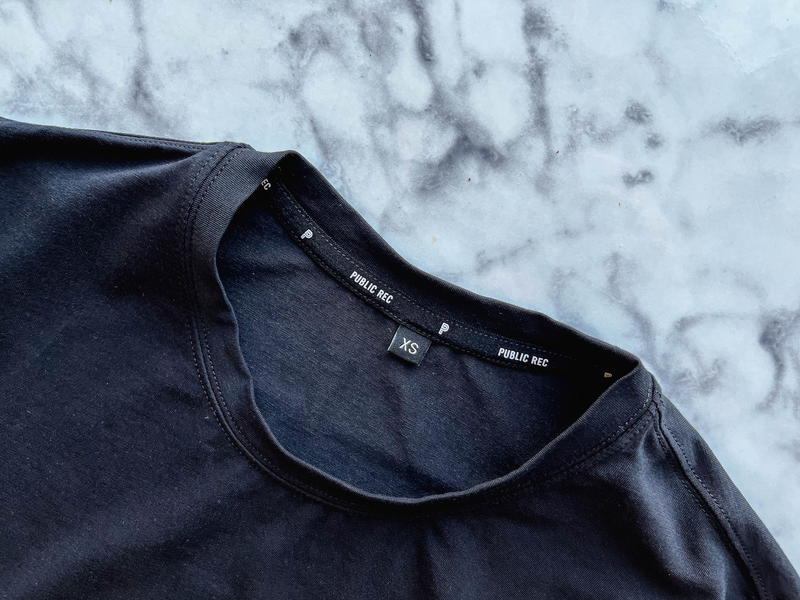 What's the Public Rec Women's Athleisure line?
Public Rec is a cool US-based company making athleisure approachable, simple and comfy. We originally learned about their travel apparel through their men's travel joggers, which we list in our best recommendations of travel pants for men.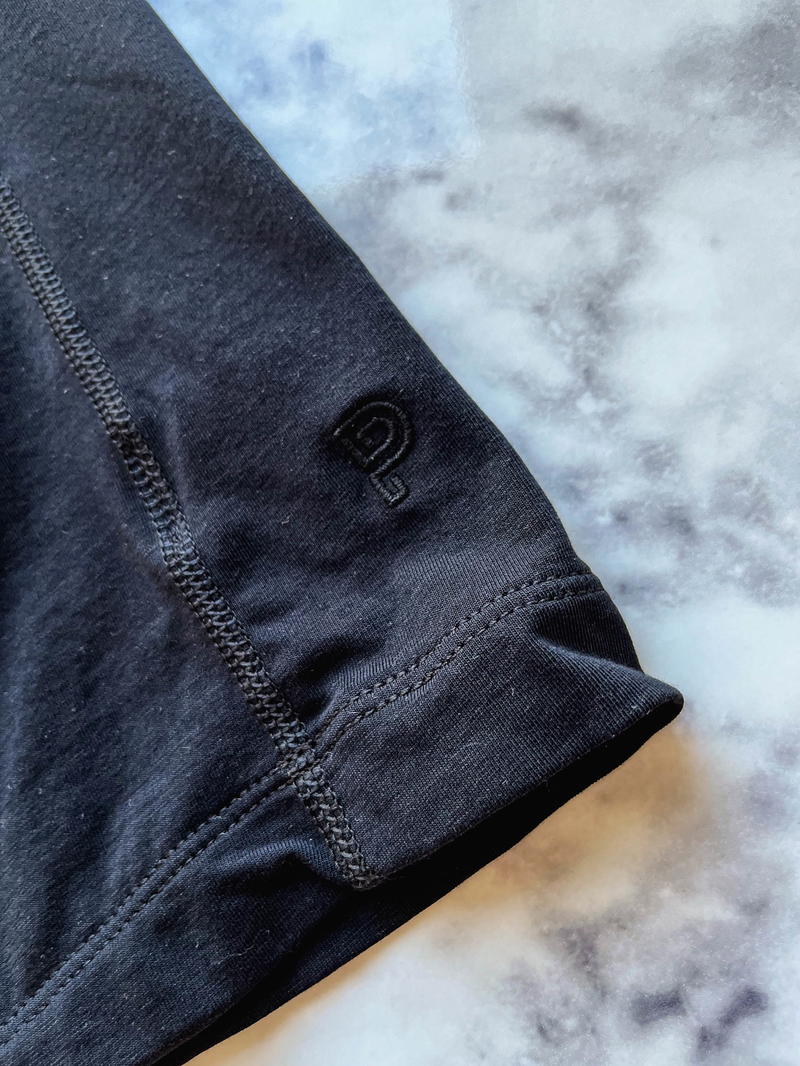 Loungewear is never something I thought I needed, so I never really though I had to go on a hunt for it.
At the end of the day, though, wearing my old yoga leggings and ratty T-shirts from college, covering them up with a scarf when I have a Zoom meeting doesn't make the cut, as a busy professional.
Cue comfortable and affordable athleisure from Public Rec: their women's line makes shopping a breeze. Everything's perfect for working from home.
And, all the Public Rec women's products come in a variety of sizing, from petite to tall to curvy gals.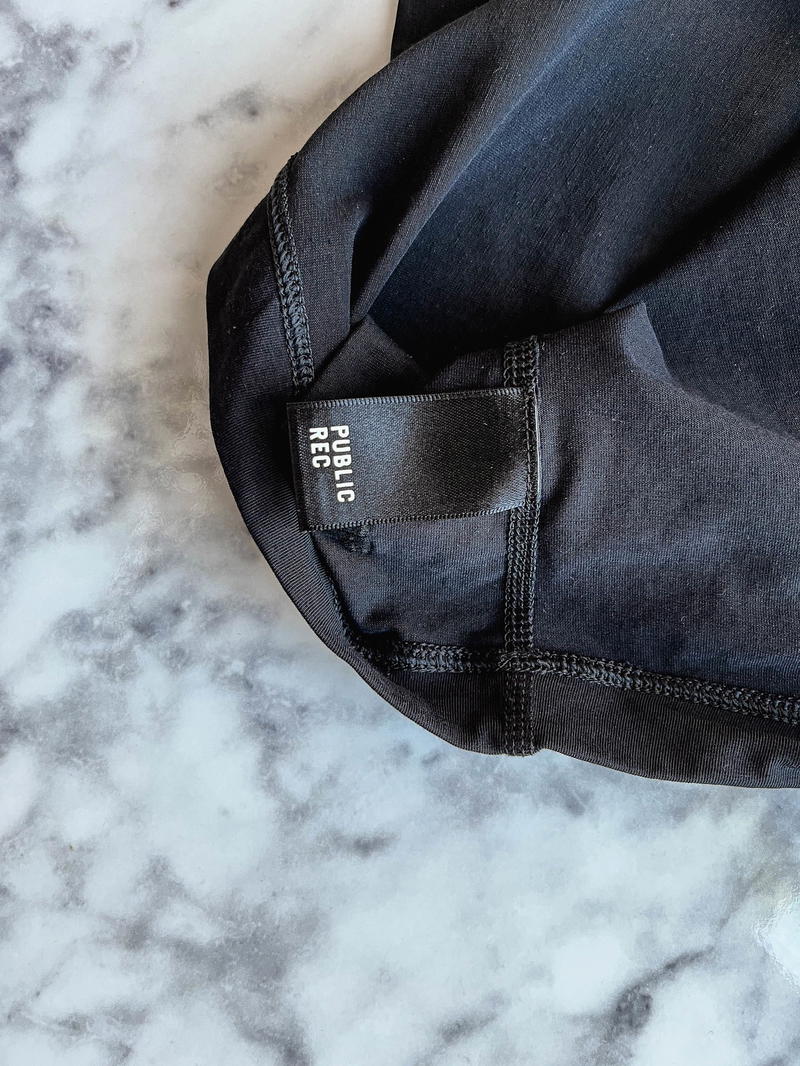 For me, as a petite woman, sizing is important, and that's why I tend to review a number of travel clothes for petite fits.
As for Public Rec and their women's line, what's cool is they really work on the fabrics of their clothes to make them breatheable, wrinkle-less, easy to wash and easy to wear with just about anything.
The company's mantra is "comfort for everywhere!" and this makes me want to own all their clothes and take them on all my trips.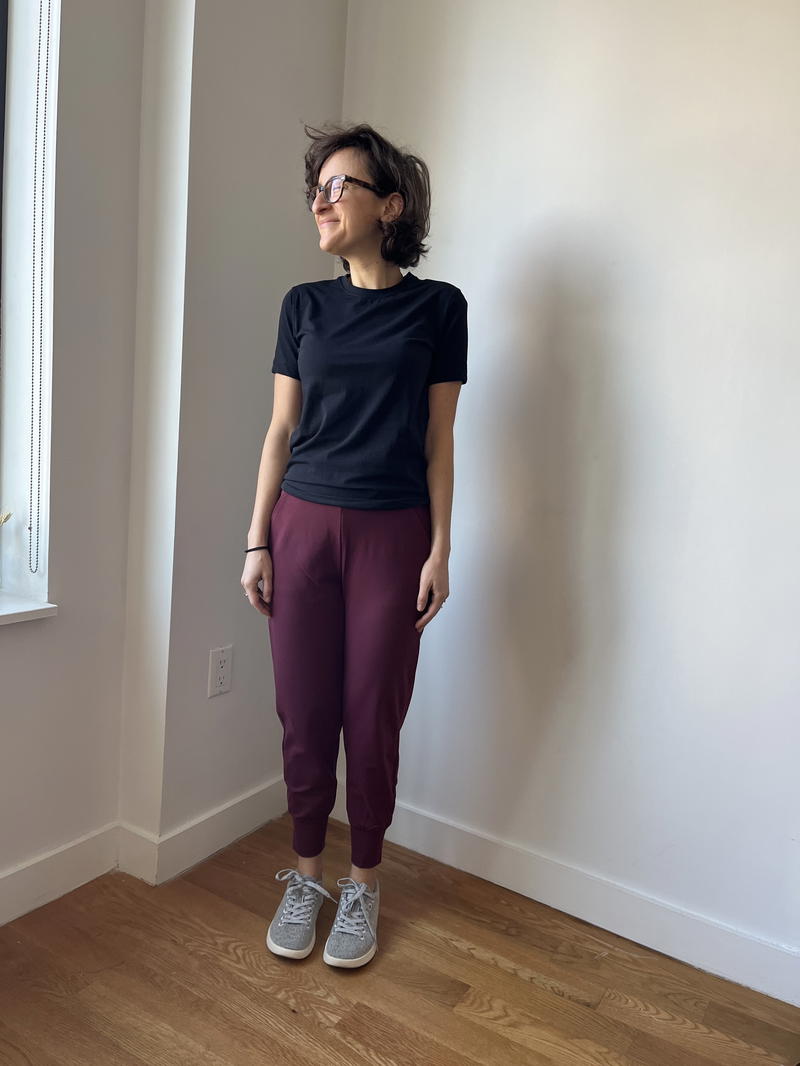 Public Rec Women's Essential Tee: an introduction
The Public Rec women's line is awesome for technical athleisure apparel for ladies. The most basic product offering is the brand's everyday Essential Tee.
This T-shirt is a perfectly stylish and flattering short-sleeve top with a slew of performance features.
It's easily perfect for the gym, a casual office, layering or travel. With multiple uses and a quality build, there's not much to complain about with this semi-fitted tee for ladies.
Public Rec Women's Essential Tee: beneficial features
When you put on the Public Rec Essential tee, the first thing you notice is how it feels.
It's lightweight, and doesn't quite have the same feel as regular cotton. I'll detail why in the feature bullets below.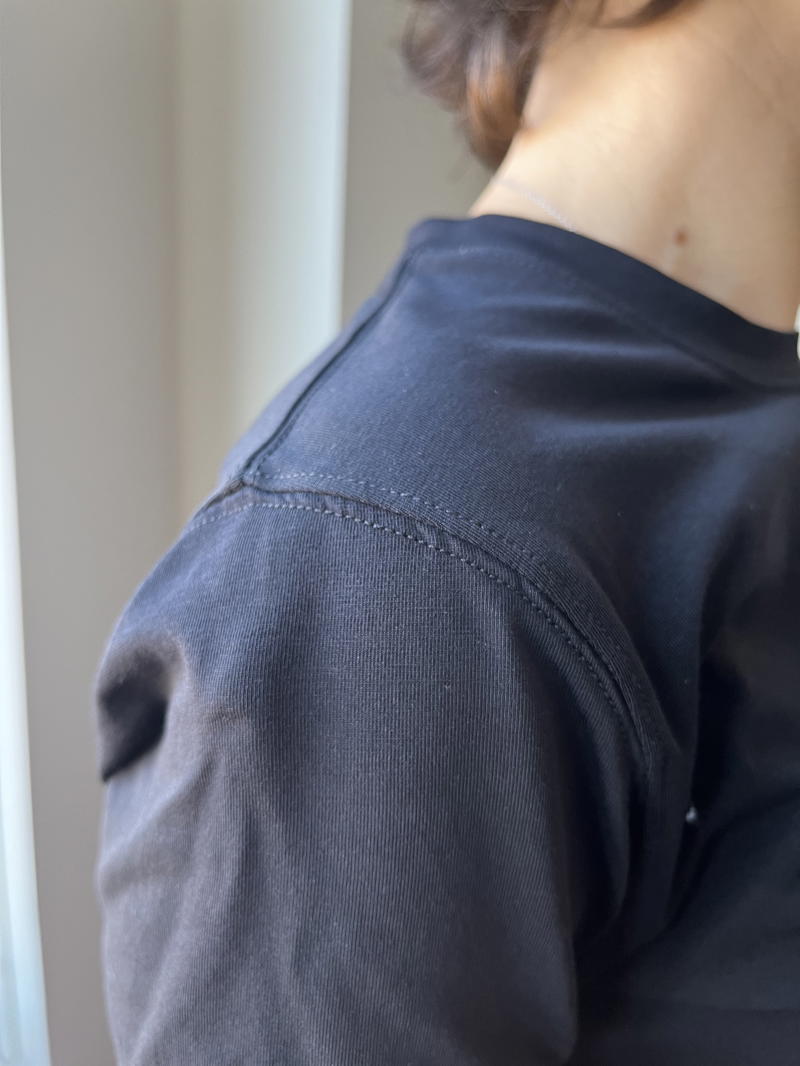 Wrinkle-resistant & moisture-wicking fabric
The special fabric from which this tee is built is a blend of 47% "TransDRY Supima Cotton," 46% Supima Cotton and 7% Spandex.
Supima cotton is (from my research) a superior form of cotton grown in the US, and it's famous for its strength. That's basically why it has a starkly different feel from a regular cotton T-shirt you've received for free.
With a high-grade cotton blend, mixed with a touch of spandex, this tee is lightweight yet also strong. On top of that, it has a slight stretch.
Overall, it's a joy to wear, and it doesn't get heavy or feel soaked with perspiration.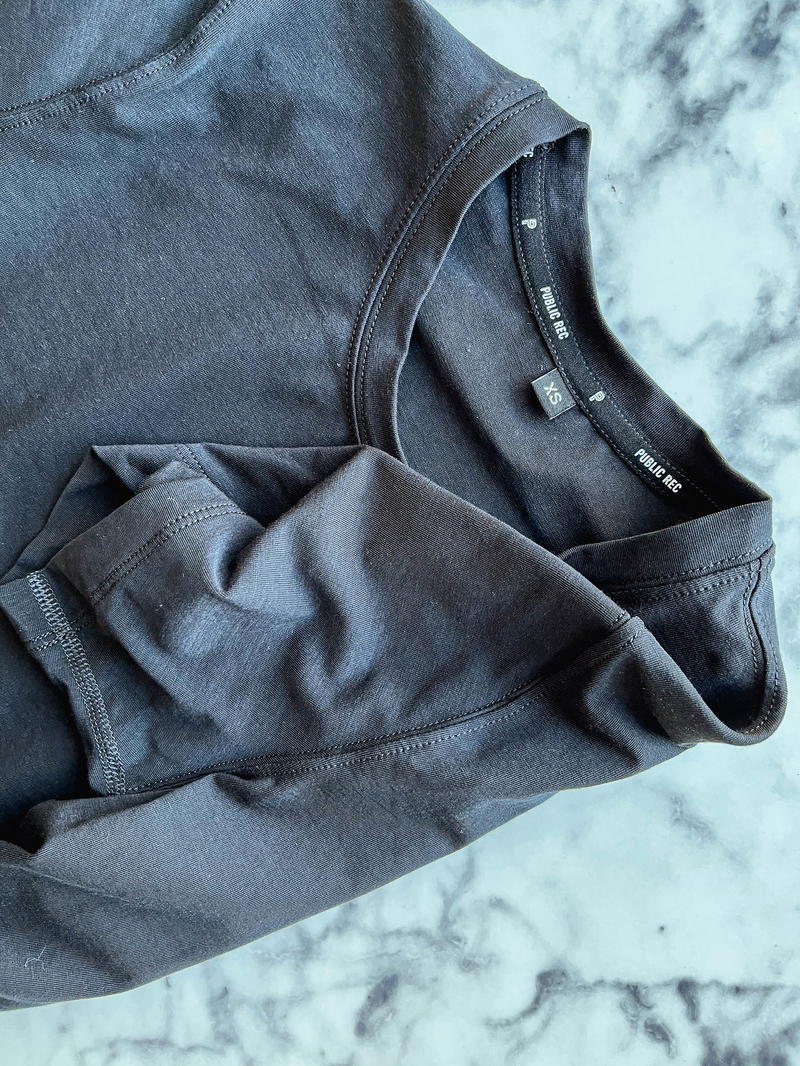 A breathable athletic fit
The fit of the Essential Tee is also something to write home about. I'm picky when it comes to fit, because I'm petite, with narrow shoulders.
I like that this everyday athleisure tee doesn't hug my middle too much. It makes it feel like a liveable breathable shirt with a comfy fit that doesn't constrict my movement.
Versatile uses
This T-shirt is so versatile: it could easily be worn to the gym or on a run, or you could throw a blazer or cardigan over it with jewelry, and stroll right into your office.
So far, I've worn this shirt on weekends for going out and doing errands, and I wore it under my Public Rec Luxe Fleece Pullover for the ultimate comfy outfit. See more about the women's fleece pullover in this review.
The Essential Tee also looks great with jeans. It looks great with joggers! It even looks great with leggings, or shorts. I'd probably pair it with a skirt casually and have no problem. I see this essential T-shirt fitting in with every occasion.
How does the Public Rec Women's Essential Tee fit?
For reference: I'm 5'2" and I typically wear an XS, XSP, XXSP (some brands), 0 or 25-26 pants.
I used the Public Rec size guide and ordered an XS tee in Black.
On the first try of the Public Rec Essential Tee, I was disappointed that the shoulders of the Essential Tee seemed boxy and wide. But wait: after one wear and one wash, this is no longer the case. Today I wore the Essential Tee and felt confident in how it fit like it should.
The tee also hits the right part of my waist and hips with not much complaint. I'm usually focused on shirts fitting me in a petite way, meaning they're not too long such that they are not flattering.
For petite flattery, a shirt has to hit me above the hips, and maybe look good tucked into jeans.
The Essential Tee hits the nail on the head, in fact! I feel good wearing this shirt tucked in, or "tucked out."
Public Rec offers a helpful size guide that'll help women order the correct size for apparel based on chest, body length and sleeve length measurements.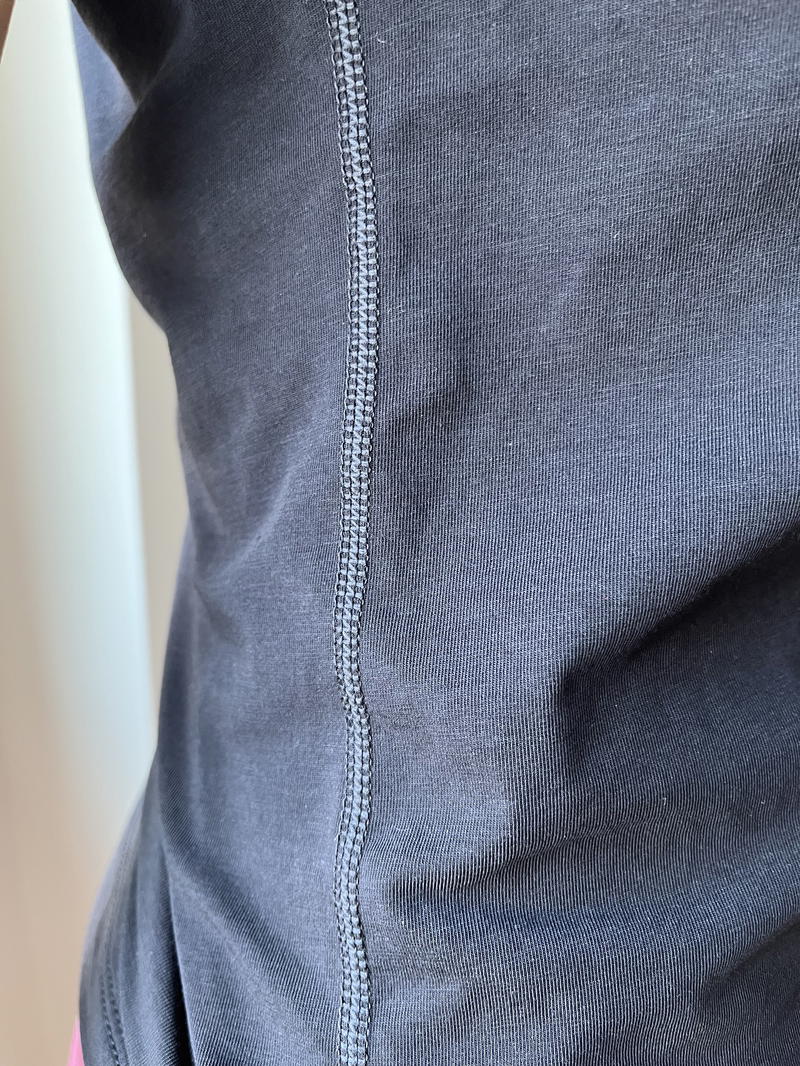 How would you wash the Public Rec Women's Essential Tee?
For washing and care, this shirt is pretty easy.
I'm very cautious when it comes to caring for my clothes when they are not 100% regular cotton. This is because I've had some rayon shirts in the past that have gone into the dryer and have NOT survived.
With the Essential Tee, it's made from supima cotton and spandex, so it was not going in my dryer!
I put this shirt through the washer on a regular load with dark colors, and hung it dry on a hanger. It turned out great. It fits even better now!
Public Rec does say on their website that you can tumble try this tee. You can try this as well, especially if you want to give it a little jump start on shrinking.
Is the price tag for the Essential Tee worth it?
At $48, this may seem a dab pricy for a "T-shirt."
But then, when you consider that this tee is made from superior supima cotton, has a spandex-like stretch and fits like a charm, the price starts to make more sense.
I like to consider my clothes with a cost per wear. With evening gowns, you may wear them twice. If they cost $500, that's $250 per wear.
With this everyday athleisure stretch tee, a $48 cost (shipping is free!) worn once a week for a year comes out to $0.92 each time! And that could surely be how often you wear this comfy athletic top.
Is this a stylish and flattering travel tee for women?
Yes, absolutely!
I'll wear it sightseeing, I'll wear it to a meal and I could even wear it to a bar or a party, with the right accessories.
Travel is a time when you have to have all your needs and occasions packed into only a few garments that all fit in a suitcase. This essential tee would do the job for packing like a minimalist.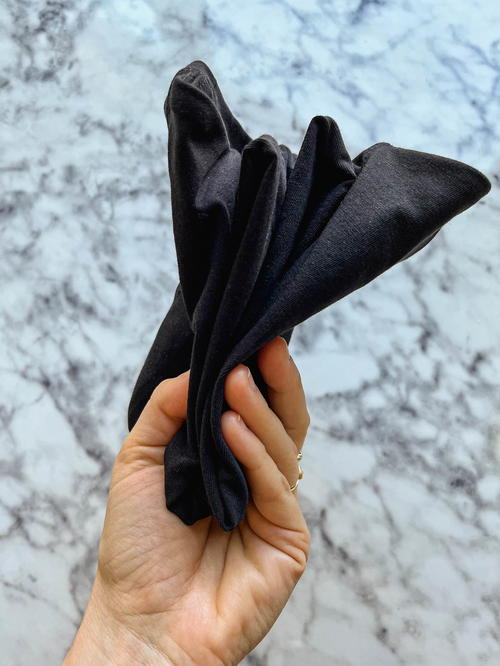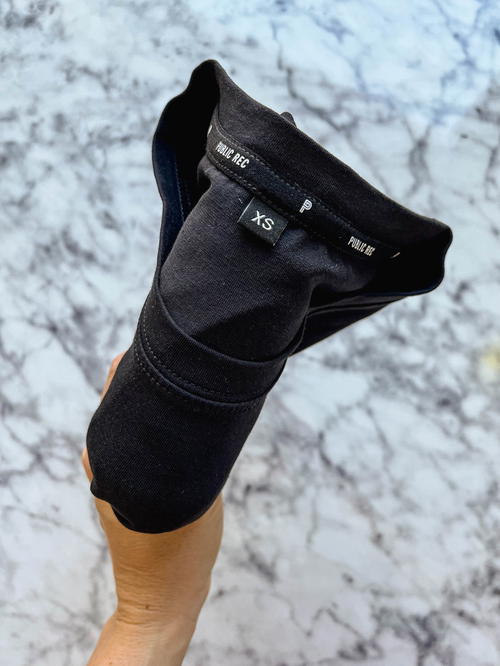 If you're looking for even more options, check out our list of the best travel t-shirts for women. The Public Rec Essential made the list!
How to shop the Essential Tee at Public Rec
You can buy this essential athleisure tee for women in a few colors (Black, Vintage Navy, White and Burgundy) at the Public Rec Essential Tee product page.
To get the complete outfit I'm wearing in these photos, we also suggest checking out the Public Rec All Day Jogger and the Luxe Fleece Pullover. To learn about Public Rec's newest accessory, check out our review of the Public Rec Adapt Belt Bag!
Enjoyed our article?
Consider supporting us! We're a 2-person team (learn more about us here) and your support enables us to create quality content. Thank you!