Tom Bihn Techonaut 45 Review: Best Carry-on Bag for Travel
Written by Dan
•
Updated on September 6th, 2023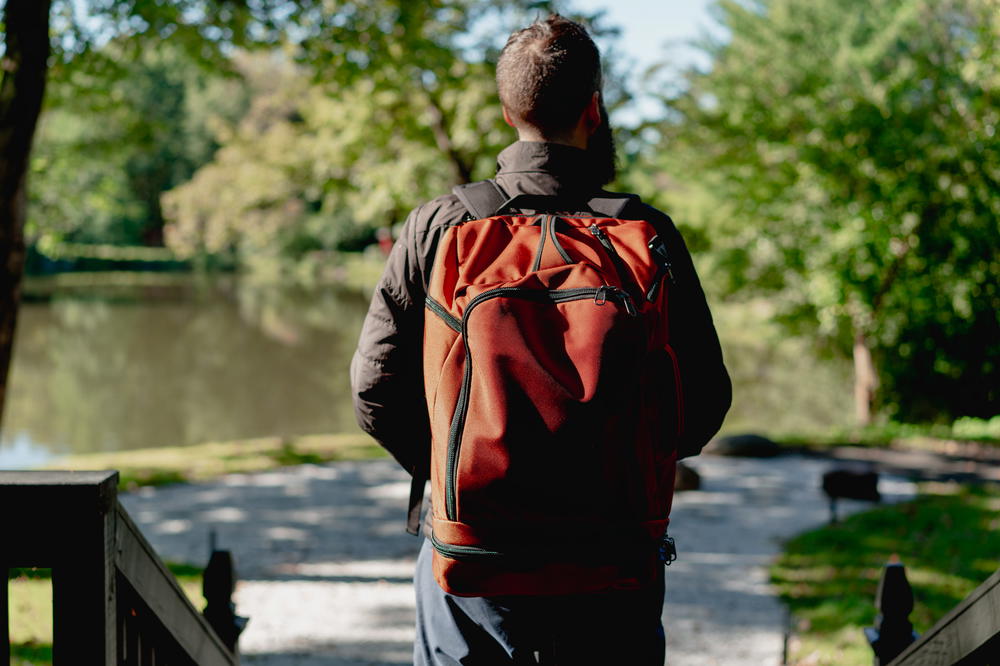 We review the versatile Tom Bihn Techonaut travel backpack as a convertible and versatile backpack to duffel bag that's one of the best durable travel bags for a trip.
This article may contain affiliate links. We earn a small commissions when you purchase via those links — and it's free for you. It's only us (Becca & Dan) working on this website, so we value your support! Read our privacy policy and learn more about us.
I'm always on the hunt for the best weekender bags that have ample space for my laptop, camera gear, clothes (in packing cubes) and everything else.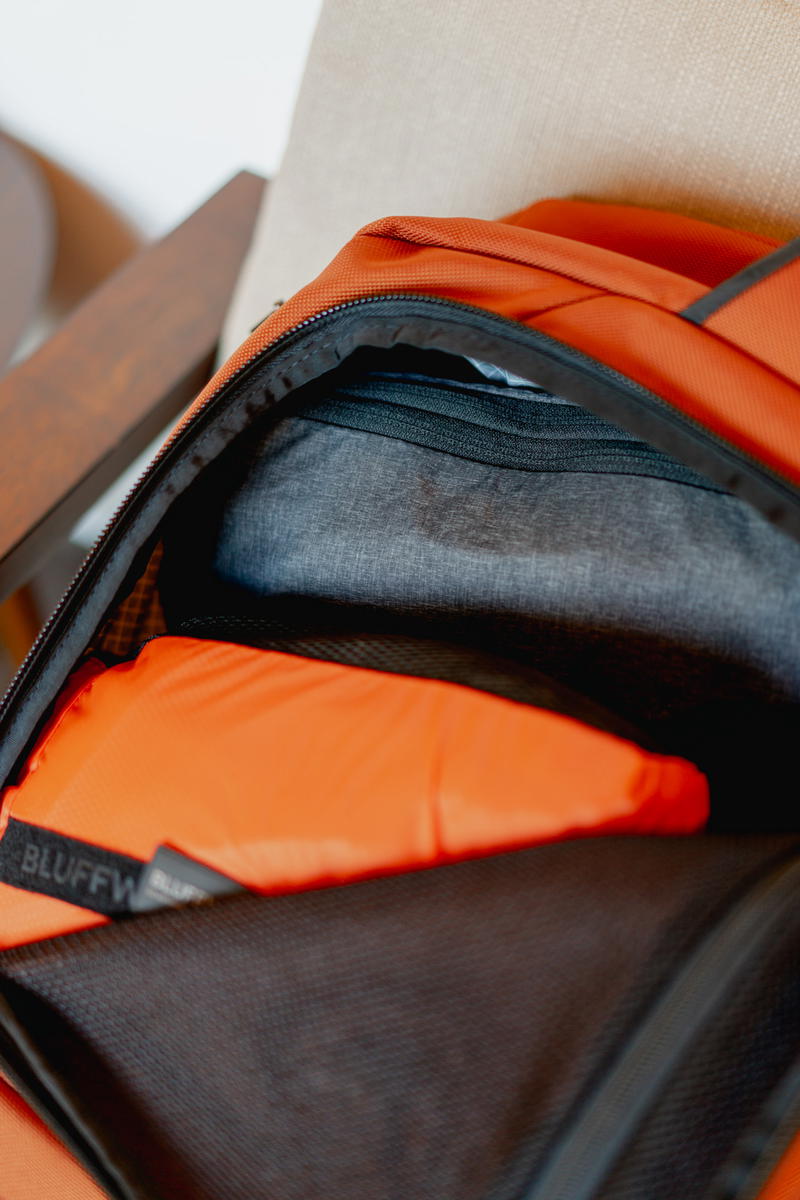 I had the opportunity to try out the Tom Bihn Techonaut 45, which is a versatile bag for travel that can be used as a solid backpack, duffel or shoulder bag.
After several uses of this bag for weekend trips and longer getaways, I have a whole bunch of thoughts on this high-quality travel bag from Tom Bihn.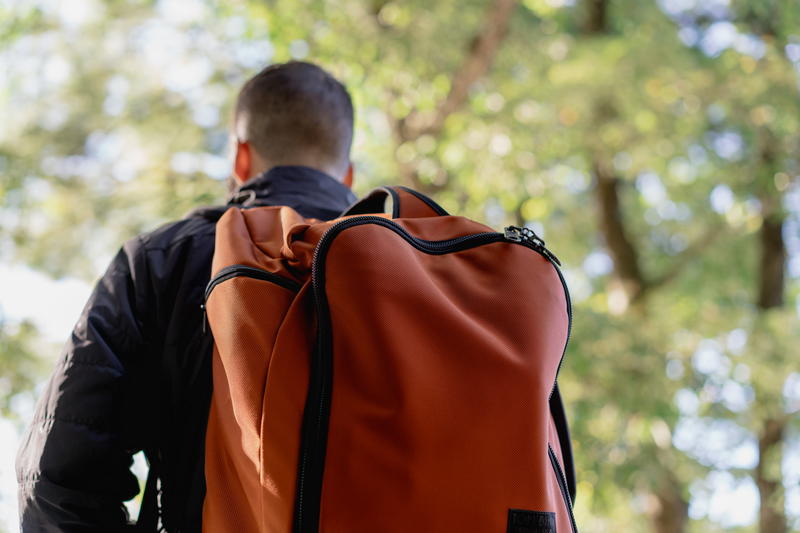 It has a bunch of awesome features that I'll comment more on below, and some aspects that I wish were a bit stronger.
Overall, read on to see whether or not this Tom Bihn travel bag is worth the investment for your next vacation, adventurous journey, day out in the city or road trip.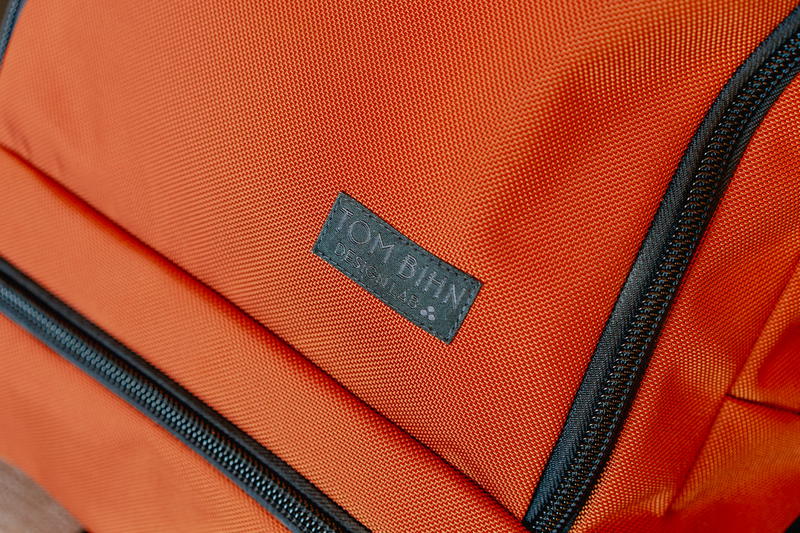 Main rundown of the Tom Bihn Techonaut 45 backpack-to-duffel bag
First, I should mention that this Tom Bihn backpack comes in both a 30L and 45L model.
I got lucky with the 45-liter Techonaut backpack, which is great, because at this time, I only have one other 40- or 50-liter bag in my travel bag arsenal and gear, which is composed of Tom Bihn and Peak Design products for the most part.
I've dabbled in other bag brands, but ultimately, I haven't been able to find a bag company that matches the quality of Tom Bihn bags.
The Techonaut 30 and 45 were built as updates to the Tom Bihn Aeronaut product, and Tom Bihn included some updates in the design and features. They added a dedicated laptop compartment, which I'll get into later. This feature means a lot to me, as I frequently work remotely and travel.
What are the best travel features of the Tom Bihn Techonaut 45?
This travel bag has a host of great features that make it an ideal bag for a weekend trip, which is mostly how I've used it, for taking weekends away like in the Catskills of Upstate NY.
If you wanted to take this bag out for the day, you may find it a bit big or bulky; however, for use during a road trip or long weekend getaway, it is ideal.
More adventurous travelers can get by using this as your only bag for travel. It does have enough space to accommodate everything you need on a long-term trip.
The clamshell backpack build
I really like a clamshell format for a travel backpack, and the Tom Bihn Techonaut has a wide U-shaped main compartment that fits my packing cubes, along with a toiletries bag, which you can find in my favorite travel accessories.
There are compression straps built into the Techonaut 30 and 45. I didn't find a good use for them, mostly because my packing cubes do a good enough job of compressing my clothes. It's nice that you're integrated into the bag, in situations where you don't have packing cubes, or need everything nice and secure.
This main cavity opening in the backpack opens farther than other bags, and lets you see everything inside when you open it, so there are no surprises before or during your trip.
The pockets in the Techonaut 45
The pockets on the Techonaut 45 are everywhere, and they're versatile, too. In my opinion, they make the bag unique, and I found them to be helpful in a lot of different scenarios.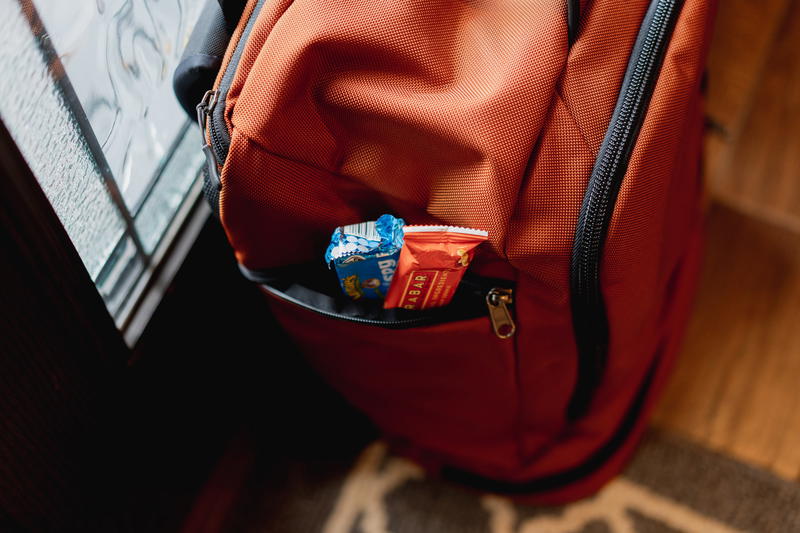 Bottom pouch pocket
There's a bottom end pocket, which is useful for a whole pair of shoes or a narrow packing cube. I also found this bottom pouch to be fitting for laundry, or a small tech bag.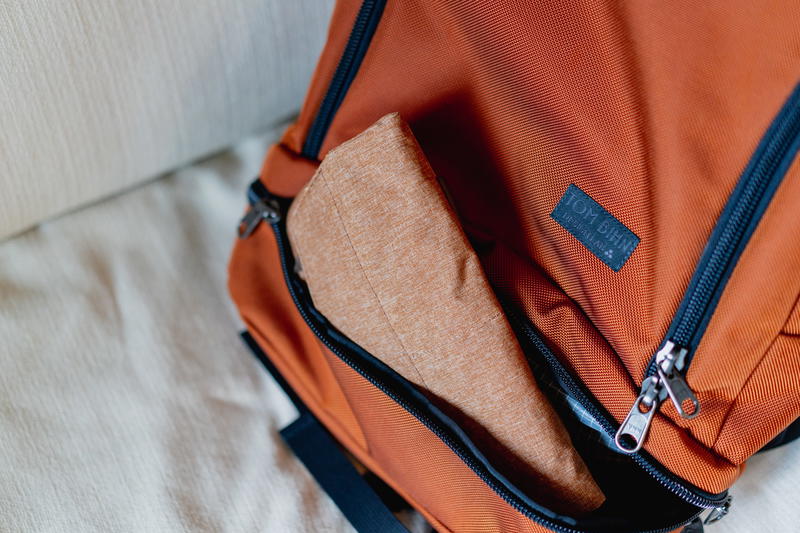 Quick access pockets
The top pocket is good for a travel-sized Bluetooth speaker, a water bottle, some snacks, cables or a small pair of shoes.
The side pockets are great for water bottles because they will prevent spills when the bag is mostly upright.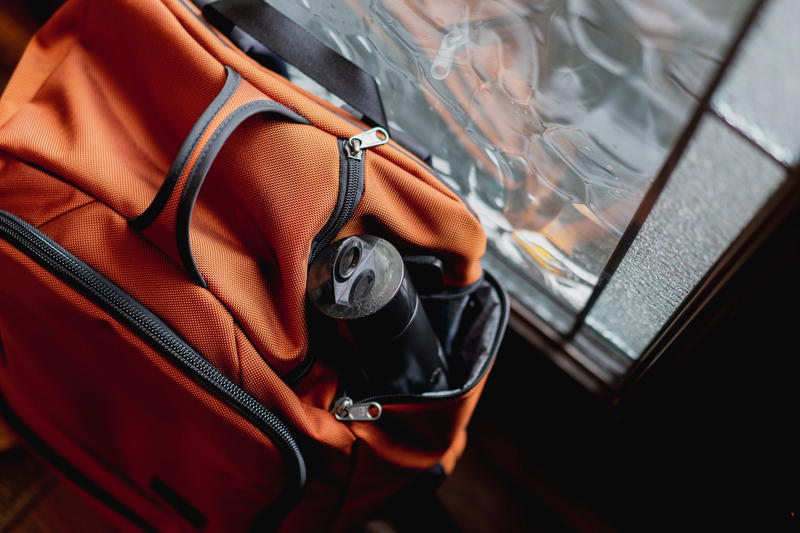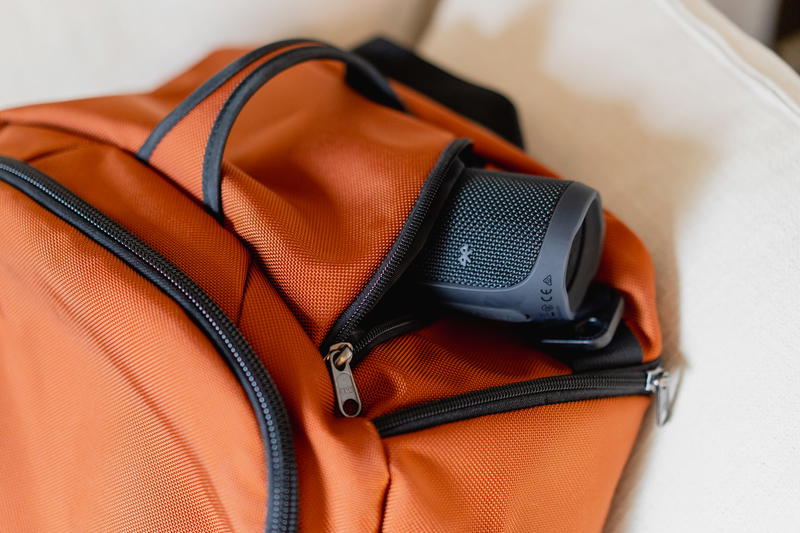 The handles: exterior grab handles
First, there's the top handle. This is a solid handle that's convenient, and strong. It's great for pulling the bag down from a luggage shelf on a train, or out of the trunk of a car.
This strap is also logically placed on the Techonaut, so that you can steady the bag when you're putting your laptop in or taking your laptop out. This is when you'd want a bag that's not falling over, for sure.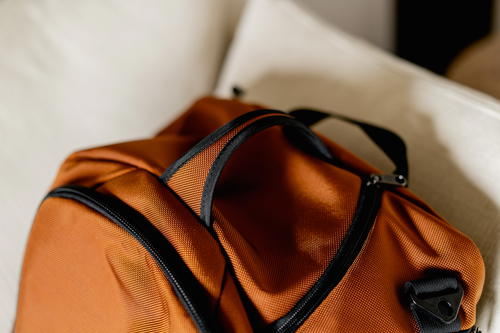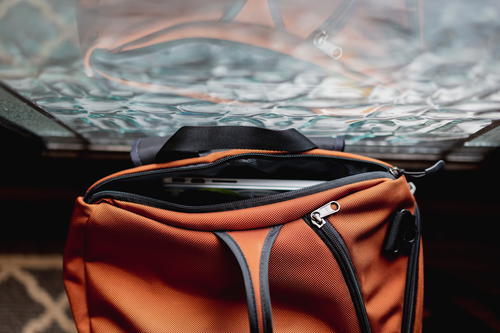 Then, there's the side handle, which Tom Bihn refers to as the "duffel handle."
The duffel handle has a great cushy feel, and is comfortable to hold for a few minutes while waiting in an airport line or taking the bag out of a car.
It's a low-profile handle, so it doesn't stick out when you glance at the overall look and feel of the bag.
In fact, it blends in pretty well, and doesn't make a statement that this is a travel bag that can be carried like a duffel on occasion.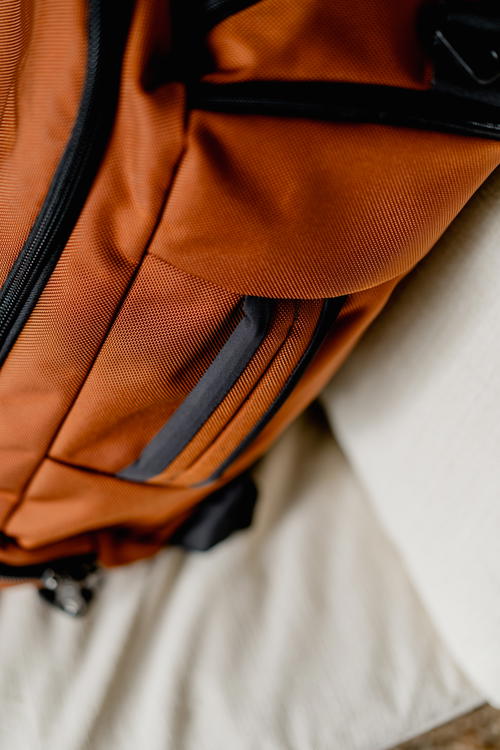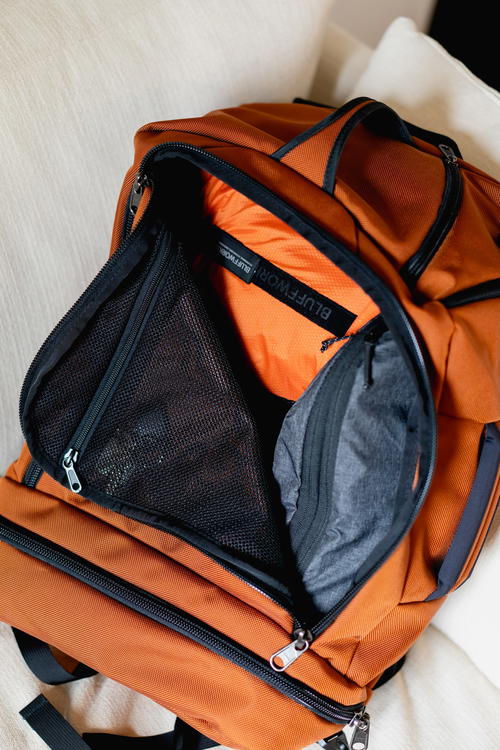 The zippers on the Tom Bihn Techonaut
The zippers are some of my favorite features of Tom Bihn travel bags and the entire line of Tom Bihn products.
If you've ever had a travel backpack or bag that has a shoddy or faulty zipper, you know the concern of waiting for it to bust or worrying that it'll break while you're in transit on a trip. That would be the last thing I'd ever want.
Bad zippers are seriously the worst. I've had issues where zippers separate, catch a stray piece of cloth or give me problems with opening or closing. I've never had any of those issues with the zippers on Tom Bihn bags.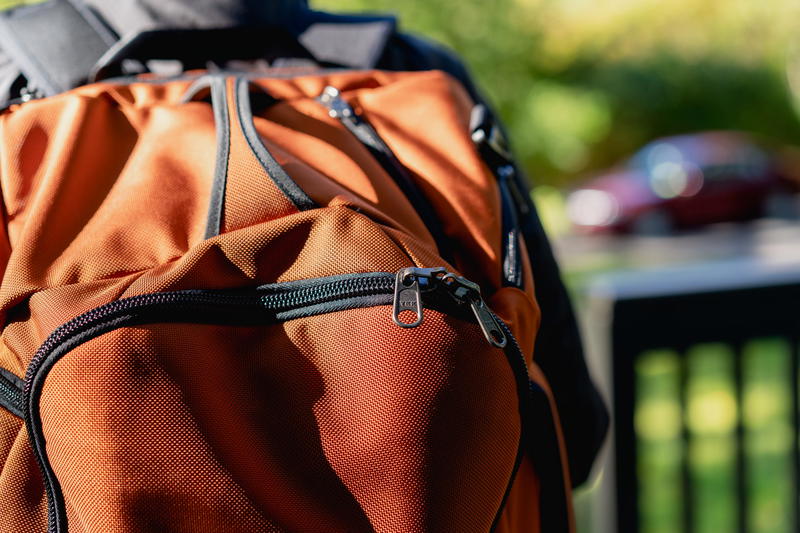 For zippers, this travel bag has two #10 YKK Raquet-Coil water-repellent zippers with lockable metal sliders. It's impressive how much faith you can have in high-quality zippers on a bag that has a high value of goods inside, like my photography equipment and camera accessories.
If you're really into zippers, which is, in my opinion, one of the places where some brands tend to skimp, you'll be grateful that the Tom Bihn Techonaut is made with some of the best zippers that exist for bags of this tier.
High-quality zippers do add a small amount of weight to this bag. I can't determine how much weight, but it's not a light bag, regardless.
The materials in the Tom Bihn Techonaut
The materials of Tom Bihn travel bags always aim to please, and what's worth noting is that they're top-notch bluesign® and OEKO-TEX® certified Ultralight 400d Halcyon/420d nylon ripstop. I don't expect you to know what this means (because I don't entirely, either).
It means that the materials have intention and purpose. Some cheaper bags likely use material that is the cheapest or lightest (or maybe what's available at the time of production). I know that Tom Bihn goes the extra mile to provide the best material to make the best bag possible.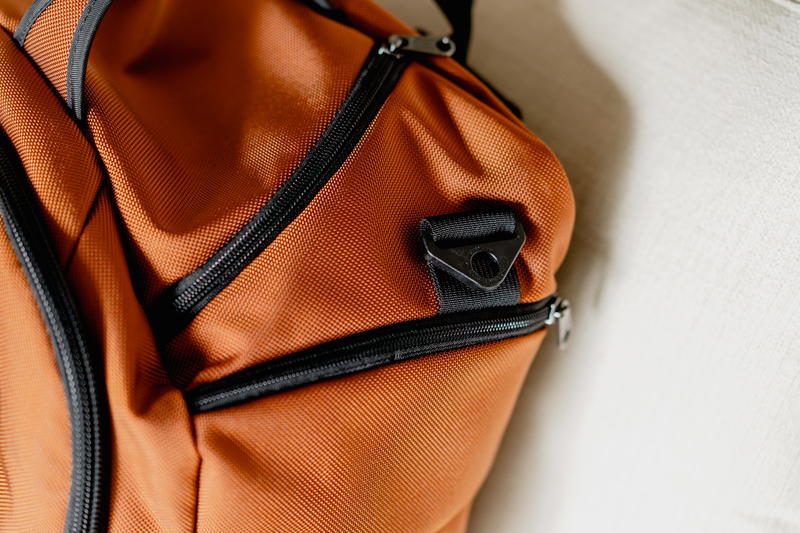 This also means you can throw these bags around and not have to be concerned that they'll rip or snag. If you do have any issues, all of the Tom Bihn bags do have a warranty. You can read into their warranty program here.
The nylon ripstop is great stuff, and you can note that the upper back is made of Pure Finish Nylon Diamond Mesh, with the lower back in bluesign® certified 210 denier High-Tenacity 2x2 nylon.
I found this material fairly breathable and comfortable during long usage. I usually have an issue where bags generate a lot of heat on my back. Well, this does happen with this bag (and frankly all bags). I didn't notice any major discomfort. Sometimes a bag will have "sharp" mesh material that starts to become uncomfortable after long usage. None of that happened during my continued use of this bag.
All my Tom Bihn products like the Shadow Guide 23 and the Tom Bihn Synapse 25 have been taken around the world, and also to the local grocery store near my apartment, with no damages through all the wear and tear.
Well, my Synapse did have a small hole form inside one of the pockets. Tom Bihn did the repair and the bag looks new!
The laptop compartment
The laptop compartment, according to the Tom Bihn product specs, fits "just about any laptop out there," and this stands true.
My 16" MacBook Pro fits inside fine. Any 13" laptop easily fits with plenty of room to spare. On some occasions, I've packed my 16" MacBook Pro and Becca's MacBook Air at the same time and that didn't seem to cause any issues.
The laptop compartment measures at 16.75" x 11.5" x 0.75" (if that has any significance to you) and it's also good for storing some papers, files or mail that you grab on your way out for the weekend.
We took a certified letter that arrived in a FedEx envelope in ths page. It fit perfectly and we had no concerns of it wrinkling.
Aspects in which the Tom Bihn Techonaut could improve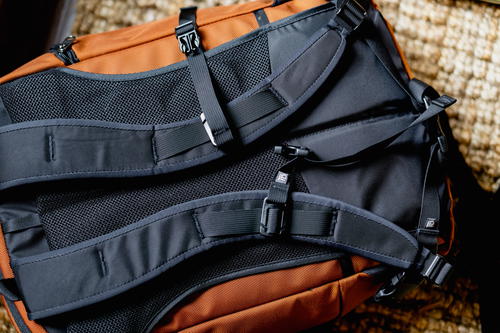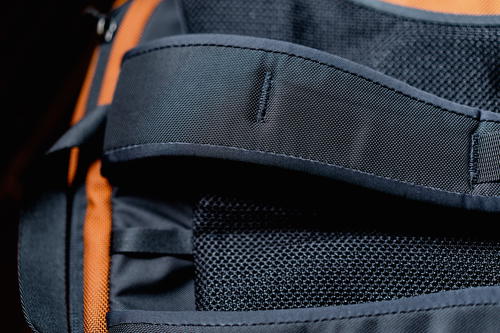 I take my bag off and swing it around from my left shoulder. I wish there was a hand hold on that side of the bag. I need to flip it around if I want to carry it. I think this is only a problem for 50% of users that have the same side preference for carrying a bag.
I wouldn't mind two handles on this bag to fix this issue.
The backpack straps are a little hard to stuff in the compartment. It's nice that you can convert the Techonaut into a duffel bag and store away the straps. I wish the straps fit into their compartment a little more easily.
Additional considerations about the Tom Bihn Techonaut in this review
I enjoyed being able to tuck away or take off the waist strap on this convertible duffel backpack. I usually don't need a waist strap unless a backpack is really heavy.
The luggage pass-through is great. I don't carry a rolling piece of luggage often, but Becca tends to use an extra-large carry-on suitcase during our car trips nowadays.
If this bag is heavy, I can imagine that it might be too much weight for the actual luggage. Becca uses the Away day pack as a backpack to stack on her carry-on suitcase. I think the size and weight distribution with that combo is great.
I didn't use the Techonaut for a side strap duffel. I think for the amount of stuff that I typically put inside, a backpack-style bag supports the weight more efficiently. I do appreciate that the duffel-style carry is an option.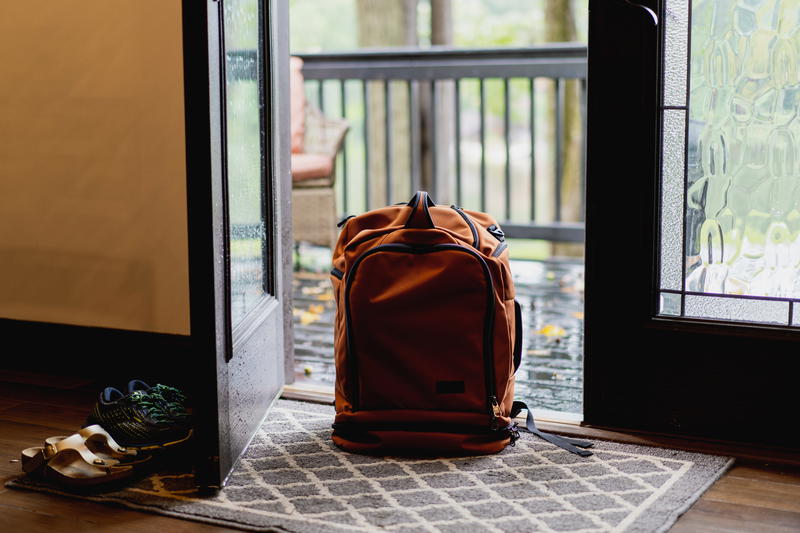 Final thoughts in this honest review of the Tom Bihn Techonaut 45
You'll find that the Techonaut is great for airports and has no problem going in an overhead compartment. You'll also find that taking the Techonaut in and out of a car trunk is super easy because of the differently-placed handles to grab from.
The compression straps, various pockets, duffel conversion aspect and quality materials all make the Techonaut stand out from the crowd. We're also continually impressed with how many packing cubes can fit inside of the main clamshell cavity. I can even fit in two packing cubes containing my Bluffworks travel suit pants and jacket, which I use to pack a suit for travel.
The Techonaut laptop travel bag takes all the fan-favorite features from the Tom Bihn Aeronaut and modernizes them into a functional travel backpack and duffel bag that you can use for years to come.
Enjoyed our article?
Consider supporting us! We're a 2-person team (learn more about us here) and your support enables us to create quality content. Thank you!