How to Hike El Teide National Park in Tenerife (Our Guide)
Written by Becca
•
Updated on September 6th, 2023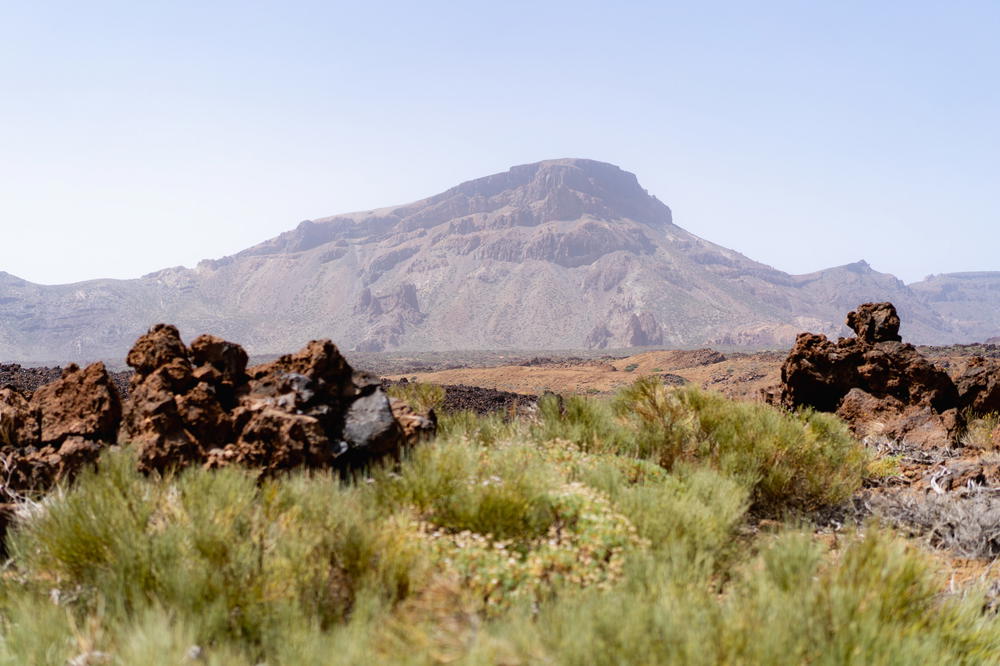 Check out how to get to El Teide National Park in Tenerife, and see our Mount Teide walking routes as a trip idea for Tenerife in the Canary Islands.
This article may contain affiliate links. We earn a small commissions when you purchase via those links — and it's free for you. It's only us (Becca & Dan) working on this website, so we value your support! Read our privacy policy and learn more about us.
Have you ever wanted a chance to visit the Moon?
We got one sooner than we ever thought we would, at El Teide National Park in Tenerife, Spain.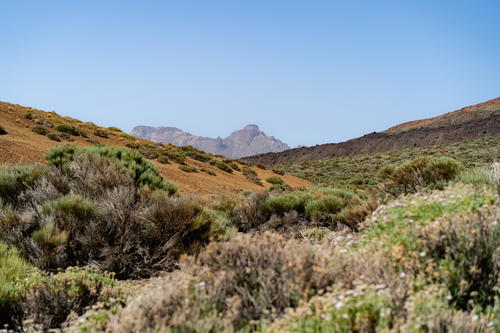 After several days in Tenerife at Nine Coliving, we had seen several colonial towns and a few beach towns, and it was time to switch it up completely.
So, we had heard about El Teide and how it would feel like we had left the seaside towns completely. The rumors were not wrong: El Teide is a volcanic national park on Tenerife.
It is home to the El Teide volcano, which is the highest point in Spain and all its islands. Keep in mind that the Canary Islands are a volcanic archipelago, and the landscapes vary from volcanic beaches to forest to rocky terrain and deserts.
According to our Lonely Planet guidebook, four million people visit El Teide National Park per year.
Here's a fact about El Teide: El Teide has not erupted since the late 1700s, which makes it a pretty safe place to visit even though the volcano is considered active.
The landscape is absolutely unique and should be on your essential list of places to visit during a trip to Tenerife in the Canary Islands.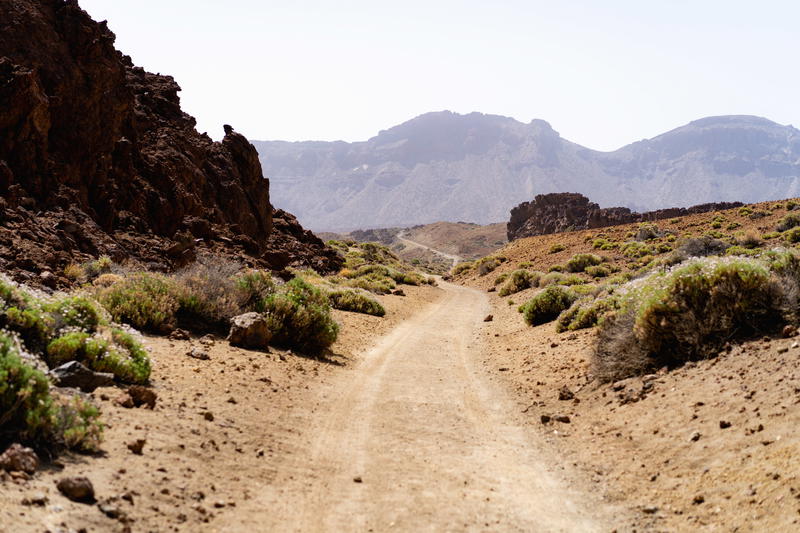 Here's a list of tips for visiting El Teide National Park while you're touring the Canary Islands.
Go on your own, via public bus, to El Teide National Park.
El Teide is located in the center of the island of Tenerife, which makes sense, because Tenerife itself is a volcanic island.
To get to El Teide National Park, you can take a private tour through various operators, drive your own rented car or take the public bus.
We chose to take the public bus. This is a great idea, for keeping your travel budget in check.
The national park itself is so relatively high up that it's above both the cloud line and the tree line.
The park surrounding the peak on all sides is considered to look lunar because it's devoid of trees, totally dry and has lava rocks.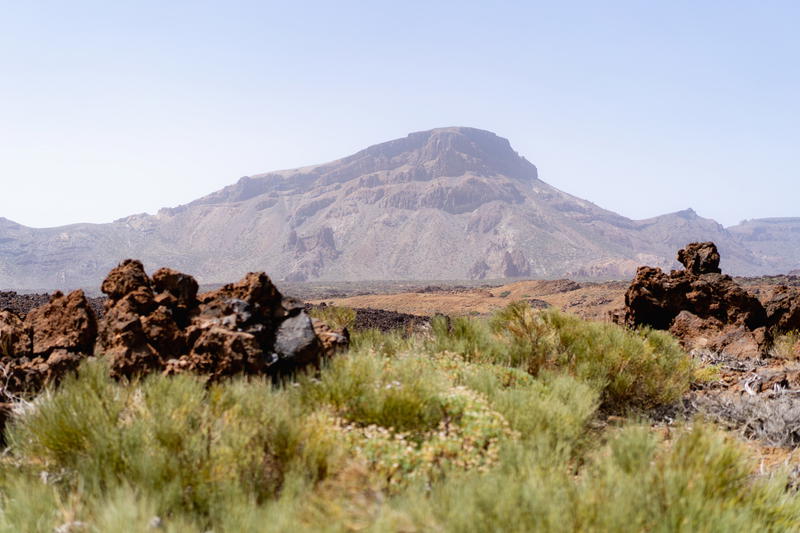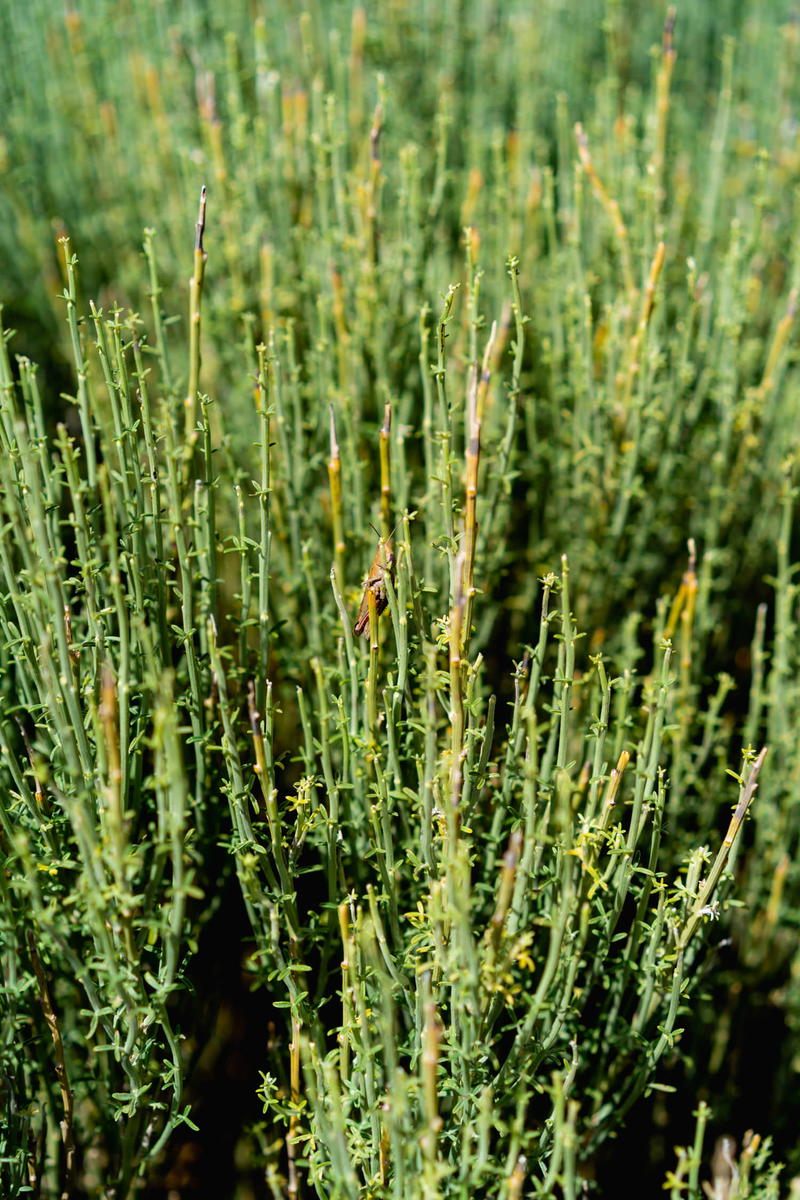 How to find the public bus to El Teide in Tenerife
We started the morning by heading off to the bus station in La Orotava for the one daily bus to El Teide.
The public buses go up once and down once per day, so… you had better not miss the one going down! We took the 348 bus from La Orotava.
It comes daily at 9:45 a.m. (definitely check local schedules for where you are staying) and departs from the El Teide visitors center at 4 p.m. again for going down.
Hike on your own, instead of getting cable car tickets.
When we got off the bus at the main visitors center (the last stop on the bus), lots of people were waiting in line for the cable car up to the higher points on the mountain.
For the cable car, you'll want to first see if the cable car is open on the day of your day trip, and then, check ticket prices.
As of when we visited the Canary Islands, the tourist cable car ride cost 26 EUR (US$30) per person, and takes you to a part of the mountain where you can see the ocean and more islands.
That is pretty epic! Honestly, Teide is one of the coolest places in all of Spain for being so high, so unique and so other-worldly.
If you want to summit, well… only 150 people per day are allowed up past the cable car level, and permits are given out ahead of time and have to be reserved online.
That means that, despite the weather, you have to know well in advance that you're going if you want to get to the top of Teide, where it can be pretty cold! Bundle up with some jackets and layers in your packing list.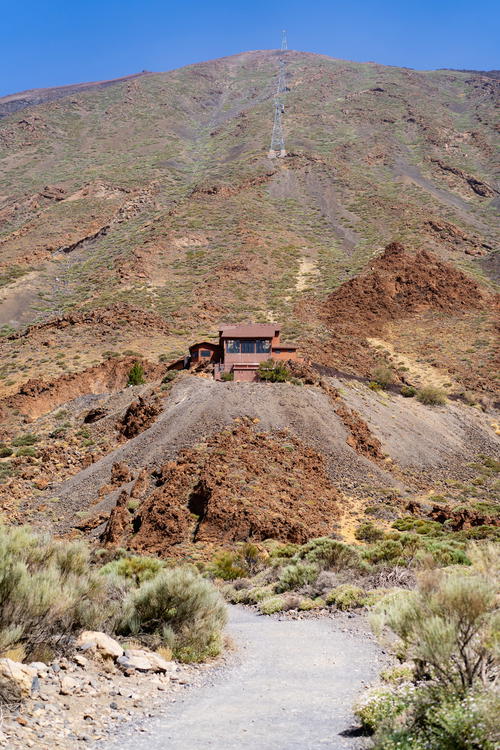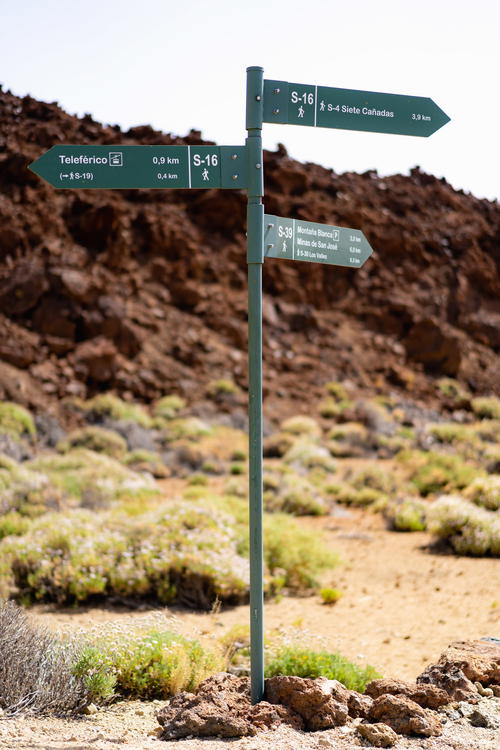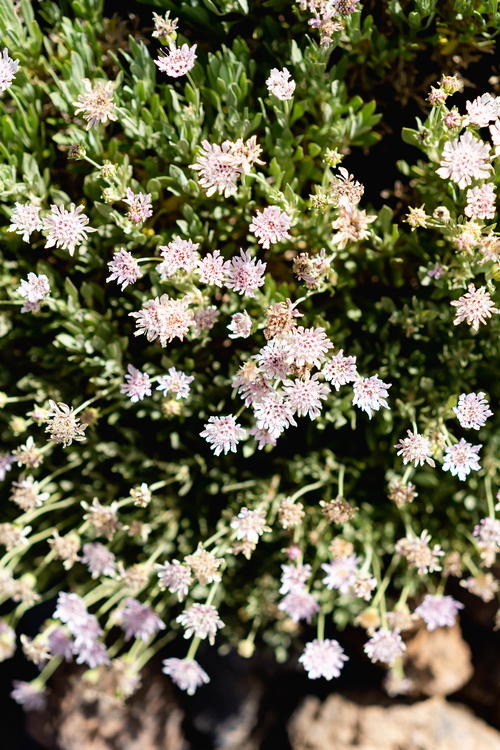 Start your (free) hike in the desert with some walking routes
According to what we saw, it seems that not so many people are opting to walk down to the trails for some lunar scenery.
Without much prior research, we chose to take a trail called Montaña Blanca, a total 3.6 km (2.23 miles).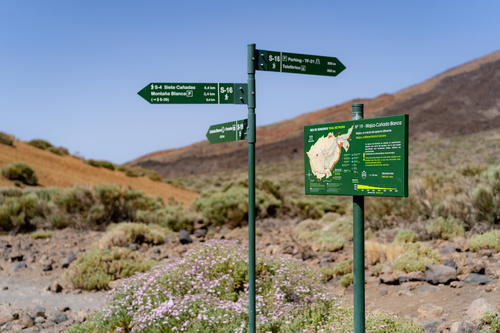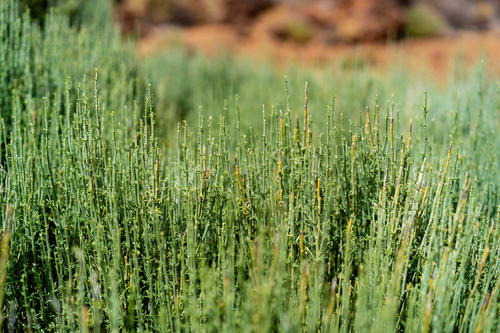 When we started, the sky was still clear and blue and we could see colors in the landscape.
Also, we were some of the only people around. That was pretty cool: a private national park.
We took some of the most memorable photos from our trip at El Teide, mostly because we had the place to ourselves on the desert walking routes that most people had no interest in trying.
Take in the desert ecosystem and wildlife at Teide.
The desert scenery went from shrubbery to rockier, and by the end we were walking over very porous volcanic rocks that felt crunchy.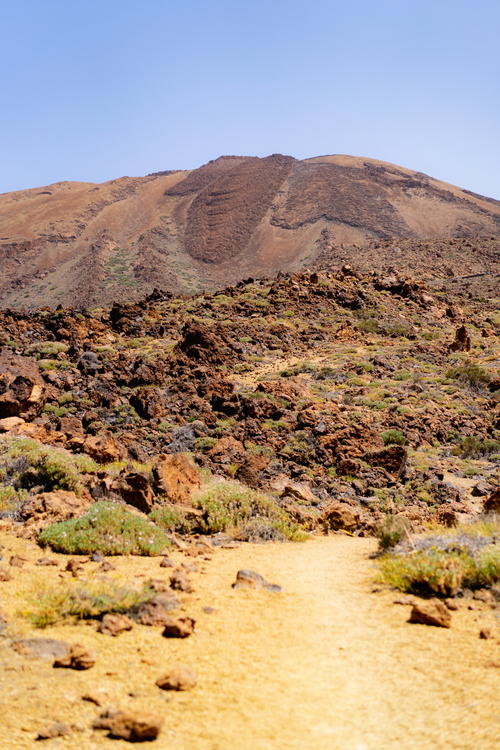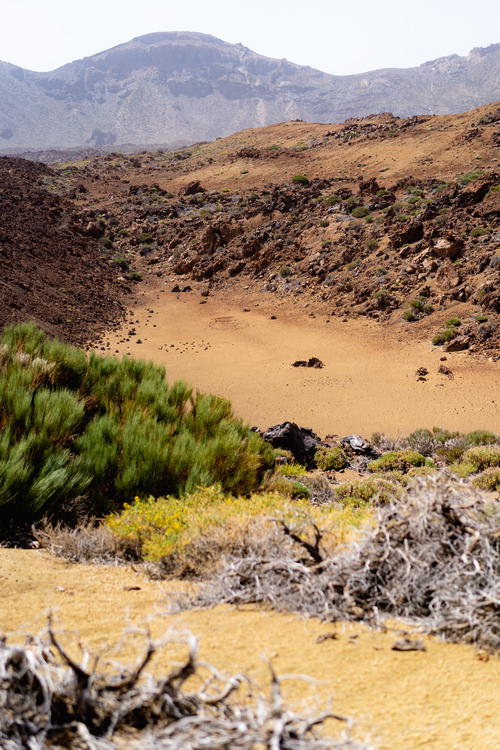 We started at 11:25 a.m., and stopped a lot for photos.
It was a good thing, too, because on our way back, the sun was at its highest in the sky, making everything look kind of colorless and shadow-less and flat, and that was when dust started rolling in and the sky got kind of gray and heavy-looking.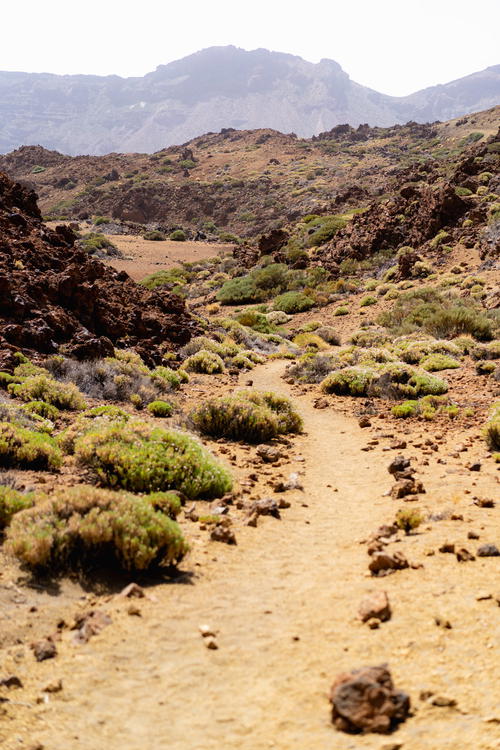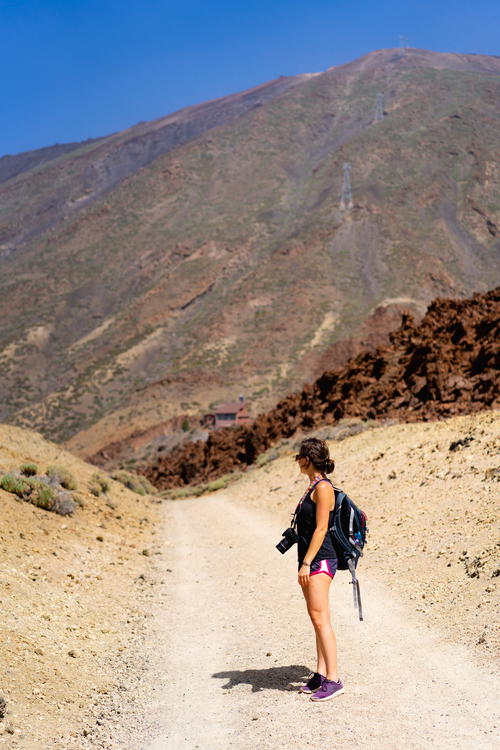 The walking trail route ended at the road and it was clear that the route didn't end at the Montaña Blanca itself, but at a lookout point for Montaña Blanca, and a continued hiking trail with a different name.
This was a bit disillusioning for us, but we were glad that the first half of the hike had been interesting.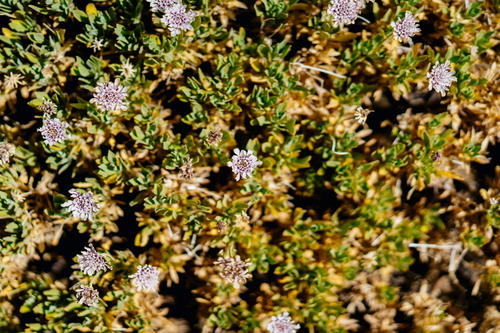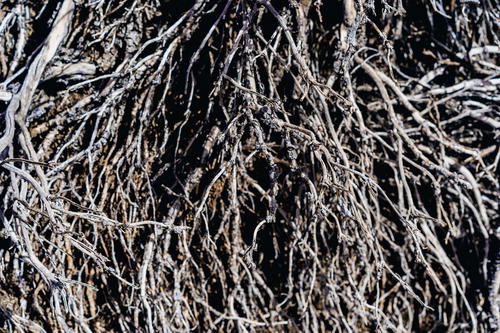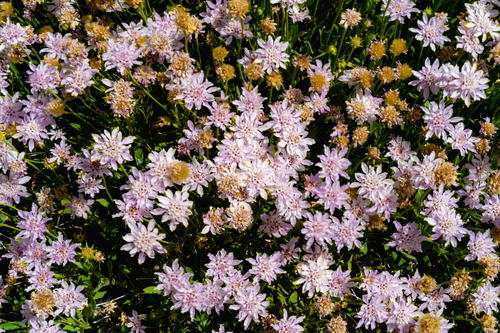 We turned back to go to the visitors center to cool off and wait for the bus back!
Actually, we were so hot, covered it dust, sweaty and dehydrated we couldn't wait to step back into the visitors center and just sit for a while.
For this reason, we really recommend coming prepared with several water bottles and maybe a sports drink, along with some snacks that will not melt.
Keep in mind that we went to El Teide in August, which was pretty temperate all around Tenerife in terms of weather and climate, but Teide is a desert on its own and has its own set of weather standards to expect.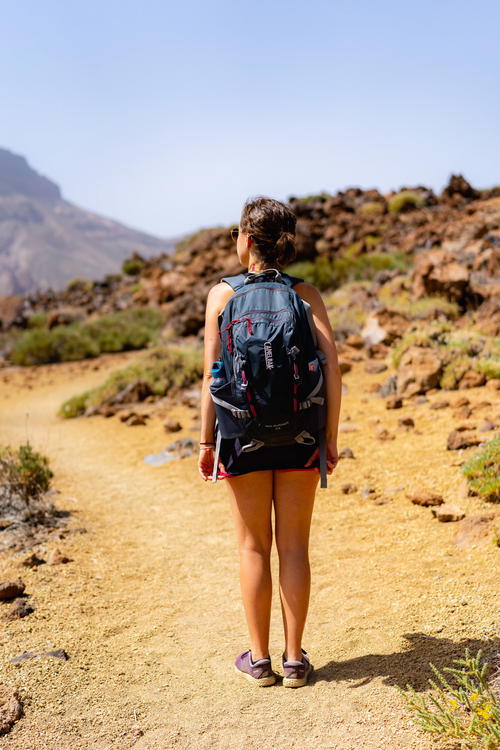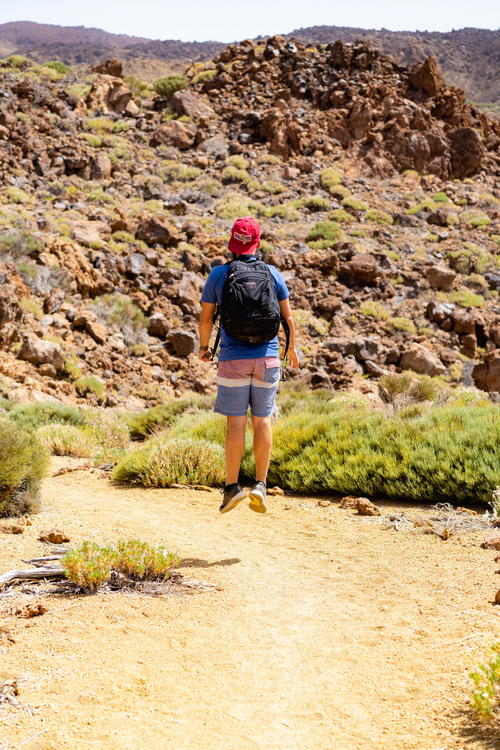 Come prepared with packing essentials for hiking El Teide
Helpful Tip
Bring two water bottles, per person. The stifling heat combined with the sun, the dust and the three hours we spent hiking caused us to ration water, and we wish we had more so that we were not so parched by the end. Bring snacks, too! There is nowhere to buy anything once you leave the visitors center.
We also suggest bringing a travel-sized mini sunscreen. You will be glad you did. You wouldn't want to burn your skin off on El Teide and be a wreck for the rest of your trip in the Canary Islands!
We usually don't bring it with us, but we are thankful that we had sunscreen for this hike, as there was no shade (at all!) and nowhere to rest that was out of the sun.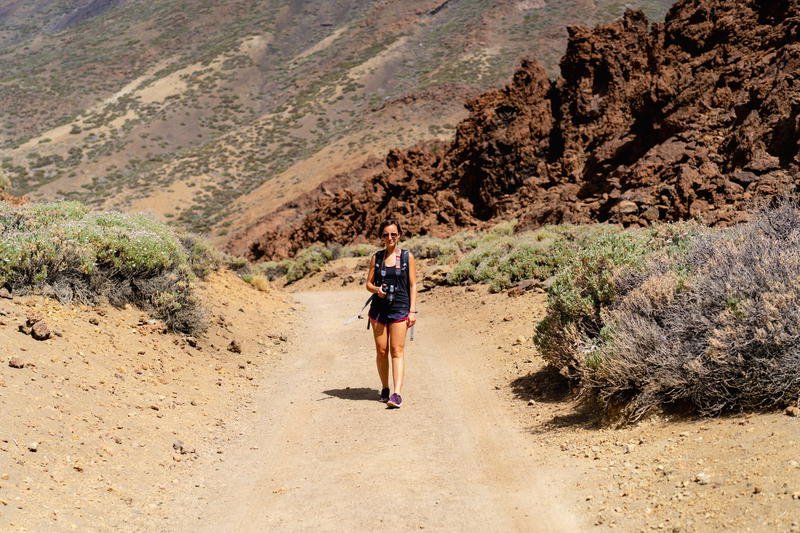 Lastly, hiking boots are helpful, as the trails are dry and rocky and slipping can happen. See more about which shoes to pack for a trip, here.
Plan out the rest of your trip in Tenerife and the Canary Islands.
As we mentioned above, we spent some time in a beautiful town called La Orotava, staying at a lovely coliving called Nine Coliving right in the center of town.
Some places we liked in other parts of the island and nearby were Puerto de la Cruz, La Laguna and Playa Los Gigantes.
If you plan to travel to another island, see our guide for what to know before road tripping in Gran Canaria. Enjoy!
Enjoyed our article?
Consider supporting us! We're a 2-person team (learn more about us here) and your support enables us to create quality content. Thank you!