Photos of the Saugerties Lighthouse Trail in Upstate NY
Written by Dan
•
Updated on October 26th, 2023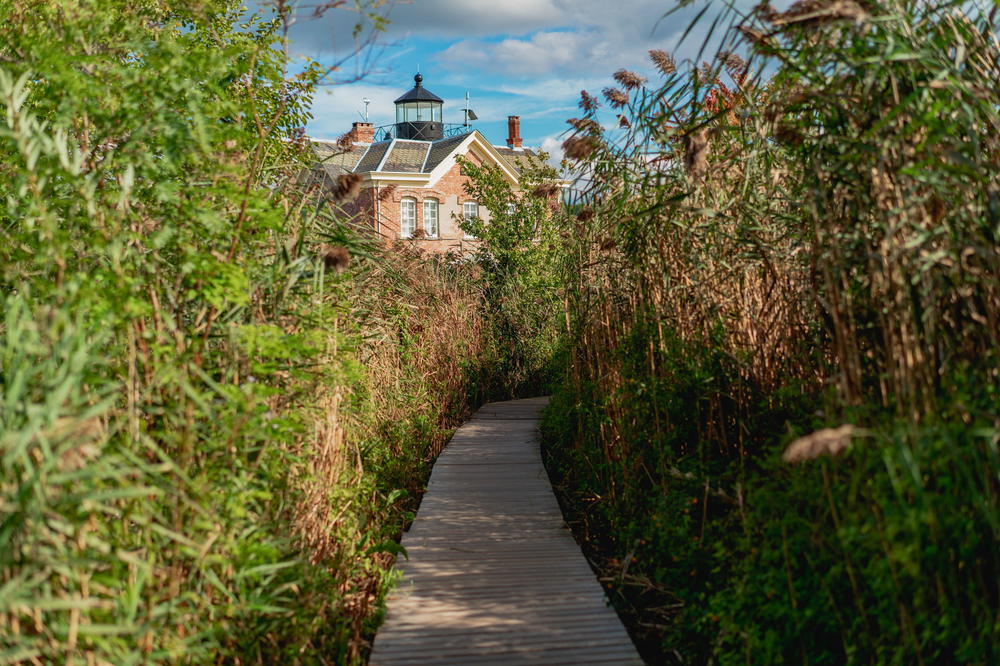 Are you visiting Saugerties Lighthouse? See photos of hiking the short nature trail on the Hudson River, to get to one of the best things to do in Saugerties, NY.
This article may contain affiliate links. We earn a small commissions when you purchase via those links — and it's free for you. It's only us (Becca & Dan) working on this website, so we value your support! Read our privacy policy and learn more about us.
Do you know what the best thing (in our opinion) to do on a visit to Saugerties, NY, is?
We'll let you know in just a moment.
We visited Saugerties, NY, with one tourism attraction in mind, and we pretty much nailed it.
I did my research before our pit stop in Saugerties for the afternoon on one of the days of our Catskills road trip and Hudson Valley road trip, and when I looked up 'things to do in Saugerties, NY,' I saw some attractive photos of the Saugerties Lighthouse.
I have to admit, though, that I did not know that getting to this little historic lighthouse on the Hudson River was a brief little adventure of its own, and one of the most memorable things we did on our Hudson Valley itinerary.
Here's a fun fact.
How do you get to Saugerties Lighthouse? To get to the Saugerties Lighthouse, you have to drive 5 minutes out of town (follow your Google Maps as far as the directions will take you) and then you'll find a parking lot for the Ruth Reynolds Glunt Nature Preserve.
The what? Yes, there's a nature preserve that leads up to the lighthouse itself, and the nature preserve is very small, but very nice!
The hiking trail and nature walk through the boardwalks and wooden bridges of the Ruth Reynolds Glunt Nature Preserve comprises tidal marshland, right on the Hudson River. We even considered that high tide might make this trail wetter, and big rainstorms could flood it completely.
Luckily, we had fantastic weather in those weeks when summer meets fall, and you'll see in our photos that we were blessed with blue skies and light clouds.
To get to Saugerties Lighthouse itself, follow the trail (it only goes one way), as you'll see in our photos below. The trail is exactly half a mile, so roundtrip, you'll do a mile of walking.
The trail is more or less completely flat, so you can do this nature walk with kids, elderly folks or anyone who can't handle much strenuous physical activity. We'd recommend this walk to the Saugerties Lighthouse as by far one of the best things to do in Saugerties and the surrounding area, and our photos will show you why.
Before you read on, there's some info we'll share that we'll go into detail later… drumroll please… the Saugerties Lighthouse, built originally in 1869, is now a proper bed and breakfast guest house where you could spend a night for a pretty unique vacation!
And now, let's take a virtual walk to Saugerties Lighthouse on a gorgeous warm afternoon, from the nature preserve to the back deck of the guest house property on the Hudson River.
Let's start with our tour online of Saugerties Lighthouse. It was built in 1869, and replaced an earlier version that was built back in 1835. There's some real New York State history here, and you can experience a piece of it.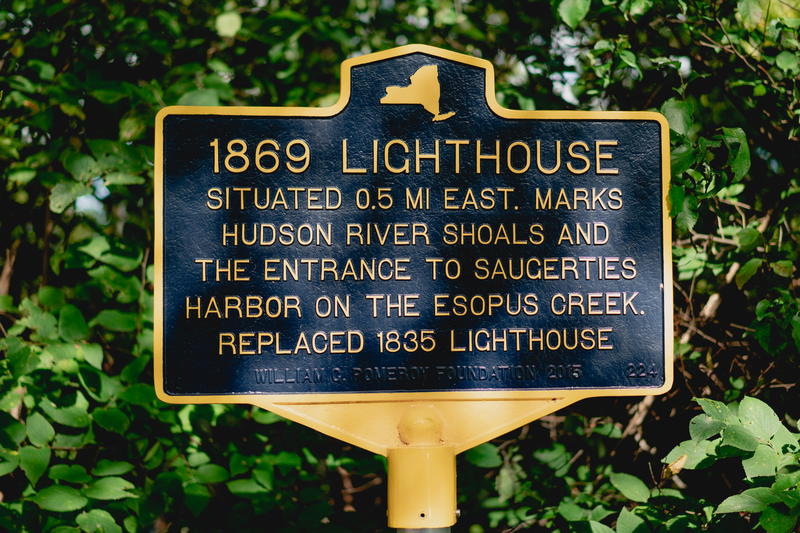 As we started the walk, we saw signs for the Private Dock, and the Lighthouse. There in fact is a private little boat dock back by the lighthouse after the 0.5-mile hike, and that's because if you want to know how to get to Saugerties Lighthouse, you either have to walk the trail, or take a little boat to the private dock! It's isolated at the end of a tiny marshland peninsula, stilted in the water.
The nature walk starts out rather shady, with well-kept dirt paths, and some small wooden bridges that take you over marshland and streams.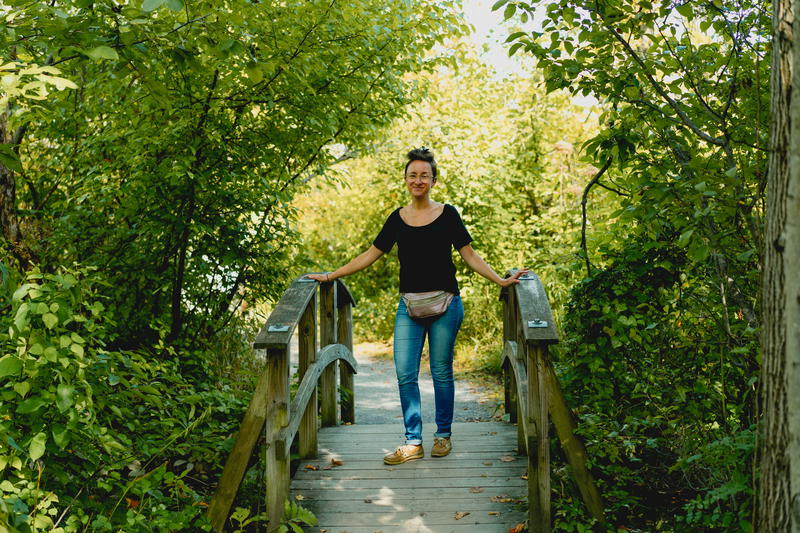 As we progressed into the hike, we were blessed with sun, and with wild tidal marsh vegetation on either side of the wooden boardwalk path.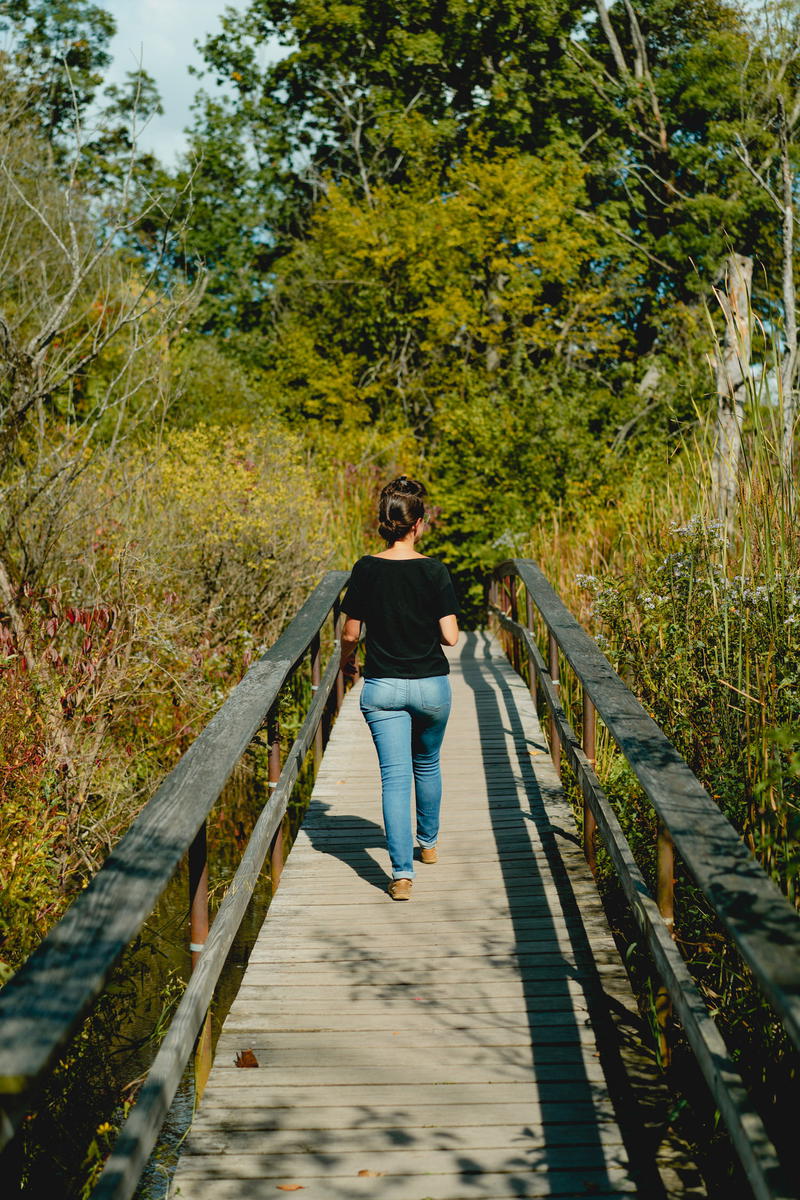 Do you like wildflowers and wild berries? We do! We just opt not to eat them, because these berries are probably meant for the birds and bears.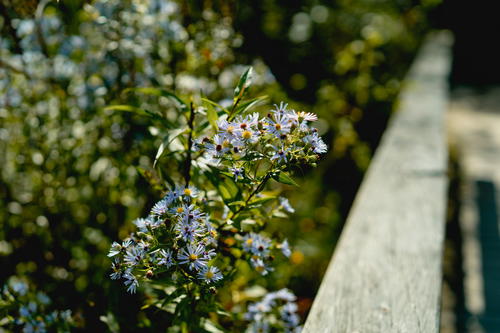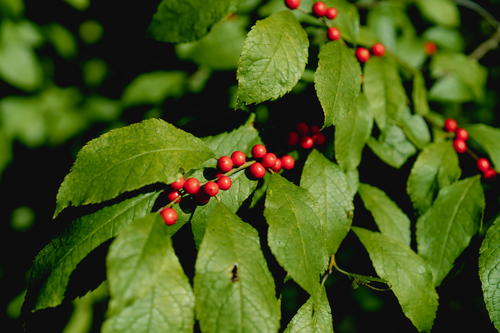 Are you busy like a bee? This one's hard at work.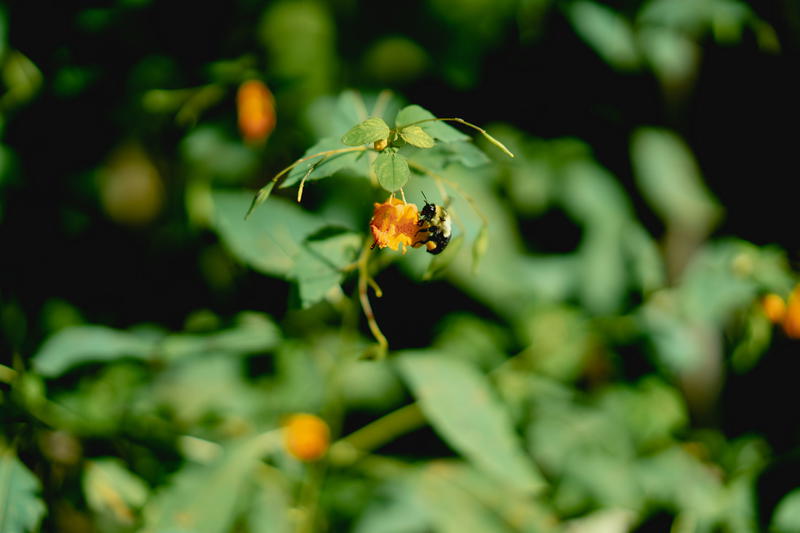 Heading down the boardwalk paths, we started to get a glimpse of the Hudson River, and in pockets of views, we could see westward to the Catskills and eastward to the other side of the river, to Dutchess County, New York.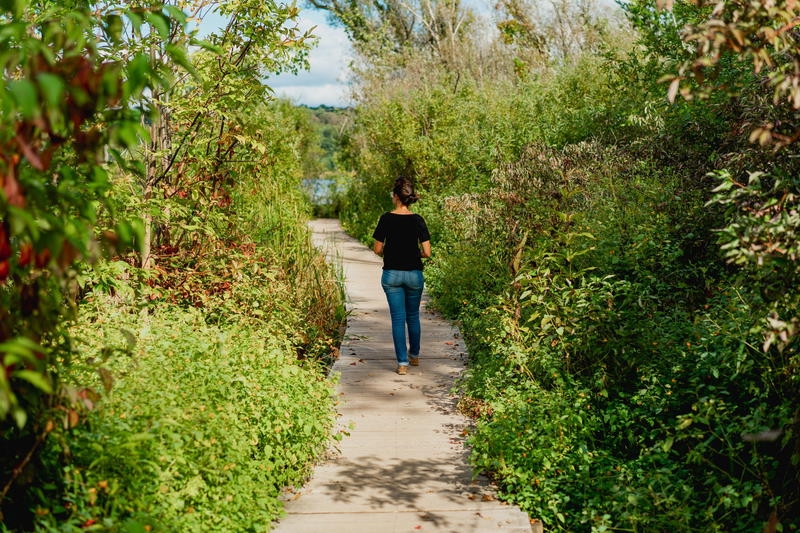 After some pretty maritime views, here was the lighthouse: a pinkish and rather pristine brick building that's situated on a wooden dock.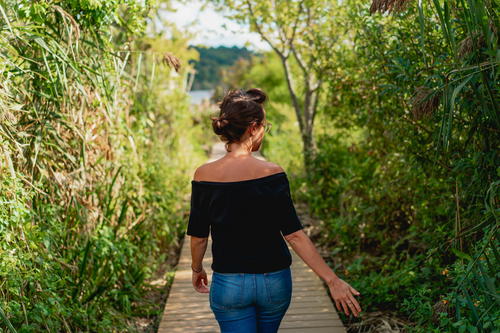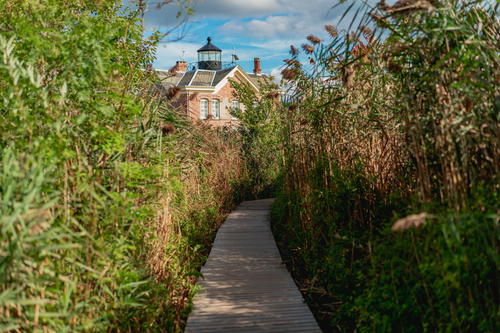 At the approach, you can see a fun sign that lists mile markers for a whole bunch of famous places you may know, like the Statue of Liberty (it's 103 miles away!).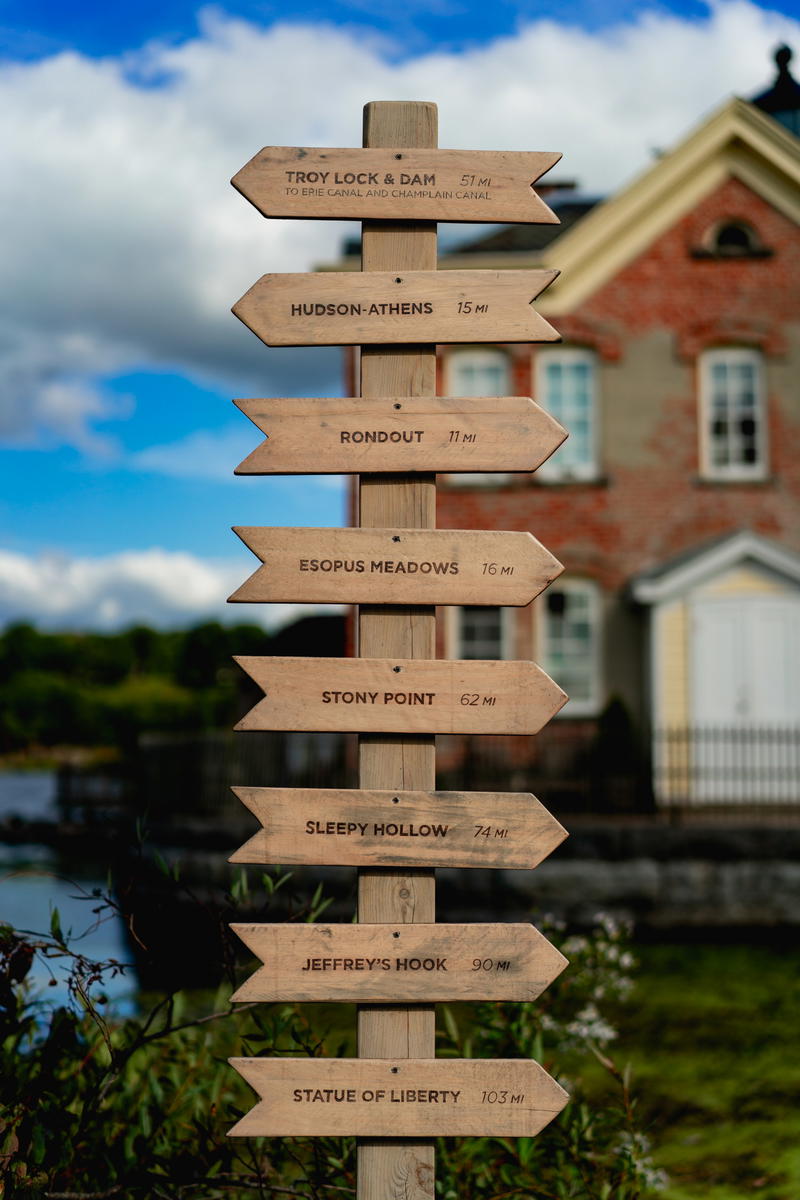 Becca had a good time reading the history and ecologic information, as she always does that when we travel. Do you like learning about a place through its history and natural information?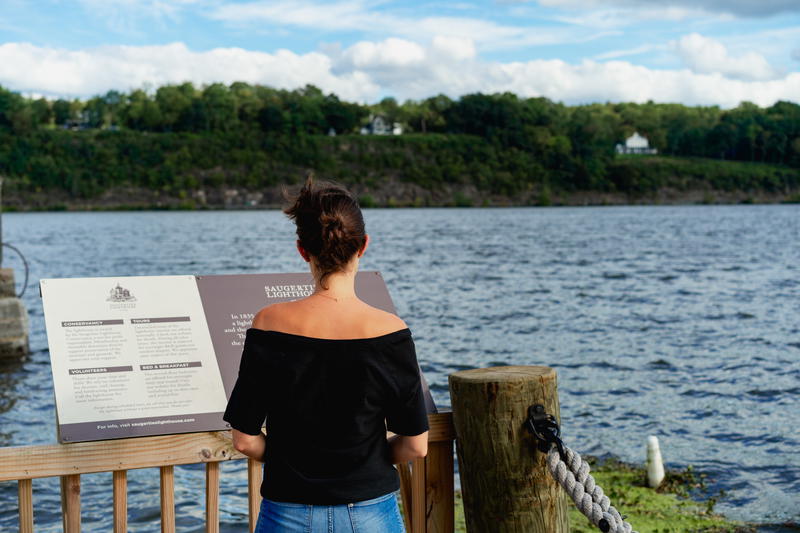 You can take a quick photo on the dock and balconies of the Saugerties Lighthouse, but do keep in mind that it is a bed and breakfast, so guests may be staying there and they may want their privacy.
To make a reservation at the Saugerties Lighthouse hotel, you can check out the organization's website. We didn't stay there; rather, we stayed in Leeds, NY, a few miles and a 30-min drive to the north, at Joy Cottage.
As you can see in these signs, the property respects the guests and their experience.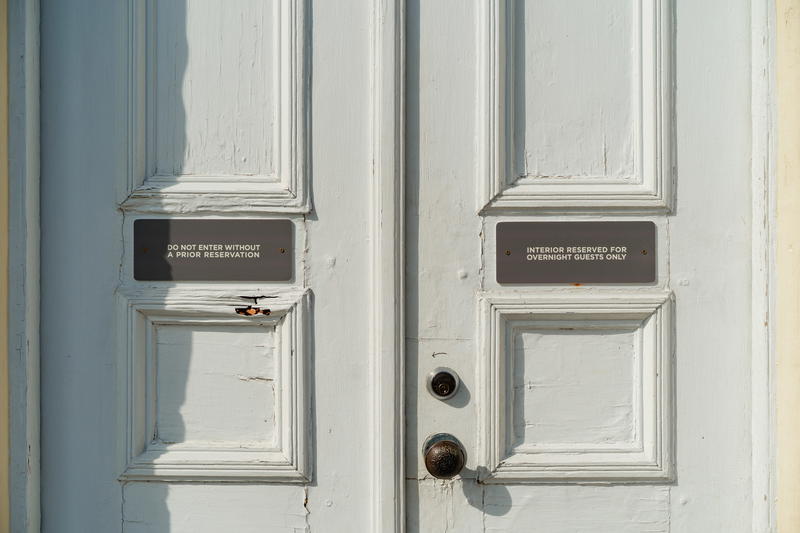 For everyone else visiting, like us, and like you, there are lots of views to be had once you round the corner and head from the front of the building to the back.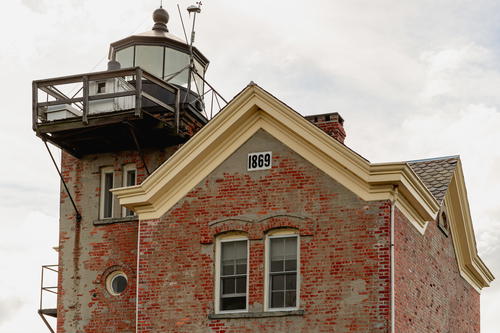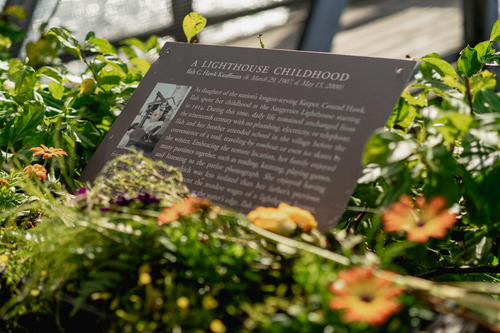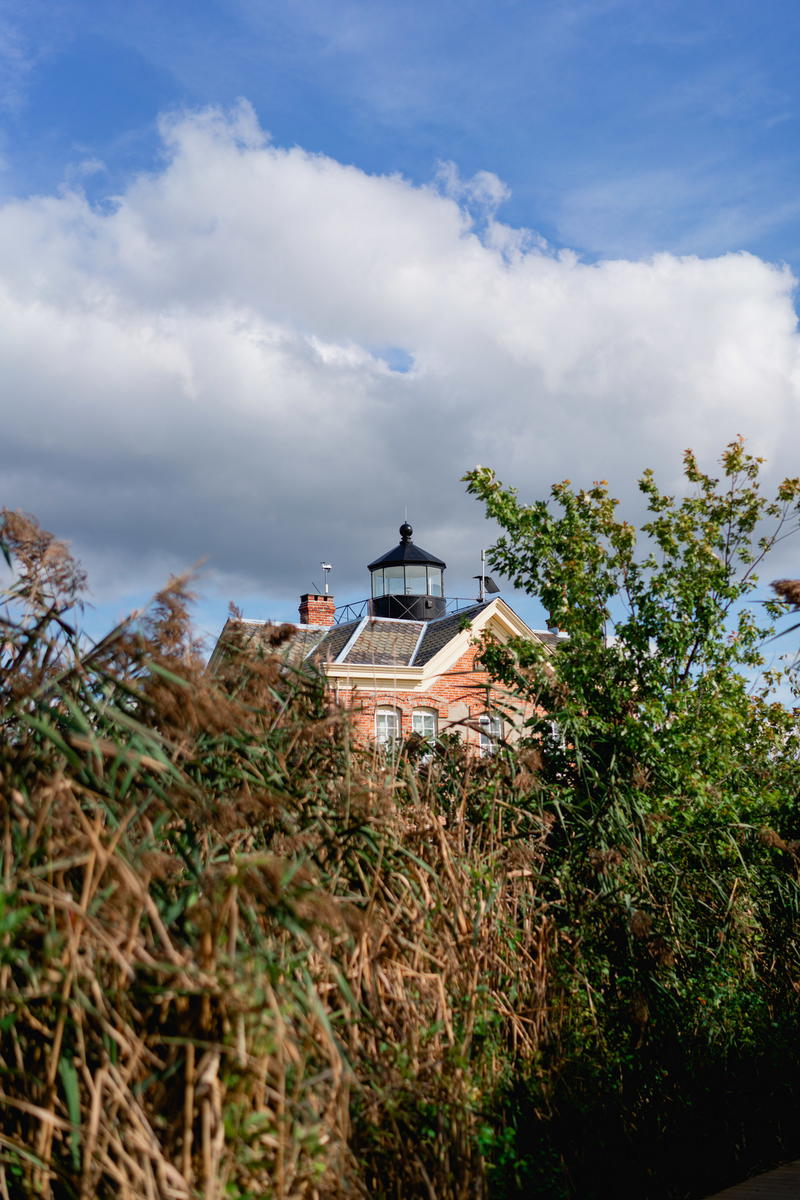 Visiting the Saugerties Lighthouse was one of the best things to do on a trip to the Hudson Valley. It's super accessible, easily enjoyed in under an hour, and very photogenic! You could even go at sunset to get some stunning photos of the lighthouse against a colorful evening sky. Do note that the nature reserve closes at dark, so you may need to hurry up and rush out.
If you're wondering, "How far is Saugerties, NY, from NYC?" you're not alone. As a unique day trip from NYC, Saugerties is totally possible.
To enjoy the lighthouse and then downtown Saugerties with its slew of restaurants and charming shopping, you'd have a great day.
You could also turn a long weekend getaway into a Hudson Valley trip and you can make Saugerties one of your destinations. Things really heat up on the weekends in these Hudson Valley towns, so if you want a quieter time with lots more of the nature reserves and space in restaurants and cafes to yourself, might we suggest going on a weekday?
Wondering what else to add to a photo-filled trip of Upstate NY and the Hudson Valley? Check out what it's like to walk around Hudson, NY.