UPPAbaby Minu V2 Travel Stroller Review: Worth the Price Tag?
Written by Becca
•
Updated on November 22nd, 2023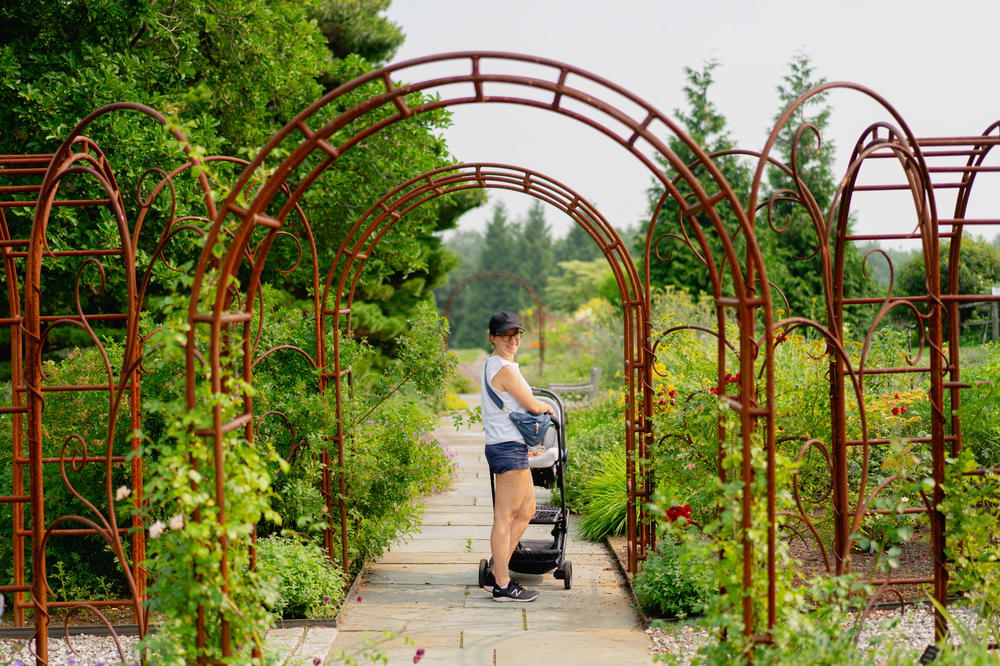 In looking for a travel stroller, we think we found the perfect one! The UPPAbaby Minu is lightweight and folds up small for flights. Is it worth the price tag?
This article may contain affiliate links. We earn a small commissions when you purchase via those links — and it's free for you. It's only us (Becca & Dan) working on this website, so we value your support! Read our privacy policy and learn more about us.
Why is finding the perfect travel stroller so incredibly challenging? I think it's because of the sheer amount of stroller options, which is what our experience of searching for the best travel stroller for our family was like.
There are so many features to consider, and at the end of the day, all Dan and I really wanted was a lightweight stroller that folded up pretty small for road trips and flying, and popped up from a folded state with a simple click.
We landed on the UPPAbaby Minu V2 as our chosen travel stroller, and we're glad we did! In the review below, I give an honest opinion on what we like (and don't like) about the stroller, and what to consider in terms of its dimensions and size, weight, ability to fold up small and other concerns about traveling with a baby.
Read on, to see if the UPPAbaby Minu V2 might be the travel stroller best for your family trips, too.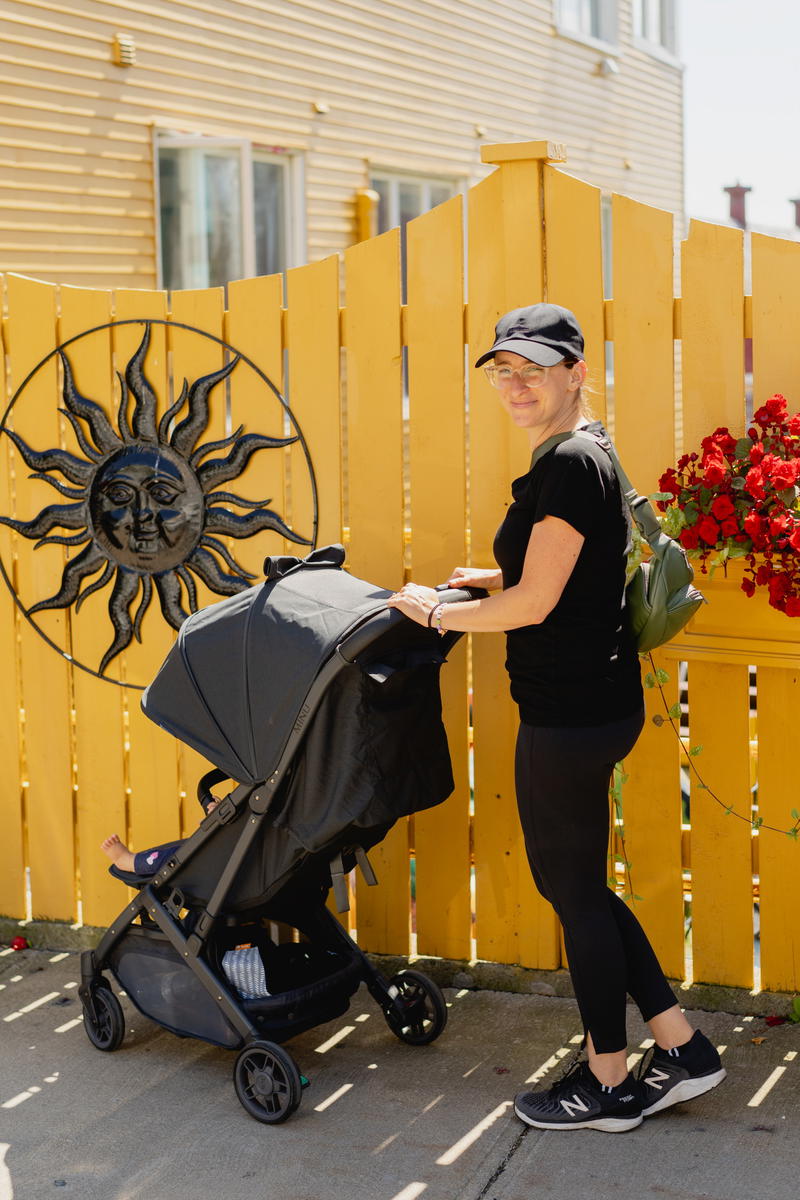 About the UPPAbaby brand
I learned about UPPAbaby when I was an expecting parent and decided to do "stroller research" toward the end of my pregnancy. I surveyed 10 friends who had had children in the past year, and asked, "Which stroller do you have?"
It's funny, that at the time, I knew choosing a stroller was kind of a big deal, but I never could've guessed just how big. As long as you have a child who can't walk, you will literally be using a stroller ALL the time, as a new parent!
When I saw that 8 out of 10 friends said they had the UPPAbaby Vista, and that they were happy with it (despite the high price!), I felt compelled to buy one.
Dan and I agreed that having a safe, strong, durable and high-quality stroller could be the difference between happiness and frustration, so we did it. We got the UPPAbaby Vista in white, and spent countless hours taking walks with our baby in the attachable bassinet in the "early days."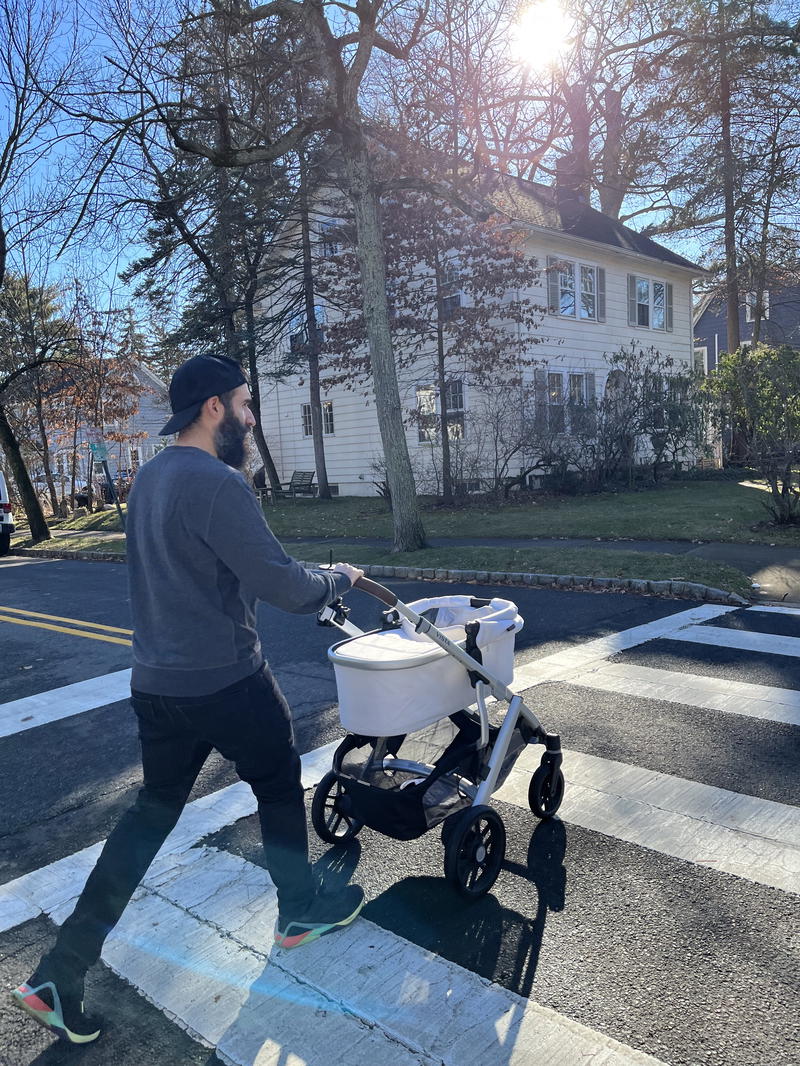 UPPAbaby is a brand that claims to put family first, and prides itself on excellent customer service. These are definitely things I want when it comes down to my child's safety and wellbeing. To put confidence in the consumer in regard to its products, UPPAbaby offers limited and lifetime warranties.
As a favorite among millennial parents (like us), UPPAbaby products are attractive, come in nice classic colors and are highly useful. A lot of our friends have also "invested" in the UPPAbaby suite of baby products, and the nice thing is that they all work together, even if you need adapters (more on that later).
UPPAbaby makes strollers, car seats, play yards, bassinets (we used our UPPAbaby bassinet with the stand for at least 12 weeks!) and products for parents like a Changing Backpack and all-weather products like cozy hand-muffs and knit blankets for winter stroller trips.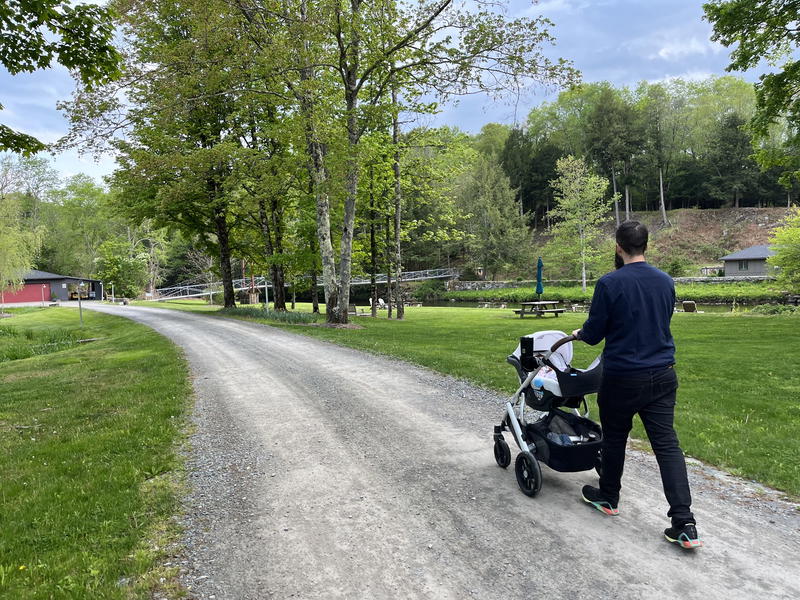 I mentioned above that we got the UPPAbaby Vista as our "main stroller." I like it a lot — a ton, in fact. But the UPPAbaby Vista is heavy. It's also bulky. It does the job, sure: it's a strong stroller with lots of great features for both the baby and the parent. I have no complaints there. It is just simply gigantic, and it won't be coming on trips with us.
So when our baby started getting "older" and we knew it was time to book some trips, we made moves on travel stroller ideas.
The UPPAbaby Minu is a travel stroller that works for us; if you're doing your research, though, the fact of the matter is that it is NOT the lightest travel stroller and it is NOT the smallest travel stroller.
Nevertheless, it has worthy features, and it's a strong stroller from the UPPAbaby family that may interest you if you have the other UPPAbaby stroller models at home. We looked at a lot of travel strollers and got a LOT of suggestions from friends (namely the Cybex, Baby Jogger City Tour and Babyzen YoYo). We ultimately decided on the UPPAbaby Minu, and here is why.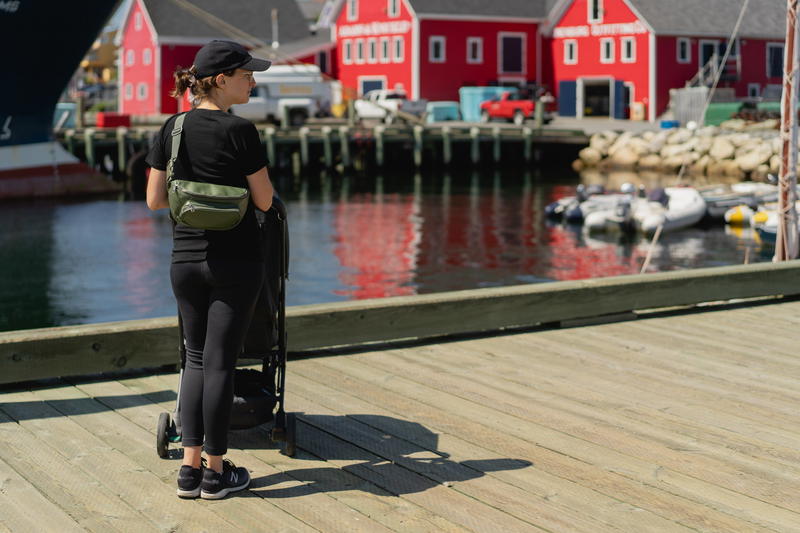 Does the UPPAbaby Minu fit in an overhead compartment?
The Minu V2 is marketed as a travel stroller (and we've used it as such), but the disclaimer here is that it does NOT fit in all airplane overhead bins. In fact, UPPAbaby states (in their FAQ):
"The Minu has been tested on several larger aircrafts but we recommend you check with your airline before bringing the Minu on the plane. For smaller aircrafts, we suggest you gate check your Minu and use the TravelSafe Travel Bag."
We bought the Minu V2 because we thought we "might" use it for flying one day. In the interim, we were happy to have it in our trunk during our many road trips with our first year of having a baby.
It saved a lot of trunk space for suitcases, duffels and our travel crib (we have the BabyBjorn travel crib), on our way to Litchfield, CT, for a three-day trip.
For flying with our baby, we were fine with gate-checking it, and that is what we did on our flight to Halifax, Nova Scotia. It's just as well, too, because our plane was only 19 rows and had a two-by-two seating arrangement. That means the overhead bins were NOT big!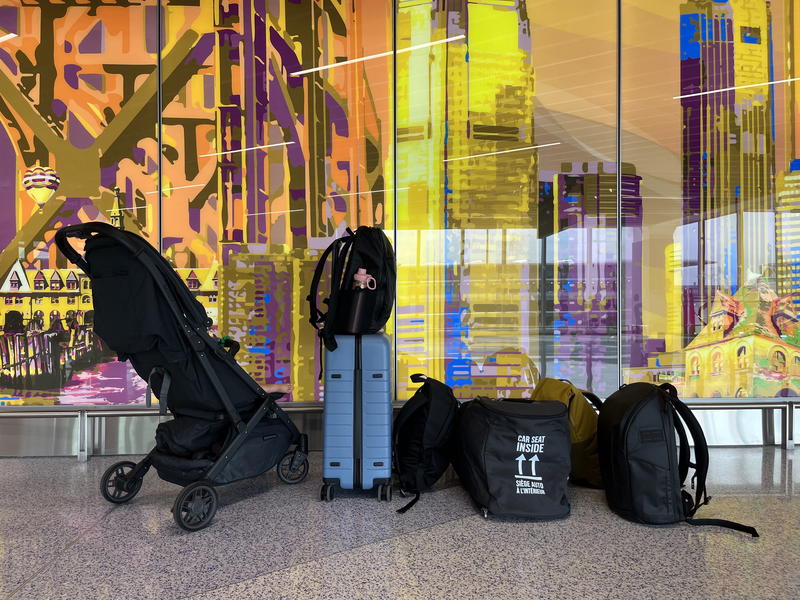 Is the UPPAbaby Minu good for a small baby?
This is a two-part question. The Minu is good for a baby as young as six months, with the fine print that they should have sitting abilities. I would not put a floppy infant in this stroller, as the harness and the seat do not cradle an infant, and there is no infant insert (that I know of) for the Minu.
If your child is on the small side, or does not yet have strong independent sitting abilities, I would suggest using the Mesa car seat with the UPPAbaby car seat adapters on the Minu. We thought this was a good first way to start using it with an infant. We still got to save on trunk space, and we had our car seat with us anyway.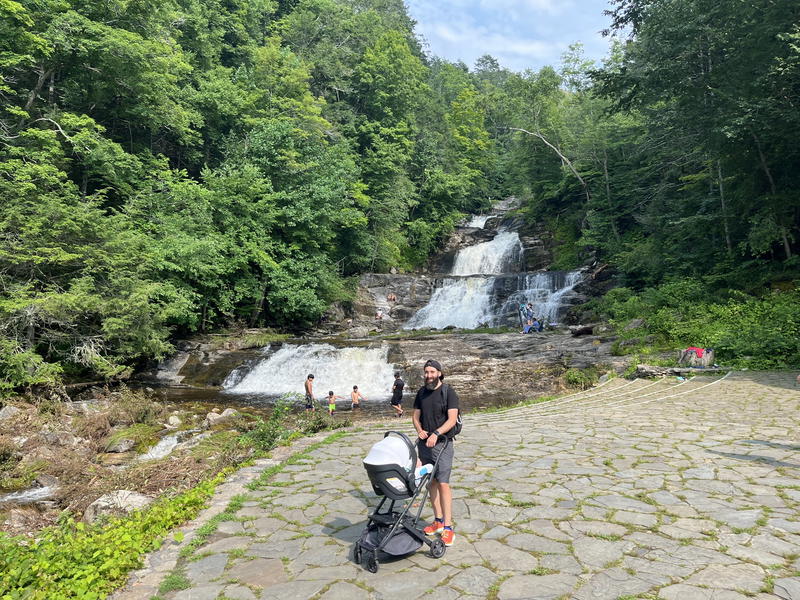 Can you use UPPAbaby Minu with a bigger toddler or kid?
Yes, you can use this stroller with a child up to 50 lbs. This should be plenty fine for an older toddler or young child, whenever they're ready to stop using a stroller.
The Minu folds up with a slide and press of the buttons on the top of the handle. While it takes getting used to, it's also not rocket science. I think popping it back open by unlatching the side latch is easier.
The redeeming factor is that the stroller can stand up unsupported when folded. We currently store it in our coat closet, folded up.
Yes, you can, and we bought the UPPAbaby car seat adapters a la carte. On our first road trip to the Catskills with our daughter, we didn't feel she was ready to sit in the Minu seat (also because it only faces outward). We used the Minu adapters to have her in the car seat. That way, we could look at her while strolling around.
For me, it was important to learn about the Minu when we got it, because I was very used to using a different stroller (the Vista). The Minu, being the compact and mostly lightweight stroller that it is, has unique qualities that make it ideal for taking on the go.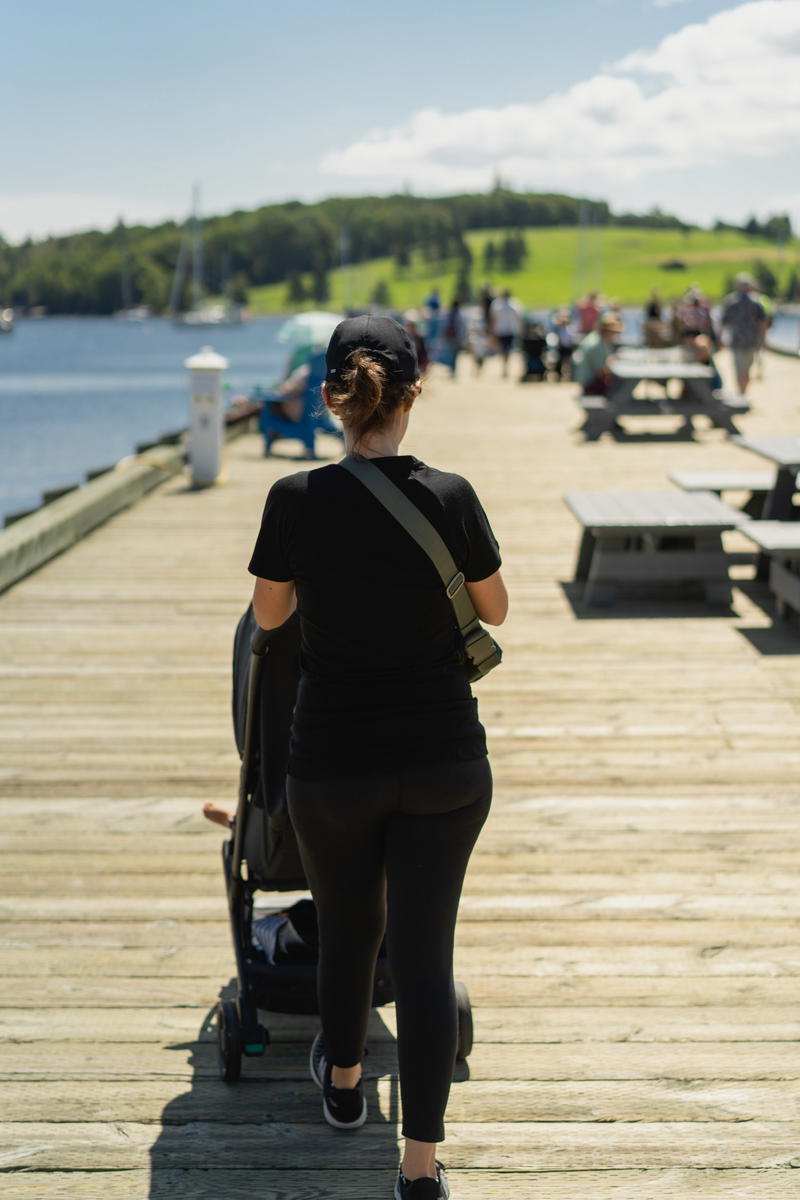 Size & dimensions
You probably want to know about how big the Minu is when it's folded up. The folded stroller dimensions are 12.5″ L x 20.3″ W x 23″ H. This being the case, it fits generously in the trunk of our sedan when we're doing a road trip with our baby.
But does it fit in the overhead bin of an airplane? As I mentioned above, that's the major complaint about this stroller from parents who are comparing various travel strollers. The UPPAbaby Minu is a bit too big to fit in most airplane overhead compartments (save for those in the largest-size airplanes).
We gate-checked our Minu in the Minu Travel Bag, and that worked out fine. To be honest, with how crowded planes are these days, and for how often airplanes ask passengers to voluntarily gate-check luggage because of full flights, your travel stroller may wind up gate-checked anyway.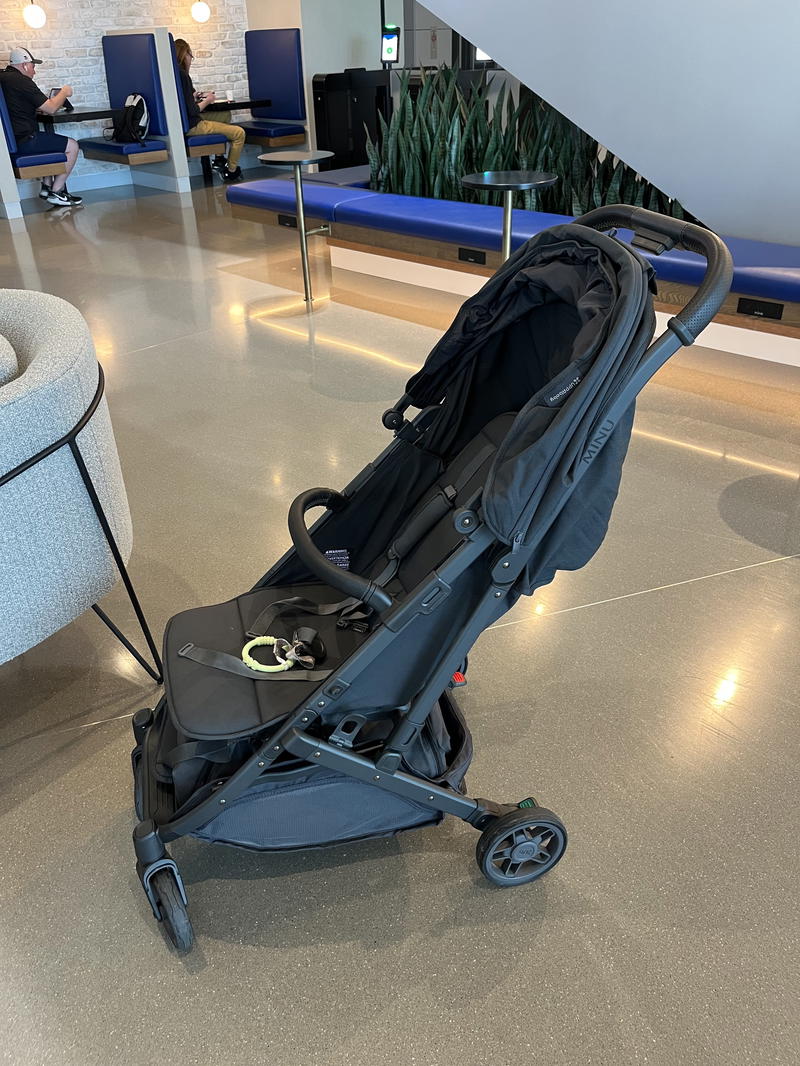 Sure, it doesn't fold down as small as other travel strollers, but when you're traveling and staying in a hotel room with a baby, having a stroller that folds down to this size is a space-saver.
Seat & harness
I like the five-point harness, which is the same from the "rumble seat" of the UPPAbaby Vista and Cruz. The seat can be used with a baby who can hold their head up and sit independently. The only thing to note is that if your child runs on the small side like ours does, putting a 6-month-old in the same seat that a 4-year-old might sit in looks a little funny and doesn't seem recommended.
The seat holds a child up to 50 lbs, so you could probably get a lot of years of use with the Minu.
Weight
The Minu weighs a drop below 17 pounds (16.9 lbs to be exact), which for me, was pleasant news after months of taking the UPPAbaby Vista in and out of my car trunk (the frame alone weighs 20 lbs, but feels like more). The Minu definitely feels lighter, and I (a 5-foot-2 petite person) can lift it with one arm if needed.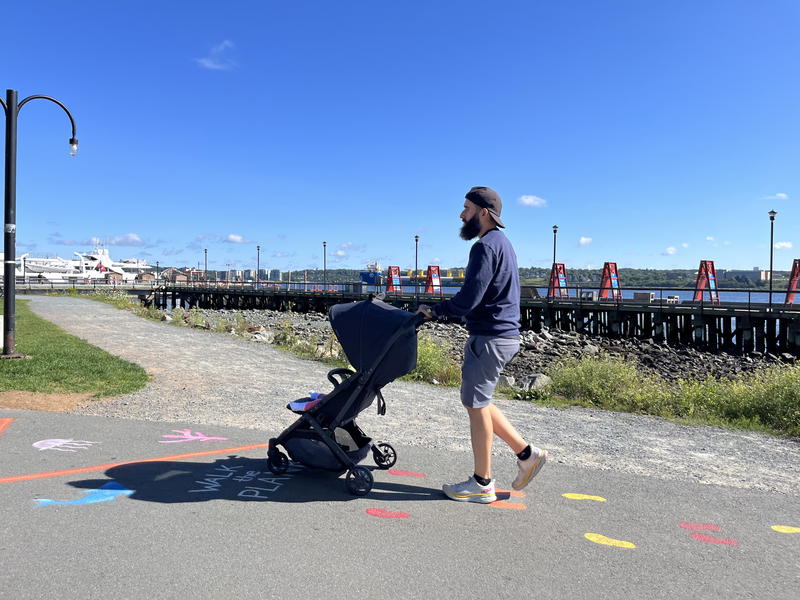 Start-stop pedal system
Using the Minu takes a second longer to get used to if you've been using the UPPAbaby Vista at home for walks like I was, during my maternity leave. The UPPAbaby Vista has only a red "stop" brake pedal, and the Minu has a red brake pedal on the right, with a green "go" pedal on the left.
All you have to do is to remember to brake when you're stopping, especially on a hill or on uneven grounds. Then, press "go" on the left to un-brake.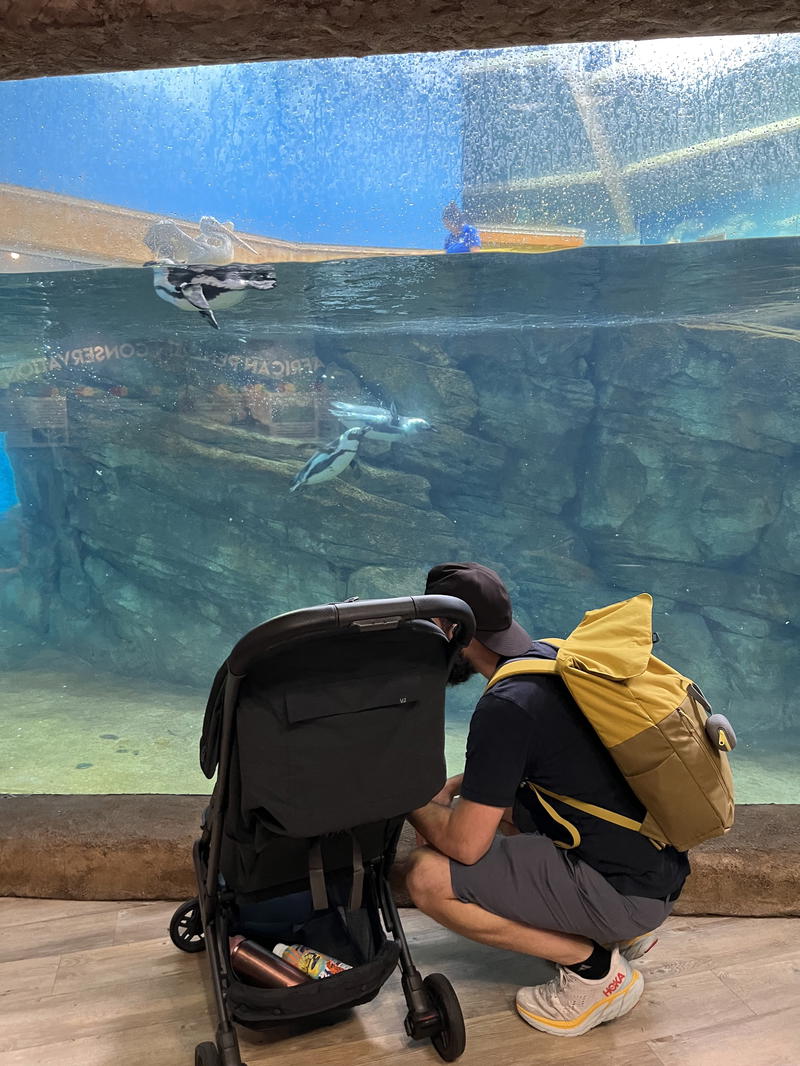 Canopy & zipper
I like the canopy for the Minu, and my one complaint would be that for a smaller child (the stroller is recommended for babies starting at 6+ months), the baby is short in the seat, and the canopy is a whole bunch taller.
It's not adjustable. The only saving grace is that it has the extra zippered tier of canopy, so you can have it come down almost 180 degrees to shade a child if they are sleeping and it's sunny (or rainy).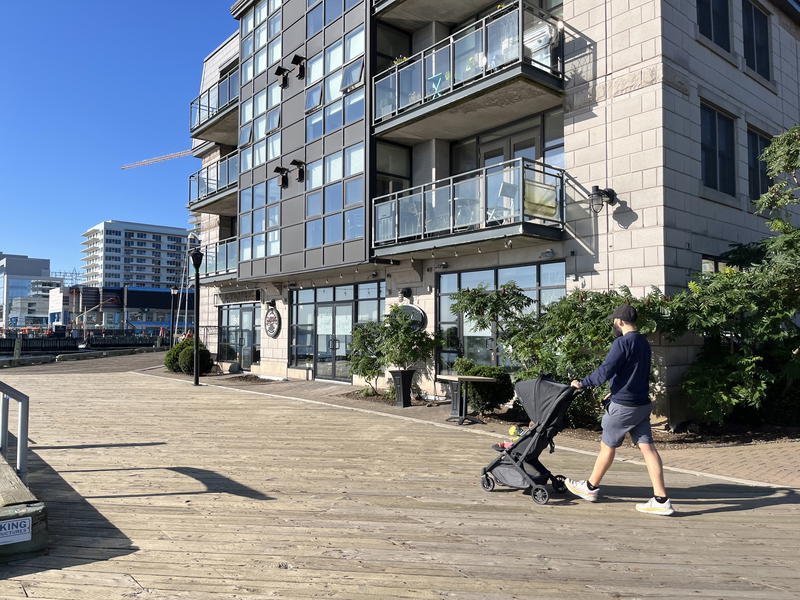 Back pocket for parents
The UPPAbaby parent Carry-All Parent Organizer "console" that we have for the UPPAbaby Vista doesn't work out for the Minu stroller. This is because of the handlebar shape. I had gotten really used to using the Parent Organizer when pushing the UPPAbaby Vista, and I didn't realize until a few weeks of use that there's a nice flap pocket at the back of the Minu canopy. It fits a phone, or even a water bottle, plus some other small items!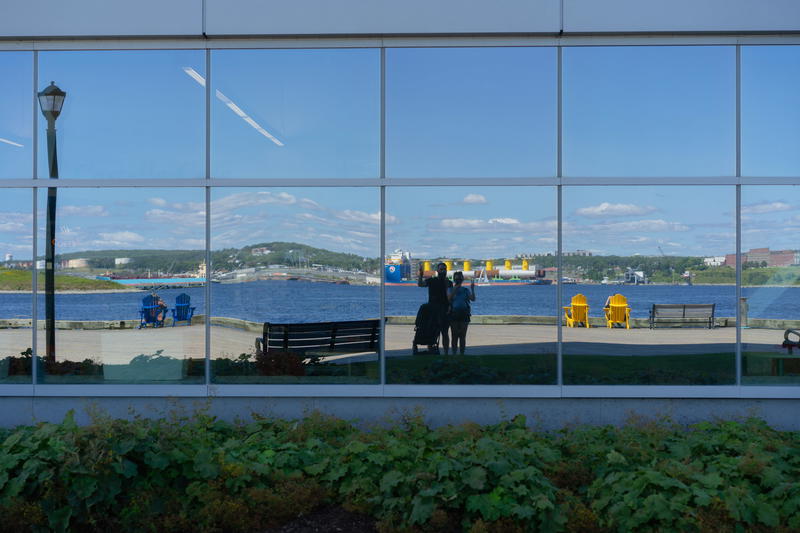 Materials
The canopy and seat are made from 100% polyester. Even though polyester is washable, it's recommended to hand wash any of these parts with cold water. It should not be ironed nor dry cleaned, and bleach should never be used to clean parts of the UPPAbaby Minu. This is somewhat of a bummer for me because I like to machine wash everything.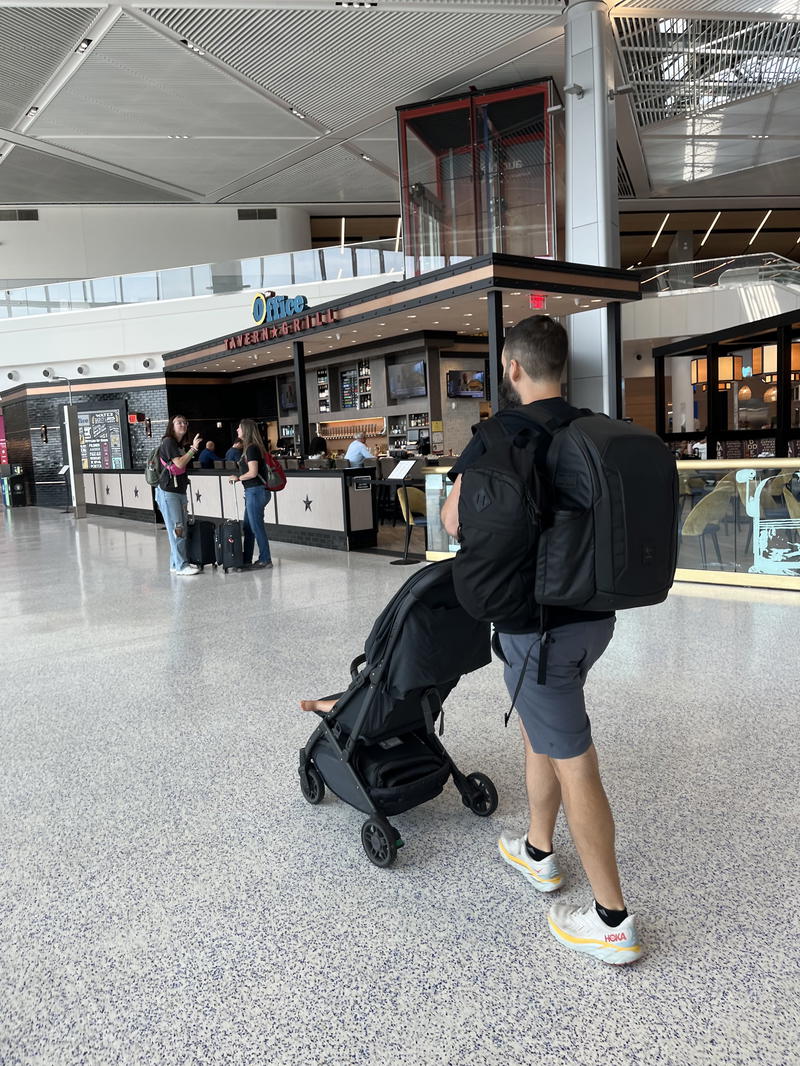 Basket
The size of the basket under the Minu is what you might expect for a smaller stroller. This certainly is not the basket of the UPPAbaby Vista, which I literally have used to load three bags full of groceries into. It is more shallow, more narrow and less wide. This makes sense for the total exterior dimensions of the Minu.
Nevertheless, we keep our (sizable) diaper bag in there (our diaper bag is the Deuter UPSeoul backpack) and it is a PERFECT fit. It's like they were made for each other.
When we're not using the full-scale diaper bag and I carry my Kibou minimal diaper bag fanny pack, we can fit both our water bottles, our Baby Tula travel-sized baby carrier, some of our daughter's snacks and whatever else, like blankets or jacket layers for everyone.
If we're out for the day with room to spare in the basket, we could fit a larger baby carrier like our Baby Tula Explore Carrier, for times when our baby wants to be "worn."
Rain covers & accessories
A few things to note about the accessories for the Minu: some are compatible with other UPPAbaby strollers, and some are specific to the Minu. This makes it yet again, kind of a money pit if you want to have all the trimmings for this stroller. We have the Minu rain shield, and that was a worthwhile purchase to have with us while traveling.
There's a snack tray for the UPPAbaby Minu (good for feeding a baby during travel!), the Travel Bag for Minu (which I comment on below!) and the universal UPPAbaby cup holder. The cup holder is the only item that is also marketed toward using with the Vista and Cruz, in all models.
Using the UPPAbaby stroller bag for flying
The UPPAbaby Travel Bag for Minu and Minu V2 was something we decided to invest in for our trip. Our thinking was, "OK, this travel bag is $90 and is going to protect our $450 stroller that we bought to last us at least a few kids." And also, "If we spend a little more than what a generic stroller travel bag would cost, we get the UPPAbaby warranty."
Instead of deliberating for more time, we bought it. The travel bag for the Minu stroller lets you register your stroller with TravelSafe, the UPPAbaby travel warranty program for reporting damages. We also registered our Travel Bag online. If the stroller were to get any damage from being thrown on or off the plane, we'd be able to report it.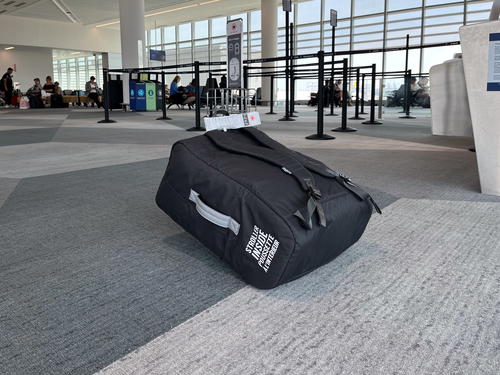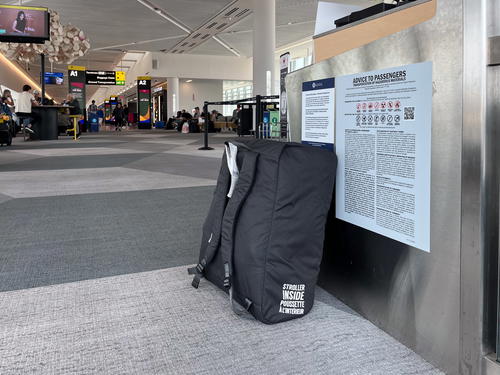 The travel bag is simple. We folded up the Minu stroller, and popped off two of the wheels to stow in the wheel pouch. The bag has a few features like a luggage tag pocket (which you can be sure I filled out!), a "bumper bar pocket," backpack straps for transport and a build from what UPPAbaby refers to as "luggage-grade fabric."
We gate-checked our Minu stroller before our flight, and it was there for us in the bag when we deplaned. Be sure to have a tag from the airline on your gate-checked stroller in case it gets misplaced or mishandled.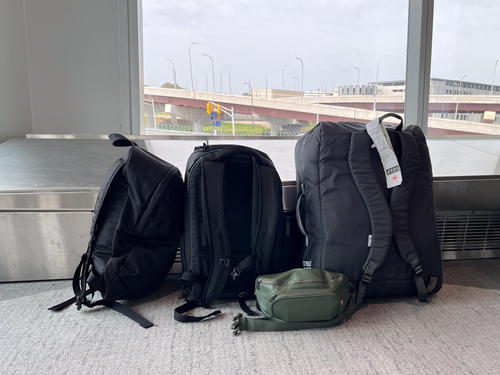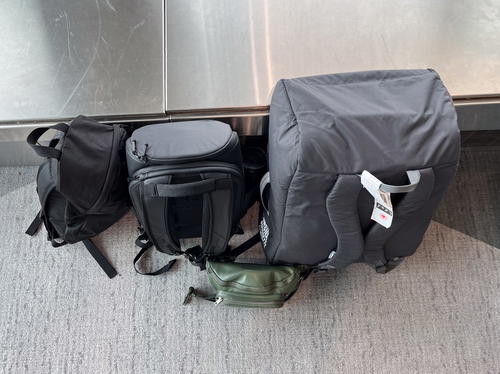 Don't forget to have a travel baby carrier for taking the baby onto the flight, after you leave your stroller at the gate.
How to decide which travel stroller to invest in
There are a lot of travel strollers you could choose to invest in, and the decision is hard, especially taking budget into account. I think it was hardest for us because we chose to ask around from friends and all the Facebook groups for parents in our area. We were bombarded with information, brands, models and opinions.
After a friend of mine offered for us to come over and check out her UPPAbaby Minu, we said, sure, why not? When we saw what it felt like and how it folded up, we thought: OK, let's do it — let's put the search to rest.
Sometimes you just have to jump all-in from one trusted friend's recommendation, and end the analysis paralysis. The only thing that held us back was the price of the Minu, but in the end, we knew we trusted the UPPAbaby brand and that it would hopefully be worth it.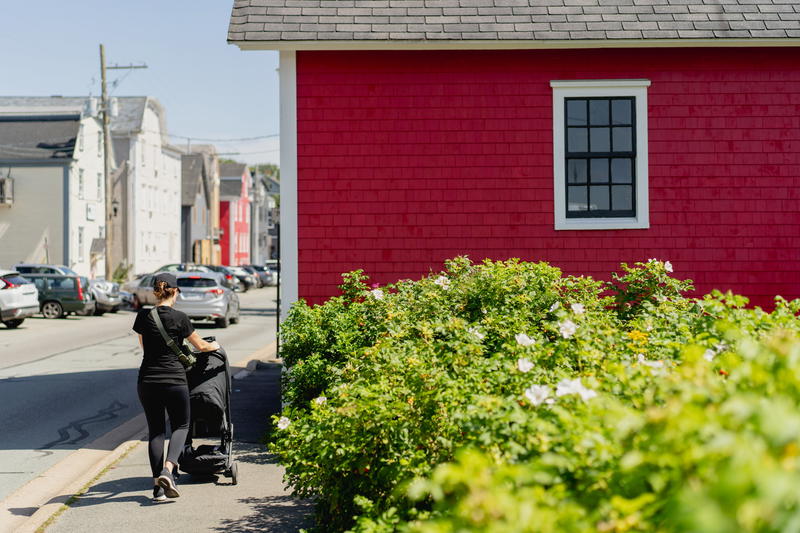 Final question: Is the UPPAbaby Minu worth the price tag?
This one is, of course, a subjective question. I'm going to tell you how I personally feel about our investment in this travel stroller, having chosen not to buy any others.
I think that for the peace of mind we get in knowing that we can take this stroller around NYC, fold it up on a train, take it down the stairs in the subway, put it in the trunk and still have space for tons of luggage, it is working out well for us.
If this stroller has a lifetime of lasting for one or two more children in our early days of parenting, we'll be pretty happy. And it should! We bought the Minu knowing that we already had trust in the quality and safety of the UPPAbaby Vista.
As with any travel and baby product, if you think the UPPAbaby Minu will bring value to how you travel as a family, then go for it!
Enjoyed our article?
Consider supporting us! We're a 2-person team (learn more about us here) and your support enables us to create quality content. Thank you!