Lake Placid Travel Guide: Discover the Adirondacks' Unmissable Gems
Written by Becca
•
Updated on September 18th, 2023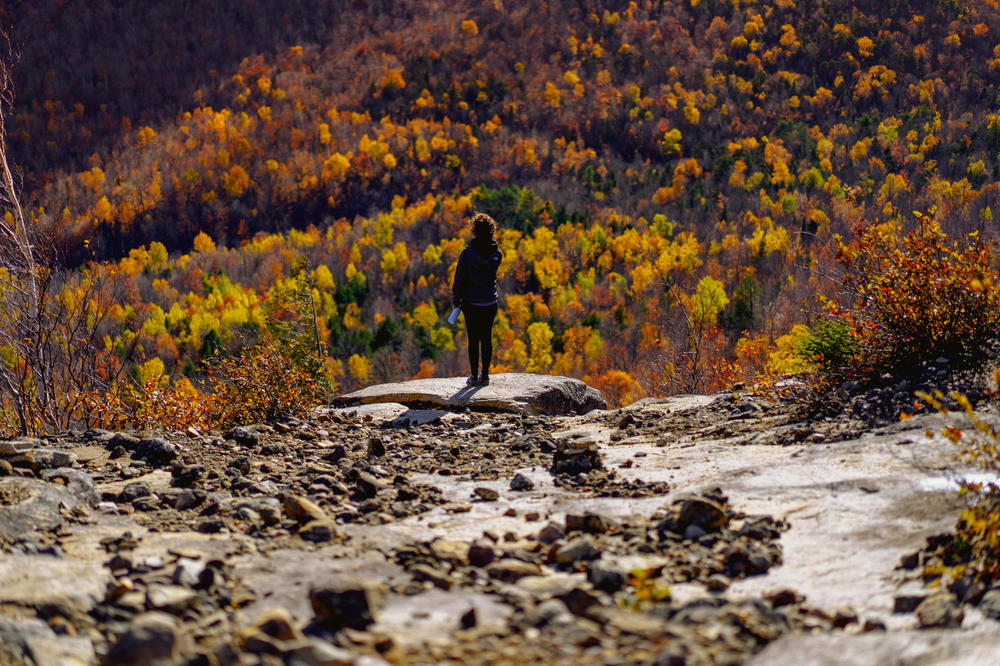 Lake Placid in the Adirondacks is a fun destination for all travelers. See our travel guide for the best things to do during all times of year, from dining to shopping and of course, hiking and nature walks.
This article may contain affiliate links. We earn a small commissions when you purchase via those links — and it's free for you. It's only us (Becca & Dan) working on this website, so we value your support! Read our privacy policy and learn more about us.
Table of contents
Close table of contents
Lake Placid is a fantastic destination and it's no wonder travelers from all over the US (and the world) make their way to the Adirondacks to explore the town and the region!
I went to Lake Placid as a kid, and saw the "Olympic stuff," and went back as an adult with Dan, calling all the shots for what we wanted our trip to look like. I wanted great weather (we got it), lots of hiking, gorgeous mountain views and the charm of Lake Placid and nearby Saranac Lake.
If you've got some time on your hands for the drive, or if you're already vacationing through the Catskills or Hudson Valley, save some time for the Adirondacks. There's no better place to stay than Lake Placid, because if you do run into some rain, snow or unbearable heat, there's a plethora of things to do like shop, dine and see the Olympic sights.
Here's our guide of the best things to do, places to eat and drink (breweries!) and our favorite hikes that made the cut during our stay. We hope you enjoy Lake Placid on your next trip!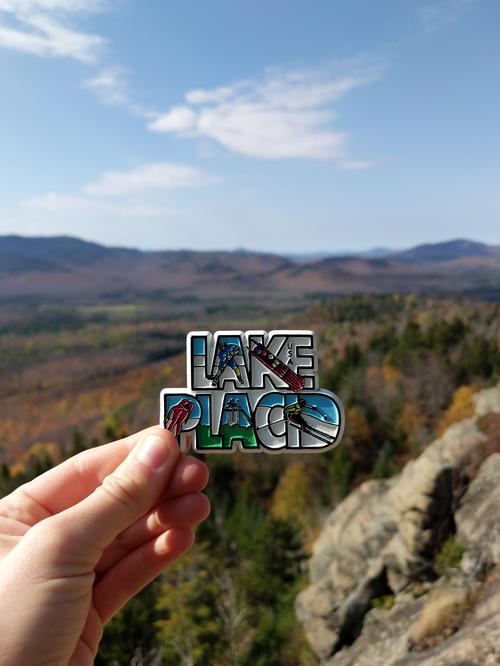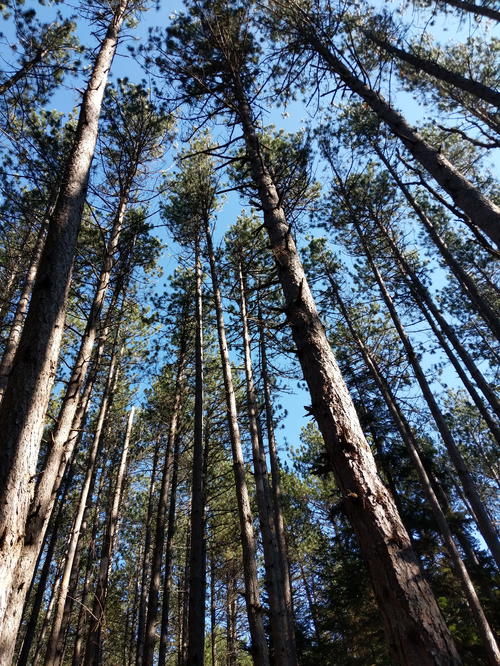 Where to Hike
Hiking was the main reason we came to Lake Placid and the Adirondacks. If you know me, you can be sure I did my research beforehand, as I wanted hikes with great views, and ones that also weren't too long (or too short). I mostly honed in on hikes that were marked "moderate" for difficulty.
I spent hours looking at trails, mapping them out, and making lists of the lengths of trails and how hard they were. I built our trip itinerary based on options for getting rained out, and also being on the trails at pretty hours of the day (morning, and afternoon golden hour).
Did my work pay off? I think so, as we were able to do four hikes and one bog walk, and the bonus nature walk at Brewster Peninsula. Below, you can see all the photos and decide which hiking spots near Lake Placid you'd like to visit when you arrive.
And for more photos in our gallery pages, check out our entire album of Adirondack Mountain hike photos.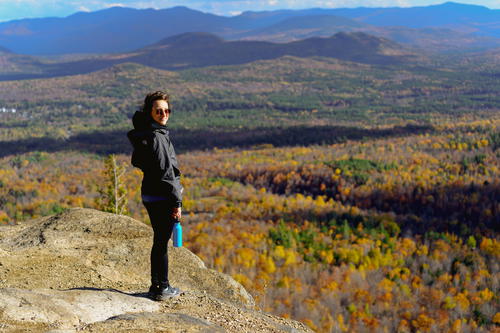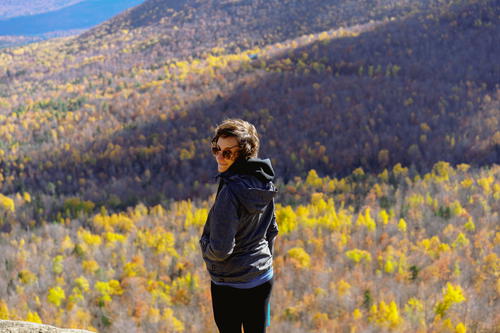 Helpful Tip
As a friendly reminder, when hiking in the Adirondacks, please LNT ("Leave no trace"), meaning leave no human trace that you were in the beautiful nature. If you bring snack bars or go to the bathroom, bring all trash down with you to the bottom of the mountain to dispose! There's more about the 7 outdoor ethics to check out at LNT.org.
Mount Jo
Mount Jo (located in North Elba, NY) isn't too long of a climb, but we certainly worked up half a sweat getting from bottom to top. When you get to the top, you're met with nice views of the surrounding mountains and there's quite a few directions to look in!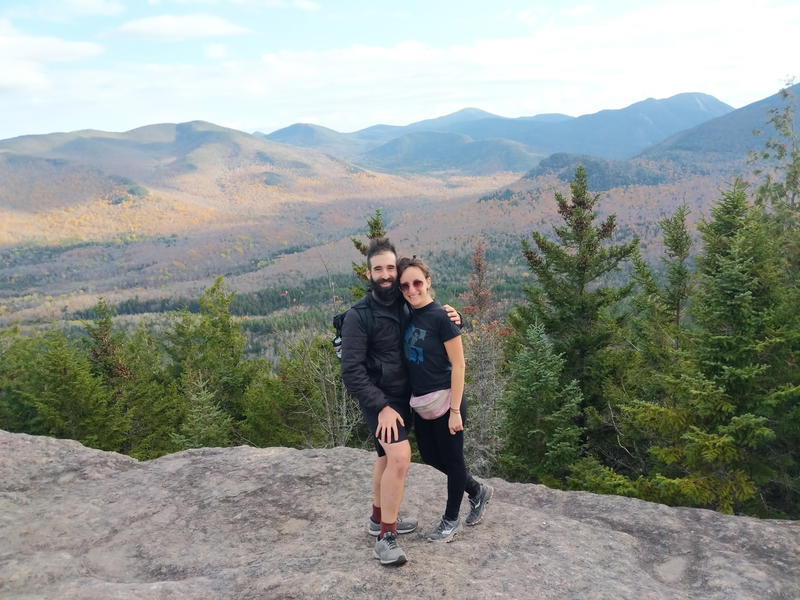 Going down, we took the rockier and steeper route for a change of pace, but you can go back down the exact way you came as well. It's a "loop trail," so you have choices when starting, and when descending. The trailhead is located right here.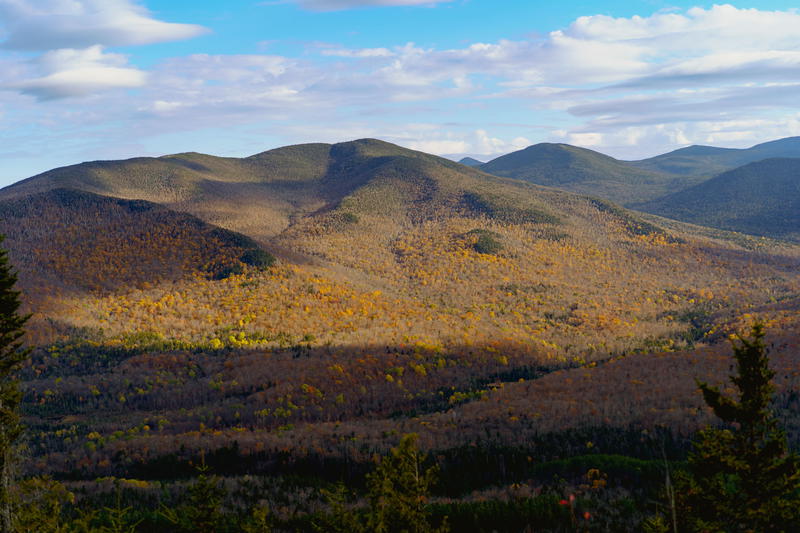 Check out more information like how to get there, on AllTrails. When you're there, be sure to have a look at Heart Lake, which is a serene little body of water, near the parking.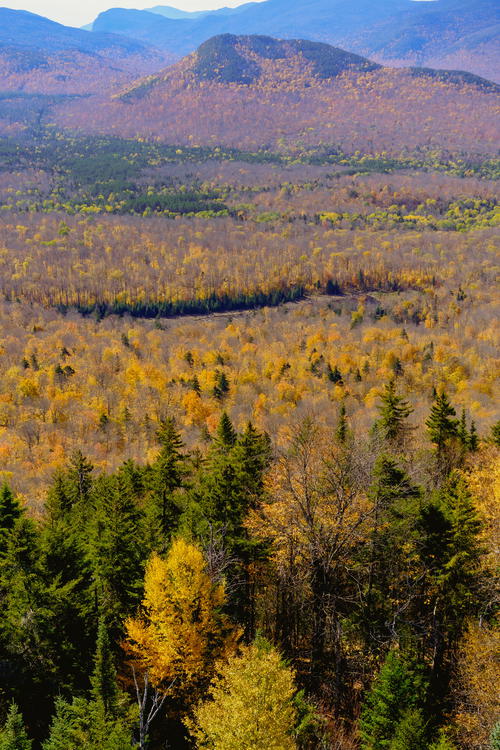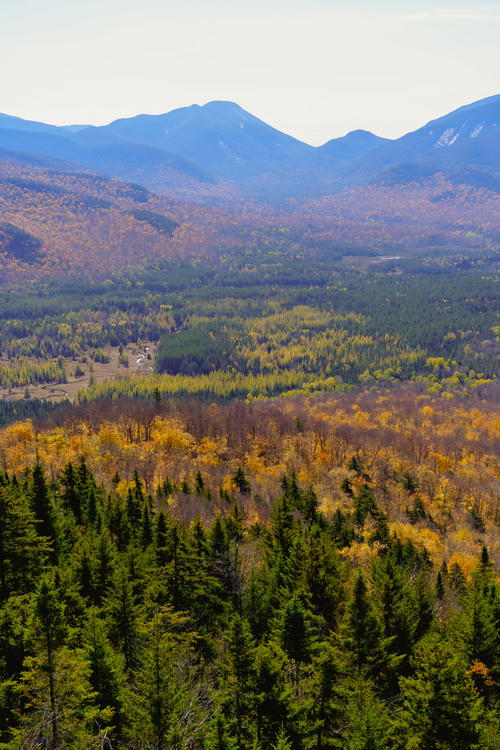 And here's a photo of Heart Lake (it's very sweet <3).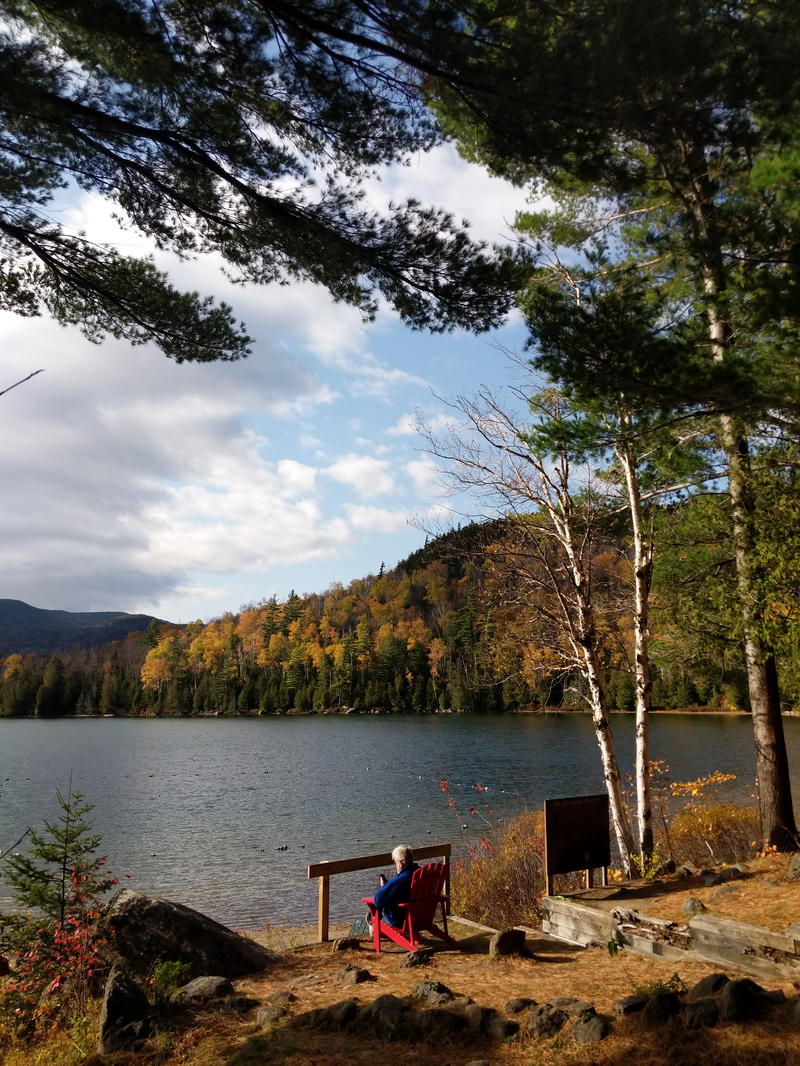 Baker Mountain Trailhead
Baker Mountain is a 2.5-mile adventurous hike located right near the town of Saranac Lake, which we drove to, to spend the day at. I call it 'adventurous' because it falls within the 'moderate' level of hiking, meaning you may do some huffing and puffing on the uphill climbs.
At the top, it's pretty leafy (if you go between spring and autumn). You can see down to the town, and additional mountain views. We even saw someone set up a hammock at the top to just chill. That's a real idea!
The trail is out-and-back, so you'll come down the way you came. Take note though, that at the top, the trail itself gets a little murky, so look for any markers you can.
Here's some information at the Saranac Lake town website, with directions included.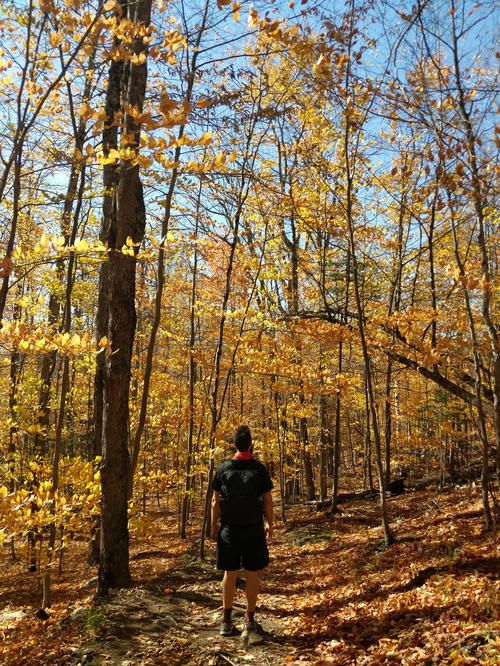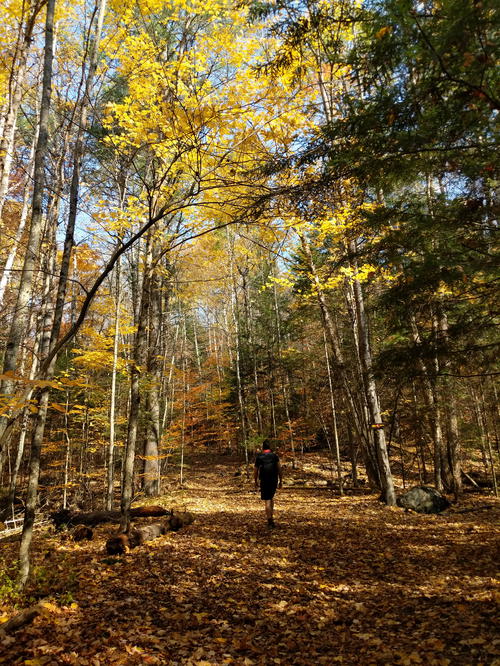 Cobble Lookout
Cobble Lookout is an excellent photo op for photographers and really, anyone into a good vacation photo. Technically, the mountain is located in Wilmington, NY. I enjoyed this hike a lot!
After a semi-steep climb, you're met with an expanse of views at the top, and very little in your way of seeing miles and miles into the landscape. You can pop down and sit for a few minutes on the rocky gravel area.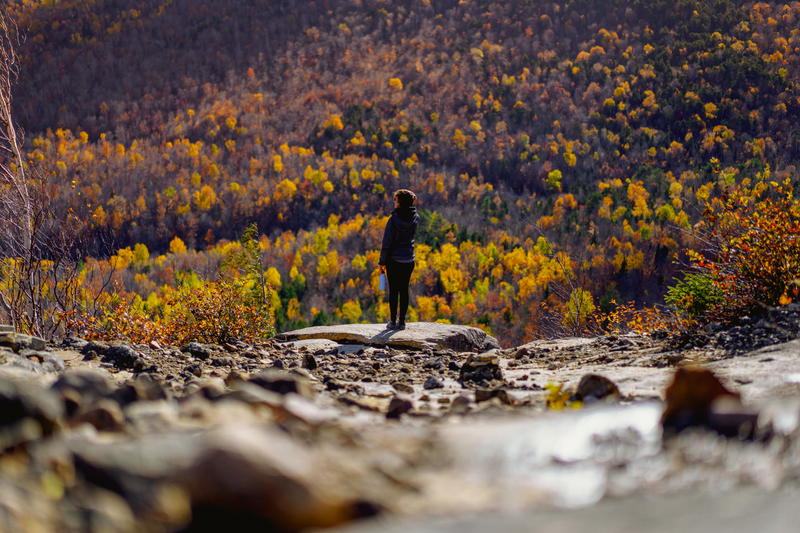 Going in autumn was quite a treat for us, as, even though we were past the peak week of foliage, we got a rainbow of leaf hues in the distance from trees at varying degrees of their color-changing. This hike is great in all seasons except winter, when it would be snowy and not so safe. Here's more information on AllTrails.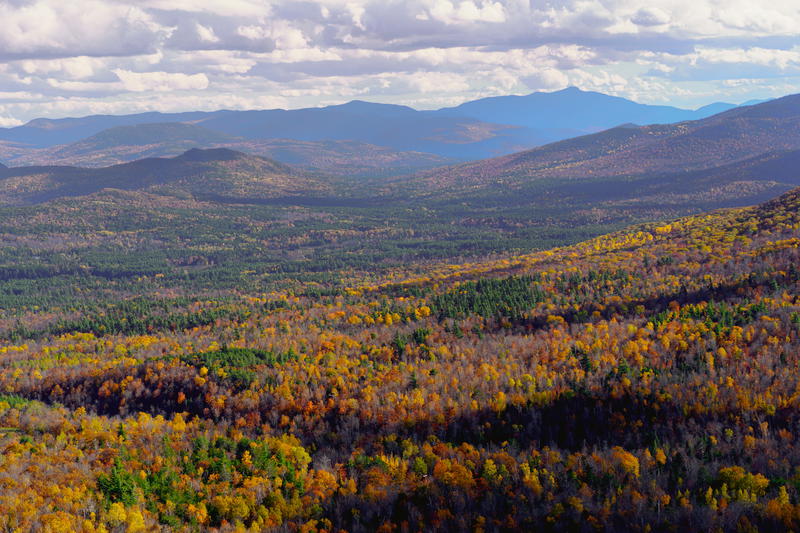 Mount Van Hoevenberg
Mount Van Hoevenberg is an out-and-back trail that was a really nice morning hike for us. It starts in a wooded path that's flat, and after crossing an area reminiscent of a bog, you start the steep ascent.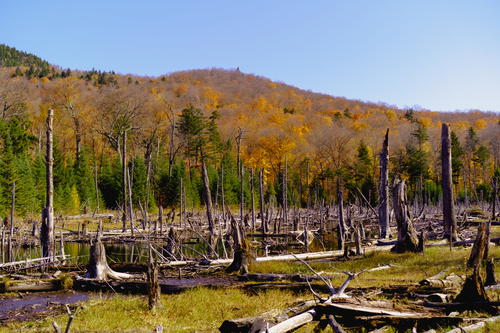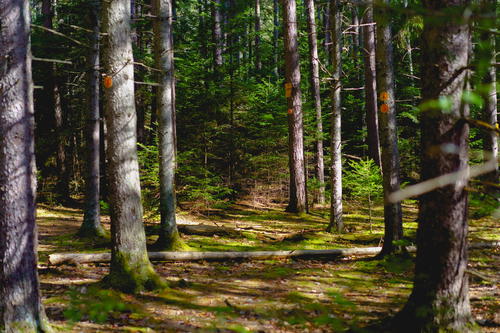 The trail is about 4 miles long, so keep that in mind if you're pressed for time. It'll be around 2 miles (and will take an hour) to get to those nice views up top.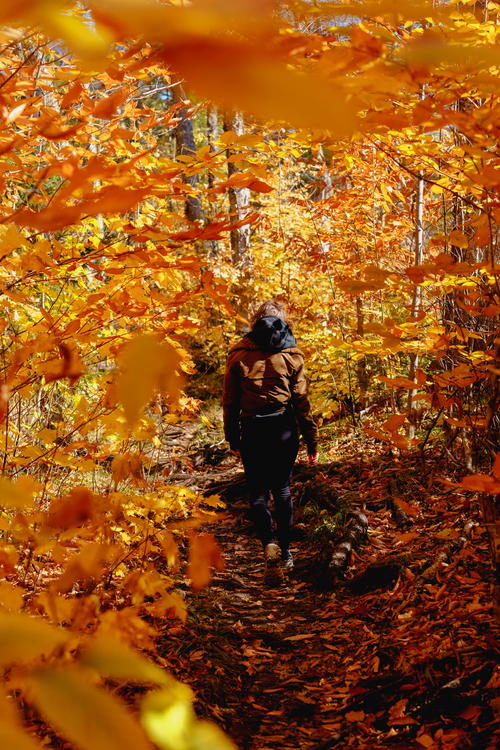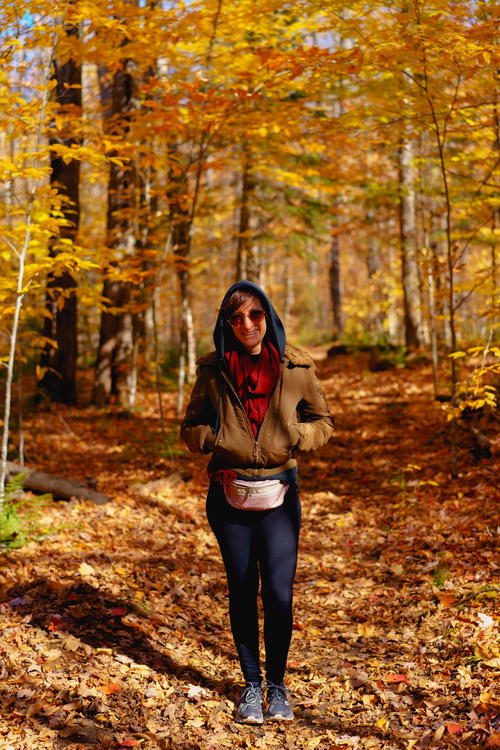 At the top, be prepared for gorgeous sweeping views of the Adirondacks. Have the camera ready!
There's more information on the AllTrails website for Mount Van Hoevenberg.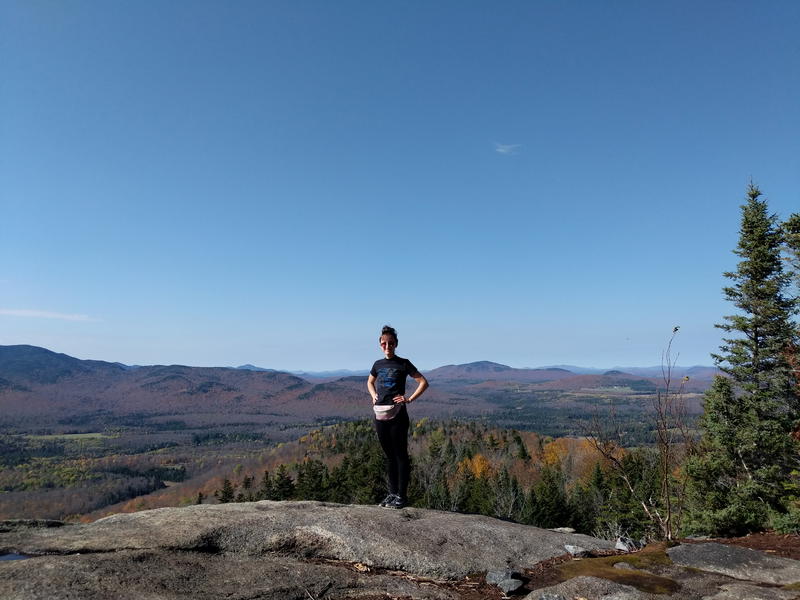 Brewster Peninsula Walking Paths
Hidden gem alert: we hadn't even known these beautiful walking paths existed until I went into Google Maps looking for west-facing sunset locations where we could take photos. What we found was a pleasant surprise, from quiet trails (mostly flat) to these pretty boardwalks across water.
It seems that these walking paths are a local secret!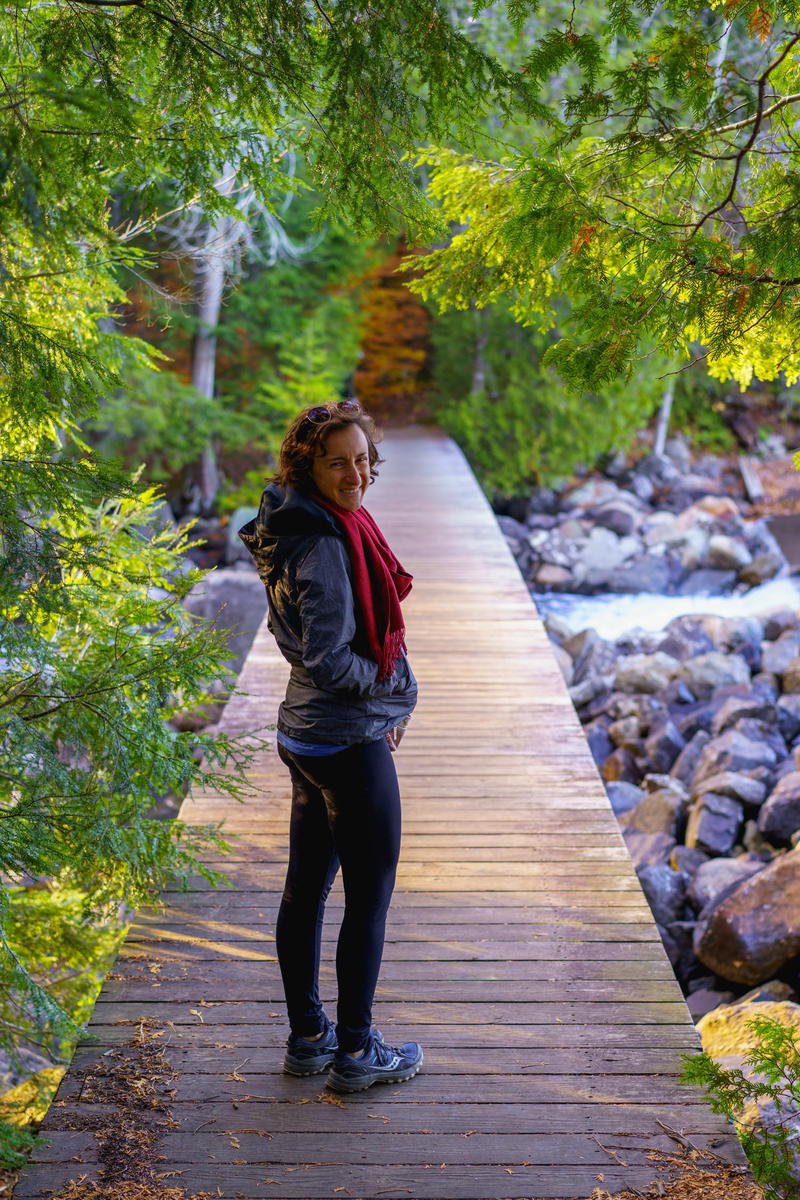 These paths are marked on Google Maps as "Peninsula Trails," and you can find the exact location here.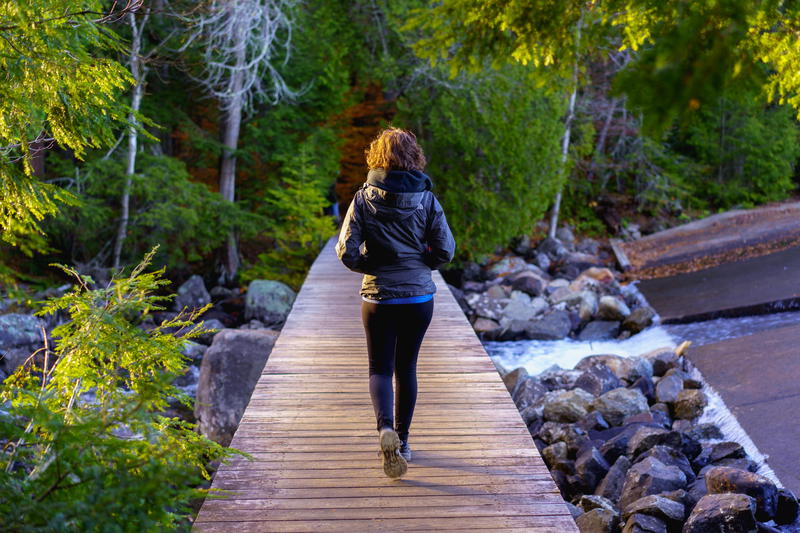 Bloomingdale Bog
Bloomingdale Bog is off to the northwest of Saranac Lake, and you can find the location here. We chose to try it out because it is an easy and flat walk, and we hoped we'd get to see some nature.
The only thing to note is that if there have been recent rains, the dirt paths retain water, and we got stopped by mud puddles about 30 minutes in, so we had to turn around. We did see other visitors, as well as some locals with their dogs.
Check out this unique area on AllTrails.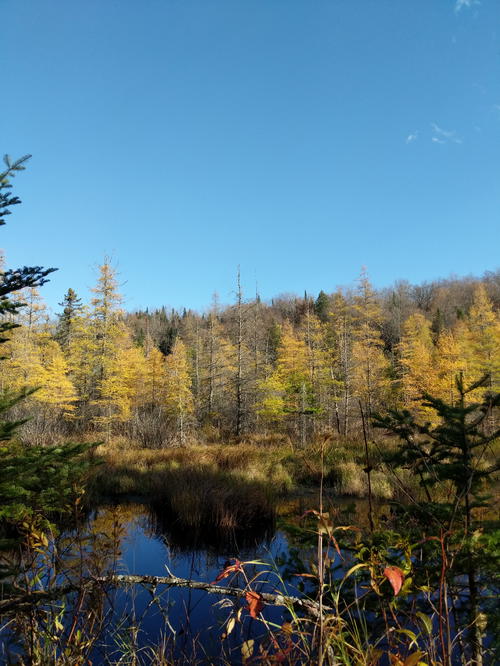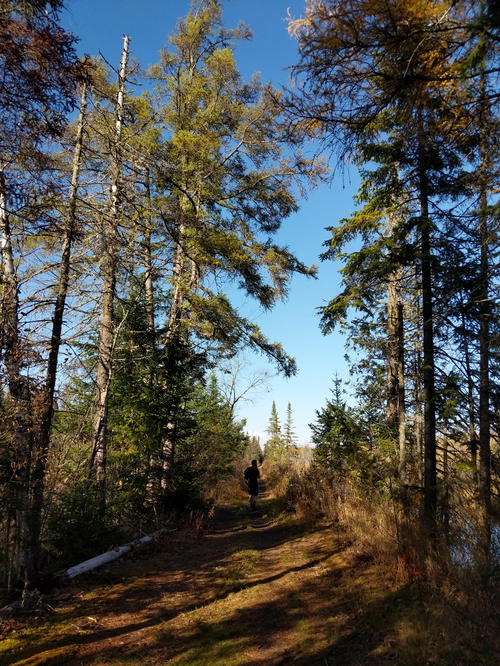 Whiteface Mountain
Whiteface Mountain is New York's fifth-highest mountain top and to get there, it's most popular to drive up, along the Whiteface Memorial Highway. You can also do the gondola ride, or ski lift in winter.
There's hiking for all levels, and an entire set of outdoorsy activities you can do in the Whiteface immediate area. Check out the website here, and if you're a hiking expert (we really mean this) and you'd like to hike the mountain, it's a 9.5-mile trail and not for the faint of heart. Details are on AllTrails.
More trails in the Lake Placid & Saranac Lake Region
There are so many more hiking trails that you can do, whether you're at the expert level or hiking with kids and a family. These hikes just scraping the surface!
A few hikes that were on my list that we didn't have time for included Cascade Mountain, Mount Arab, Haystack Mountain, Hurricane Mountain, Goodnow Mountain, Buck Mountain, Esther Mountain and Ampersand Mountain.
You truly can't go wrong with whichever trails you choose. We got all our ideas for hiking on Alltrails, where you can filter by level (hard, moderate, easy), length and more. Plus, a list like this one has trails with great views.
Things to do
There's lots to do in Lake Placid and nearby Saranac Lake, for every type of traveler. For us, we wanted to spend all our time outdoors, so we focused on hikes, viewpoints, the lake in the town and outdoor activities like running and walking.
For families and kids, as well as sports and Olympic Games enthusiasts, you'll have to visit all the Olympic legacy sites from the Lake Placid Olympic Games! We list those here.
Dan Stein's viewpoint
Recommended to us by our friend and expert hiker-photographer Dan Stein, this simple viewpoint as you approach Lake Placid is kind of like a cool introduction of what's to come. While to some it may be nothing special, we thought it was a nice juxtaposition of a flat field with mountains right in the backdrop.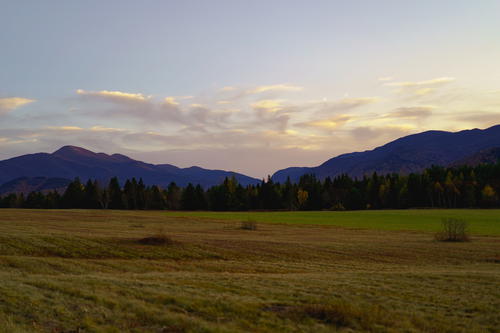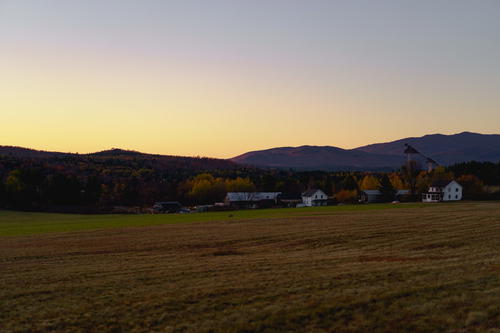 Mirror Lake
Mirror Lake is the central lake of the Lake Placid town (funny enough, it's not "Lake Placid"). We took time to walk and go running all the way around Mirror Lake, past where the town ends at the north section. If you continue to go all the way around, you'll pass a residential area that turns back into the area with hotels toward the southern end.
There are some very pretty hotels toward the north side, where it's quieter and less bustling. If you want to catch the sunset, it's nice to see from anywhere, but being on the west side of the lake will let you see the sun touch on the mountains and make them glimmer.
If you're interested in running or walking around the lake, note that it's 2.7 miles from start to finish. Here are some more running route ideas near Lake Placid at Lakeplacid.com.
Mid's Park on Main Street
If you want to experience Mirror Lake in Lake Placid and sit back in an Adirondack chair (or have a picnic), opt for Mid's Park, right downtown on Main Street. This little park is an inlet of Main Street with a grassy area down some stairs, so that you can be right up at the lake's surface. We liked watching the sun go down here, and taking some photos at the water.
Lake Placid Olympic Center Sites
Lake Placid hosted the winter Olympics in 1980, and when you visit, you can get a taste of what that was like with the Olympic Center Sites. Here are a few ways to experience the magic of the Olympic Games close to home!
Lake Placid Olympic Center & Lake Placid Olympic Museum
First, head to the website of the Lake Placid Olympic Center and decide what you'd like to see on your trip. Check to determine if you'll be in town for something like the Lake Placid Figure Skating Championships, or another type of seasonal event that allows the general public to witness.
Other events include the Lake Placid Ice Dancing championships and the Miracle on Ice Fantasy Camp. There's more on events at the event page.
To go more in depth with learning about the Lake Placid Olympic legacy, head to the Lake Placid Olympic Museum! The website is here, and has innovative displays, interactive exhibits and exciting things for kids to see.
Ski Jumping Complex
Have you ever been to a Ski Jump complex? Now's your chance, when you're in Lake Placid checking out the Olympic Games sites. This incredible and unique place is for anyone who wants to witness the sheer size of a ski jump for themselves, because most of the world only sees this type of thing on TV!
At the website, you can preview the options for when you visit, starting with the Skyride. There's also the Sky Flyer experience, which replicates the thrill of a ski jump (it's a zipline).
John Brown Farm State Historic Site
While this may seem random compared to the other sites listed, we're including it because some people really like history! Also, it's a nice spot for photography.
This New York state historic site is the home of abolitionist John Brown and it's free to visit. See more information here, at the NY Parks website.
Where to eat and drink
Lake Placid has a lot of dining options for every budget, from steakhouses and American grills to more chilled-out breweries, pubs, cafes and coffeeshops. Oh, did someone say ice cream?
Lake Placid Pub and Brewery
This was the first brewery we checked out, and we tried a cider, beer and a big pretzel! It's a big place located at the southern end of Mirror Lake, and in addition to fresh beer on tap, they have "beer gear" at the store. Here's the website.
Lisa G's
Lisa G's was recommended to us by locals and unfortunately it was closed Tuesday and Wednesday when we wanted to go, but the good news is that it's open the rest of the week! This restaurant serves up modern American fare like sandwiches, pizza, wings and fun appetizers.
Origin Coffee Co.
This highly-rated coffeeshop is also at the south end of the lake. Here, you'll find specialty coffee and breakfast and brunch all day! There's also a Saranac Lake location, so if you day trip there, be sure to say hi.
Soulshine Bagel
This is the spot for bagels in town and it's open every day of the week starting at 7am!
The Coffee Bar
More coffee here, but this time with a beautiful back porch view on Mirror Lake. The shop boasts 10,000 visitors per year and has a website you can check out.
Smoke Signals
This restaurant serves BBQ right on Mirror Lake, and they have beer on tap and cocktails, too. You can drool over the website before you plan to visit for a meal.
Emma's Lake Placid Creamery
This locally-famous 50s-themed ice cream parlor is a favorite for locals and visitors. Emma's is located right on Main Street as well, and there are 16 hard ice cream flavors, some of which are seasonal. Here's their website.
Big Slide Brewery & Public House
This brewery is the home of "New York's Best Double IPA" and they host 10 beers on tap, food, Sunday brunch and a brewery store. Hungry? There's a farm-to-table food menu.
Where to shop
Lake Placid is a vacationer's heaven for shopping! From specialty jewelry and chocolate to outdoors equipment and souvenirs, there's lots to see in terms of cool shops and boutiques if you have to spend a rainy, hot or cold day in town.
Life is Good
With its excellent location right on Main Street, this location of Life is Good is the spot for sweatshirts, bags, T-shirts, hats and more, with a down-to-earth vibe and some specialty items that have the Lake Placid signature look.
Eastern Mountain Sports
This outpost of EMS, also on Main Street, sells menswear, womenswear, footwear and camping and hiking gear (you know, in case you forgot any when you packed your car!).
Bass Factory Outlet
The Bass brand is known for its signature high-quality loafers and "Weejuns," and they have apparel, sneakers and heels, too. This outlet shop is located on Main Street.
Adirondack Chocolates
With its raving reviews, you know this is the best chocolate place to shop at in town! Everything is chocolately and delicious, and the store sells gift baskets as well. This one's on Main Street, too.
Beglin's Lake Placid Jewelry
The fun fact about Beglin's Lake Placid Jewelry is that when I passed by, I texted my friend who now has this last name from marrying her husband, and it turns out that it's a relative who owns the company. Check out Beglin's, for all types of fine jewelry including watches and rings, and see the website here.
Hannaford Supermarket
A little bit outside town and on the way to the Brewster Peninsula Trails we mentioned above, is Hannaford Supermarket, located at 45 Hadjis Way, Lake Placid, NY! I'm not saying this is an epic supermarket by any means, but chances are that during your trip, you may want to go to a supermarket to pick up more hiking snacks like fruit, veggies, trail mix or any of our favorite road trip snacks.
If you continue down Saranac Avenue, there is also a Price Chopper supermarket at 1930 Saranac Ave, Lake Placid, NY.
Where to Stay
We booked our hotels through some miles and travel points for this trip (hooray travel hacking!) and wound up with these hotels we'd like to recommend to you. When booking your hotel or Airbnb, map it out and determine if you'd like to be walking distance to town (which saves you the headache of parking, especially in high season).
Courtyard by Marriott Lake Placid
Located slightly to the southern end of town and not as walkable to downtown, the Courtyard by Marriott was a good hotel to stay at because it had all the amenities we needed. Mostly, we used our mini fridge a ton because of all the groceries we bought and meals-on-the-go we prepped for our hikes.
There's a pool, and daily breakfast. Plus, the staff was very nice! The hotel is located at 5920 Cascade Rd, Lake Placid, NY 12946.
Crowne Plaza Resort Lake Placid
You'll find the Crowne Plaza Resort a dab dated like we did, but there's not much to complain about when you sit in an Adirondack chair at the top of the hill outside the dining area and look down on the town. Maybe being a bit dated is part of the retro 80s charm of Lake Placid itself.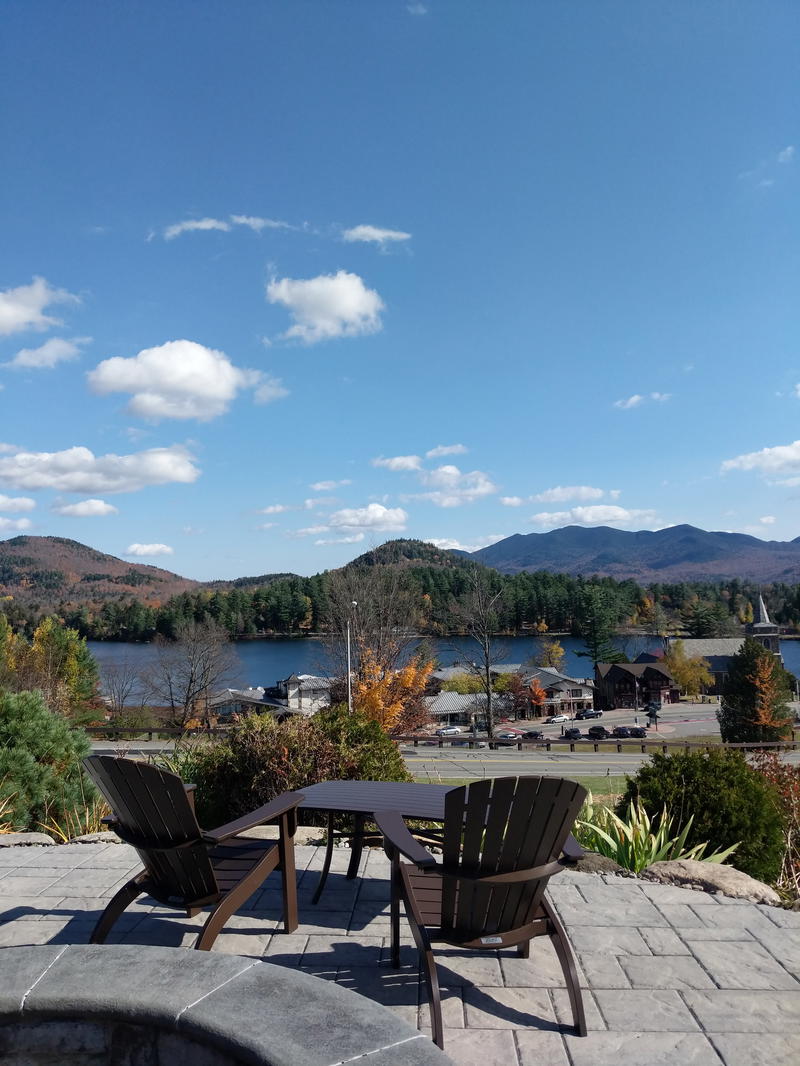 We thought staying at the Crowne Plaza was good value, even with its great location right near the main strip of action in town. We were happy with our choice to stay there (and I hadn't stayed at a Crowne Plaza in years upon years!). We had a good night's rest each night, and I liked being a quick walking distance to Main Street and Mirror Lake.
The hotel address is 101 Olympic Dr, Lake Placid, NY 12946.
Mirror Lake Inn
As a note, we didn't stay here, but the great reviews speak for themselves. This four-star hotel has beautiful views of the Adirondack Mountains and is located right on Mirror Lake. It has on-site dining and a spa, and the whole place looks like it's the set of a movie.
You can find it at 77 Mirror Lake Dr, Lake Placid, NY 12946.
How to Get to Lake Placid
We drove to Lake Placid from NYC, but it's recommended to fly into Plattsburgh if you need to fly from somewhere not too far like Washington, DC. Only small planes can fly into the very nearby Lake Placid Airport.
I thought driving up was fun, because as we got more and more north from the NYC area, the roads got prettier, the Adirondack mountain views were nice and I could smell how fresh the air was when I rolled down my windows!
Another idea for getting to Lake Placid is taking an Amtrak train! You can do this from NYC, Albany and Montreal.
Enjoyed our article?
Consider supporting us! We're a 2-person team (learn more about us here) and your support enables us to create quality content. Thank you!