What to Do in between Freelance Projects
Written by Dan
•
Updated on September 20th, 2023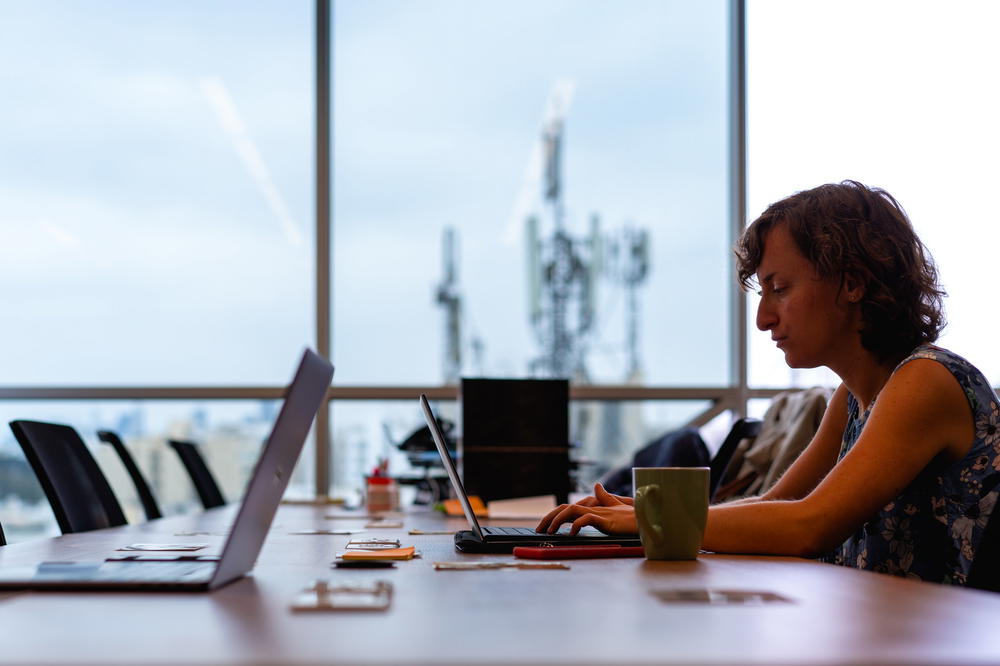 What should you do with downtime, as a freelancer? Here are the best ways to make the most of downtime when you're in between freelance projects in order to stay productive when waiting for your next freelance job.
This article may contain affiliate links. We earn a small commissions when you purchase via those links — and it's free for you. It's only us (Becca & Dan) working on this website, so we value your support! Read our privacy policy and learn more about us.
Table of contents
Close table of contents
It's typical for a freelancer to have gaps or breaks in between projects. You may have a few weeks during which you are not busy with client work. You may have a month go by without any substantial projects.
This is normal! This has happened to me. This happens to everyone. This may be a slow time in your industry or a natural break between contracts.
But what can you do with your new-found free time? I'll walk through some of the best things to do in between freelance projects.
Let's begin!
Take a break between freelance projects
You've worked hard. When you have free time, take the time to yourself and relax, see family, connect with friends or do whatever helps you recharge.
As a freelancer, no one gives you paid time off. The time that you take off is on your own dollar. If you take time off when you know there is work out there, you're potentially leaving money on the table. Scheduling your time off has to be pretty well-planned and strategic.
I would intentionally schedule one-to-two-week breaks for myself when I was contracting for a company long-term. I did this every three to four weeks. I used the time to clear my head, learn a new skill and take care of any errands that accumulated.
I valued the time that I had off from my freelance work because it helped me grow my business, make new connections and rest.
Learn new professional skills to cut above the competition
As a freelancer, you can market yourself with the skills that you know. The deeper that you know a specific topic or the more areas in which you are able to offer expert level experience, the more valuable you are.
When there is a slow time in your business, you can brush up on the latest trend or new techniques that you can apply to client work in the future. We talk about this a lot in our guide to how to spend a longer career break.
For me, I get a lot of value learning things from YouTube. I've also gotten a lot of great value from Skillshare. With Skillshare, you can dig into relevant topics at your own pace. YouTube is a bit more one-off in terms of the content that you can expect.
Back to the stock photography example, I took a few Skillshare courses on stock photography to get an idea of how to be successful at it and how to make sure that I wasn't wasting my time. It was a valuable learning experience.
One thing Becca did recently was enroll in a Business Accelerator program through Morning Brew, called the Morning Brew Business Essentials Accelerator. These general business skills are helpful for anyone, from people in tech, to someone in design, education, medicine and more. The program is meant to be diverse and inviting, and incredibly interactive.
Audit your monthly freelance business expenses
When you have some free time, auditing your monthly expenses is a great way to save money and help prepare for your freelancer future.
You may be paying for services that you don't need anymore. You may be able to swap to a cheaper competitor. Or, you may even find a service that you didn't know that you were paying for. Always read your credit card statement!
You can do this audit manually, by reviewing your bank statements. Other financial services, like Mint.com can help, where you connect your bank accounts and your transactions get organized.
For all Apple subscriptions, you can take a look at them in your settings. Check out this article on Apple for removing your Apple subscriptions.
After you've found everything that you pay for, check to see if any of these services are subscriptions. There may be a cheaper rate when you pay for an entire year. Or, there may have been a cheaper plan that now does what you need it to do.
Our website used to use Siteleaf, as it's CMS. One day, I tried to bring down the cost of our website and switched to Netlify CMS. It saved us about $30 each month. Pretty neat, for just taking the time to do a simple audit of our site platform subscriptions. Sometimes, we do miss SIteleaf. It's really a great tool!
Set up passive income streams for yourself
When client work is slow, this is a great time to investigate passive income streams for your business. For me, this was stock photography. Whenever I had free time during which I wasn't doing client work, I would post, organize and publish my photos to stock photography sites.
While I never saw huge amounts of money come from this, I am still able to get as much as $100 per month from my stock photography portfolio, even after two years of not touching it.
For other specialities, you can work on making a blog, perfecting your affiliate marketing, growing a paid community and so much more!
The work that you do up front can end up paying your base level of income, or at least help with some of your business expenses, along the way. These are great ideas to focus on, especially for freelancers aiming to gain more income passively.
Clear out your emails
Something that I do is try and reach inbox 0. It's very hard. I often leave emails in my inbox as a reminder that the message signals something I need to do. This is okay, except that now, I am constantly reminded about everything that I need to get done.
I like to declutter things as much as possible, and responding to old messages, archiving unneeded emails and unsubscribing from mailing lists is a great start.
Clean up your desktop and downloads folder
If you've noticed, I like to clear out digital clutter.
During big projects, I usually accumulate a lot of assets, like downloads, screenshots, documents and so on. I try to keep them organized as I go, but they end up piling up.
It sounds silly, but after each project or sometimes on Fridays, I like to clear out my desktop folder and my downloads folder. I'll keep any important documents and I add the rest to the trash!
This process makes new project work feel like you've gotten a fresh start because you've taken time to create a blank slate for yourself in between projects. It's like the new car smell of freelancing. Trust me.
Try a new business service for freelancers
If you've seen a lot of people using a specific tool and couldn't find the time to try it, well, now is the time!
For you, this might be a time-tracking tool or it could be a project management tool, like Trello.
Whatever it is, now is the time to try it out! You can get more ideas of apps, websites and subscriptions to try out in our list of 73 helpful apps and websites.
Add 2FA to all of your logins
Enabling 2FA (two factor authentication) is well worth the work for keeping all of your accounts secure. This is a no-brainer if you have sensitive information stored in online accounts.
If you have the time, go through your accounts and see if you can enable 2FA. Each site will usually allow you to send a code to your phone. Or, you can use Google Authenticator to generate a unique code.
I use 1Password to keep track of all my logins. 1Password allows you to set up a 2FA code that you'll need to access your logins. I like it because 1Password lets you know if a site has 2FA and if you aren't currently using it.
Upgrade your computer
Nothing is worse than not being able to transfer your files after you upgraded to a new computer because you are knee-deep in client work.
If you've been meaning to upgrade your computer, your downtime is the best time to do it. You can take the time to set it up and make sure everything is transferred and set up properly.
For me, as a web developer, a computer setup can take a lot of time.
I have to install various programs and packages, which can take a lot of time! Regardless of your profession, installing and customizing your preferences is time-consuming, so it's crucial to set aside dedicated hours to do it.
Work on your social media presence
If you get a lot of organic outreach to your freelance business, a slow freelancing period can be the best moment to update all of your social media business profiles.
You can work on new SEO keywords to target for your LinkedIn bio. You can take a new professional photo to use for your avatar everywhere. If you schedule your posts, you can build up your queue to save time later on.
You can spend more time on social media and engage with new and existing followers. This may not sound like work, but it's a great way to network for the future.
Plan a webinar
A great way to attract new business perspectives is to share case studies by way of knowledge to a topic in your field.
Recently, I attended a webinar that discussed how to build a static WordPress site. The idea is that you use WordPress as the CMS, and the content goes into a static site generator.
I won't go into the details; however, the company that hosted the webinar did push their services and frameworks to everyone who attended.
For you, this can be a good way to find new clients or promote a specific skill or speciality that you have.
Try to get on a podcast
Podcasts are a great way to network with other people in your industry.
Becca has been on a lot of podcasts recently about our blog, and it all started with this GOAL Traveler podcast in 2018. It's been a great way for us to get a new audience and network with the people who are hosting these podcasts.
Some of them have turned out to be friends for life!
With our website, we don't have a service to promote, but we have been contacted by some companies who are interested in working with us. That's always exciting, and we're always happy to pursue those professional opportunities.
Create documentation for your freelance business
If you have anyone helping you with your freelance work, or if you often repeat the same repetitive task, try writing some documentation during your down time.
If you write clear instructions, you can outsource or try and automate some of your repetitive tasks.
As an example, I spent a lot of time learning Pinterest and trying to figure out how to save time by not doing a lot of the busy work. I experimented with hiring help to create pins and do keyword research on Pinterest for the articles that I was trying to promote.
The instructional documents helped save time and onboarding for the help that I hired.
If you're curious, in the end, with my specific story, I ended up using a combination of Canva and Tailwind to automate my Pinterest.
Clean your desk
Setting aside my digital clutter preferences, I also don't like physical clutter.
Becca can tell you that my desk often gets cluttered with various papers, pencils, headphones, cameras and more, and it's why we developed our guide to declutter your apartment, which is what we reference anytime we need to neaten up.
When I am deep into a specific project or work week, it's hard for me to see all of the clutter because I am used to it.
As often as I can (or when Becca yells at me), I clean my desk. It's such a refreshing way to start a new work week with a clean desk.
Rearrange your home office
When I was working in an office or traveling and working remotely, I got a lot of inspiration by changing my working environment.
The inspiration came from having a constant (my laptop) in a new place that I wasn't familiar with. Hear me out: this may sound a little different.
When I switch working environments, my laptop is all that I am familiar with. I look around and get a little overwhelmed with all of the new things around me. This helps me focus because my laptop is the familiar piece in a bigger puzzle.
Using my theory of inspiration, changing your work environment can stimulate your creativity. This might be moving your desk to a different part of your house, or adding/subtracting different art.
And you can check out more tips in addition to rearranging your home office in our home office improvement guide!
While your client work is slow, making upgrades to your office can help occupy your time and increase productivity on the other end of it.
Update your business website or freelance work portfolio
If you showcase some of your client work, or need digital space to represent your skills, your website may be an important asset of your business.
If you're busy, it's really hard to find the time to work on your website. You may be starting out with freelancing and you may not have a website yet! Well, now is the best time to work on one.
For WordPress users, the answer here might be trying out a new site theme to give new life to your website. If that's the case, give WP Engine a try. With WP Engine, you have access to a lot of great themes, through StudioPress.
Refine your freelance invoice templates and freelance contracts
Invoices are a critical part of your freelance business. A refined freelancer invoice template shows that you are experienced and professional.
I personally use an invoice template that I designed in Google Docs. It's portable between each client and has already gone through a lot of different revisions to get it to where it is today.
If I was creating more invoices, I would probably use something like AND.CO. It has a professional looking invoice template that can help make your time invoicing easier.
With your free time, take a look at your current invoice template and see if you can save time by automating the process, or clean up the look and feel of it.
Update your freelance contracts
Contracts are probably one of the most confusing aspects of running a business; well, at least they are for me. I've spent a lot of time refining a contract to make sure it includes everything, before a project even starts.
If you have sent a lot of contacts with a lot of variance, consider making a modular contract for yourself.
When you split up your contract into smaller pieces, you can create an organized way to generate future templates, using your contract partials.
Of course, if you have any specific questions about contracts, contact a lawyer to get more information. Lawyers will offer the best and most accurate assistance.
Find freelance business allies
I don't like to think that I have competitors in the same space that I am in. I like to think of people doing the same thing as allies. We each have a different way of doing business that resonates with certain clients.
Having a friendly business relationship with people in a similar space can be mutually beneficial.
For example, Becca and I do freelance photography with our company Halfhalfphoto, and if we're unable to attend a client shoot, we reach out to our network and see if anyone is available.
You can use these new-found friends to bounce ideas off of, ask industry questions and have someone to talk to about anything else.
When you're experiencing a slow time in your business, finding new freelance friends is a great way to spend your time.
Post about and share your freelance availability
I intentionally saved posting your availability for last!
In my experience, slow periods in your freelance career aren't usually something that reflects what you're doing. The slow-down is usually predictable.
Depending on each industry that you work in, the downtime will be at different times of the year.
For me, as a freelance web developer, I saw a very slow time between January and March.
Some marketing firms see super slow months around the holidays because the big rush has already come between Thanksgiving and Christmas.
The travel industry typically slows between February and March, after the holidays and before spring.
Many companies in Europe slow down around late July and half of August, when the whole continent seems to be on vacation at the beaches.
You'll get to know these "slow season" trends as you get deeper into different industries.
During my slow time, I chipped away at a few small jobs, but prepared myself using the advice above for larger projects that were about to come.
If you're in your first year of freelancing, take note of your downtime and compare it with more data to see if you can spot the trends.
If you're experiencing a slow period, creating a stronger business foundation will prepare you for future work to come.
Once you have this foundation, you can keep growing your business with an expansion of clients, delegation of tasks, automation and more. The sky's the limit.
Don't forget to reward yourself and pat yourself on the back for growing a business, always surprising yourself and always learning on the fly.
Freelancing is fun, and now you know exactly what you can be doing in between freelance projects in order to stay productive.