22+ Best Running Spots in New York City
Written by Dan
•
Updated on September 6th, 2023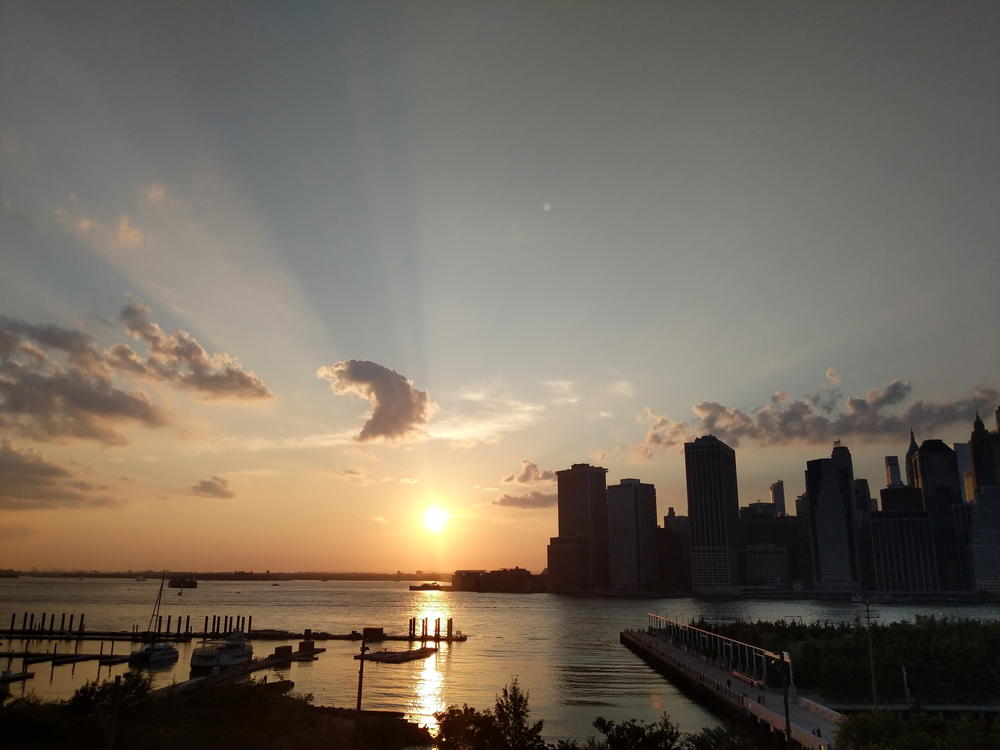 Where are the best places to run in NYC? Here's a list of running routes and parks to run in Brooklyn, Manhattan, Queens, the Bronx and Hoboken-Jersey City.
This article may contain affiliate links. We earn a small commissions when you purchase via those links — and it's free for you. It's only us (Becca & Dan) working on this website, so we value your support! Read our privacy policy and learn more about us.
Table of contents
Close table of contents
I've lived in New York since 2013, and finding a good place to run has been quite the adventure! I've lived in more than five different neighborhoods during these years, and I've done my fair share of running 5Ks and half-marathons in NYC.
I've been eager to share my favorite places to run in Manhattan, Brooklyn and Queens, as I've done all of my city running in these boroughs. For the Bronx and Staten Island, I'll do my best to report on some spots that I would check out if I were going to run there.
Let's go (running)!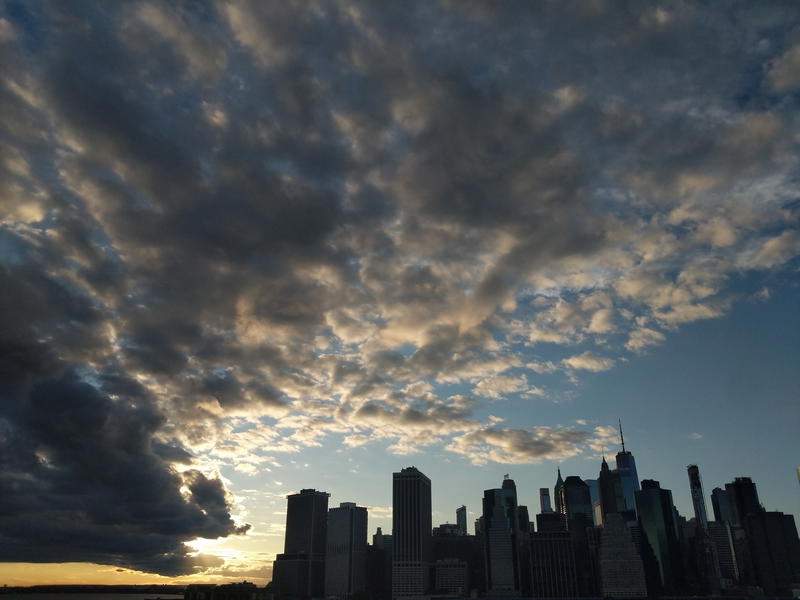 The best running spots in Manhattan
Despite Manhattan being dense, full of people and full of busy streets and tight sidewalks, there are an array of parks, especially as you get toward the sides of the island and the north, and into the parks with uninterrupted running routes.
There are some excellent places to run in Manhattan, and you'll surely see runners at all times of day and night, along with all times of year, whether it's blistering hot or frigid cold, New Yorkers love to run.
If you're going to be running at night and are wondering, is Manhattan safe? Read our guide to learn more!
West Side Highway
The West Side Highway is probably the best running path you can find in all five boroughs of New York City. Here, you get great views of the Hudson River and New Jersey, have a nice (mostly) flat path to run on and it's maintained fairly well.
On the West Side Highway and Hudson River Greenway, you'll share the path with bikers most of the way. There are some parts where the pedestrian side is very different from the bike side.
In Lower Manhattan, you'll often find that the pedestrian side is crowded until you pass 23rd Street. There will be pockets that get more crowded as you get closer to certain attractions and main intersections.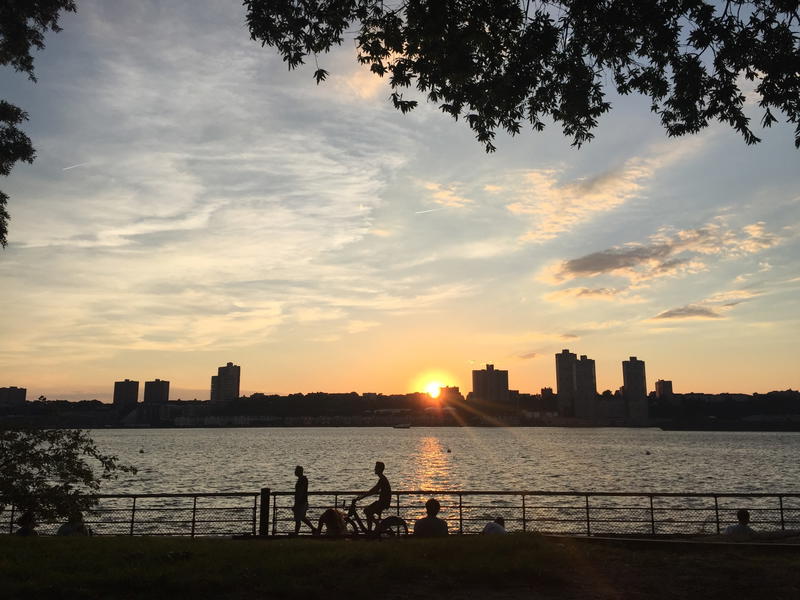 Hudson River Path
The Hudson River Path goes even longer up the west side of Manhattan. If you start at the George Washington Bridge, you can take the path all the way down to Battery Park (south tip of Manhattan).
It appears that you can start a bit farther north, near Fort Tryon Park, which has its own website, here.
Come prepared, because this is a really far run.
This run is currently on my bucket list to take it all the way down to Brooklyn. It should be around 15 or 16 miles, depending on the actual route.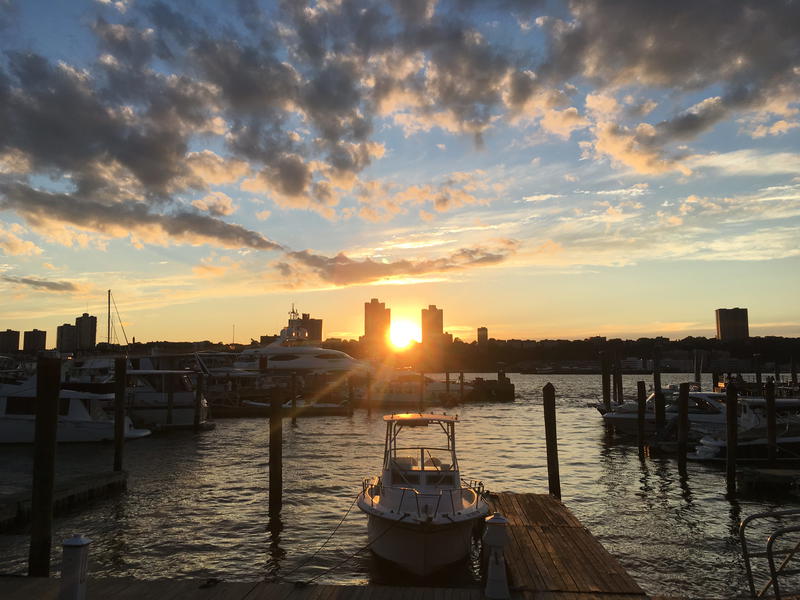 Central Park
Central Park is one of most iconic running spots in the entire city. There are two main points of interest, for running, throughout the park.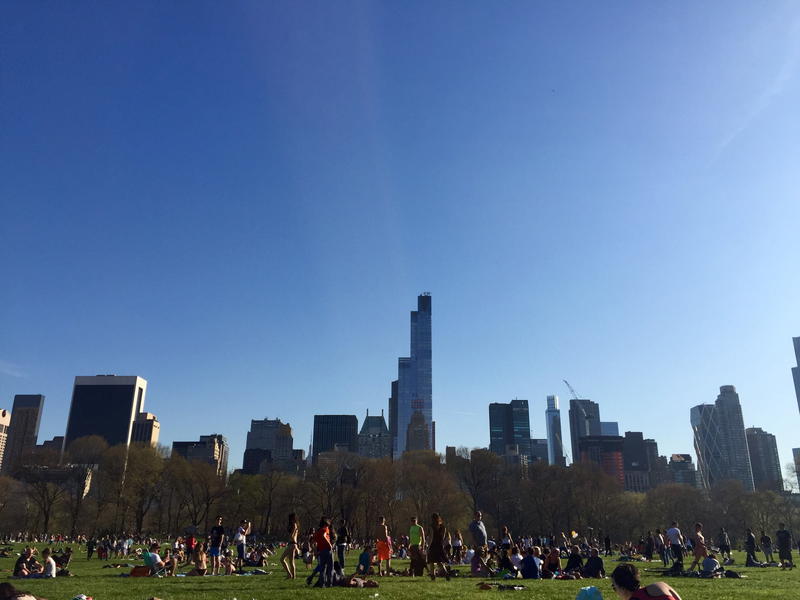 Central Park Loop
The full Central Park Running Loop is 6.1 miles. You'll share the road with horses, walkers, bikers and other fellow runners.
There are other variations of the loop that you can do to make it a bit shorter. You can do a few smaller loops or run certain segments of the loop that make sense to your entry and exit points.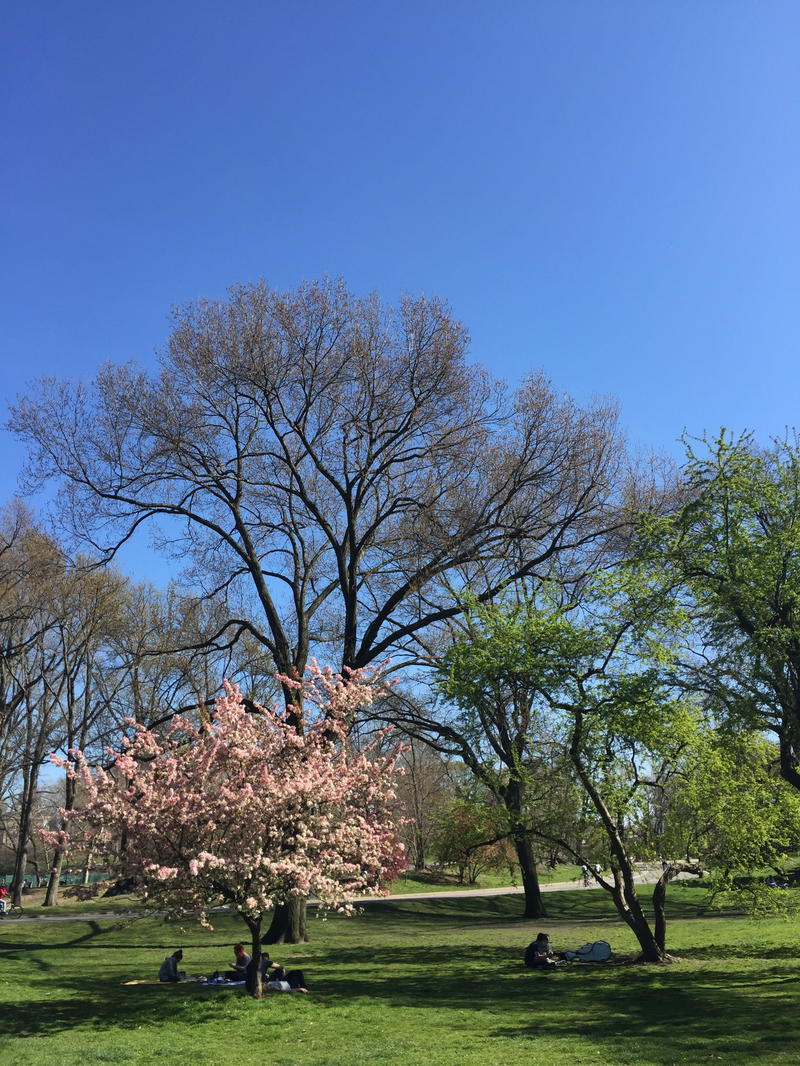 Reservoir Loop
The Reservoir Loop (the Shuman Running Track) is much shorter, at about 1.5 miles. You'll see other runners and walkers during this loop.
Two laps and a few more steps gives you a 5K. If you're newer to running and you're looking for a goal, a 5K is an excellent place to start.
Check out Central Park's website for more information about the park and the running destinations.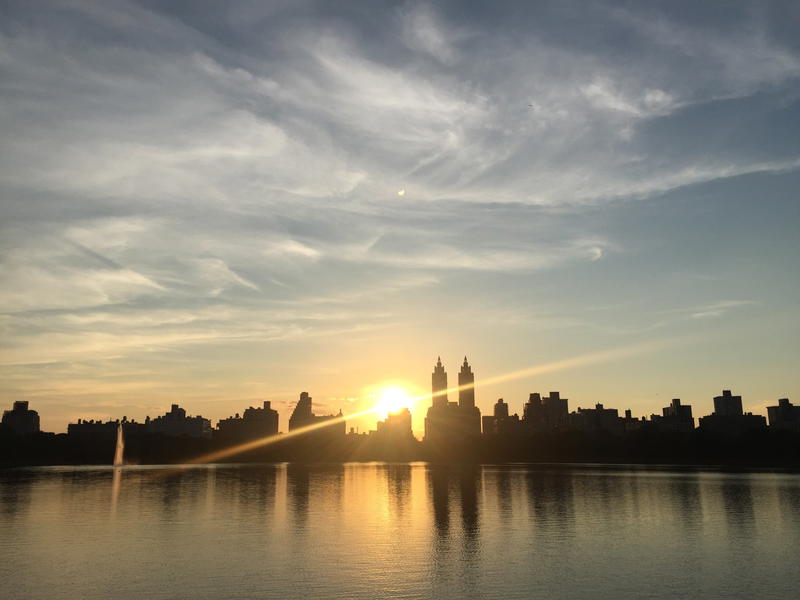 East River (FDR) Running Path
When I lived on the Upper East Side, I took advantage of the FDR park runs. I lived on 90th Street, and I would start there and run down to 60th Street and back.
I would sometimes go up toward 125th Street and turn around as well.
This was in 2014. Since then, there are additional segments and the East Side is a little bit more accessible for runners. It doesn't fully connect like the West Side does, yet.
You can make it all the way up and down by coming a bit inland and running on 1st or 2nd Avenues, depending on where you are on the grid.
I also like the FDR run option for my longer runs after I cross one of the bridges from Brooklyn. I'd rather cross Manhattan farther north instead of trying to go through Chinatown.
Randall's Island
Randall's Island is a nice run if you're on the East Side and want some variety. The Ward's Island Bridge will connect you from the Upper East Side to Randall's Island.
There are a lot of wide paths and the best thing is that there are no cars on the island.
When I run in Brooklyn, I am constantly watching out for cars and buses. You need to be on your toes (Literally? Figuratively? Both.).
There are lots of options for routes that you can find on the Randall's Island website. Choose from 1 mile, all the way up to 6.5 miles.
Lower Manhattan Loop
If you're coming off one of the bridges from Brooklyn (Manhattan Bridge, or Brooklyn Bridge) or already in Lower Manhattan, consider checking out the lower Manhattan loop.
Your distance can vary greatly depending on where you start and where you end.
Your minimum distance will be about 4.6 miles. You'll see so many great points of interest! New York Road Runners have put together an excellent map and guide about running through this area.
This is a good way to extend your distance by starting somewhere up on the East Side, taking the lower loop and continuing up to the West Side Highway.
The High Line
Basically, don't run on the High Line. Everyone should know that.
There are so many tourists walking and you don't want to be the person disturbing the peace!
I added this here because some websites recommend this as a running route.
You can get there early and run, but you'll likely be dodging people walking and enjoying their morning on the High Line.
The High Line is also close to the West Side Highway. Check out the West Side Highway and the Hudson River Greenway, instead.
The High Line does have a website, yet it caters mostly to tourists, travelers and people who want to enjoy it as a public park. It does not mention anything about running, when to run or where to run on the High Line. In most use cases, I'd say skip running on the High Line.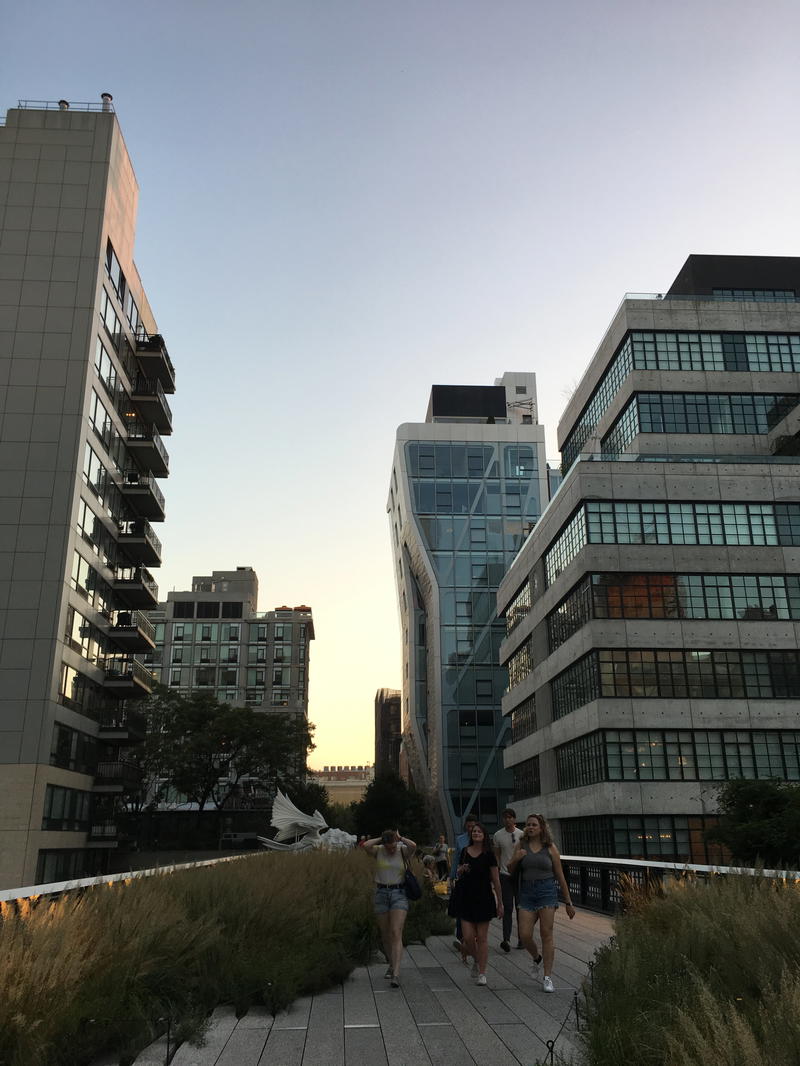 The bridges to run on in New York City
Luckily, NYC is a nautical and maritime city on the water with so many waterways that are a) great for breezes and b) great for views and variety. I think it's so interesting to run on bridges, and they surely give you a challenging incline, and then the treat of a downhill as you descend.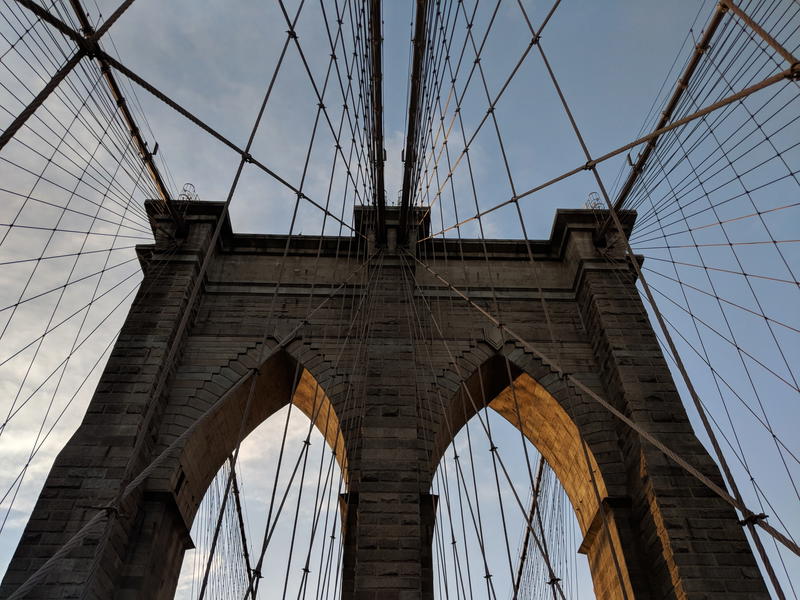 Manhattan Bridge
I usually run over the Manhattan Bridge when I am going from Brooklyn to Manhattan or vice versa. I think the scenery is pretty cool. You can see what it looks like in my Manhattan Bridge photo gallery here.
You can see DUMBO as you're leaving Brooklyn and you get to see Chinatown as you enter Manhattan. You'll usually see some boats pass by, as well.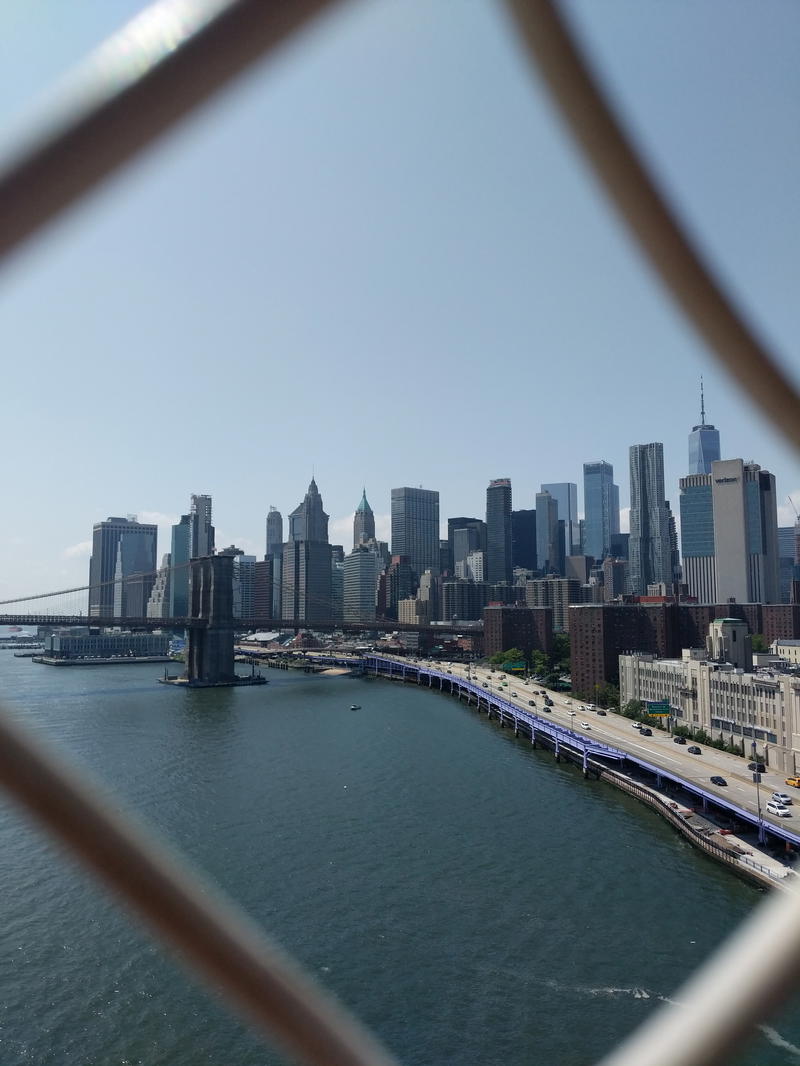 As for the bridge itself, it's mostly walkers and runners. There is a dedicated bike lane on the other side (the north side of the bridge). You'll occasionally see someone riding a bike on the pedestrian side, though, and bikers will see walkers on the biking side. It's safest to walk or bike on the correct side, to avoid accidents or frustrations.
There is a train portion that separates the bike side from the pedestrian side. So, if you're running and listening to music, it can often be pretty loud. Consider that you may go 5 or 10 minutes and you won't hear your music or podcast at all while you're on the Manhattan Bridge and a train comes by.
As for the run itself, it's not too hard and not too easy. There is a slight hill on the way up from either end. The great thing is that because the hills are so gradual, once you catch your breath, you have a nice decline to help you pick up your pace!
I find that the Manhattan Bridge has a more gradual incline than the Brooklyn Bridge or Williamsburg Bridge, which are both steeper in their inclines.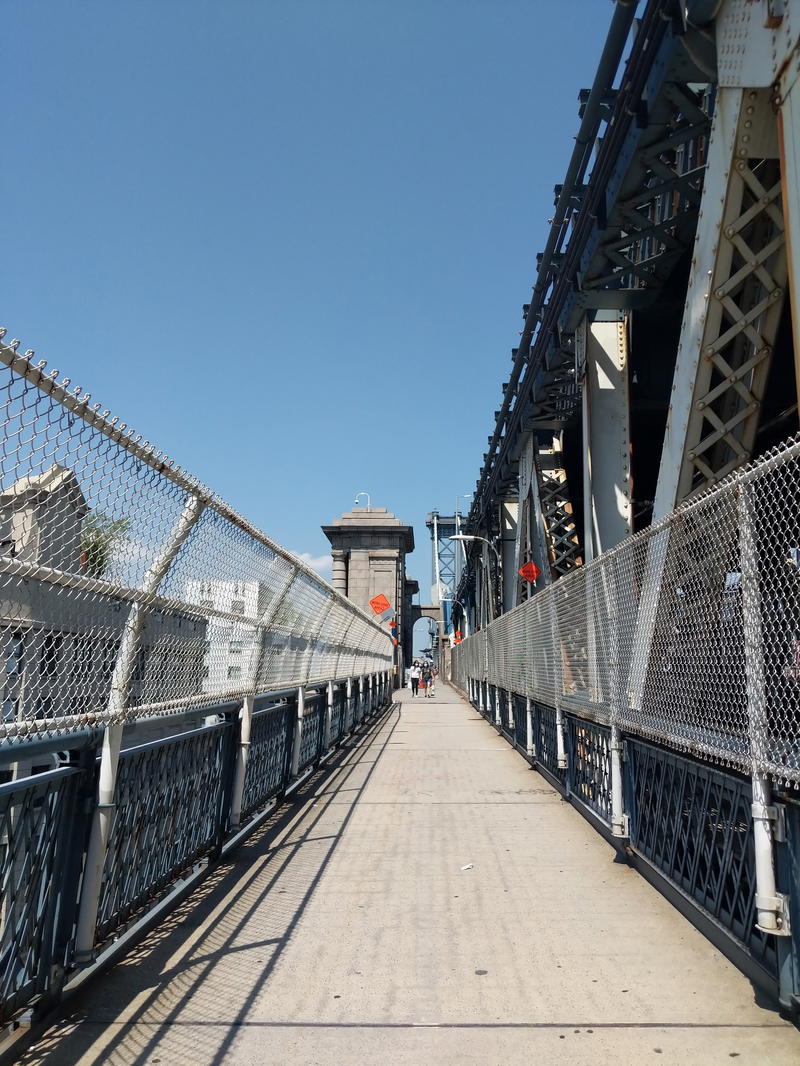 There tends to be construction which sometimes narrows the walking path. Be mindful when running if you're passing by a group of people, to give everyone enough space to get by!
I think the distance is a bit irrelevant because you're likely starting from somewhere and ending up somewhere else.
I'd calculate the distance from your start and end point and see if that works for you.
If you are interested, it's about 1.3 miles.
Brooklyn Bridge
When I was newer to the city and didn't "get it" yet, I tried running across the Brooklyn Bridge.
And by running, I mean I walked most of it because there were so many tourists stopping to take pictures and people on bikes trying to go through.
Luckily, there is a new and dedicated bike lane as of 2021, to help clear some of the people and runner traffic. There is still not really a dedicated running lane, however. Maybe they're working on it.
The only time that is okay to run on the Brooklyn Bridge is early in the morning. Unlike the High Line, I suggest trying this run for yourself if you can!
It's such a nice run because the bridge is a pleasure to be on. The wooden path makes it easy on your feet and the bridge itself is much nicer to look at in comparison to the Manhattan Bridge.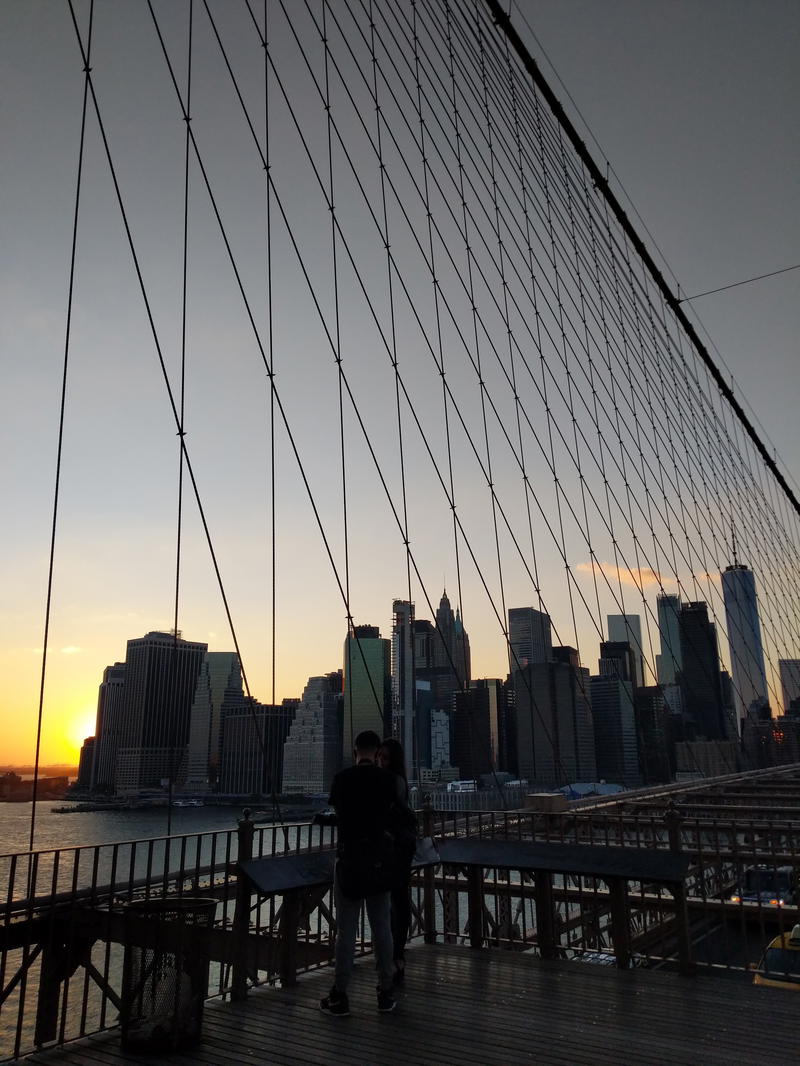 In April 2020, when New York City was really quiet, I ran across the Brooklyn Bridge a few times and it was empty. It was a really unique experience. I doubt it'll ever look like that again.
Similar to the Manhattan Bridge, you're probably not starting at the entrance and stopping at the exit. Although maybe you are, if you want to experience only the run.
You'll travel a little over a mile during this run while you are on the bridge.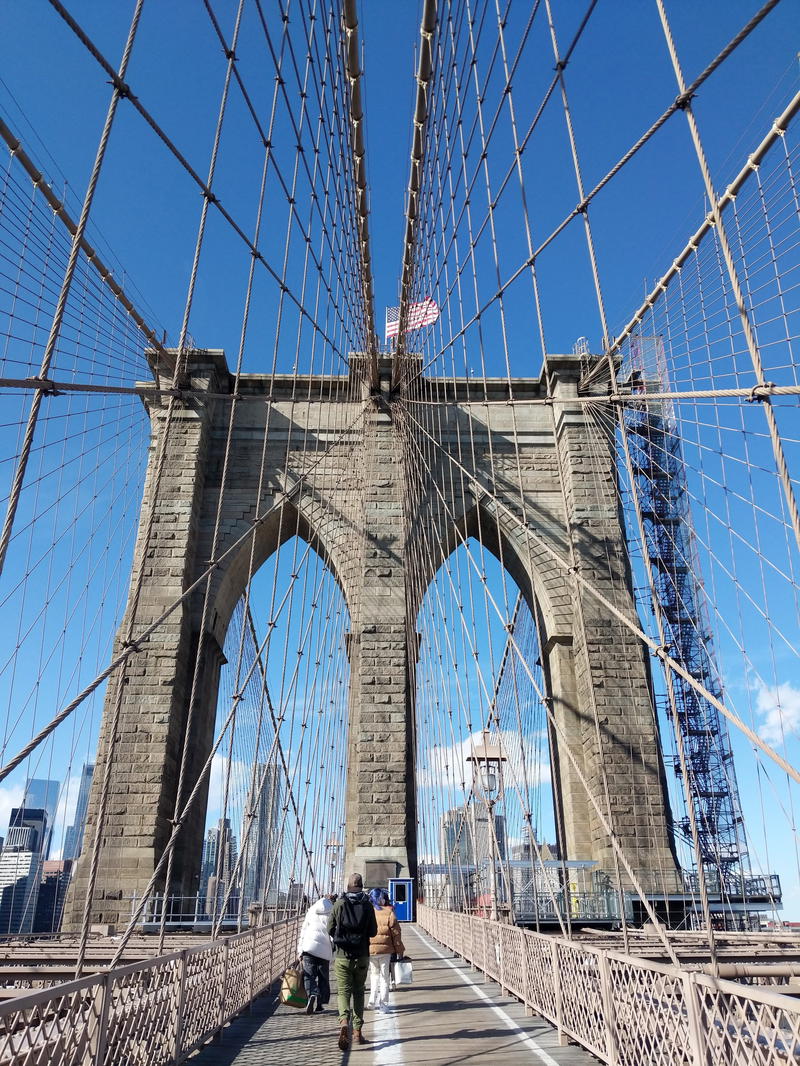 Williamsburg Bridge
The Williamsburg Bridge is a great commuting bridge. Lots of people travel from Williamsburg into Lower Manhattan on bike, foot and train.
Everybody is welcome and for some segments of the bridge, the bike side is split from the pedestrian side. This happens in the middle half of the bridge, and it's really interesting. Starting out, the bikers and runners/walkers share the incline, and then there's a landing where the bikers head left and the walkers/runners head right (when coming from Manhattan - Delancey Street).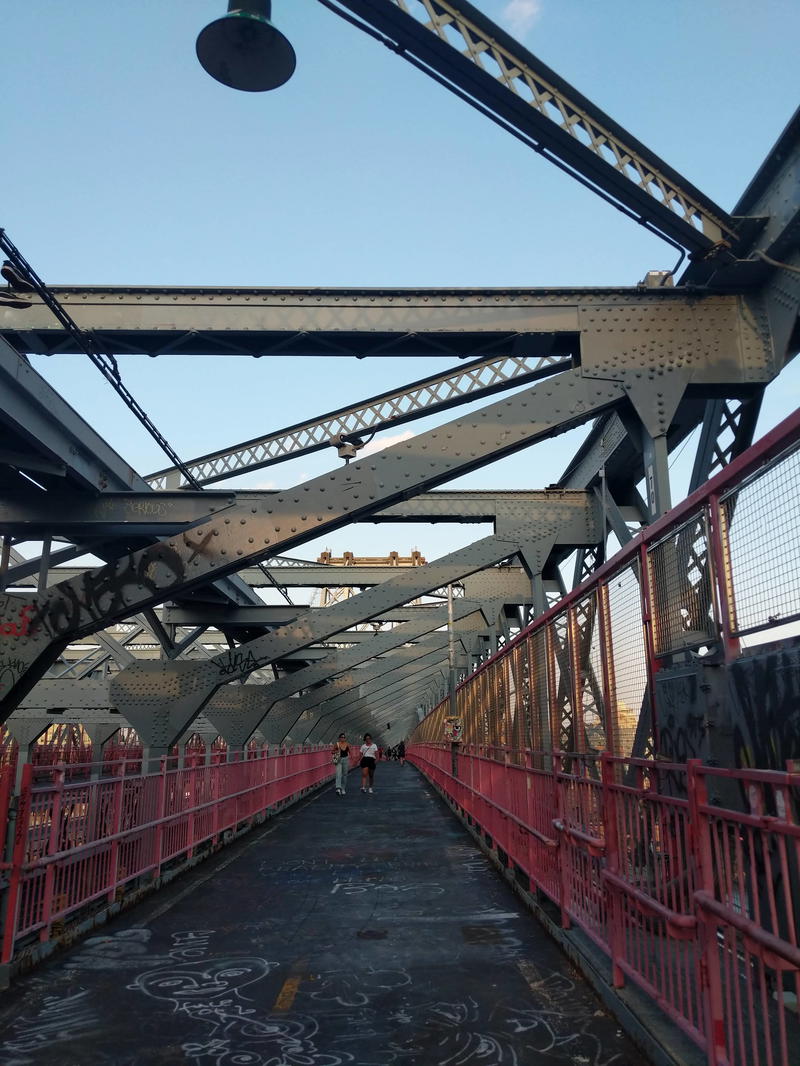 The thing to know about the Williamsburg Bridge is that it's really steep from the Manhattan side when you are traveling into Brooklyn. It feels like it's uphill most of the time. It can be tiring.
You'll get some so-so views, in my opinion. I like incorporating the Williamsburg Bridge run into some of my longer runs. Running through South Williamsburg is pretty nice, and frankly, a great place to start/end your run.
The best running spots in Brooklyn
I like running in Brooklyn because it's a bit more spacious than Manhattan, in general, if you know what I mean. Brooklyn feels like a collection of little towns, and the neighborhoods are, for the most part, shorter, with more light, less crowded sidewalks and streets with less traffic and narrowness than Manhattan. There's also an excellent variety in long paths, landforms (beaches) and distances.
Prospect Park
Prospect Park is one of my favorite running destinations. It's so conveniently located, being so close to so many different neighborhoods.
Inside the park, there are various trails that you can get lost in and explore.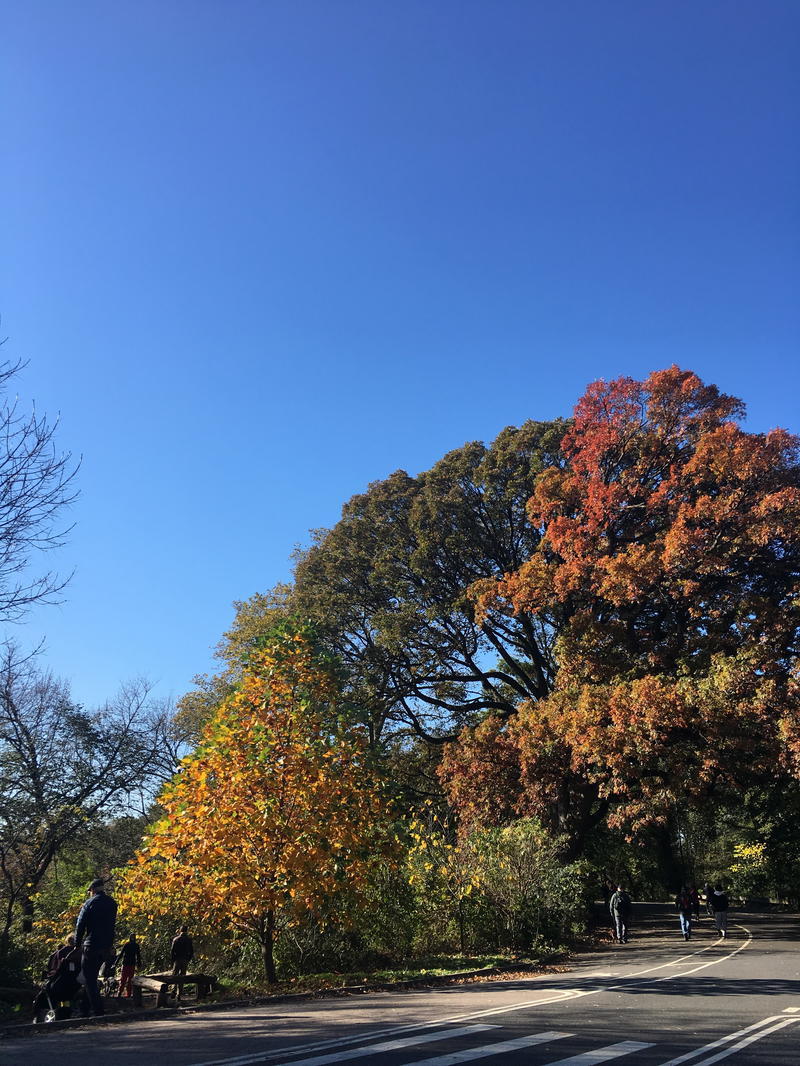 The actual park loop is 3.35 miles and you share the road with other runners, walkers, bikers and the occasional horse.
Watch out for horse — uh — droppings.
The walking/running side is split from the biking side. Be careful if you need to cross over to exit the park because some bikes really zoom by.
You can change up your running route by running on the perimeter of the park on the sidewalk.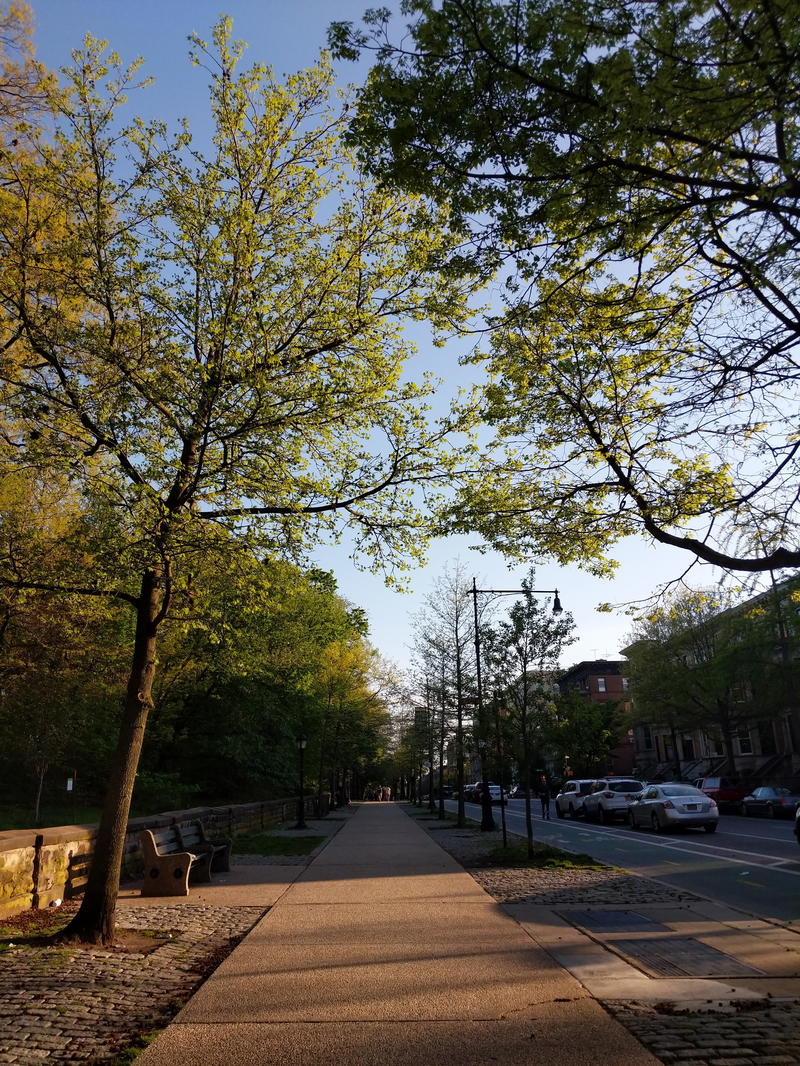 The sidewalks usually aren't very busy and it can add some distance to your run and get a nice change of scenery.
Prospect Park actually has a running map and its worth checking out.
Greenwood Cemetery Loop
I have been running around Greenwood Cemetery a lot this year. I live near 3rd Ave., and I'll take 3rd Ave. until about 25th Street, and then start running on the outside of the cemetery from there.
By "running around" Greenwood Cemetery, I mean literally running around the perimeter of the cemetery, because you shouldn't really go in (also, it's really hilly). I run starting at 7th Ave. or 20th Street, at this spot.
Most of the run is uninterrupted with an occasional intermission as you cross an MTA bus parking lot and need to cross the street once or twice.
These days, because I've been incorporating long runs into my schedule, I don't complete the loop and I instead head over to Prospect Park after running approximately 75% of the cemetery loop.
I like the distance and it's easier for me to get home via Prospect Park instead of running through Park Slope.
Ocean Avenue
The run down Ocean Avenue is interesting. If you get into a good rhythm, you can time all of the green lights and not stop for a good stretch of your run. That would be lucky!
But because there are so many intersections, you'll probably be stopping a good amount and you'll have to wait for cars to cross.
The road has a dedicated path for runners, walkers and bikers.
I think this run is interesting and worth doing because it ends right at Coney Island.
Having lived in New York City for some time now, I still find it really amazing that you can run to the beach. NYC never feels like a beach town or city, at all, but there are lots of beaches around here, from Brighton Beach to Manhattan Beach to the Rockaways.
Coney Island Boardwalk
Once you're on Coney Island Boardwalk, you'll get a nice 2.7-mile run with an ocean breeze.
Make sure to go early because you'll have a hard time weaving in and out of people dazed by the sun.
Coney Island is pretty much a destination because there's nowhere else to go once you are here! Well, I guess you could go for a swim, if you wanted to.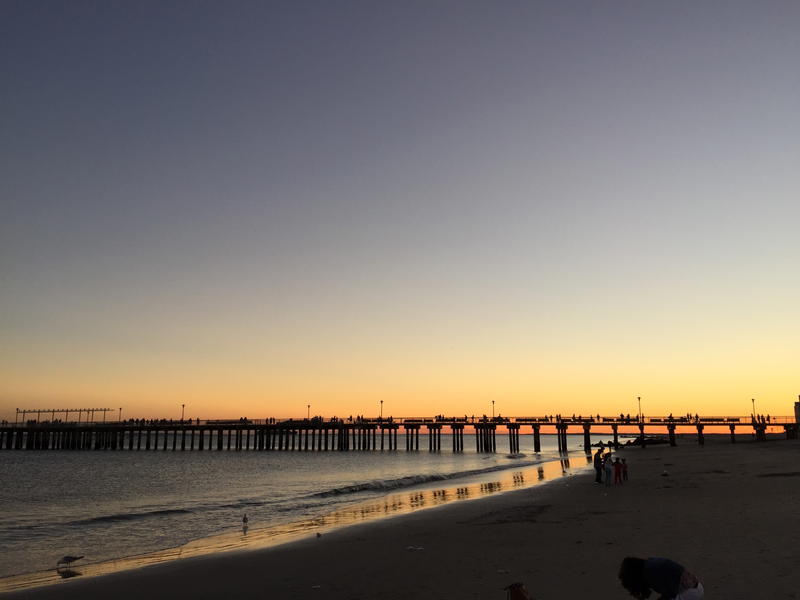 Red Hook
I like incorporating Red Hook into my running routine. Red Hook is a really interesting part of Brooklyn and it's worth exploring.
There is a nice dedicated path that takes you from Brooklyn Bridge Park all the way to the end of Red Hook. It's mostly referred to as the Columbia Street Brooklyn Waterfront Greenway.
Once you are in Red Hook, you can enjoy some local beers, a trip to the Fairway or Hometown BBQ.
Or if you like IKEA as much as I do, you can run to IKEA and buy a new desk chair. Because that's totally a normal thing that you can do. Well, at least normal for me, and it's what I did the week of March 12, 2020, as everything was closing.
Brooklyn Bridge Park
Brooklyn Bridge Park has a lot to see. It is quite the destination. You'll find many hints about it in our guide to the best Instagram spots in Brooklyn.
One of the unique things that you can do here as a runner is run around all of the piers.
You get to add a fair amount of distance and you can catch some of the breeze from the water, as well.
Most of the piers are purposed for soccer fields, basketball courts or green space for people to sit and hang out.
The actual path for the park can get a bit tight with everyone walking and everyone running, but there are LOTS of runners, and you'll be able to verify that immediately. It's a great place to get some distance.
There is a dedicated bike side of the main running path that goes from Joralemon Street all the way to Pier 1. Be careful to not run in the bike lane, because everyone needs their own space!
Helpful Tip
Brooklyn Bridge Park has a portion of its website dedicated to runners and information about running! You can see it here.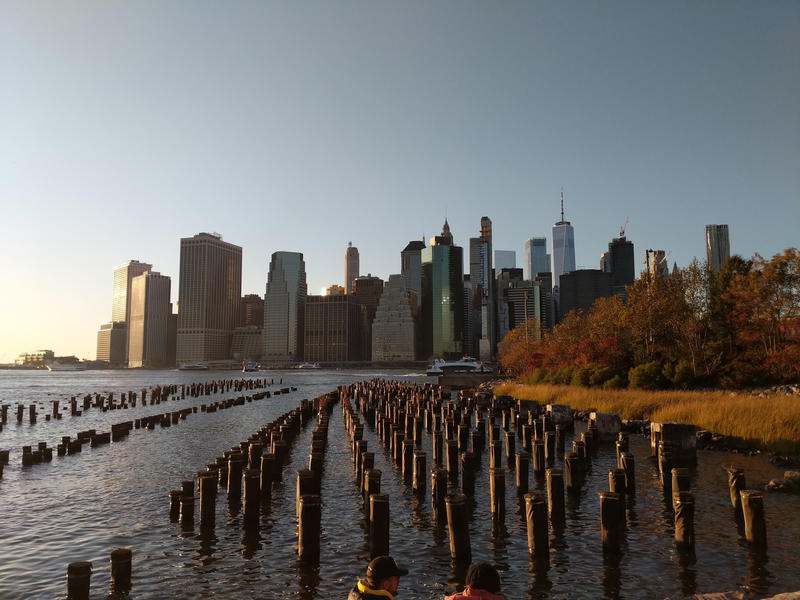 Navy Yard / South Williamsburg
For me, the Brooklyn Navy Yard and South Williamsburg is a transition to get to and from a few different routes.
I'll sometimes start around Brooklyn Bridge Park, go through Vinegar Hill, pass through the Navy Yard, head up to South Williamsburg and then turn around.
For longer runs, the Navy Yard and South Williamsburg are great places to pass through if you need to access the Williamsburg or Manhattan/Brooklyn Bridges — depending on where your starting point is.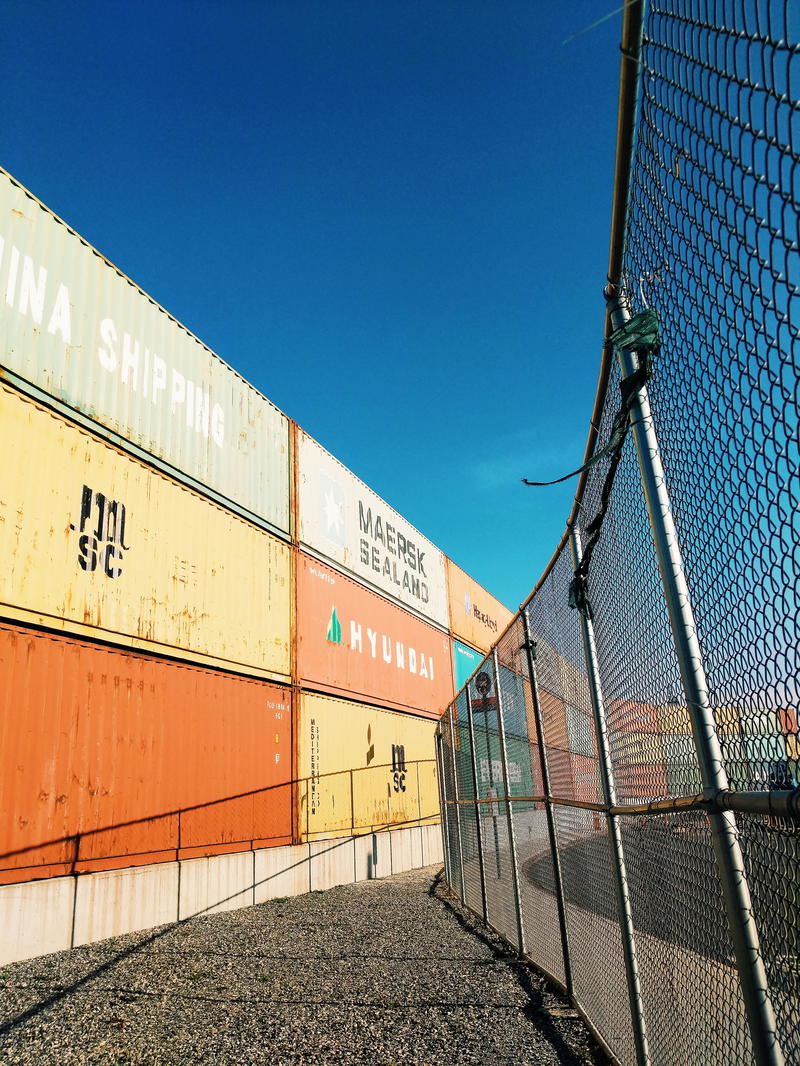 Other places to run in New York City
I split these places up into a category of their own based on them either not technically being in NYC or if I haven't actually run the trail yet.
Van Cortlandt Park
I haven't been able to visit Van Cortlandt Park yet. If I am ever in the area, I'm sure this is a great run because of the sheer size of this park in the Bronx.
All the information you'd need is here, at the Greatruns.com entry about this park.
Roosevelt Island
Back when I lived on the Upper East Side, I would run the Roosevelt Island path fairly frequently.
It's about 4 miles all the way around. There are a lot of sports fields on the island. If you do anything like Zog Sports, you'll probably go there at some point.
To get to Roosevelt Island by foot, you need to cross over the Queensboro Bridge. You'll be adding a bit of distance to your run by using this option.
Alternatively, you can take the Roosevelt Island sky tram, the subway or a bus.
Flushing Meadows Corona Park
I've been to Flushing Meadows-Corona Park a number of times to walk and explore. I've never visited this park to run in. There are lots of great streets to go down and cool sights to see. I had runner envy when I was last there, because I was not running, but so many other people were.
If you live in Queens, this will likely be one of your best bets for running.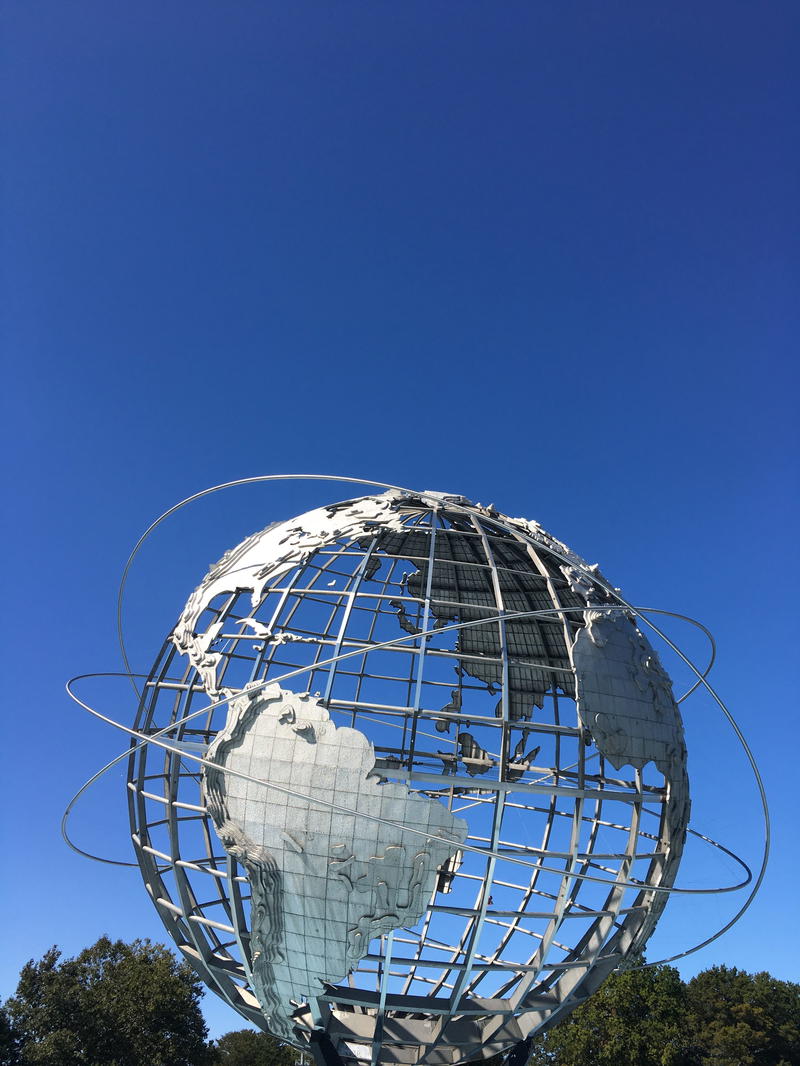 LIRR to Long Beach
We had plans to visit a friend in Long Beach, NY. Instead of taking the LIRR all the way, I decided to get off early in a town called Valley Stream, and run the rest of the way there.
I was able to run through some of the residential neighborhoods of Long Island on a nice Saturday morning.
10 miles later, I arrived in Long Beach!
The run was great, and especially nice once I crossed over the bridge to Atlantic Beach. I was able to run on the boardwalk in Atlantic Beach, and then in Long beach, and go through some of the beach towns.
Long Beach feels much more like a beach town vs. being in Coney Island or Brighton Beach in Brooklyn. It's also outside the city. I recommend taking the LIRR to this area of Long Island if you want a change of pace (literally).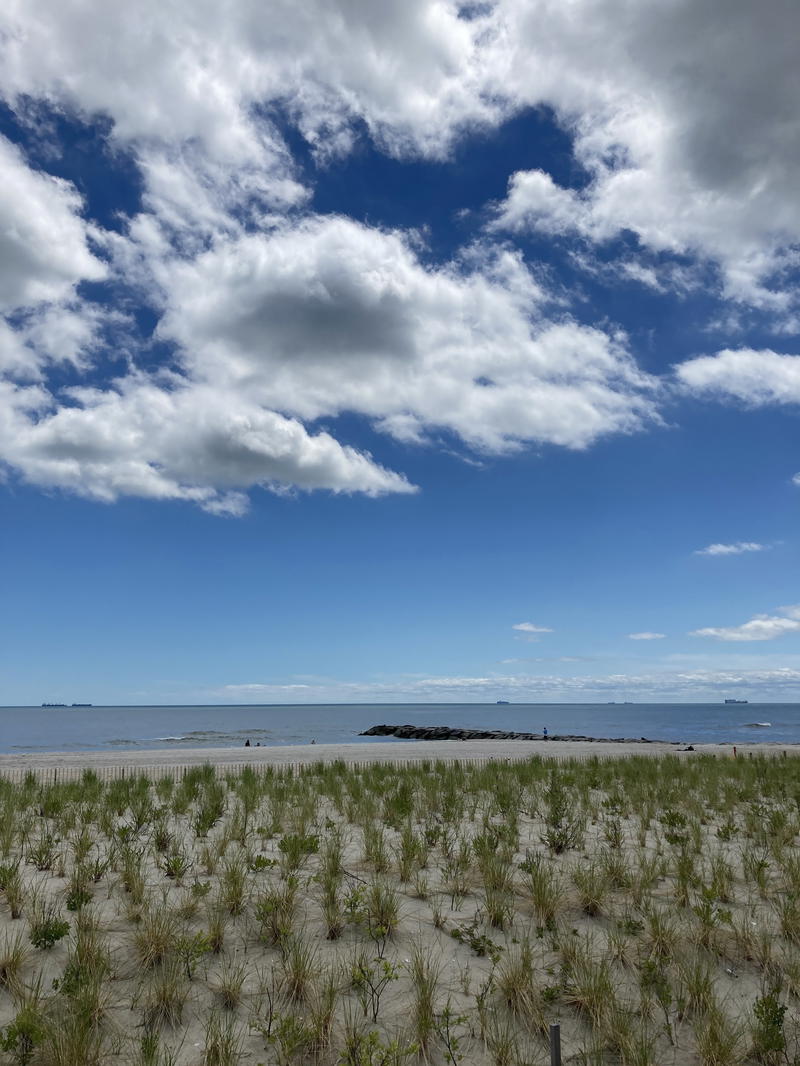 Liberty State Park
Liberty State Park is a nice option for runners who live in Hoboken or Jersey City.
You can access it by taking the PATH train from 34th Street in Manhattan, or from the World Trade Center.
You'll get the best views of Manhattan by being on the New Jersey side of the Hudson River, hands down. You'll also get to see the Statue of Liberty, which is one of my favorite landmarks to spot during a run.
Check out the Trail Run Project directory for Liberty State Park to see more visuals.
And for when you're done running…
Whether you're an avid runner (me) or an avid walker (my wife Becca), it's essential to come home from a long run or walk and decompress with a cool drink (while you look at the photos you took in the scenic locations you were enjoying). For anyone who gets foot pain after so many hours spent in motion, I wanted to call out the recovery shoes, the Kane Footwear Revives, I've been using recently.
Active recovery shoes help let your feet breathe, and support the anatomy of your feet with an anatomical design. Becca has tried Oofos sandals before, for wearing at home to combat her sensitive feed pressing against hard wood floors, but the Kane Revives are better.
We genuinely like these cushioned recovery sneakers, and if you're a runner looking for a supportive shoe that can return the energy to your feet after a workout, check out the Kane Revive shoe here.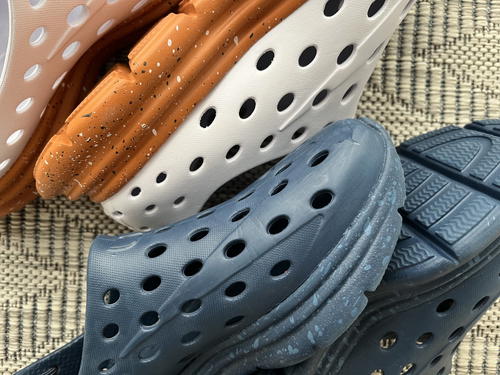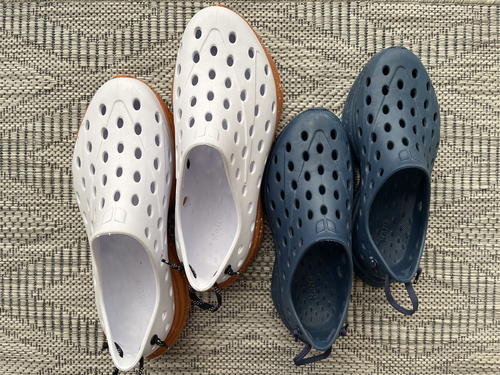 Enjoyed our article?
Consider supporting us! We're a 2-person team (learn more about us here) and your support enables us to create quality content. Thank you!