A Review of NYC's Blank Street Coffee Cafes
Written by Becca
•
Updated on September 6th, 2023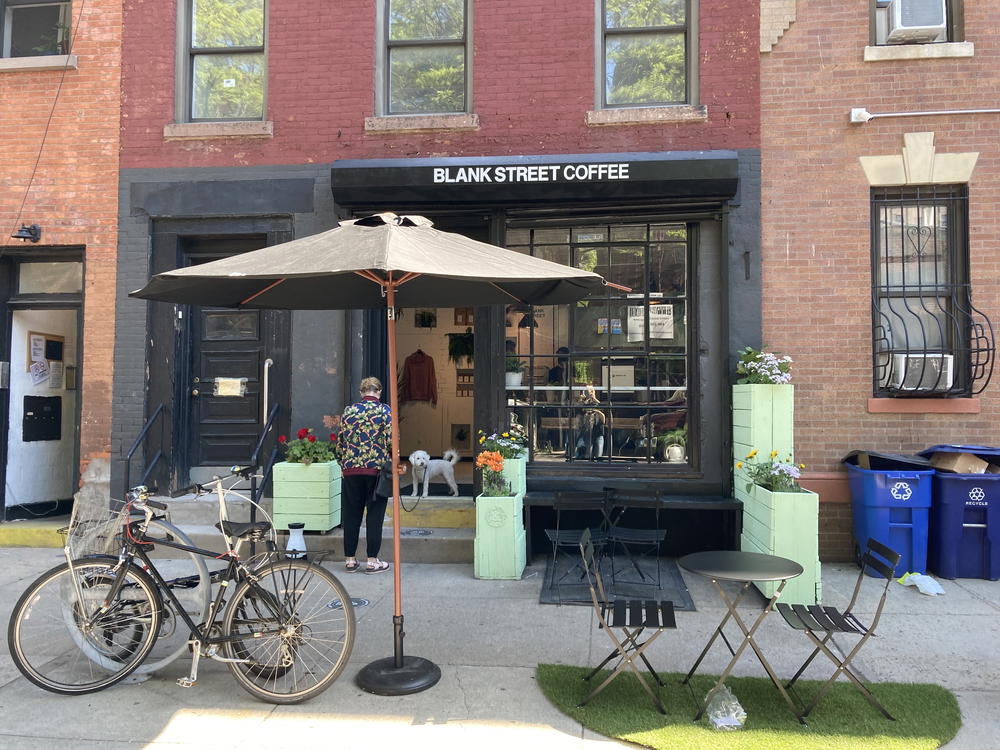 Blank Street coffee has locations in Manhattan and Brooklyn, and now in the UK, Boston and DC! Is the Blank Street referral program on the app still available for a free coffee?
This article may contain affiliate links. We earn a small commissions when you purchase via those links — and it's free for you. It's only us (Becca & Dan) working on this website, so we value your support! Read our privacy policy and learn more about us.
Table of contents
Close table of contents
When Dan and I moved into new our apartment, the neighborhood was a little bit of a "coffee dead zone."
I say this because we are very into coffee, and wherever we go, we pin and star coffee shops, and I do all the research for the cafes we should try when we travel.
Within a few weeks, it seemed, this all changed because Blank Street opened up one of its first Brooklyn locations just one block away. We can basically see the cafe from our roof.
And when our neighbors told us that we could get a free coffee if all we did was download the Blank Street app, we were hooked.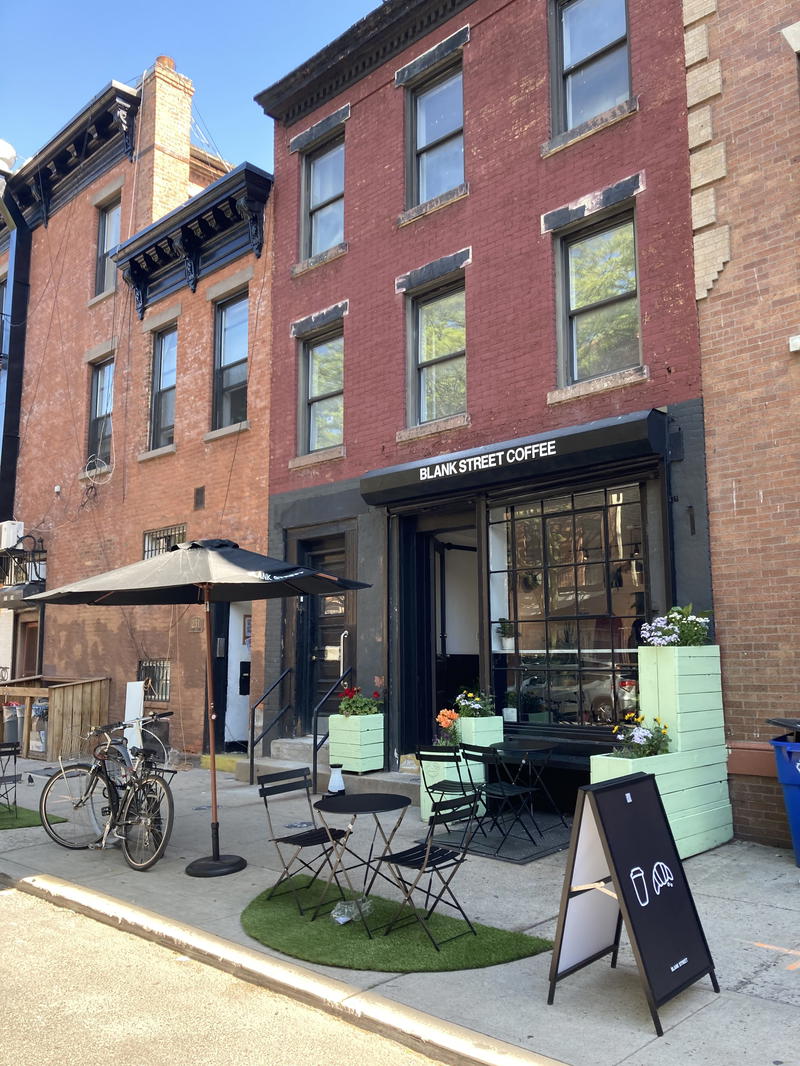 Blank Street Coffee referral code
As of January 2023, Blank Street has recently ended their referral program, unfortunately! We'll let you know if they bring it back. If you have points, they are good to use for redeeming free drinks until the end of December in 2023.
Also, Blank Street had an update in the app. If you'd like to pay with points, you can no longer choose your drink, head to checkout and then apply points. You now have to click into "order now" where your points are located in the home screen, and then also manually apply points at checkout during your ordering.
What is Blank Street Coffee?
Blank Street is a tech-savvy cafe chain made for a new generation of coffee lovers.
Started in 2020, the company sought to create neighborhood coffee shops and utilize 'blank space' in cities in the form of coffee carts.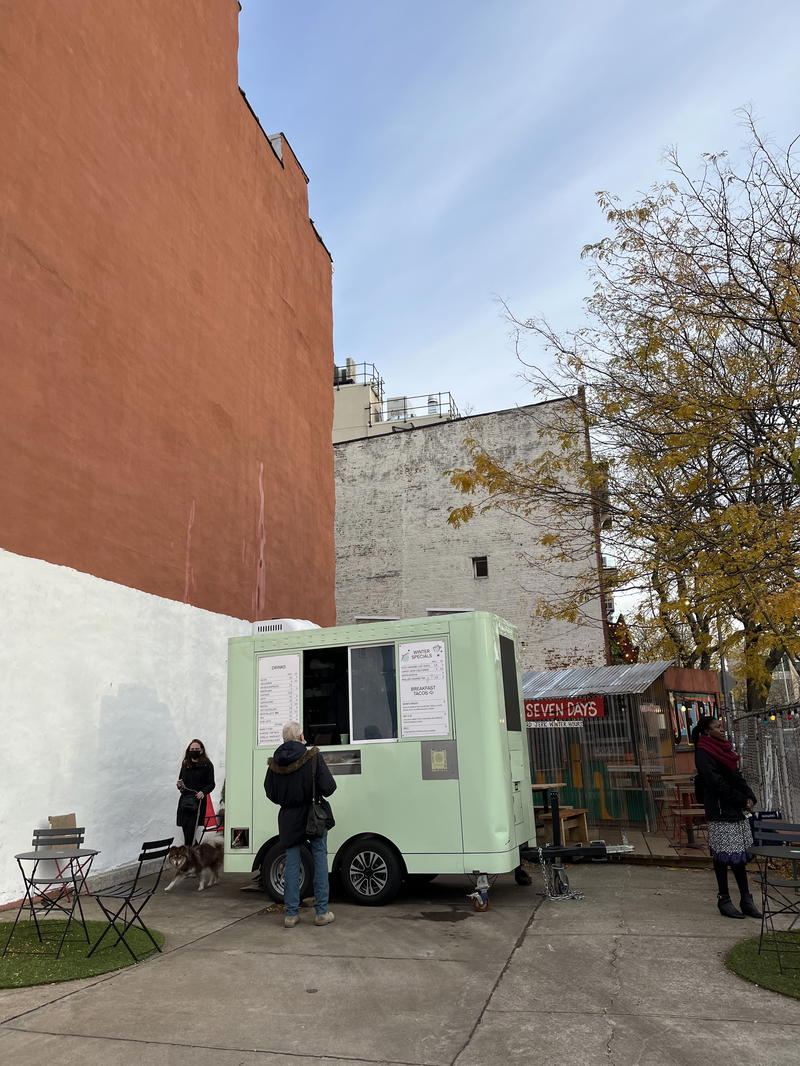 It seems this idea transformed into having brick-and-mortar neighborhood cafes as well, and in the blink (blank?) of an eye, the five Blank Street locations I was familiar with (three in Williamsburg, another one in Brooklyn and one on Lafayette St. in Manhattan) morphed into 28.
The difference between Blank Street and other small chains of coffee shops is that Blank Street is a tech company. Simultaneously with developing a network of cute and photogenic NYC cafes, the company's app is pretty stellar and I've got to tip my hat to them for that.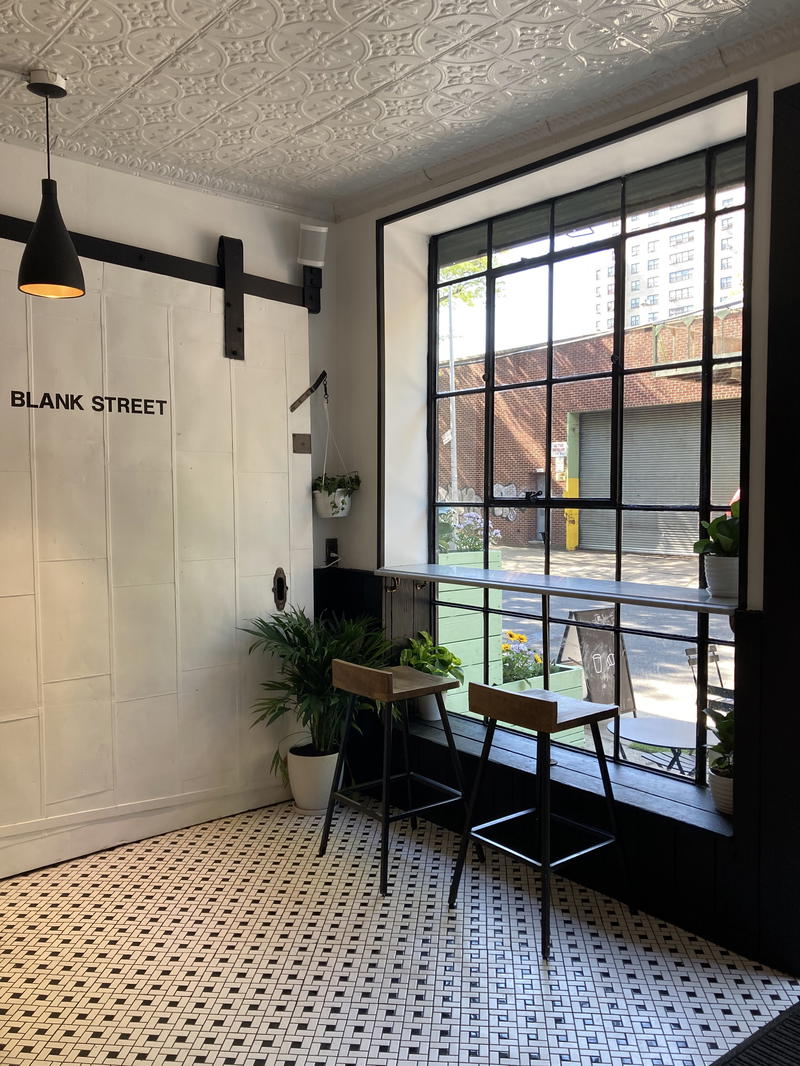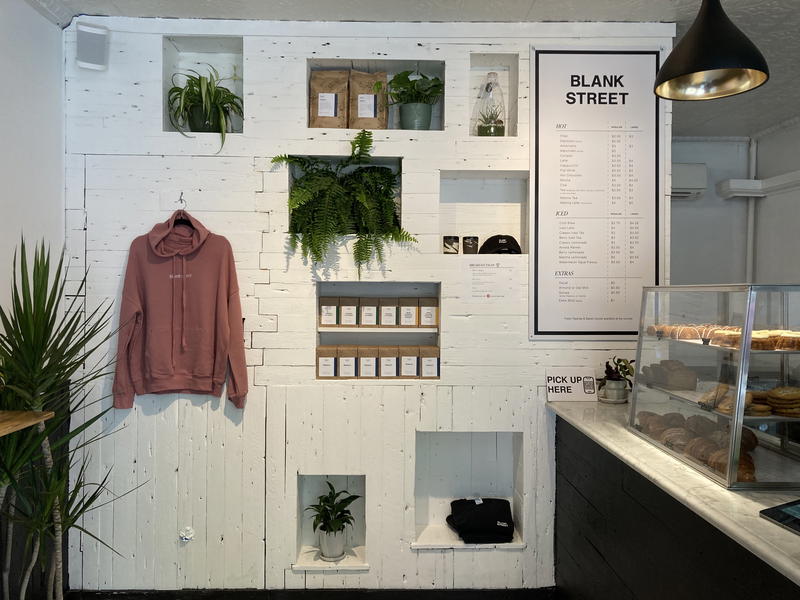 What's the Blank Street coffee app?
I never considered that it could be really convenient to order my coffee through an app.
I'm not someone who spends much money through my phone. I don't do my online shopping through my phone, I don't do my takeout via my phone and I have never once downloaded the Starbucks app or anything like that.
Blank Street developed a clean and minimalist app that's easy to use. You open it on your phone, and you get to choose what you want. Then, make sure (!!) to pick your Blank Street location, because I often frequent two, and I've almost placed an order for the one near my home when really, I'm out and about near my office.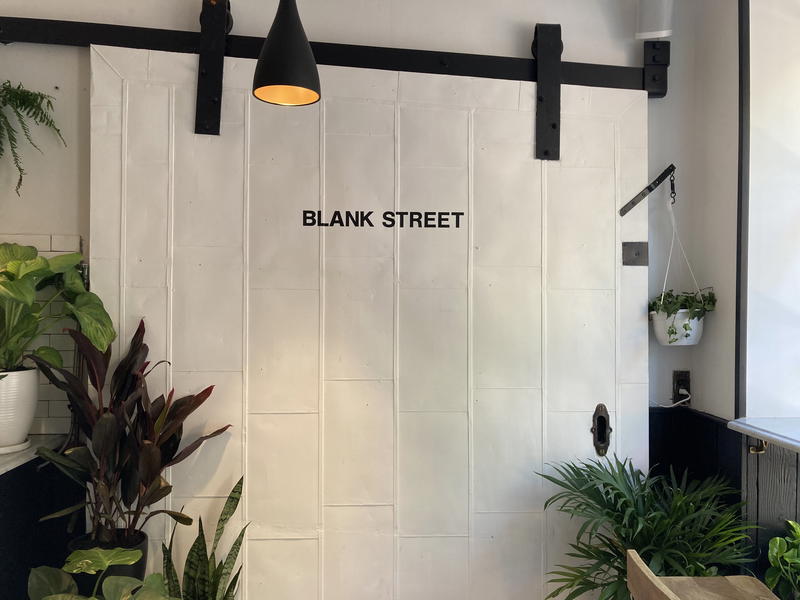 What about Blank Street's coffee and menu prices?
I find Blank Street's coffee and menu prices to be quite on par with other cafes in the area. If you check out this list of Brooklyn cafes and coffee shops, everywhere I list generally falls within the same price range.
You may even find that Blank Street's prices are fairer than other nearby cafes. Their filter coffee (at the time of writing) starts at $2.50. An Americano is $3 for a regular size, a cold brew is $4, matcha tea is $4, iced chai is $4 and seasonal drinks like an "elderflower sparky" is $5.
The baked goods and breakfast tacos on the menu also start at prices around $4.50-$5 each.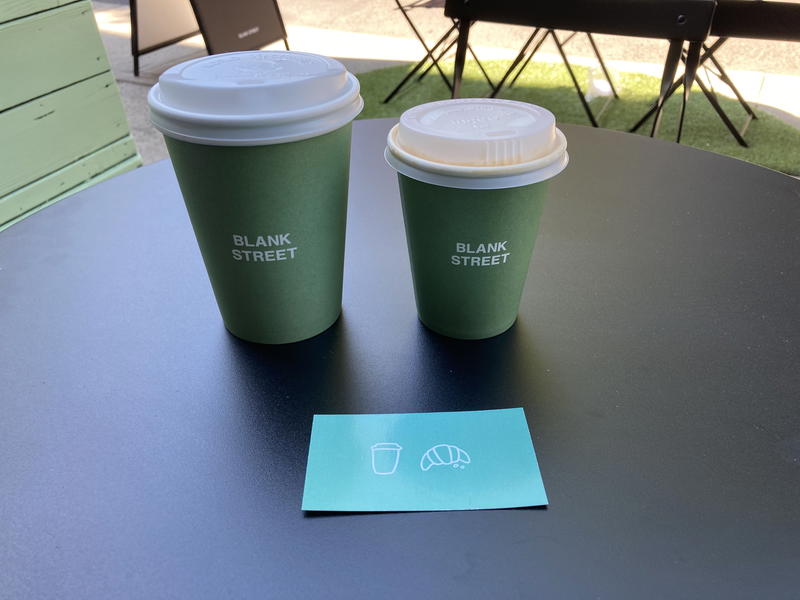 What's on the Blank Street cafe menu?
Honestly, what I like about the Blank Street coffee menu is that I can always get oat milk in my latte or cappuccino. And, I typically don't go for extra sugars, but adding a squeeze of hazelnut flavor to my latte has never been quite so delightful. This is my Blank Street guilty pleasure.
As for coffees, as mentioned above in regard to pricing, they have most coffee drinks under the sun. Should I list them all? You could easily open the app to see all the offerings, but I'll aim to please and I'll list a few here… filter coffee, espresso, americano, macchiato, cortado, latte, cappuccino, flat white, hot chocolate, mocha, chai, chai tea, matcha latte…. and most of these come in an iced form.
There are a few specialty drinks, along with seasonal items I saw during fall and winter like a peppermint mocha (OMG) and salted caramel hot chocolate (my sweet tooth, I can't!).
Back to what I appreciate most - all their locations have almond and oat milk, which is of course appreciated by vegans, vegetarians and anyone who is lactose-intolerant, like me!
Are you into decaf? Sometimes I just want a coffee drink even if I've already had my morning coffee ritual while working from home with Dan, and I'll get a half-caff latte from Blank Street.
As always, take a picture of your coffee to remember how good it was.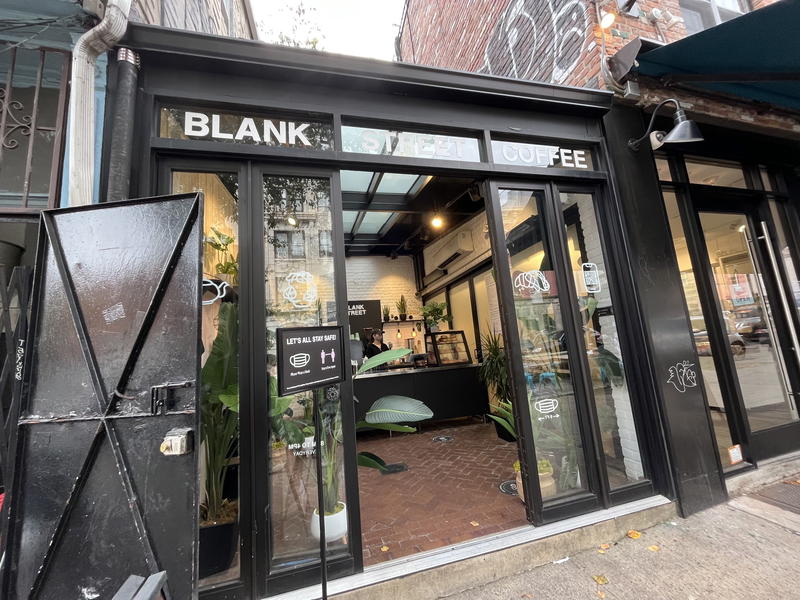 Critique about Blank Street Coffee
My one gripe about Blank Street is that they do not support "for-here" cups, meaning they only serve drinks in disposable to-go cups, whether paper cups (for hot drinks) or plastic (for cold drinks), and straws.
The days of going to a cafe and sitting down with a mug are gone, and Blank Street is solely the type of place that supports a takeaway option, not really encouraging customers to bring their own reusable cup.
Originally, in the company's early days, there was an "apparent" commitment to sustainability, which was written about on a Medium article associated with Blank Street, and it has since been deleted or expired. The company formerly made a claim to caring about the planet, through partnering with other organizations, using electric coffee carts, focusing on carbon footprint and using eco-friendly packaging, but … the Blank Street website these days makes no such assertion, and it's hard to find any commitment to sustainability, which is disappointing.
Where does Blank Street have locations?
At the time of writing, Blank Street has a whopping 28 locations in Manhattan and Brooklyn. You'll find clusters of Blank Street permanent cafes and also their electric coffee carts in neighborhoods like Williamsburg, Cobble Hill, Boerum Hill and Park Slope in Brooklyn, along with Manhattan areas of SoHo, NoHo, the West Village, Chelsea, the Upper West Side, Upper East Side, Gramercy and NoMad/K-Town.
Don't blink though, because the next time you reference this article, this list will already be outdated. Blank Street's operation is growing at a rapid pace and at the time of my writing this, they're planning for expansion very soon to London, Boston and Washington, DC.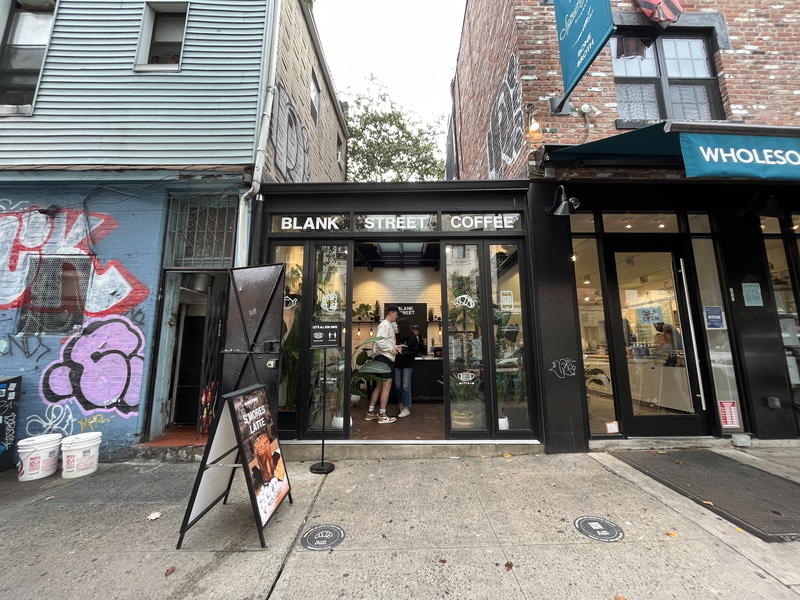 Can you order Blank Street in person without the app?
Yes, you can order normally without using the app at all. You can show up at any of the locations and order coffee in the regular way everyone knows how to do: ordering with a human and paying in person.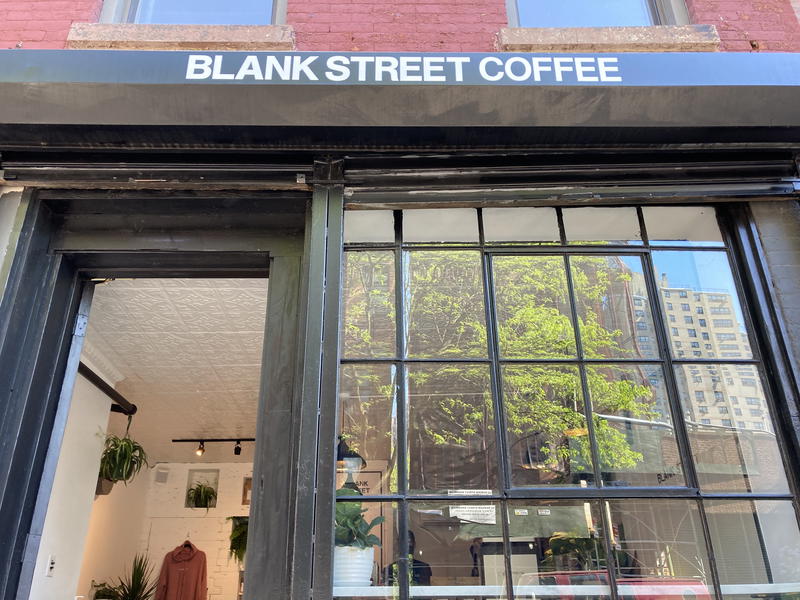 Enjoyed our article?
Consider supporting us! We're a 2-person team (learn more about us here) and your support enables us to create quality content. Thank you!