Troubadour Bivy Tote Backpack Review (Stylish Commuter & Travel Daypack)
Written by Becca
•
Updated on September 6th, 2023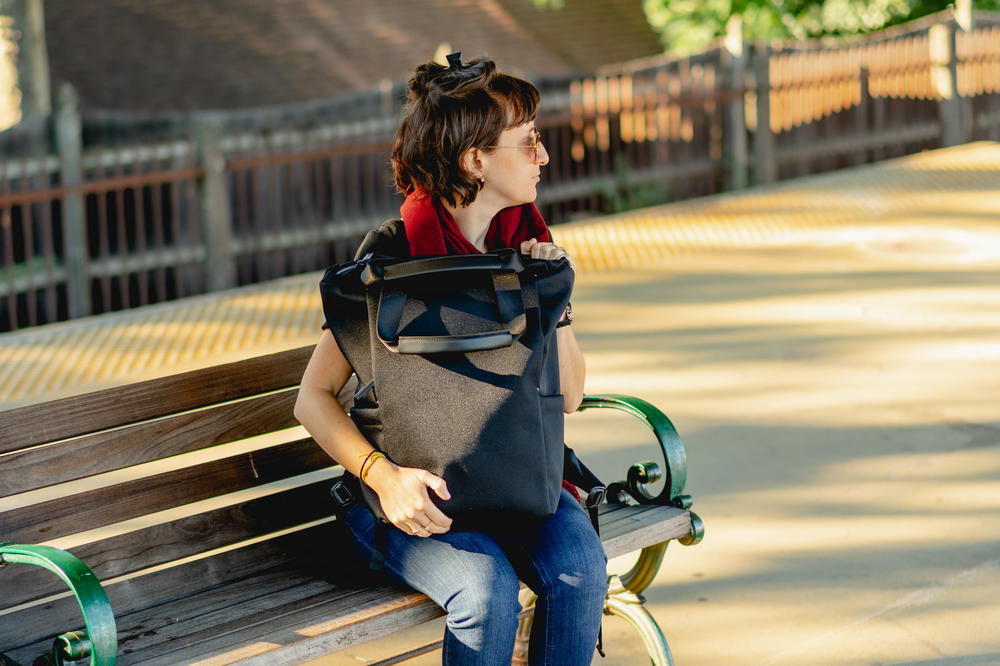 Why is the Troubadour Bivy Tote the best laptop business backpack for work, commuting and travel? I assess its sleek modern look and versatile ways to wear in this product review.
This article may contain affiliate links. We earn a small commissions when you purchase via those links — and it's free for you. It's only us (Becca & Dan) working on this website, so we value your support! Read our privacy policy and learn more about us.
Now that I'm back in the office anywhere between one and three times a week, having a commuter backpack that doubles as a laptop travel bag is absolutely key.
A few things I look for in a laptop bag for work are that it's lightweight, stylish, looks good with any outfit in any season and holds all the things I need during my commute and work day.
Let me explain: I'm the type of person who travels and commutes with a "what if I need a _____" mindset. This means I'm always on the go with an umbrella, an extra layer like a sweater in case it gets cold, snacks, a filled water bottle and all my work and electronic accessories.
It has been a journey to find a work backpack that does it all, and still is a bag that I am proud to carry around!
The Troubadour Bivy Tote Backpack is unique in that it's a well-built commuter backpack that doubles as a tote, with its strong top handles. In this review, I'll go into detail as to why it's worth the price tag.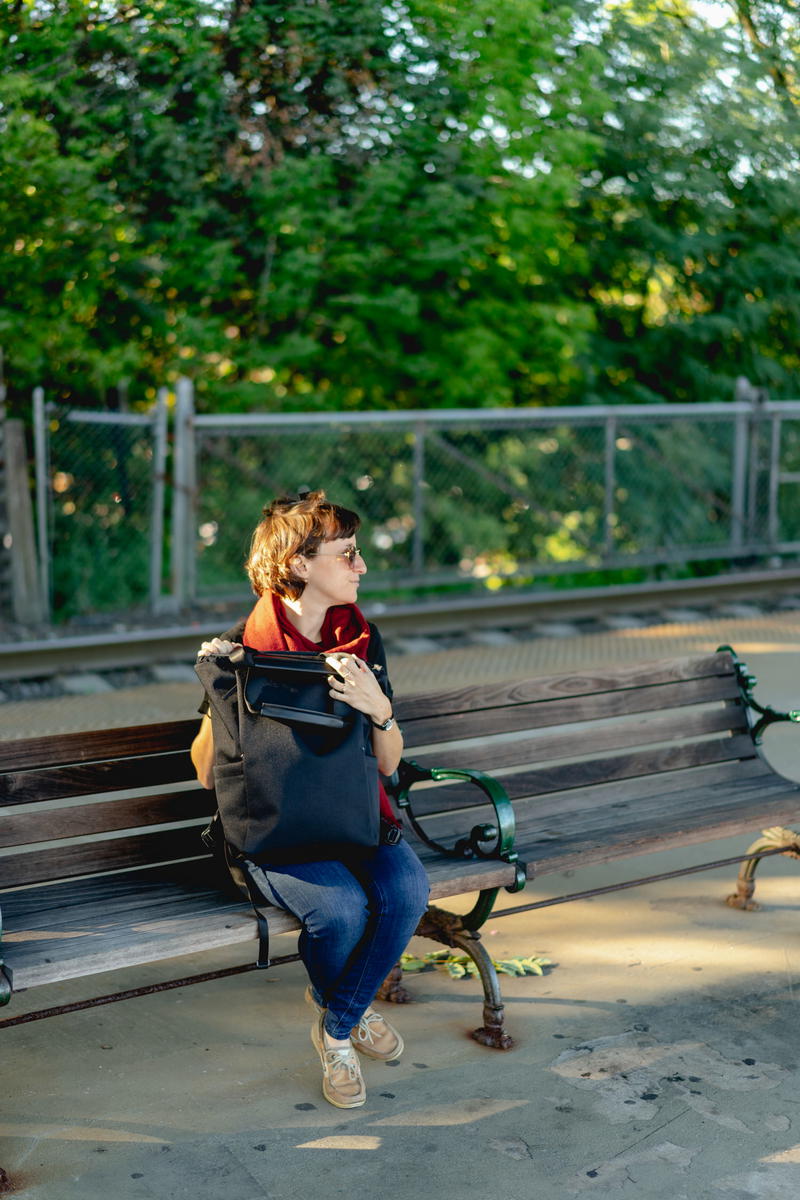 A bit about the brand, Troubadour
Troubadour is a brand that builds style into travel bags. I've come to be a big fan of their upscale totes, cross-body bags, daypacks and now, commuter backpacks.
What I like about the company is that the founders are passionate about creating the perfect bags. For this reason, there are thoughtful features in all their products, from hidden pockets with zippers to great materials that make you think, "How did I not have this until now?"
The grounding mission of the brand is to make products that "perform brilliantly," and that's something I've seen in using the Ki Backpack and the other two Troubadour bags that I mention in our gift guide for travelers.
Oh, and a few more things. Troubadour prides itself on adaptability, comfort and ergonomics. Those are the things that draw me to the brand and toward trying more of its products as well. I've found the backpacks lightweight yet sturdy, as well as strong yet chic.
Lastly, Troubadour makes fabrics from recycled plastics, which is a plus if you are on the hunt for sustainability-minded companies that care about reducing waste. It's certainly important to me, as I always focus on sustainability during travel.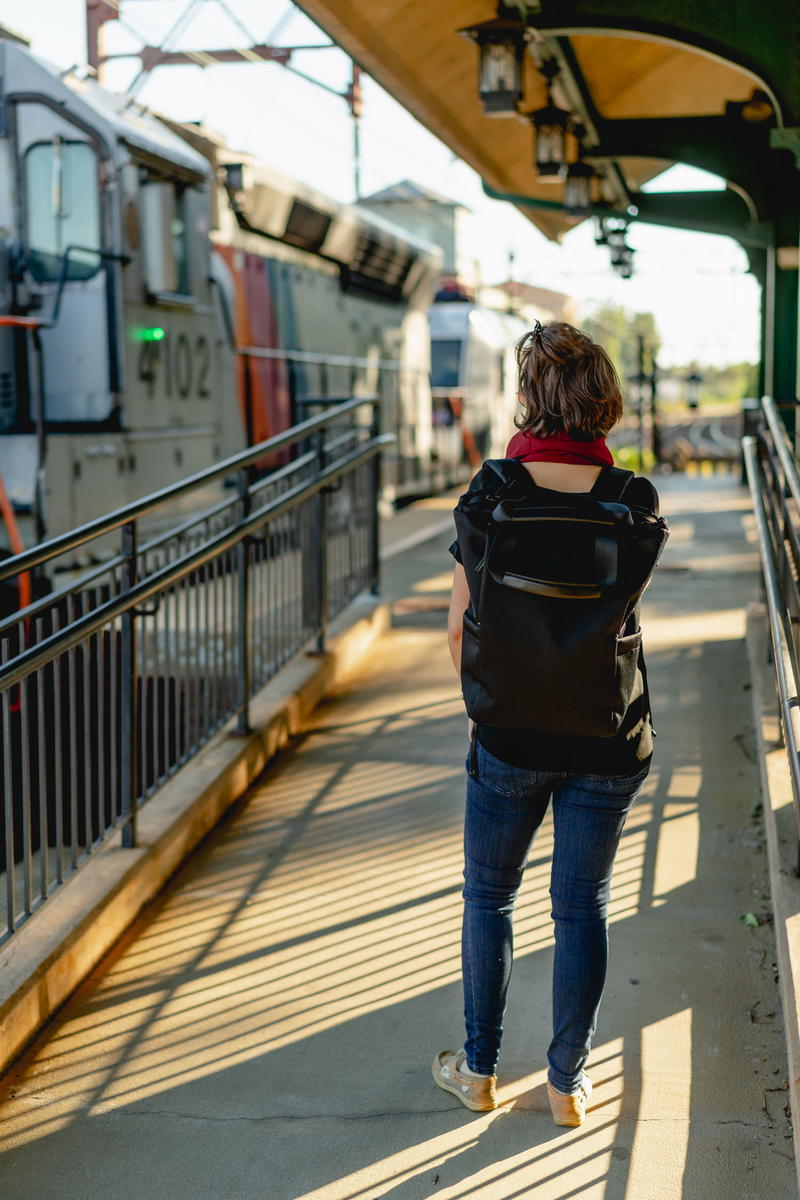 Key points about the Bivy Tote Commuter & Laptop Backpack
Let's get into discussing the Bivy Tote Backpack and why it packs a punch for the needs of a professional on the go, like me.
Here are a few of the top things that come to mind when I introduce this bag and why it makes me so excited to take it to work or on a trip:
It looks great. I like the overall minimalist structure. I think the two tote straps on the top make a cool accent even if you don't plan to use the bag as a tote.
I do think it's fun that this backpack can be a tote when you don't have too much in it. I've used it as a tote bag on my shoulder.
I like the laptop sleeve, along with other pockets like the hidden front zipper pocket and the inner mesh pocket.
There's something unique and luxe about Troubadour's materials that make the waterproofing an innate part of the look and feel.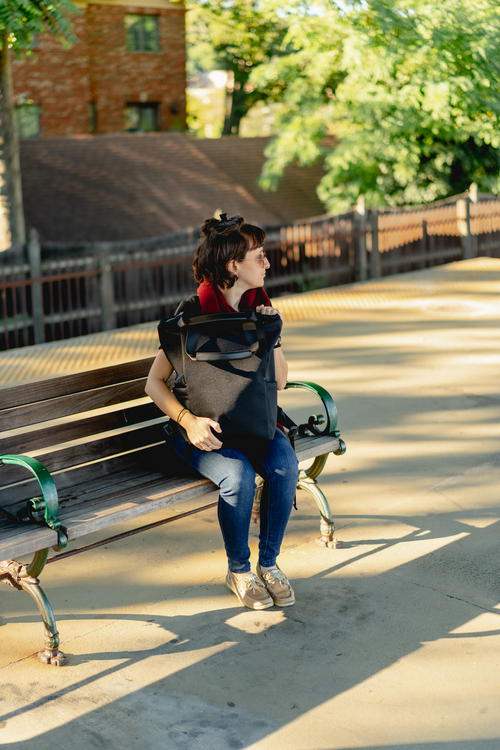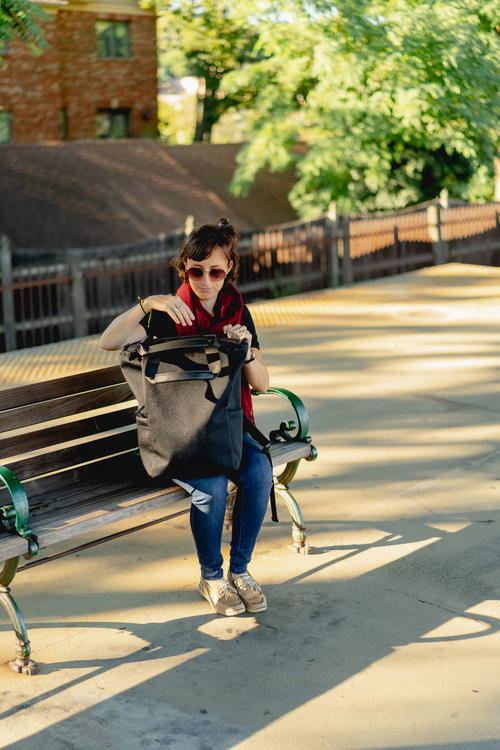 Material & Features
Here, I'll get into the specific materials and features that make this laptop backpack a great find for professionals who are seeking a timeless new bag.
(I took this photo on the train while using the Bivy Tote to go to work!)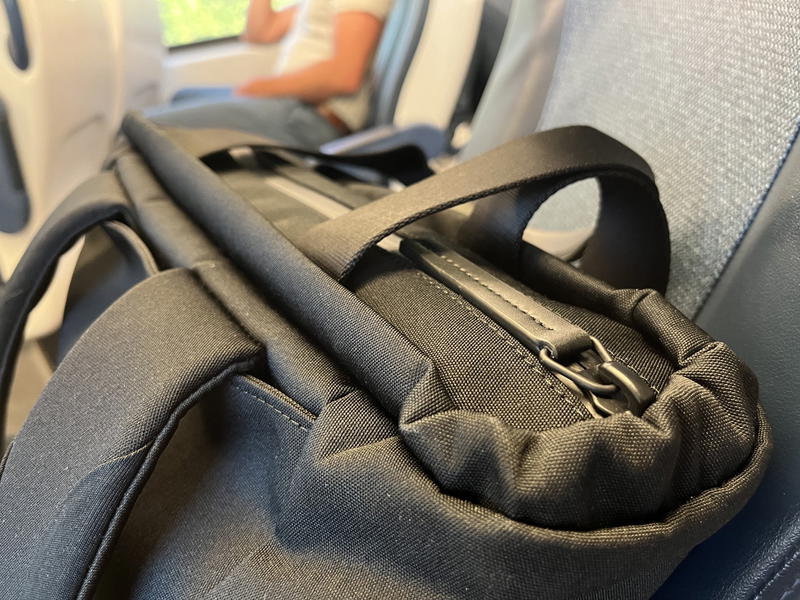 Fabrics
Would you ever know this bag is made of recycled polyester fabric? It's also waterproof.
All the trims that look like leather are actually vegan leather. Impressive.
Backpack/Tote Duo Usage
The tote handles sit atop the bag and are part of its overall look. With the top zipper closure, it's true that this backpack doesn't exactly feel like a backpack; it's something in-between. I think the top location of the straps make this backpack modern and cool all at once.
The zippers
I've said this also about the Troubadour Ki Backpack, that the zippers used in Troubadour's bags are high-quality, strong and pretty foolproof.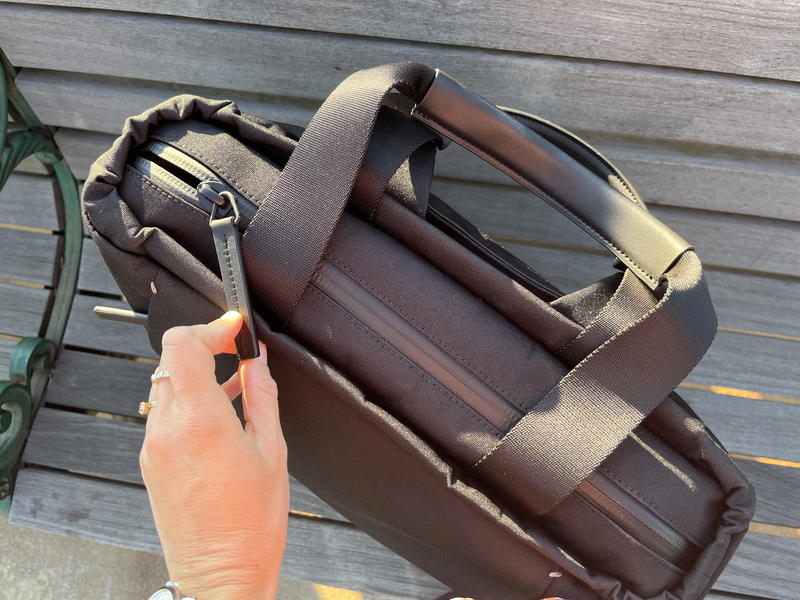 Bottle pockets (exterior)
I'm always drinking water, and I always have a reusable water bottle with me, even if I'm going out for five minutes. I like that this bag has two side bottle pockets so that you can choose which side works best for you while you're on the go.
Padded straps
As a narrow and petite woman who can't take a lot of strain on my back, I appreciate that Troubadour has focused on padded shoulder straps for this bag. They feel good, and firm.
Pockets inside and out
One of my first findings with this backpack was the hidden zip pocket on the outside. This is where I like to keep my Airpods for quick access.
Inside, there's a zippered mesh pocket (I keep my little wallet here), and then on the laptop pocket you've got additional pockets for storing accessories. Here, I keep tiny things like a pocket-sized hand cream, travel-sized sunscreen, a Vaseline lip balm and random papers or receipts.
Dimensions and weight
If you're on the hunt for a new work backpack, you need to know how big it's going to be!
The Bivy Tote Backpack weighs 2.2 lbs (or 1 kg), and has a 21L capacity. It's why we listed it in the best travel backpacks for women, with the reason being that it's a solid size for a daypack.
Now that you've seen how the backpack looks on me, check out how it looks on Dan. This backpack is perfectly suitable for men as well as women, and that's certainly Troubadour's goal in its design: to be unisex.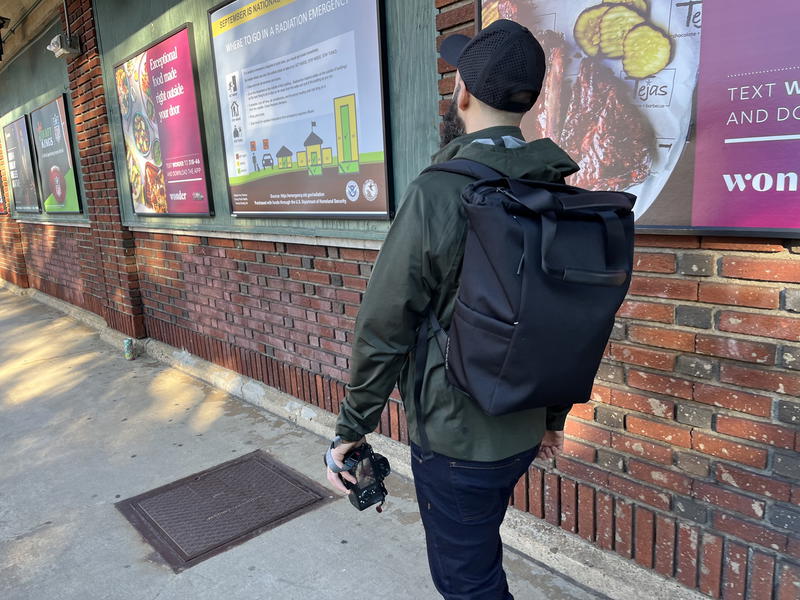 Laptop carry
While I have a 13" MacBook Air, and it fits spaciously in the Bivy Tote, the backpack holds up to a 17" laptop. I'm actually not sure if many backpacks hold a laptop that big. This one does.
Ways to wear and use the Bivy Tote Backpack
The nice thing about the Bivy Tote Backpack is that it doesn't just have one use. Because it's a nicer high-end business backpack, you could take it as a vacation personal item during a flight, and on the other hand, you could bring it to a work conference or a big professional meeting.
Commuter Bag
As I discussed above, this backpack is great for commuting! With the waterproof quality of the fabric, and the volume that fits both a jacket and an umbrella, as well as your work laptop and your headphones, charging cables and more, you've got an entire day's worth of items all in this attractive backpack.
I packed this bag with a bike helmet one day while I was out in NYC and still had room inside for snacks, my work items, a scarf and a water bottle. Then, because this bag is not too big, it fit in the front bike basket of a CitiBike (New York City's bike-share bicycles).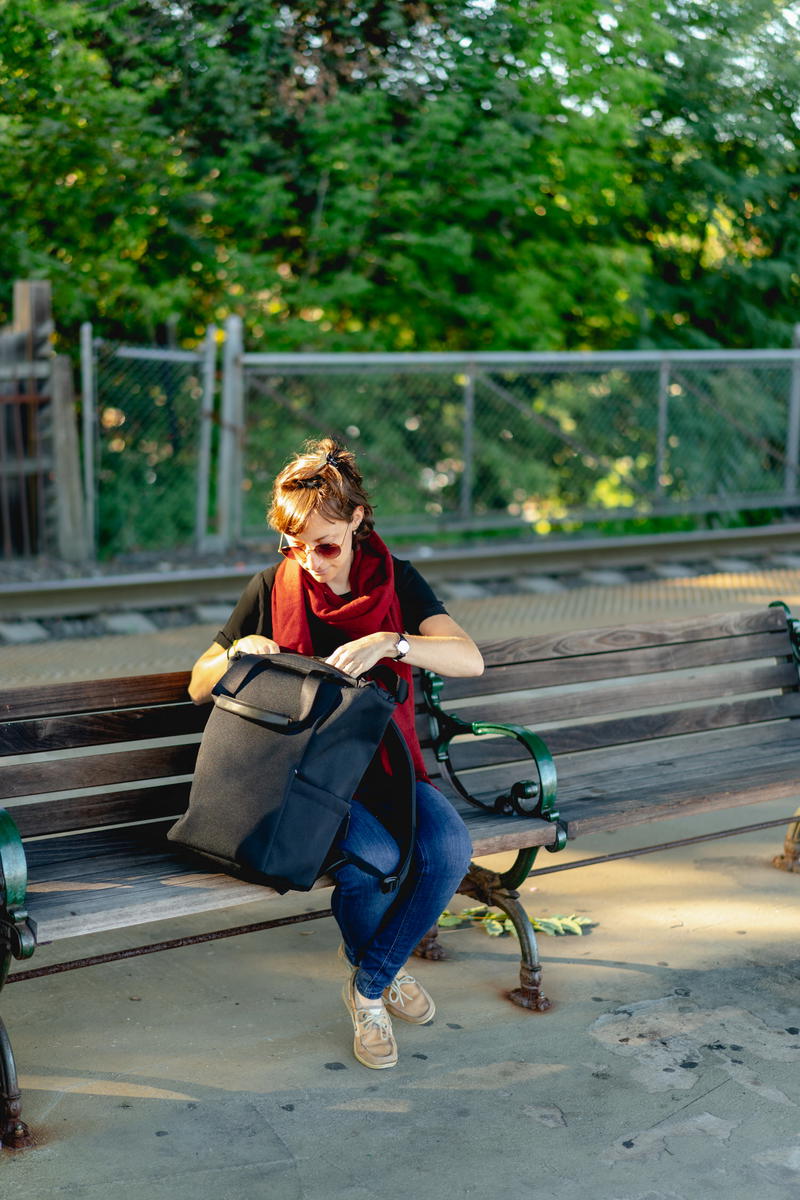 Travel Daypack
I would surely take this backpack on vacation as my daypack. While I often go for a smaller daypack like the Ki Backpack, which is more like a purse at only 10L, the Bivy Tote is double the Ki's volume and suits a travel day when you need considerably more "stuff."
The Troubadour Bivy would be a great backpack to take as your personal item while flying, or to have with you by your side during a road trip, rather than tossing it in the trunk with larger luggage.
Again, with the waterproof ability of the recycled exterior fabric, you can feel confident in lots of weather conditions that may come your way, and the Bivy Tote is an applicable bag for all seasons.
Very lastly, it's a smart choice if you plan to work remotely and travel during a trip.
Downfalls & criticisms
As you can tell, I think this bag is a great investment for professionals and for commuters who want to have a spacious bag for a day out when going to the office, or traveling.
I only have to slight criticisms, and those are:
The straps are a dab short if you really want to comfortably wear the whole bag as a tote over one shoulder. If you carry it as a tote from the handle and from your hand, and if you're short, you may feel like it's nearly touching the ground and/or it's too heavy already.
The only other slight downfall I see in the design of this bag is the scrunched-up sides that look gathered, whereas the long sides are smooth. Am I explaining this correctly? I suppose there's no other way to have done it, given the fabric. It's something you may note.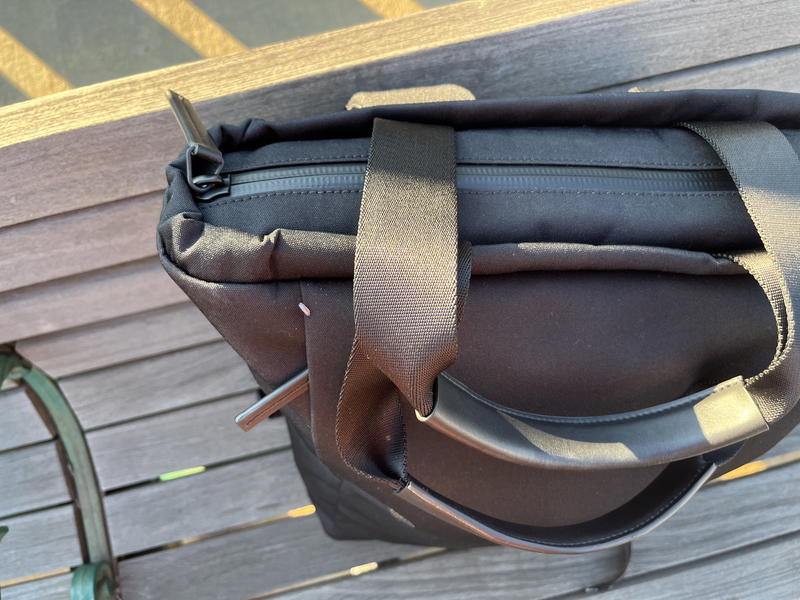 Final thoughts and where to buy the Bivy Tote Backpack
The Bivy Tote Backpack is the kind of backpack that I look forward to packing for a day when I head to the office. It fits everything I need, and then some, if I pick up something like food or an item from the office while I'm in the city.
I appreciate the high-quality features, the manageable size and the timeless luxe look of this backpack. Dare I say it's the best commuter bag I've had, to date?
To check the price and availability of this laptop backpack, check the Troubadour Bivy Tote Backpack product page to learn more and make sure this is the best bag for you.
(Here's one more shot of Dan wearing the Bivy Tote, in case you need some reassurance that yes: this is a men's business backpack just as much as it is a women's one!)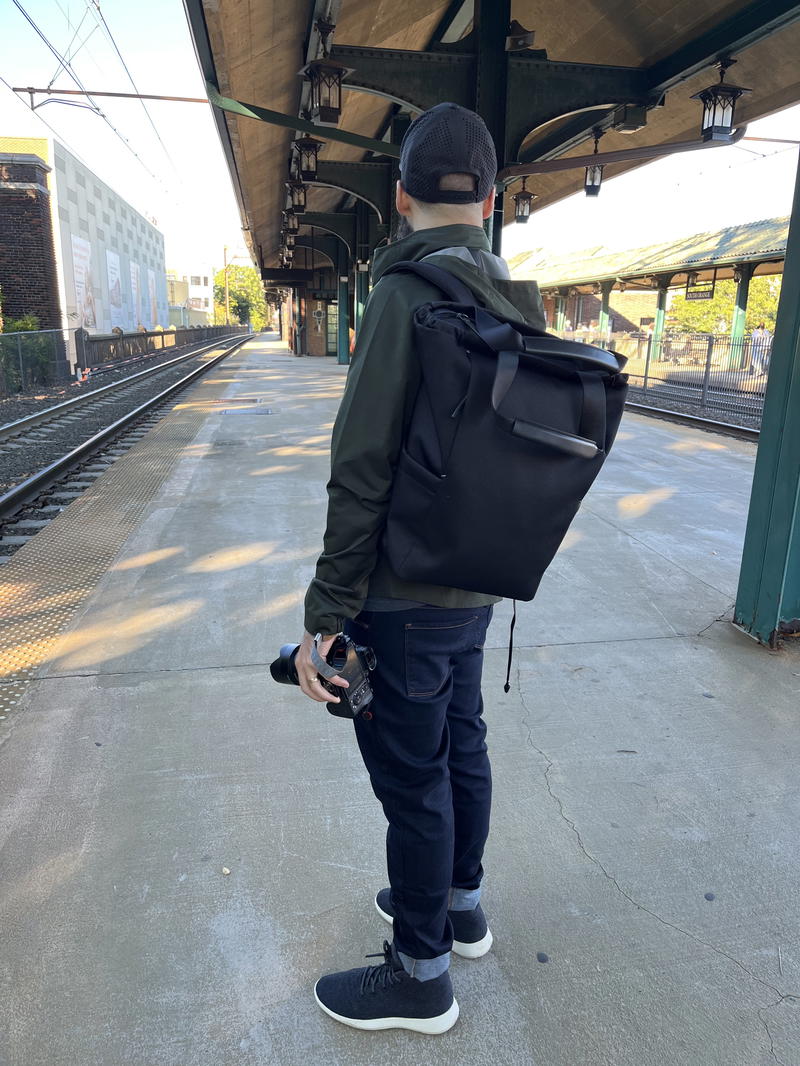 Enjoyed our article?
Consider supporting us! We're a 2-person team (learn more about us here) and your support enables us to create quality content. Thank you!