Small Expandable Knack Pack: Weekend Backpack Review
Written by Becca
•
Updated on September 6th, 2023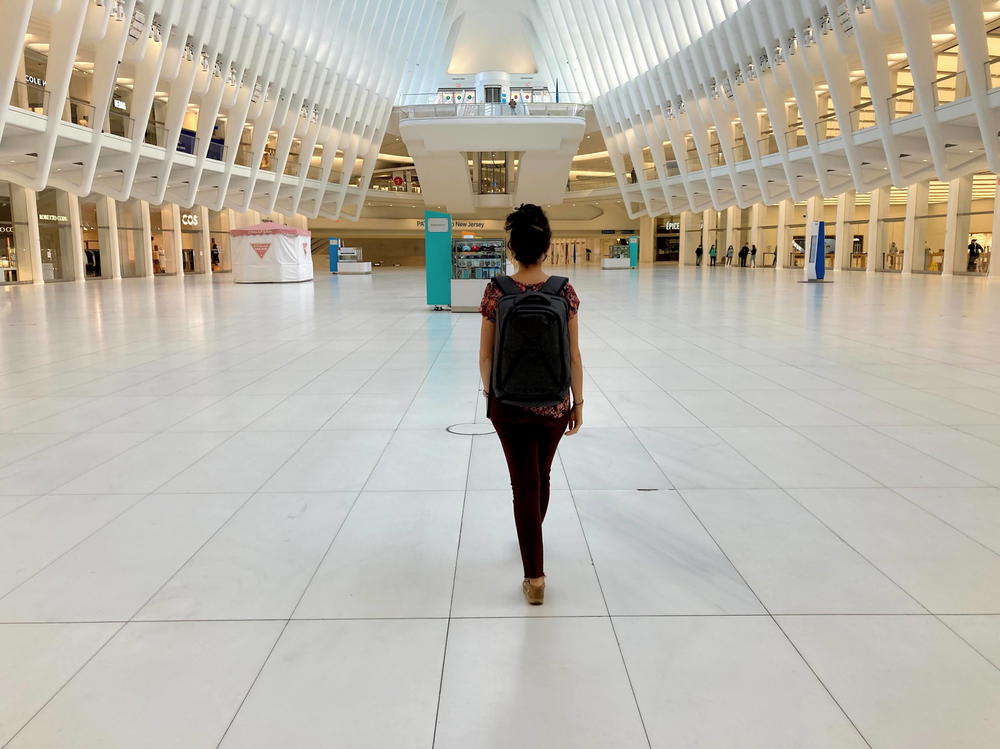 How's the Small Expandable Knack Pack as a small-size expandable laptop backpack for a weekend trip? Here, I review this weekend-size unisex backpack, which fits a 13 inch laptop.
This article may contain affiliate links. We earn a small commissions when you purchase via those links — and it's free for you. It's only us (Becca & Dan) working on this website, so we value your support! Read our privacy policy and learn more about us.
Throughout the years, I've had trouble with backpacks in all the types of things I've either packed for a remote work trip or when bringing my laptop to go to various coworking spaces.
I've had a hard time finding one that was not too big, but not too small. I've always wanted a backpack that expanded, so that I could take it for a day trip, or a long weekend trip, fitting in a few changes of clothes and some essentials. Also, most backpacks are expensive if you want a quality backpack that will last a long time.
Being that moving around with your laptop so that you can work from anywhere is one of the biggest remote work trends right now, is there a travel backpack for remote workers that checks all the boxes?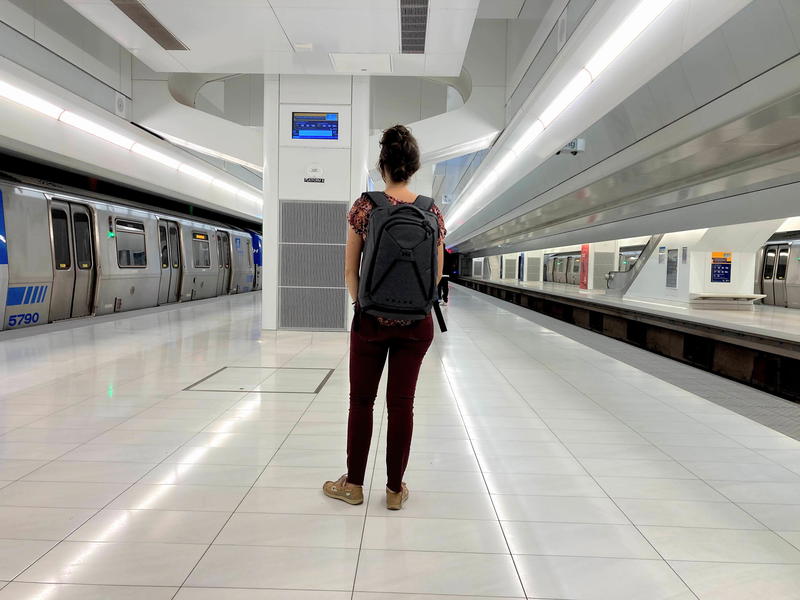 I got in touch with Knack Bags in 2019 and had tried their Medium Knack Pack, advertised as a bag that can do anything, from "everyday carry to travel." It's true, as the bag is pretty versatile.
It's not as stylish as a bag like the other backpacks and daypacks we've reviewed in our gear section, but it's not all that bad-looking, either.
The Medium Knack Pack was much too huge on my 5'2" frame. It weighed me down, the straps were too wide, and it looked like I was borrowing a backpack made for someone bigger and broader, like Dan.
This year, I heard from Knack Bags that they had finally debuted a smaller-sized Knack Pack meant for everyday carrying, and they wanted me to try it. I gave it another shot, hoping that the smaller-sized backpack would fit on my shoulders without too much extra space, and wouldn't be too oversized for my figure.
How did the Small Expandable Knack Pack work out for me, after testing it in three scenarios: a day trip to Long Beach, NY/a grocery trip to Whole Foods/a day trip to visit family in New Jersey?
Here's my review of this smaller-end expandable backpack that's useful for day trips and packing light.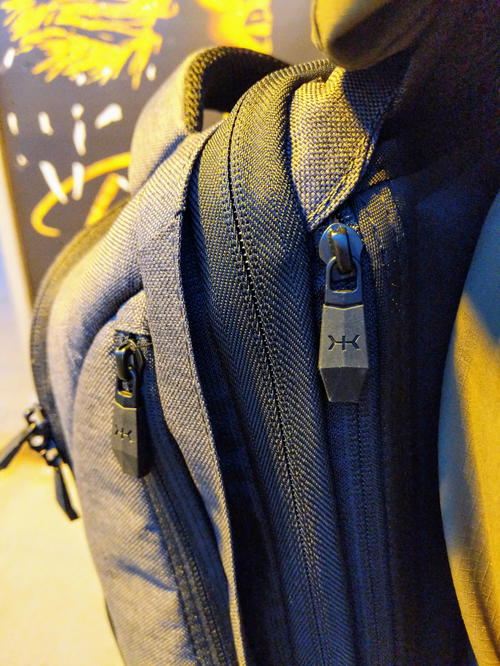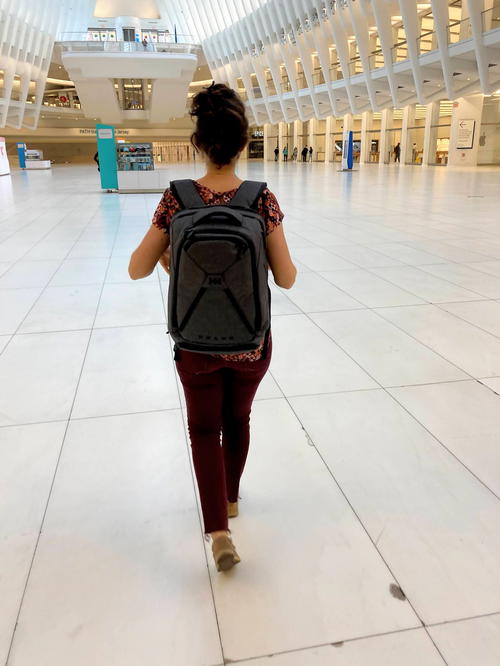 What is the Knack Pack?
Knack Bags actually started as a company that wanted the perfect bag for remote workers. So, they configured a design for a backpack that incorporated everything a remote worker may want:
With all these things in mind, Knack Bags now builds their signature backpack in three rather different size models, simply named Small, Medium and Large.
What to look for in an expandable laptop and weekend backpack (my opinion)
When I think about what I want in a backpack, here's my list.
Must be attractive enough to not look "doofy".
Must have a smart and safe way to slide in my laptop.
Must have strong shoulder straps to support the weight of clothes, my laptop and other items.
Must have high-quality zippers.
Must have handy inner pockets where I can keep my assortment of travel-sized moisturizers, Chapstick, hand sanitizer, keys and/or other mini items that don't fit elsewhere.
What are the features of the Small Expandable Knack Pack?
The Small Knack Pack comes with all the same features as the other bags, but with some differences.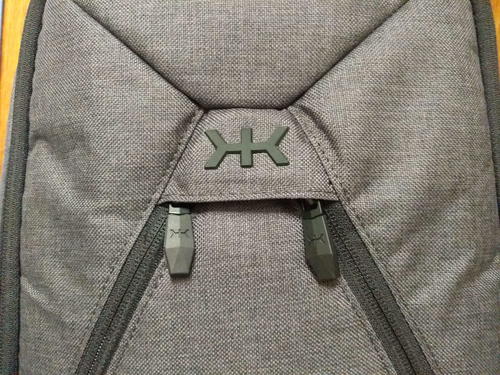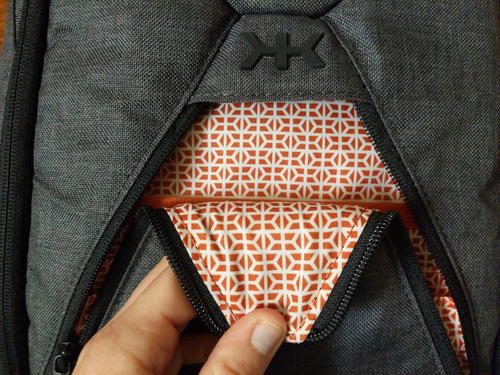 Fitting in an overhead bin on an airplane
All Knack Packs are designed to fit in an airplane overhead storage bin.
Fitting a small-size laptop (13 in.)
The Small Knack Pack fits a 13-inch laptop like my MacBook Air, while the Medium fits up to a 15-inch maximum and the Large fits up to a 17-inch laptop.
What fits inside when expanded, and total volume
The Small Knack Pack is designed to fit 1-2 outfits for a weekend trip. Before it's expanded, it has a standard volume of 16 liters. After expanding it in the side expander, you add 5 inches, and gain 10 liters, for a total 26 liters of volume.
How much does the Small Expandable Knack Pack weigh?
It weighs 2 pounds, 4 ounces. It's actually a pretty good starting weight for an empty backpack, in my experience. It feels lightweight and doesn't feel like it's weighing me down even before I load some personal items into it.
Other everyday design features of the Small Expandable Knack Pack
Here are some other handy design features that I appreciate in this everyday backpack:
The lock holes on the main compartment zippers, which I would use if I had my bag in storage at a hotel for a day, for example.
A fleece-lined front pocket where I keep my phone.
2 interior mesh pockets that I use for those travel-sized products I mentioned above.
Hidden zippered water bottle pocket where I tried keeping a small-size reusable 15-oz. S'well water bottle.
Front triangle double-zip pocket that fits my entire wallet.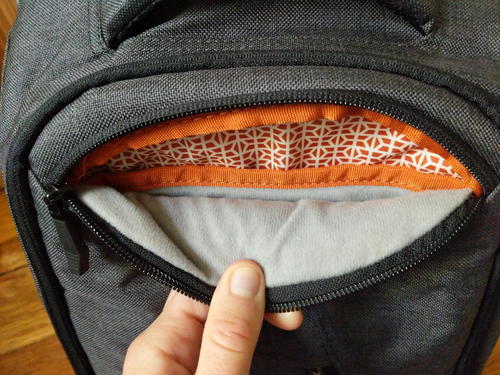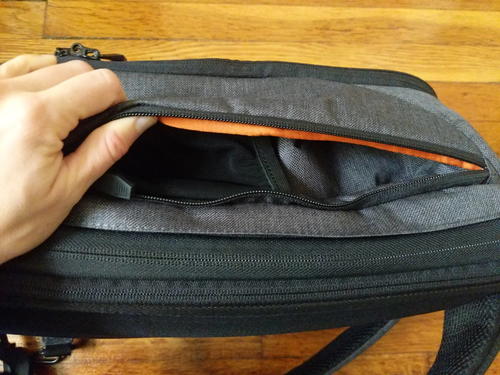 Features of this laptop bag for travelers and remote workers
While I've only had the chance to take this laptop backpack on day trips, rather than longer-style remote work trips, here's what I found during my use:
There's a nice bottom pocket where you can store a laptop cable in bottom-heavy storage, and keep it separate from other 'cleaner' items in your bag (my laptop cable tends to be dusty, so this is useful).
The opening is clamshell-style, so you can open the whole bag and see what's inside to lay it out before closing it again.
The shoulder straps tuck in and can be zipped away if you want to convert the bag into a travel-ready bag closer to a duffel, for putting in a car trunk or airplane overhead bin.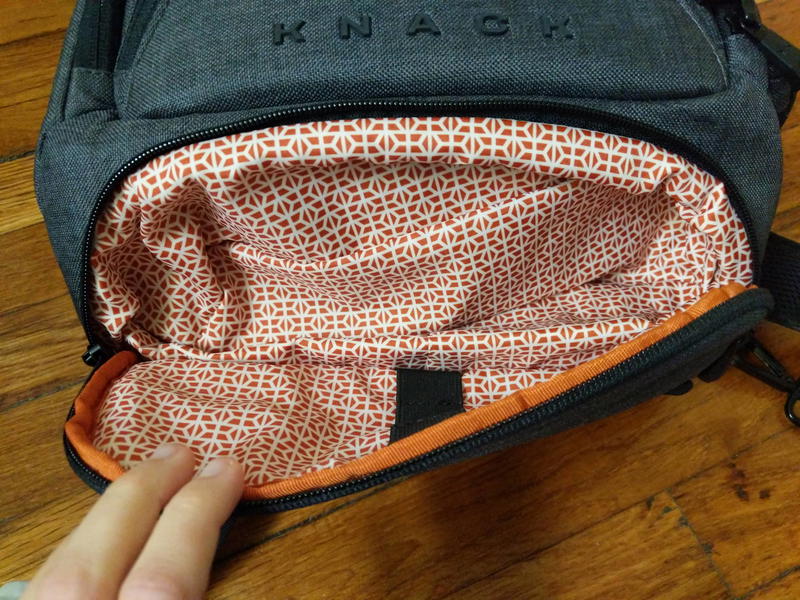 Is the Small Expandable Knack Pack a good bag for petite women?
As a petite woman (5'2" and 100-105 lbs), I've had trouble finding backpacks that don't look ridiculously large on my narrow frame. In the past, I reviewed the Away Daypack as exactly what it is: an 11.6-liter daypack good for going out to a cafe, off to work or using as a backpack-style purse.
To get even more great examples of bags for woman, check out our best backpack picks!
The Small Expandable Knack Pack, however, due to its bulkier style (and therefore larger volume, which is useful for all the reasons and use cases above), has a different function.
It would let you really pack a day bag as a digital nomad with all the things you might need in terms of work accessories for being on the go.
It's going to be a good bag for someone who wants to work remotely while traveling and it could be that type of carry-on bag that you add onto a suitcase, with the aim of taking it out for a day if you're planning to get some work done. You'd still have room for a change of clothes, like gym clothes or a jacket, and some food or other larger accessories like noise-canceling headphones.
So, in conclusion, for petite women, it works. You can't expect it to look like a petite and small-style day bag, because it's not. It is a slightly bigger day bag for someone who wants more of a range of what they carry around. It won't look like a stylish or cute backpack (that's where I'd recommend the Away daypack), but it has a form that fits its function and it won't look overly massive on a petite woman.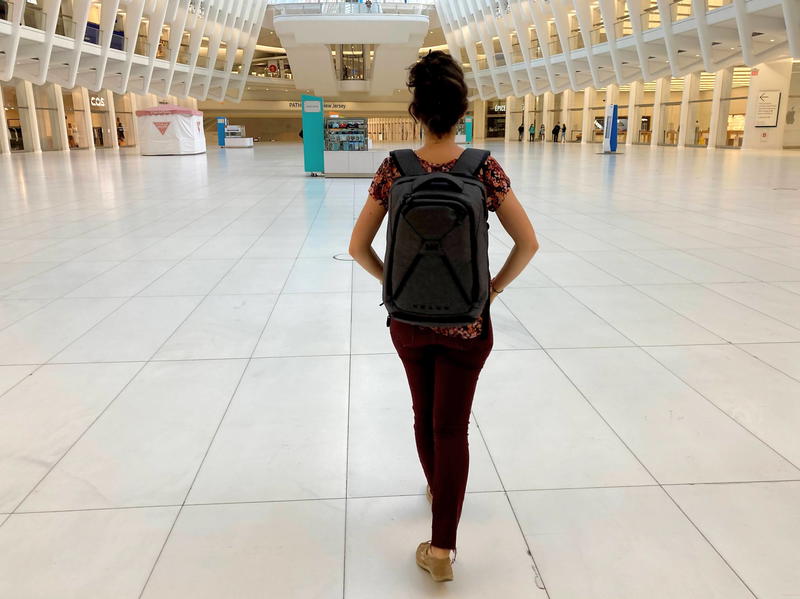 Is the Small Knack Pack worth the money?
In terms of pricing, the Knack Pack is priced fairly for the multiple uses you'll get out of it. Also, it's so hard to find a good backpack these days with proven reviews that really "does it all" and will give you a bang for your buck, so getting a travel backpack that doubles as a laptop backpack is a good investment.
After using the Small Expandable Knack Pack, it feels like a strong bag, and on Knack Bags' website, there's a detail about the construction of the bag, including the water-resistant two-tone polyester body fabric.
How to buy the Small Expandable Knack Pack
To get your own Knack Pack in any size (they make good gifts for anyone who has been on the market for a do-it-all backpack), you should know that the Small size Knack Pack costs $165 online.
The other sizes go up in price accordingly, for the Medium and Large. There's also (currently) a leather version of the Medium. Knack continues to make products for the remote worker, digital nomad and travel-savvy professional, so check back to our website for other reviews in the future.
Use code HALFHALFTRAVEL to get a free water bottle with your purchase!
Enjoyed our article?
Consider supporting us! We're a 2-person team (learn more about us here) and your support enables us to create quality content. Thank you!