8 Things to Do in Buenos Aires
Updated on November 26th, 2023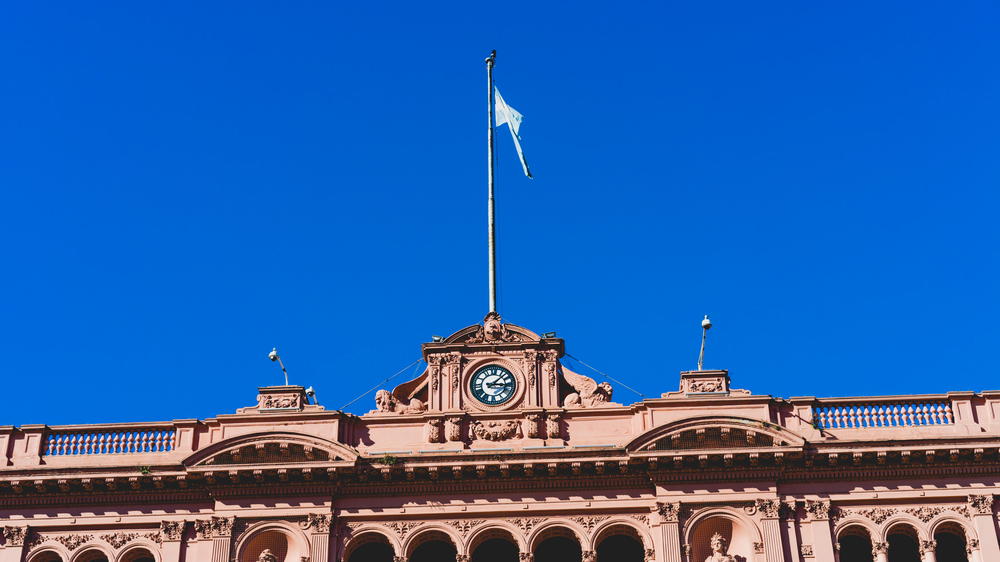 What are the best easy things to do in Buenos Aires? In a city this big, there's a ton! Here's what to see on a short trip.
This article may contain affiliate links. We earn a small commissions when you purchase via those links — and it's free for you. It's only us (Becca & Dan) working on this website, so we value your support! Read our privacy policy and learn more about us.
Buenos Aires is an incredible place to visit in Argentina, and we can't wait to go back. See this guide for some of the most interesting things to do while you're visiting this beautiful city.
For any travelers in the northern hemisphere like the US and Canada, you'll also find that Buenos Aires makes the list of the best ideas for traveling to a warm destination in winter as well as a cool destination in summer.
La Recoleta Cemetery (Cementerio de la Recoleta)
The #1 attraction of Buenos Aires, which is an attraction because the city itself is gigantic, is La Recoleta Cemetery. This is no joke!
We even asked locals what the #1 thing to do in Buenos Aires is, and without a moment of hesitation, they told us to go to this cemetery. It's centrally located and near a nice park, too, in the district of Recoleta.
This cemetery is the main event. Not only is it a great photo op, but it's historic, open to the public, looks like a labyrinth and is also 'home' to a lot of famous people! Anyone will tell you where to head to get there, so we suggest checking it out.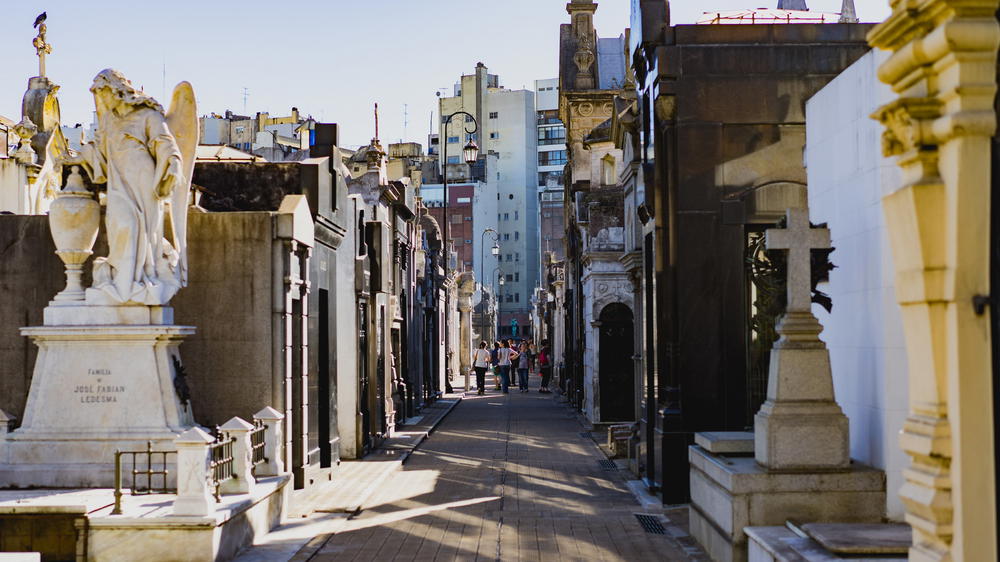 Plaza de Mayo and Casa Rosada
Plaza de Mayo and Casa Rosada is the center of the Argentine government in Buenos Aires.
Plaza de Mayo is a big plaza at which protests often take place, and the Casa Rosada, or Pink House, is the 'White House' of Argentina. Such a pretty color!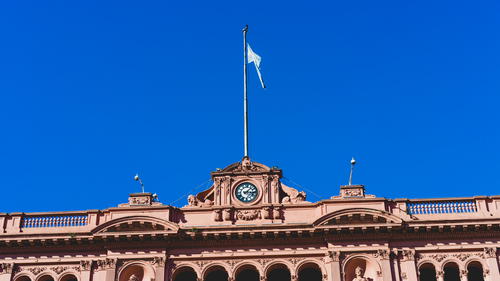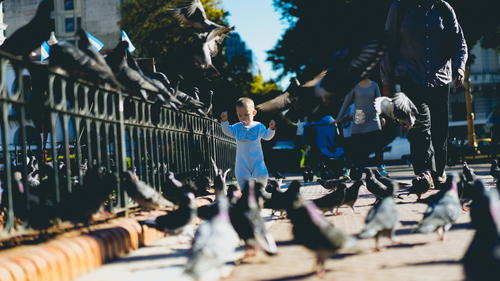 San Telmo
San Telmo is a neighborhood that has such exceptional character, and on Sundays there's a trade fair on Defensa Street.
You can start right on Plaza de Mayo and walk all the way down to Parque Lezama and make a stop at the San Telmo market. Here, you will find lots of antiques, crafts and foods. Don't miss it.
La Boca, Home of Tango
La Boca is tourists' favorite, because of being the home of the tango dancing. You'll see tango on the street by performers.
The part of La Boca with the colorful mismatched houses is also popular. The history is that this was a harbor neighborhood with lots of immigrants through the years, from Ireland, Eastern Europe, Italy, you name it - and historically working class people making a home here.
Beware: all restaurants essentially have the same menu and it is VERY touristy. Eat in a more local neighborhood before you come, or after you leave, unless you walk far into another area.)
Obelisco and Avenida Corrientes
Obelisco and Avenida Corrientes are two main attractions in downtown BA. You can walk from the Obelisco all the way down to Puerto Madero.
The Obelisco (obelisk) is like the Washington Monument, but a dab smaller and very accessible. In fact, you can walk right up to it and take photos (but be prepared to strain your neck to look up!).
Puerto Madero and the Waterfront
Puerto Madero is a newly-developed area on the water. Locals are very proud of it. There is access to the water and a very lovely bridge that everyone wants to photograph. There are lots of restaurants, although not cheap, in revamped warehouses.
Teatro Colón & Templo Israel
Teatro Colón is the city's oldest theatre and famous for a bunch of reasons! The nearby Templo Israel is the biggest synagogue in the country.
It's worth a visit inside, and we had a private guide during our tour there. The museum itself was fascinating and depicted a history of the Jews in various regions of South America. So informative!
Palermo District
Palermo, of course, is where we preferred to take our coffee breaks, go out at night and find restaurants.
Palermo Soho is a bit more populated, while Palermo Hollywood is more spread out and still developing. It reminded us more of California… seriously!
Palermo Soho's streets have everything you could imagine in terms of varieties of food, drink and shopping, with some parks scattered throughout. The leafy streets are perfect for strolling at any time of day.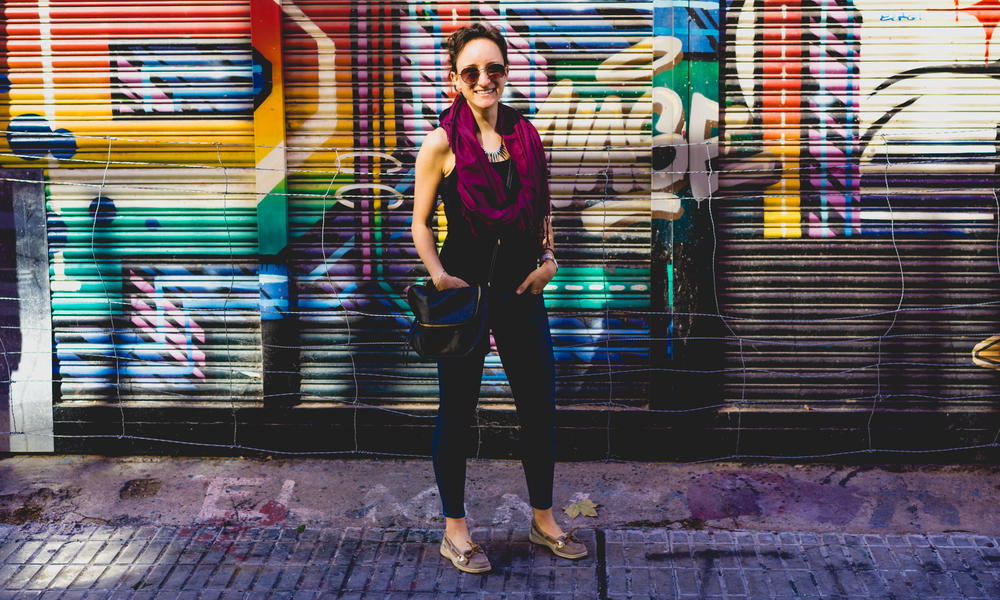 Extra Credit!
El Ateneo Grand Splendid is a can't-miss site because it is so unique. This is one of the most special bookstores in the world (and it has been proven).
El Ateneo is a bookstore in a former theatre, and it's so grand! It's on Santa Fe Avenue in Barrio Norte. Santa Fe Avenue is also a pretty huge road. It takes a while to cross.
Enjoyed our article?
Consider supporting us! We're a 2-person team (learn more about us here) and your support enables us to create quality content. Thank you!
Find the Best Things to Do In Buenos Aires