What Is a Home Office?
A home office is a work setup in a house, apartment or other place of residence, for people who work remotely or work from home, temporarily or permanently. Home offices can be set up in bedrooms, guest rooms, living rooms or dedicated rooms of a home. Creatively and thoughtfully setting up a home office is one of the best benefits of working from home!
This article may contain affiliate links. We earn a small commissions when you purchase via those links — and it's free for you. It's only us (Becca & Dan) working on this website, so we value your support! Read our privacy policy and learn more about us.
Why do you need a home office?
You need a home office if you are working remotely from your home. Many people would call this a "work-from-home setup" or a "work-from-home model" of work.
You may need to work from home if your company has gone remote, or if you started your own remote business. You might also need a home office if you are a freelancer working on your own.
Within your home, you need a home office because working at the dining room table or in the family room just won't cut it, if you have constant interruptions from pets, family members or roommates.
When we both started working from home at the same time, we decided to create a shared home office.
After a few months working together in the same room, we found that it worked better for us in our situation as one of us landed a new job, to separate into having our own home offices.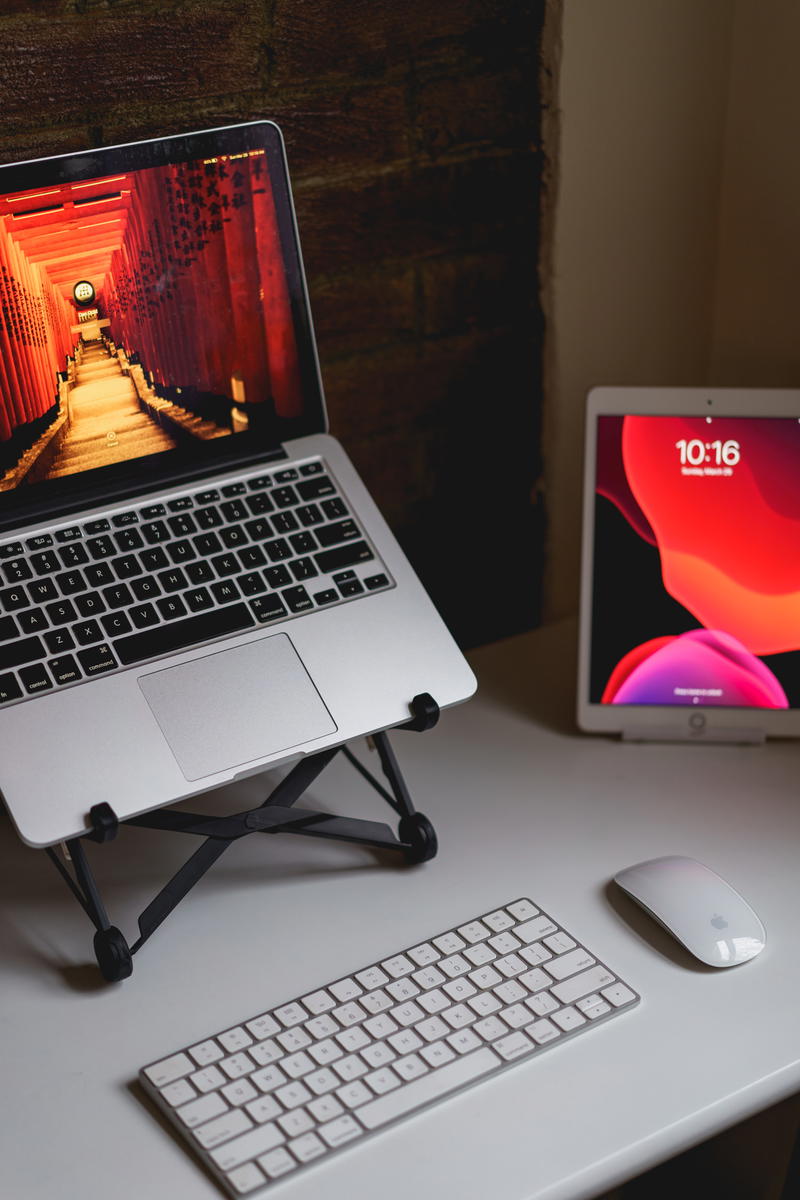 Can I deduct my home office expenses?
We both work full-time jobs and are a salaried W2 employees. We also have a few businesses that we operate from our home.
Because our supplementary business earns money, we are able to deduct a small portion of our apartment (as our home office, or 'business home office space') toward our taxes.
We can also deduct business expenses, like desks, office supplies, cameras and computers because they are critical to running our business. If you look at all the home office supplies for our desks alone, you'll see how we are continually investing in the products that help us be productive while working at home.
Everyone's situation is different in regard to their jobs, incomes, number of side hustles or side businesses or if they freelance on the side. We recommend you looking into the home office deduction page on irs.gov.
Please note: We are not tax professionals. For any questions, please reach out to a CPA or an accountant.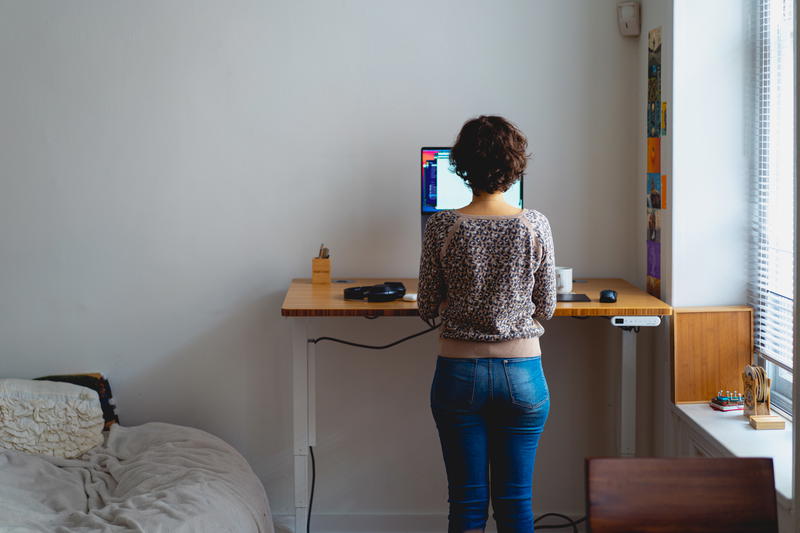 How to make a home office in a small space
We talk all about how to set up your home office in a small apartment. Check out that article to get inspired.
For setting up a home office in a small space like a room in an apartment, a half-bedroom, a nook in your basement, or other smaller rooms, get creative.
There are so many types of desks, including types of standing desks that will let you maximize space.
There is no right way or wrong way to make a home office in a tight space or narrow area, as long as you are able to concentrate, be productive, have calls or meetings when you need to, and succeed at your work.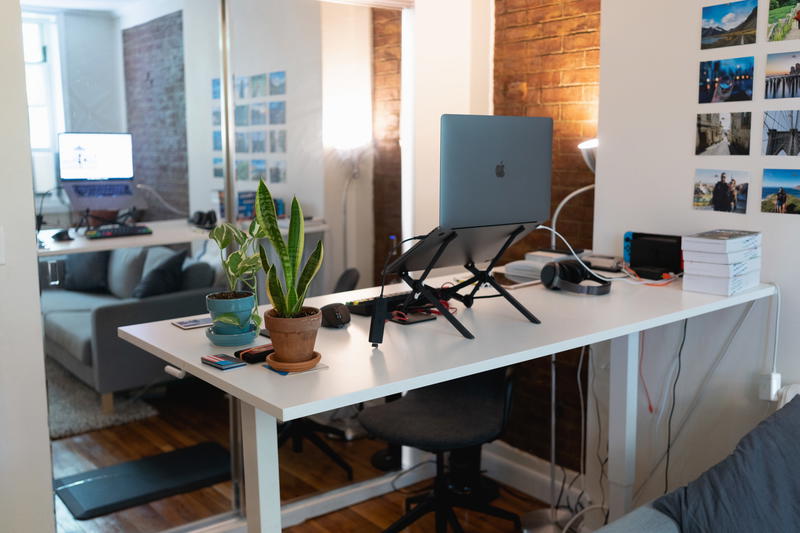 Where is the best place to buy furniture for my home office?
Many people don't know where to start when they are setting up a home office for the first time. There is quite a bit of furniture to think about, and of course, you have to figure out the measurements of your space. You have to ensure that your desk chair is not too tall for your desk, and make sure you have enough space to pull out the chair completely without hitting a wall, a dresser, a table or a doorway.
Whew! So, where can you start to buy furniture and equipment for a home office?
To make this easy, we have set up a few guides you can start with, based on the research we've done for how to buy home office furniture.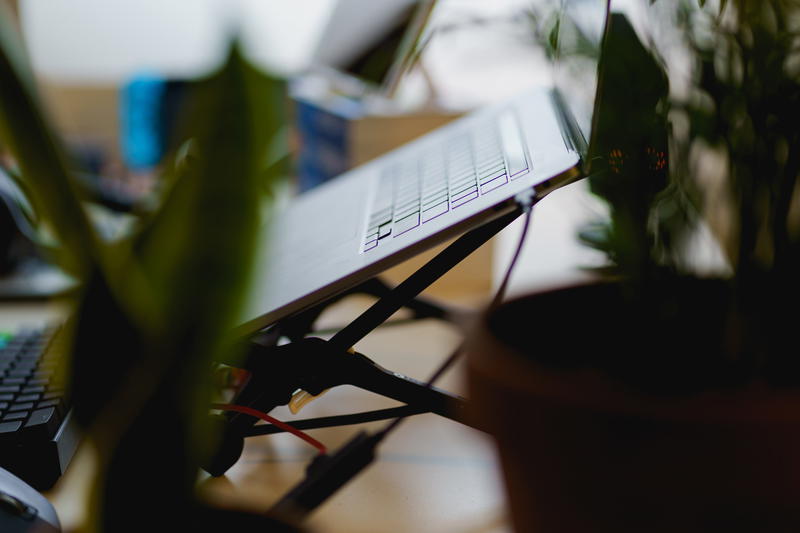 Where is the best room for a home office?
A home office should be anywhere that is comfortable to you. Because we work from home together in a small one-bedroom apartment in Brooklyn, we need to be creative.
For us, have a desk set up in our bedroom and another desk set up in the living room. It's not ideal, but it works for us.
For you, if you have a spare room in your house or apartment, you can convert that space into a home office. We've seen friends convert their guest rooms into home offices. They keep the sleeping accommodations like a full-sized bed, as well, for when they actually do have guests.
There is no real rule to determine the best room for your home office, but for whichever room you decide to choose as your home office, make sure it's comfortable for you!
You will want to design the office to be a place where you want to come be as productive as possible.
What are the main advantages of having a home office?
The main advantages of having a home office are that you have a dedicated space where you can separate your work from the rest of your life at home. Here are a few reasons to have a home office:
You can treat your home office as a place where work gets done, and separate it from the spaces in your home where you enjoy leisure activities.
You can set aside your home office as a place that is off-limits for other family members, pets or roommates.
You can ensure that your home office is set up for success in terms of avoiding frequent interruptions.
You can tailor the space to how you work best, whether that's keeping it dark, or light, or hot or cold. Work-from-home professionals find that this is one of the biggest long-term benefits of working from home.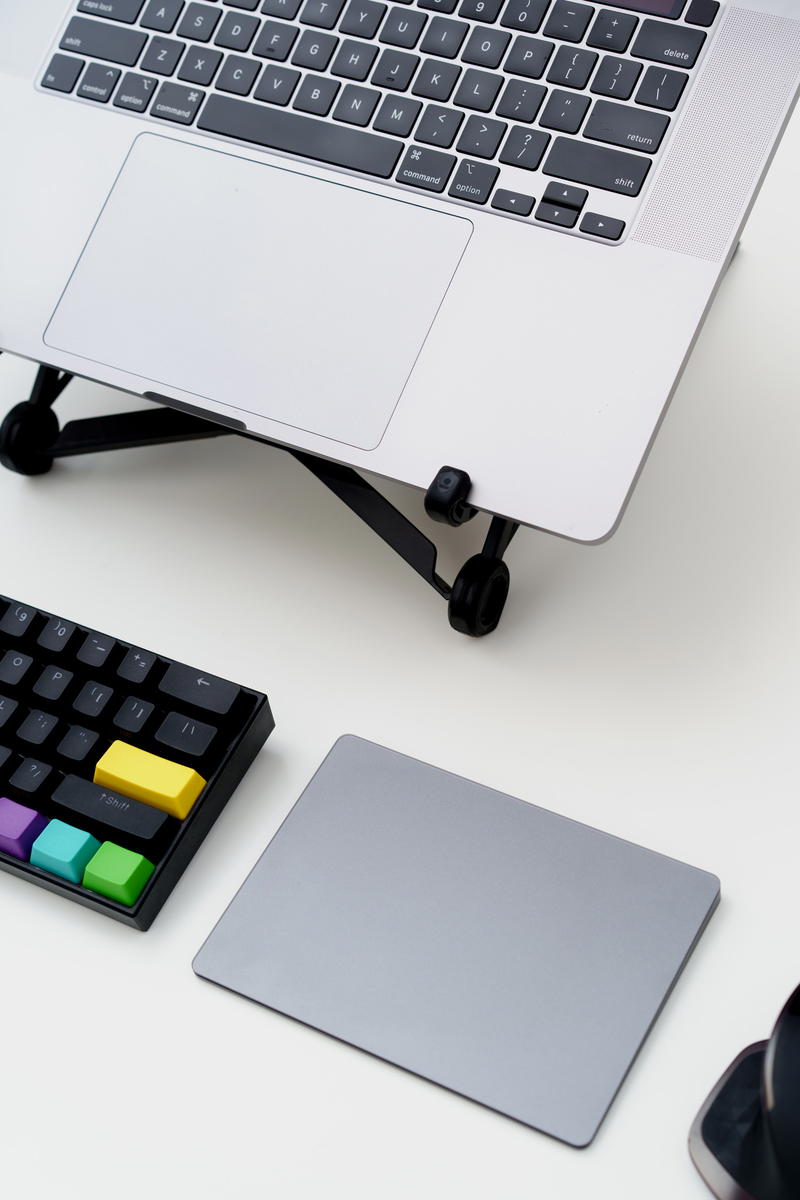 What are the disadvantages of having a home office?
All in all, the advantages of having a home office seem to outweigh the disadvantages of having a home office. If we had to choose some disadvantages for special case scenarios that showed the disadvantages of having a home office, they'd probably be these:
Having to choose to set aside an area of the home for an office, if you are tight on space.
Having your office feel "too close to home"
Feeling isolated from colleagues, team members, clients, managers and direct reports.
If a home office simply is not for you, check out working remotely from a coworking space.
How can I spruce up my home office?
There are lots of quick ideas that you can implement right away to make your home office more of an inspiring place. For starters, you can add some plants, update your desk, add some shelves or rearrange your furniture.
And if you're interested in learning even more tips, you can read our home office improvements guide!
Enjoyed our article?
Consider supporting us! We're a 2-person team (learn more about us here) and your support enables us to create quality content. Thank you!