How to Create a Shared Home Office Space for Two
Written by Becca
•
Updated on September 6th, 2023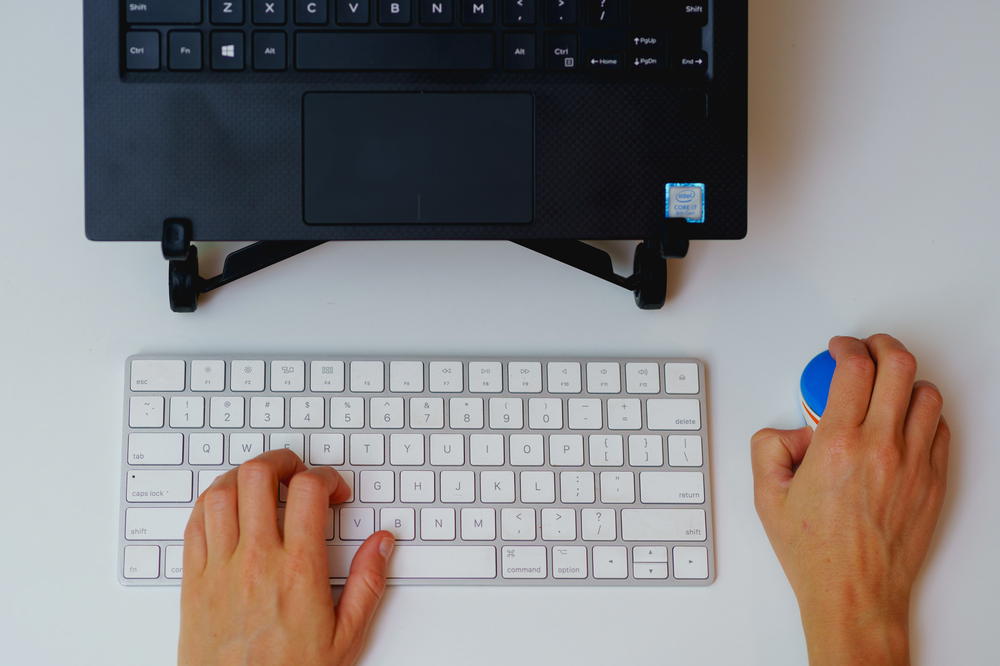 We're sharing all our shared home office ideas, including how to design a shared home office space for two people and how to create a productive home workstation setup for two.
This article may contain affiliate links. We earn a small commissions when you purchase via those links — and it's free for you. It's only us (Becca & Dan) working on this website, so we value your support! Read our privacy policy and learn more about us.
If setting up a home office for one person wasn't enough, what about setting up a home office in the same room for you and your spouse? You and your roommate? You and your boyfriend/girlfriend/life partner/domestic partner/sibling/twin?
Many professionals are continuing to work from home and figure out optimal working arrangements in home offices.
Some are working from home as a couple, or as a pair, or duo.
Most are finding that the couch and the dining table simply won't cut it in terms of ergonomics, sustained comfort and productivity. You know this by now! Ergonomic setups are absolutely key.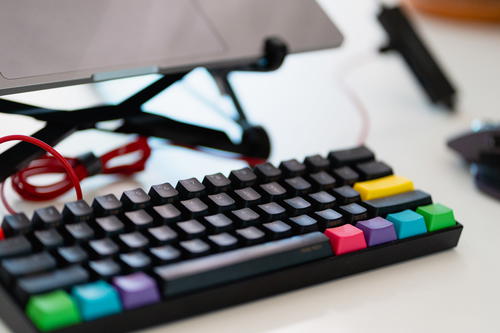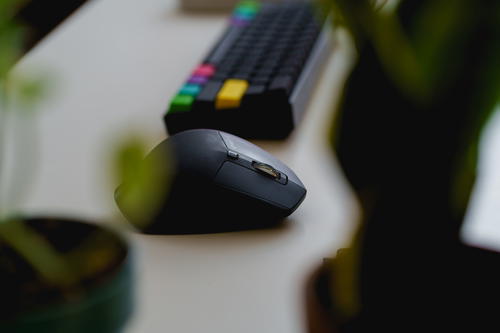 When multiple members of the same household find themselves working from home, your needs are changing, and the given amount of space has remained exactly the same.
How do you set up a shared home office for two people?
Before you get overwhelmed, we're here to tell you that we've just finished setting up our dream home office in our one-bedroom apartment.
Did we ever see a future of both of us working from home every day? Nope, not in the least.
Are we happy, comfortable and productive? Yes, absolutely.
We want to tell you all about our shared home office space and all our shared home office ideas.
We don't doubt that you have questions about topics like if you should have two desks facing each other (or not), home office workstation ideas, sharing desks and making your home office motivating.
We'll cover all our solutions below as we share our biggest tips for shared office space ideas and home office workspace designs.
How we set up our shared home office for working remotely
We originally set up our home office in a small one-bedroom apartment after starting a work-from-home lifestyle together.
Even though we had only our living room to work with, we capitalized on flexibility and configured a longer-term solution for us to both work in our apartment full-time.
Maybe you also live in a one-bedroom apartment with your partner, but maybe you live in a house with multiple rooms, outside a city or in the country!
We're about to detail our approach for perfectly setting up a home office in a single room, or converting a second bedroom into an office space for two people.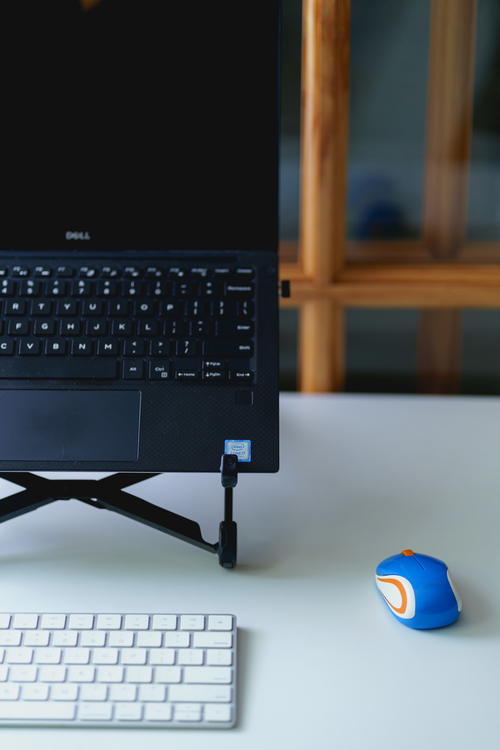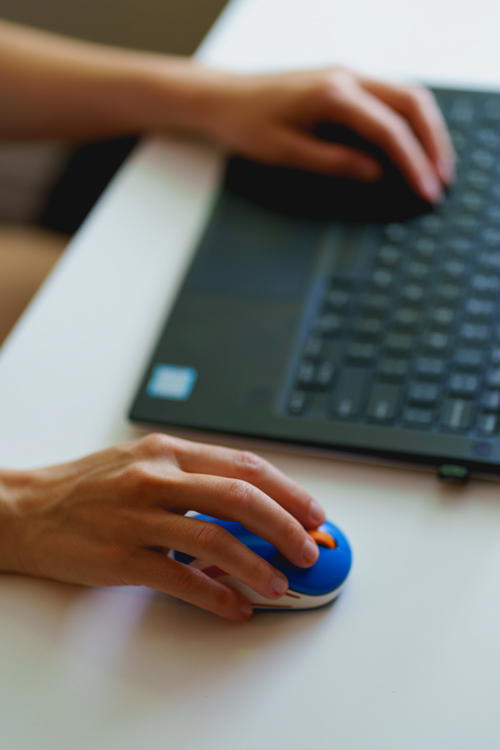 How we designed our shared home office layout
First, let's start with desks, which are important for both staying productive and creating an ergonomic office setup.
For a flexible home office setup: Dan's standing desk
Dan's standing desk lets him be flexible, comfortable and ergonomic all day.
He did a lot of research on the best standing desks for your home office, and decided on a sturdy white one with a hand crank from IKEA.
This is his dream desk, which he discovered his preference for after using a small writing table for several months (we'll go over this soon!).
For when he needs a change of pace during the day, he can alternate between standing desk mode to its sitting configuration, with an ergonomic desk chair that has armrests.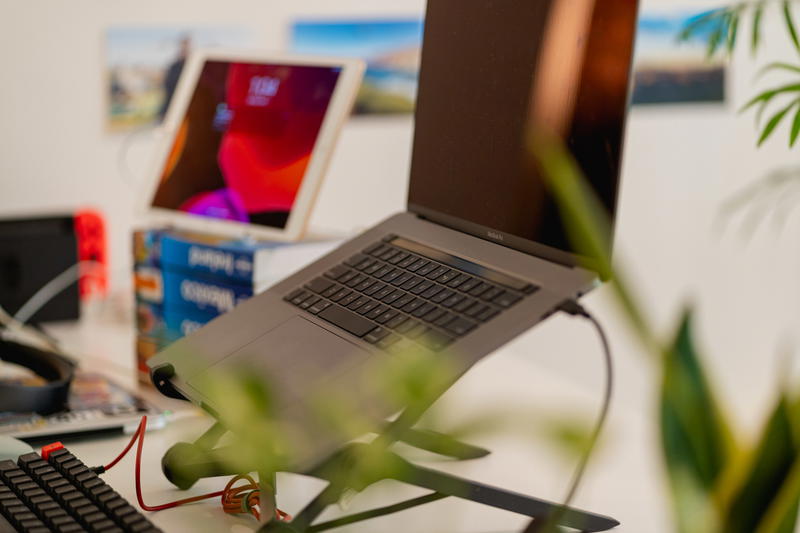 Because the standing desk is a bigger surface than the writing desk he formerly used, Dan can use it to store his noise-canceling headphones, iPad and other electronics that require charging.
He also set up several potted house plants, which creates a sort of barrier between the 'workspace' and the rest of the living room.
Update: Dan is now using the FlexiSpot E7 standing desk as an upgrade to his previous one. It's a high-quality standing desk with a dual motor and multiple digital adjustable positions.
For a compact home office setup: Becca's writing desk
In the past, I had a small writing desk like this one, which faces a wall, which helps me limit distractions. Now, I have a desk like this and I love it! It still faces the wall, and I really like using these style of drawers.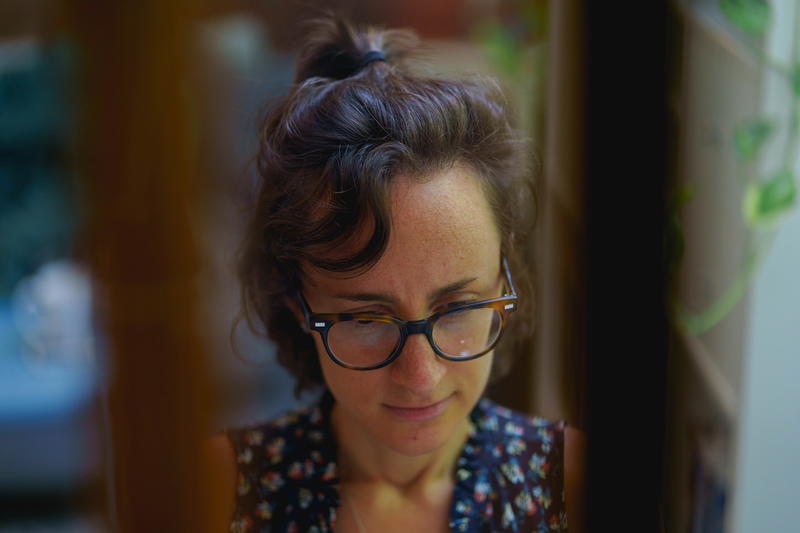 The surfaces and tables in our apartment-sized living room now include my writing desk, our dining table, Dan's large standing desk surface and our two minimalist round accent tables.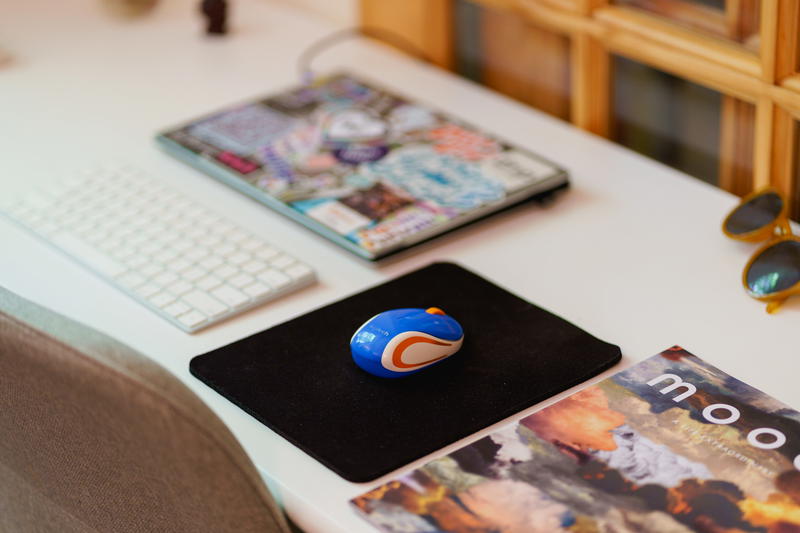 How can both partners be productive in a shared home office?
The most important goal for creating a shared home office space is figuring how both people can be productive while working from home, and then designing a home office space that works.
Dan doesn't like when people walk behind him when he's working. He prefers to be looking out into open spaces to get inspiration, or to get a tiny break from a screen.
He likes being positioned to see the whole room or office, which in this case is our entire living room.
On the other hand, I tend to get easily distracted by things going on in a room. I prefer to look at a wall, where I physically feel more focused.
For this reason, we put my desk space in the corner, next to a window.
Because the window starts higher on the wall than the level of my desk, I can only see leaves on the trees and it's soothing, rather than distracting.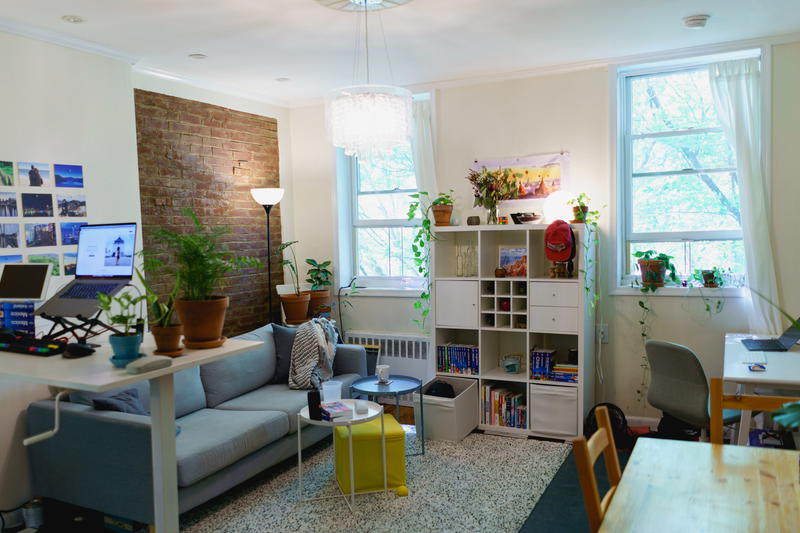 Converting an extra or shared room into a home office for two
If you and your partner have a spare room in your apartment or a room in your house that you want to convert into a home office, consider the following.
You can plan to create a shared home office that is more like a second living room rather than a boring or sterile office space. Avoid any space that will not make you feel inspired!
Make a shared home office from an extra room
To make a cozy shared office at home, incorporate some places to sit.
Get some items like a small couch or love seat and creative sitting spots like a big bean bag chair. These will help inspire you when you want to take a break from a desk.
For more space to fill, opt for a blow-up chair (OMG, the 90s!), a hanging chair, or what about a hammock for at home? The possibilities are limitless.
Considering variety in your shared home office
What Dan enjoys most about his company's office (when he was going there) was that he was able to sit in a variety of different places throughout the day to feel productive.
These days, he'll split his day into several large task blocks and meetings, and he'll try and sit in a different area to start and finish these things.
Becca uses that same thought process with her meetings and various business items. This helps with productivity while working at home.
Keep in mind: the desks don't need to be the centerpiece of your office.
The additional seating areas can graduate to meeting space if your home office would ever require it. It could also be a nice change of pace if you have to be on a long call and want to stretch out your back.
Helpful Tip
If we had the space, we'd be getting a Fatboy bean bag chair for those long calls when Zoom video is turned off! There's also a yellow ottoman that's super similar to our yellow ottoman!
Repurposing an extra room into a multi-function shared office
Remember that your shared home office may take on more functions than simply a place to sit during the workday at home.
You could also repurpose your extra room to be a place for a group meeting, like a study group, club meeting or a book group.
Your home office could also be a place where middle- or high-school-age kids can have space to work on a group project together, or rehearse a presentation (without bothering you while you're in the kitchen or living room).
Challenges of a shared home office
The challenges of a home office for two definitely exist, but don't get overwhelmed just yet.
The main challenges you'll face in thinking of a shared home office design will center around:
Each person's professional needs and space
Each person's preferences
Having enough space for compact or space-efficient office furniture
Ensuring that your office furniture doesn't overwhelm your living and leisure space
Originally, my main concerns were that having two desks in our living room and main living space would make me feel like I was in an office all the time.
My other concerns were that Dan and I would distract each other too much, or work on different schedules that weren't compatible, or have to take calls at the exact same time.
These were some of the challenges, and also solutions that we figured out, when you work from home with your partner.
Benefits of a shared home office space
If you get motivated by being around other people, as Dan and I both do, maybe you've experienced working at coliving spaces, coworking spaces or open-design offices.
Throughout both our careers, we've rarely worked in offices that had cubicles. In fact, my first internships in the late 2000s gave me cubicles or short-walled cubicles as my office.
I found it isolating. I yearned for human contact and felt like the walls around me created an uncomfortable closure. I had to walk to my manager's desk and feel like I was intruding or interrupting, because her cube was closed-off too.
Luckily, offices have now created open working environments and open floor plans so that employees can be collaborative, social and motivated.
There are arguments that these types of open offices also create distractions, which leads us to that list of why working from home has so many benefits.
In terms of having a shared office space at home, think about your ideal workspace. Should it be minimalist, motivating or relaxing?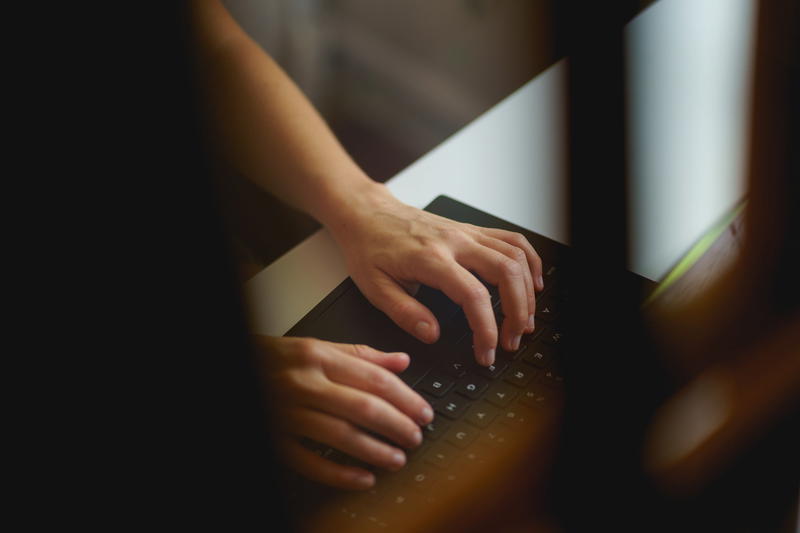 In creating and designing our home office space together as a couple, I thought on the bright side.
Every day would start with coffee (it still does), and every workday would end with our favorite leisure and wind-down activities, together!
There would also have to be a way to separate working space from playing space, but together, we'd always have each other's company, as opposed to working from home alone and feeling isolated.
Key factors to consider in designing a shared home office
What are the main things to think about when setting up a shared home office?
Let's take a look at these factors that are helpful to consider when dreaming up your home office space for two.
A sense of privacy for each person
Access to shared spaces for taking breaks
Proximity to AC units, heat or fans based on preference
Light sources: Which person thrives on natural light? Will natural light be blinding? Will it be too dark?
Wall space: Does one person prefer to be situated in a corner, or is facing into an open room acceptable?
How to create a coworking environment for two people
Think about what gets you going, whether it's natural light or seeing or hearing other people typing or talking (or conversely, not hearing them typing or talking).
Create your shared home office space with these things in mind, like we did.
How to design a home office space for two people
We'll go into detail below about all the considerations in shared home office designs and shared home office ideas.
First, we considered that if we were going to be permanently working from home for a while, we had to make use of all our space and use it to our advantage in some way.
We figured that the home office design plan should be having two desks: different ones, suitable to both our professional needs, both career-wise and ergonomically.
Next, we both needed chairs. Dining chairs won't cut it for a long day, and neither will a couch cushion, bean bag or continual standing and not sitting at all. Well, if you must work from a couch or from bed, you can get a laptop stand or lap desk for working from bed.
Lastly, we had to design our shared home office space within the confines of the living space we have.
We didn't want an overwhelming office feeling, but also didn't want the office space to be an afterthought. After all, you do spend a lot of each day working, when you're not relaxing, cooking, cleaning or sleeping.
To share desks, or to not share desks?
Did you give up on how to share a desk? Fear not.
Many couples are going with the "his and her desk ideas," meaning each person gets their own desk.
This has worked out beautifully for us so far, ever since getting Dan's new standing desk in addition to the small writing table we already had as a default first desk.
We each get to keep all our 'office things' on our desks, down to our favorite office supplies. For Dan, it's his Sony Bluetooth noise-canceling headphones, wireless mouse, external keyboard and iPad he uses as a second sidecar monitor with a handy iPad stand for a desk.
You may also want to check out this iPad stand from Twelve South. We really like it, and it's the perfect item for your desk if you are using an iPad as a second monitor.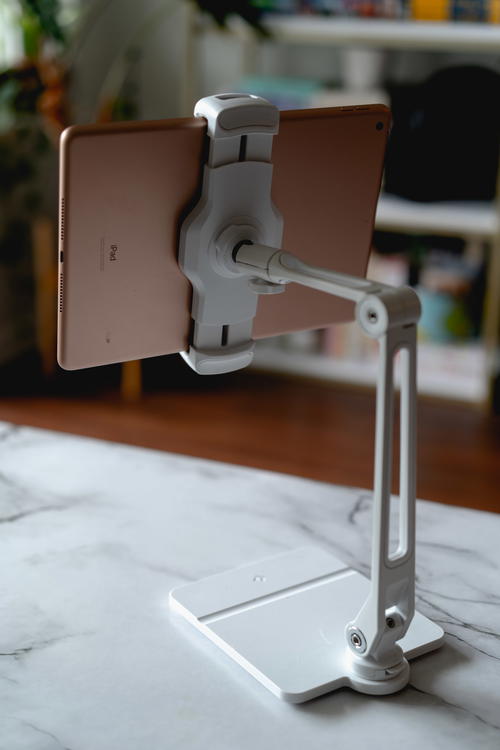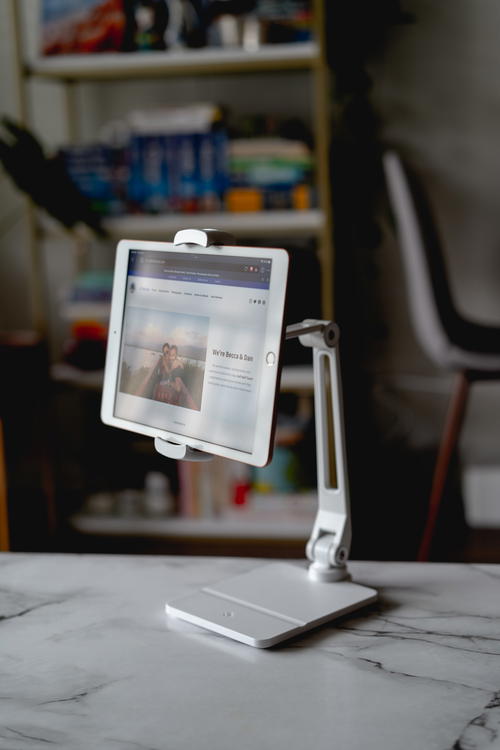 Dan uses his portable Roost laptop stand to give some space between the laptop and the desk.
On my desk, I keep some small plants, a lucky planner from the NY Times Travel Show, my wireless palm-sized mouse and even a cute and trendy mousepad to mute my clicking.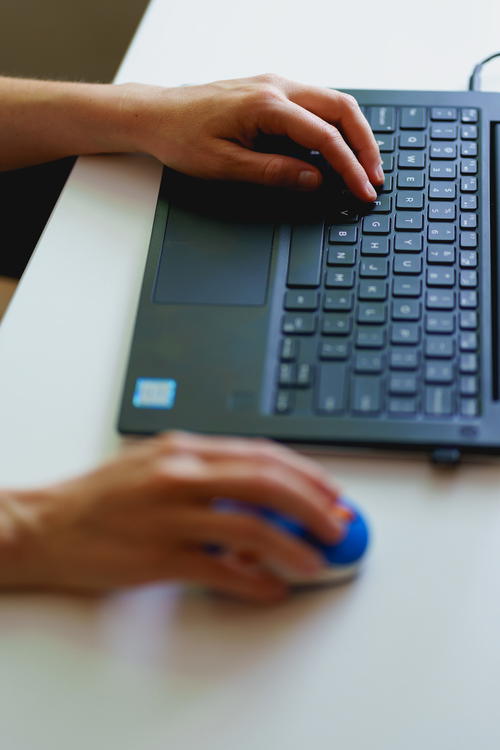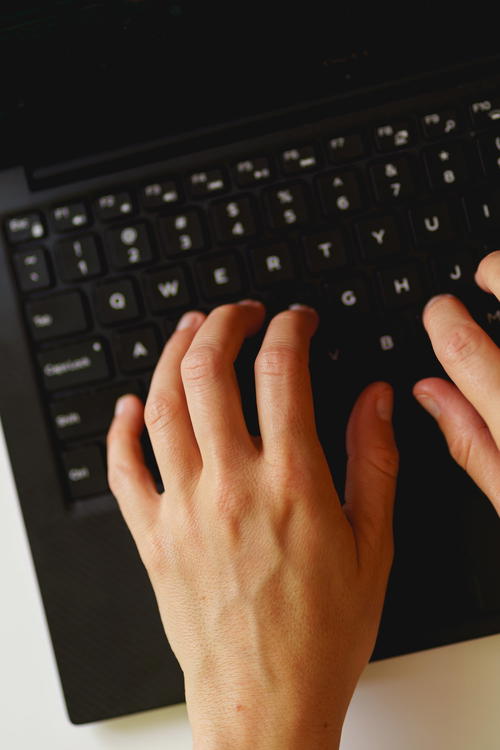 Get two ergonomic office chairs
Office chairs give me a visual in my mind of a black chair on wheels that's tall and has some mesh backing (much like Dan's FlexiSpot office chair).
I hadn't considered that office chairs can be a part of your living room furniture in your home office design.
Our office chairs are undoubtedly kind of like a "his-and-hers" set, in that they're the same style but in different colors and Dan's has arm rests. They make our office furniture feel wholesome and less haphazard.
Create separate space for two separate desks
One of our biggest tips for setting up a shared office space in our apartment is to have two desks, and to give each desk its own space.
This is to help create the feeling of two separate offices. Dan's standing desk faces into the room with its back against a closet, while my desk sits facing the far corner, in the corner.
To this end, we feel separate within our shared space, which also serves as our living room and dining room.
Work on alternating phone call scheduling and make plans
Essentially, we use our tips for couples who both work at home in order to make sure we're not both on calls at the exact same moment in our shared home coworking space.
If one of us has to take a call, we head into the bedroom and close the door for more quiet.
We always talk about scheduling the night before or at a point during the day in case we need super quiet time or in case we have a phone conference that will be more than an hour.
You can see more about how we create work-from-home schedules so that we create optimal home office productivity for ourselves.
Make sure to designate living space aside from office space
With our shared home office design, we went through quite a few floor plans of where furniture would go.
Dan originally proposed that our desks sit next to each other on one wall, putting all of our 'workspace' designated into one side of the room.
It was my preference, alternatively, that our desks be separate and facing different ways, for reasons mentioned above about productivity, privacy and space.
We ended up going with a plan where our desks are not centerpieces of the room, and the couch, coffee table and bookshelf create more of what you 'see' when you walk into our home and into our living room.
Therefore, the 'living space' is the cozy space we chill in at night and on weekends, and it feels natural.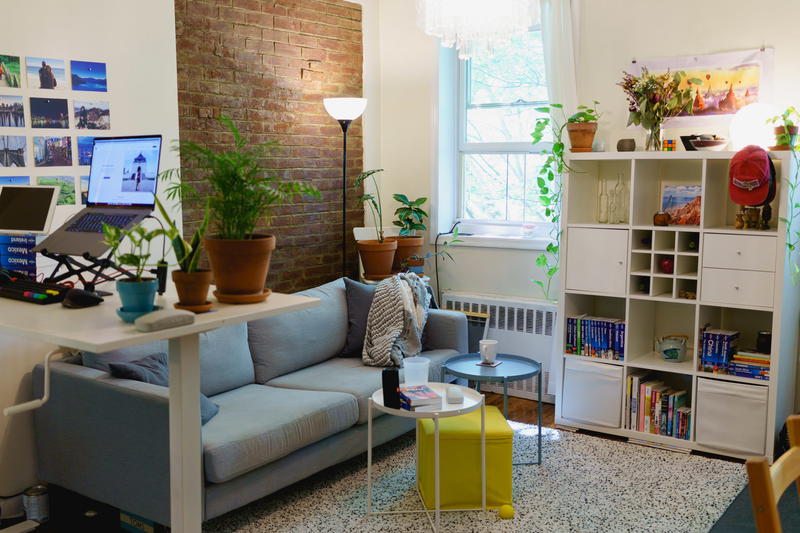 The biggest tip here is to make sure that your office space lies to the periphery of the room in however that works for you, mostly so that on weekends, you don't feel like you're living in a permanent home office.
That's how to avoid work-from-home burnout, plain and simple.
Office product recommendations for a home office for two
Bluetooth soundproof headphones
Looking for a way to block out your partner while they are on a call?
We recommend these Sony Bluetooth wireless noise-canceling headphones to cancel out all excess distraction. They'll also help out with wminimizing echoes in the room.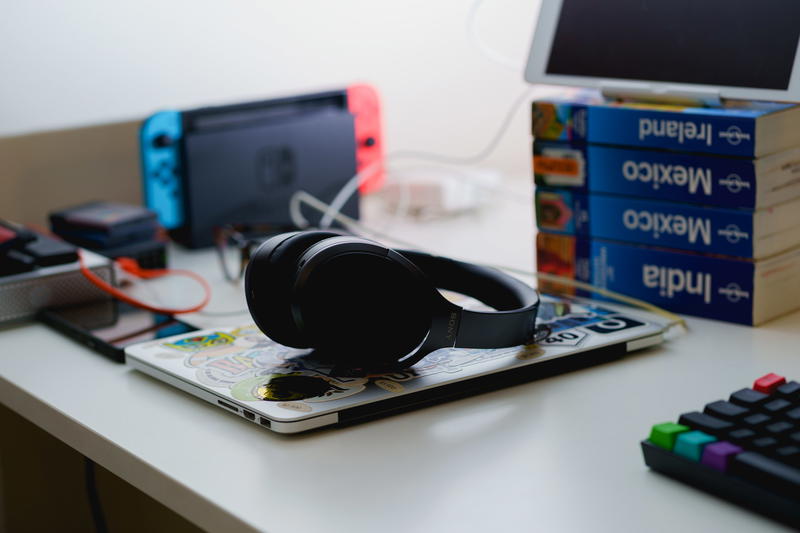 Compact small desk for tight spaces
Whether your space is a corner or a larger room and you don't want your desk to make your home feel too much like an office, this white writing desk does the trick by looking stylish and minimalist and doubling as a place to put your plants!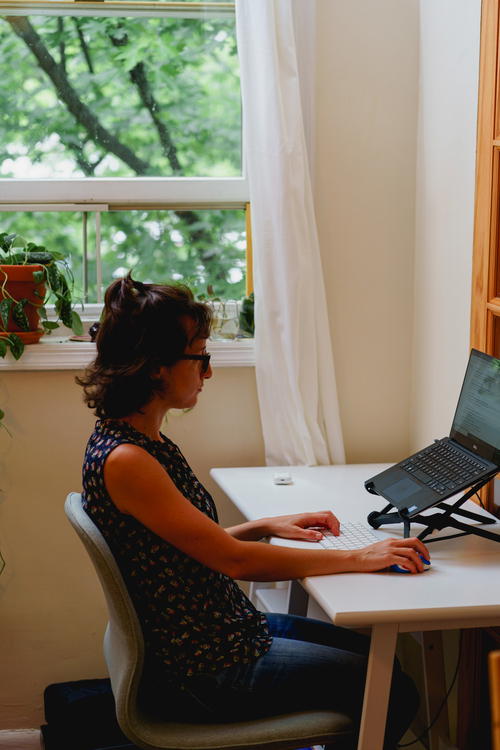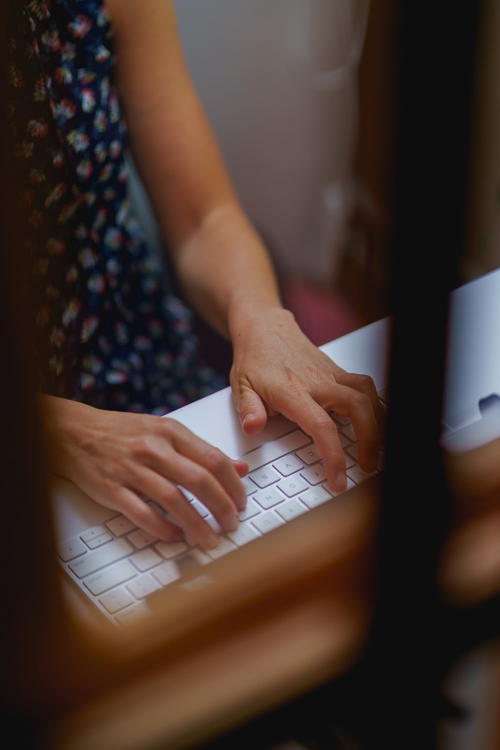 And if you're low on space and need a place for your coffee or water cup, check out the Cup-Holster!
Get a laptop stand
What's a laptop stand?
Read our article dedicated to defining what a laptop stand is!
Boost up your laptop with a Roost laptop stand. It can fold up for travel, in case you plan to head out to a city for working remotely.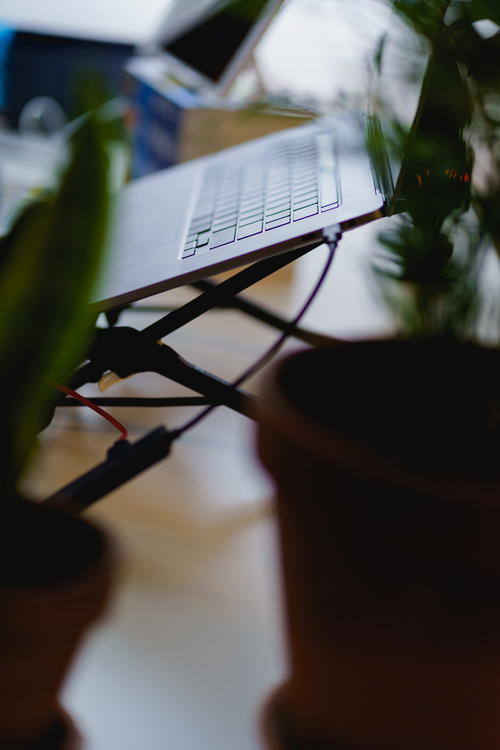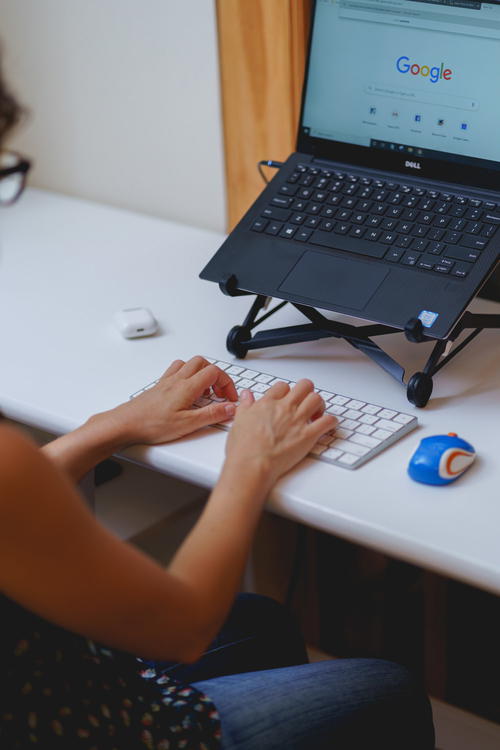 Slim minimalist Apple keyboard
The Apple Magic Keyboard is strong enough to be a durable home office product and elegant enough to blend in with a white desk or white minimalist aesthetic.
Use it with the Roost laptop stand (above) for an all-in-one ergonomic laptop setup at home.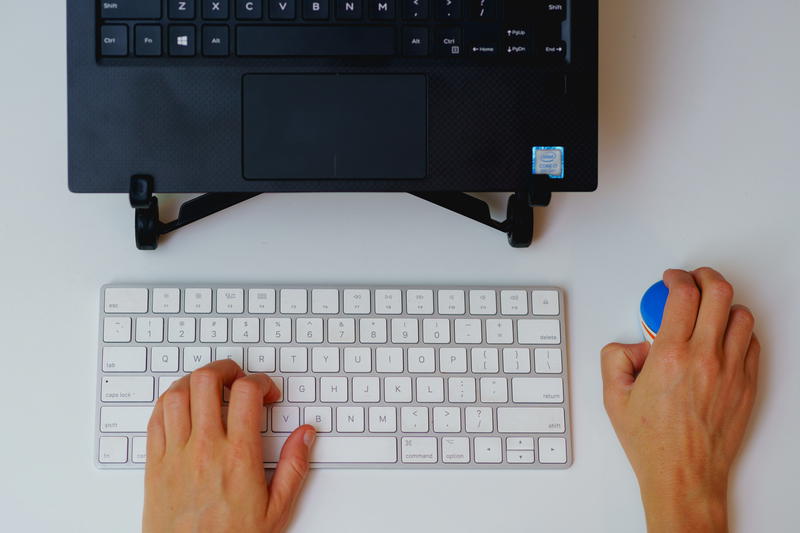 Ergonomic external mouse
Is your finger already sore from clicking with that laptop trackpad?
It's time to get an external mouse, and we recommend Dan's favorite, the Logitech MX Master Wireless Mouse.
It's perfectly sculpted for your hand and you can use it with up to three monitors. Plus, it uses rechargeable batteries.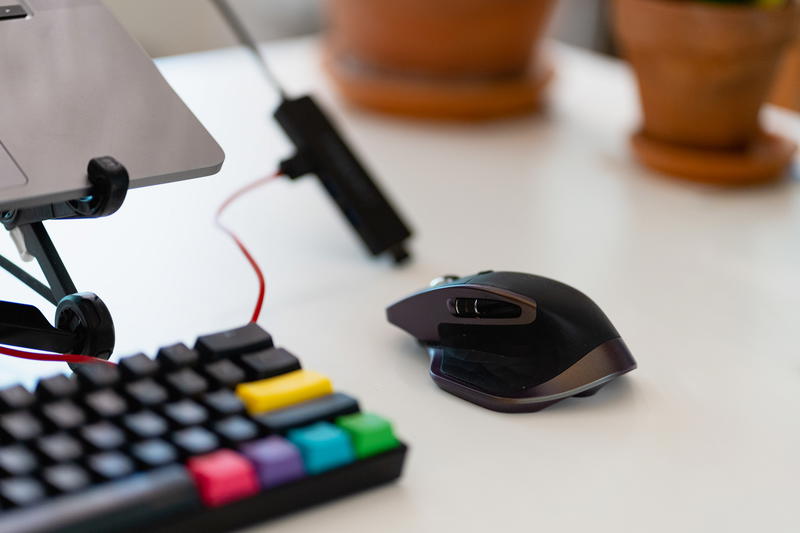 iPad as a second monitor
Trying to hack the second monitor setup you miss from your office? Set up an iPad as a 'sidecar' and get that two-screen feeling again.
Last thoughts on creating a home office space for two
We hope that together, you can figure out your ideal home office for two, complete with a design and array of products that make you both comfortable and productive.
Remember: the goal is to share a space and still be succeeding professionally!
Be easy on yourself if this is your first time working from home and especially if it's your first time working from home as a couple.
Nothing will be perfect the first time, which is why we suggest altering your plans around how you feel and what your specific schedule requires.
Enjoyed our article?
Consider supporting us! We're a 2-person team (learn more about us here) and your support enables us to create quality content. Thank you!