Bluffworks Ladies' Trevi Casual Travel Trouser: My Review
Written by Becca
•
Updated on September 23rd, 2023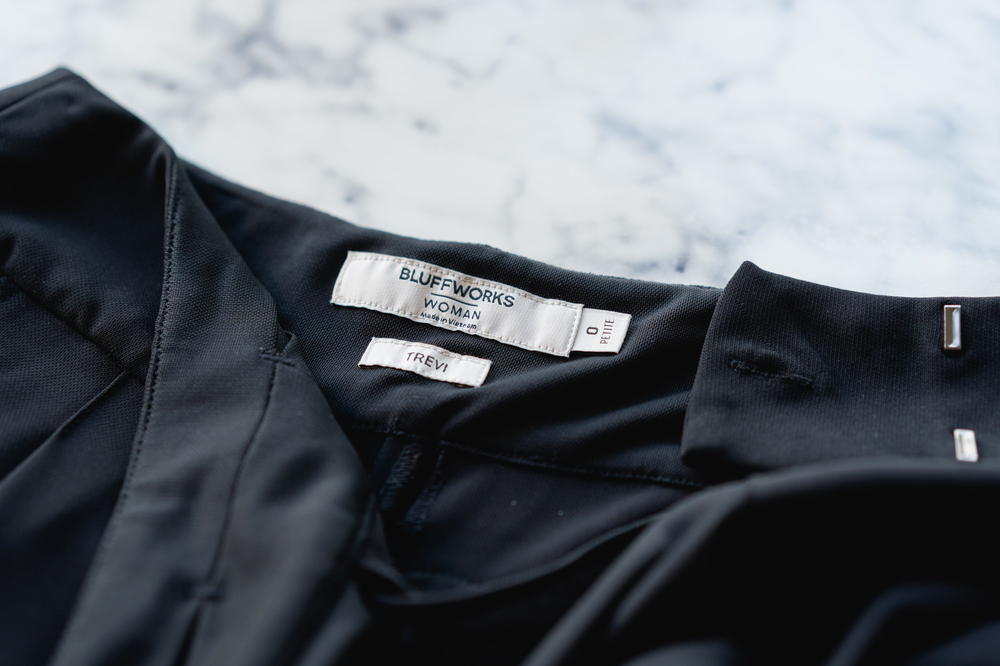 I review the Bluffworks original women's professional travel trousers, which are great for business casual, dressing up, and pairing with a blazer while on a trip.
This article may contain affiliate links. We earn a small commissions when you purchase via those links — and it's free for you. It's only us (Becca & Dan) working on this website, so we value your support! Read our privacy policy and learn more about us.
Table of contents
Close table of contents
Helpful Tip
The Trevi Pants have been discontinued by Bluffworks, unfortunately! In their place, I'd recommend checking out the Petaluma Ponte Pants and Petaluma Pintuck Pants, which have been great to try, and even better additions to the Bluffworks women's lineup.
I've had a hard time finding stretchy, attractive and comfortable professional trousers that look good and can be worn right from the plane to a professional event.
Sometimes, in between the travel itself and the "thing you traveled for," you may be pressed for time. For this reason, you need travel trousers that serve as your comfy travel pants and go right into the bottoms you dress up with heels or flats.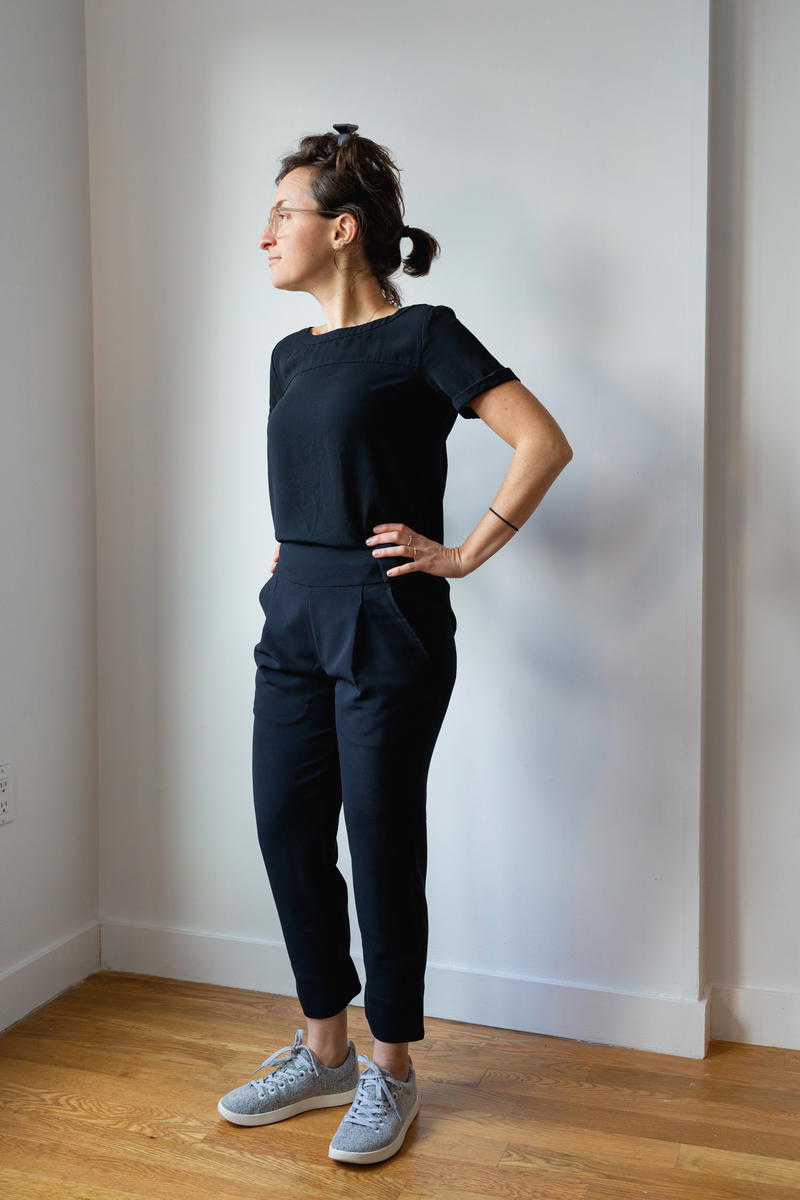 Bluffworks has a history now of creating products for both men and women that surprise and delight with a list of features that every traveler dreams of. From moisture-wicking fabrics to more pockets than a woman could even think up, the Bluffworks women's line has some essential products for any gal's capsule wardrobe.
Up to 50% off!
The Bluffworks Black Friday sale is still live! Get up to 50% off sitewide. No discount code needed.
The Trevi pants are a minimalist and modern pair of trousers or cropped slacks that are lightweight, flattering, modest and neutral.
They go with so many tops and they pair effortlessly with a blazer. They flatter the hips and the back, and you can zip up your keys and credit cards where they can't be stolen.
Read on, as I review the variety of features in these travel trousers for women on the go. Are these pants ready to be in your pack for your next business trip or as you work remotely and travel?
Rundown of the Bluffworks Trevi pant
I suppose the Bluffworks Trevi travel pants for women is what my capsule travel wardrobe was waiting for, especially because these days, I'll find myself on the road for a wedding weekend or a trip with lots of events.
Bluffworks introduced the Trevi travel pants as a staple of their women's line of minimalist travel apparel when the brand first rolled out travel clothes for women.
The Trevi pants are like cropped business casual slacks, comfy travel pants and cute capris with pockets, all rolled into one. For that, I applaud Bluffworks, in fashioning a single article of clothing that is so versatile and multifunctional.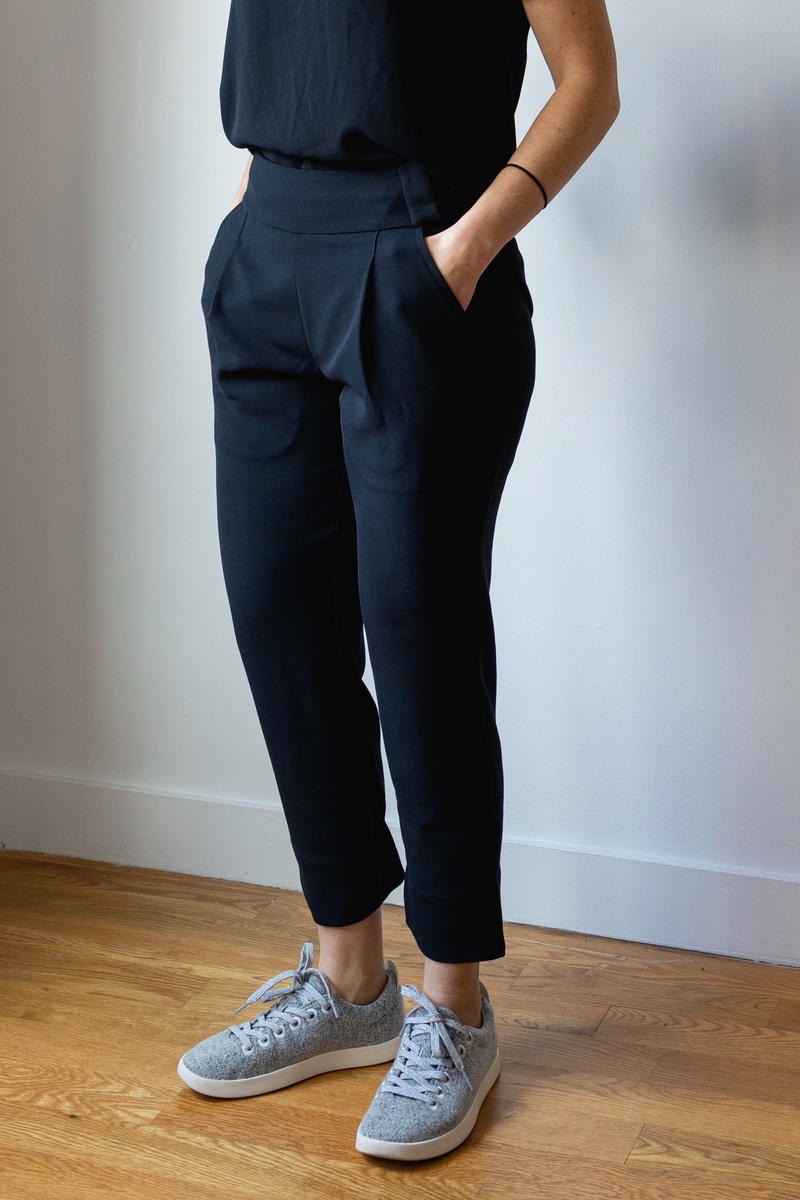 The Trevi travel pants have a host of nice features for women on the go, and I'll list those in this honest product review, along with why they make a solid investment for busy professional women on the road.
Helpful Tip
Are you a minimalist packer? Whether you want to pack more minimally or figure out which items of clothes to take on a short trip, learn more in my guide to packing like a minimalist.
Features of the Bluffworks ladies' travel trouser
These women's travel pants have some standout features that I haven't found present in regular old jeans or leggings. Here is a summary of the special features that make these travel pants a hot item.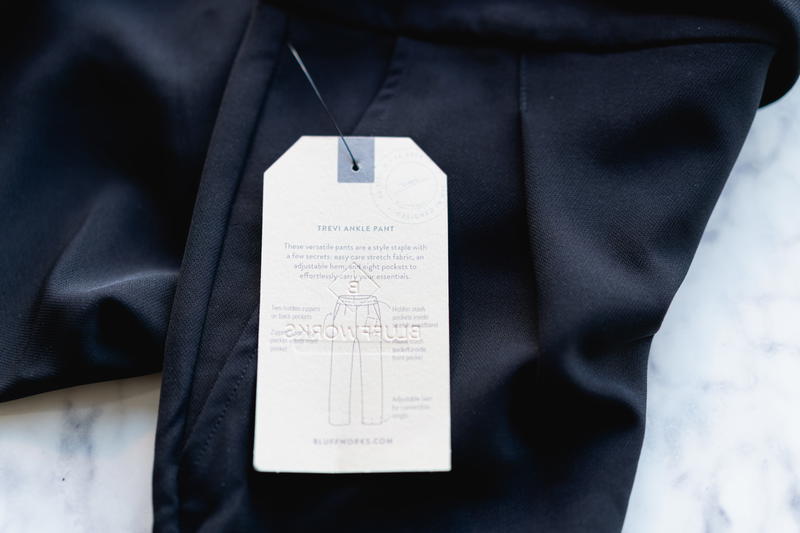 The proprietary Trevi fabric
The proprietary fabric of these travel pants is stretchy, lightweight and strong. They are 98% polyester and 2% spandex, giving them the power of odor and sweat control.
Washability & care
Bluffworks really prioritizes the machine-washable aspect of clothes, given that dry cleaning is a pain and most people don't have time or patience for it. These decent travel slacks are easily machine washable. They're meant to be hung dry.
A big feature for Bluffworks products is pockets, given that for decades and still today, companies don't give womens' garments deep and sturdy pockets like menswear tends to receive.
These women's travel trousers have eight pockets, and three of them have zippers, which is great for days out sightseeing, or for if you're shifting around on an airplane.
There is even a hidden pocket inside another pocket. Would you dare to find it?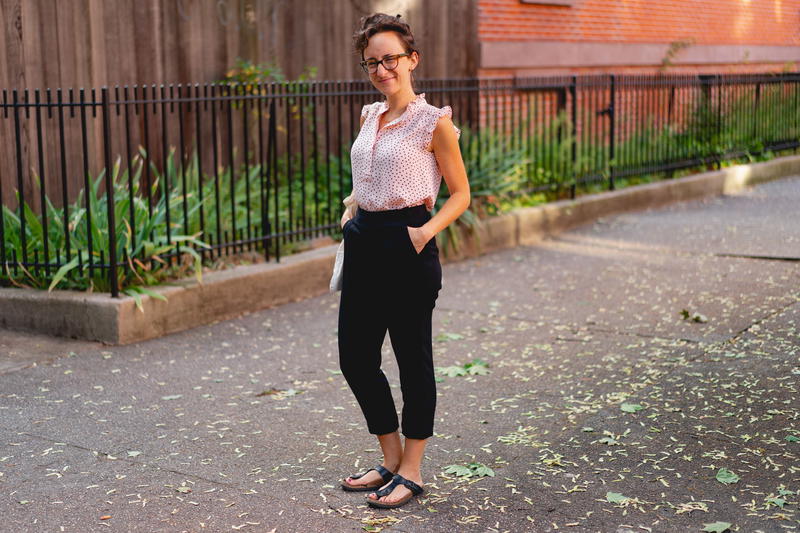 Zippered pockets
There's an internal zippered pocket and a back zippered pocket, too. The zippers make it easy to store things safely, like a credit card, passport, a roll of currency hills or a hotel key.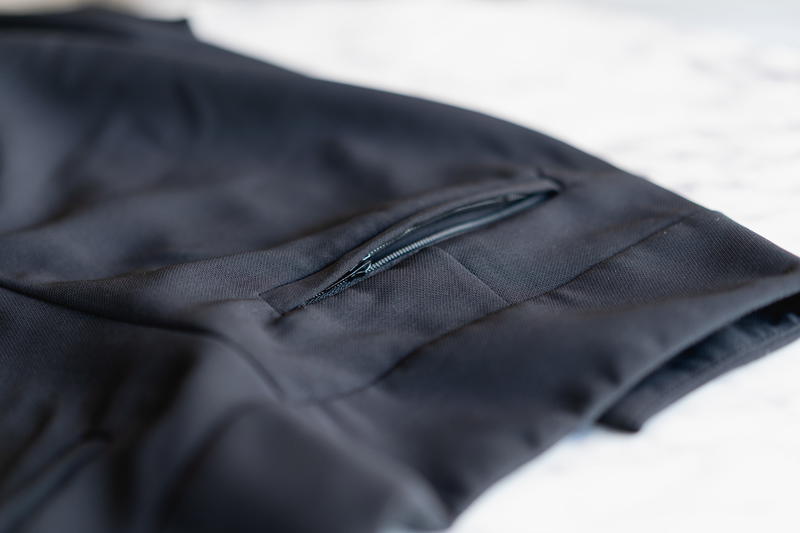 Button and latch waistband closure
The waistband closure is unique, with an inner button and a double latch.
A flattering waistband
The waistband lies flat, for ultimate flattery. The only thing to know is that the waist does not seem expandable, so it fits quite true to size, and if you gain or lose weight, it may not fit perfectly with a change in body shape.
I wore the Trevi trousers several months back when I was a different size due to a workout regimen, and they fit differently than they do right now and in these photos (they fit better now). I am wearing a 0 Petite.
The snappable snap hem
The snap hem at the calf allows you to make these crop pants or ankle pants. I thought I'd prefer the snap-up cropped look, but in fact, I prefer the hem at its maximum length like an ankle pant.
Petite sizing
The petite sizing on this garment is meant for a woman who is 5'4" and I can tell this because at 5'2", I still feel too short for these trousers to be hitting me in just the right spot at the calf. As mentioned, I thought of snapping them "up," but felt they were too short and felt like pedal pushers, which was not my intention.
If you are shorter than 5'3", I'd urge you to beware, and take advantage of Bluffworks' 30-day return policy for "unworn items." If you receive these pants in the mail and after trying them on, find that they're not hitting you where your legs are flattered best, return them before your 30 days are up, for a full refund.
Occasions for wear
What keeps surprising me about these unique travel trousers for women is that they pretty much keep giving, in terms of use cases for wear.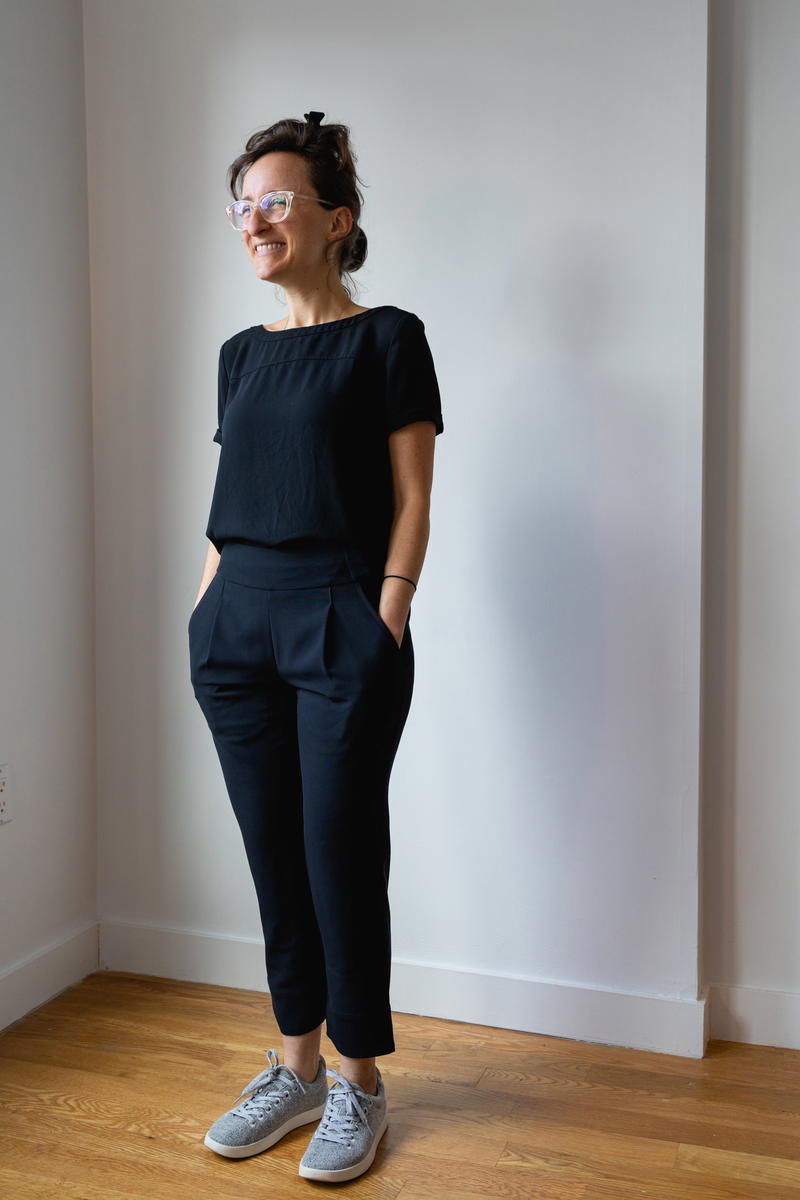 Travel days (flights, train rides, road trips)
If you like looking good when you travel, and you find dresses annoying and jeans constricting, these travel pants are easily matched with a breathable blouse for a flight or train ride.
They're also great if you need to step right off a train, plane, bus or car, straight to a meeting or event, and you need comfort during the trip itself.
Work meetings & business purposes
I'd wear the Trevi trousers as business casual work slacks and pair them with flats, heels, chunky sandals or clogs.
Out to dinner or a night out
Why not wear these on date night or out to dinner with friends? They're perfectly easy to dress up with jewelry, shoes and a blazer, even if you've got a tee underneath.
Helpful Tip
Why does choosing shoes for a trip have to be so difficult? Check out my list of the best shoes to pack for a trip and how to make the choice easier.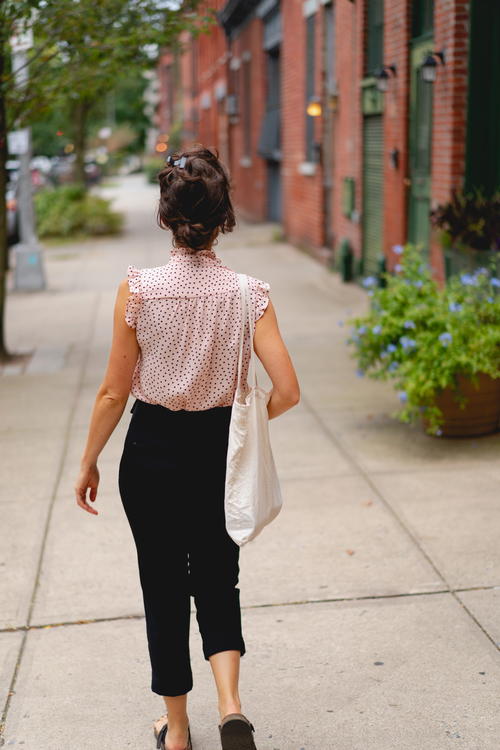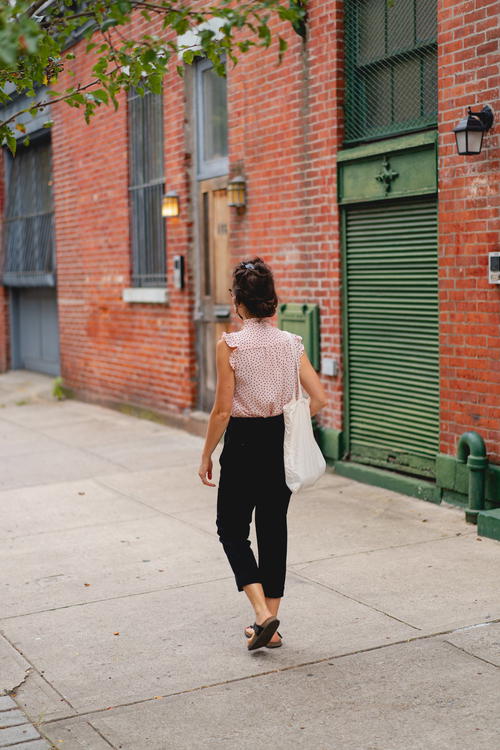 Are the Bluffworks Trevi pants worth the investment?
The ladies' Trevi pants by Bluffworks come at a price of $150, but wait: you can often get them on sale for as low as $60. That's a great deal for some pants that'll get you through all four seasons and casual trousers you'll wear both at home and on trips.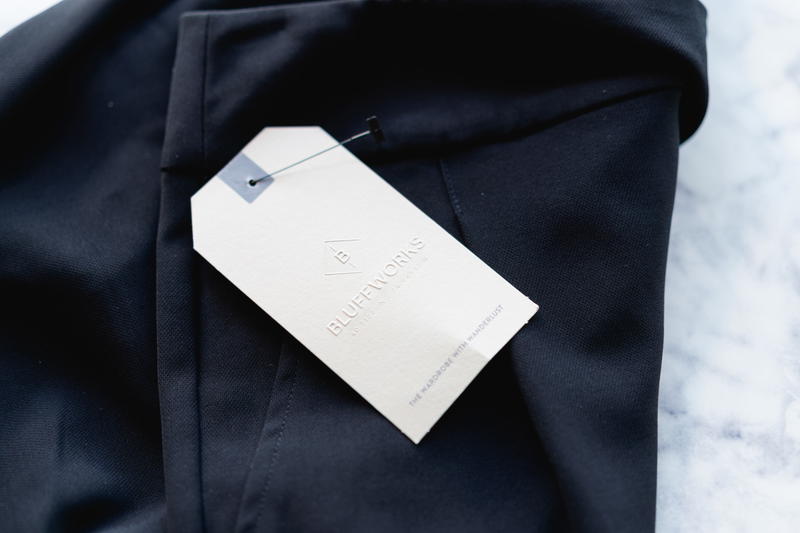 My best advice is to wait for a Bluffworks sale and get them on markdown. You'll be glad you did, especially if a travel pant like this has been a missing item from your wardrobe for a while.
Another tip is to bundle them with other Bluffworks offers and deals like the travel joggers or other items from the Bluffworks women's travel apparel collection.
If you're not sold on a need to invest in the Trevi trousers, check out my review of Bluffworks' new Naha Travel Jogger for women, which are a more casual and still stylish travel essential.
Enjoyed our article?
Consider supporting us! We're a 2-person team (learn more about us here) and your support enables us to create quality content. Thank you!