Bluffworks Women's Naha Travel Joggers: My Honest Review
Written by Becca
•
Updated on September 6th, 2023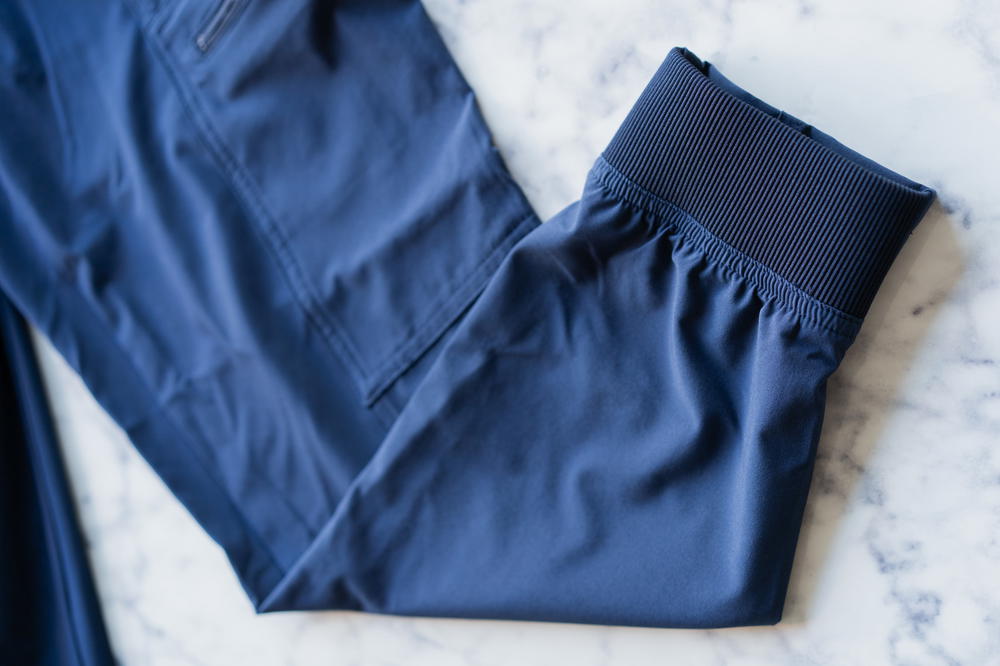 I'm reviewing the Bluffworks Women's Travel Joggers as lightweight travel pants and dressy joggers that you could wear on a plane or travel day. Are they worth the price?
This article may contain affiliate links. We earn a small commissions when you purchase via those links — and it's free for you. It's only us (Becca & Dan) working on this website, so we value your support! Read our privacy policy and learn more about us.
Table of contents
Close table of contents
I'm a fan of the Bluffworks brand for all the things that the company does right: creating wrinkle-free high-quality durable clothing that is timeless, minimalist and chic.
Ever since Bluffworks came out with a women's line, I've been keen to see the unique set of travel-friendly products that they've developed as what they refer to as a "capsule wardrobe" for professional women on the go.
I own quite a number of their products, and Dan does as well. Maybe you've seen our guide to the best men's travel pants for the men in your life, or the roundup of men's joggers in which we include more photos of Bluffworks' joggers for men.
We've talked at length about Bluffworks products as gifts for your loved ones and as incredible travel accessories.
Bluffworks recently came out with the Ladies' Naha Travel Jogger as the brand's take on an item intending to be up there with the best travel pants for women and best joggers for women, too.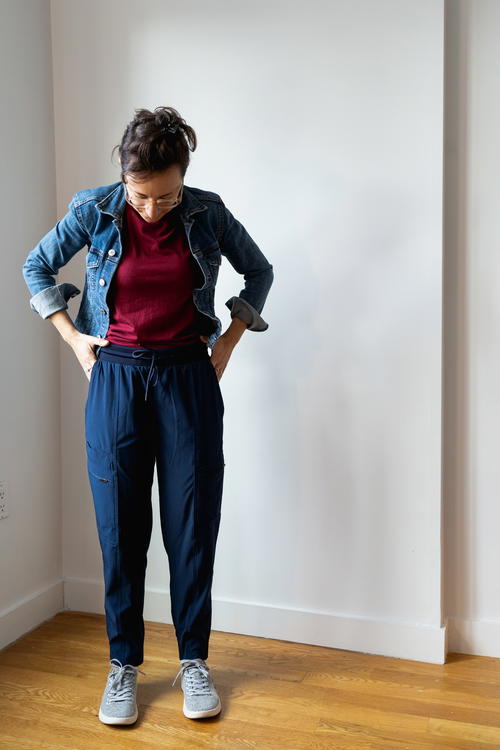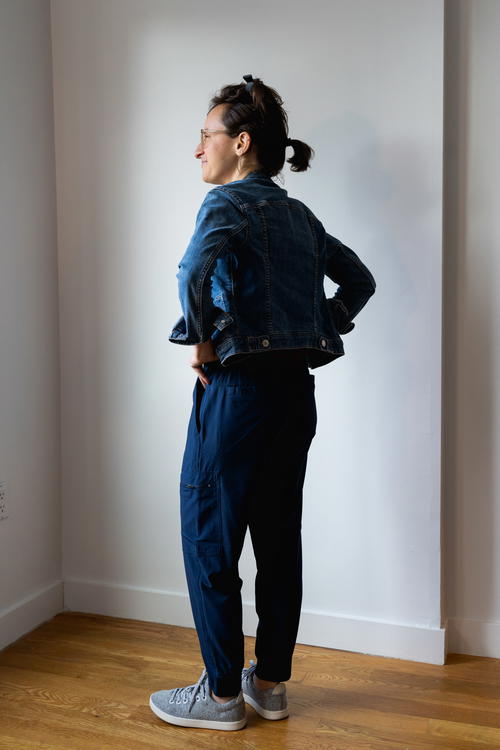 Stylish travel joggers like the women's joggers from Public Rec, for example, have taken the clothing market by storm these past few years.
This is because joggers offer an alternative to leggings or sweats. Joggers serve women's wardrobes with a "decent-looking" pant that is comfy, stretchy, forgiving and applicable to so many occasions and levels of dress.
Here's why these travel pants would be a good investment if you size them right and know how they fit, before you buy them online.
Rundown of the Bluffworks Naha Women's Travel Joggers
I received the Naha Travel Joggers in the Petite Fit, size XS, and in the color of their deep blue Pacific Navy.
Upon first glance, they were way more lightweight than I expected, which is both a good and a bad thing that I'll explain later.
Next, they were somewhat "dressier" than I expected, which is cool, because I've always thought it would be nice to own a super casual pant that can be dressed up with a sweater or blazer really effortlessly.
They were also more high-waisted than I had expected, which turned out to be a benefit.
I'll be more into the nitty gritty of this new women's product from Bluffworks as we move on.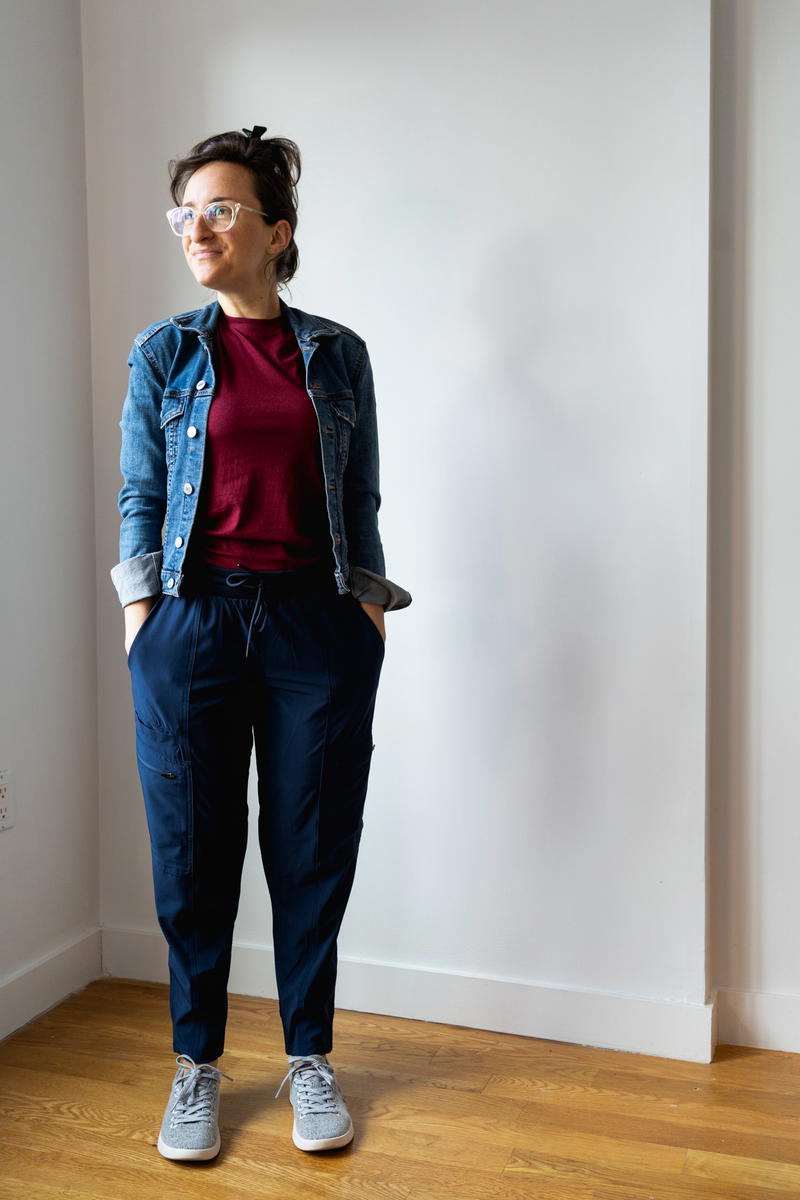 What's so interesting about the features of these women's travel joggers?
I think these travel joggers for women are more than meets the eye. They're kind of like a travel garment that has a bunch of layers to it, as you have to take in what you see in the front, the sides and the back of these pants.
Machine-washable
Yes, they're machine-washable despite looking silky and special. No dry-cleaning for these. The washing and care is pretty hassle-free.
Lightweight silky feel
Like I mentioned above, the feel of these travel joggers is lightweight and silky, and almost delicate. Knowing Bluffworks, though, I can only be sure that these pants are durable and strong, because Bluffworks products are built to last through thick and thin.
Quick-drying / stain-repellent fabric
A common and priority Bluffworks clothing feature is quick-drying fabrics that repel odors, moisture and stains. It's good to know that the proprietary fabric that comprises the Naha joggers entails all of these.
Half-cuff ankle
I'm not sure how I feel about the half-cuff ankle, and I think it is actually my least favorite design feature of these women's joggers. I would prefer if the fitted cuff was all around the ankle. It could be because the joggers (even in the petite fit) are too long on me (getting into this later). I would do without this half-cuff if I could design these again.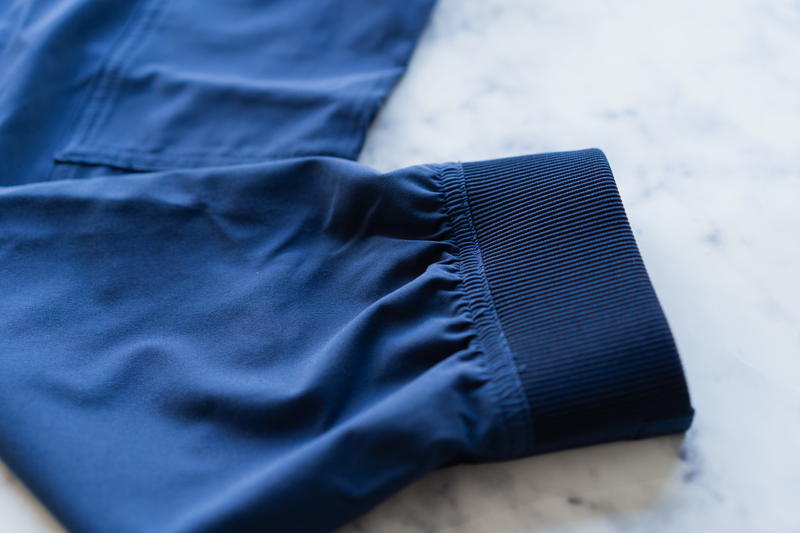 Drawstring waistband
I do like the drawstring waistband a lot, and I also think it's at a part of the pant such that it is very flattering.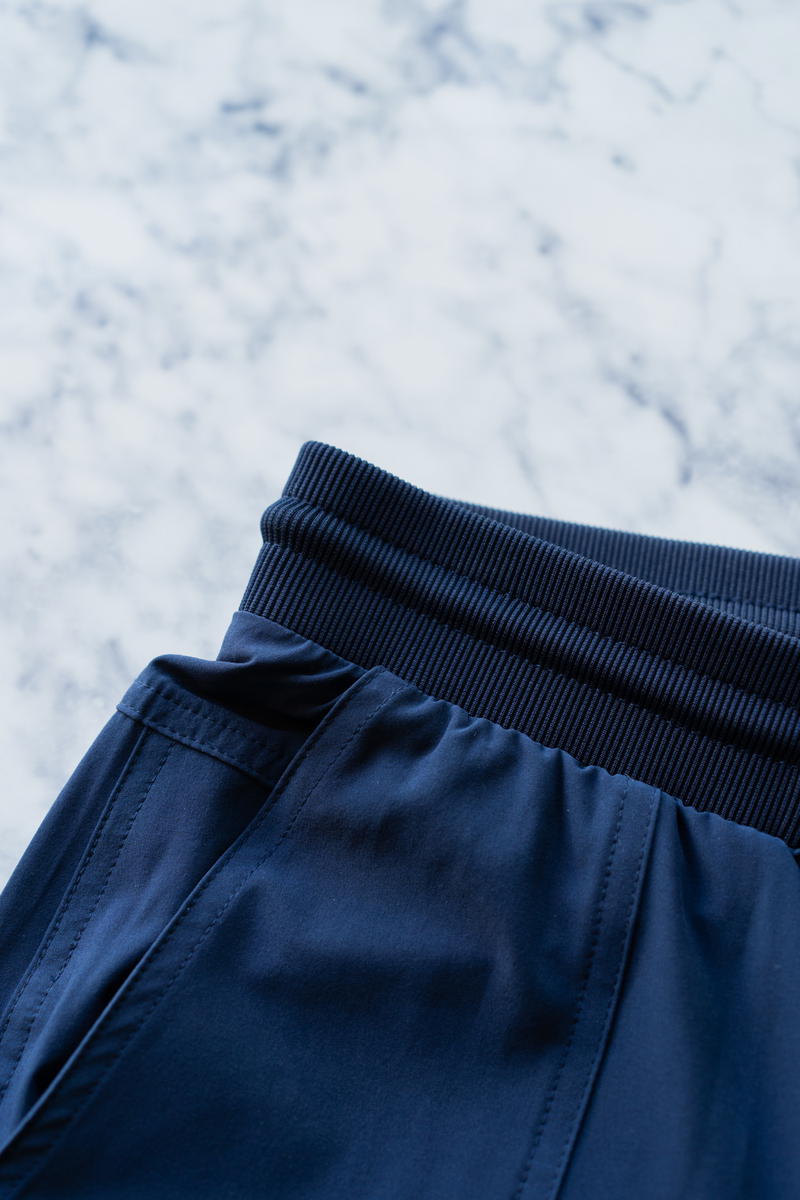 Heaps of pockets
The Naha joggers have eight (yes, eight!) pockets for women to benefit from, setting these joggers apart from lots of other travel joggers in the market right now. Bluffworks products have always prioritized pockets for both women and men. The zippered pockets are my favorite.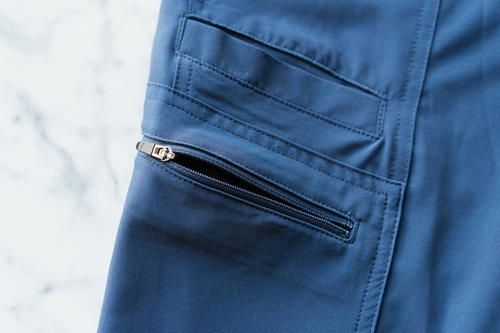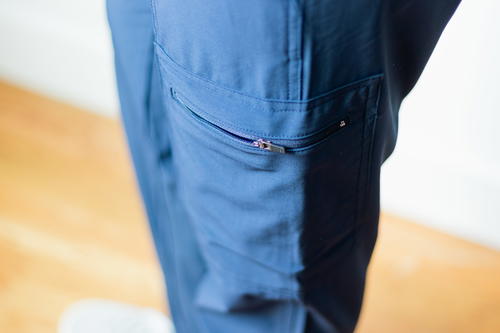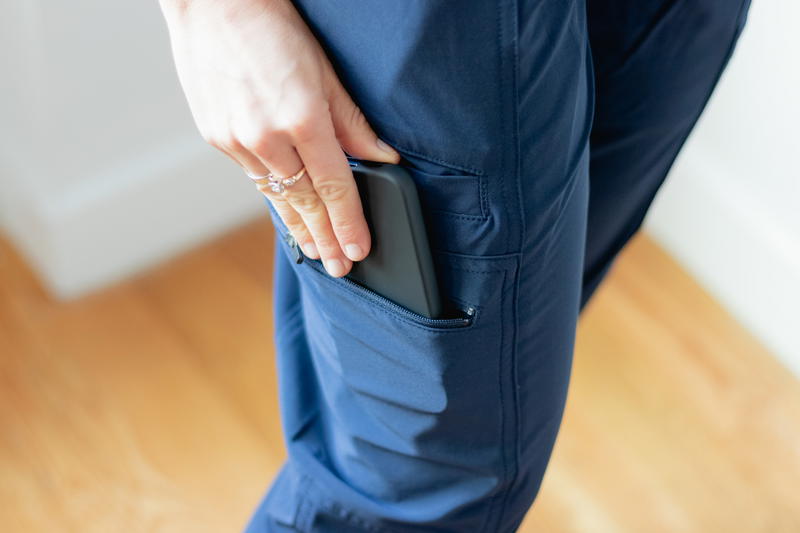 How do the Naha Joggers fit?
The Bluffworks Naha joggers fit with a comfortable, breezy spacious fit. They are not form-fitting. They fit with a lot of space at the leg, the hips, the back, and the knees.
The Naha joggers come in a standard fit for standard women and a petite fit, for women on the shorter side.
I am 5'2", so I went with the petite fit, hoping for the best. In my experience, I've had a grab bag of success in Bluffworks products in the women's line and with the petite fit. I always get the smallest size, whether 0 or XS, and my biggest successes so far have been the Trevi travel pant and the Palma Chino.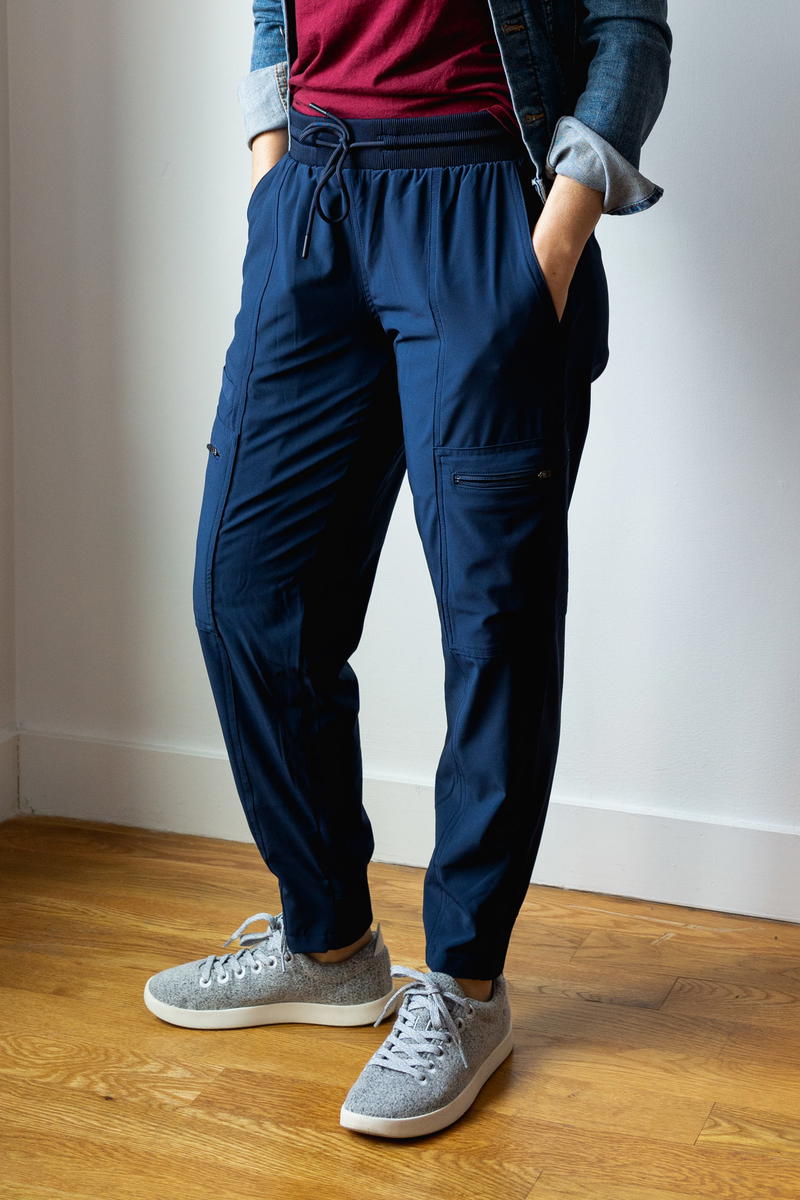 Assessing the petite fit of the Naha Joggers
For a 5'2" woman, the petite fit is missing the target slightly. For me to feel good about pants in a petite fit, I need them to hit my ankle at such a place where they look like they were meant to hit, not at a spot that makes them look like I'm borrowing clothes from someone a few inches taller.
Unfortunately, the Naha joggers miss the mark when it comes to the petite size. And given, "petite" usually applies to women who are 5'0" to 5'4". I'm smack in the middle of the petite size range. Perhaps these would fit great if I were two inches taller.
As I remain at 5'2", or just short of it, the Naha joggers hit my ankle in an awkward spot, such that I don't truly feel my best and would prefer to wear them with heels. Also unfortunately, I rarely wear heels, and I'm usually caught wearing boat shoes, Allbirds sneakers or running shoes.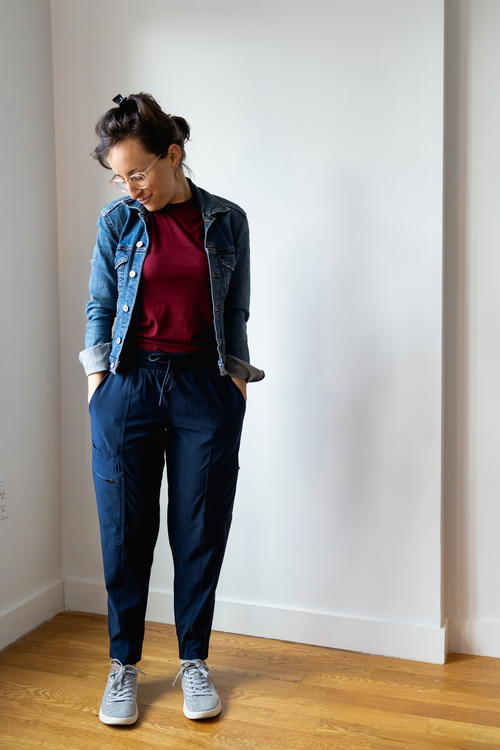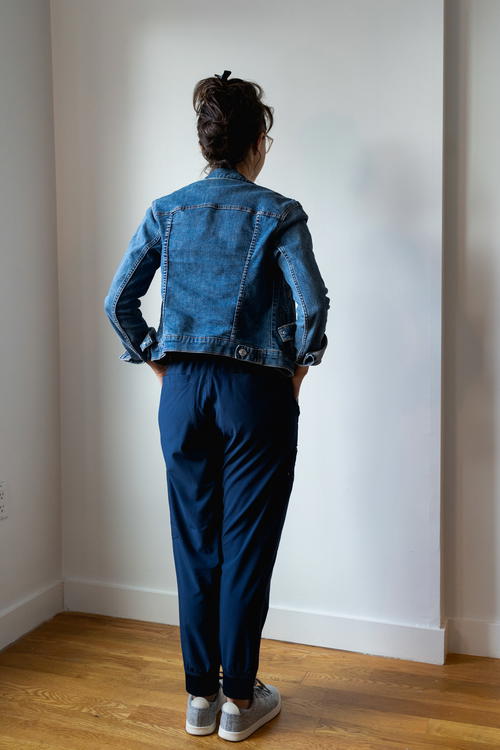 What's the level of care for these Bluffworks joggers?
As confirmed above, the ideal care solution for the Bluffworks women's Naha joggers is machine washing. If you would like to be overly careful, you could machine wash them on a delicate cycle, or in a delicates bag.
Use cases for wearing the Naha Joggers
To test out my Naha travel joggers, I wore them to bike to a friend's apartment in another part of Brooklyn, which was a great test of their ability to survive a bike ride. No problems here.
Then, I wore them around on a moderate autumn afternoon out to a park to see my friend's puppy, then out to lunch in Manhattan, and then home on the subway.
I paired them with sneakers, my Aviator merino wool zip-down hoodie and my Mott & Bow crew neck tee.
I have another upcoming opportunity to wear these joggers on a flight to Mexico, which is exciting to me because they're a good cold-hot pant. You could probably add them to your list of everything you'd need for air travel.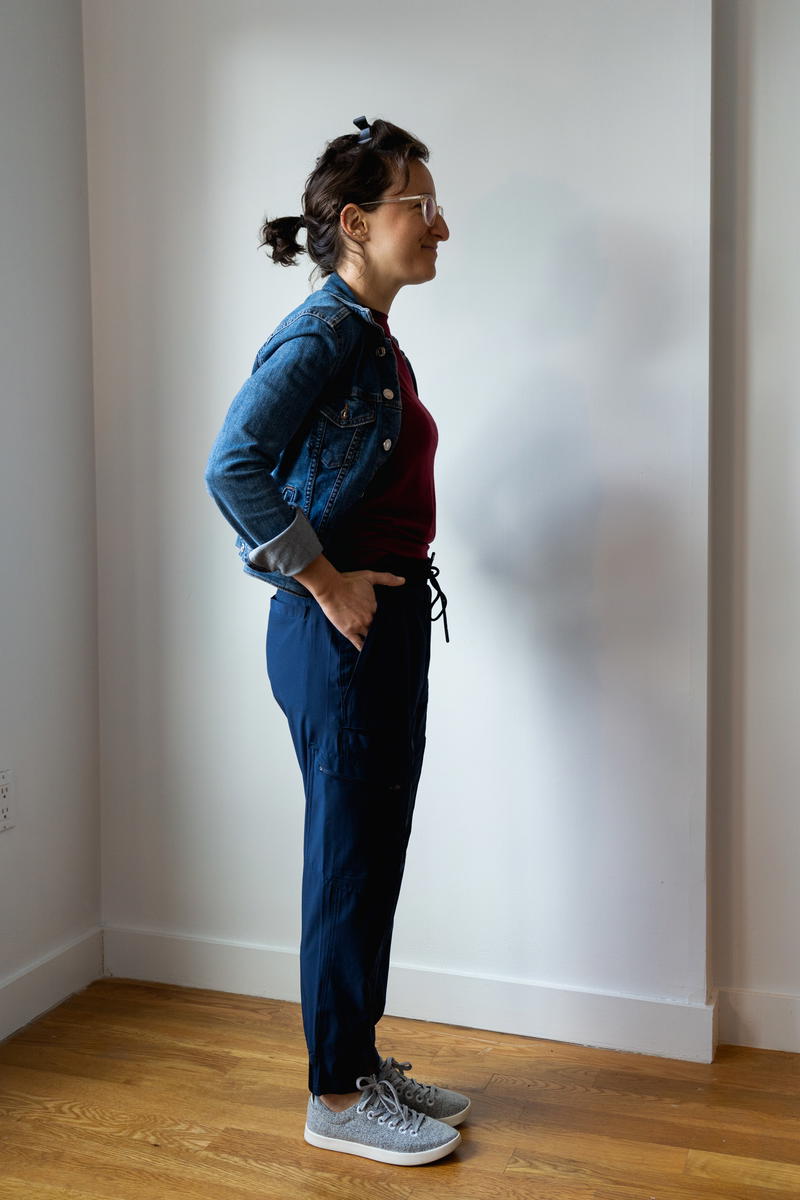 By this I mean that they're ideal if you go from one extreme temperature to another, on a travel day from one destination to the next. These pants work if I'm departing from winter and arriving in summer, because they're breathable and light.
One final use case is that I'd be happy to dress up these joggers into stylish dressy pants if I found an occasion to pair them with espadrilles, heel sneakers, platform sandals or ankle boots.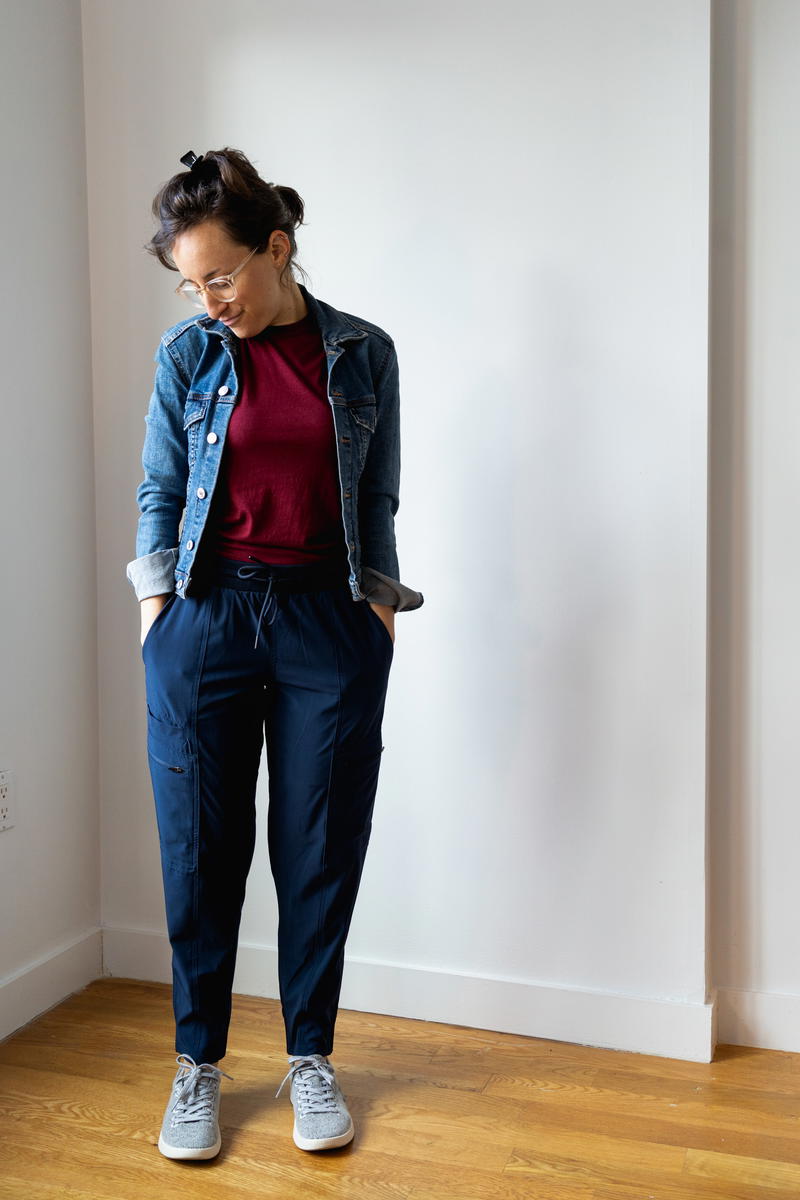 If you're looking for even more great travel pants, check out the best travel pants for women!
Are they worth the money?
The Bluffworks Naha joggers retail at $98.00 as of 2023 and they often go on sale at the Bluffworks website, so I would recommend looking into that if you would like to get a deal on them.
I think this is a competitive price for such versatile women's travel pants that could fit into so many dimensions of travel and professional life. You could step off a plane in these, and you could throw on a blazer and head into a meeting if you were to have shoes to do the trick to make these into a professional travel outfit.
They could also be your travel day lounger bottoms, and they pack up incredibly neatly into a packing cube for a minimalist traveler.
Don't forget about those seemingly-endless pockets: they're great for airport days, train trips, road trips and walking around sightseeing while traveling.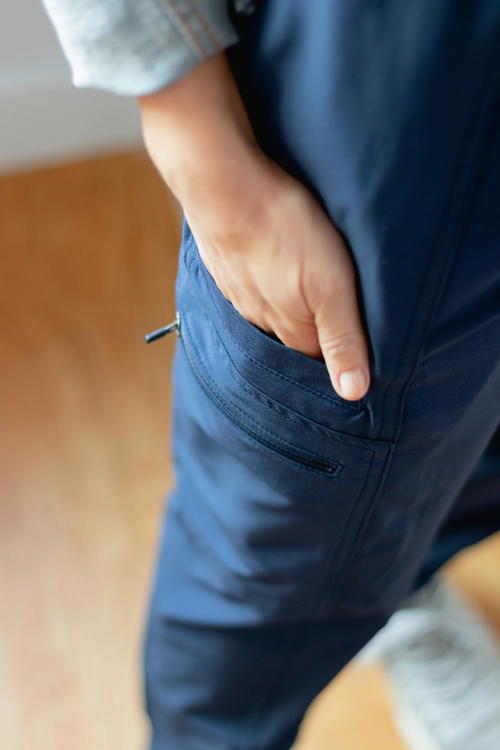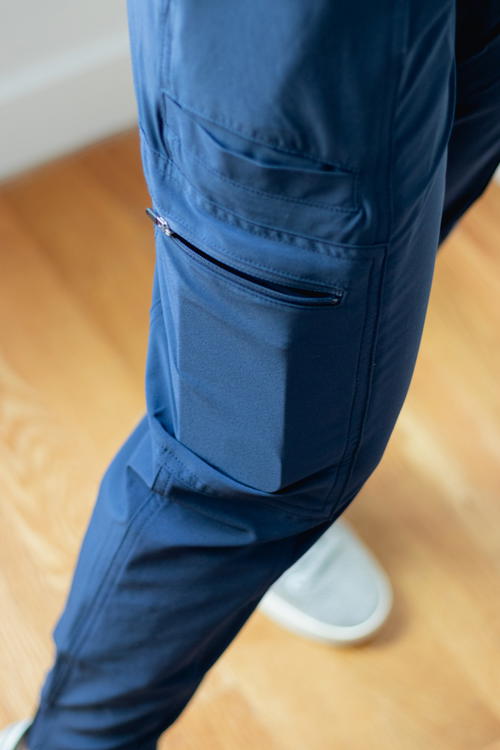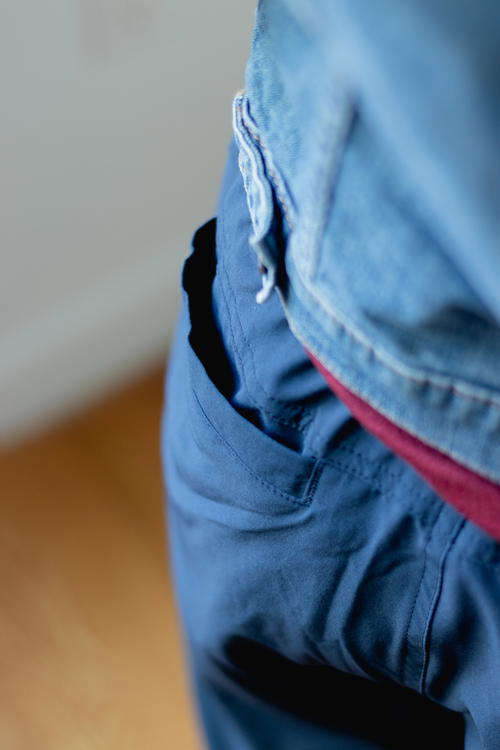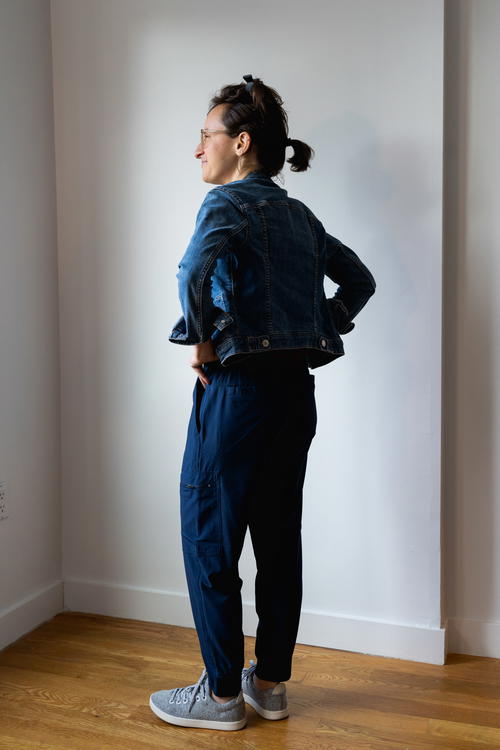 Are the Bluffworks Women's Travel Joggers the best casual dressy joggers for women?
I do think that the Bluffworks travel joggers have a lot going for them in terms of being travel pants for women that tick the boxes of being stylish travel pants, lightweight pants for multiple occasions and a dressy-casual pant that keeps on giving.
The fact that they have a drawstring stretchy waist means that you can wear them if your weight fluctuates throughout the year, or if your muscles change in different seasons based on how you tend to work out or exercise.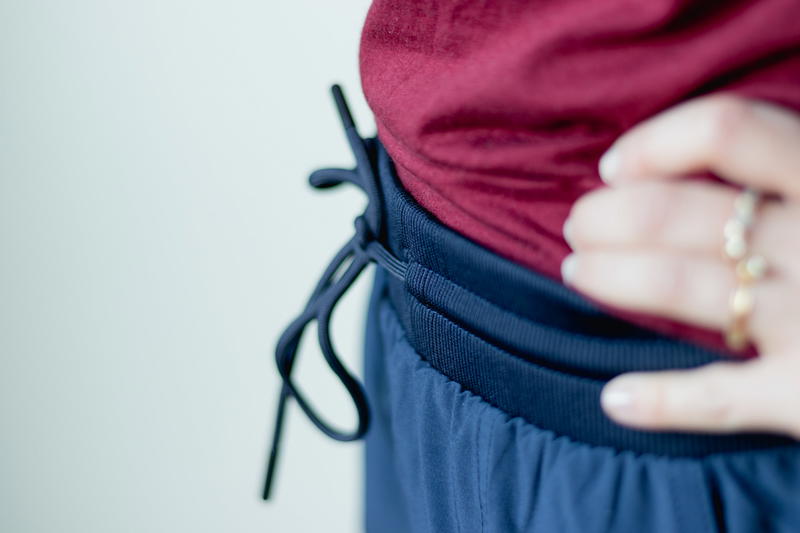 As for being the best women's travel joggers, I am still researching products to compare these to, and I would say that they fit the most seasons and scenarios so far, compared with other pants I own. They're also a nice alternative to leggings, which can be constricting, too tight, too casual or too form-fitting for some women.
I'll go ahead and say that they're close to the best women's joggers I've encountered this year, and for that, I applaud Bluffworks.
Helpful Tip
The only thing to look out for is that if you are a petite women who is shorter than 5′2″, I would tell you to read more reviews, or buy these online and understand that Bluffworks offers 30 days for a full refund and return (the item MUST be "unworn"). I hope this was helpful!
Enjoyed our article?
Consider supporting us! We're a 2-person team (learn more about us here) and your support enables us to create quality content. Thank you!