How to Find Affordable Furniture for Your New Home
Written by Becca
•
Updated on September 6th, 2023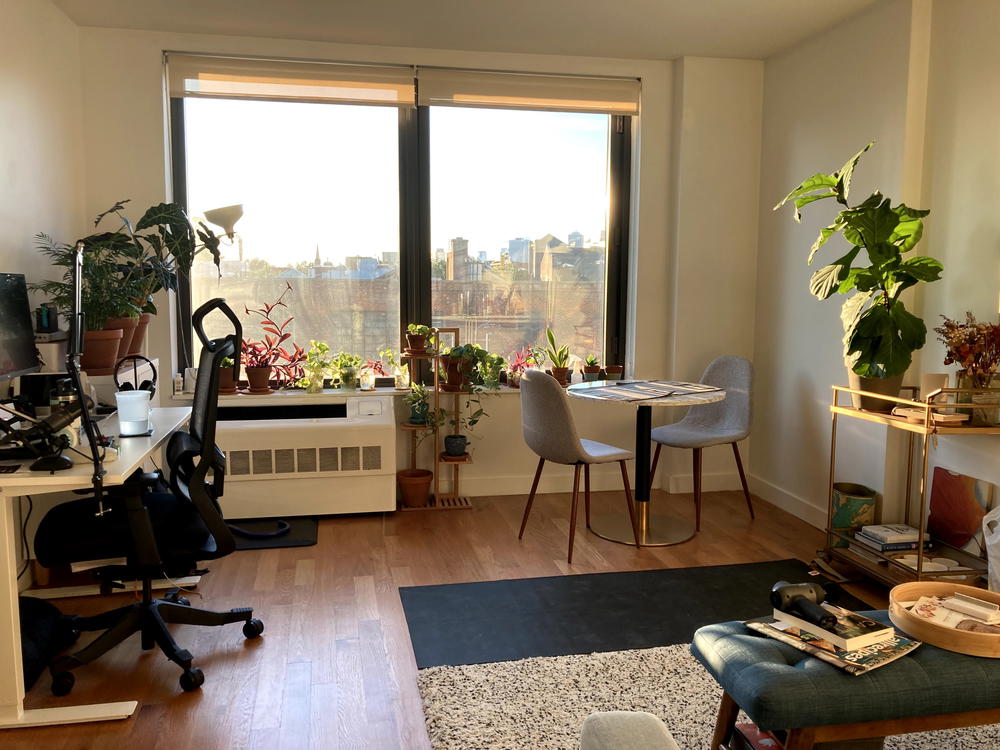 Where's the best place to buy furniture on a budget for a new apartment? Here's a first apartment furniture checklist for how to furnish an apartment from scratch under $1,000.
This article may contain affiliate links. We earn a small commissions when you purchase via those links — and it's free for you. It's only us (Becca & Dan) working on this website, so we value your support! Read our privacy policy and learn more about us.
We moved recently, and we like to make the blanket statement that we furnished our new apartment for around $1,000.
Seems like an okay outcome for our goal of furnishing our apartment on the cheap, and also making it look like a trendy, sleek Pinterest-perfect apartment you may see online.
We started a search for revamping our apartment by getting new furniture, and got overwhelmed pretty fast.
I've got to tell you a secret: we cracked the code.
How can you find affordable furniture for your new home? Here's our checklist of tips for ways to furnish a small apartment on the cheap (and avoid making it look that way).
How we furnished our apartment on a budget
We had been living in our third apartment together for two years, and everything we had was seeming a bit stale: IKEA shelves, IKEA coffee tables with an IKEA ottoman sandwiched between, an IKEA wooden dining table with IKEA chairs, IKEA bar stools, our IKEA couch (spoiler: we kept it) and IKEA dresser in the bedroom.
In 2017, we checked the box of "how to furnish an apartment from scratch," and some shelves from previous apartments, along with my lovely queen-sized bed and bed frame came along with me, so the rest of the apartment was a clean slate for any affordable furniture we wanted to find in NYC.
As I detail in the story of how to move in together as a couple for the first time, we did a passable job on our checklist for furnishing an apartment.
This most recent time though, we had the opportunity to improve completely, find affordable furniture stores, locate affordable furniture online and furnish our new apartment on a budget without making it look that way.
Our friends who visit or see photos of our place on Instagram tell us our apartment looks like it's too good to be true, and we can't help but gush about how much it didn't cost us.
The best places to buy furniture on a budget and affordable furniture online
When you're thinking about furnishing your first apartment on a budget, you might be disappointed because you think you have to get everything used.
I have great news for you: you can get either new furniture, or used furniture, and still stay on a budget.
When it comes to your budget though, you'll still be faced with choices. You have to decide whether you want new yet potentially average-quality furniture to maintain the budget, or if you want to try to get used furniture so that you can get high-end brand names for cheap.
Either option is okay, and depends on your taste! You'll want affordable apartment furniture if you're furnishing a new apartment from scratch, and here's the list of places for affordable furniture stores both brick-and-mortar and simply online.
Wayfair is kind of like "Amazon for furniture;" at least that is how I explained it to someone when I was talking about furnishing our new apartment on our budget.
Wayfair is completely overwhelming, and it's like an endless supply of new furniture items, all trendy, and many that start to look exactly the same.
What's important to know on Wayfair is that yes: you will see items that are identical, yet are under different brand names and at different price points.
Your eyes aren't fooling you, and the products are probably exactly the same. So, do your research, whether you're looking at lamps or home office desks, and get right down to the lowest price that first your apartment furnishing budget.
I personally have had great luck with my Wayfair desk, the Landwehr Desk. It shipped pretty fast, and Wayfair made it clear as to when I would get it. Then, it came in a box and Dan helped build it.
A cool furniture brand that does not cost a fortune is our new find, Novogratz. This furniture company has attractive, chic and sleek-looking products from beds to accent tables and sofas to storage shelves that don't break the bank and look great.
If you're into the mid-century modern look and you're on the hunt for affordable furniture ideas, we recommend checking out the Novogratz furniture collections, which feature dark woods, throwback retro styles and fun signature pieces that ship for free if your purchase totals more than $100. Easy!
Best of all, Novogratz has a clearance section on their website where you can save anywhere from $40 to $70 off trendy coffee tables, end tables, sets of chairs and headboards.
As you know, Amazon has everything. Maybe too much of everything… but in any case, we did luck out with some pretty alright furniture from Amazon, and on a budget!
Amazon has the Amazon Rivet Store, which we did not really find out about until 2021. This is a trendy furniture store and it's completely online. If you do your measurements, you can easily check out with anything you want when it comes to reasonably-priced furniture for your new home.
There's one additional hack with Amazon and the Rivet Store: when you see a product, click into and see if you can get it from Amazon Warehouse. You'll see the product page mention "used" or "other buying options".
Everything we've gotten from Amazon Warehouse has been almost 50% off and has been in virtually-new condition aside from some dings and dents on the outside packaging. If you're alright with something a dab less than perfect for a fraction of the cost, try this Amazon furniture hack!
IKEA is well-known for budget furniture, and this is wildly true; however, there are a few things to know about getting budget furniture from IKEA if it's your first time!
Everything from IKEA is a DIY build, meaning it'll come flat-packed in a box, and you have to build it completely yourself!
IKEA does deliver, but it will be anywhere from a $29 to $79 delivery fee (whereas with Amazon you can often get free shipping, usually from an Amazon Prime membership). So by ordering from IKEA, your shipping could potentially come out to more than your order itself. Make sure to watch out for Amazon Prime Day for even more savings!
If you go to IKEA to pick up your item or do the shopping through the IKEA showroom and warehouse, keep in mind that you need a way to transport your large furniture boxes back to your home. If you don't have a car, you may need an UberXL or a larger ride share car.
IKEA is where we built a LOT of the furniture in our first apartment together as a couple. The measurements are readily available online, so do your measuring beforehand and have your research ready.
Many people poke fun at the quality from IKEA, but to be honest, a lot of our IKEA furniture has stood the (relative) test of time, and has even survived our most recent move to a new apartment.
AptDeco is a method for buying and selling furniture online, as we detail in our guide to selling your stuff online. We do also recommend buying from AptDeco.
AptDeco is an online marketplace that makes it rather simple to sell good condition and brand-name furniture. There are a few catches that we outline in this guide, but for the most part, AptDeco helps manage pick up and drop-off, and you can buy or sell furniture quite seamlessly and even get things like-new from people who want to get rid of furniture before moving.
Dan bought his standing desk and also his desk chair on AptDeco, and for one of the purchases, we had delivery and installation from AptDeco by paying the fee, and for the other item, which did not need to be disassembled, we picked it up on our own and took a taxi back home with the chair in the trunk.
Kaiyo is another online marketplace where you can sell or buy furniture when you're on a budget if you're looking for some furnishings for cheap.
Kaiyo is even more particular about brand name companies and items, so if you want to go the route of getting higher-end brands and high-quality items, you'll find brand-name couches, tables, chairs, art and rugs on Kaiyo, for delivery.
While we have not used Kaiyo ourselves (yet), it is becoming a mainstream way of getting used furniture for furnishing your new apartment from scratch, and it's definitely a buzzword for methods of getting new gently-used apartment furniture these days.
Craigslist is a great option for where to buy cheap furniture in NYC and in major cities. Actually, scratch that: Craigslist is a great way to get furniture on a budget all over the country.
If you're starting a Google search and you want "affordable furniture near me," Craigslist is a great place to start.
In fact, one of our early Craigslist purchases was a great pair of IKEA bar stools that were hardly even used, and you really luck out when you get something from IKEA that's already assembled, via Craigslist, because you don't have to build it and you don't have to pay for delivery.
So, Craigslist is a great way to be a sustainable member of society and buy something used before it is thrown out or tossed, and it'll solve your problems when it comes to needing to furnish an apartment from scratch.
For more basic tips about using Craigslist, look no further than our guide to buying and selling stuff online.
FB Marketplace is another perfect option for buying affordable and cheap furniture in New York City (Manhattan, Brooklyn, Queens, the Bronx, Staten Island and also Hoboken and Jersey City).
We like Facebook Marketplace as a method of buying and selling furniture online because you can get fair and even cheap prices from people who need to get rid of their furniture before a move.
One of our favorite tips for moving was to get rid of furniture that wouldn't fit into our new place by selling it on Facebook Marketplace, and likewise, when we moved, we looked for couches, tables, chairs and you-name-it on Facebook Marketplace in our area.
Remember to always use cash, set a meeting spot, agree to a price beforehand and rate your seller!
How to find the best price for furniture using Pinterest
In general, Pinterest is a great tool for helping you research colors, themes and layouts of your new space. We had a few private Pinterest boards that we shared, and on the nights we'd have leading up to our move and apartment clean-out, we both contributed Pinterest pins of living rooms, bedrooms and furniture products that we liked and wanted to save.
Once you have your home decor theme and style picked out, you can use Pinterest to find the best price on furnishings and furniture products.
How do you get the best price on furniture by using Pinterest? Here is what to do.
Visit Pinterest and create an account if you don't have one already.
Create a private (or public if you want) Pinterest board.
Save a product image of a piece of furniture that you like.
Pin that image.
Video the pinned image on Pinterest, choose "Shop," and you can see prices of all of the retailers selling the same item.
This was helpful for us in trying to get the best possible price on things that we were interested in buying for our new apartment.
This method also made us realize that most low- to mid-range furniture is all the same (essentially), and Wayfair, Amazon, Target, Home Depot and Walmart sell most of the same products under different names.
We hope this was a helpful tip in your apartment furnishing research!
I'm sure you are familiar with the household names of Home Depot, Walmart and Target. Did you consider that they are great options for locating furnishings for your new home when you're on a strict budget?
For example, we went hunting around for standing desks on Walmart.com, and you can snag some fantastic finds like this one, for example. You might even get free two-day delivery, and that would be great if you're furnishing your new place on a tight timeline.
They often will share similar products that you can compare prices and try out in certain stores. You may be able to see a product in Target, and buy it at Walmart, for example.
Have you heard of Rugs USA? It is a great place to start shopping for a rug on a budget when you are moving into a new place and you need something for cheap.
Rugs USA offers fast, free shipping and has frequent sales. They have easy returns for 30 days, and we've got to say, the prices are pretty incredible.
You can start your shopping by size, from oversized rugs to small rugs to round rugs, and then shop by color if that's what you fancy.
If you're at all into searching for your furniture on Instagram or another social media platform, chances are the Internet already has you pinned as someone on the hunt for budget furniture, and you may get slammed with ads for AllModern.
What we like about AllModern is that this company is making the furniture shopping model a bit simpler, and you can shop from their friendly and trendy photos to shop accent chairs, pillows, desks, lamps and more.
If you like AllModern, you can also check out Joss & Main, Birch Lane and Wayfair. They're all owned by the Wayfair. You may find different discounts or other items that are available by checking all of their sites!
While some of the 'featured' items may be priced out of budget for those who are looking at products on the cheap, if you sort by Item sort > "Low to High," you'll pin down the sale items and you can get some really good deals on furnishings for your home.
Hayneedle is a new brand for us and when you get to their website, you can immediately shop furniture, decor, lighting, home storage and rugs, according to your furnishing budget. .
This site also has frequent sales, and you can join their Insider program for a fast 10% off your purchase. Click the sale section of the website for some better deals.
Wow, did you know Urban Outfitters sells actual furniture? While it may not be obvious in their stores, you can certainly shop furniture on UO online.
In fact, we were looking at some bed headboards at urbanoutfitters.com, and liked what we saw. Check out their offerings in bedroom furniture, sofas, tables and desks, dressers and even outdoor furniture to stay on trend.
Our furnishing an apartment checklist: how to furnish an apartment for $1000
Like we said above, furnishing your first apartment on a budget does not have to be a challenge.
In fact, we're going to lay it out super simple for you with what we have in our apartment and where you can get it.
Affordable entryway or foyer furniture
Rivet Asher Round Upholstered Storage Ottoman: This trendy and cute ottoman has storage inside, and it's exactly what we were looking for, as a way of freeing up clutter. We always get compliments on this lil' guy!
"Homemaid" Living Bamboo 3 Tier Shoe Rack Bench: This bamboo shoe rack has been a space-saver and is exactly what we could've used in our old apartment if we had just had the space. Although we really like looking at it, we keep it in a closet to store our shoes with more vertical direction.
Home office, whether in a bedroom or in a living room
Desk chair by FlexiSpot: This is a great durable desk chair with all the lumbar supports, and you can read our full review of it at this review by Dan.
FlexiSpot white standing desk: A standing desk should be sturdy, sleek and a welcome addition to a home office. Dan swears by his! (and for more standing desk options, see our guide to standing desks on a budget).
Living room apartment furniture
We spend so much time in our living room, so using our furnishing budget for our new apartment was mostly spent here.
We're very happy with the decisions we made, and we kept our couch from our previous place, along with our rug, but we invested in a new bookshelf, completely new lighting fixtures and our Roomba.
Here are our budget living room finds.
Brightech Overarching brass floor lamp with white shade: Overarching floor lamps are so popular right now as decor, and I was happy to find this one on a budget!
Nathan James Theo 5-Shelf Modern Bookcase: Open ladder bookshelves are popular right now, and we were happy to get this one easily.
Small Scandinavian-style wood lamp: This lamp fits well on the top of a bookshelf, and it's nice to look at.
Roomba robotic vacuum: We'd be lying if we said our Roomba was not one of our favorite things in our new home. Make sure it is on your checklist for moving in together if you're a couple! Our hack is that we got it used and half-off by choosing Amazon Warehouse, and you can do the same.
Dining area or petite dining room
In having the opportunity to start over again after our move, we reconfigured our dining space into an area for just the two of us. If we have guests over, we figure that we'll cross that bridge when we get there, or we'll use our couch as extra seating.
We used a bunch of our budget for our table because we knew we'd use it as a backdrop for some photos, and the table we found turned out to be the size we were ultimately seeking. Here's what we got with our furnishing budget.
Faux quartz circular pedestal dining table: Easily one of our best buys, this faux marble-quartz table is a showstopper in our home, and if you opt for the black base rather than gold, you can save $30.
Gray mid-century modern chairs: These chairs are the perfect simple pairing to our dining table, and with this set of two, we're ready to eat dinner together!
Brass and wood bar cart: A bar cart does NOT have to be expensive, and it's a sophisticated addition to any room. We use ours for storage. Full disclosure: ours was a street find (and was in perfect condition!), so ours cost $0. You can get yours on Amazon.
Brass round wall mirror: This round minimalistic brass mirror is a lovely accent and makes a room feel bigger.
Brightech Luna round upright floor lamp: This lamp is simple and trendy, and we added a dimmer switch to it, because it's really bright! It works well in a bedroom or living room.
Kitchen accessories on a budget
We love to cook, so setting up our kitchen was actually fun! In sticking to a budget, we didn't invest in anything crazy. Here are a few of our budget finds for our new kitchen.
Spice racks from IKEA: If you going to IKEA for bigger items, make sure to check out the BEKVÄM spice racks. They're very affordable and are perfect for a kitcken.
Folding step-ladder or step stool: Don't move into a new apartment without a step stool for those hard-to-reach spots! We have really tall cabinets and our step stool helps us reach the back of some of our storage.
Fold-up laundry drying rack: Everyone needs a laundry rack like this one! It folds up pretty flat and you can put it right into a closet.