Budget Tablet & Phone Stands For Your Desk
Written by Dan
•
Updated on September 14th, 2023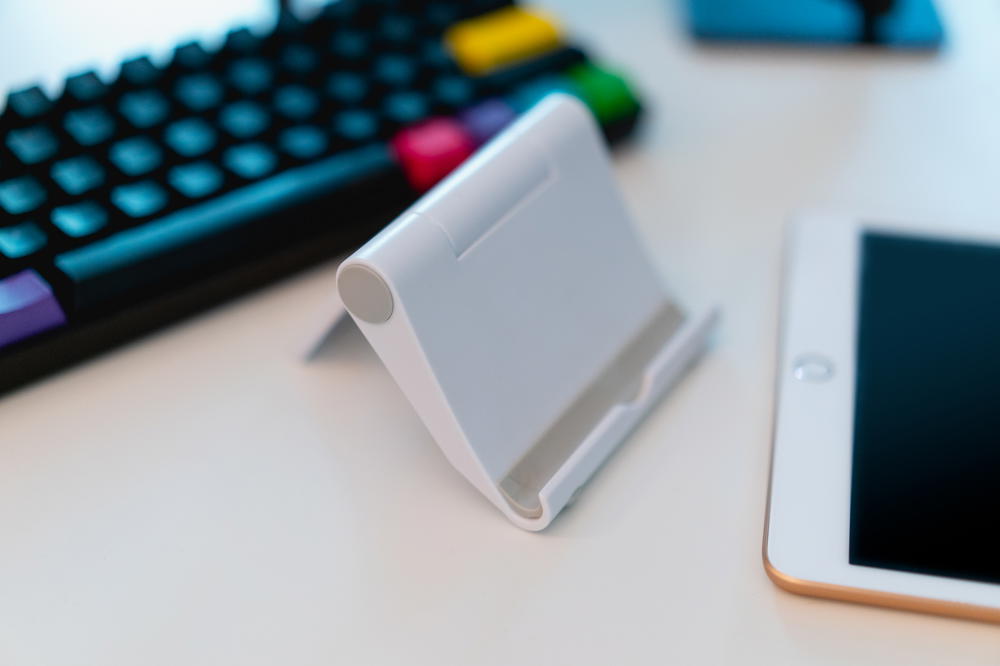 These budget friendly iPad (or tablet) stands are a perfect addition to your desk if you're looking for a way to always keep a second screen on your desk.
This article may contain affiliate links. We earn a small commissions when you purchase via those links — and it's free for you. It's only us (Becca & Dan) working on this website, so we value your support! Read our privacy policy and learn more about us.
Table of contents
Close table of contents
I like to keep my iPad and iPhone at my desk while I am working. They both make a great desk companion for things like email, social media, calendar, messages and other work-related activities I have throughout my day. Though, it's a little hard to keep focused while you have them, but I digress.
Depending on the type of work I'm doing, I'll sometimes connect my iPad to my Mac and use it as a second screen. This is especially helpful to be able to spread out a browser window or messaging apps. If you're curious, you can do this using Sidecar.
Because my iPad frequently moves around our apartment, I wanted to find some inexpensive iPad stands that we'd be able to keep on my desk, our coffee table, our dining table and on surfaces in the kitchen.
Here's a list of handy tablet and phone stands that will become part of your home office desk must-haves when you are working from home.
#1 Overall Top Pick
UGREEN Tablet Stand Holder
This is the stand that we have and it really goes a long way to improve a home office setup! It does everything that you'd want a tablet stand to do. It holds a tablet. It's lightweight, so you can pack it up if you're traveling. It doesn't take up a lot of space on your desk or wherever you want to prop up your iPad.
Lamicall Tablet Holder
Check out this stand if you're looking for something a little more permanent. You can pass your charging cable through the bottom, which can help with certain placements on your desk. You can also swivel and tilt your screen, which can be a good idea if you change your desk position often or need to tilt your viewing angle.
AmazonBasics Adjustable Tablet Holder Stand
If you're looking for something that folds up completely, check out this stand from AmazonBasics. This is ideal for travel! This tablet holder stand is good if you want to commute with your iPad and need a stand wherever you are.
Bamboo Tablet Holder
I love this stand! It's made out of bamboo, so it will look great on your desk. On the back, there is a wire organizer so you can leverage that slot for your charging cables. This would work great for any second screens, tablets or phones!
Adjustable iPad Stand, by UGREEN
This tablet stand is fairly standard and offers some nice features that will come in handy. It can fold completely flat, so if you travel often, it won't take up a lot of space in your bag. It is multi-purpose, so you can use the stand for other things, like a Nintendo Switch. It can handle weight of something like an iPad Pro, but I wouldn't put anything heavier than that on the stand.
Adjustable tablet and phone stand
This stand will work for any tablet and any phone. This is a great option if you use your phone for meetings or want a stylish way to keep a phone or a second screen propped up for visibility on your desk.
Lamicall Adjustable Tablet Stand
This stand has a bigger footprint than some of the others in this list. It adjusts to another height to provide variety in your viewing angle. It also supports passing through a charging cable, which is nice if you always want to plug this in. As an alternative placement, this stand would also look great to keep on a night table if you use a tablet or a phone for an alarm clock.
SAIJI Portable Foldable Tablet Stand
This foldable stand by SAIJI is perfect if you want a semi-stylish stand for your tablet. It supports most of the same features as the others on this list, like being able to be folded and having a pass-through for a charging cable.
AmazonBasics Multi-Angle Portable Stand
This stand from AmazonBasics is perfect if you're looking for something with a lightweight design. It had minimal material and really lightweight, weighing in at 5.82 ounces. Because it has a small footprint, you can pick up several and keep them on a few surfaces if you want to move your tablet around with you, throughout your home.
Elitehood Ipad Tripod Stand
This is our bonus iPad stand recommendation. You don't keep this holder on your desk, but you'd keep it near your desk. This is great if you have a minimalist desk for your home office workspace, but still want a tablet to use for meetings at the height of your eyes and head.
If you're a musician and you are practicing at home, you can also use something like this to help display sheet music. There are a lot of other use cases for a product with this design!
Other uses for a tablet stand around the house
Because we live in a small apartment, we've had to make a few careful decisions on what we keep in our apartment. The size of our apartment is how we found the perfect compact working space configuration for the both of us.
And because we like to own only a few things, we try and repurpose our tablet stands when we're not working at our desks. Like I mentioned above, we use a small tablet stand as a way to watch TV from the couch. When we're in the kitchen, we'll put on a recipe video or something to watch as we're cooking or doing dishes.
When we want to follow along with a cookbook, we'll use a tablet stand to help prop up the cookbook for us to reference.
We found the perfect iPad stand for this situation! The Twelve South HoverBar Duo now acts as our iPad stand for the kitchen and the living room.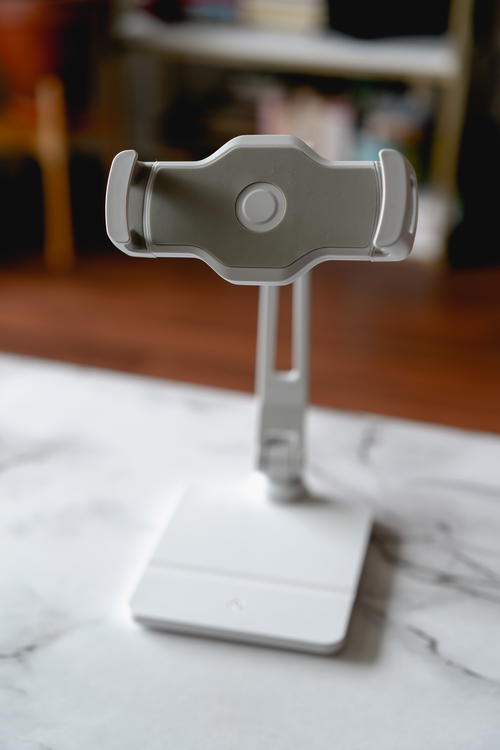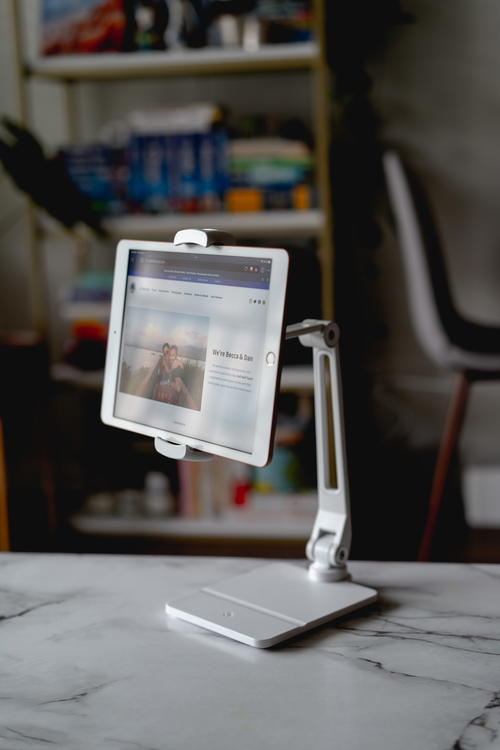 Because of its price, it didn't make the budget list. However, we've found a great deal of purpose from it. We can clamp the 2nd attachment onto our kitchen counter and use it to follow recipes as we cook.
We can then take the arm off and keep the iPad stand on our coffee table with the base and use our iPad as a TV when we want to catch up on something. We also use this method to FaceTime friends and family!
Why should you trust me?
I wanted to put together a quick round-up of the items that I would buy myself. And in fact, the UGREEN Tablet Stand Holder is what I've found to be the best, smallest and one of the cheapest stands for my iPad.
Whenever I buy something new, I want to make sure there is practicality and purpose behind it. With tablet stands, it's a no-brainer for me because we don't have a TV and use the iPad to watch Netflix and YouTube.
I've tried some of the most expensive iPad stands and I realized that the budget stands are pretty much as good as the more expensive stands. Well, that is if you can sacrifice some of the bonus features, like the adjustability.
I've had my UGREEN tablet stand for several years and I've had no problems with it.
Enjoyed our article?
Consider supporting us! We're a 2-person team (learn more about us here) and your support enables us to create quality content. Thank you!