How to Run in the Dark: 10+ Tips and 15+ Products to Try
Written by Dan
•
Updated on September 6th, 2023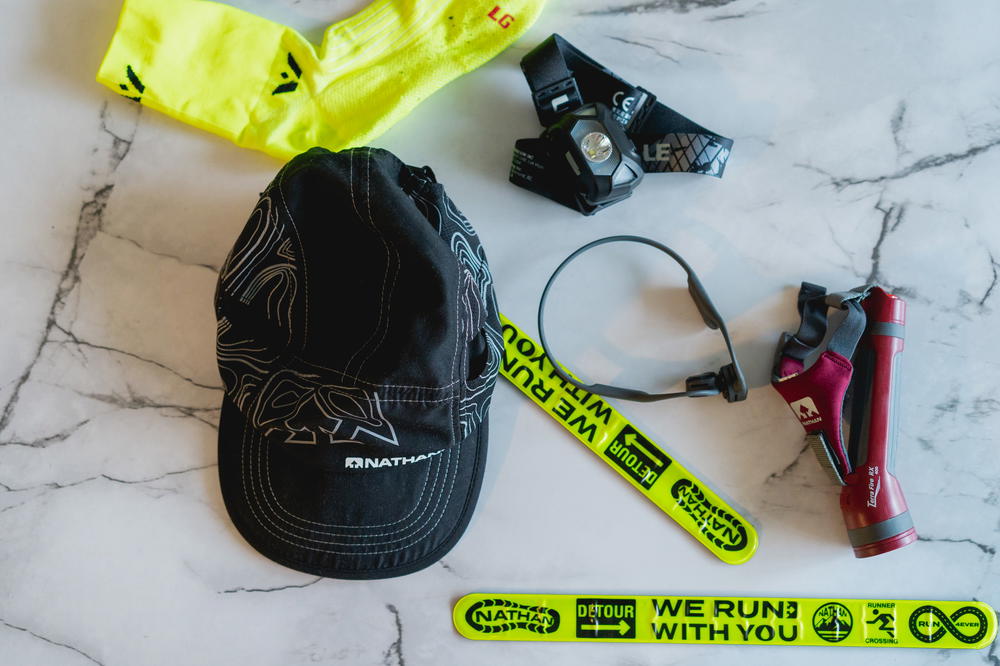 How can you safely go running in the dark, at night and in the early morning? Here are my best tips and reflective gear products for runners, so you can see and be seen.
This article may contain affiliate links. We earn a small commissions when you purchase via those links — and it's free for you. It's only us (Becca & Dan) working on this website, so we value your support! Read our privacy policy and learn more about us.
Table of contents
Close table of contents
Ever since 2020, I started running more frequently. I transitioned my workouts from going to a gym, to spending more time outside. I'm not new to running, but I sometimes go several years without regular running.
In 2021, I ran my fourth marathon and in 2022, I ran my fifth! With marathon training, you usually need to run a lot of miles. And sometimes those miles need to be at night.
I moved away from NYC into the suburbs (right outside of the city) and running here is a bit of an adjustment. Virtually anywhere in New York City is bright at all hours of the night. In the suburbs? Not so much.
When summer wraps up and fall starts approaching, the sun starts setting earlier and earlier. Once the sun sets closer to 6 pm, I start entering into the territory of running in the dark. When we're in the middle of winter, you can almost guarantee that I'll be running in the dark!
As this was an adjustment for me, I am going to share all of the things that I tried and researched to help me be seen, see better and stay safe!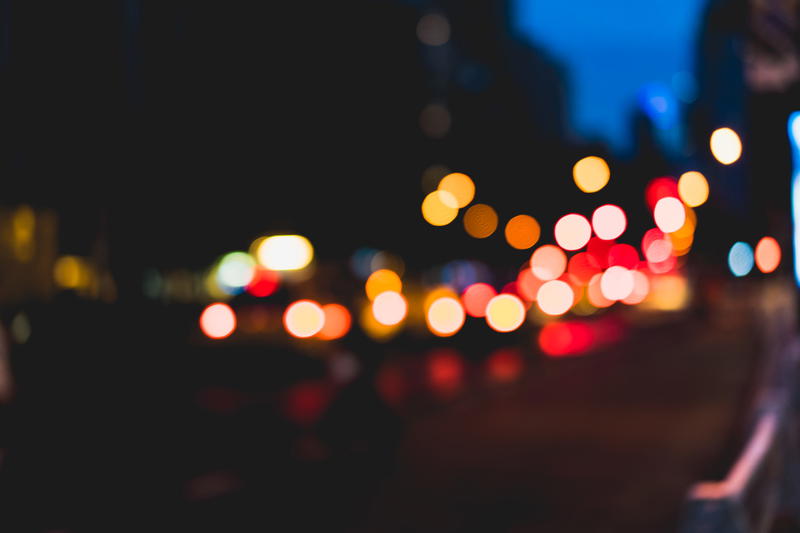 Here's a summary of everything that I tried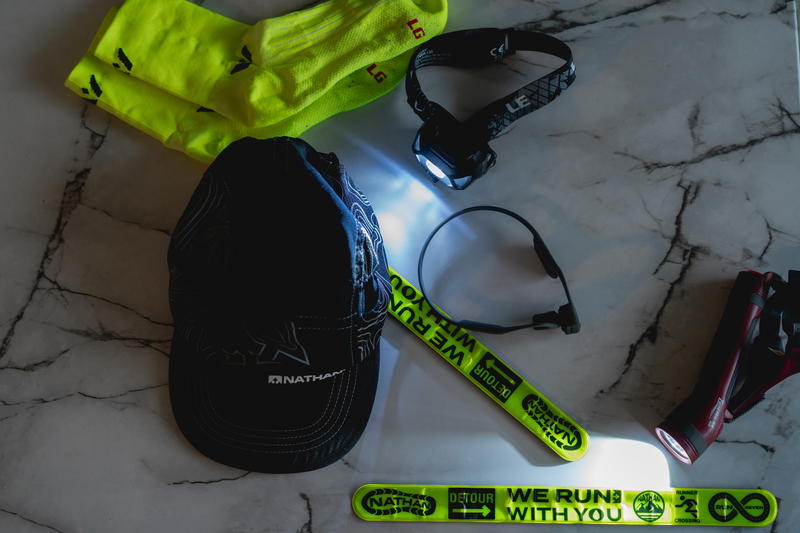 General tips for night running
Being visible is probably the number one thing that you can do to be safe when running at night. A close second is having something with you that can help you in especially dark spots on your route. Here are some more specific details about my experience running in the dark.
Be visible
In my opinion, looking visible to others is your most important objective when running outside in the dark. This is so that cars, bikes and trucks can see you and it's very important if you're running on a road where there is no sidewalk.
I will recommend a few products throughout this article that will help you achieve this goal.
Picking bright-colored clothes are a great place to start. If you run frequently enough and you are brave enough to run in the dark, you probably already have clothes you know and love.
Something you could do is sew on some of this reflective material onto the bottoms of your shorts (or pants) and shirts.
Also, anything that helps you see better will also help other people to see you! You can also try reflective slap bracelets, which are lightweight, fun and portable.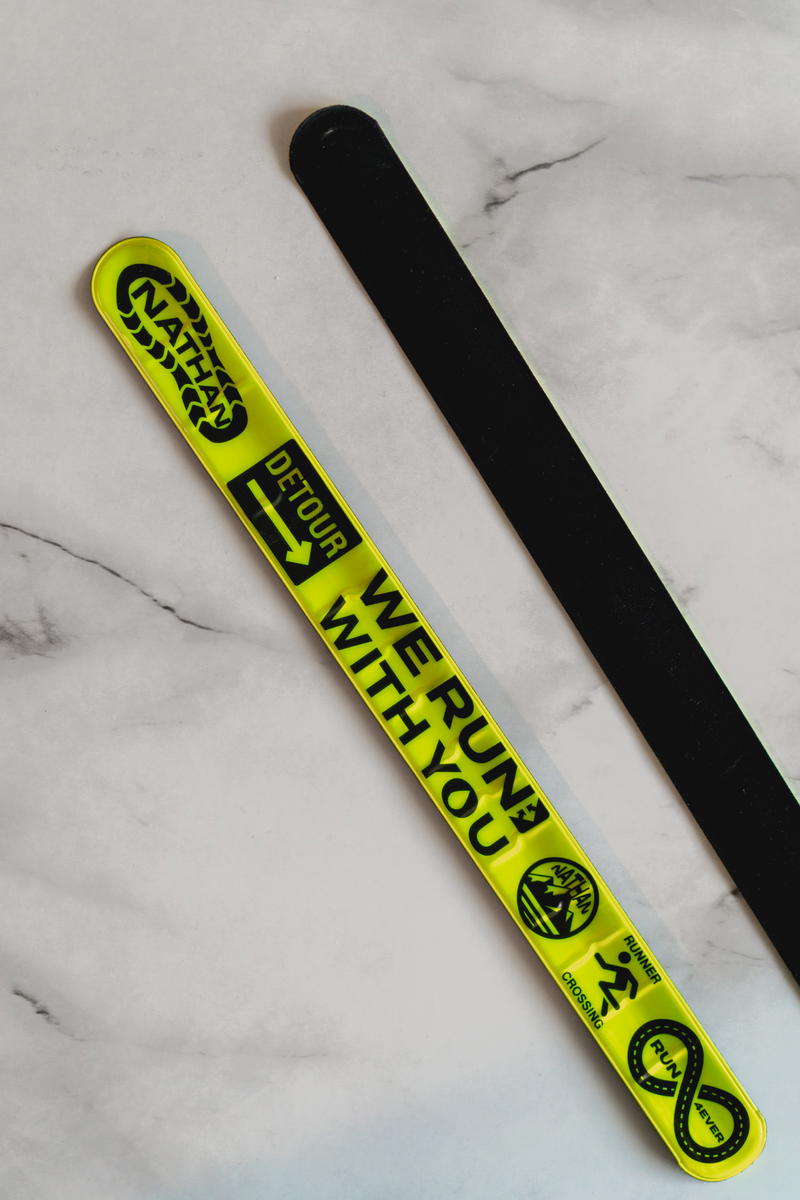 What to wear
Stay away from black running clothes if you can. Somehow, all of my running clothes are black and I don't currently own many bright colors in my running apparel.
I have a few select pieces that I save for when I run outside, like my high-visibility neon running socks.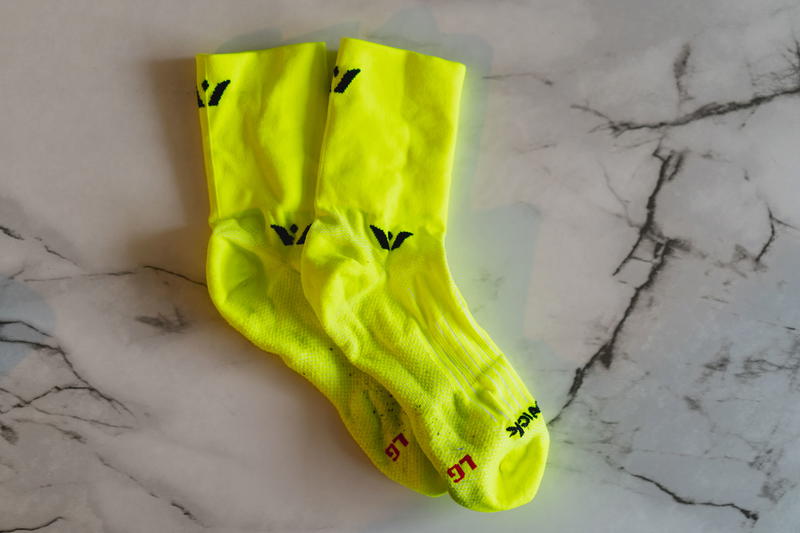 I have an older New Balance light running jacket that has huge reflective strips built in. It's so reflective!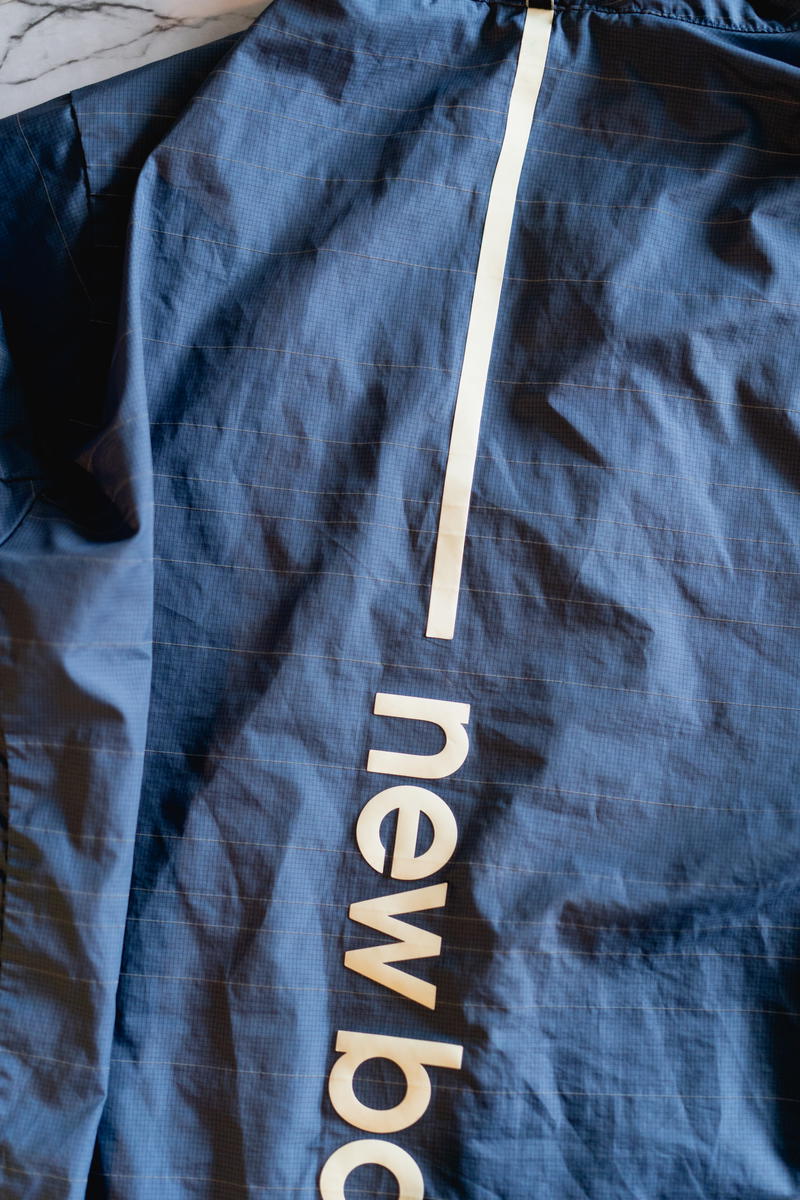 I would search REI for visibility jackets and find something that works for you. You get bonus points if it is on sale!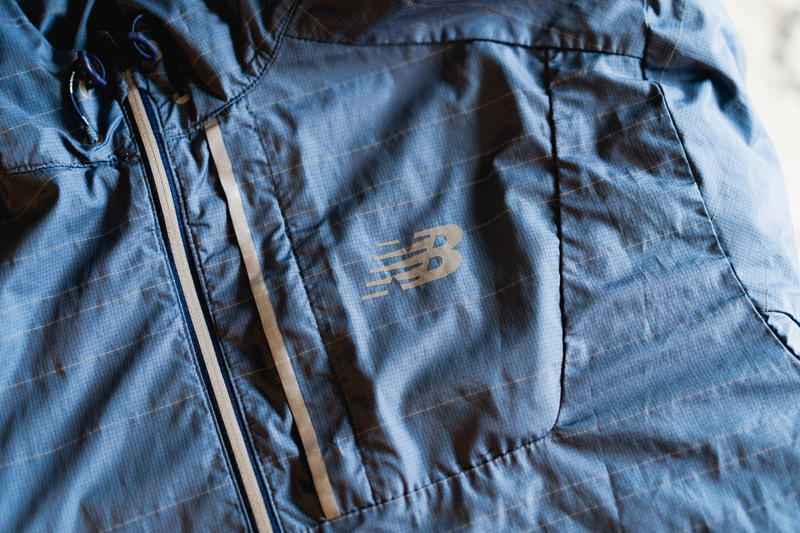 See better
On my typical running route, there are sections of the road where there are no street lights. It's pretty dangerous for everyone. Specifically when no cars are passing by, it's really hard to see anything at all!
I enjoy running with a headlamp and a handheld flashlight. I've recently tried running with each individually, and I prefer the combo.
The headlamp is great and helps to shoot a beam of light from wherever your head is. You can clip the light to a running belt, or wear it on your chest. For me and my running form, my head was the best position for the light.
I also have clip-on lights that add visibility to my body and form, in addition to the headlamp and handheld flashlight. Check out what they look like here.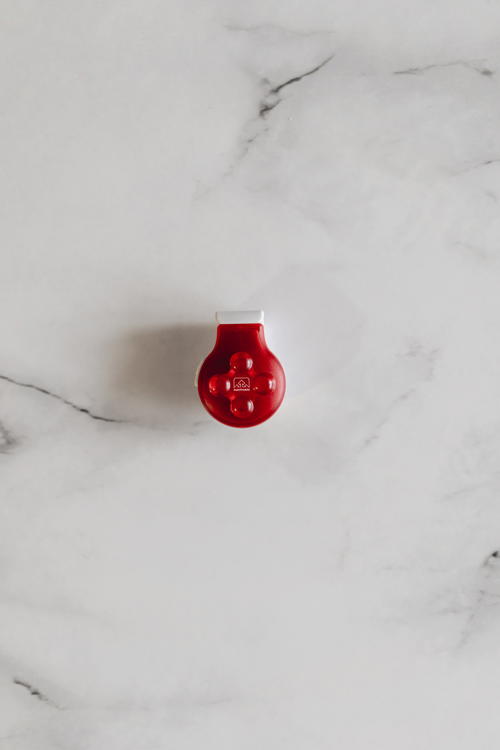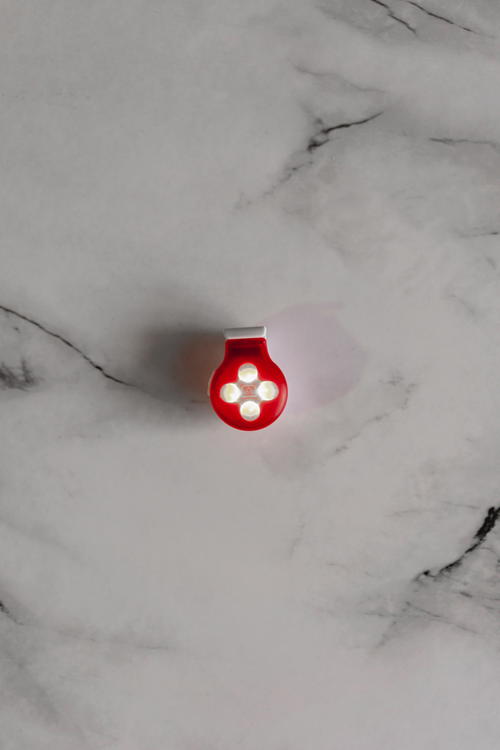 I like the flashlight in addition because it also casts a wide blast of light and it makes it really easy to see what's in front of me. I can also point the light independently of the direction that my head is pointing.
When I first started running with the headlamp, I rested the light on my hat and it significantly limited the range of the light. Wearing my hat backwards or wearing a hat without a brim is how to fix that.
I would sometimes feel dizzy or feel a tiny bit motion sick when only wearing the headlamp. I think the feeling comes from constantly looking at a moving beam of light.
The flashlight helps even out the light. Being able to control the light solved that problem for me.
Your route
If it's an option, you can choose to run in a well-lit area. There are a few parks and tracks that have all the lights on, while other activities are occurring like sports team practices.
I know that this is an option, but if I am going for more than five miles, I prefer the loop route that I have picked out in my neighborhood. I can run 20 laps around a track, but it wouldn't be my favorite thing to do.
Given that I've run my standard five-mile loop often, I know it pretty well. I know where some of the weird sidewalk cracks are. I know where the road isn't the greatest. I know some of the dark spots.
With that said, know your route because when you can't see very well, your instincts will help you a lot!
Run against traffic
As a general rule, even when it's not dark out, try and run against the traffic. This means running the opposite way of the traffic on a given side of the street.
I think it's safer to run against traffic, and allows you to know if a car isn't paying attention.
When it's dark, a car might not be paying attention or your visibility kit might not be working as you intended. Running with traffic allows you the ability to jump out of the way in an emergency, because you'll see a car coming toward you, rather than being surprised by it behind you.
I try to give people space on the sidewalk if I encounter other people walking or running in the dark. Most of the time, this is people walking their dogs.
Being able to see any cars coming is critical so that I don't jump in front of a car trying to make room for someone else.
Be extra cautious around cars
Speaking of cars, be careful around them. There are many different reasons as to why a car wouldn't be able to see you, and you don't want to be on the wrong end of the mistake.
When I cross an intersection, I always make sure the car is completely stopped before crossing in front of them. I also always look both ways when crossing the street. A car turning into a road might not see you, especially if it's really dark and the driver does not expect to see any pedestrians or runners.
If you are running on a street with driveways, be conscious of cars backing up! Visibility is limited as it is when backing up, and it's even harder to see when it's dark.
How to wear headphones
I've been running with AfterShokz headphones and I can't run with anything else. You can hear your surroundings, which is important if someone is behind you or a car is near you. I'd say these were really handy when I was running regularly in all my running spots in NYC and Brooklyn, but it is just the same in the suburbs in regard to cars and trucks.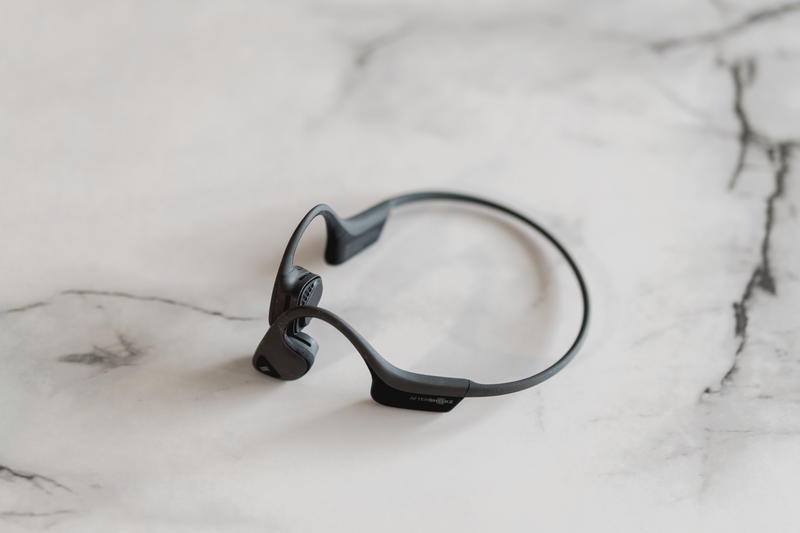 I would stay away from any type of noise-cancelling headphones or really anything that blocks your ability to be completely aware of your surroundings at night, when visibility is compromised.
Share your GPS
Sharing your current location with a friend or family member is a great idea in case you need any help. Someone can easily find you and you don't need to know your exact cross-streets.
Most running apps or watches have this feature. If you use Strava, look at their "Beacon" feature. I used this feature all this year with my wife Becca, who was able to look at the link I'd send by iMessage when starting my run. She'd be able to track me the entire time in case she wondered where I was or why I wasn't home yet. She especially appreciated this safety feature at night.
You can also share your location with someone by using your phone. Keep in mind that if you enable your location sharing, your battery will drain a bit faster than you are used to. Make sure your phone is fully charged up before you leave home for a run.
Bring your cell phone
In case of an emergency, a phone is a great thing to have. Or, if you have an Apple Watch with cellular, that can work too!
I always run with my phone in my SPIBelt. My location is shared with my safety contact, and that's how I connect and listen to podcasts.
As an alternative, you can check out the FlipBelt. They have variants that might work well for high visibility!
Your cell phone also has a flashlight. So, if you get stuck in the dark and need some additional light, you fortunately will have one in your pocket!
Avoid Halloween decorations
People seem to hang their Halloween decorations earlier and earlier these days. During September and October, some of those Halloween decorations can be rather frightening.
Having a flashlight really helps make sure what you think you saw was a decoration, and not a ghost or a human. Seriously, the decorations nowadays can spook you in the fall season.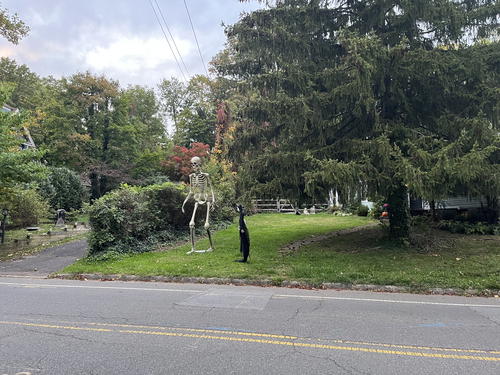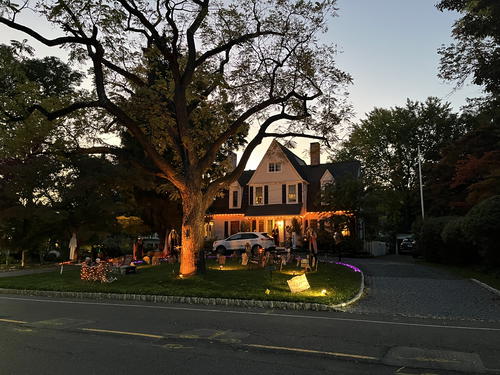 Products to try that help you run better at night
I mentioned a few products through the "tips" section of this article. I'll recap some of those products and mention some alternatives that I've seen other night runners use. I've split them up into categories to make it easier for you to browse!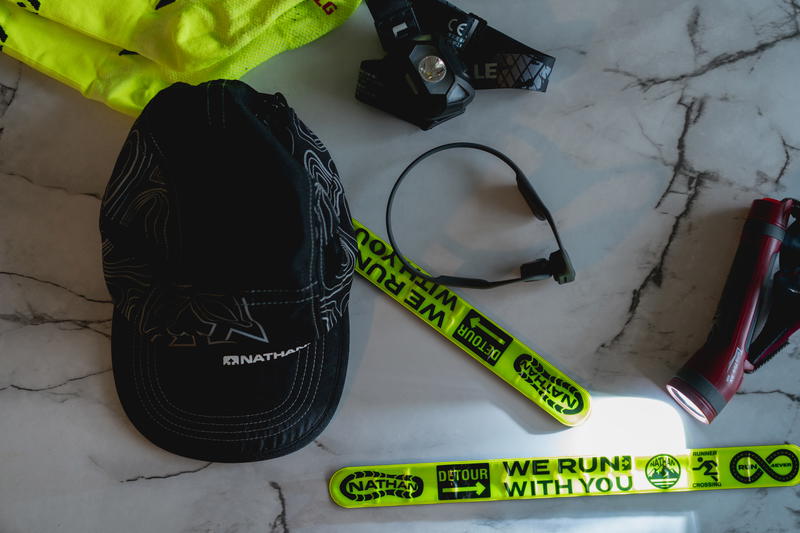 Lights
When you are shopping for lights, look for a product with a lot of lumens. The more lumens, the better you'll see.
You'll notice that some of the clip-on lights have a really low lumen and that's because they won't broadcast a big beam of light; instead, they help give a quick flash to help you be seen.
I picked these headlamps because they were affordable, rechargeable, waterproof and somewhat bright. They're not as bright as they claim, but they are good enough. And for the price, you can't beat it.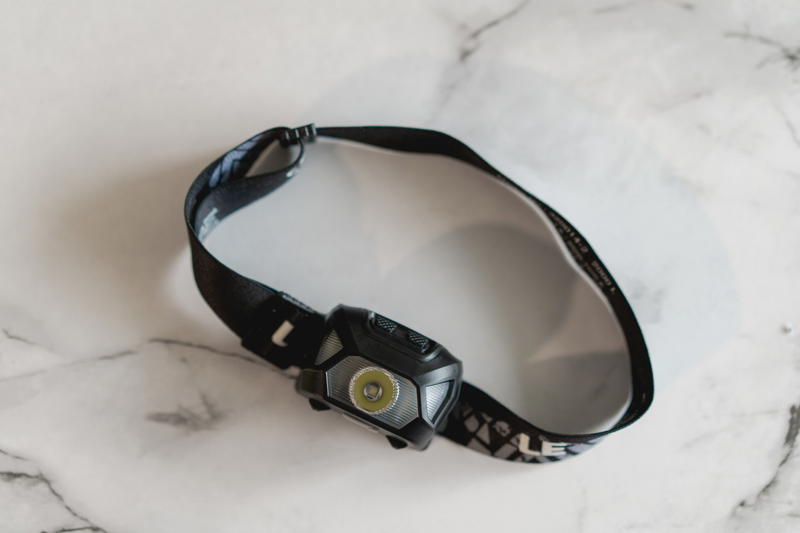 For my handheld flashlight, I picked this one from Nathan. The design is really nice because you don't hold it; rather, it sits comfortably in your hand. I would forget it's there, except that it's helping me see.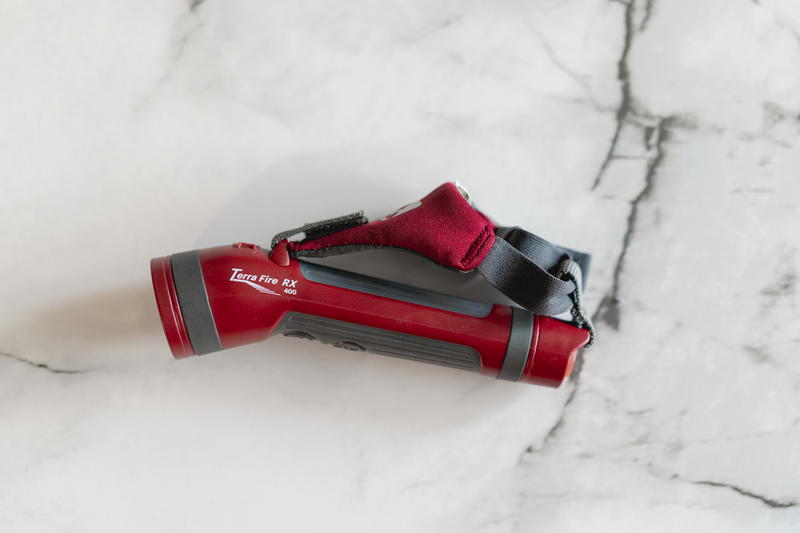 For clip-ons, I think really anything will work. I've been happy with these from Nathan, but any light you find on Amazon will be fine.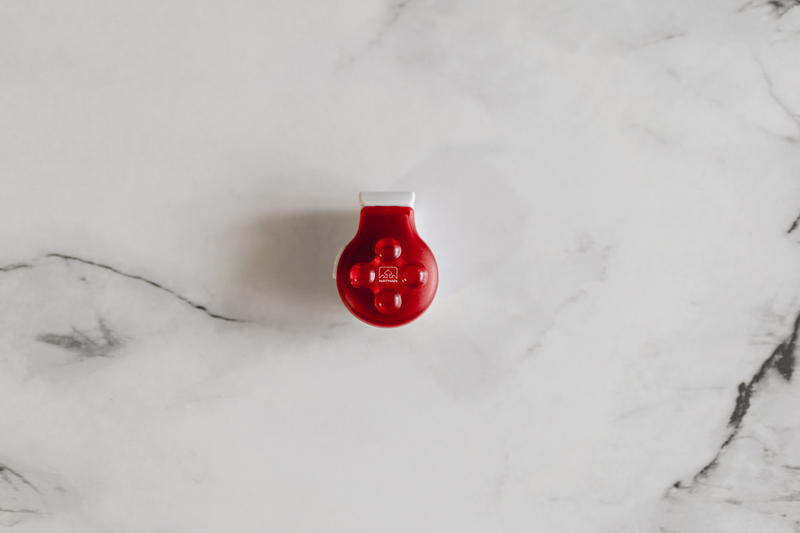 Apparel
In terms of running apparel, some of my favorite apparel is Brooks, Asics, Nathan, New Balance, On and Tracksmith.
Your local running store is a great place to start and while there, you can sample some reflective clothes that you are interested in, like these favorite nighttime running socks of mine.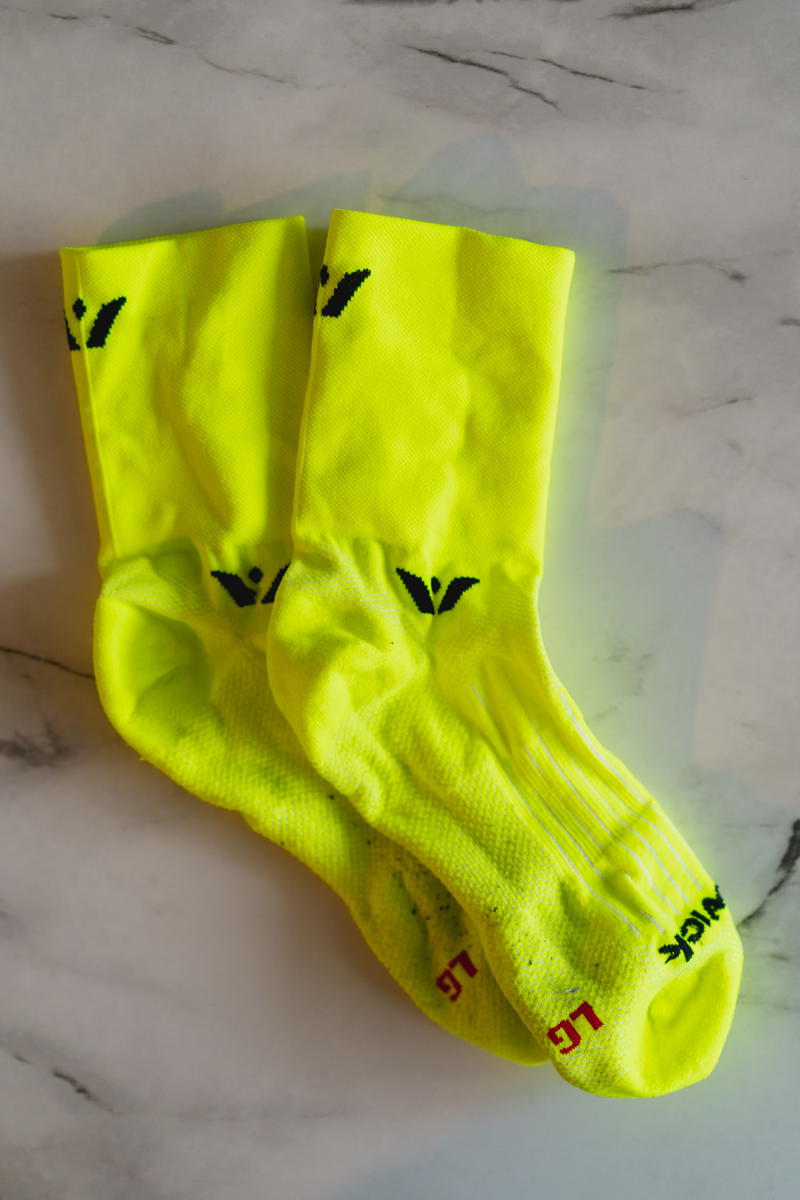 It's really hard to get a sense of how something feels to wear or how reflective it actually is without seeing it in person.
Most of the brands I mentioned above have a great selection and plenty of products for night running to try. I am really particular with apparel and sometimes my favorite shirts are shirts that I get for free from previous races.
The good thing about running in the dark is it usually means you're running at times when it's colder. You have an opportunity to have more reflective material on you if you wear long pants and long sleeves.
If you run with hats, getting a solid reflective hat will be an easy addition to your night kit. I've had good luck with the brand Headsweats and the Headsweats Reflective Race Running Hat!
Reflective things
Aside from reflective apparel, there are other things that you can try to help you stand out on the road as a night runner.
These reflective slap bracelets might work well for you. I tried them, but didn't end up like wearing them. I didn't like the feeling of them around my ankles and arms. I have these from Nathan. They are nice because they have softer interiors.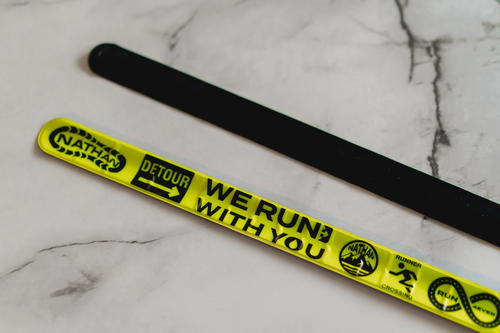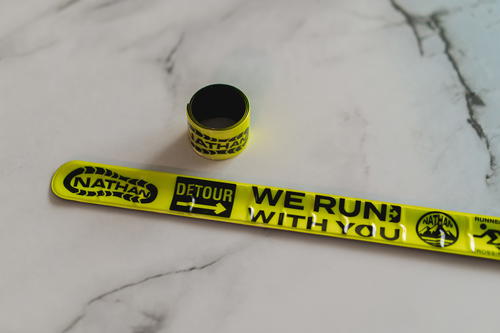 Reflective taps and sew-in material might also work great for you. I got a sample pack of tape with my Aftershokz headphones and I put them on my running shoes. I'm sure it helps a little bit!
You could consider one of these reflective vests if you wanted something simple and lightweight. This product's purpose is being a reflective vest and they tend to be popular with runners in the suburbs due to those poorly-lit streets I mentioned. You can usually find other brands on Amazon for cheaper.
Like I mentioned above, the FlipBelt might be a good combo reflective + phone carrier for you. I got one of these recently and it's been a big improvement to my visibility kit.
On their website, they have a kit that also comes with Million Mile Lights (which are amazing because they don't need batteries). I put one of the lights on my FlipBelt so people can see me from behind. It's great!
Check out the FlipBelt and check out the Million Mile Lights.
Here's a video walkthrough of the FlipBelt.
And here's a video walkthrough of the Million Mile Lights.
Kane Revive Active Recovery Shoe
I'm glad I recently was able to try the Revive activey recovery shoes from Kane Footwear, because these supportive and cushioned shoes can be worn at home like slippers for athletes, or out and about.
What's recovery footwear? It's for anyone who has just done a workout and has been putting pressure and stress on their feet. My wife Becca is a big fan of the Kane Revive shoes, and puts them on as soon as she gets in the house after a short or long walk. For runners, the need for active recovery shoes is even greater: shoes like these stimulate your bloodflow, secure your arch and instep and encourage the return of energy from the heel to the toe.
The Kane Revive recovery shoe comes in a ton of colors and the sizing generally matches that of your running shoe. I have them in white, and Becca has them in navy blue. I have nothing bad to say about them and I recommend them for any runner who feels stress in their feet once they come home and finish a run.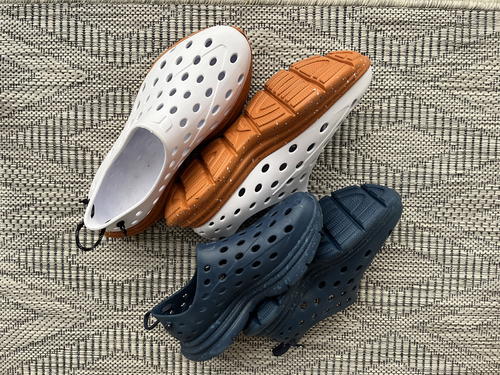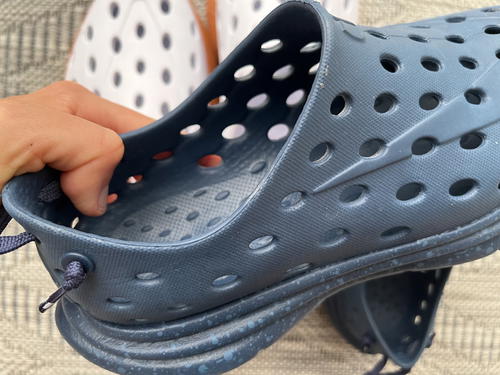 Everything else
I've seen runners running at night in these light vests. They're not for me because I don't want to deal with the tangling wires whenever I want to go on a run. They might be for you, though.
The people I see running in my neighborhood with them seem to be enjoying these vests. And, I can see them from far away, so it's a great sign that they really work.
Enjoyed our article?
Consider supporting us! We're a 2-person team (learn more about us here) and your support enables us to create quality content. Thank you!