Actionable Remote Job Interview Tips (30+ Tips)
Written by Becca
•
Updated on October 16th, 2023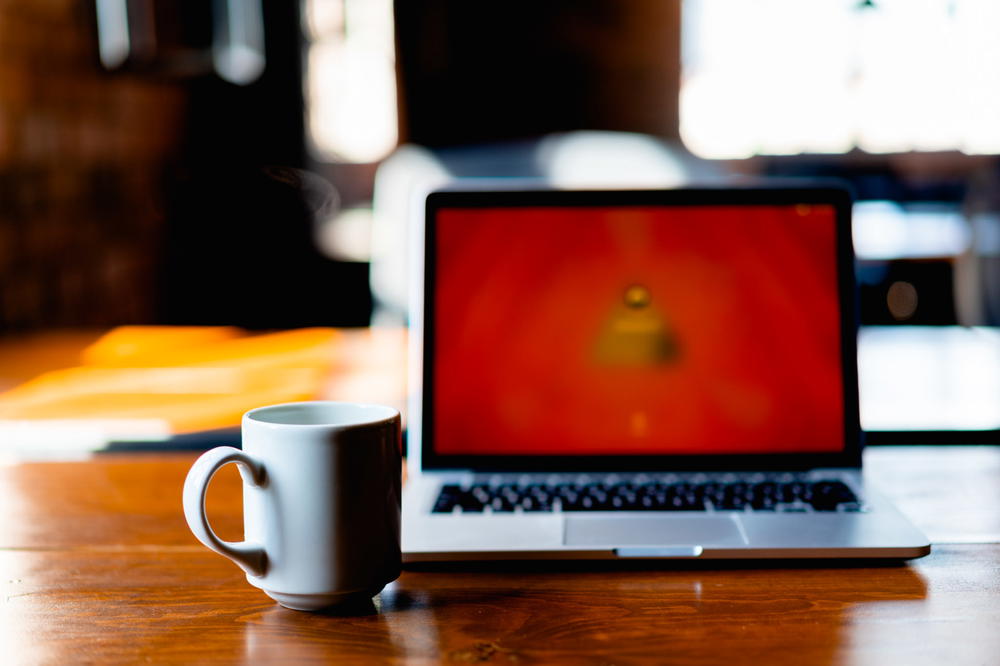 Are you preparing for a virtual interview for a remote job? Here's how to prepare for a video interview, with actionable tips for how to succeed and get hired. Good luck!
This article may contain affiliate links. We earn a small commissions when you purchase via those links — and it's free for you. It's only us (Becca & Dan) working on this website, so we value your support! Read our privacy policy and learn more about us.
Every time I think I've aced a phone screen, I know what's coming: the virtual interview. A first, I dreaded this part of every interview process. As I've interviewed more and more, I've gotten much more used to all the nuances and best practices required for acing my video interviews.
What does it take to nail a remote job interview like a pro? I've collected the tips that have gotten me the job, plus some tricks that maybe you haven't thought about yet!
Quick takeaways for my remote interview tips:
Set up your laptop and test everything from internet to headphones, well before your interview begins.
Prepare for your interview as you typically would for an in-person one, but with a focus on how you look and sound on-screen.
Stand out during your interview by knowing how you'll balance both looking at the camera and being able to take or reference notes.
Form a remote interview backup plan, for unexpected scenarios when something might go wrong.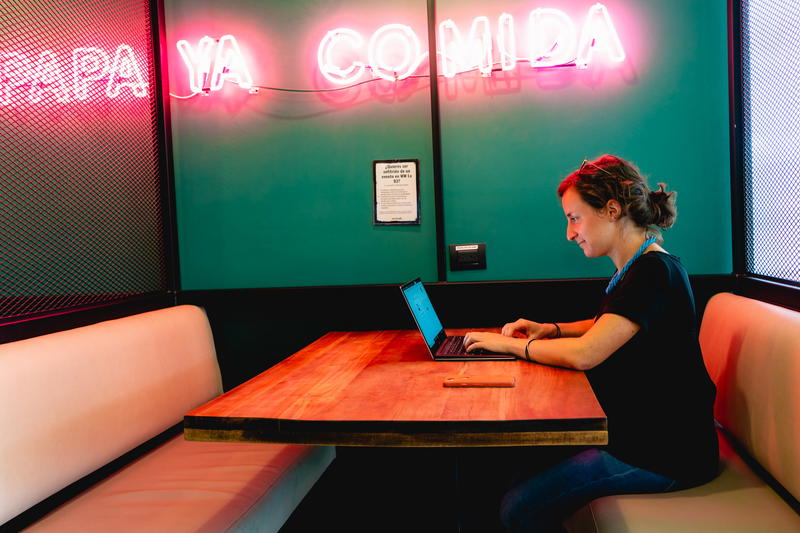 How to set up and test your tech for a remote interview
Here are my and Dan's tips and tricks from the "tech side" about preparing for a successful virtual interview. See if you've thought of these!
Run a WiFi network speed test
To determine the volume on your WiFi network, go to Fast.com and let the page load. When the speed test finishes, click on "Show More Info." Then, look at "upload speed." A tip I use is to pause applications (like Dropbox) from syncing. Additionally, I check that no one on my network is playing games, uploading files or using a lot of bandwidth.
The video that you'll be projecting during your video interview is going to be sent over through upload speed, so you want to make sure it's as fast as it can be. Otherwise, the video for the interviewer will be choppy from their end.
Make sure any service or usage within your WiFi network that's using bandwidth in the background is disabled during the interview.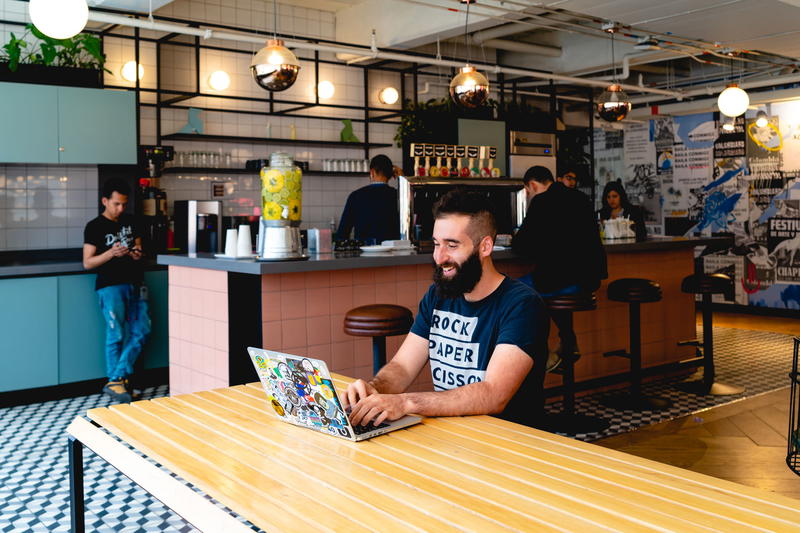 Test your remote video setup for background noise
Continue the practice run of your virtual interview by testing for background noise and how to get rid of it.
If you live in a city like NYC, you're probably pretty accustomed to loud airplanes flying overhead, and frequent ambulances or firetrucks alarms. If you have noisy heat pipes or noisy vents, try to stay clear of those. If you have a puppy, try to put him or her in a closed room where barking won't be a distraction.
If you have a baby or kids around, and you're working from home: arrange for a parent or caretaker to be watching them so that you get peace and quiet.
If using a new interview platform, test the service with a friend
During the remote job interview process, you may find out that your video interviewer would like to hold the interview over a platform you've never heard of before. This might be an online video platform like Hire Vue, which I was introduced to one time during a job search.
If your video interviewer says that the virtual interview will take place over a program that's new to you, do your research and download it for a test run, or at least learn about its specifics.
Use Krsip.ai to cancel background noise
We heard about Krisp through a professional connection, and as it turns out, Krisp.ai is an app that can cancel background noise with the click of a button and a free trial.
You can speak without background noise, and you can also listen to other participants in a call without their background noise. For more information about Krisp, check out our guide on how to remove background noise on calls.
Make sure you're connected to the 5G version of your router
Most routers have a regular network as well as a "5G version." Make sure you're connected to the 5G version for your video interview call. All you have to do is go to your WiFi settings and verify which network you are connecting to. For example, my network might be Halfhalftravelwifi, and the 5G network is Halfhalftravelwifi-5G.
Adjust Google Meet bandwidth settings
For virtual interviews being held via Google Meet, you can change your settings and change your bandwidth settings. In doing this, you can make the other end of the video lower-quality to help save and be smart about bandwidth.
Make sure wireless headphones are charging
Make sure your wireless headphones get charged the day before, or the morning before the video interview. My hack is whenever I'm not charging my iPhone, I charge my AirPods case. When I feel like the AirPods case must be done, I plug my iPhone back in, and it's a charging cycle like this.
Charge your laptop
Make sure your laptop is charged, if you've brought it into another room and away from your charger. Or, bring your charger with you and stay plugged in during the interview, which is the optimal choice.
How to prepare for a virtual interview
Preparing for a virtual interview involves a few things, from seeing how you look on-screen, to making sure your background is going to be optimal. Check out my best practices here, to have a great remote interview experience.
Find the perfect spot for sitting in to take a video call
A perfect video interview location in your home should be one without distraction. Your video interview background could be a wall, or if your space does not allow it, then having more depth is okay if you can guarantee that no family members, roommates or pets will walk by.
Remember also that having a window as a background can create some problems when it comes to a video interview backdrop. Windows will create back-lit scenarios, making your face dark. Also, if you have a window to one of your sides and not the other, it could create an awkward and distracting shadow.
I recommend drawing the curtains closed and working with a lighting setup over which you have control, or sitting in front of a window that illuminates your body.
Use a clean, neat, professional and natural video interview background
I've had a lot of luck with using virtual backgrounds for online video meetings, and meetings are quite similar to video interviews, technically speaking. I once took a video interview in a hotel room while I was on vacation, and used one of the handy minimalist (and free) virtual backgrounds from Google Meet.
I think it even looked real!
Look your best and avoid stress with my video interview background tips here:
Use the 'blur background' feature in Zoom and Google Meet (this one is continually my favorite).
Try one of the Zoom virtual backgrounds like a clean office space or wall of books.
If you want a creative idea for a video interview background, take a photo of your home office when it's super clean and neat, and then upload it as your virtual Zoom background. In case you're having a messy day, no one will know!
If you're feeling fun, you can download one of our free Zoom backgrounds that feature photos Dan took while traveling.
Take the video interview where your WiFi is strongest
As we mention in our home office setup tips, some houses will experience stronger WiFi in some rooms than in others. If you're aware of how WiFi is stronger in living room than in your home office (uh oh!), choose the room with the stronger WiFi for your video interview.
The reason for really being picky about WiFi is that video takes a lot of bandwidth and if your internet is a dab less than stellar, your interview may have lag or a delay, or you may even appear blurry.
I once had a video interview where one of the interviewers had a lag in audio and video and it was not fun for anyone.
Determine if you will use headphones or computer audio
Whether to use headphones or computer audio for a video interview is up to everyone's preference. While Dan likes taking his video meetings with these noise-canceling headphones, I prefer to use AirPods for every single remote interview.
If you can do a trial run for your video interview setup with a family member or a friend over Skype or Google Meet, you'll have a better idea of how you're most comfortable listening and speaking.
I did this once with Dan, and we had a video meeting from the bedroom to the living room! I set up a Google Meet invitation called "Test," and then we both attended, seeing how it sounded and looked. I also made sure I could do a screen share, as some final presentation interview rounds require presenting a slide deck or PowerPoint. It put me at ease because I've sometimes had issues sharing my screen if there's been a system update.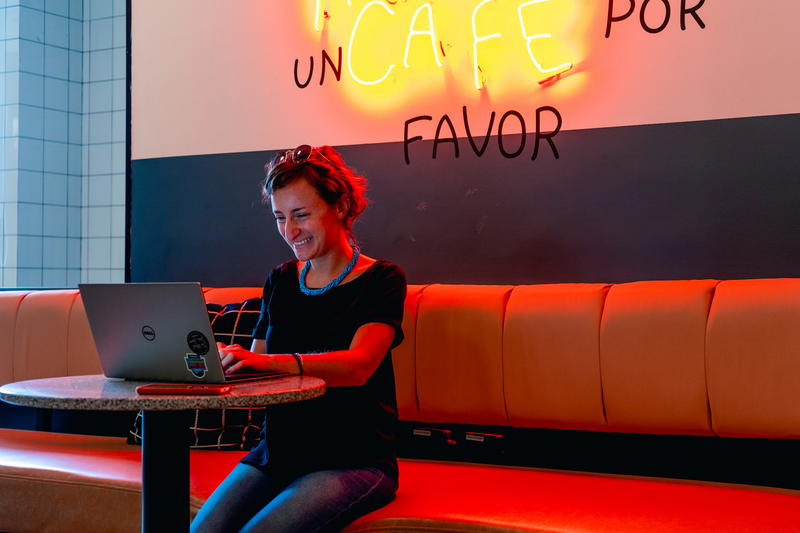 If using a Mac, you can use Photo Booth to see how you look
If you have a MacBook, you likely have the "Photo Booth" app. It can help with seeing how you look, like a mirror, without using Zoom or making a test video meeting on Google Meet.
Zoom and Google Meet will show you a preview of how you look before you join the call, but require you to actually click on the meeting URL. If you're still waiting for the meeting URL or don't want to join quite yet, opening up Photo Booth is the solution.
Sign in to the video meeting early to get a clear test run
Always be early! But don't be too early. I would recommend joining a 1:30pm meeting no earlier than 1:28pm. Sometimes people get emails when you join early and you don't want them to freak out because you're on the call 5 hours early.
Clean up your social media presence
Research is an important part of the interview process. Recruiters and hiring managers will often look at your social media presence to get a sense of who you are. We all do this and you may even do this to who is interviewing you.
If you have a social media presence, make sure that it is clean and professional. You don't want to be judged on photos that don't represent who you are and how you want to be perceived.
From experience, I went through my Facebook and archived most of my old photos and old posts. I went through my LinkedIn and made sure that I had no grammatical errors and that my profile was up-to-date.
Don't get me wrong, please have a personal live with interests and hobbies. But make sure that you are comfortable with what you are sharing online.
Get your name out there (or scrub the bad stuff out!)
When you apply for jobs, recruiters and interviewers usually Google you. If you have a common name like John Smith, you'll get lost in Google spam and LinkedIn pages.
If you have more of a unique name, well, anything about you will likely show up. I mean anything.
Make sure to Google yourself and make sure that the results are what you expect. Go deep in the Google pages and see if anything old or embarrassing exists that you could remove from the Internet.
A great way to actually get your name out there is to write guest posts for a relevant blog in your field, host events, speak at local meetups or have a blog of your own. These are the kinds of things that will get pushed to the relevant parts of what shows up in Google. It will be more relevant than a community project you coordinated back in college that comes up in Google because the school paper wrote a write-up on it.
Helpful Tip
I once interviewed with the CEO of the company I was interviewing at, and not only had he perused my LinkedIn in detail, but he found this website and started reading all about me!
Dan has a really common first and last name, and when Dan was pursuing more of his photography business, he was writing guest blog posts for publications like KEH, and hosting events on Unsplash. This made it slightly easier to Google Dan's name and ensure that the results would be more about him in a professional way.
Add any certifications to your LinkedIn
If you have any professional certifications, make sure that they are on your LinkedIn and resume. If you have a website, you can list them there, too.
Some certifications are more of a thing that qualifies you for something specific. Other certifications are relevant for the types of work that you can expect to be doing. For example, I just added a LinkedIn "badge" from completing my Morning Brew Business Essentials Accelerator online program.
When you talk about certain certifications you have, you can connect the to the specific types of responsibilities that are listed on the job description for which you are interviewing. Use these helpful interview questions to go more in-depth with your interviewer.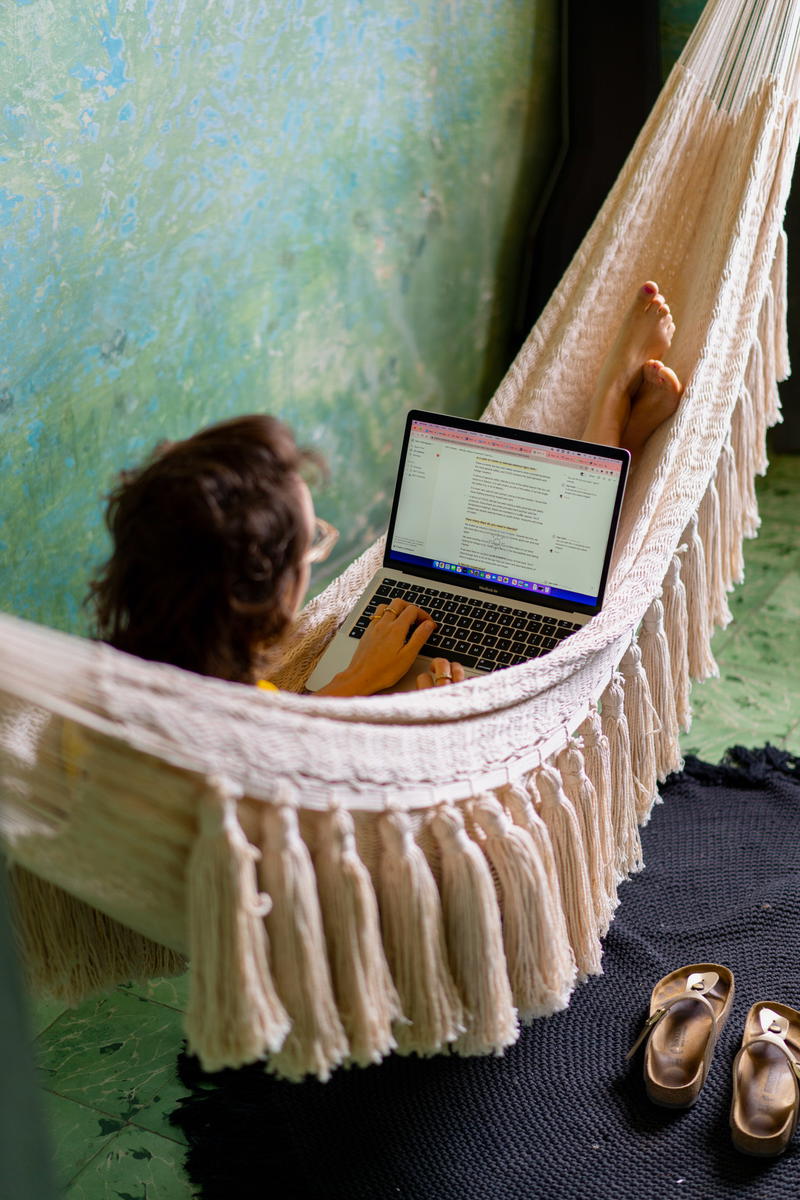 Here are a few examples:
"Because I have XYZ certification, I am more than qualified to take on this type of engineering work without hesitation."
"I feel that now is a great time to mention that I just finished an eight-week intensive Business Leadership course, which has prepared me to make more strategic decisions in senior-level environments."
When it comes to video interview setup, sign in early for a few reasons:
See how you look (hair, outfit, lighting).
Test your sound (make sure to decrease echoes in the room).
See how your video interview background is working out.
Make sure you have your password ready for Zoom, Google Meet or another video platform, and store that password safely in a password organizer like 1Password.
How to stand out during a remote interview
It's rare to be offered an in-person interview (except in select professions) these days. The Economic Times states that 90% of companies are interviewing virtually, and Forbes has called the virtual interview the "new resume". I receive invitations for remote video interviews as the "first round," even if a job is hybrid in an office and in my city.
If I'm interviewing for a remote role, or if the company works in distributed teams, I need to impress the interviewer and stand out. I have to head confidently into an interview to show my worth and value.
To stay positive, think about it this way: a video interview is a great way to stay connected if you're already working remotely. It provides a nice way to let your personality shine. Here's how to be the stand-out candidate.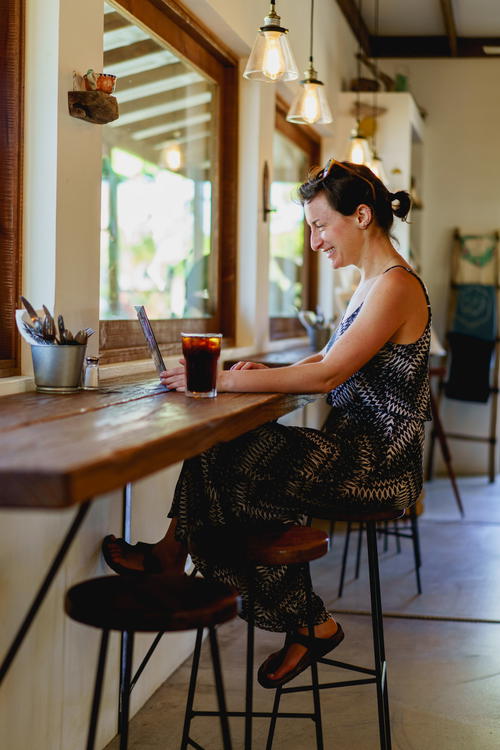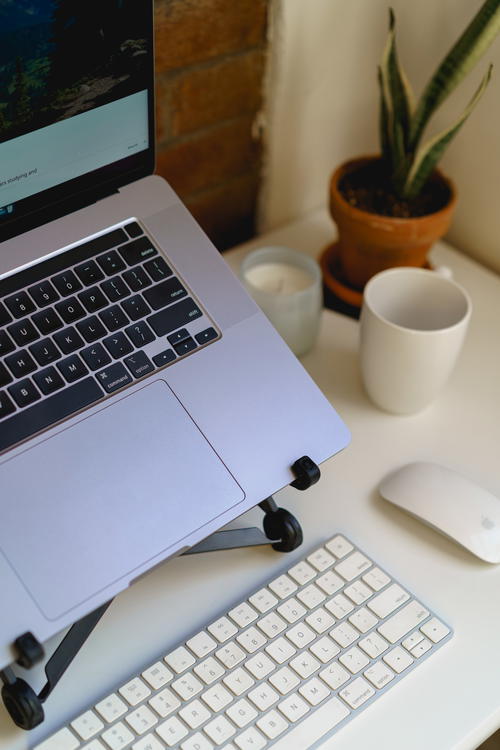 Research your interviewer
I believe that all job applicants should research their interviewers. If you've been speaking with a recruiter up until this point, the recruiter will likely provide the name of your remote video interviewer, and his or her LinkedIn.
You can also Google this person to find out more about their professional accomplishments, specialties, former places of work, and so on. I have found that lately, recruiters have not directly provided me with the interviewer's LinkedIn profile, so I Google "Name" + "Company" to find that beforehand.
Research the company
You should know what the company does. And, you should have a good idea about the details, expectations and requirements of the role for which you are interviewing.
Having good knowledge of these things helps you reference relevant past experience, especially in a way such that you can frame your own achievements.
Sometimes in a phone screen, a recruiter will ask, "In your own words, what do you think our company does?" Or, "Could you tell me what you've learned so far about our company?"
They also might directly ask, "Why are you interested in our company?" and that's a time when you have to know what the company does, and find a way to make it seem like you're highly interested (hopefully you are, in fact, interested).
Answer confidently, and it's even OK to have the company website open right in front of you!
Smile and be confident
Make a mental note to smile, and look genuinely interested and engaging. A smile is something that can shine through the computer screen if you choose to act confident, grateful and happy to be speaking with your interviewer(s).
According to the NIH, smiles make people attractive and trustworthy, so why not start off with a relaxed smile, whether you're excited, nervous, anxious or eager?
Remember that even if you're getting ready to quit your job, avoid negative talk about your current employment. Confidently discuss difficult scenarios through a positive lens, like what you learned from a tough situation.
Have questions about the role handy
It's okay to have things written down on a trusty notepad or notebook. I do it all the time during remote interviews. It's also ideal to have your best interview questions in a Google doc that you toggle into within your screens.
Having a notebook with handwritten notes allows you to continue giving your interviewer attention while you reference the topics you'd like to bring up. If you're "digital" like I am, I suggest having the questions in a Google doc that I reference naturally.
Carefully toggle into a separate screen
I learned this the hard way: if you plan to have some other type of information available for reference, you have to be smart about pulling it up while your interview is live.
Put your interview into the minimized thumbnail format (unless it's in a full-screen software) while it's in progress, to avoid total distraction Remember that you want to impress the interviewer and give him or her your full attention.
Take notes, whether on a Google doc in a tab, or on paper
I always take notes in a Google doc in a separate tab during interviews. One of my handiest moves is to minimize an interview into the Zoom thumbnail or the smallest-possible window of Google Meet. I slide these windows to the top of my screen, closest to my laptop camera, so that I'm looking at the interviewer as closely as possible in the camera. I hope you can manage this!
In a bottom window that I stretch to fill the rest of the screen, I open a fresh Google doc, where I take notes about the role. I also write down the questions I'm asked, so that I don't forget what I'm talking about while answering.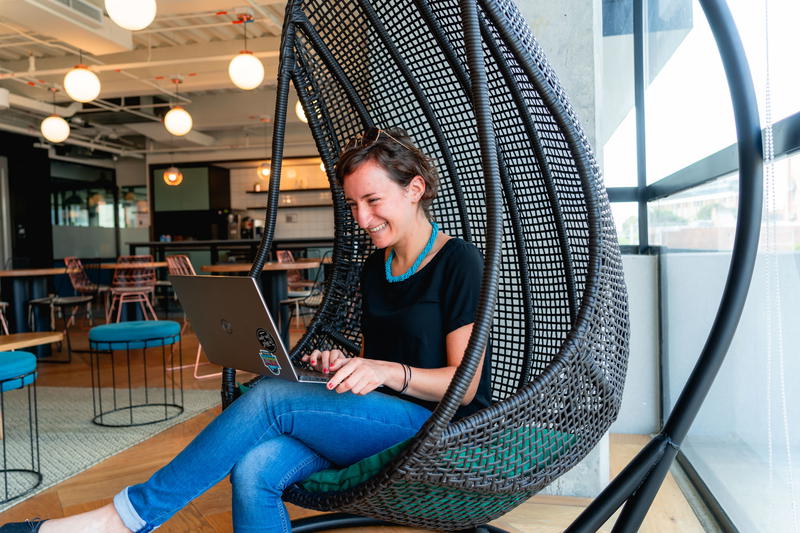 If you want to get ahead of the questions someone might ask you, consider uploading your resume to PDF.ai. You'll get an AI-generated list of questions someone might ask you about your professional experience. Neat!
Pause and listen closely (avoid interrupting)
If you or your interviewer are hard to hear, it's easier and easier to interrupt each other. It's especially possible if there's a delay. This has been a challenge for me; it's like, when do I say, "Excuse me, I'm having trouble hearing you?"
Pausing can be painful, as can delays or echoes (we'll get into how to avoid bad connections later). Try to remember that interrupting can be worse. Stay patient.
Thank your interviewer immediately as you begin, and at the end
Just as I would do in a regular interview, I immediately thank my interviewer for his/her/their time as we begin. Keep in mind that 'thank you' should be your last words before signing off the video interview.
I also like to end with, "Thanks again for your time," and, "Have a great rest of your day!" (or if it's Friday, "Have a great weekend!"). It's personal and friendly.
How to make a remote interview backup plan
Because the stakes are high and you don't want to get anxious about your setup, check out my ideas for having a backup plan for peace of mind!
Create a Whereby Room as a "Plan B"
Have you heard of Whereby? As an alternative to having a phone call if your virtual interview setup backfires, you can create a Whereby room that your interviewer can hop into. No one needs to download anything, for it to work.
Have a backup pair of headphones
In case your headphones die or decide not to work, have a backup pair of headphones nearby! This has worked for me when I've counted on my AirPods to work, and then they decide to "act up." I suggest having an alternate pair like noise-cancelling headphones right nearby to use, in this case.
Have an internet backup plan
Do you have finicky home WiFi like we do? If you are friendly with a neighbor and can see their router in your available networks, politely ask for their password before the interview. Say you're looking for a backup network to have in case yours fails during your upcoming interview.
You could also start a tether connection or hotspot from your phone, and use your cellular connection, if your home WiFi goes out.
Have a phone call as a backup plan
If internet speed for the video interview is problematic, you can start with the video-enabled mode. Start with an introduction, and say ahead of time that you may be experiencing connectivity issues, but you wanted to be able to meet face-to-face first.
Tell your interviewer that you'll continue the interview with video so that the audio is as seamless as possible.
Use the meeting call-in number
If Google Meet is problematic, have a backup plan like a call-in number through a phone, or a Skype or Zoom account.
It also helps to be able to foresee a need for this. If the recruiter who sets up your video interview does not provide a backup phone number, you can request one for the call!
Keep your phone fully charged
If there are extreme technical difficulties with your or the interviewer's video, you might need to resort to a phone call for the interview. For this reason, I keep my phone fully charged (and on silent) close to my laptop.
What to do after a remote interview
Phew, the remote interview is over! Here's what I'd do after crushing my virtual interview.
Thank your interviewer
Just like with a regular interview, send an email thank-you note within 24 hours of the interview itself. I guarantee your interviewer will be looking out for it, just to make sure you took a moment to send your follow-up.
Assess what went right (and what didn't)
Did your headphones work? Did the internet stay fast, even with running a video interview for more than an hour? Check the boxes of what aspects of the remote interview went nicely, and which ones need improvement for a subsequent future interview.
Why trust me about remote interview tips?
My last few jobs have been remote, even though I was living in NYC and the companies had offices in NYC. It's just faster to have all interviews be virtual!
I've "gotten the job" through several rounds of video interviews, with many companies. During my last job search, I interviewed with 14 companies and every single one had a remote interview process.
I've had my fair share of remote interview challenges, too, which is why I think a guide like this one is so helpful for professionals.
Enjoyed our article?
Consider supporting us! We're a 2-person team (learn more about us here) and your support enables us to create quality content. Thank you!