FlexiSpot Comhar All-in-One Standing Desk Review: Worth It?
Written by Dan
•
Updated on September 14th, 2023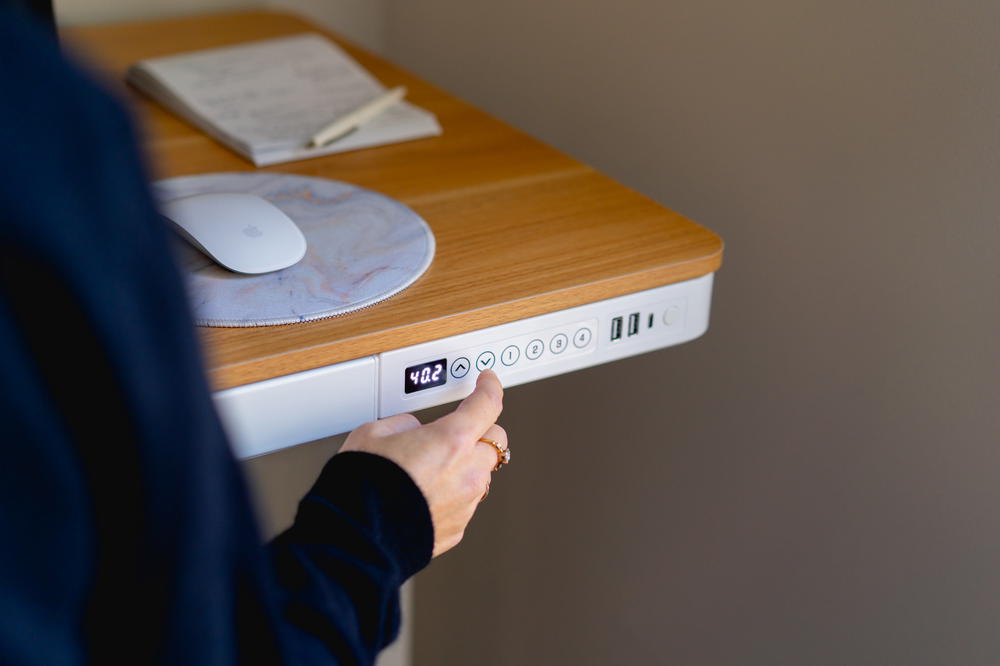 In this review of the FlexiSpot Comhar All-in-One standing desk, I discuss the features and size of this desk that make it one of the best worthy investments for a desk in your home office.
This article may contain affiliate links. We earn a small commissions when you purchase via those links — and it's free for you. It's only us (Becca & Dan) working on this website, so we value your support! Read our privacy policy and learn more about us.
Table of contents
Close table of contents
I finally got into the world of standing desks with my first standing desk from FlexiSpot. Since working from home full-time, I've had two regular home office desks from Wayfair, and neither of them have had standing capabilities.
Seeing all the benefits of having a standing desk, and finally having the space for one, I was open to the idea.
The FlexiSpot Comhar All-in-One Standing Desk made its way into my home office recently and has become a part of my remote work lifestyle!
In this review, I'll cover what makes the FlexiSpot Comhar Standing Desk one of the best standing desk options on the market for your home office.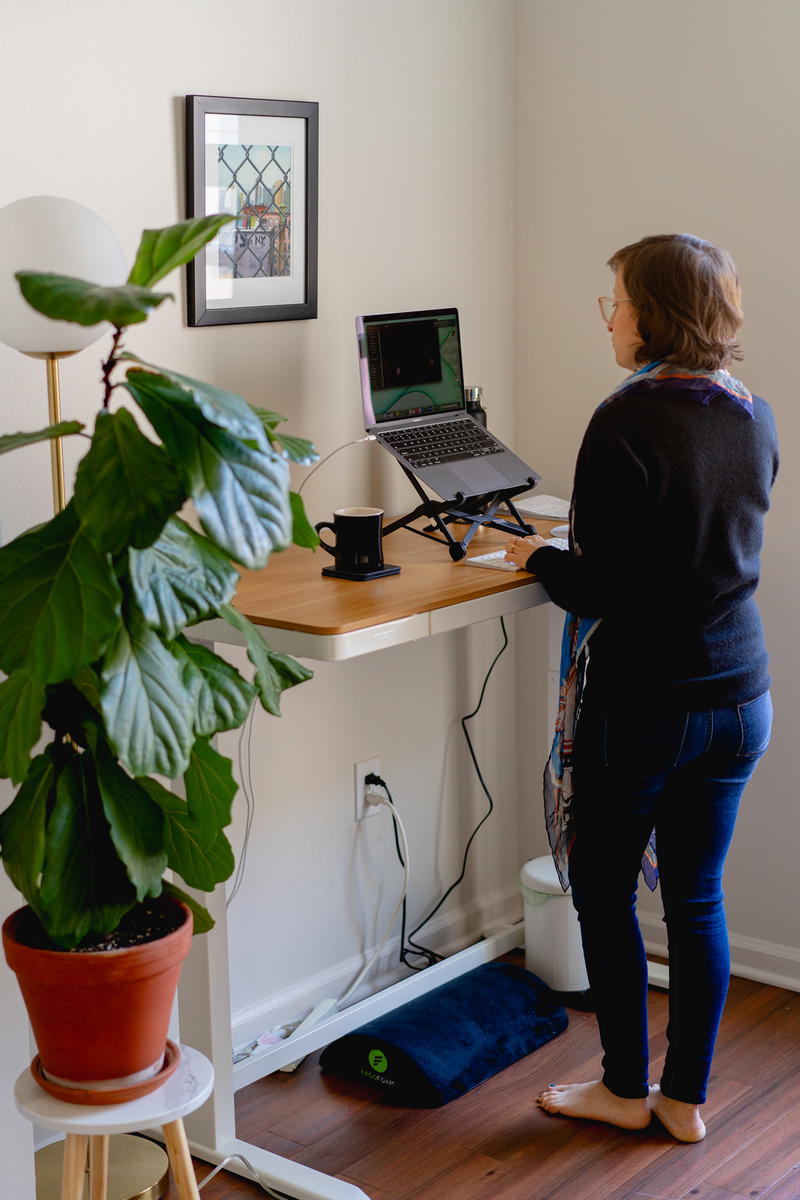 Note: FlexiSpot has provided me with the Comhar Standing Desk in order to write this review; however, all photos and opinions are exclusively mine and Dan's.
About FlexiSpot as a standing desk brand
FlexiSpot is a company that makes standing desks and home office products. In addition to standing desks, they make "desk converters" (the type of apparatus you can have on a regular desk that goes up and down), desk chairs (even a desk bike), adjustable beds and even bedroom furniture.
As for the FlexiSpot standing desks, this is where we have the most experience: me, with my Comhar standing desk from FlexiSpot, and Dan has the FlexiSpot E7 Standing Desk.
FlexiSpot makes a lot of products for home offices, and for the moment, we're very happy with the quality the brand provides!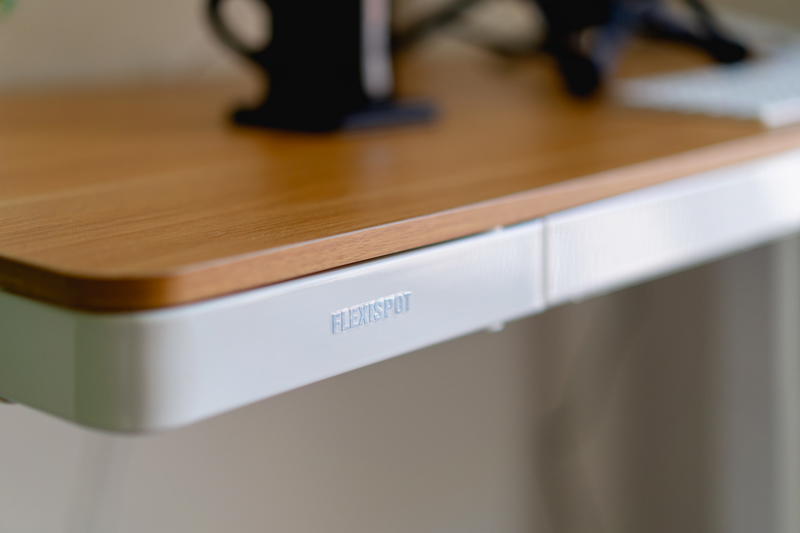 Summary of the FlexiSpot Comhar Standing Desk
This is a standing desk in the middle of the price ranges of what you could expect for a standing desk these days.
For the price, we think it's exceptional quality due to how it's sturdy, strong and pretty heavy. It's not a flimsy or lightweight desk that you can push with your foot. This desk pretty much doesn't move once you set it up in its spot!
I think the features in this desk are varied and helpful. These include the USB charging station, child lock, preset adjustments, electronic transitioning and desk drawer.
The Comhar desk looks both professional and homey. I think it has been one of the biggest home office improvements to date for me.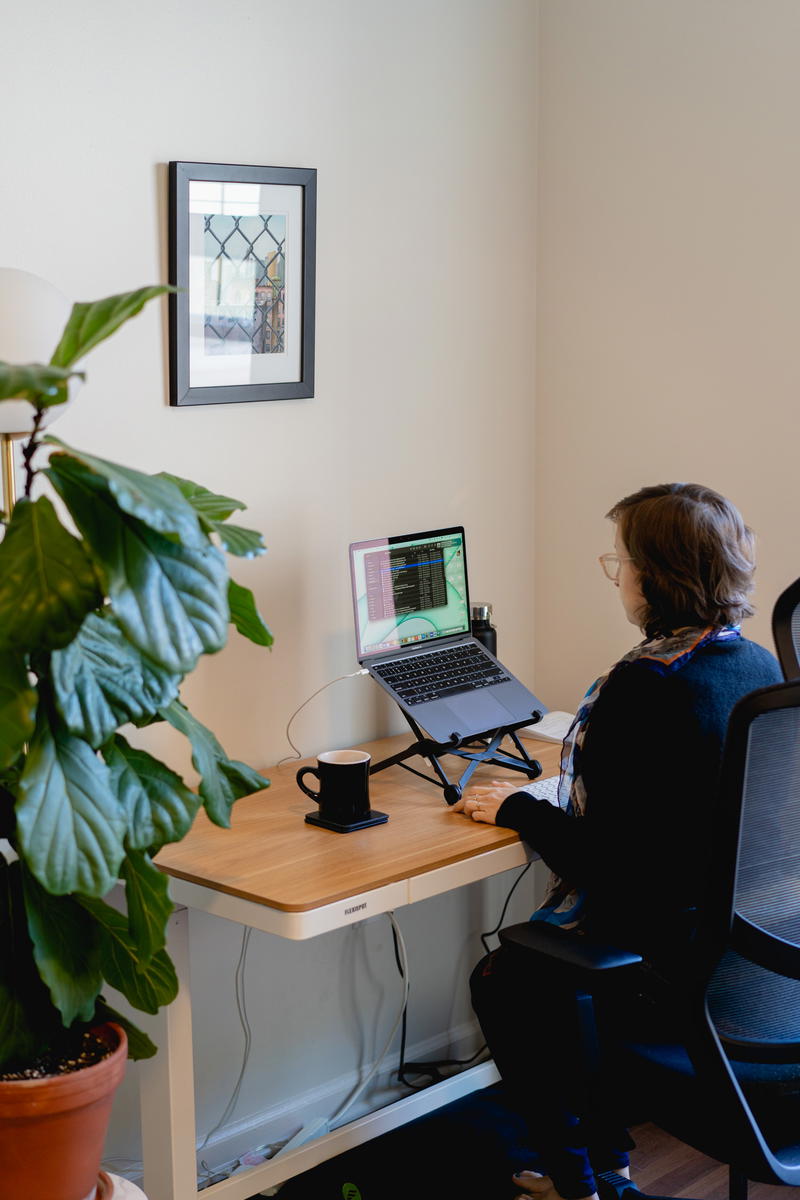 Ordering the Comhar All-in-One Standing Desk
Once you get to the FlexiSpot website, choose Standing Desks, and head to the Comhar desk page.
Here, you'll see the price for this desk, along with reviews and questions and answers from past customers. You can explore all of it.
For choosing your desk, it's pretty simple. There's a choice of three colors: Maple, White and Black. I chose Maple, for reasons I'll get into below. I like how it looks in my space.
Next in the ordering process is the choice of having casters or not. You might want casters if you're ordering a desk for a room that has its layout changed often, like a small shared office with multiple people.
Do you need an ergonomic chair, or a standing mat? These are some add-on options that you can easily choose before you check out and purchase. As I'll mention below, Dan got the FlexiSpot Soutien Ergonomic Office Chair and I've been using it as a lumbar support office desk chair in the past few months.
Before committing to buy the Comhar desk, you can scroll through the infographics in the product images. Most of them are rendered images of the desk in various virtual home office environments, but the graphics with text are helpful. The graphic with the 'spacious desk drawer' spells out the dimensions of the drawer, and that may be helpful to see.
Once you head to check out, you'll see that shipping is free (yay). You can proceed to enter your shipping address, and it's pretty much that easy to get the desk delivered to your house in a few days.
Installation & building the FlexiSpot Comhar Desk (was it easy?)
Dan built this desk for me, so let's quickly let Dan in for a mini guest appearance for this portion of the article.
The desk comes in one box, which is a little different than the E7 Pro Plus standing desk, that comes in two boxes.
The box is very heavy and you will likely need someone else to help you bring it up and down the stairs or into your house or apartment.
For me, I carried it by myself, but "carried" probably wasn't the right word.
We have an elevator in our apartment building and I was able to slide the desk right into the elevator after exiting the package room. Once I got out of the elevator, I slid the box down the long hallways in our apartment complex.
Once you open the box, you'll notice everything is very neat and organized. The instructions should be right on top. You'll need them!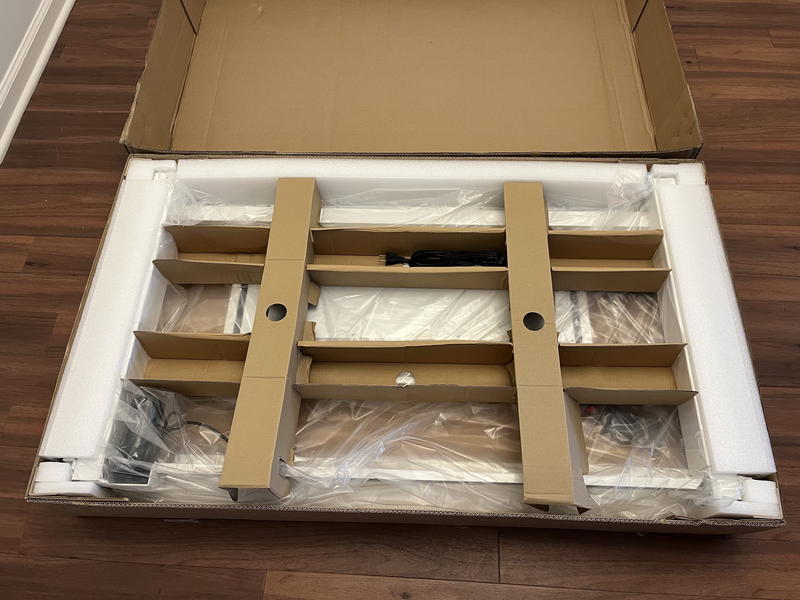 I took everything out of the box and got myself organized, so that the assembly would go smoothly. I read a few pages of the instructions to make sure I wasn't missing any parts and knew what I was getting myself into.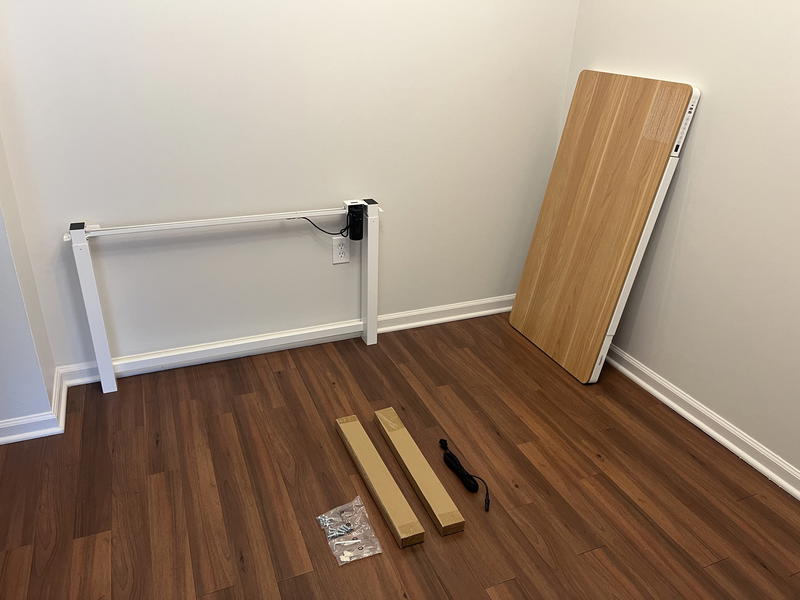 FlexiSpot thought through some of the packaging details and took special care to try package some of the moving compartments so that they wouldn't move during shipping (or sliding through long hallways).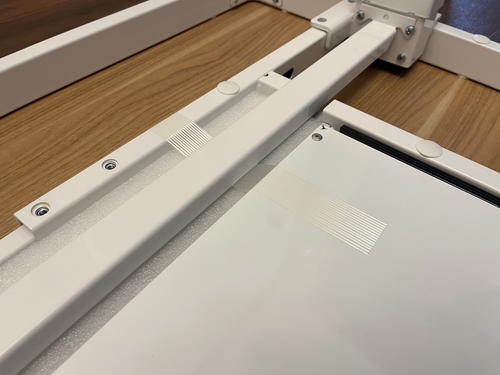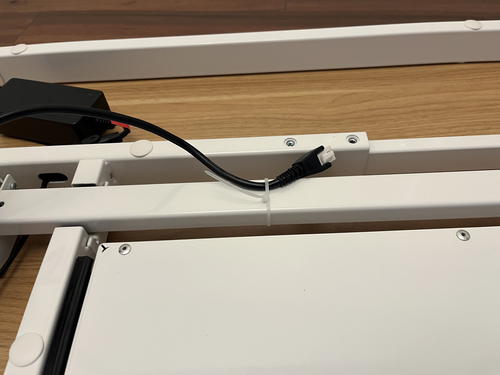 After admiring the packaging and its excellent organization, the desk comes together rather quickly. You need to place the desk surface down, and then screw the legs into place.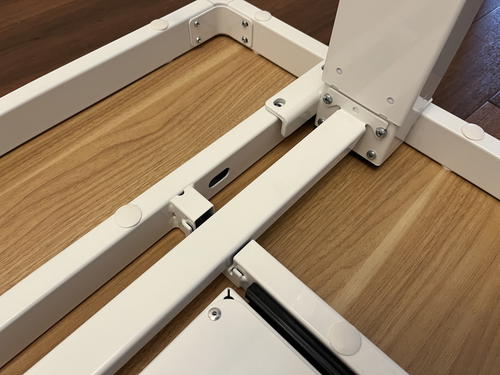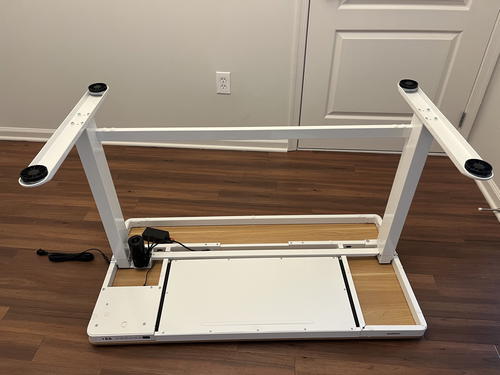 Once the legs are attached to the surface, you will need to connect the motor to the control box.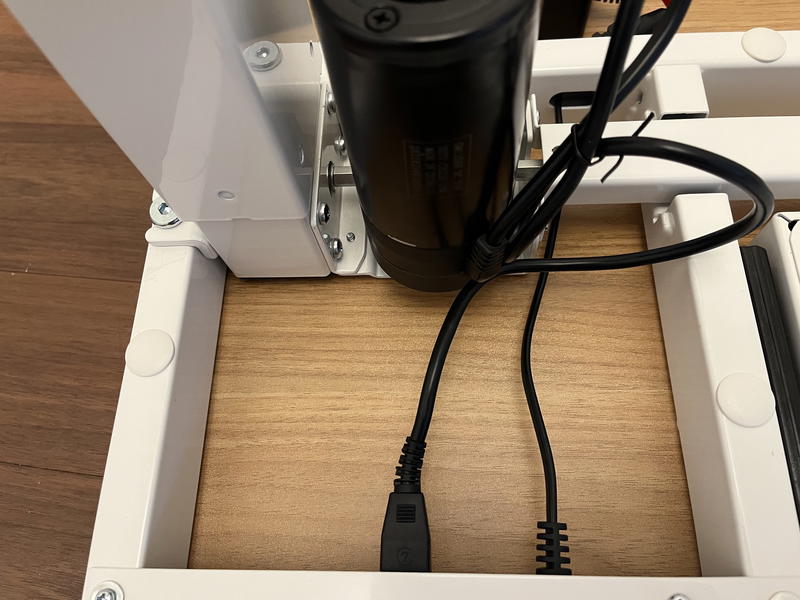 After this step, you'll need to flip the desk around, and then you are good to go. It would be helpful to have someone else helping you to flip the desk, to prevent any stress that you might put on the legs if you tried to do it yourself.
You may also want to assemble the desk on a carpet or soft surface, so you don't scratch the desk surface.
Once you set up the desk in its final spot, see if you have any uneven floors. The legs have these caps on the end of them that help make small adjustments to prevent any wobbling.
Helpful Tip
For uneven floors, we have a lot of advice for your chair! Check out our guide to how to keep your desk chair from rolling, which can help anyone with sloped or less-than-flat floorboards.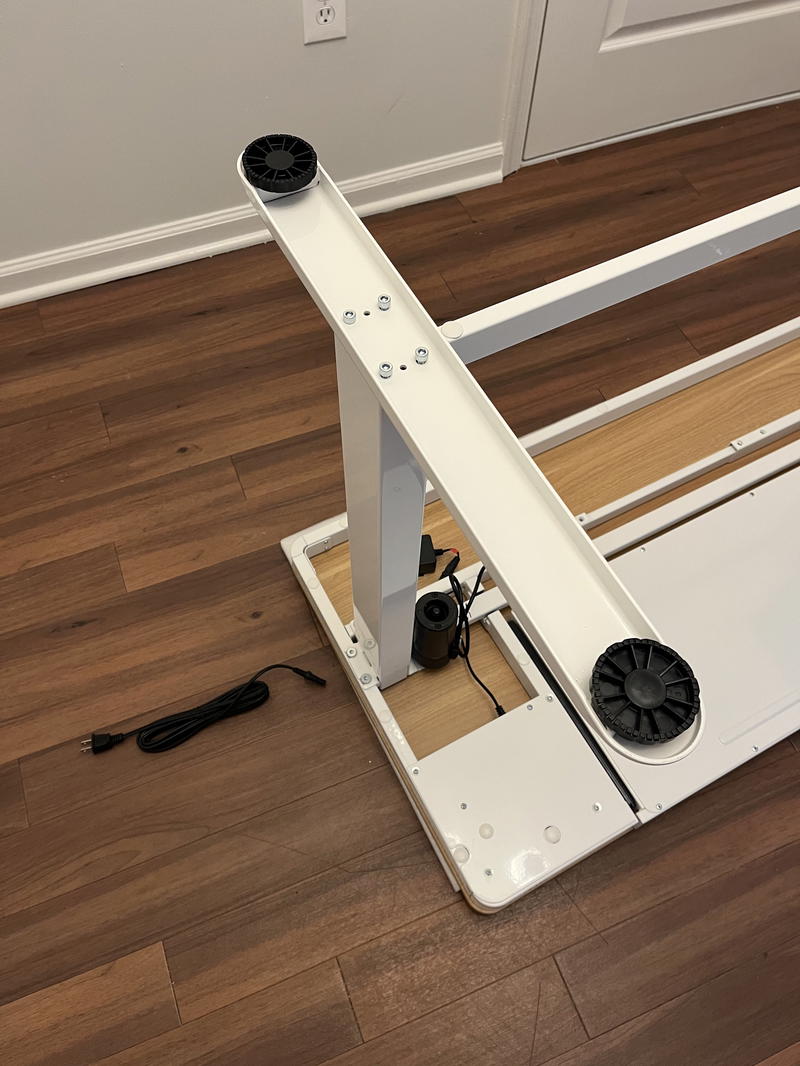 How big is the FlexiSpot Comhar Desk?
The desk is 48" wide, which was a nice upgrade for me, coming from a smaller desk. It's 24" deep, which is also a larger size than I'm used to, but a size I am excited about.
Previously, with a 18" or so deep desk, my laptop on a Roost laptop stand was kind of both in my face and falling off the back of the desk.
With 24" in depth, I can even fit a second monitor. I like my new setup (the monitor came in the mail after we took the photos you see in this review). I have room for my external keyboard, mouse, notebook and my setup of drinks during the day (coffee, tea and water).
I could probably consider a bunch of other home office desk accessories.
As far as height, the desk can transition from around 28" to 47." I've programmed my pre-set adjustments to 29" when I am sitting and to 40" when I am standing.
This standing desk has one really important feature for me (the drawer) that I'll mention below. Other than that, it's a standing desk, so of course it transitions from the sitting to standing positions, and there's some cool ways it does that. See the features here.
Electric function for adjusting the height
I think the electric height adjustment function works great. I especially like the pre-set options. You can pre-set your preferred sitting height, standing height and two more heights in between (maybe for another person in the family).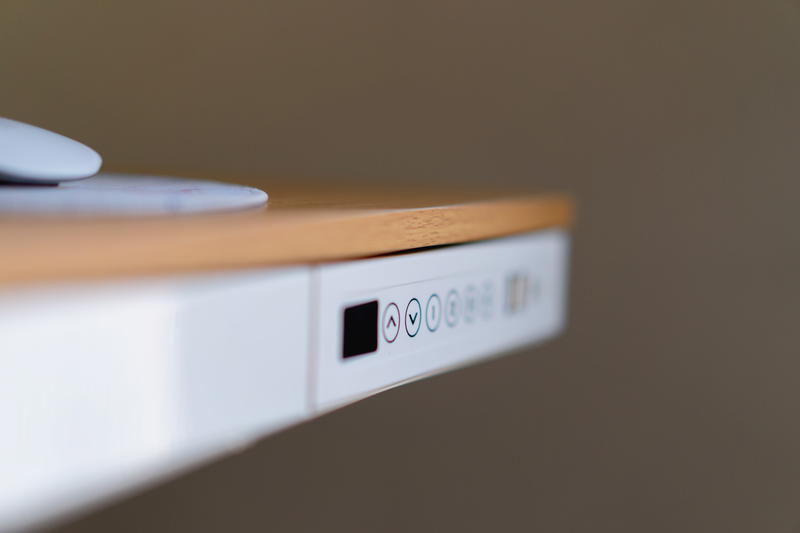 I've seen Dan use his manual crank standing desk, and this is just a lot more smooth.
Of course, it comes at a different price point than manual-adjustment standing desks. The convenience with the electronic adjustment feature is that you could be in a meeting and seamlessly transition from sitting to standing, without losing a beat.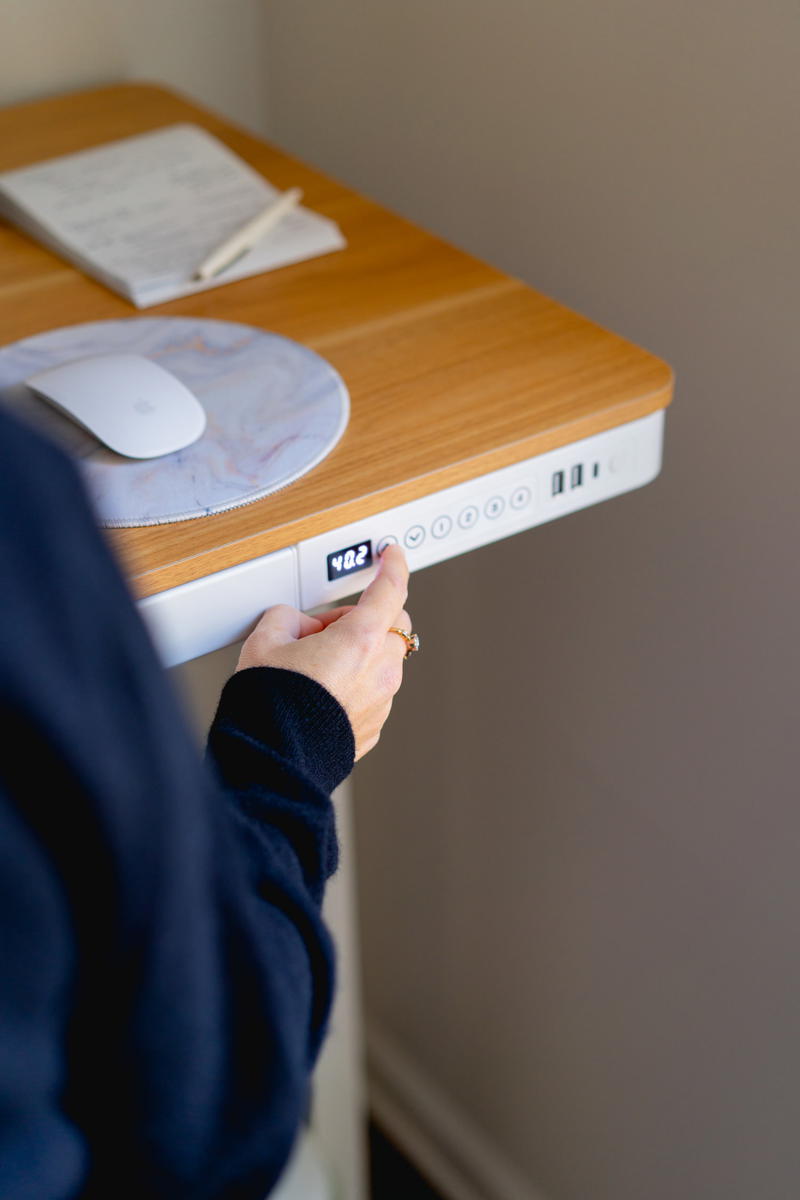 Pull-out drawer
Given that my former home office desk had two pull-out drawers, I was used to this, and it was something I wanted in a new desk. I also aim to really minimize visual clutter in my desk, because my home office is in my bedroom.
The pull-out drawer for the Comhar desk is not deep, but it is wide. It can fit things that lay flat, and what I've gotten to fit in there is a small notebook, a stack of papers, an over-ear headphone case, a big wallet, my checkbooks and some pens.
I don't know what other people keep in their desk drawers, but because my work is mostly digital, the only need I have for using pens and paper is taking quick notes to commit things to memory.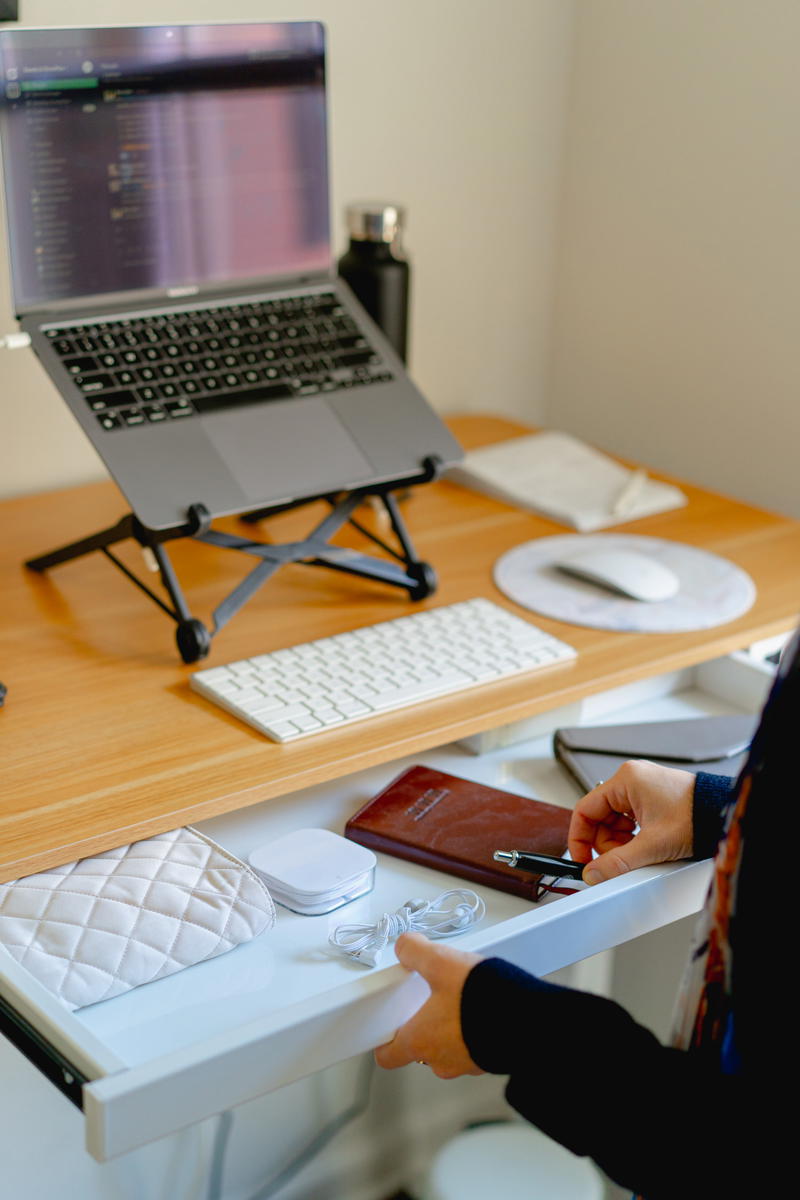 USB charging ports
The desk has two USB charging ports next to the electric adjustment controls. This is something new and modern for me in having a standing desk for my home office, and it works pretty great for having a way to charge my phone or AirPods during the workday rather than going across the apartment or having to duck under my desk for some charging.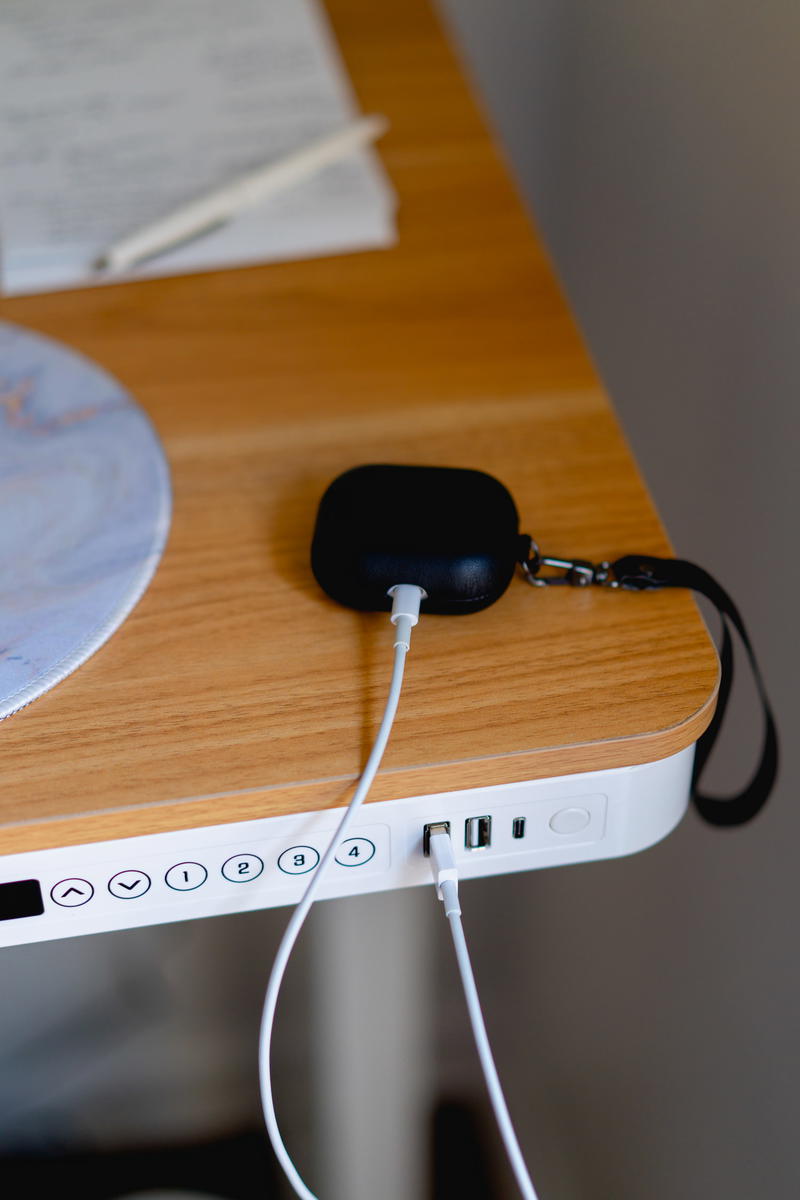 Choice of three desktop colors
I'm very much into natural tones in my home, like woods and bamboo textures. So, of course I was looking for a desk that had some type of wood-tone component to its look, just like how my old desk had nice wooden legs.
I chose the Maple color for the desktop, and I'm very happy with it. If you are looking more for a solid choice, there are options for solid white and solid black. The Maple and White options come with white legs, whereas the Black desk is completely black from the desktop to the legs.
Is this standing desk worth the investment?
If you are looking for a very sturdy standing desk and you've seen all the options, then sure: I would suggest investing in the Comhar standing desk from FlexiSpot.
I think the electronic adjustment works really well and without issue. The setup and installing is not terribly difficult. The desk is a good size for a home office, has a nice finish, a convenient and modern pull-out drawer and the USB ports are a handy touch.
Other desks may be in a higher or lower price range, for standing desks. The E7 Standing Desk from FlexiSpot, for example, is a higher-end standing desk that is in the next range of budget. And for more economically-priced affordable standing desks, check out our list of the best affordable standing desks currently on the market.
How to buy the FlexiSpot Comhar Standing Desk
That's the easy part. All you have to do is head to the FlexiSpot website product page for the Comhar desk.
When ordering, choose your color/finish, choices of casters (it's a yes/no choice) and any ergonomic desk chairs or standing desk mats to add on to your order.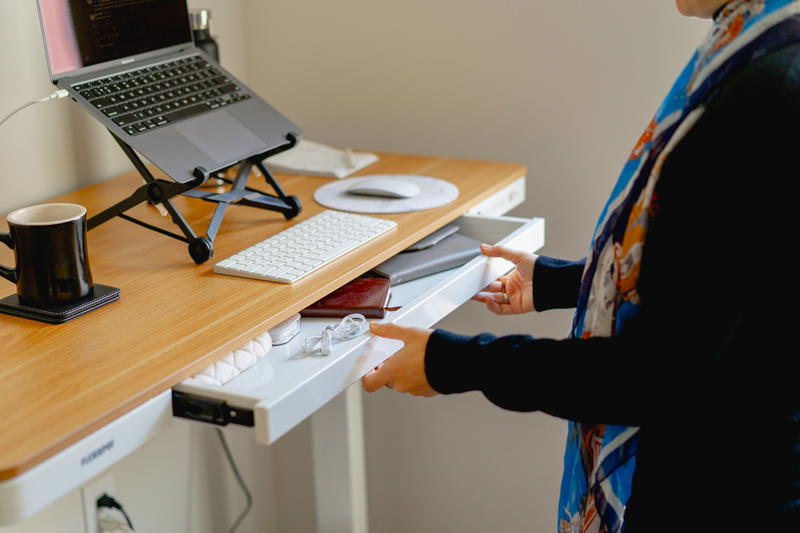 Other FlexiSpot products we recommend
If you'd like to see an even more upscale standing desk model from FlexiSpot, check out Dan's review of the E7 Standing Desk in Solid Wood, and also, the FlexiSpot Soutien Ergonomic Office Chair, which I've been using for quite a few months.
Enjoyed our article?
Consider supporting us! We're a 2-person team (learn more about us here) and your support enables us to create quality content. Thank you!