The Best Ways to Work from Home with Your Partner
Written by Becca
•
Updated on November 27th, 2023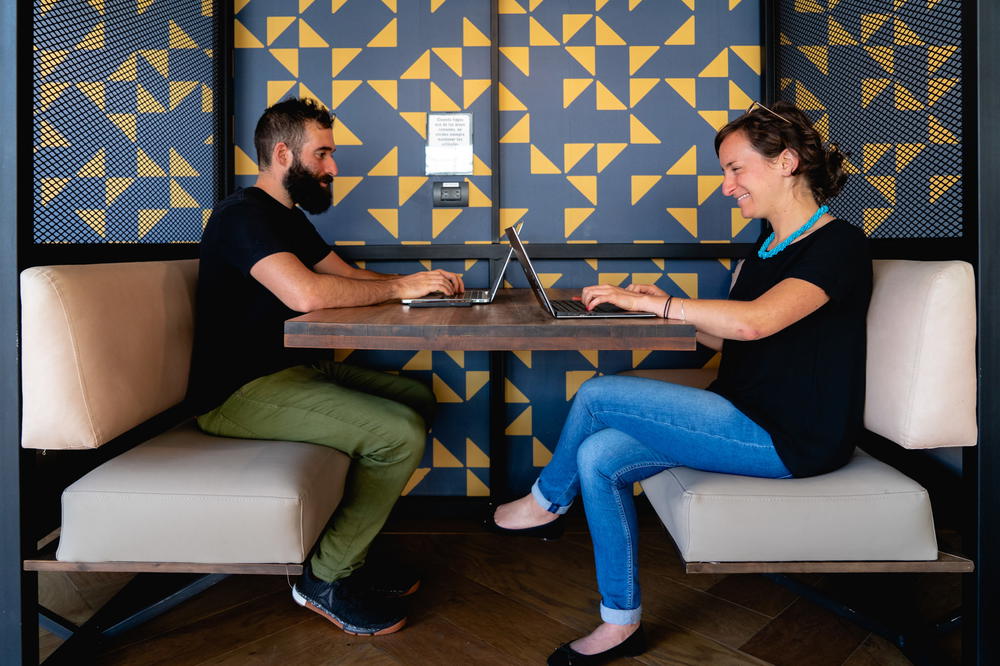 If you and your partner both work from home, you may need some tips to survive. With both spouses or partners working from home as a couple, how can you work remotely and not go crazy? See our checklist.
This article may contain affiliate links. We earn a small commissions when you purchase via those links — and it's free for you. It's only us (Becca & Dan) working on this website, so we value your support! Read our privacy policy and learn more about us.
Were you working from home first, and now your partner does, too? Or, were you both working in offices until very recently, but you've both turned into remote employees?
We'll tell you how to survive as a couple in which both partners or spouses work from home.
There are some general rules to follow when you and your partner both work from home, and you want to be productive.
If you're working from home with your spouse in the next room, or if you're sharing a home office, and you're spending all day together like when you're on vacation as a couple, we have a few tips for survival.
Working from home as a couple is something you can consider a project or a challenge to tackle, like how to stay fit when you work from home together. Or, if you both have a fantastically-positive mindset, working from home as a couple may not pose a threat to your relationship or careers at all.
The truth is that we got used to the space constraint and joys of working together in the same home during our months of working remotely while traveling around the world.
Want to see our best tips for surviving as two partners who both work from home? Read on!
Decide on the most ideal time to wake up
This might be one of the most important things to tackle when you first find out that you'll be working from home…as a couple.
When you and your partner were both commuting to offices, workspaces or work sites, wake-up times were probably non-negotiable. You probably had a system of who woke up first, how long the other got to sleep in and if you both set alarms, or if only one of you did.
Once your commute is a thing of the past, the question is, when does your day start?
Deciding when the alarm goes off is something both halves of a couple have to agree on. Missing this important step in your schedules can become one of the biggest mistakes for professionals who are transitioning from the office to working at home.
Do you want to keep your former and regular alarm set, but gain a half hour or an hour of "me time" during which you can make coffee, have breakfast together or get ready at a luxuriously-relaxing pace?
Or, do you want to sleep in, and use the time gained to set a later bedtime that you both agree on (we'll get to that later)?
It depends on when you're expected to be online for work, which can differ for both significant others.
Talk about a morning work-from-home routine
When we commuted to work last summer, I'd get up by 7:45. I'd let Dan sleep in while I showered and got dressed, and before I walked out the door, I'd make sure he was up. This is because I'd aim to get to work between 8:45 and 9:00 am, while his arrival time in the office was between 10 and 10:15.
Now that we're both working from home, we've had to start over.
Our work from home routine is based more around who is making coffee and by when, and if one of us has a call before the other.
We also have worked out a work from home fitness routine where we schedule who will have control over the yoga mat and home gym area, at which hour. We make sure that one of us won't be doing a workout when one of us has a video call.
Work out who gets the shower, and when
As mentioned above, when we both commuted to offices, our schedules were staggered. Now that we both work from home, we need to set up a new work from home schedule that worked for the both of us. I got dibs on the shower, and we had no conflicts for use of our bathroom while getting ready.
If your daily remote stand-up or team meeting is scheduled for 9:00 am, and it's via video, you might want a shower. (Not everyone does, but it's something to consider.)
Keep in mind when each partner has to 'be at work.'
I feel like for most people, this is a standard time of day that remains constant; however, if one of you is a freelancer, things might be much more client-based or different on a day-by-day basis.
Talk about things you may not have had to discuss before: Does one of you have meetings based on different time zones? Is the start time of the business day non-negotiable, and is there a daily meeting that will always take place without fail?
Define what 'work from home' outfits should be (or keep it undefined)
Is your partner the notorious works-from-underwear-on-the-couch type, or have they turned into this type of person?
Think about what kind of clothing makes you feel best. Is it a dress shirt on top, with gym shorts on the bottom (so that you look classy during that 1-on-1 with your boss)? Is it business on top and leggings on the bottom?
Decide on a lighting configuration that works for both of you
Everyone is different, and when it comes to the home office that you share together, talk about your choices together. Some people love natural light, while some focus better when there's fluorescent light blaring from above (it's why offices use it — to minimize shadows).
If you're like us, every night we put on the same soft light lamps, and we don't touch the track lights or chandelier in our living room. The same goes for the bedroom. But what about for the at-home workday?
Pick a 'home office temperature'
It has been proven that men prefer cooler temperatures in offices. This shouldn't come as a surprise to any women. In fact, it even applies to us at home, where Dan will want a fan on, and I'll say I feel perfectly fine.
While you and your partner may have, in the past, only been home together during nights and weekends, you'll now get to fight over control of the thermostat and that new tower fan you just splurged on.
Agree on background music (if any)?
Unless one of us is in a call, meeting or tuning into a webinar, I personally like to put on some jams.
Last fall, I took a particular liking to Spotify playlists along the lines of 'bossa nova jazz,' which makes me feel like I'm sitting at a cafe in Brazil. No complaints.
Decide when 'lunch hour' is (or if there will be one)
Now that office schedules are out the window, the only thing that remains is meetings (if either of you have any) to dictate the day, along with when your team, coworkers or client expects you to be available.
Will the two of you 'lunch' together, or snack throughout the day? Will each person eat when they get hungry, or will mealtime be a way for you both to take a break?
Lastly, who's doing the cooking, or where's the ordering coming from?
Choose to take breaks together, for a stretch or a walk
Who doesn't look forward to taking breaks at work? We do! We like to do a little bit of exercise during break time in order to get moving, or sometimes we make a snack.
When we worked seven blocks from each other in Midtown Manhattan, during the year before we left to travel the world and work remotely, we'd often meet for a break, a hug, or some type of hand-off of whatever the other left at home by mistake that morning.
When you work in the same room or behind a door in the same apartment or house, are breaks all the time? Can you interrupt each other?
Schedule time to talk about non-work things
Talking about non-work things is crucial for any relationship, whether you're living with your partner, spouse, relative, sibling, best friend or domestic partner.
Once the home becomes the workplace, it's easy to mentally separate work from leisure. This can be a challenge.
Review each day's schedule the night before
This is one of the most important things to talk about, in our opinion. Just last week, I had an 8:45 am call, followed by a surprise second call, and let's just say I hadn't been made aware that Dan had a 9:30 am meeting.
Start a shared calendar for work obligations like meetings
Starting a shared calendar is the best solution to keeping track of each other's daily remote work schedules.
We like Google Calendar, and in fact, during our year of long distance-dating, we'd make events and 'invite' each other, in order to show when we'd be unavailable, unreachable or tied up.
Have a plan for when phone meetings go longer than scheduled
This is a tricky one, especially when you and your partner are sharing a home office space from a small apartment.
If Dan's on a call that's supposed to be over at 12 pm and I have one that starts at the same time, we'll be facing a sound and distraction issue if his meeting goes five minutes longer than intended.
This happened to us the other day, and I ensured that my overlapping call was by phone, not by video, and took it from our bed with the door closed in the bedroom. We both survived.
Keep in mind challenging scenarios if you want to have the most productive remote meetings as possible. It's also true that a laptop stand for working from bed might have served me well in this scenario.
Figure out which meetings are by phone and which are by video
This is an item that comes into play when you're sharing a space for sure. If you both have home offices in separate rooms of the house, you're in luck, as long as you're dressed and showered, and ready for video with the coworkers or a client.
Be mindful of sounds, and provide constructive feedback
There was that one day when I was doing the dishes and Dan was on a video call with a colleague, and the sound of the sink was, well, audible.
Other sounds happen, and if either of you are in a virtual meeting, it can turn heads.
Does one of you like the TV on as a constant sound? Discuss this as well, if the other person can't stand it.
Speaking of sounds, get noise-canceling headphones
Dan takes his calls with these great noise cancellation headphones, so that he can't hear me or anything else going on (neighbors, a screaming cat outside, any noise that our heat pipes make), but his coworkers can hear him through a microphone.
Bluetooth noise-canceling headphones are also great, as mentioned above, if you can't come to a compromise on a daytime soundtrack.
If you're looking for something more lightweight, consider Apple AirPods Pros! They have amazing noise cancellation and are easy to take with you on the go.
Coordinate any dog/pet care walks
Who's going to let the dog out? With both spouses or partners working from home, there's certainly a human around to take your furry family member out for his or her relief, but when?
Figure out where each person's workspace will be, and separate
We have our workstations figured out. Dan gets the writing desk that faces our cool exposed brick wall, with his laptop stand permanently set to his preferred height, and I get the entire dining table to spread out with my mini wireless mouse and cup of tea.
Try to avoid waking up in the morning and both making a beeline for the writing desk, the dining table or your other chosen satisfactory surface of choice.
Define which products are to be shared, and which can't
If storage space grew on trees, we'd have two of everything.
Instead, we have one desk, one iPad to be used as an external monitor and one laptop stand. We do each have a wireless mouse that we like to use, and we don't share those.
As for laptop stands, we like the Roost and the Curve. We've both used them a lot and have enjoyed them as products!
We also have two pairs of big headphones lying around, and two wireless keyboards, while we also each have our own Bluetooth earbuds.
We've designated things that Dan uses, and I don't (his Sony headphones), and things of mine that are off-limits to him, like my Apple AirPods.
Determine which work-from-home products would add value for both of you
We've outlined our most useful work-from-home products in our guide to making a comfortable home office, so we suggest checking that out.
Of course, nothing stays novel forever, so we continually assess our space to see if it's time for some home office improvements.
Hammer out what qualifies as a distraction to the other
Distractions can put a damper on your day — everyone knows that. If I need a yoga break in between tasks or if Dan wants to use the Vitamix while I'm about to finish a mentally-challenging assignment, it can be a little less than ideal.
One more factor to consider is your use of the TV. Does one of you like the constant murmur of a TV, while the other can't stand it? If you keep the news on, but you're muting the TV, are you starting to watch anyway?
Take picks on who gets to use the outlet or extension cord
We have this down to a science because we have a nice array of outlets, but older apartments may have one outlet per wall, or per room.
We've set up an extension cord via a side wall outlet, so that Dan can plug in his MacBook Pro, Sony headphones charger, second MacBook Pro charger and our lamp. It's become quite a charging cord jungle.
Respect your partner's schedule
Schedules may be set, for some jobs and for some people, while for others, they can be up in the air.
If your partner has to get up early for a meeting that came up, accept the reality instead of complaining that you'll get an hour less sleep when the alarm goes off. No one said work was always fun, right?
Have a plan for use of space if one partner has to work late
Does one of the daytime home office spots double as a dining room table or eating area after-hours?
Communicate desires to have the dining room table ready for dinner for the two of you, while not interrupting a home office setup.
Or, if the living room is being taken up by quiet time needed for a phone call, delay dinner and snack instead.
Brainstorm how your home could be more like a 'coworking space'
If you've ever been to a WeWork, Industrious, The Wing or other chic motivating coworking environment, you know what some experts dreamed up to be the perfect place to cowork.
We do happen to have a love for coworking spaces, especially the reasons why they're conducive to productivity.
Think about if you want to limit romance during the workday
We like to separate work from our relationship, even when we are working on all the behind-the-scenes content of this very website!
During the day, we stick mostly to our professional obligations, and when work is done, we can goof off, enjoy our hobbies and chill out with taking photos of our food and brushing up on photography tricks on Dan's favorite YouTube channels.
Make dinner plans and make date night plans
If Dan's juggling multiple projects and some deadlines, I'll start the dinner-cooking process for both of us. Or, if I have an evening online event to attend (webinars, for example), I'll ask if Dan wants to pick which kind of dinner to cook, and I communicate when I'll be ready to eat.
With working from home, date night is not dead! Date night can still happen any day of the week, and for some ideas, surprise your partner with a new recipe, put on some fresh undiscovered tunes or open a bottle of wine for some time to get work out of your head.
Decide on a time when you can be done for the day
Previously, if either of us were working late, it meant we weren't home. Now though, with both partners working from home, working late means they're still sitting right next to you (maybe) or in the next room.
When does being done really mean being done? It helps to talk about a daily plan.
Remember to pick a bedtime, because after all, it's a "work night"
Even though you may not have left the house all day (if it's cold, hot, rainy or if you didn't have any errands to run), it was a day of work. For both of you.
While it may start feeling like a Sunday night every night, remember that there's work to be done, virtual meetings to plan and calls to be made, the very following day.
---
If you're considering moving in as a couple, check out our guide! You'll learn a lot of helpful tips and ideas about sharing an apartment with someone. You can also check out some of our best moving tips to get ideas for your next move.
Don't start your next workday without learning how to work from home, perfect for any first-time remote worker, or veteran.
Next, don't miss our tips for creating your perfect home office even if you live in a small apartment.